Even with single-digit temperatures and pouring rain, the grilling season never ends in Sweden. "We'd go out into the woods, clear the pit, and have a party during any season. The key is to just dress right, with waterproof padded layers and winter shoes when it's cold," said Erik, our local friend.
Yes, I'm talking about the intriguing experience of autumn (and even winter) barbecues in Sweden, where I, an international student, found myself charmed by this uniquely Scandinavian thing. You might think it's peculiar to grill while raindrops and temperatures fall, but trust me, it's an adventure you don't want to miss.

It all started when my friends invited me over for a Sunday afternoon barbecue. I said, "Absolutely yes!" right away. The weather was supposed to be 5 degrees Celsius and cloudy according to the weather forecast. Jaha, no rain! Then, five of us—two Swedes, two Turkish, and myself, the Indonesian girl—gathered. Everything was ready, and just as we were ready to go outside, it started to rain…. Quite heavily. 😭 😭

Making the most to every season
🍂
To my surprise, the rain didn't appear to affect my friends. "It's just water, so let's go," they said. They assured me that it would be an unforgettable experience. Ok then we started to walk towards the place, while bringing all of the food under our umbrellas. They were spot on; it was a very unique and fun experience!

Our setting was a charming barbecue pit surrounded by a forest, with a serene river nearby. It was just a 5 minute walk from our student accommodation in Jönköping. The ambiance was perfect for an outdoor feast, even with the light drizzle. We gathered around the fire pit, where the grill was set up, eagerly anticipating the yummy delights to come.

My role was the umbrella holder ☂️, securing the pit from the drizzle (very important role!). Kim, our Swedish grill master –he's literally a chef, expertly grilled a chunk of deer steak and some veggies to perfection, all while laughing off the rain and telling stories about his homeland of Skåne. While waiting, we also munched some vegetarian koftas made by Ezgi, our Turkish friend. Everything was so frickin' delish!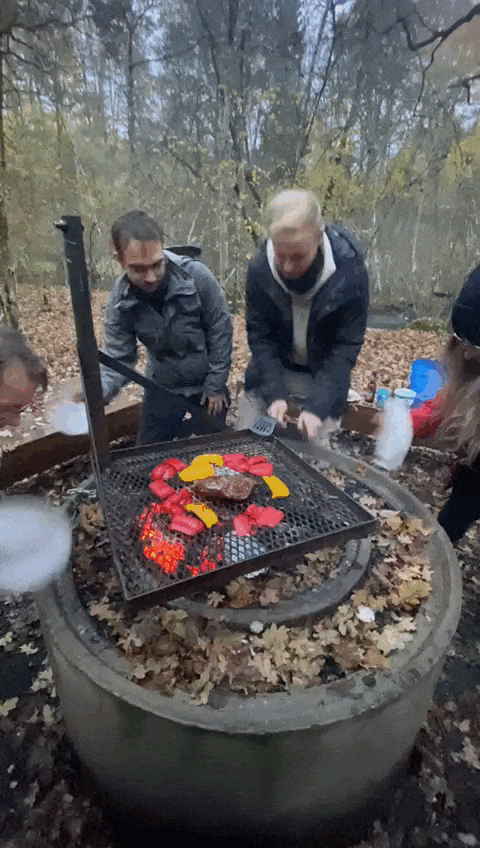 🌨️

Some tips for an enjoyable cold weather grill!

🍖

Embrace the elements with the right gear. Wear waterproof clothing and footwear to stay comfortable and dry. A good quality rain jacket and a sturdy pair of boots will go a long way in making your barbecue enjoyable.

Lighting and fire management. Due to the damp weather, it's important to keep your fire protected from the rain. Use a grill cover or build a sheltered area for the barbecue. In our case, we just used an umbrella over the grill (I held them all the way from start till the end, not ideal but recommended to build some arm muscle strength lol 💪). Prepare more charcoal than usual also to create intense heat. Don't forget to bring a fan to help blow the charcoal!

Use seasonal ingredients. Take advantage of the autumn harvest by incorporating seasonal vegetables, like pumpkins, squash, and root vegetables, into your barbecue menu. These ingredients pair wonderfully with the smoky flavors of the grill.

Warm it up. Serve warm beverages, such as mulled wine or glögg (find the recipe here), apple cider, or hot chocolate, to keep you and your friends cozy. These drinks complement the cool, rainy atmosphere and add a special touch to the experience.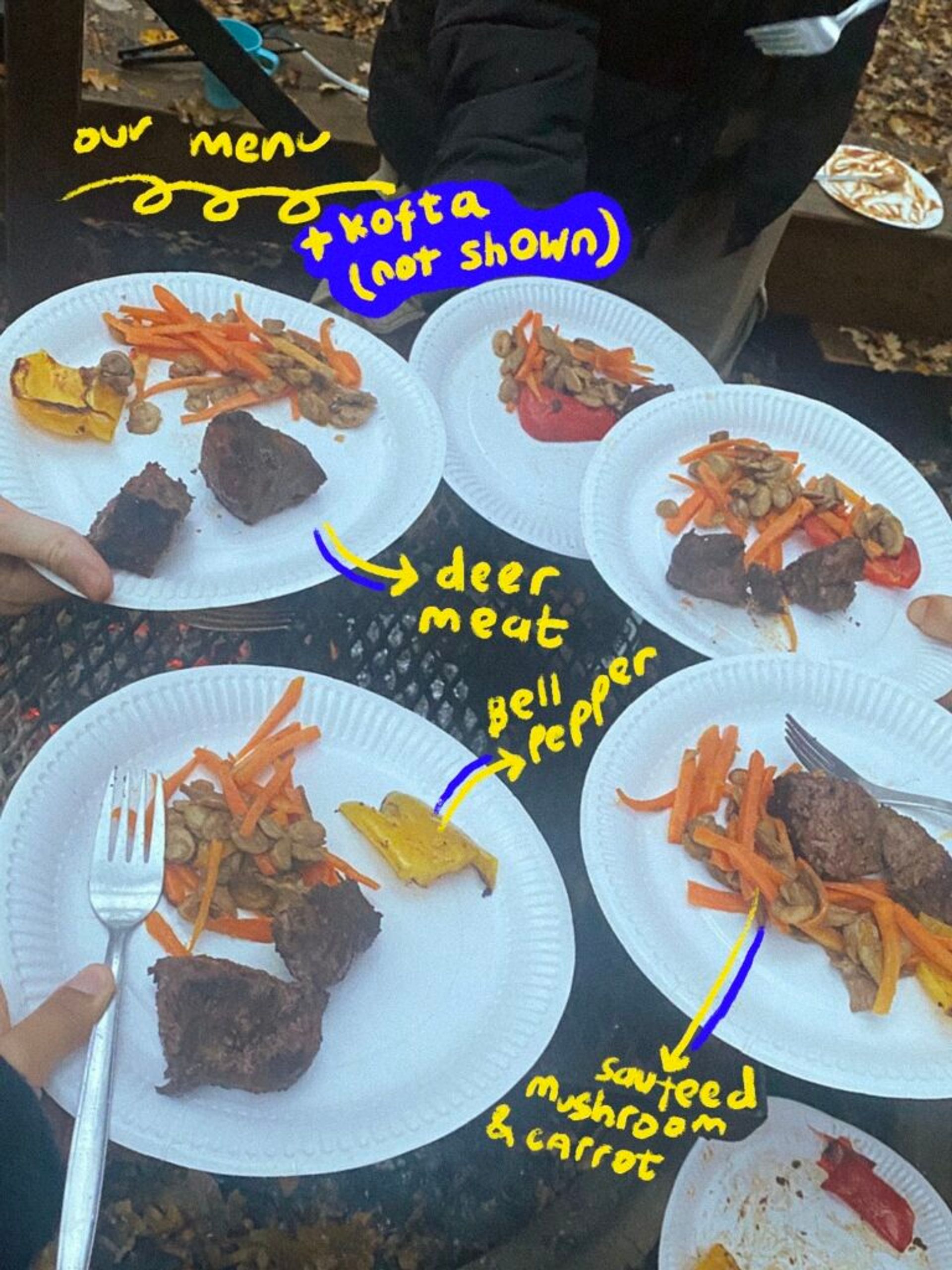 So, if you ever find yourself in Sweden during the autumn, beside being the perfect season for mushroom-picking, don't hesitate to join the barbecue party, rain and all. It's an adventure that will warm your heart and your taste buds, leaving you with lasting memories of sizzling delights in the midst of an autumn rain shower. 

Just because the weather's a little chillier and the days are shorter, there's nothing stopping us from wrapping up warm and enjoying a cosy BBQ in the woods. And remember the tips to make your barbecue a success in the Swedish rain! 😸