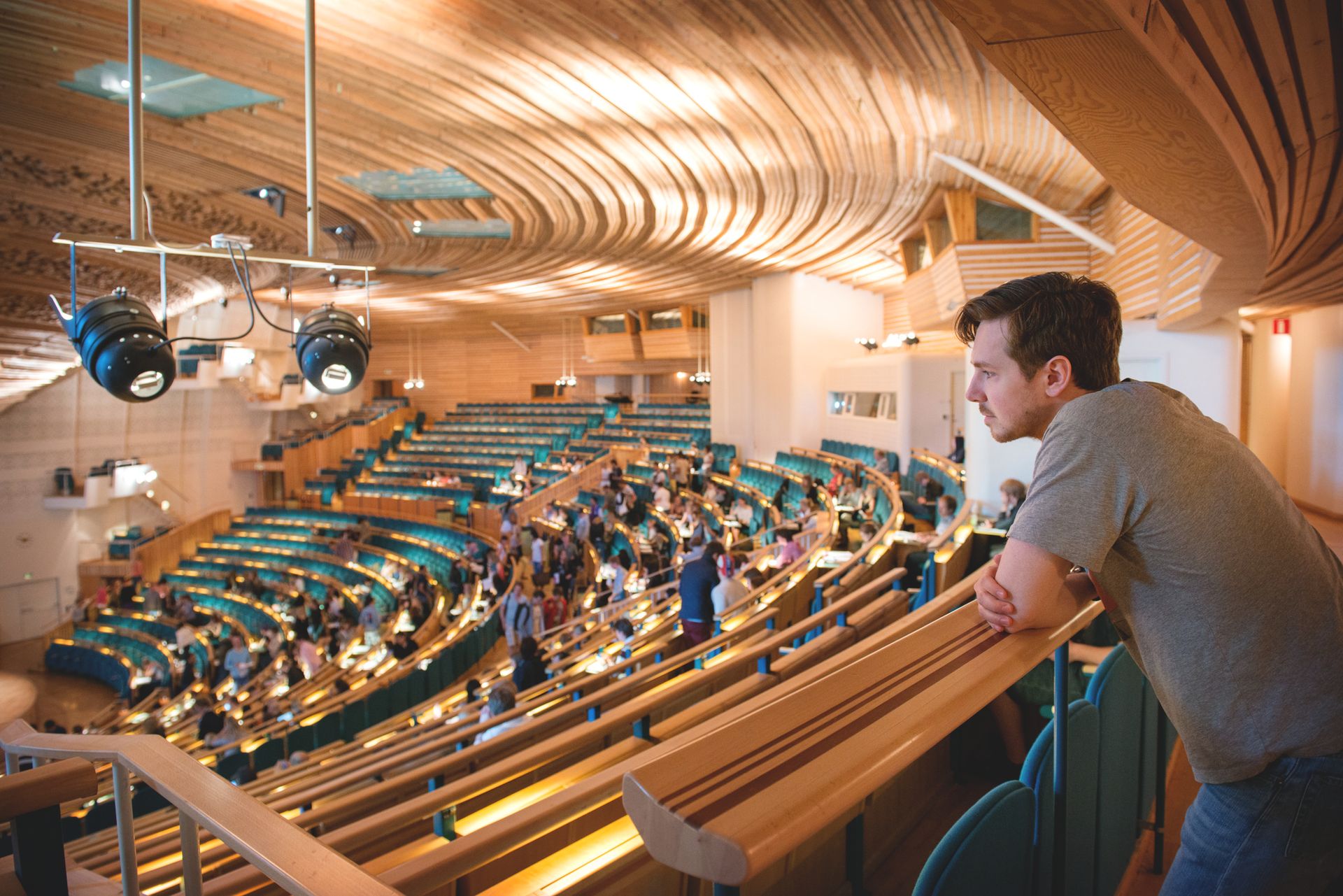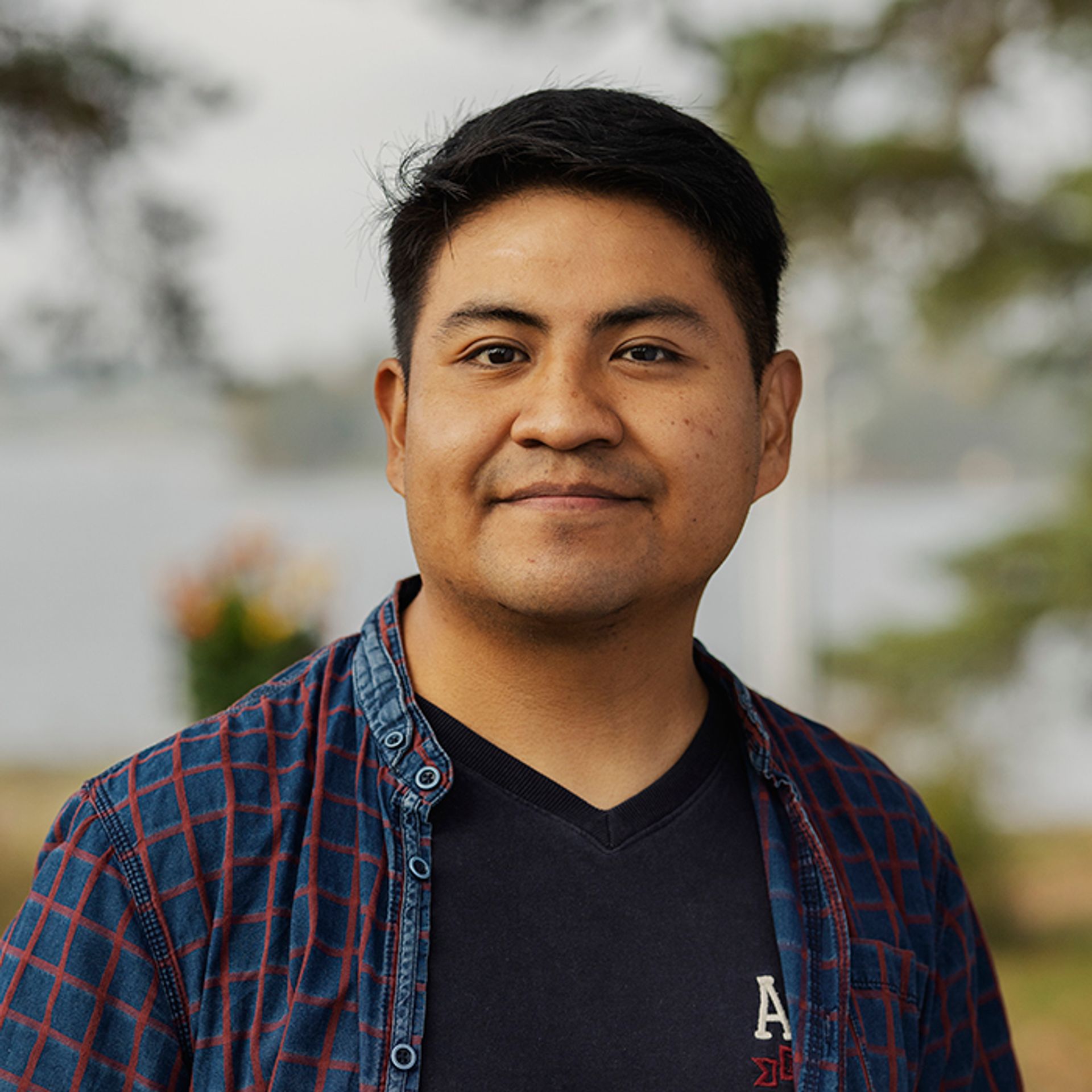 Hello dear friends, if you are on this blog you probably made the decision to study in Sweden. Let me tell you that you will not regret about it!! You will surely have a great experience here.
If you are still in doubt, let me recommend this little quiz. ↗️ That will help you order your thoughts
In any case let's start ! Last year I shared a guide to understand "universityadmission.se". This year the webportal has changed a little bit, and now apply to study in Sweden is easier than ever.
The big question? How to apply for the upcoming autumn semester in 2021?
I can summarize the process is 4 main steps!
Register in Universityadmisisions.se

↗️

Double check your prospective programmes and rank
Apply and upload documents
Search for funding
Register in Universityadmissions.se
Apply to Universities in Sweden is very easy you can apply to all your target programmes in the same portal and there are general requirements for all universities, therefore upload documents is easy.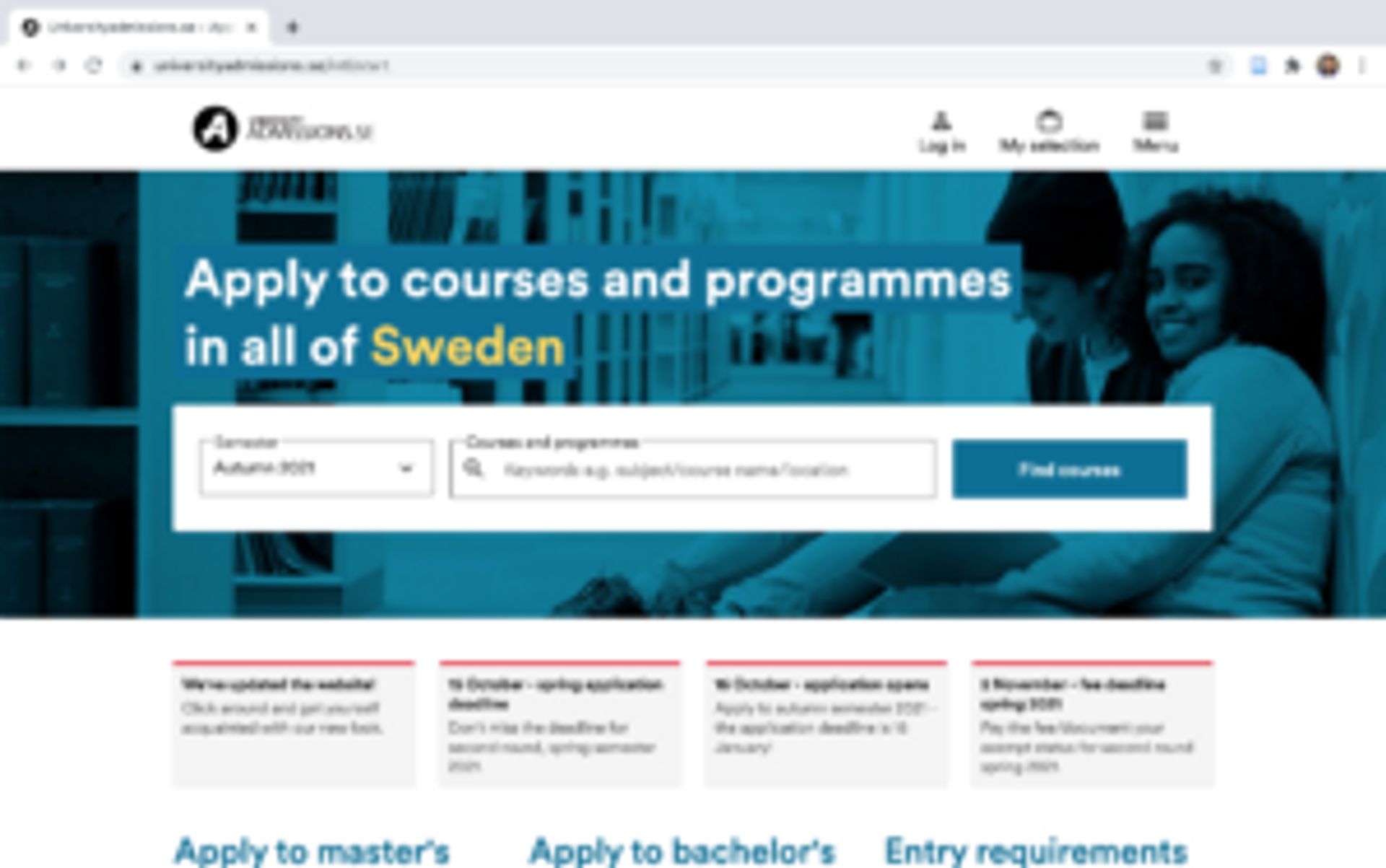 Screenshot of the official portal for applications. If it is not your first time applying you will realize that the portal has changed. ↗️ But for good! Now is even easier than before and also more friendly to answer all your doubts about the process.
So what you need to do is basically is register an account. For that you should go to the Log in ↗️ section and choose "create an account". ↗️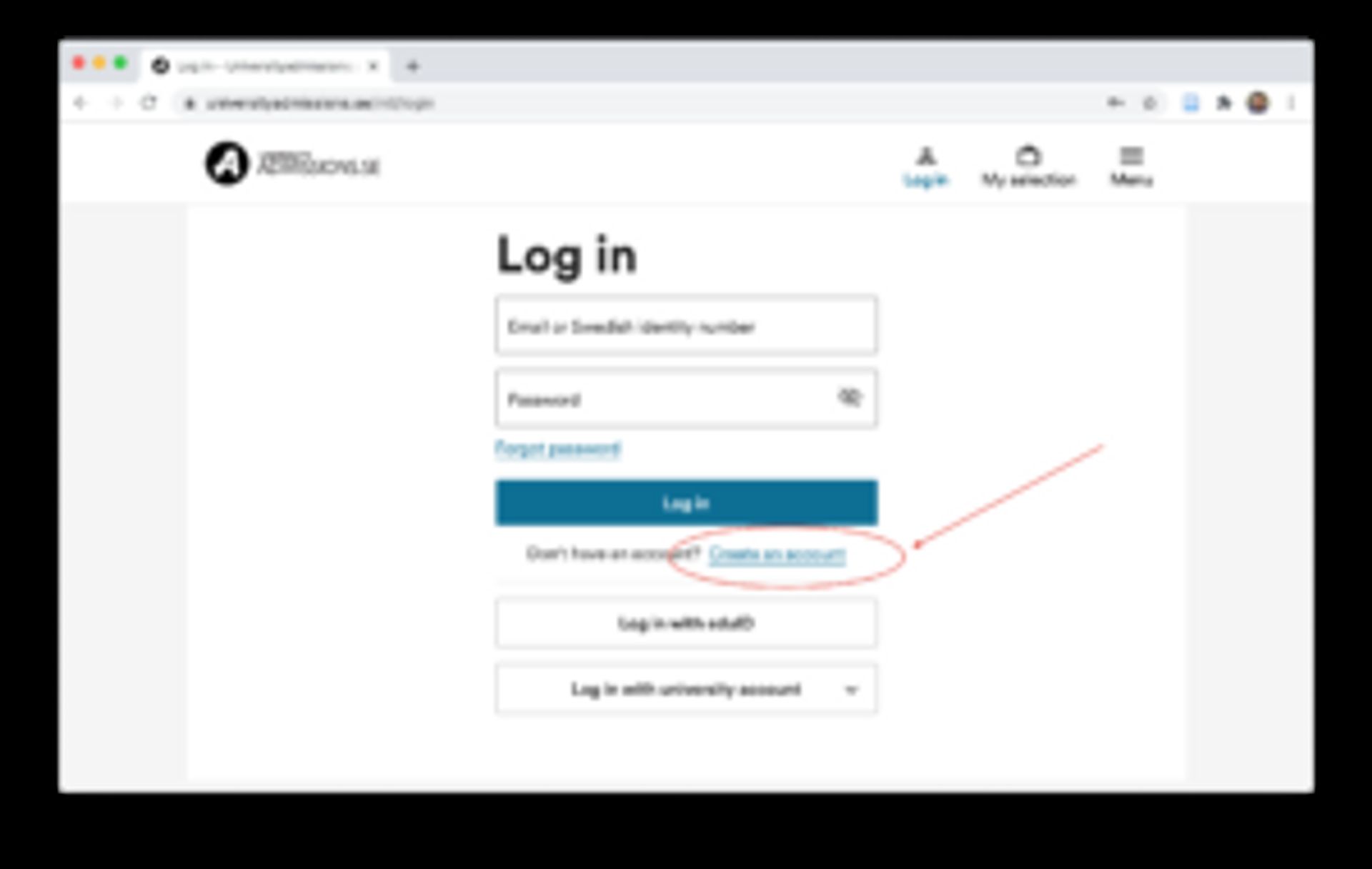 After creating your account you will have access to search your target programmes select and rank them. Don't forget to choose autumn 2021 in the search to have access to all the programmes.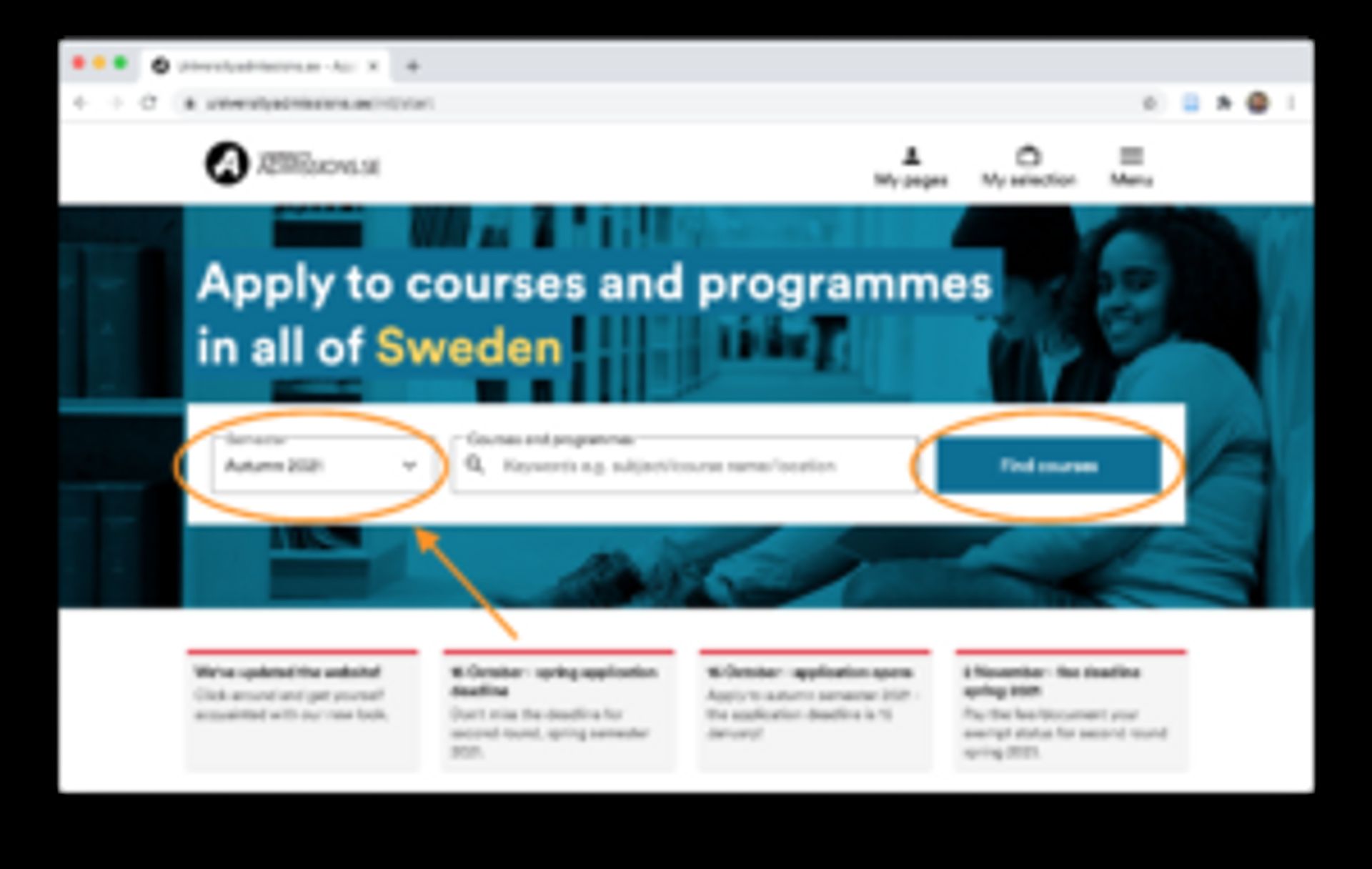 Double check your prospective programmes and rank
What I mean to double check your target programme is because , I know that you probably have a very clear idea to what programme apply. However remember that there are more options and is good to try and check other possibilities besides your first choice.
Don't forget that our portal has a very nice and easy programme searcher.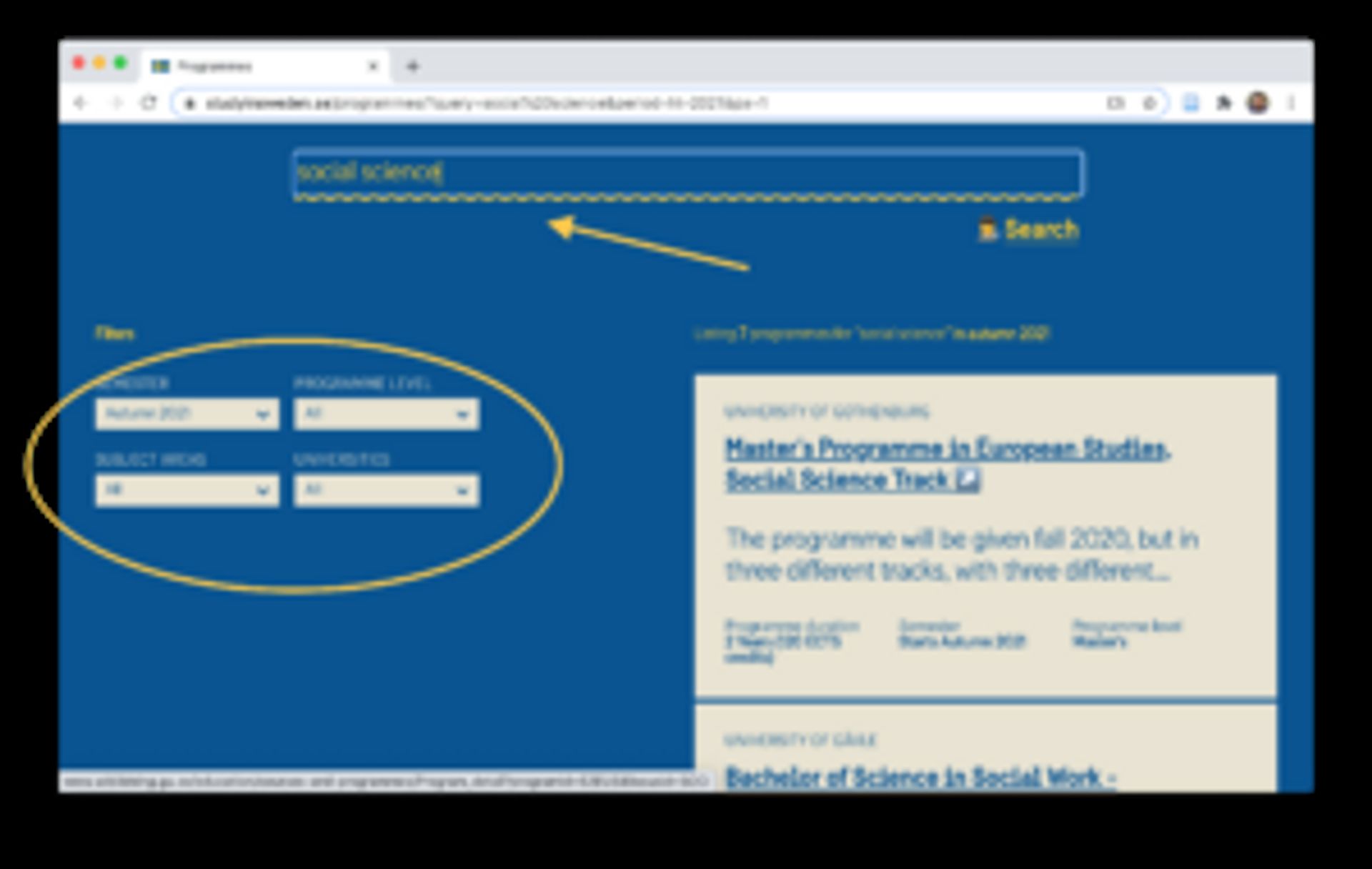 There is a section where you can type keywords or also you can use the filters. As you see in the screenshot once you use that tools, you will have a result you can click on it and it will direct you to the university webpage of that programme.
Once you check programmes again, what you should do is to search the programmes on university admission portal and select them.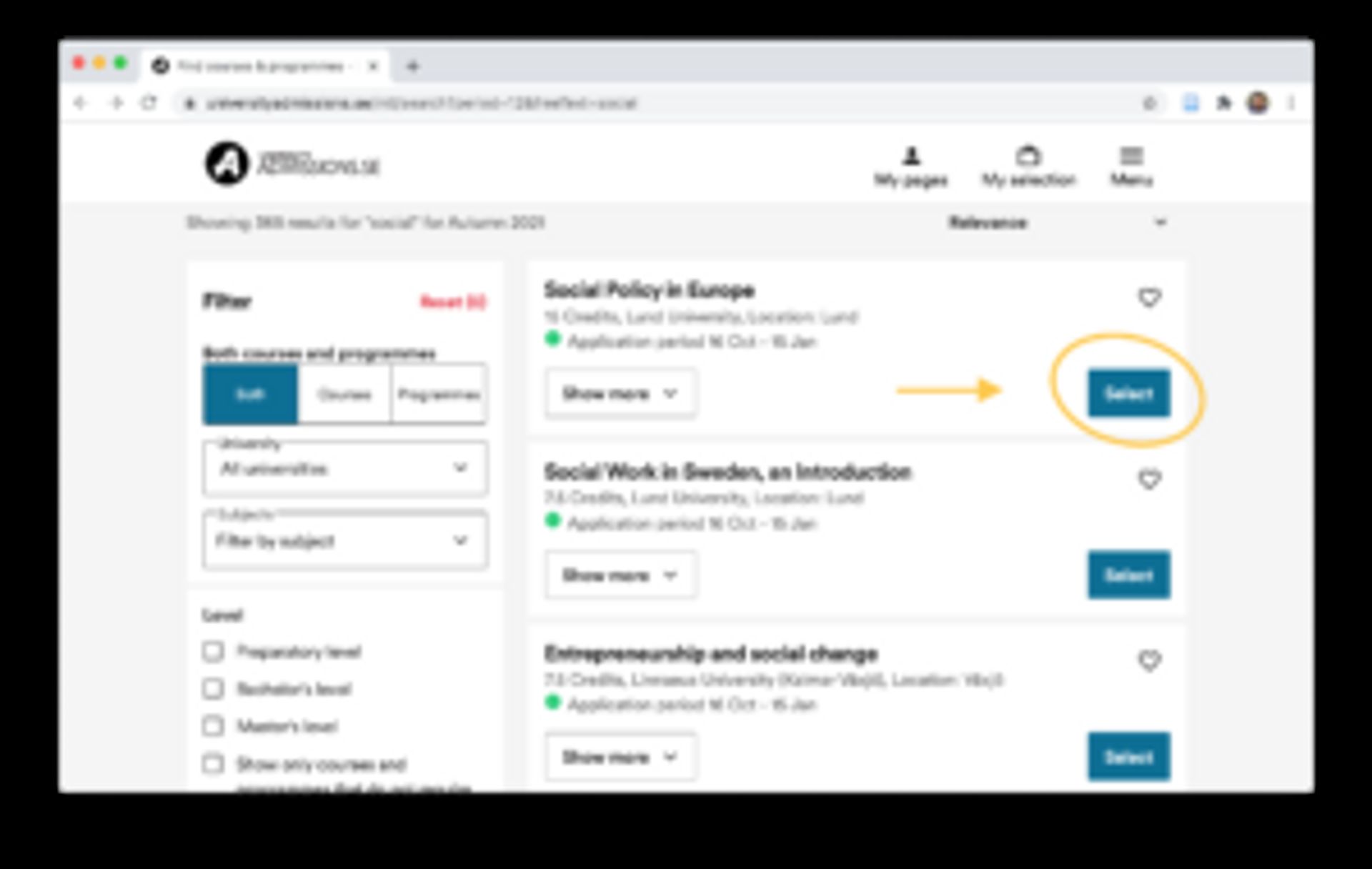 Once you search and select all of them. They will be in the section "my selection". ↗️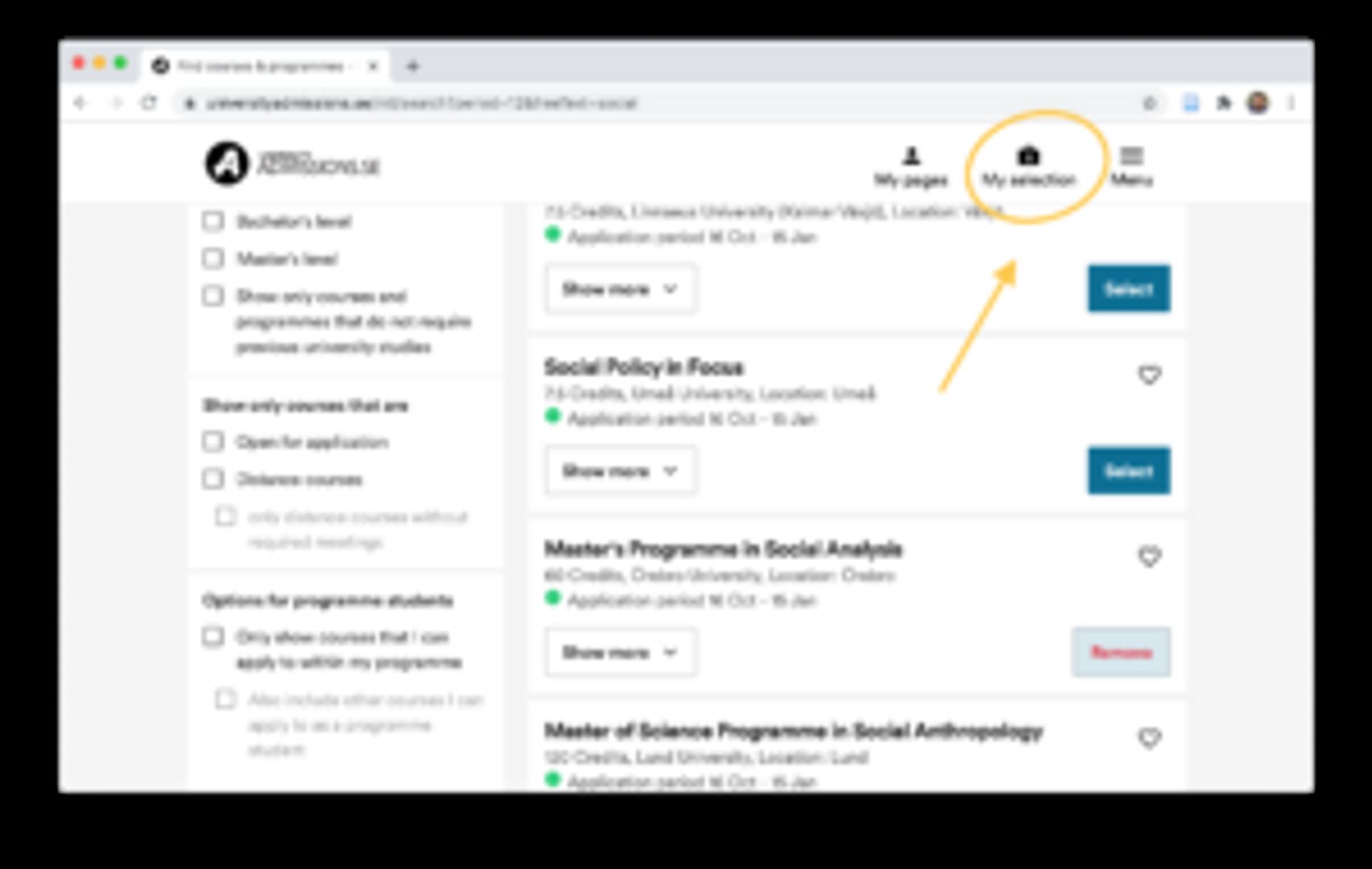 I know that you may not be 100% sure at the beginning. So, I suggest to mark some programmes as favorites, therefore you will save the information of that programme and you don't have to search by name again, because it is gonna be saved also in "my selection". ↗️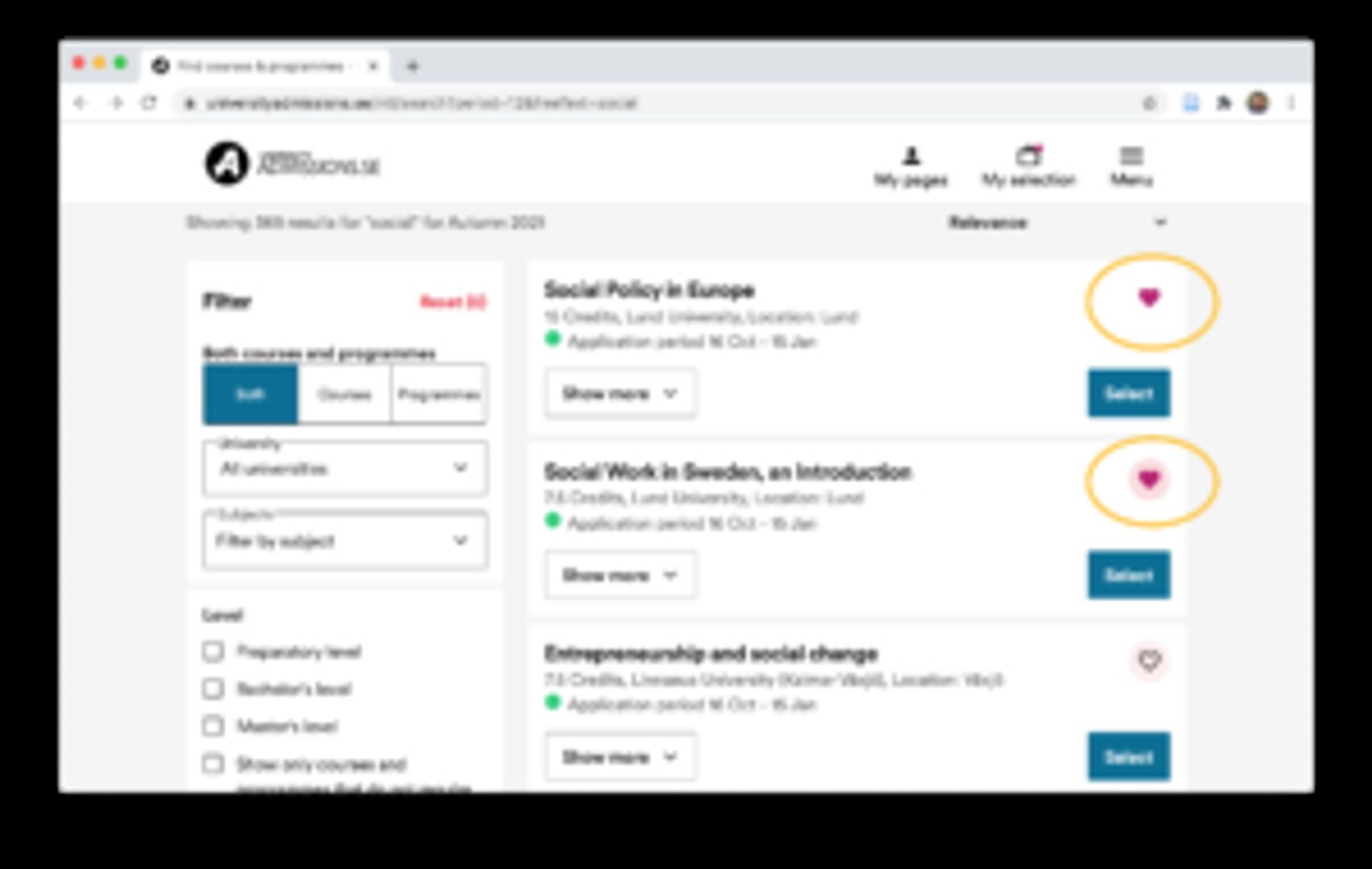 As I said before the portal is really friendly now, you will have easy access to the programmes already selected, and to the favourites in case you want to change or select more programmes later.
One very important decision you have to do is how to rank. Specially, if you want to apply for more than one programme.  Don't forget some universities offer scholarships only if you rank them as first option. So, think smartly about the ranking, and of course don't forget to check the ranking before submit your application.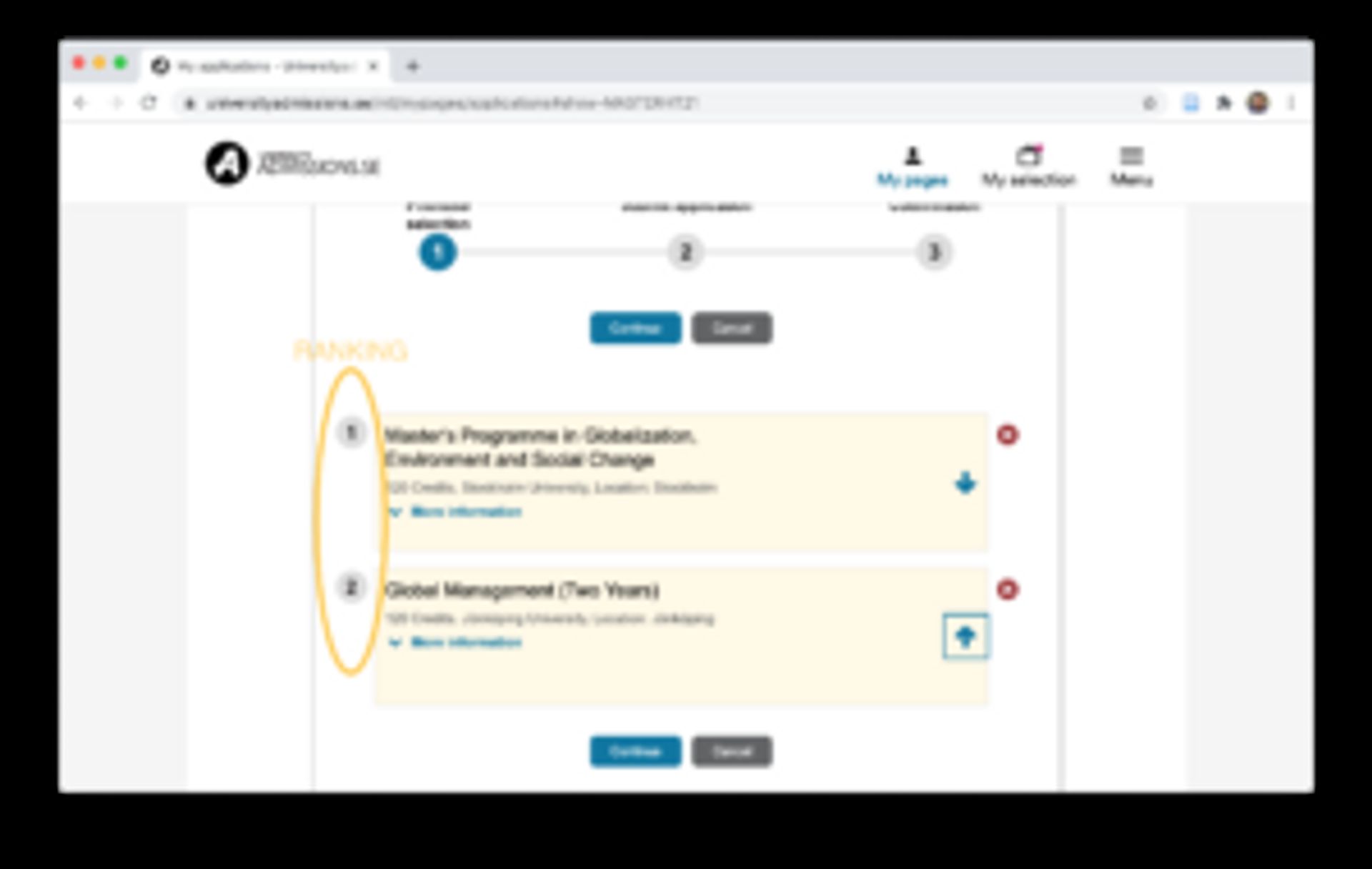 Apply and upload documents
It is time for applying. Always have in mind  the key dates for Autumn 2021 applications ↗️ the deadline for applying is January 15th.
Once you are 100% sure about your programmes and ranking you just have to "submit" you application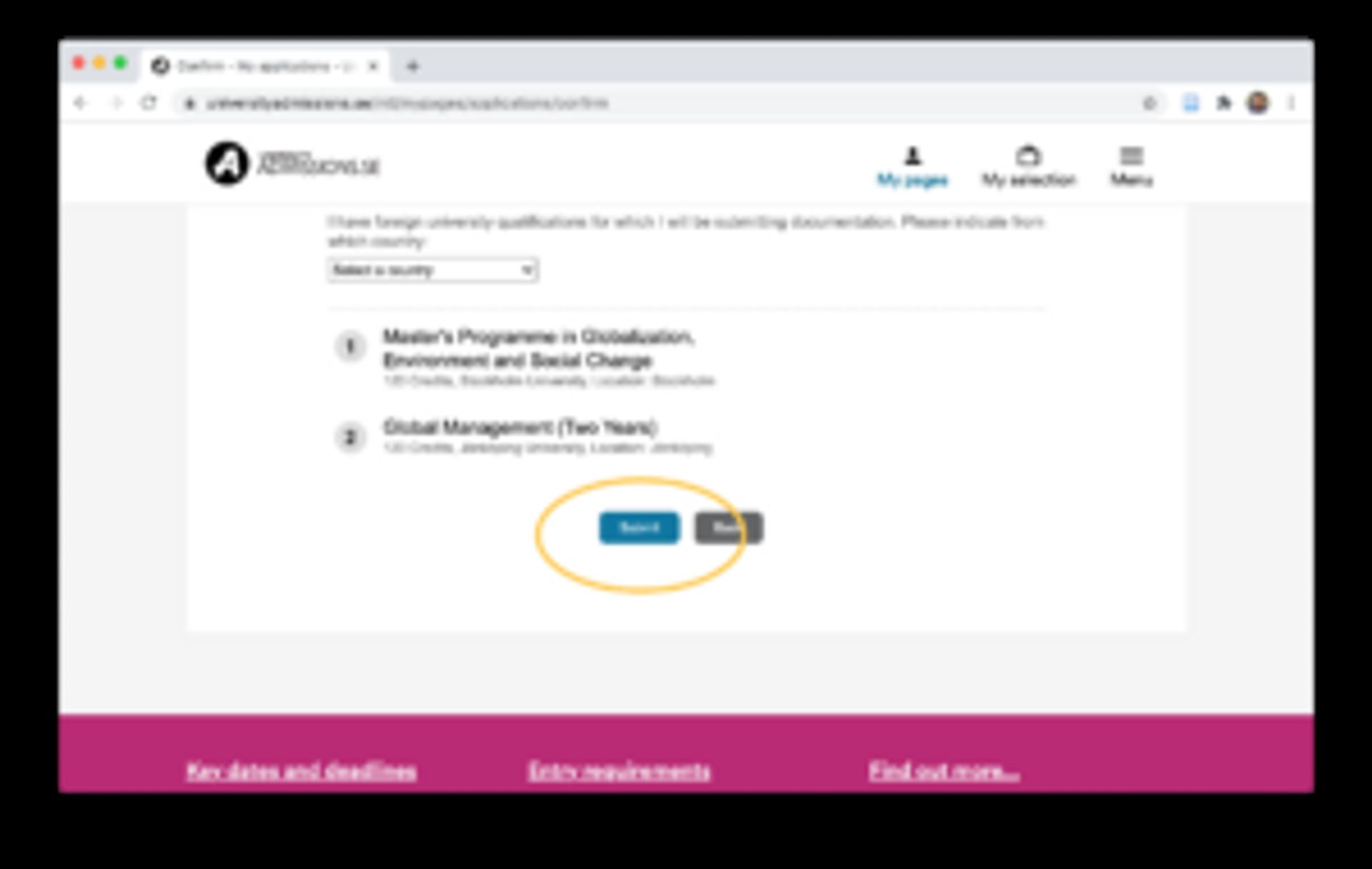 After that you can upload your documents until february 1st including the payment for application fee. ↗️
Don't forget that there are general requirements ↗️ but also according to the programmes you applied, you will probably have to go to the portal of that university and check. Be careful in this part, and don't hesitate to email University Admission . If you have a question I strongly suggest to use the Support center of the portal ↗️ – the new one is very friendly.
Also check the English requirements ↗️ to know if you need special documents or certification for that.
Something important as I mentioned before is paying the application fee ↗️ (900 SEK). The amount should be done only once during the application despite you apply for one or 4 programmes. (for bachelors is 8 the maximum).
However, not everyone should pay the tuition fee there is a criteria ↗️ for this. Some exceptions are
If you have citizenship in EU or EEA
If you have Swedish Resident permit (other than studies)
Search for fundings
This is the last step in this blog but not the last thing to do during all the process of application. I know you should be a little worried about how fund your studies in Sweden. Let me tell you there is a lot of options, you just need to check your options and prepare yourself.
The same criteria of application fees ↗️ applies to pay tuition fees in Swedish universities.
If you are exempt of paying tuition you are maybe looking for some support for cost of living. I suggest you to try to find funds in your Country , but also in the moment of choosing programme try to give it a check to scholarships from universities, during your studies some universities have small stipends that can make you forget about money a little.
If you are like me and don't fill criteria for exemptions in tuition fee, I suggest you to try to find complete or partial scholarships. Our portal has a nice searcher of scholarships.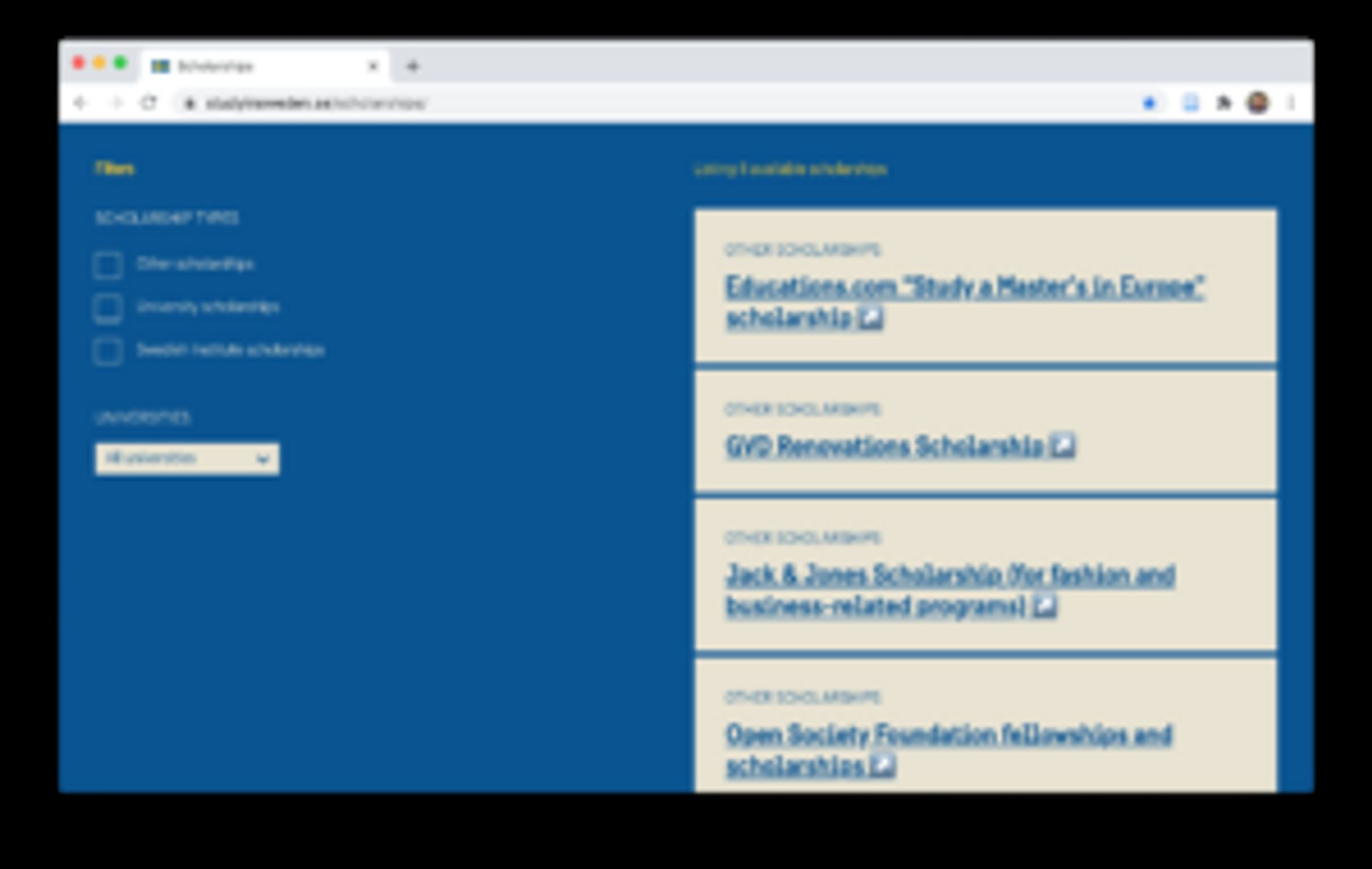 But also try to find information in your target universities, almost all of them offer at least scholarships that cover tuition fee. Therefore checking the criteria of that universities you can rank a programme that you like and also has more opportunities about scholarships.
Well! That's all! welcome to this journey about applying to Swedish Universities! I am very sure you won't regret it and in the future you will be reading our blog about moving to sweden =)
Do you have any doubt or you need some extra inspiration before applying? Leave your comments! I will read and answer them according to my experience in Sweden.