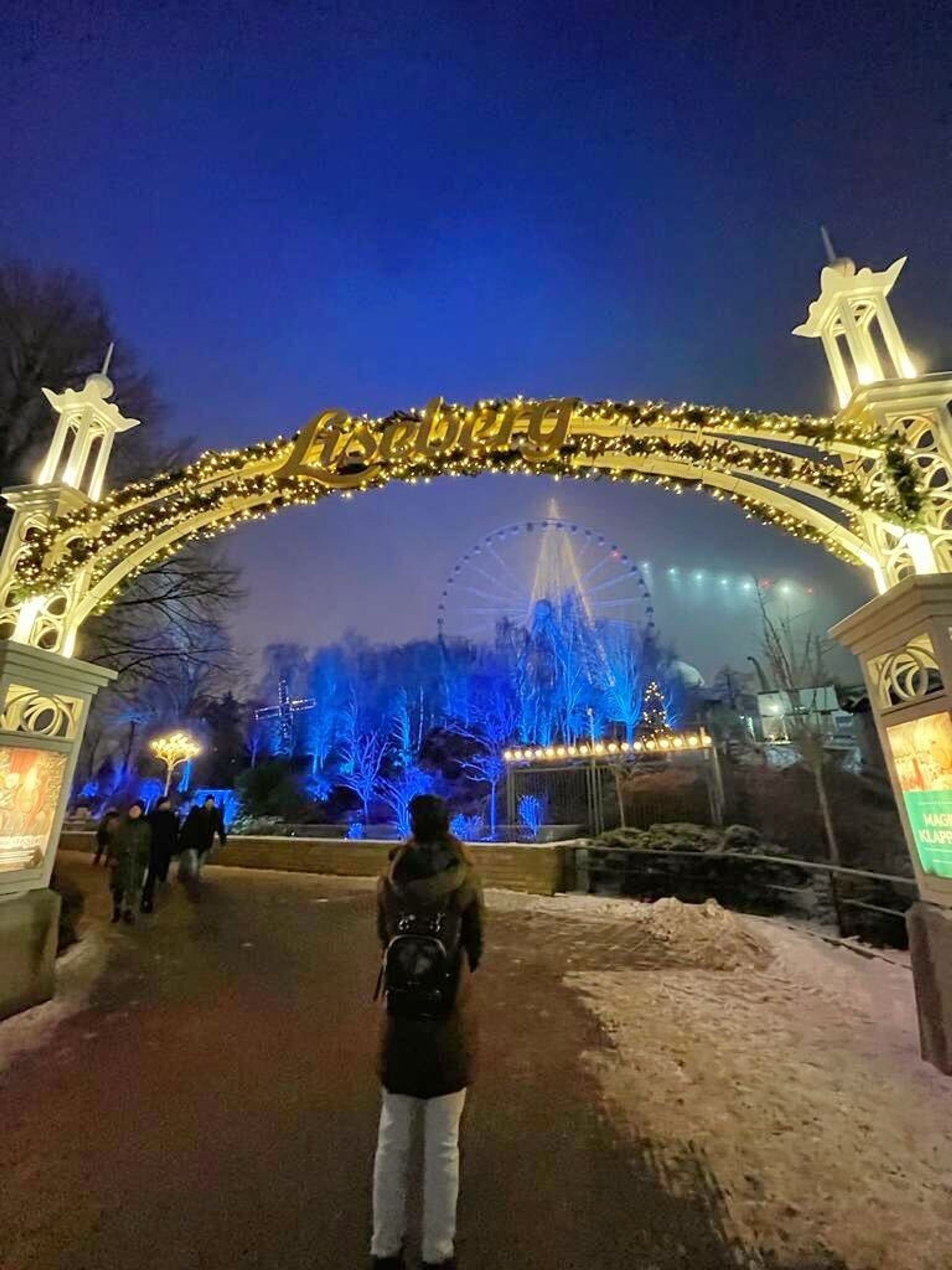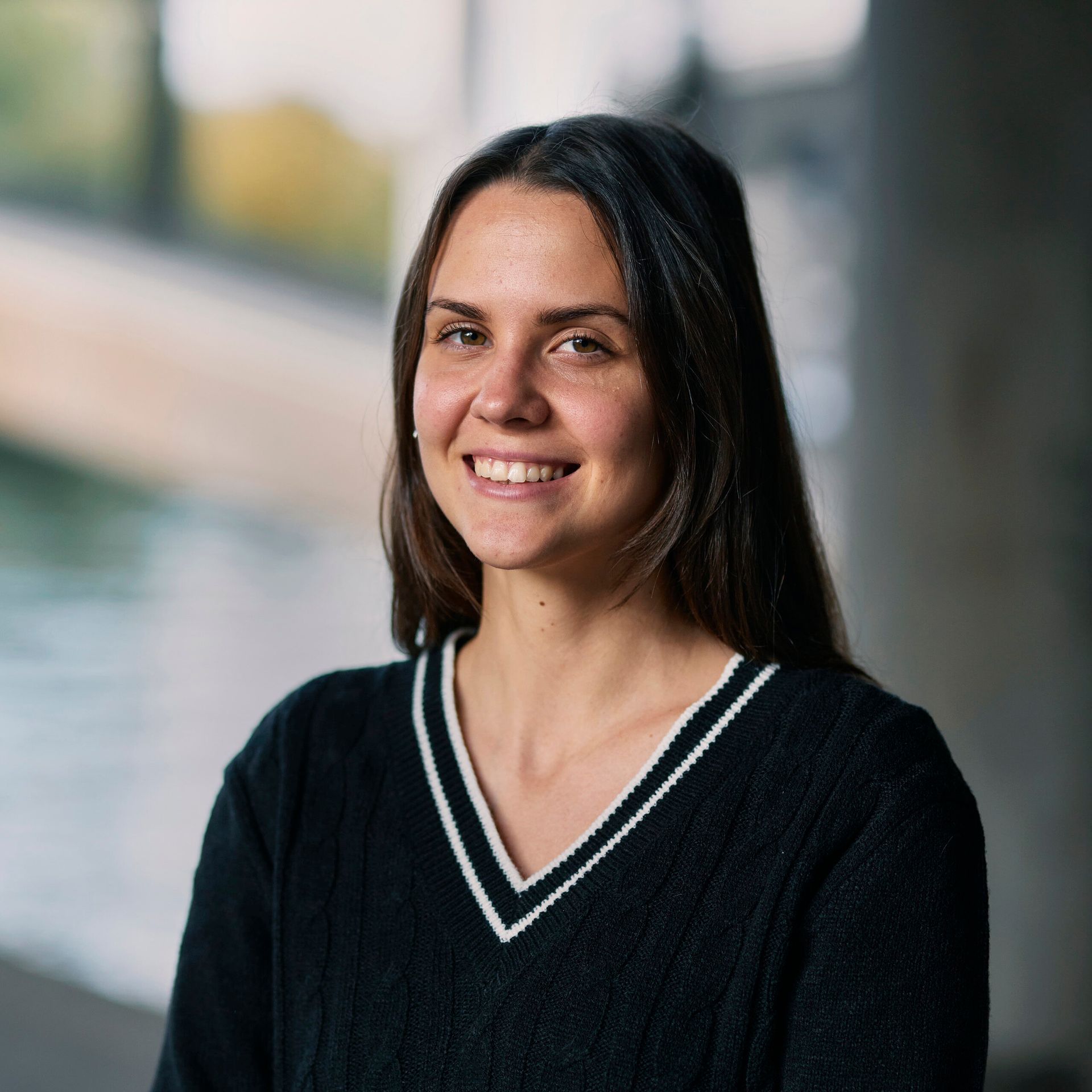 There are certain things in Sweden that you hear a lot about and Liseberg is one of them. An amusement park open since 1923 attracts tourists not only from Scandinavia but from all over the world. It is open in the summer and winter and popular not only for its roller coasters but also for its beautiful decorations during Halloween and Christmas. But is it really worth visiting during Christmas?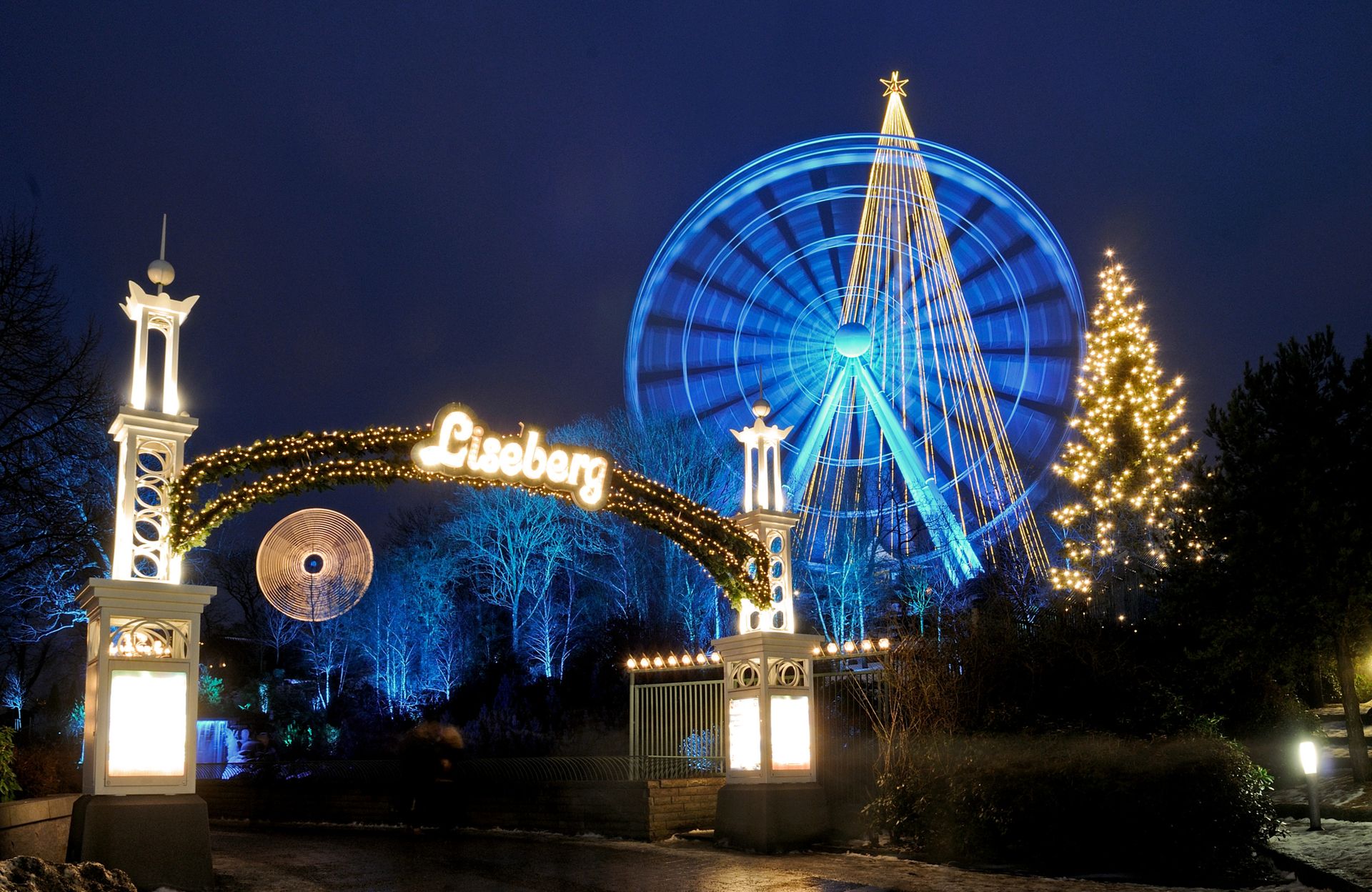 I was quite skeptical about visiting Liseberg park since I don't live in Gothenburg and the train ticket combined with the entrance fee seems like a lot of money to spend for a trip like this. But I heard about it so much this year, especially from Swedes that I've decided to give it a try.
When can you visit?
It is possible to experience Christmas at Liseberg from the middle of November until the end of December. Since there is a limited number of tickets per day available, make sure to check the website and (maybe) purchase the tickets in advance, so you know for sure that you'll get in.
The opening hours are from 13:00 until 21:00. It is not open during Christmas day though or New Year's eve!
We decided to go on Friday hoping that the park will be less crowded on a workday. (Also Saturday was already fully booked!)
How to get there?
Well, starting at the Gothenburg central station, you can take a tram to Liseberg park. The tram numbers are 2, 4, or 13. And you can get off at one of these two stops:
Korsvägen (the entrance we used)
Liseberg
It takes about 7 minutes to get there and with Google Maps or the Västtrafik app, you definitely won't get lost! If you still don't know how to get around in Sweden, make sure to check out my guide to public transport in Sweden.
How much does the entry cost?
The entry varies depending on the day but there is always an option to buy two main types of tickets. One includes the rides and the other one does not.
The price of All-in-one ticket can range from SEK 255 to SEK 355 during Christmas season. But you need to remember that there are fewer roller coasters since it is so cold!
The price of Admission ticket is from SEK 125 to SEK 175. I paid SEK 145, so somewhere in-between.
You can buy the tickets online or on the spot. But know that the queue may get quite long.
What can you see and do at Liseberg during Christmas?
The Christmas decorations!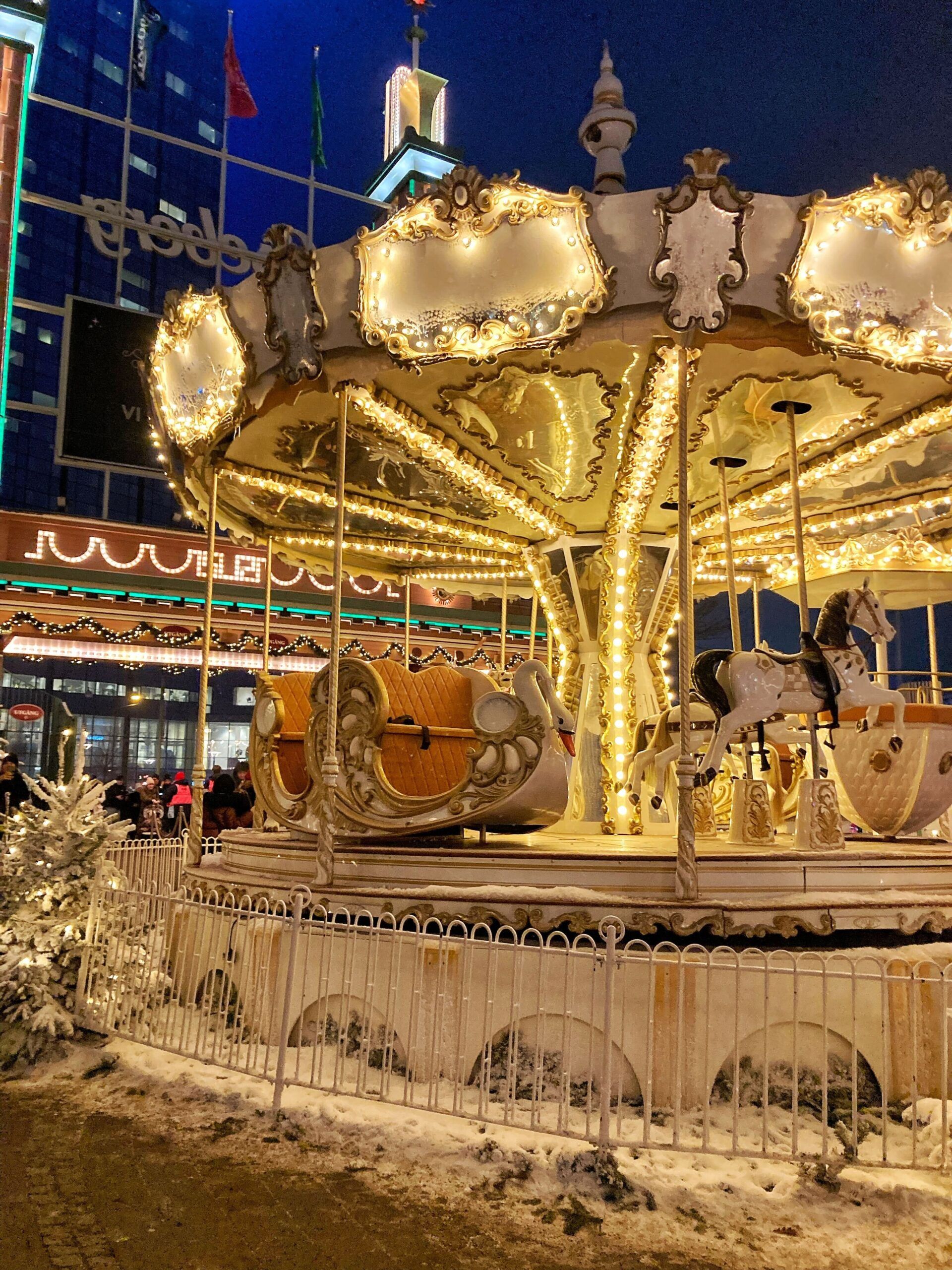 The most amazing are probably their Christmas decorations. Since it gets dark so early during winter, the lights in the park really stand out. Everything is covered with snow and shine, even the buildings and some carousels. We also found massive presents in the park which were so cool! Although it was pretty difficult to take nice pictures!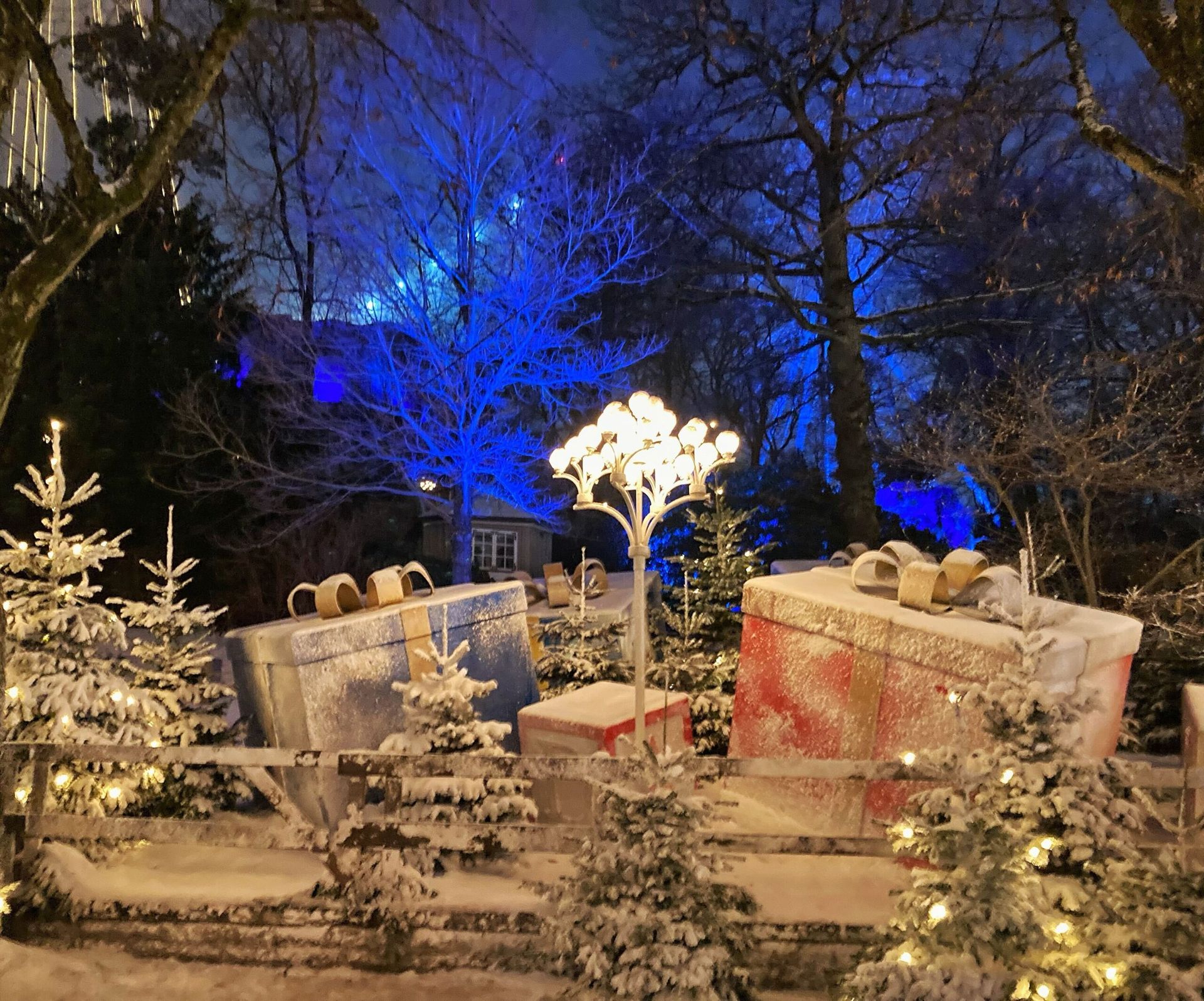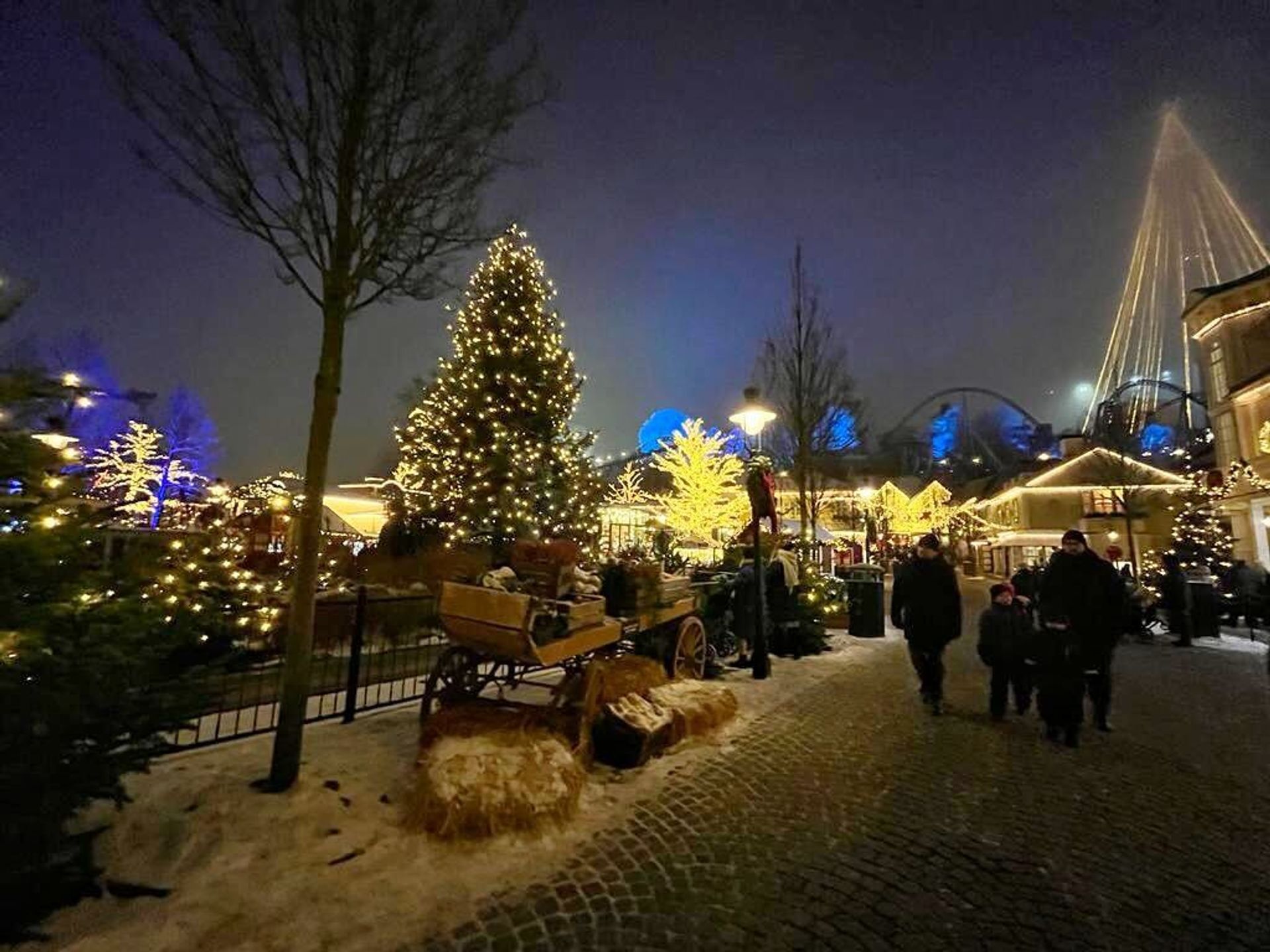 The Tomtebyn
Tomtebyn is the village where you can see all the elves packing presents and little beds where they sleep! It is here where you meet the Swedish Santa called Jultomten!! This Santa was originally a gnome that lived under the house or near the forest and helped protect the children. Nowadays he delivers presents through the front door though, not the chimney.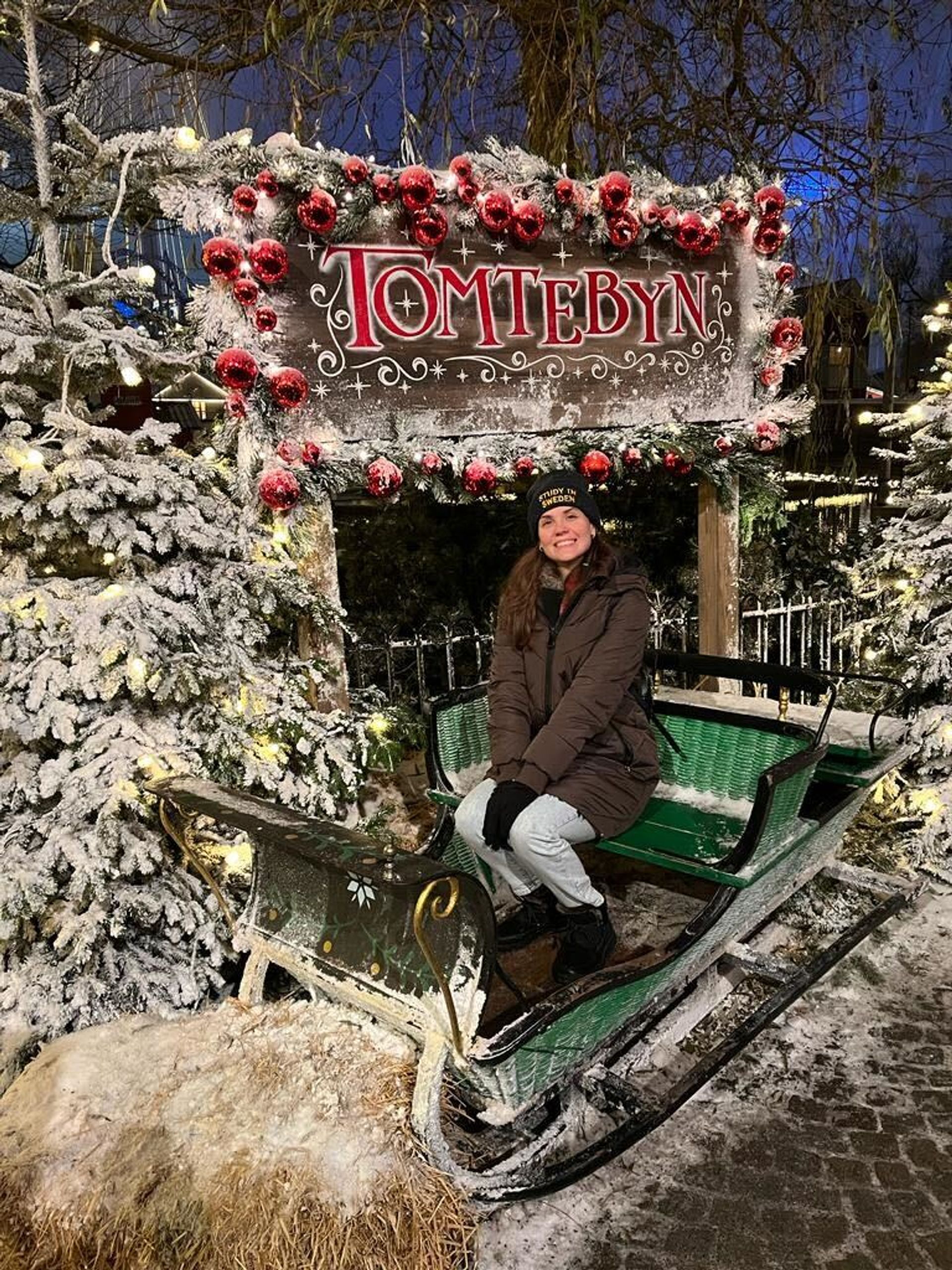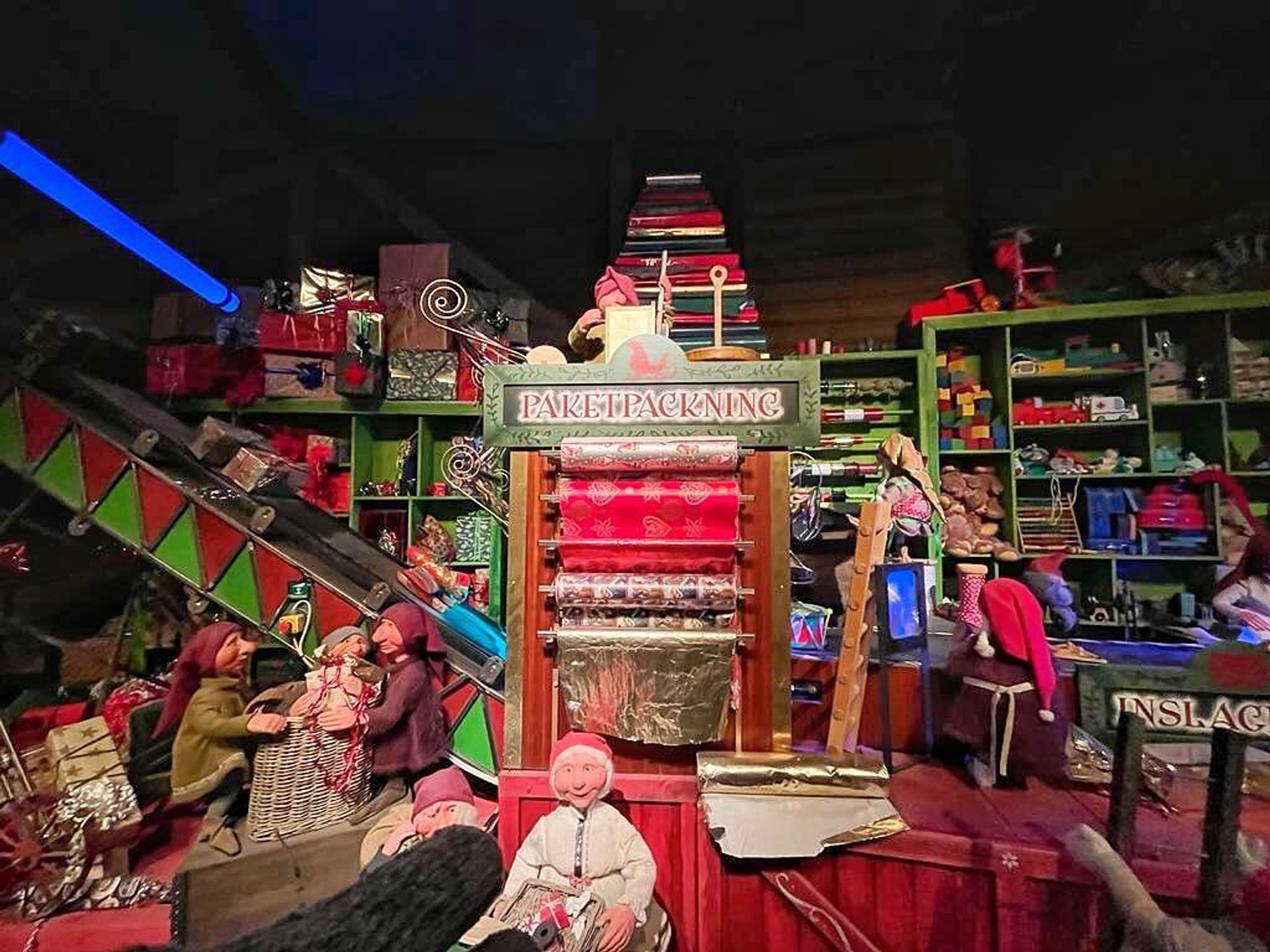 So these little 'gnomes' are very common to see and buy as a gift or a Christmas decoration. I love them actually, don't you?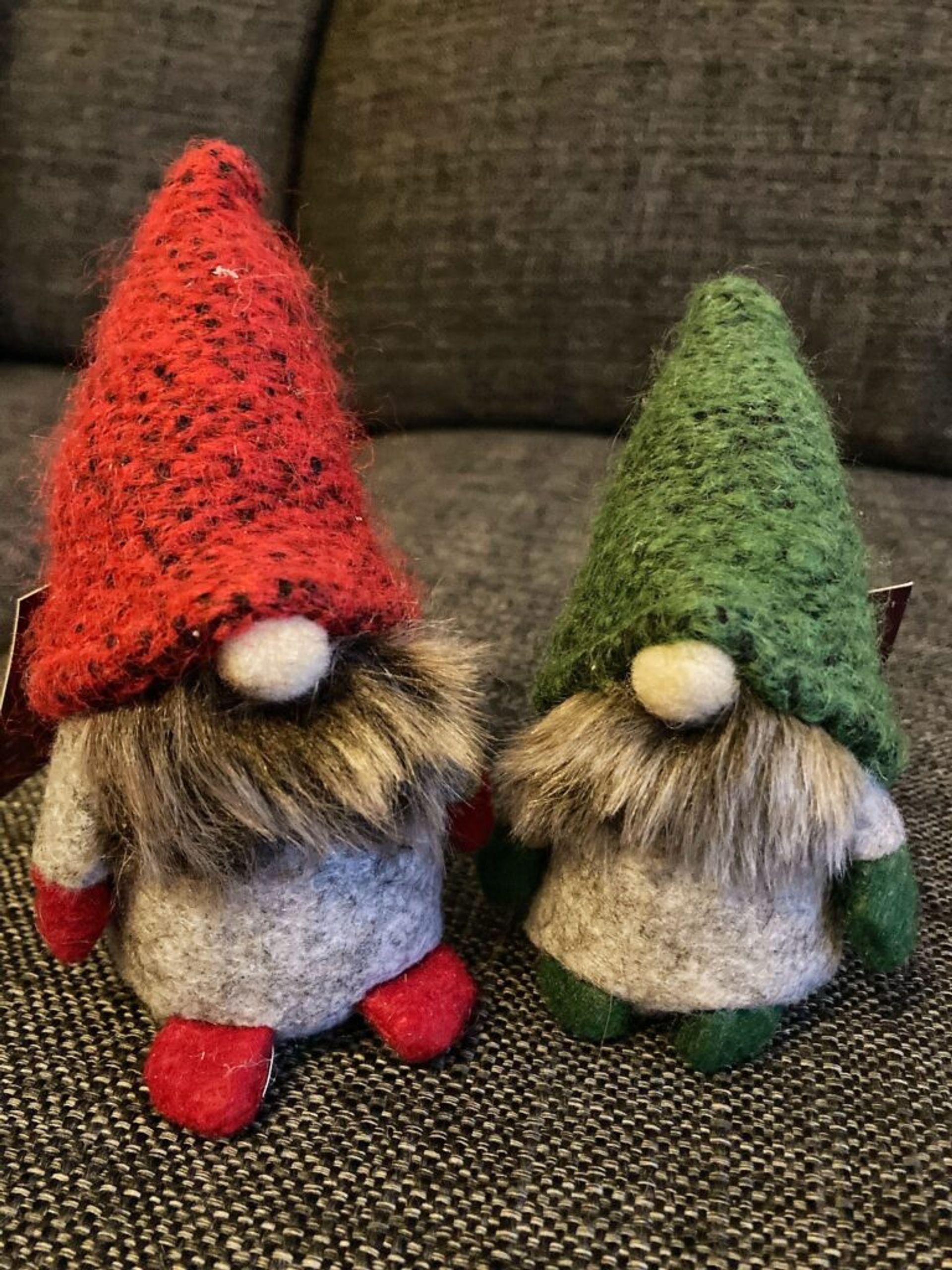 Oh and by the way, don't forget to write a letter to the Santa/Tomten because there are mail boxes available all around the park and you never know, your wish may come true!
The roller coasters
There are several roller coasters open during Christmas season, you can see some in the background of this photo below. There were couple more, especially for younger children but some for adults too. We decided not to buy the tickets for the rides because it truly was freezing. But I can imagine that in the summer, it's awesome!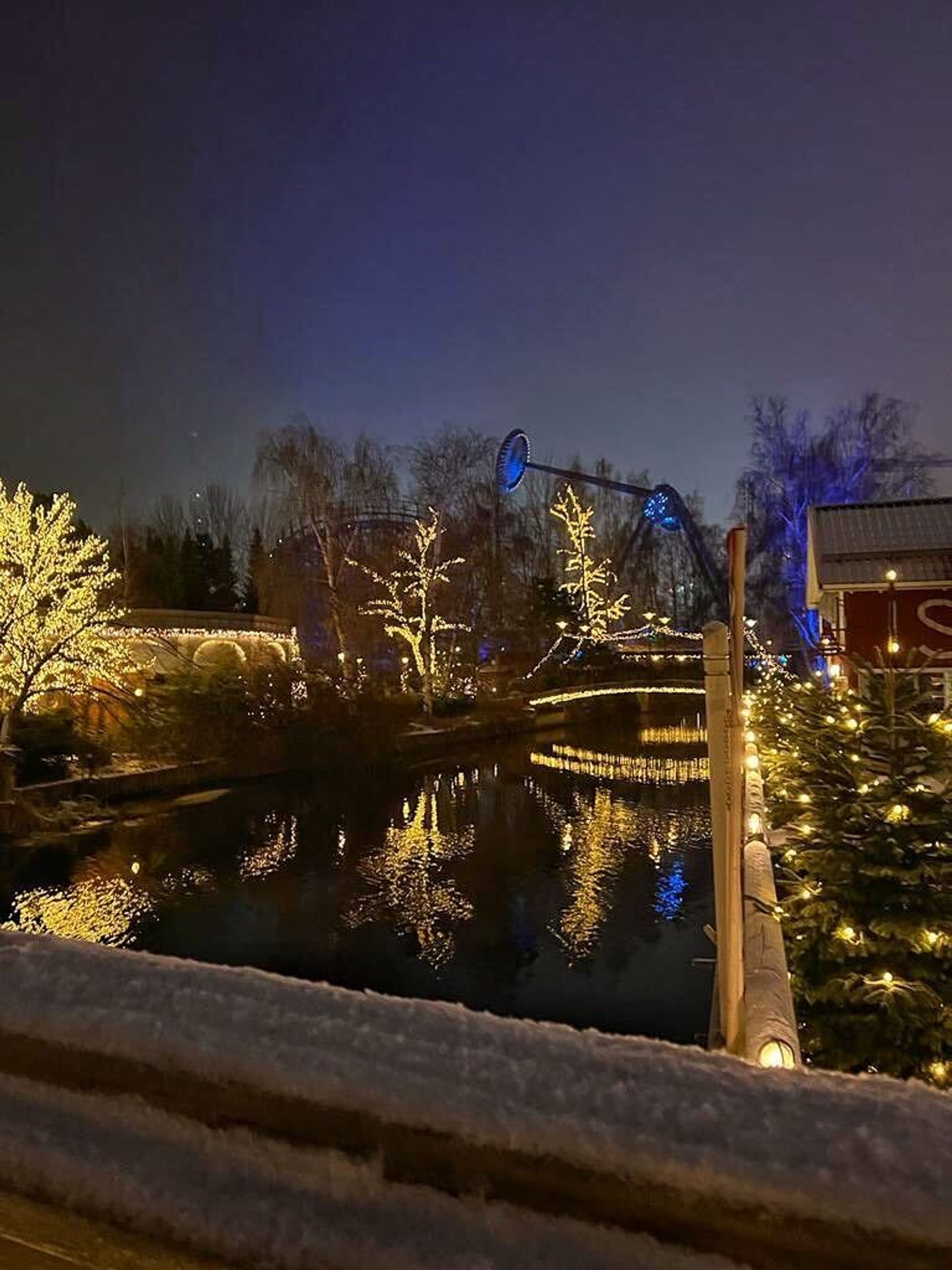 Small theatre
There is also a small theatre with short scenes, mainly for the younger audience. Make sure to check out the calendar on their website to see what they have scheduled for the day you're going to visit. We didn't manage to go there because we didn't have enough time.
Games
There are A LOT of opportunities to play some fun games. They cost a small fee but if you do well, in some of them, you can win a price. The most popular prices were a giant Toblerone chocolate bar, or a giant KEX. All you had to do was bet on the right number, shoot ducks, fish some fishes or similar. It was pretty difficult to win but many people did. And it was not expensive to try! 🙂

*tip: if you want to play, make sure to bring some cash, it was so cold that they had to stop using the terminals
Ice-skating
There was a really cute ice-skating rink with Christmas music and beautiful lights and it cost only SEK 50 to rent the ice-skates! It would definitely be worth it but we were so cold that we decided to just watch this time.
'Kaninlandet' (The rabbit land)
Unfortunately, I don't have a picture of this but one section of the park was all about rabbits which really confused me because I thought it's Christmas not Easter. 😀 But I found out later that Liseberg has its own mascot which is a pink and green bunny so these bunnies are very popular.
The view
Lastly, you can take the stairs and walk up inside the big 'Christmas tree' where you get to see a nice view of Gothenburg and drink some hot chocolate. We've discovered this at the last minute but it's definitely a cute idea and a spot that you should not miss.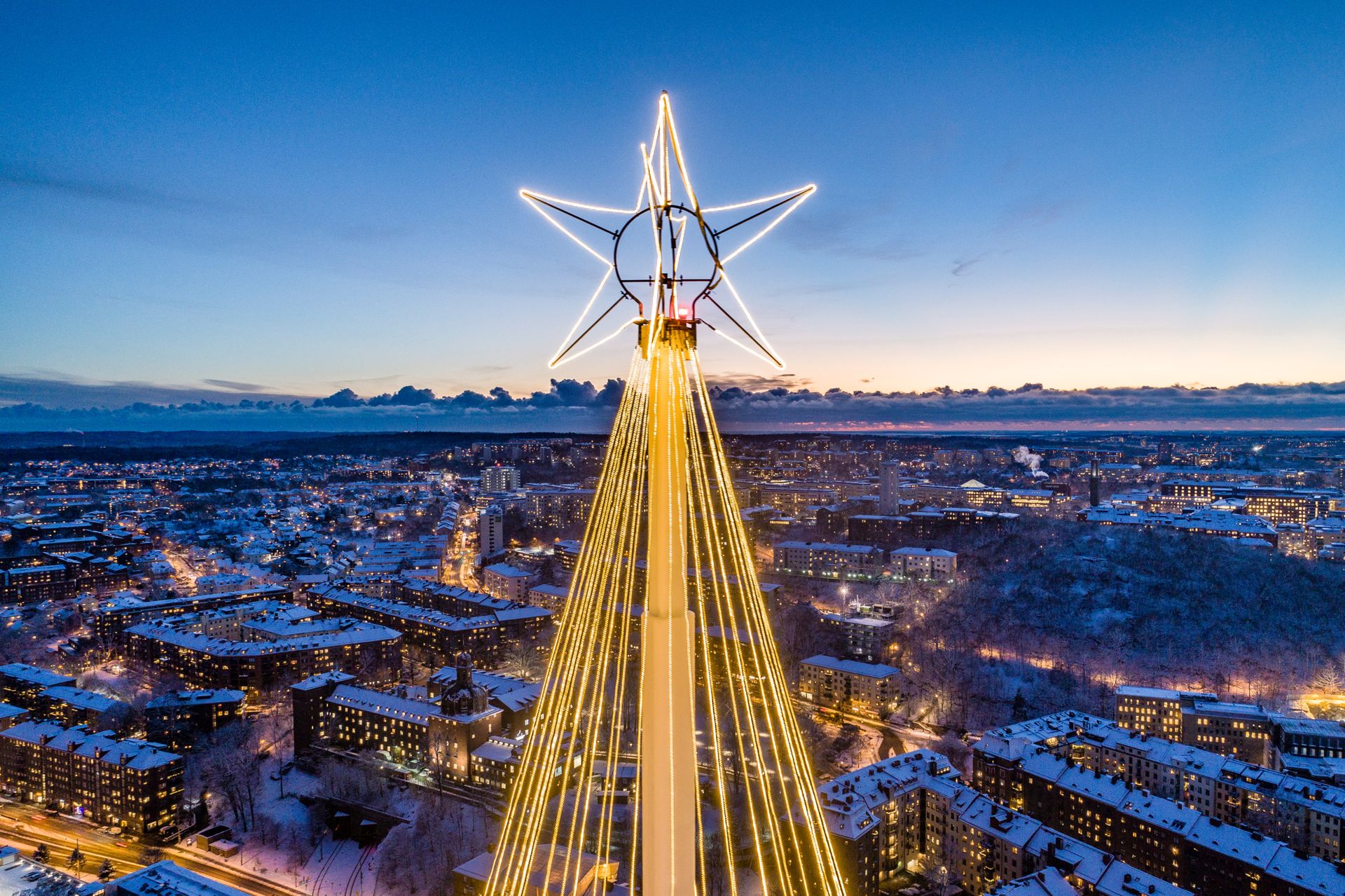 What can you buy at the Christmas market? + prices
Of course, you can also do some shopping. It is a Christmas market duh…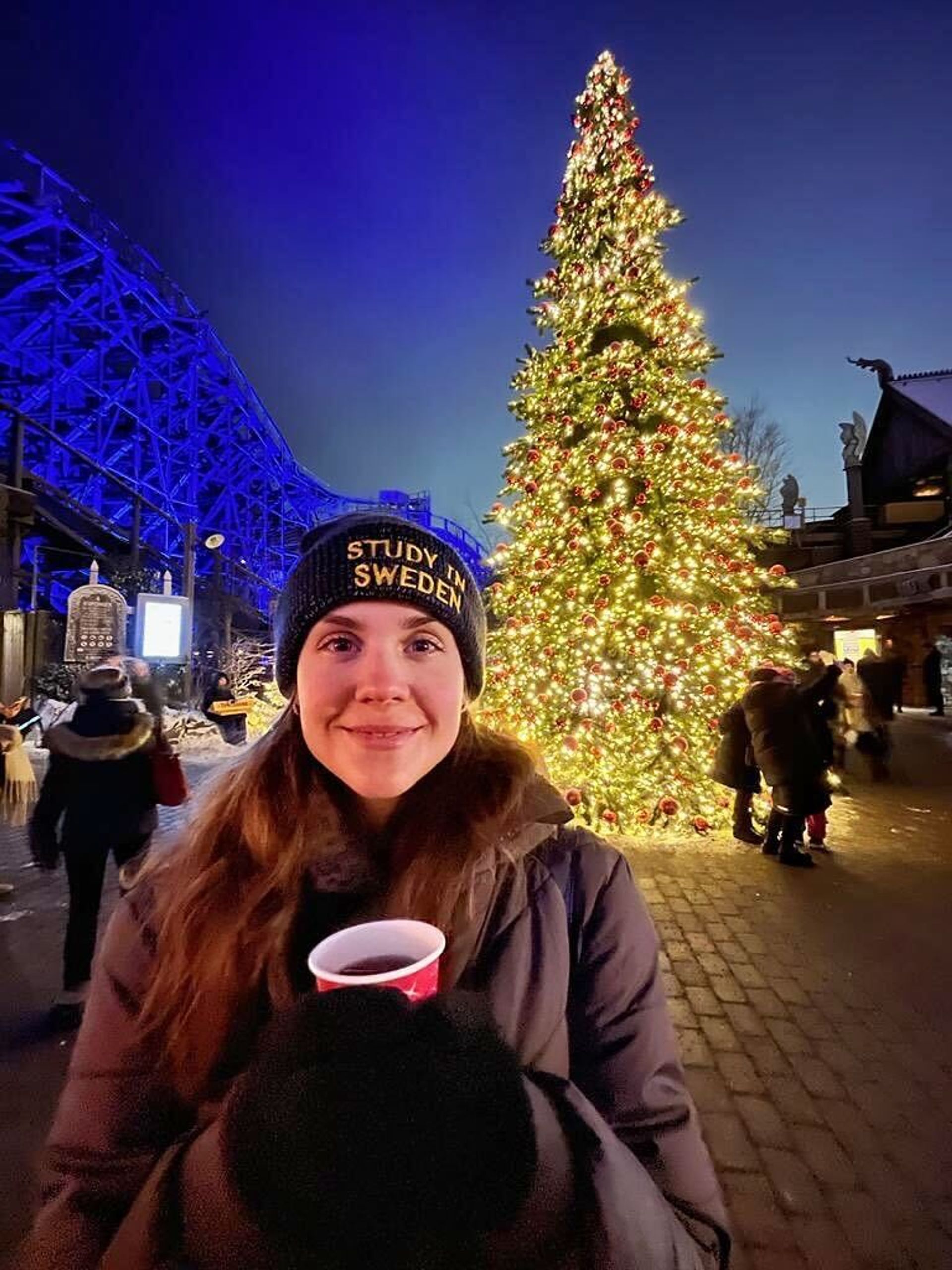 Food and drinks
I bought a tiny cup of warm 'glögg' for SEK 25. The traditional Swedish Christmas beverage made of (typically non-alcoholic) wine with cardamom, cinnamon, sugar, and other yummy things. It's so warm and sweet.
But you could also find hot chocolate or coffee in all the places.
There were many restaurants at Liseberg where you could eat your dinner and the prices were the typical swedish prices ranging from SEK 90 to SEK 300 for a meal depending on what you prefer. I liked that there were so many options. You could find a place where they offered waffles, churros, or roasted almonds but also fast foods and fancier restaurants.
You can also buy other stuff
They sold handmade earrings, belts, things made from honey, meat and cheese, clothes, Christmas decorations. There was really a lot to choose from. We decided not to buy anything though because we already spent a lot that day. But it was nice to just walk around the market and see what they offered.
Summary of pros and cons
Pros:
The park had a lot of things to offer. From decorations through meals and sweets to a variety of activities. It was really beautiful and the prices were surprisingly normal (Swedish normal). You could easily spend hours just walking around the park without paying for the rides. It was possible to warm up your body and your soul with a sweet drink or by standing next to small fireplaces that they placed all around the park – what a great idea!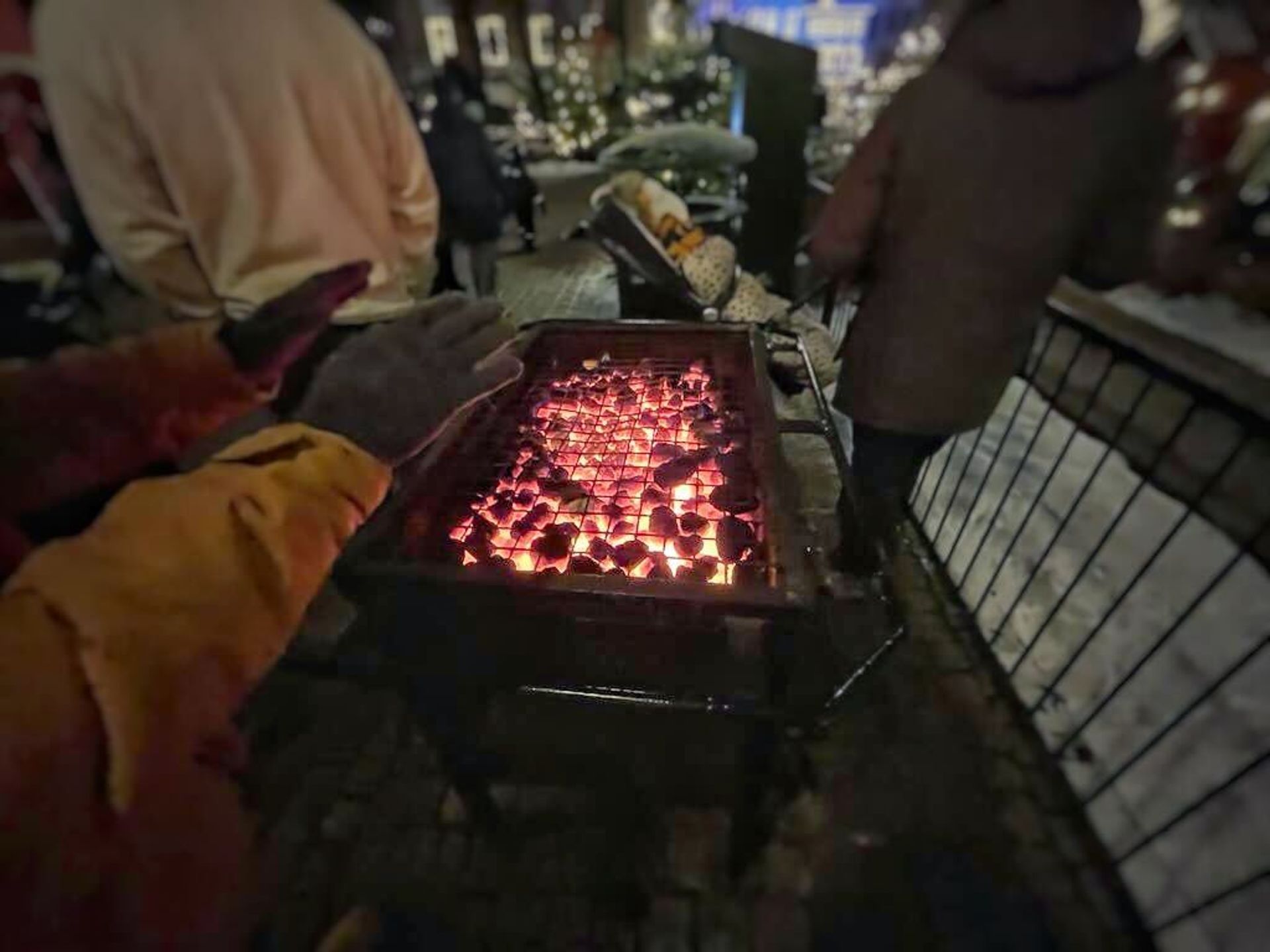 Cons:
I would say that the main disadvantage is that the entry fee is quite high even excluding the rides. I don't think it's worthy to pay for the rides during winter (unless you really want to) since there are not as many and it is freaking cold! You should also be aware that the activities often target younger audience.
Next problem is that if you are not from Gothenburg, you need to pay for the train ticket to get there. For us, it took an hour to get there by train (which cost SEK 210 for there and back). I would not recommend visiting during winter for someone traveling from a longer distance since it might alltogether get too pricey. But I can imagine that in the summer, it's worthy to give it a try when visiting Gothenburg since all the rides will be open!
Last tip
If you live in Gothenburg and you are looking for a part-time job, I would definitely recommend looking in the vacancies at Liseberg. It might be fun to get to work as an elf for the Santa or maybe in the Liseberg marketing team!

Hope this post helps you decide whether Liseberg is worth it and if yes, I wish you all the fun!