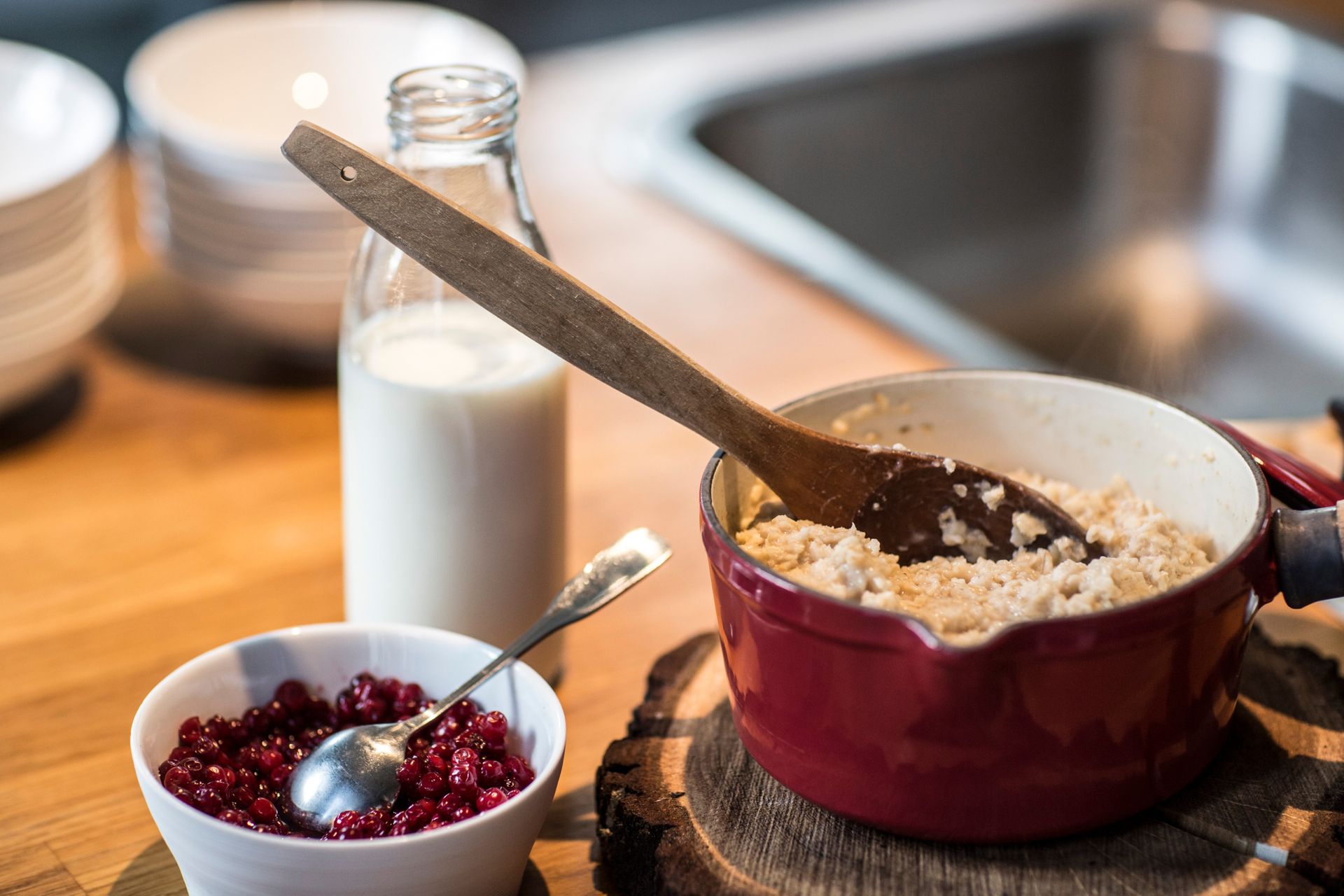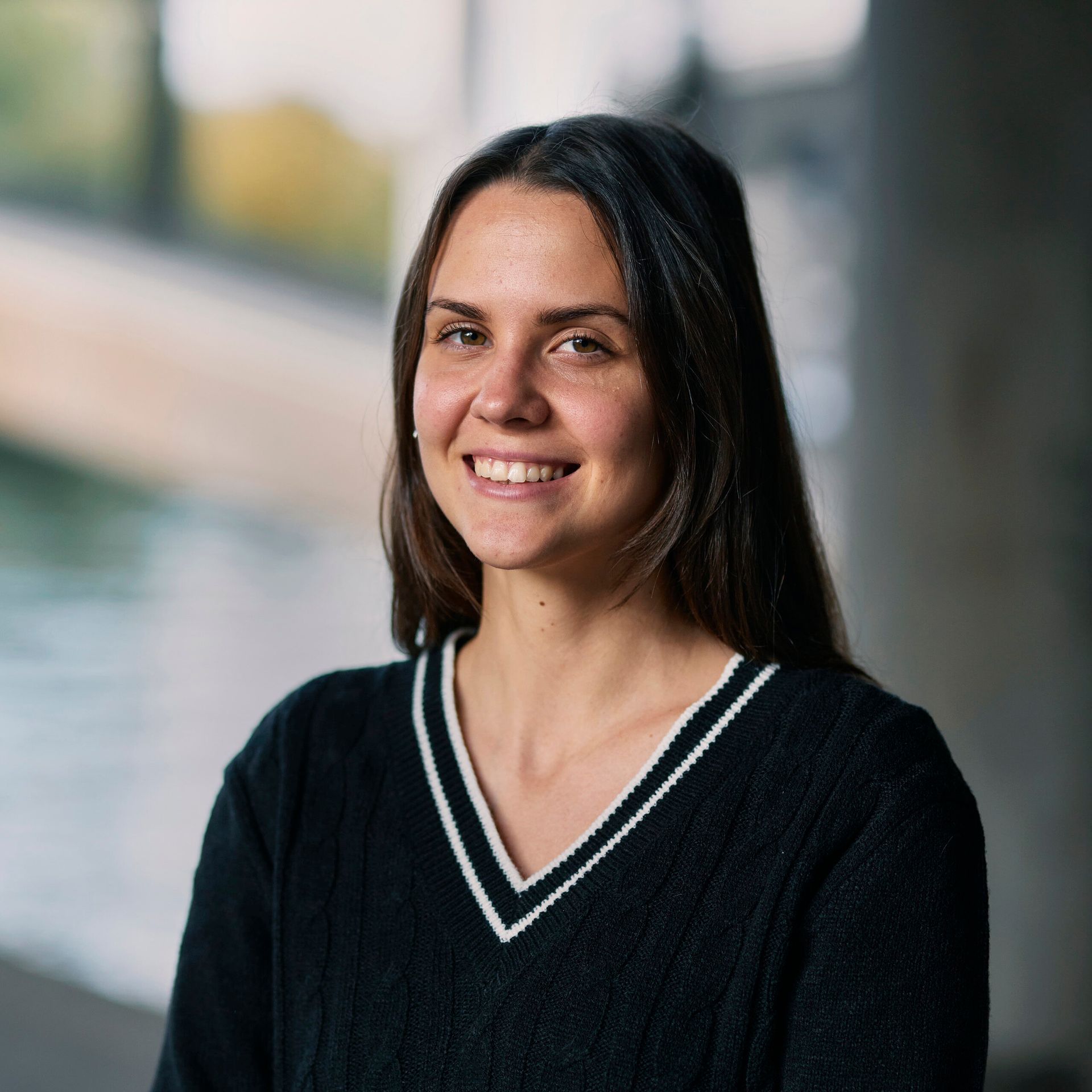 Some people say that breakfast is the most important meal of the day. There are people who disagree and skip breakfast on daily basis. For me, a delicious and nutritious breakfast kickstarts my day. There are however those days when you just don't have the time in the morning to prepare breakfast or you feel uninspired and don't know what to make. These breakfast recipes will help you solve those problems. They are based on the idea that you prepare your breakfast the evening before and it tastes just as delicious in the morning.
Overnight oats (for 1 jar)
For the base you'll need:
1/2 a cup or about 35 g of oats
about 100 ml of milk – can be plant-based
about 50 g of yoghurt – can be plant-based as well
1 tablespoon of chia seeds (optional)
ground cinnamon (optional)
Toppings for the oats are optional and you can experiment with many yummy combinations, such as apple puree + cinnamon, cocoa + nuts, fruit + honey. For my topping I chose:
2 strawberries
1/2 tablespoon of peanut butter
one tablespoon of raspberry jam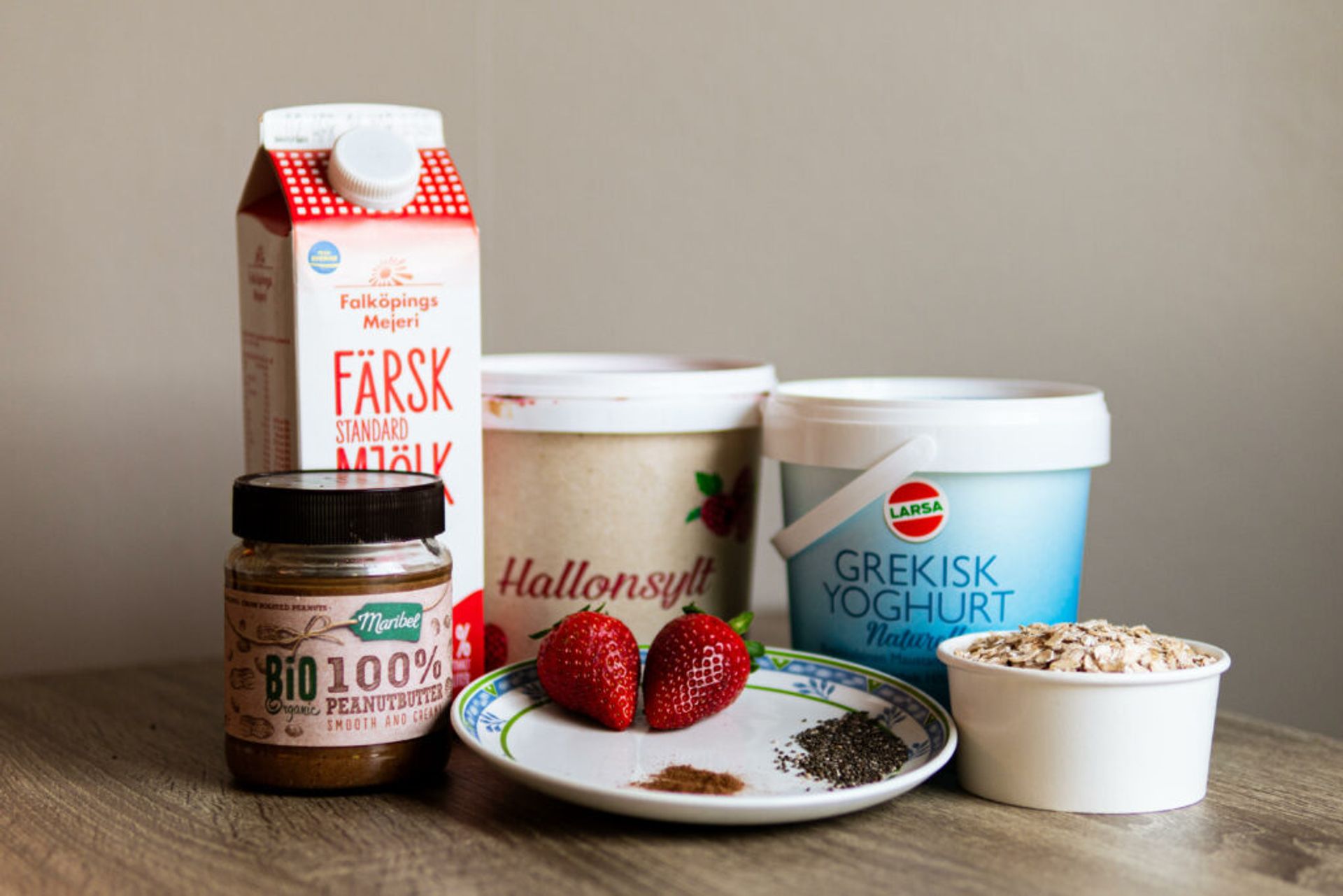 Instructions:
1. Mix the base ingredients together and pour them into your jar. (I reused a jar that )
2. Refrigerate overnight.
3. In the morning, place your preferred toppings and take the jar with you to eat on the road or eat it at home.

*you can also place the toppings on in the evening right away but it tends to sink overnight, so it might not look as aesthetically pleasing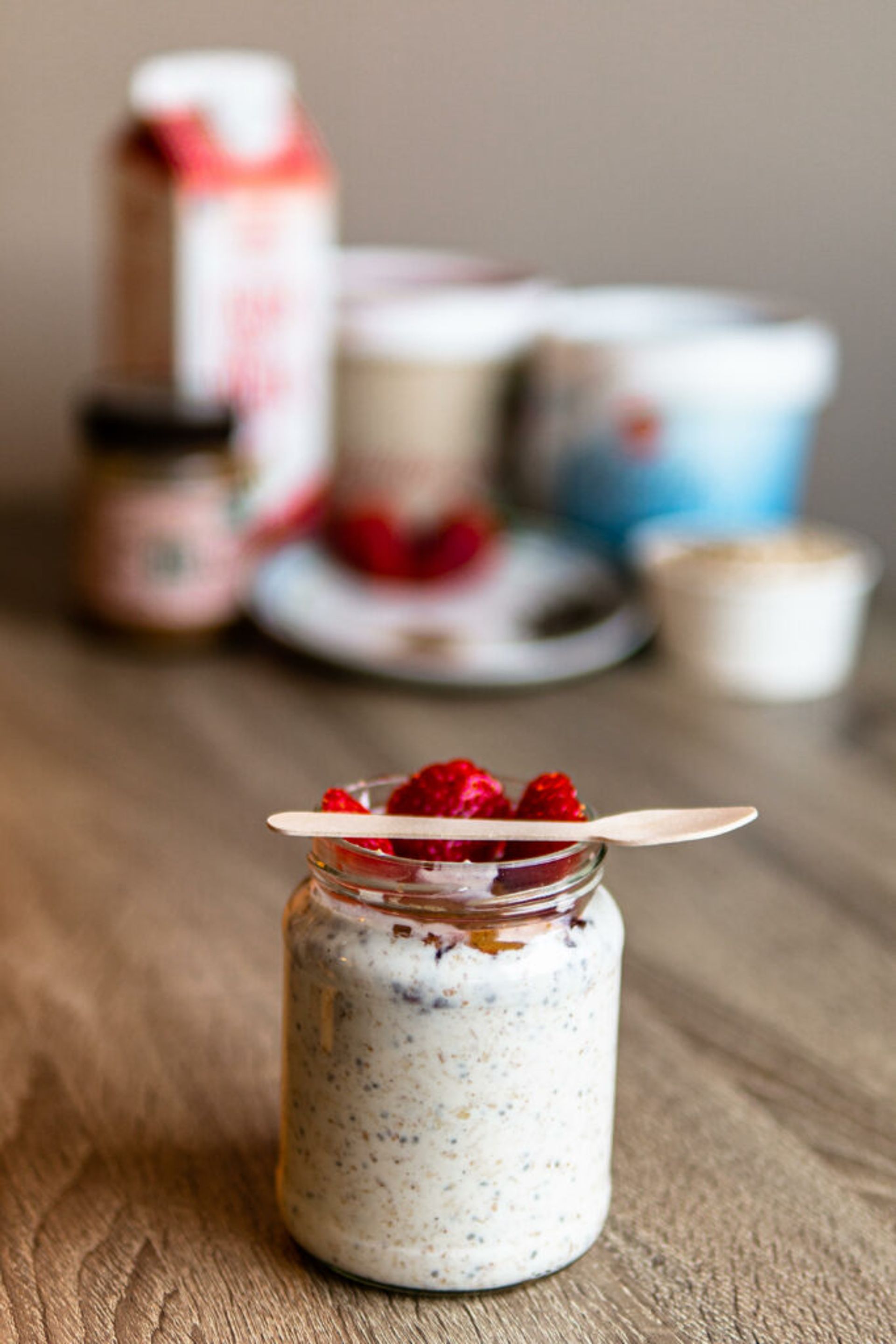 Price
1 jar including the base and the toppings is around SEK 9. But you're gonna have to buy all the ingredients the first time which could cost about SEK 120 + strawberries (depending on the season).
Omelette tortilla wraps (to make 1 wrap)
This tortilla wrap is very tasty and nutritious, especially when you add some veggies on a side. This recipe also allows you to make variations by adding red pepper or spinach into the tortilla. It will make the taste much more interesting. It is my go-to breakfast that I usually make the evening before and I heat them up in the morning on a pan.
For this recipe you'll need:
2 eggs – you can replace eggs with a crushed tofu
1 medium tortilla (for a healthier version, pick a whole-wheat)
about 4 slices of ham – can be substituted with mushrooms
cheese* (as much as you like) – as a replacement I would choose pesto or tahini sauce in case you can't make/buy vegan cheese, but you can easily make the tortilla without the cheese
a tablespoon of oil
salt and pepper to taste
*We usually buy a big chunk of Gouda cheese in Lidl. The overall price is cheaper (about SEK 80 per kg), it lasts long and tastes really good!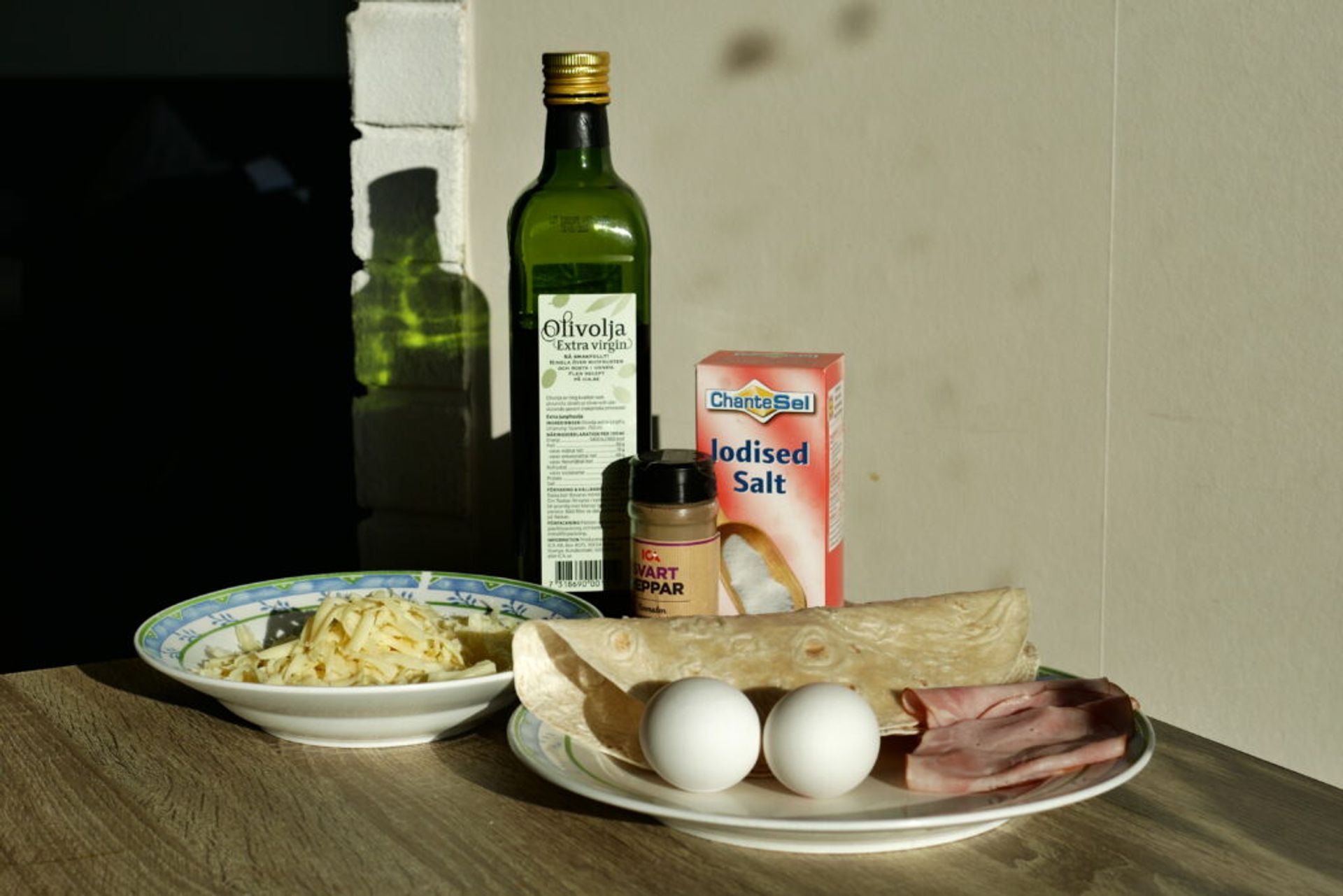 Instructions:
1. First, carefully break the eggs into a small bowl and mix using a fork.
2. Add a bit of salt and black pepper. (Don't put too much! You can add more later.) You can also toss in some herbs if you'd like.
3. Cut the ham/mushrooms into smaller pieces.
4. On medium heat, heat up the pan and add a bit of oil.
5. Add the ham/mushrooms and roast for a few minutes. (This is the part when you would also add red pepper, onion, garlic, or spinach – try it out!)
6. Lower the heat to a low and add the eggs. Use a spatula to scramble the eggs. (Make sure the heat is really low, otherwise, it won't have such a creamy texture)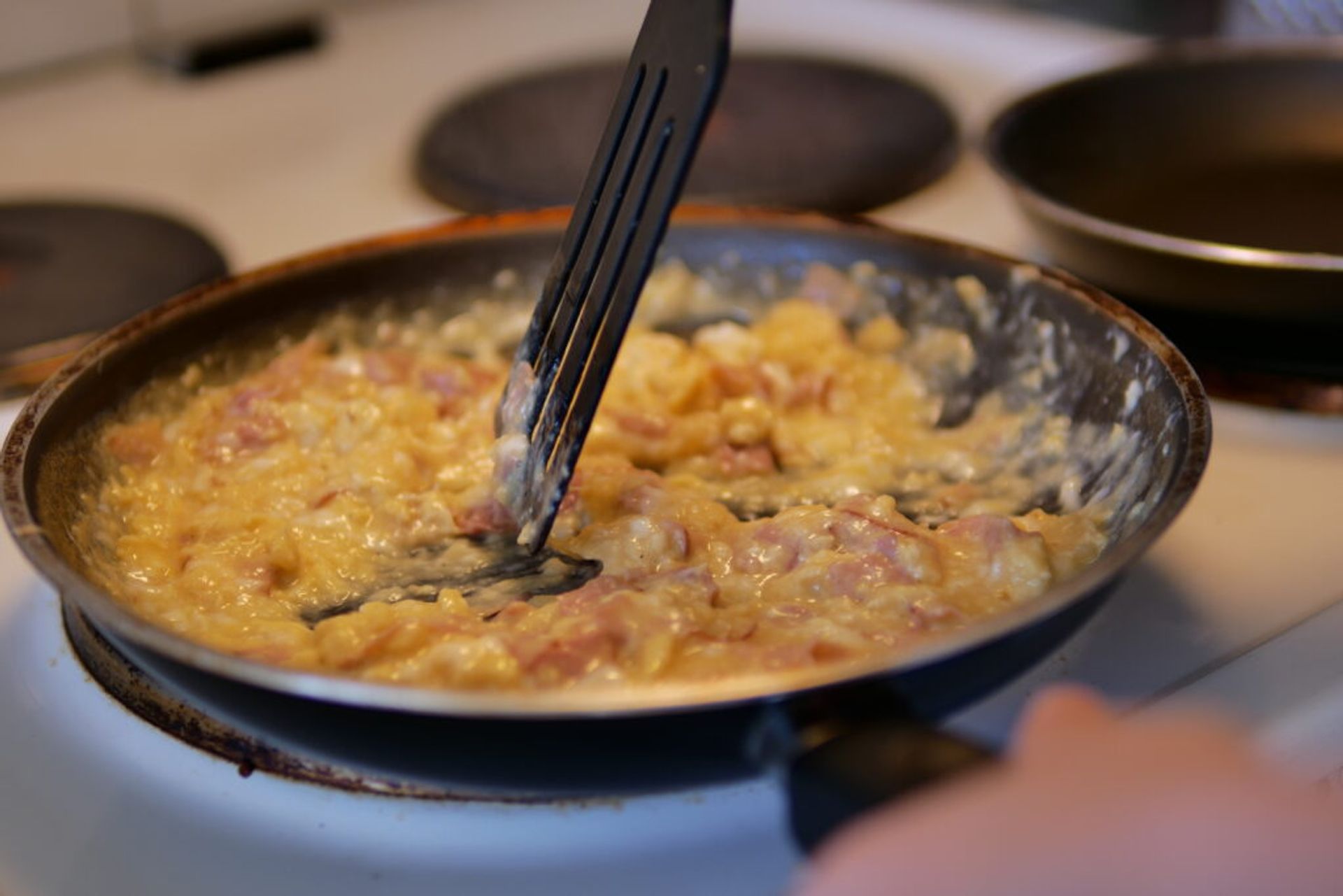 7. Heat up the tortilla on another dry pan, in the microwave (or in the oven), just until warm and easy to manipulate.
8. Top with scrambled eggs and cheese.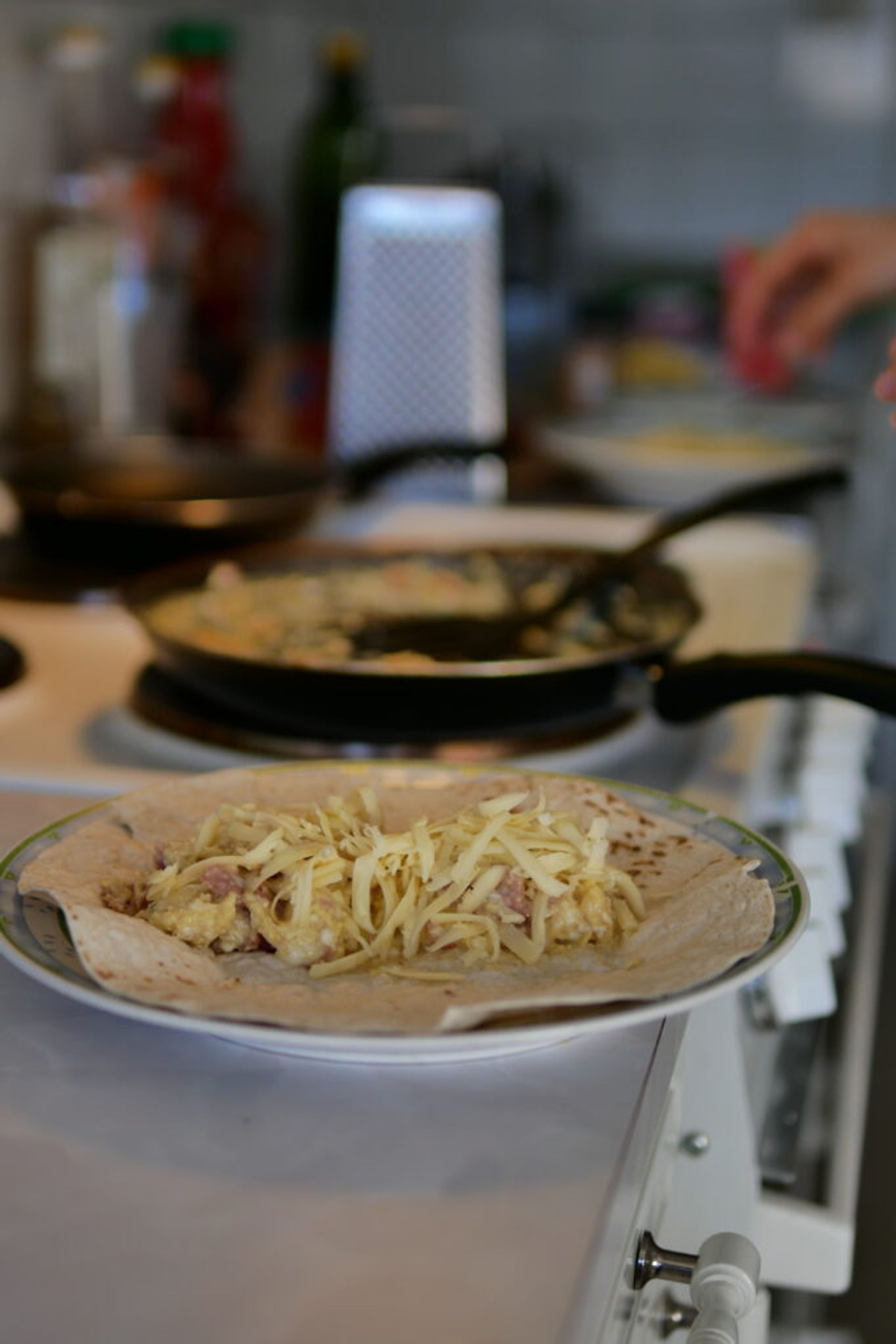 9. Wrap it and heat it up on the pan from the outside (or in the microwave) for a minute so the cheese melts.
10. Serve with veggieeeees.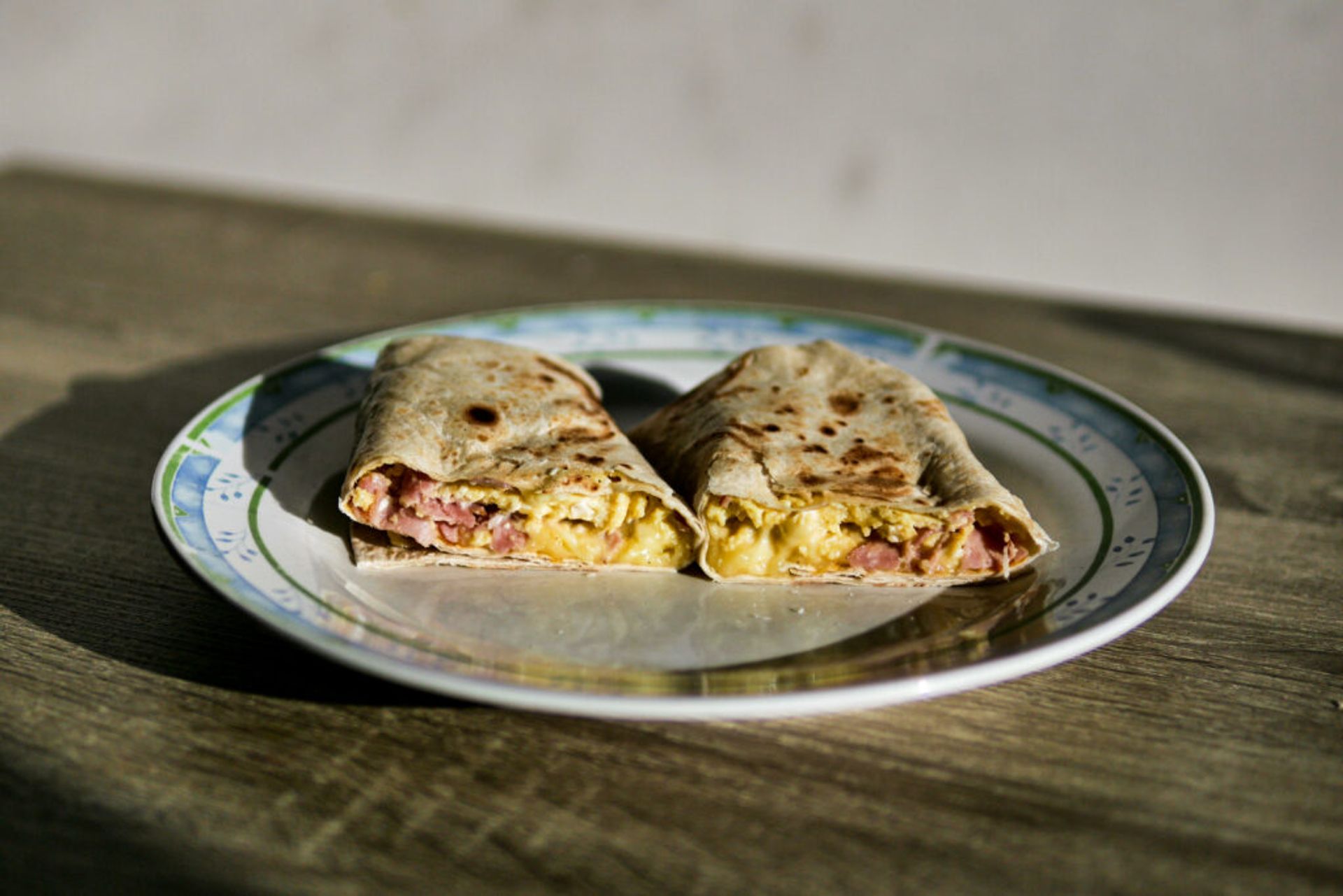 Price
One wrap will cost you about SEK 12, depending on how much cheese you'll add since that is unfortunately the most important part of the breakfast meal. Similarly, as above, you'll need to buy the ingredients to start with. The price of the shopping list depends greatly on where you shop. I recommend Lidl but there are other options to get affordable groceries in Sweden.
Banana pancakes
This is a sweet and yummy breakfast recipe that you can make the evening before. You can heat the pancakes up the next morning in a microwave or on a pan and it tastes just like when fresh. It is also possible to store the dough for two-three days in a refrigerator.
For this recipe you'll need (to make 6 small pancakes):
2 bananas (the brownier, the sweeteer)
2 eggs – you can substitute 1 egg by mixing 2-3 table spoons of chia seeds in warm water
about 5 tablespoons of a flour (preferably whole-wheat or coconut flour)
2 teaspoons of baking powder
a little bit of oil (to grease the pan)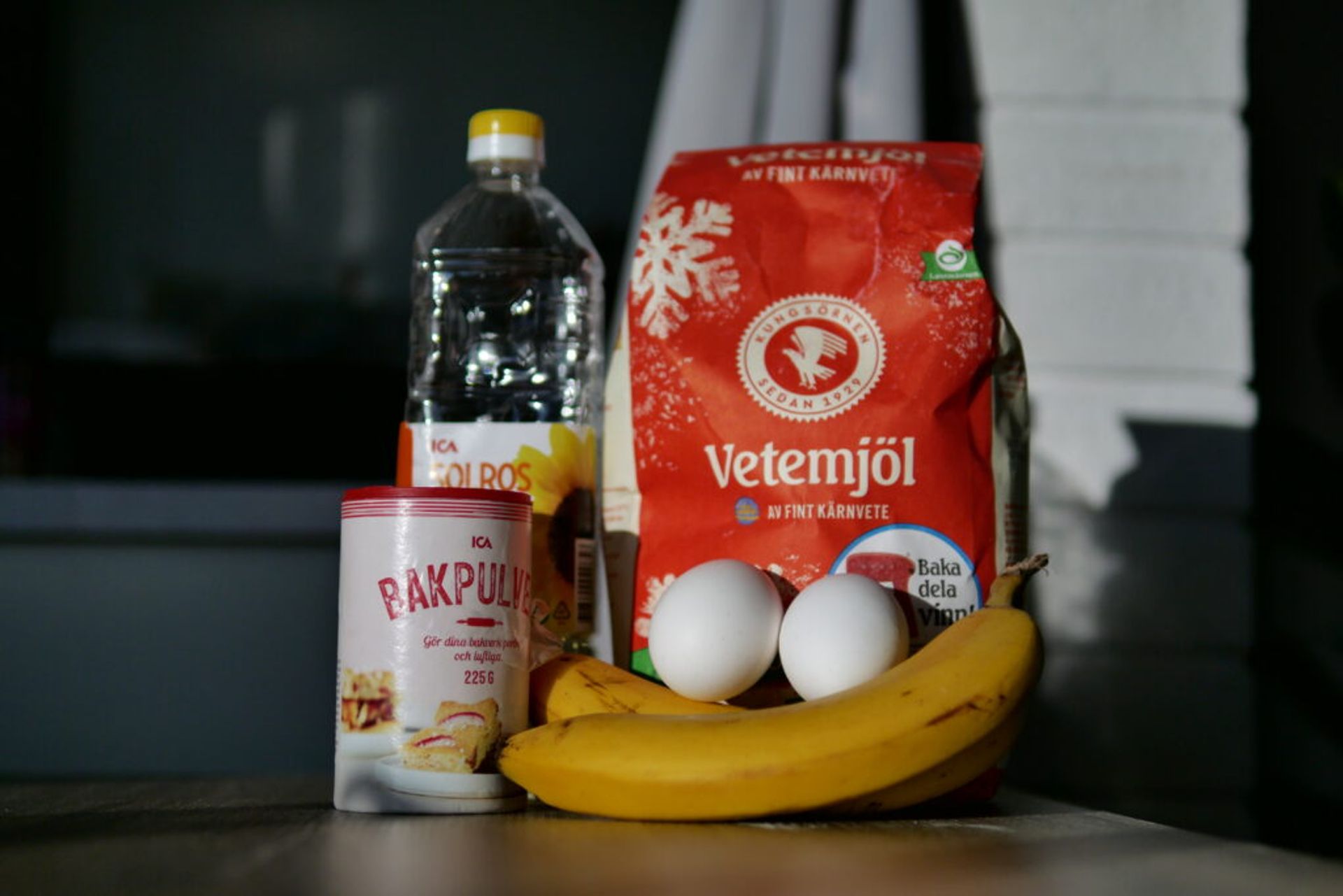 Instructions:
1. Mash the bananas. You can use a fork or a mixer.
2. Add the eggs and baking powder.
3. Lastly mix in the flour until the consistency is a bit thicker but not too thick. (It should not be hard to pour.)
4. Use a ladle to pour the dough onto a hot and slightly greased pan forming small circles.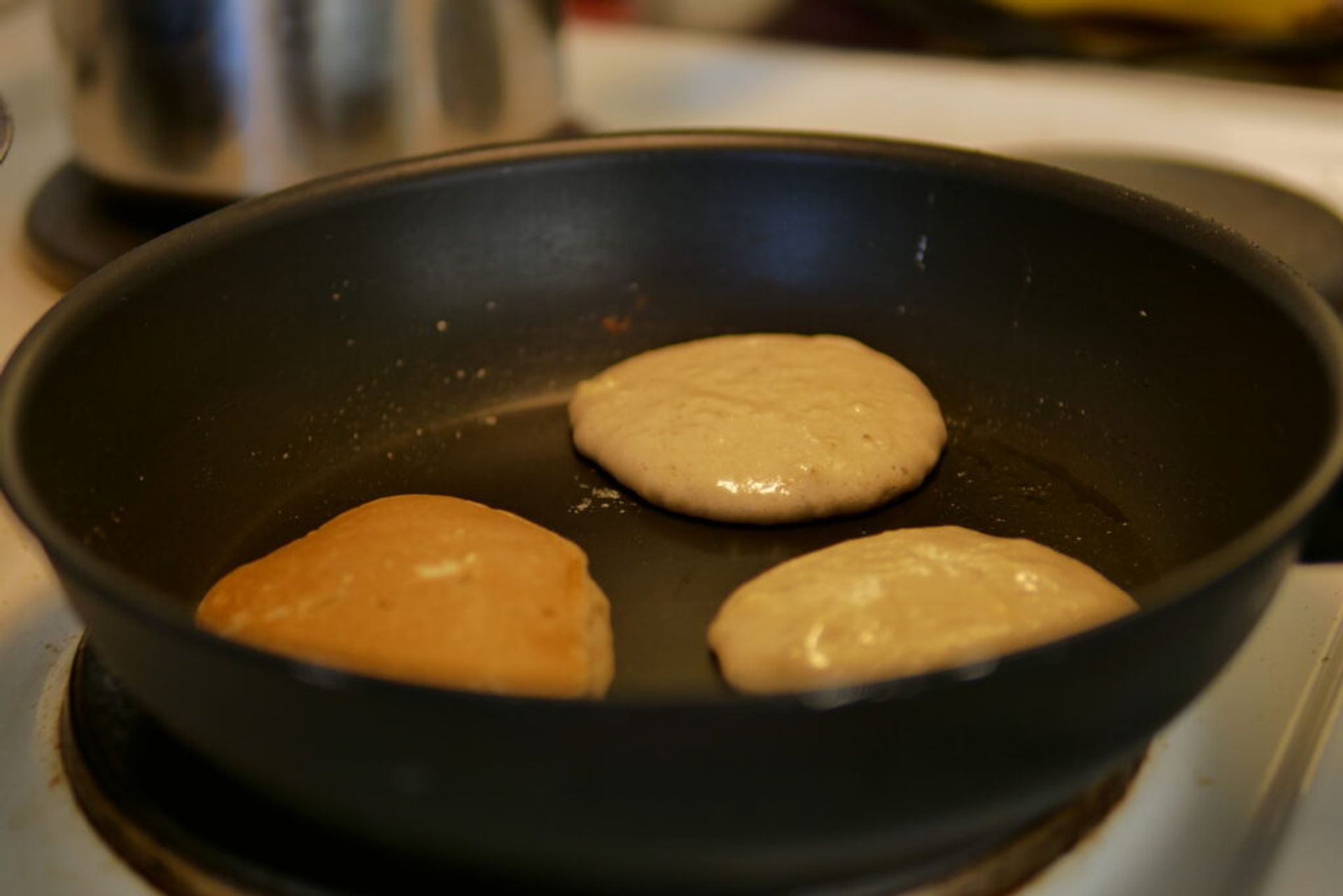 5. Flip the pancake when golden brown.
6. Serve with honey/maple syrup or fresh fruit.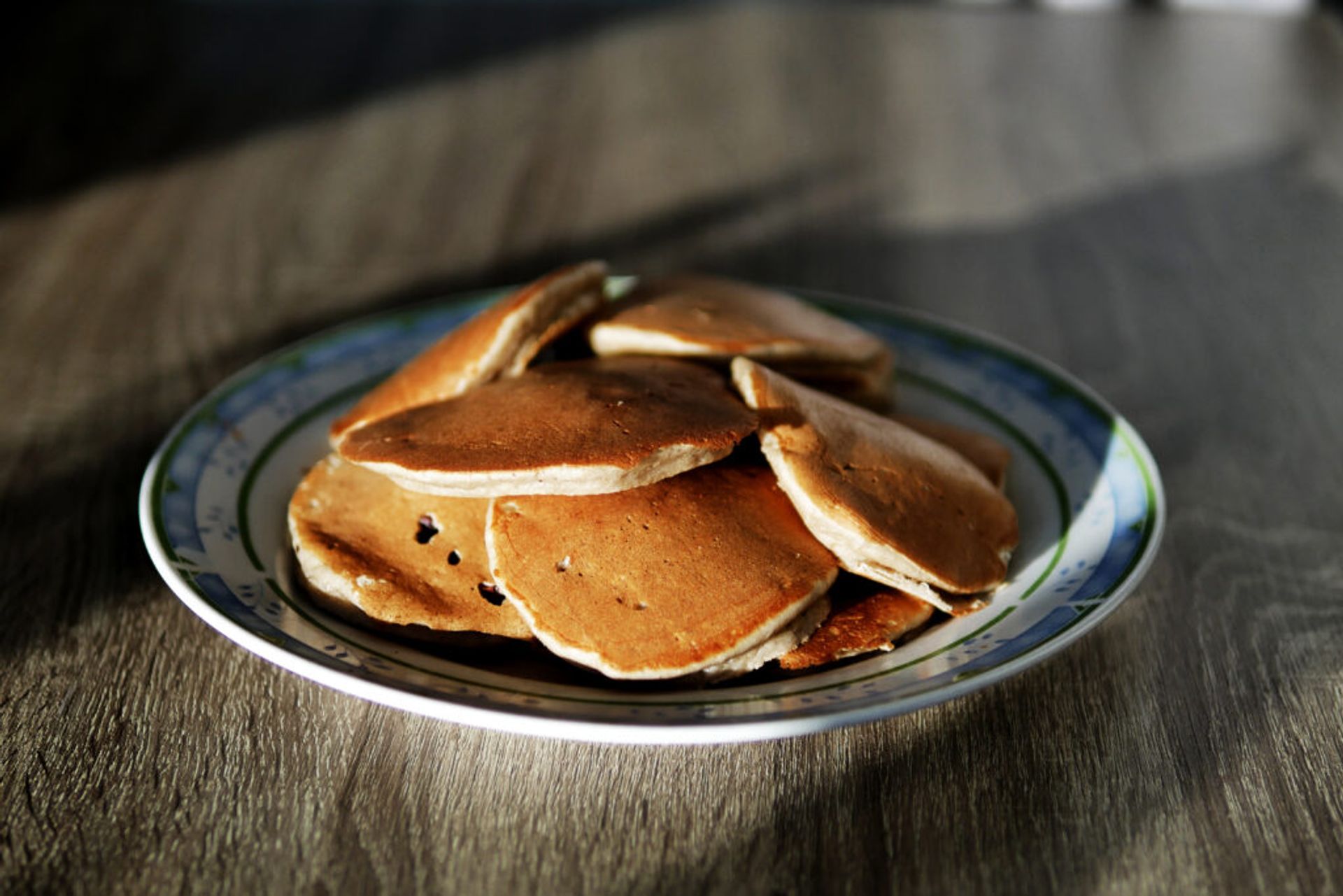 Price
Bananas tend to cost about SEK 25 in most shops but we get them in Lidl where they are often on sale. The cheapest price was SEK 7 per kilogram, a big difference huh? So to make 6 small pancakes while using semi-affordable bananas will probably cost you approximately SEK 8.
To summarise…
The prices of the meals might vary depending greatly on where you shop, what is the season or what is on sale, whether you choose plant-based alternatives, as well as what you use as your toppings. Make sure that you are not afraid to experiment and make the dish your own!
Lycka till och smaklig måltid! (Good luck and enjoy your meal!)