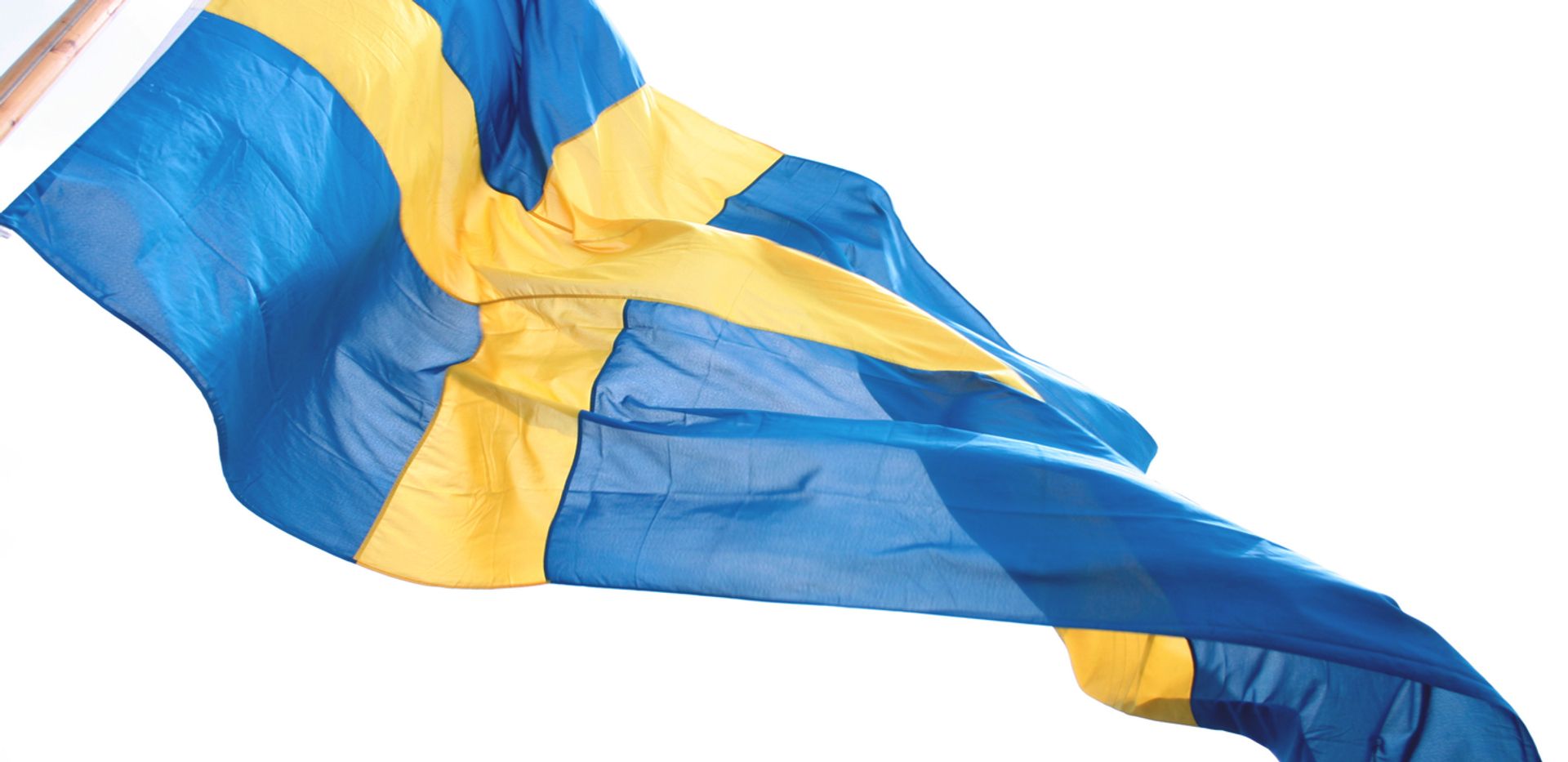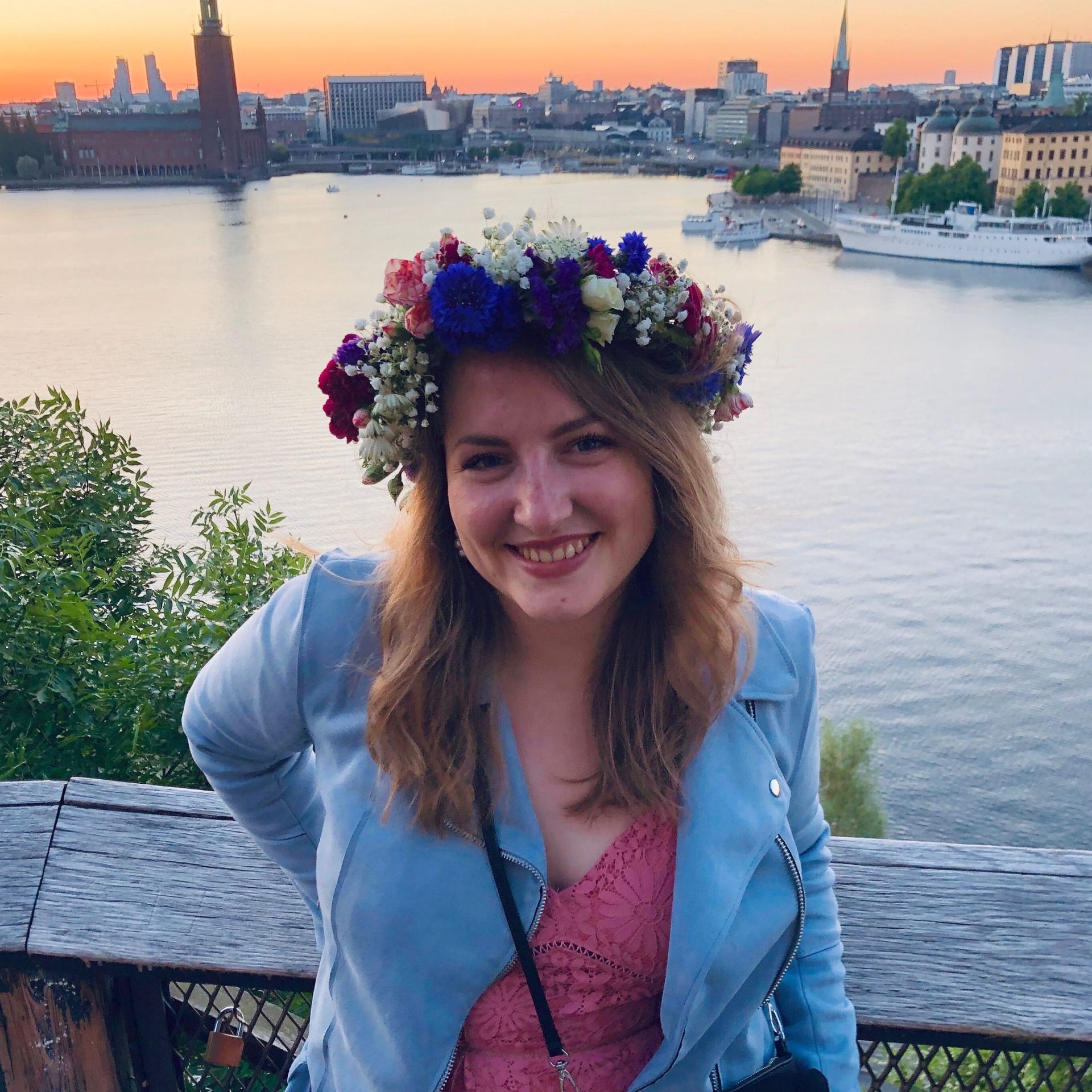 EU Citizens Edition
Quite a few inspirational people believe "It's about the journey, not the destination" and that may be true in many cases. However, and I am sorry to tell you, this post is about the destination, because you want to get a personal number and an ID, am I right? I will guide you through the application process.
Who is Skatteverket? What is a Swedish personnummer? Do I really need that number? Why would I want to have a Swedish ID?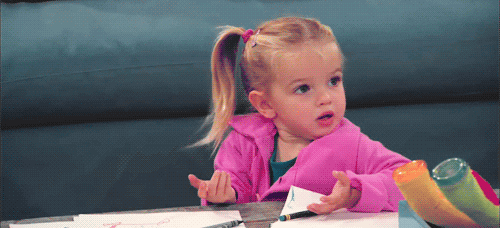 And well, there may be even more questions running through your head. Before we start with the step by step guide, I will clarify some of them.
Who is Skatteverket?
Skatteverket (the Swedish Tax Agency) is a government agency in Sweden. Its main tasks include registering tax duties and collecting national taxes, as well as the administering the population register, which is called "folkbokföringsregister". Its headquarter is located in the Solna municipality, close to Stockholm, and the agency has approximately 100 offices across Sweden. If you want to know about other Swedish agencies that are important and useful to know, check out Anita's article about 4 other important agencies apart from Skatteverket.
Why would you need a Swedish personal identity number?
A personnummer or personal identity number is your identity in Sweden. You get it once your register at Skatteverket and add your name to the population register. You will need it if you want to receive healthcare services (which does not mean that you cannot get emergency treatment without it), open a bank account, get insurance, sign contracts and much more. Universities also register it for administration purposes. A personal identity number functions like a central register: if the government checks it, they can see where you study, what your bank account is and how much taxes you have to pay if you have a job, for example.
As an EU citizen, you have the right to reside in Sweden for 3 months without registering at Skatteverket – but it's easier to register straight away. To be allowed to register and get a personal identity number, you need to study in Sweden for minimum 12 months.
The format of the Swedish personal identity number
A Swedish personal number is individually assigned, meaning no one else has the same number as you do. It consists of 12 numbers, 8 digits (usually) separated by a hyphen from 4 other digits. The first eight digits indicate your date of birth (YYYYMMDD). They are separated from the last 4 ones by a hyphen (-) if you are younger than 100 years old; if you are older, the hyphen will be replaced by a plus sign (+). The first 3 digits after the hyphen are a serial number, with the third digit indicating your sex. An even third digit is assigned to females, an uneven one to males. The final digit is a so-called control number, where part of your digits are multiplied and added to get a sum, check this Wikipedia article ↗️ for more information. For example, in case you are a woman born on October 25 in 1993 might look as follows:
19931025-2641
Why a Swedish ID card comes in handy
Now that we have answered why you might need a personal identity number, I am going to tell you why a Swedish ID card (with your personal identity number on it!) comes in handy, too: whenever you need to prove your age and identity in Sweden, you will have an officially accepted document to do so. A nice side effect is that you will not always need to explain why you have a personal identity number but are not Swedish, or why you live in Sweden and yet need to prove your identity with another nationality's ID. Trust me, it saves a lot of time to be able to simply show a Swedish ID.
A Swedish ID card with your personal identity number can be handy in situations like these:
Visits to the pharmacy or bank
Police controls
Picking up a parcel at a post office
Buying goods at Systembolaget
Applying for a Swedish personal identity number
In order to be registered (folkbokförd) in the Swedish population register and get a personal identity number, you have to inform Skatteverket that you have moved to Sweden.
To start the whole application process, but also to obtain more useful information, please visit Skatteverket's website. ↗️
Skatteverket's web page ↗️ is also the starting point of our journey through Swedish bureaucracy. If you follow the link, the page you will land on is going to look like the screenshot below. And I know what you are thinking right now: "Holy moly, everything is in Swedish. Getting a number will remain a dream since it is impossible that I will by chance enter the right information".
Lucky you that you have stumbled across this blog post!
Overcoming your first challenge, please go to the upper right-hand corner, click on "other languages", scroll down and choose "In English".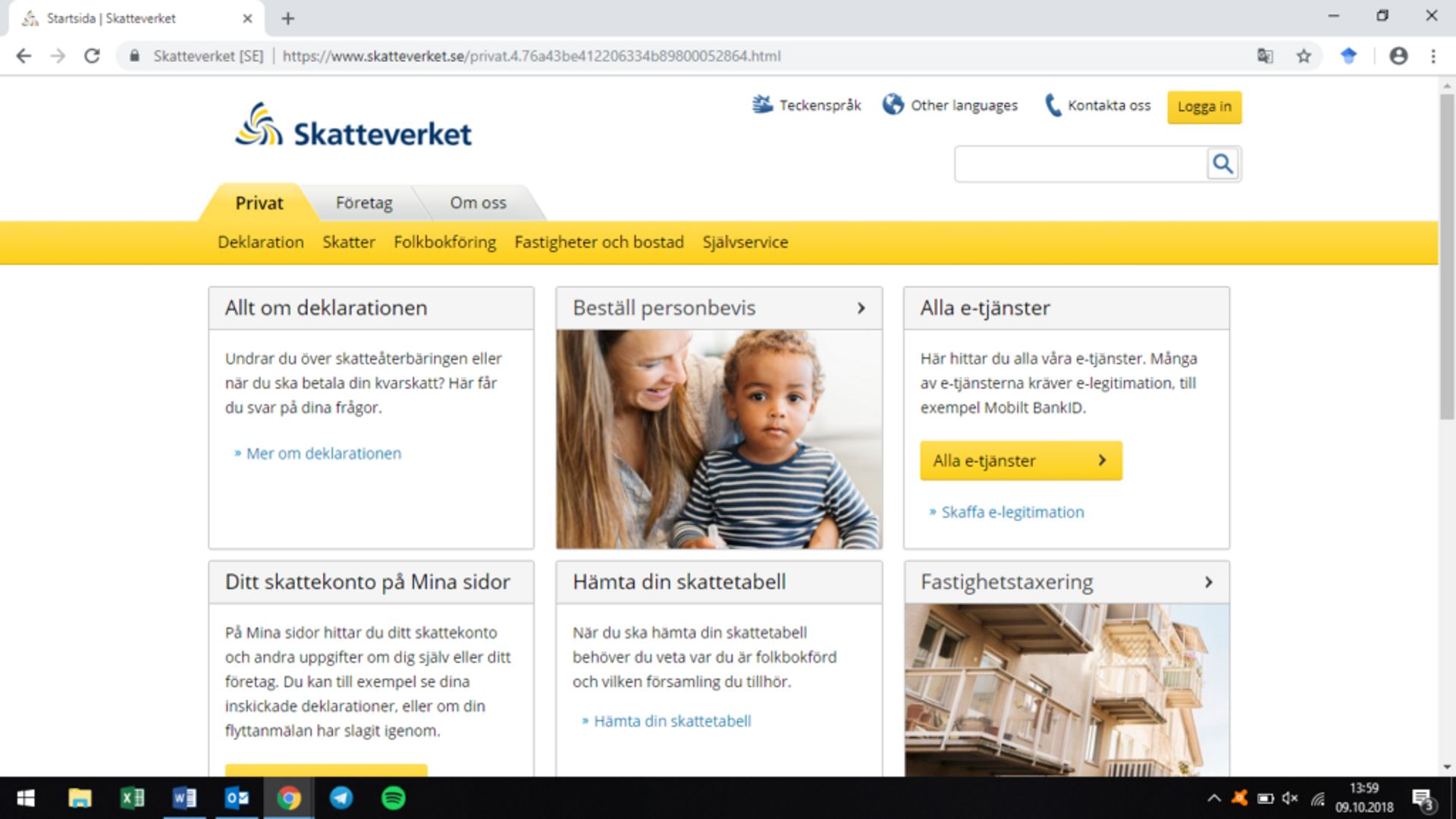 Et voilà, now we have the landing page in English. Now, let's start the actual process of applying for a Swedish personal identity number. Click on the big field titled "Moving to Sweden". ↗️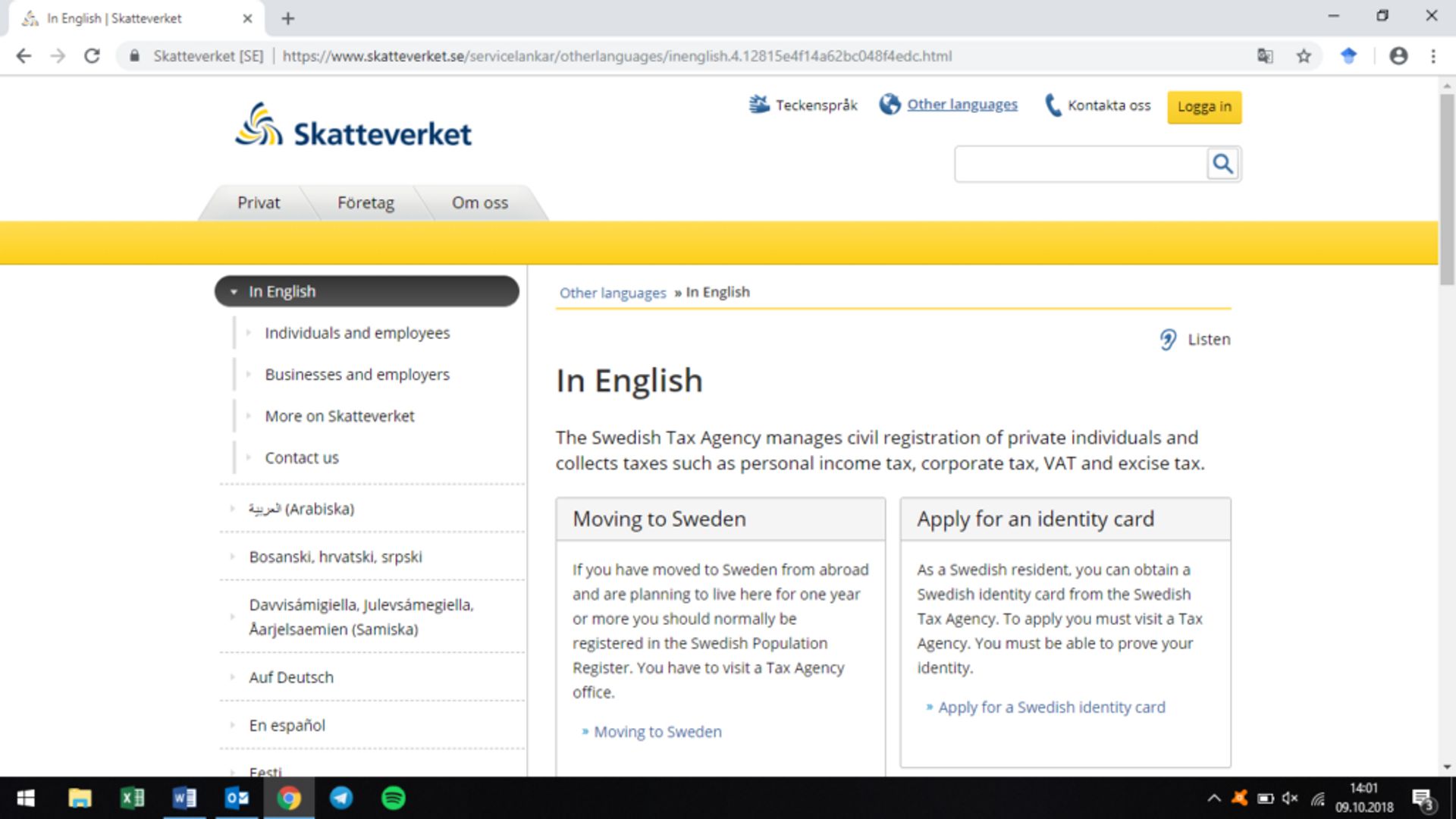 As soon as you click on it, you will be forwarded to a page that will look like the screenshot below. Read through that page. You'll see that you need to visit a Tax Agency's office that is closest to you. There is a blue font saying where to find your nearest tax office, click on it and then enter your city or zip code on the next page. When you are done typing in the name, in my example Jönköping, click "Sök", which means search.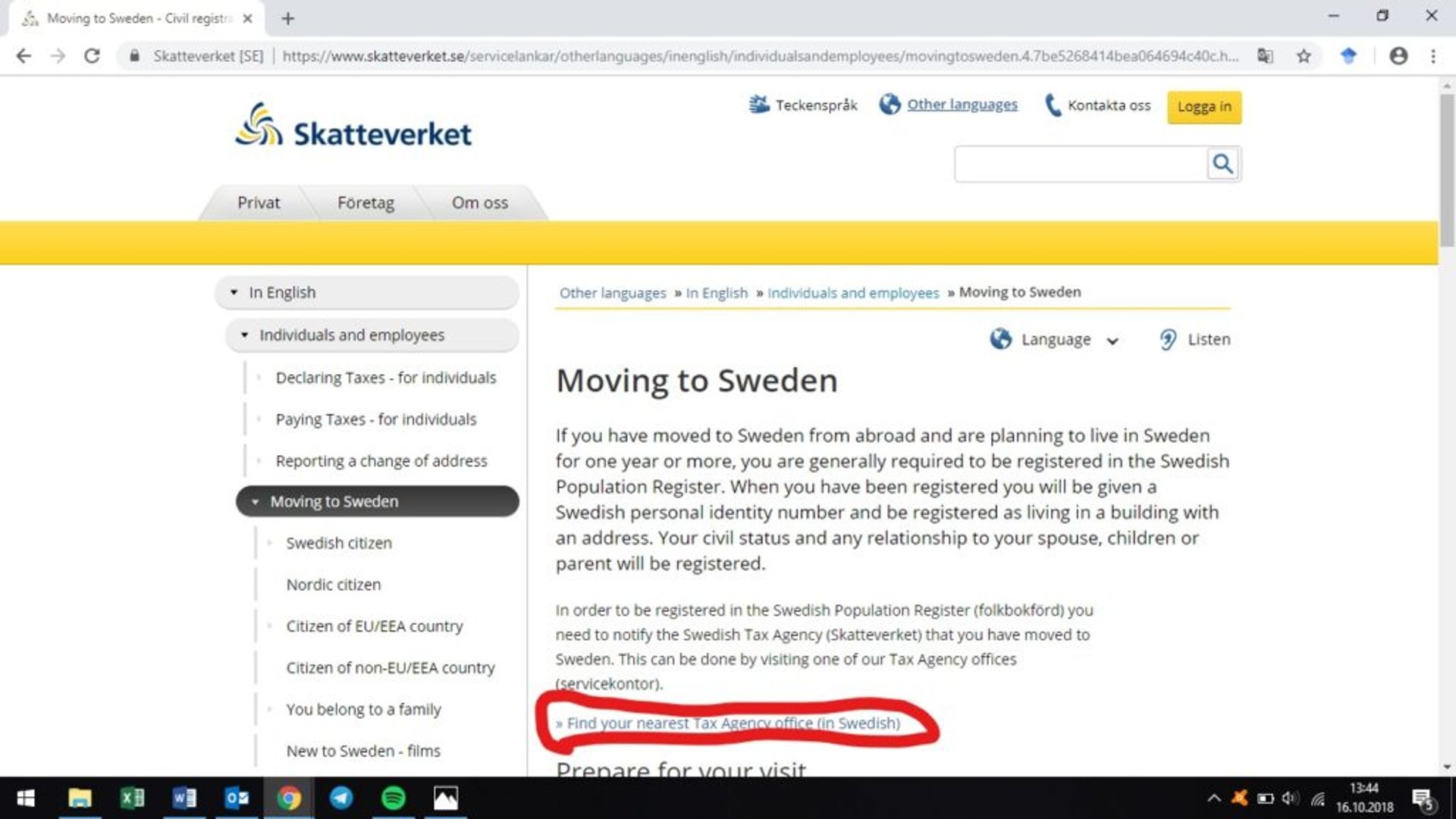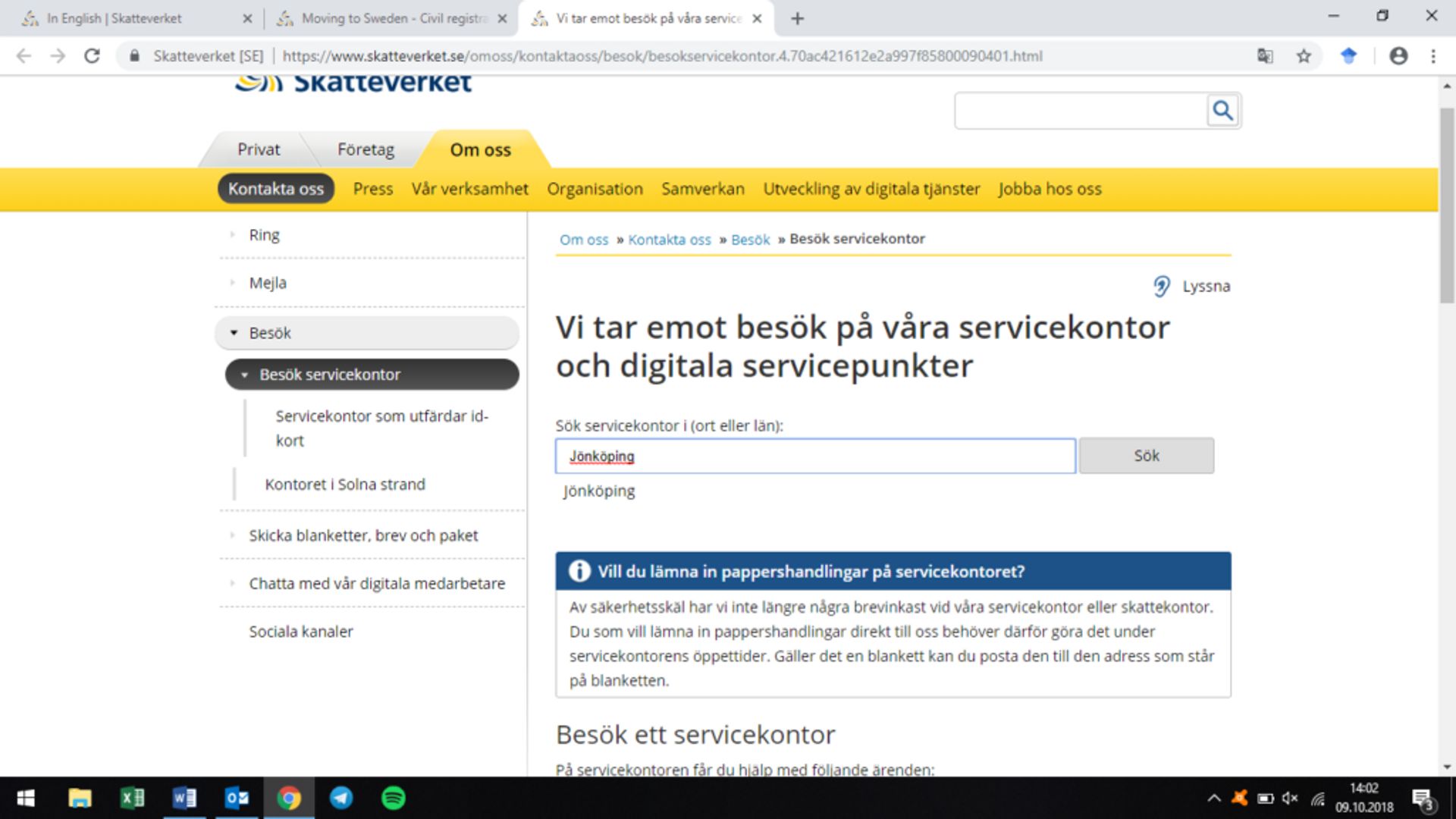 Here, you will find your nearest office:
Filling out the application form
Continuing with the application, you go back to Moving in Sweden ↗️ and scroll down until you see a yellow button saying "Move to Sweden". I would recommend opening it in a new tab or window.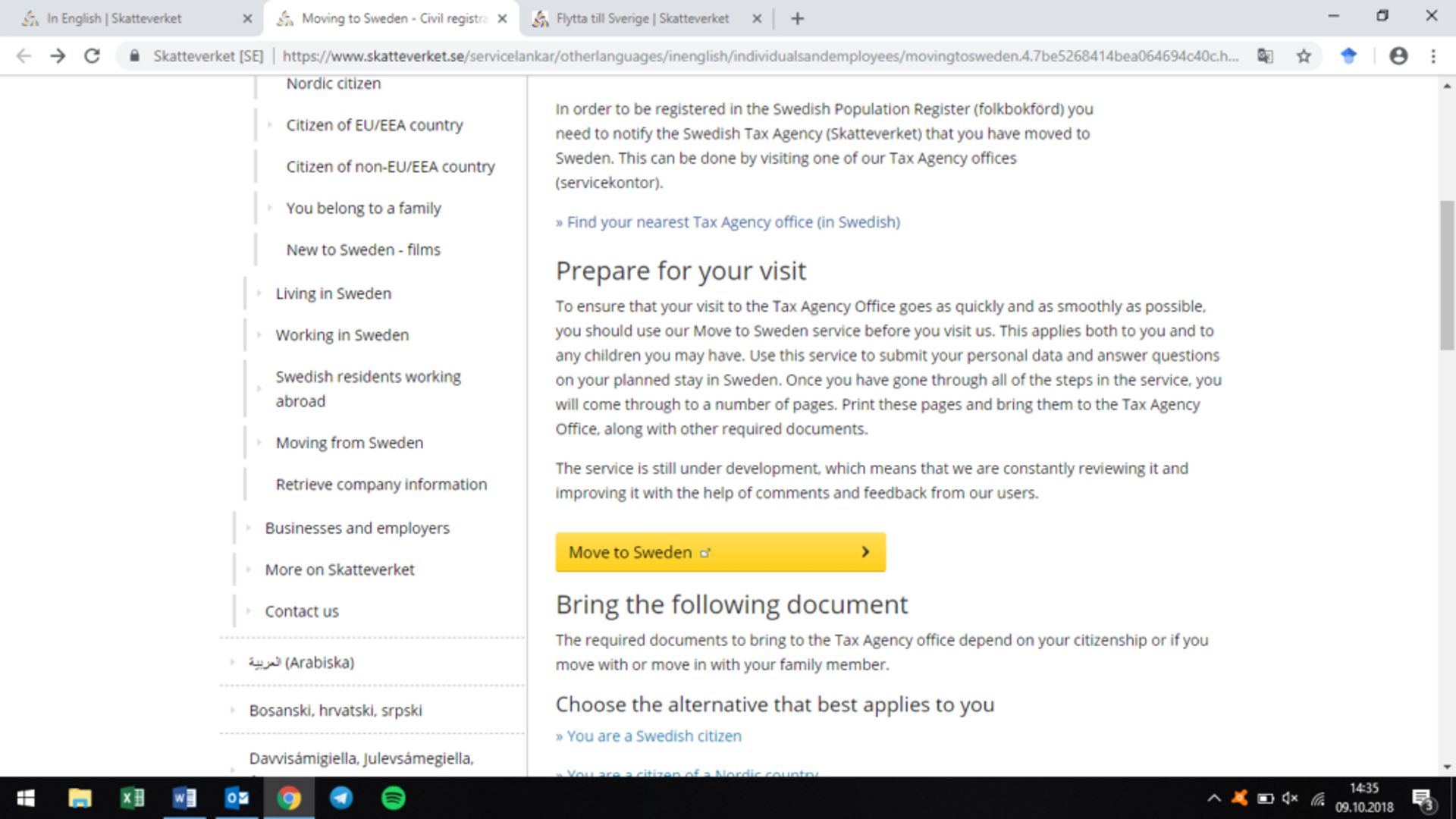 Again, save your life by clicking on "English" in the upper right-hand corner of the page you will land on now. The information will then be given in English, you should read it carefully and click on the yellow button again at the end.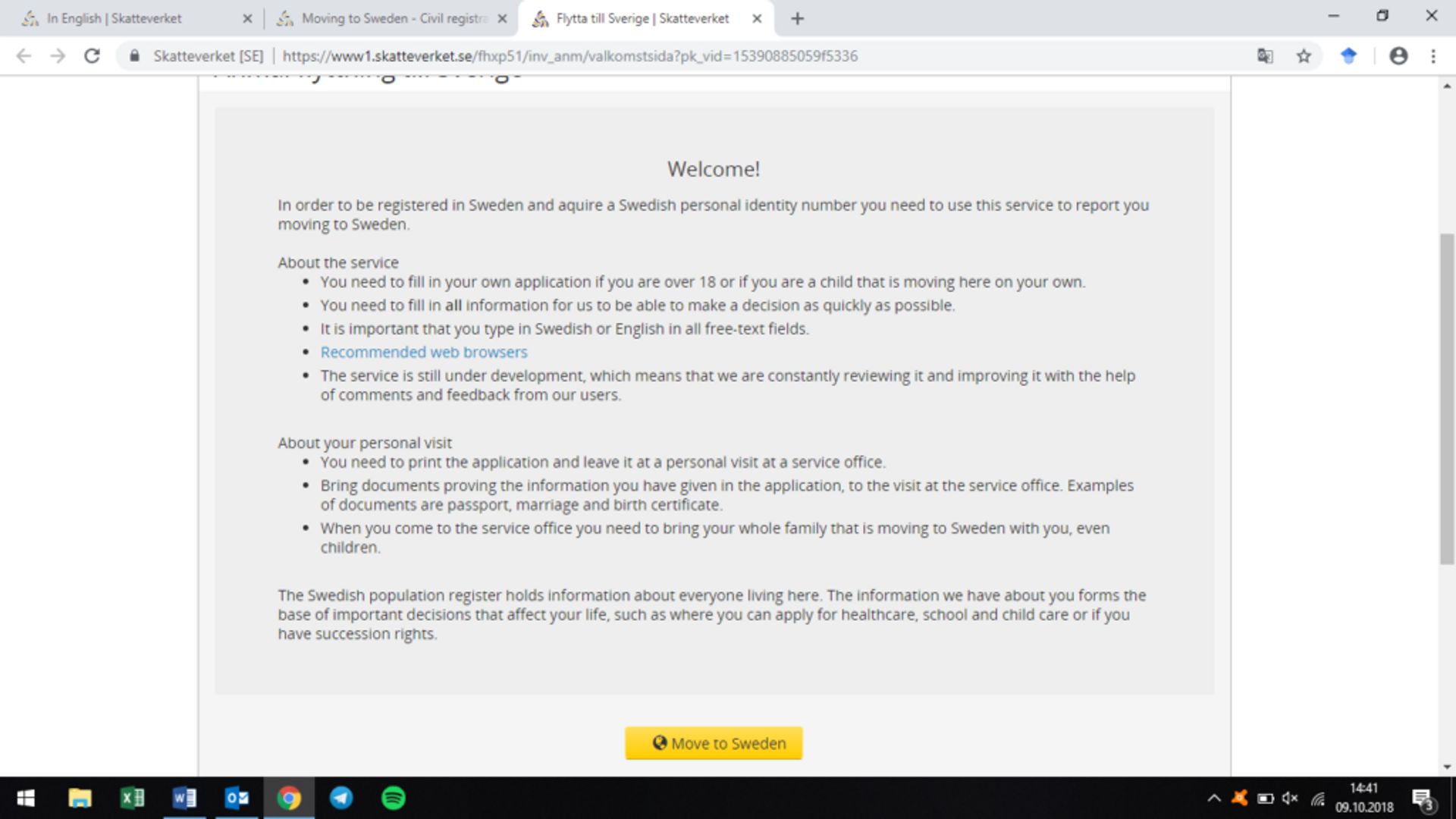 You can then fill in all the information and click on continue! EU citizens who already have a Nordic Personal Number (I did, because I lived in Denmark before), you will find your example further down!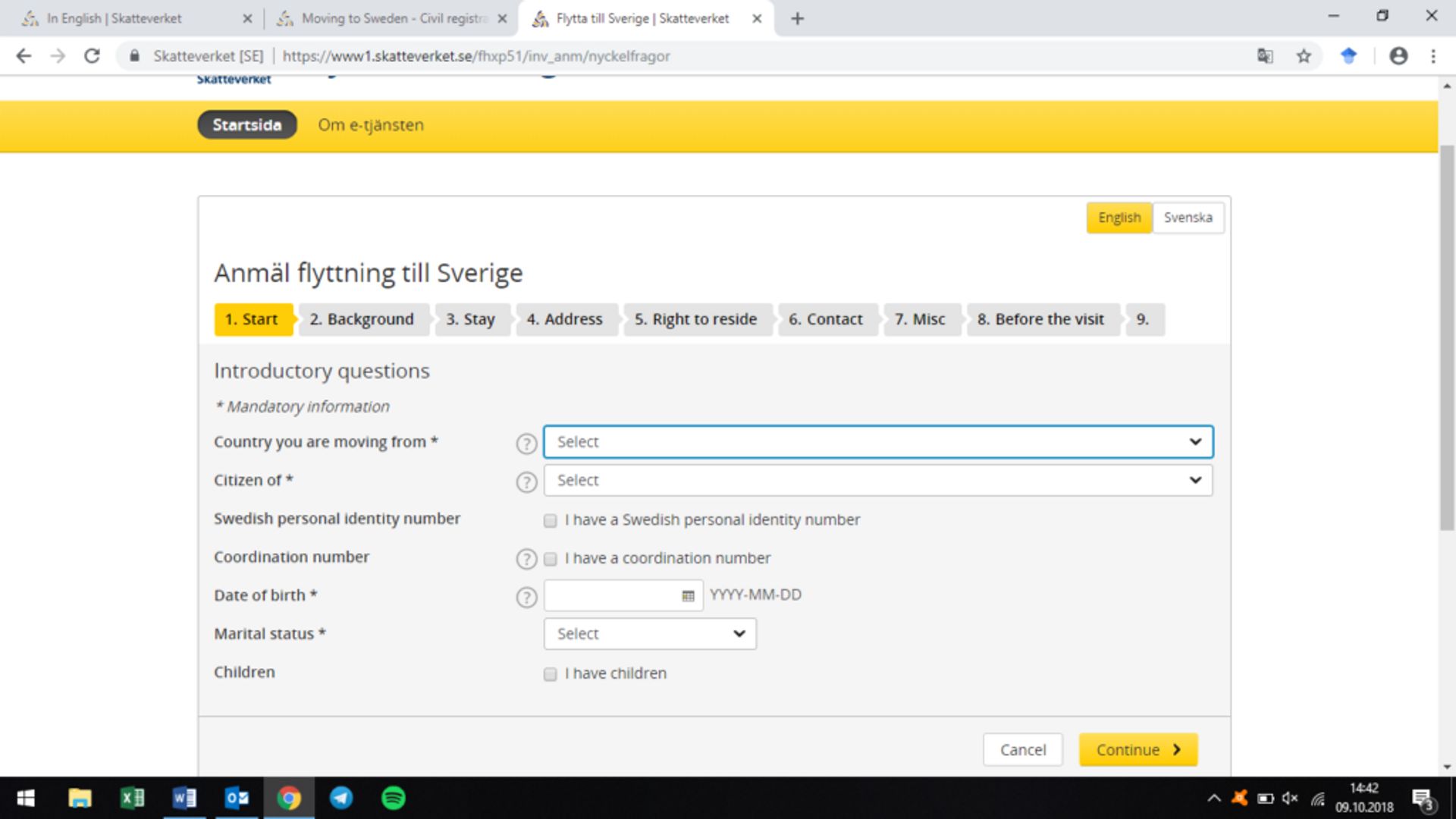 If you enter any of the Nordic countries, like Denmark in my case, you will be able to enter your CPR number or Nordic citizen number. However, this only concerns people who have previously lived in Scandinavia. The remaining steps are the same for everyone.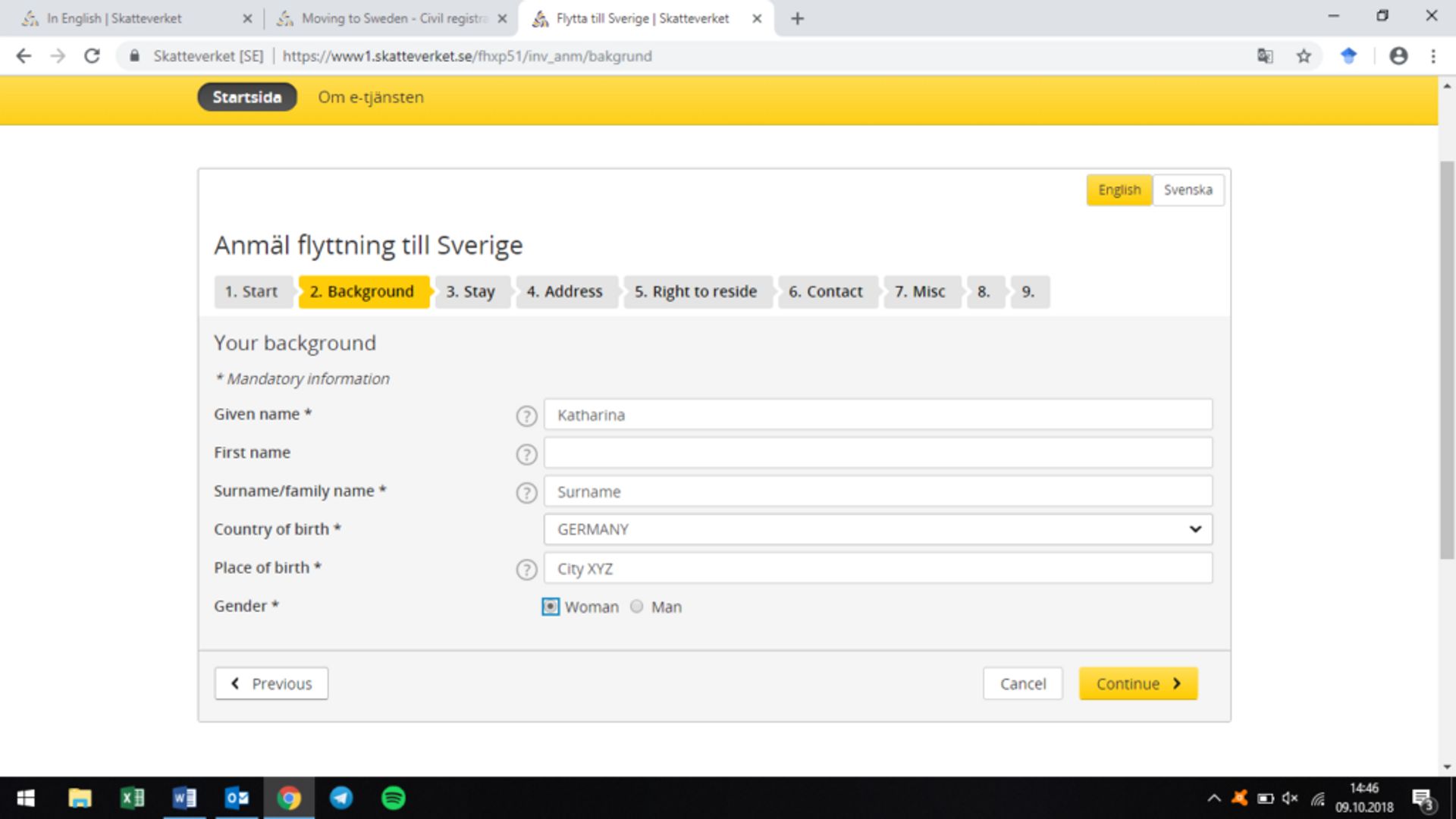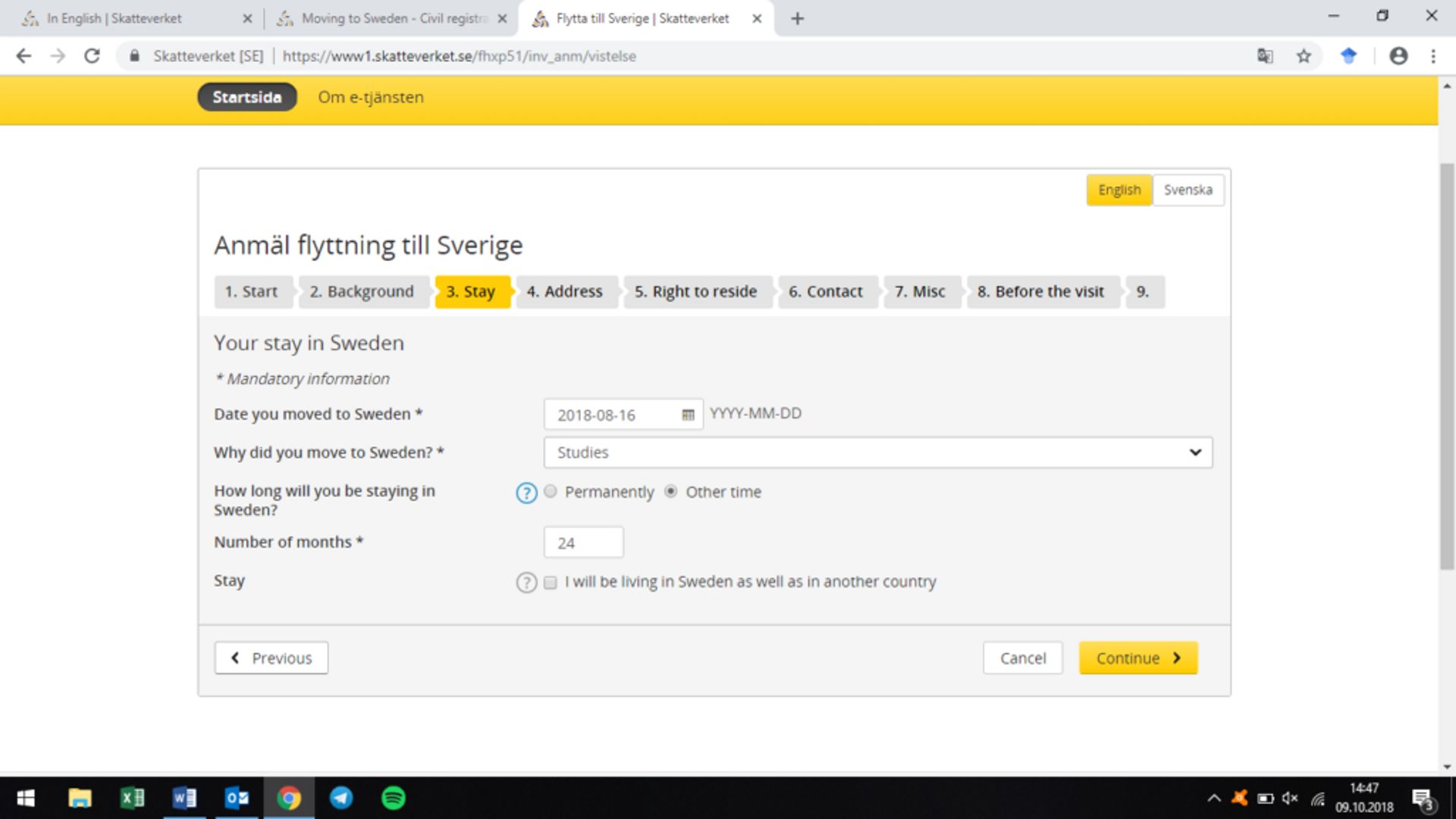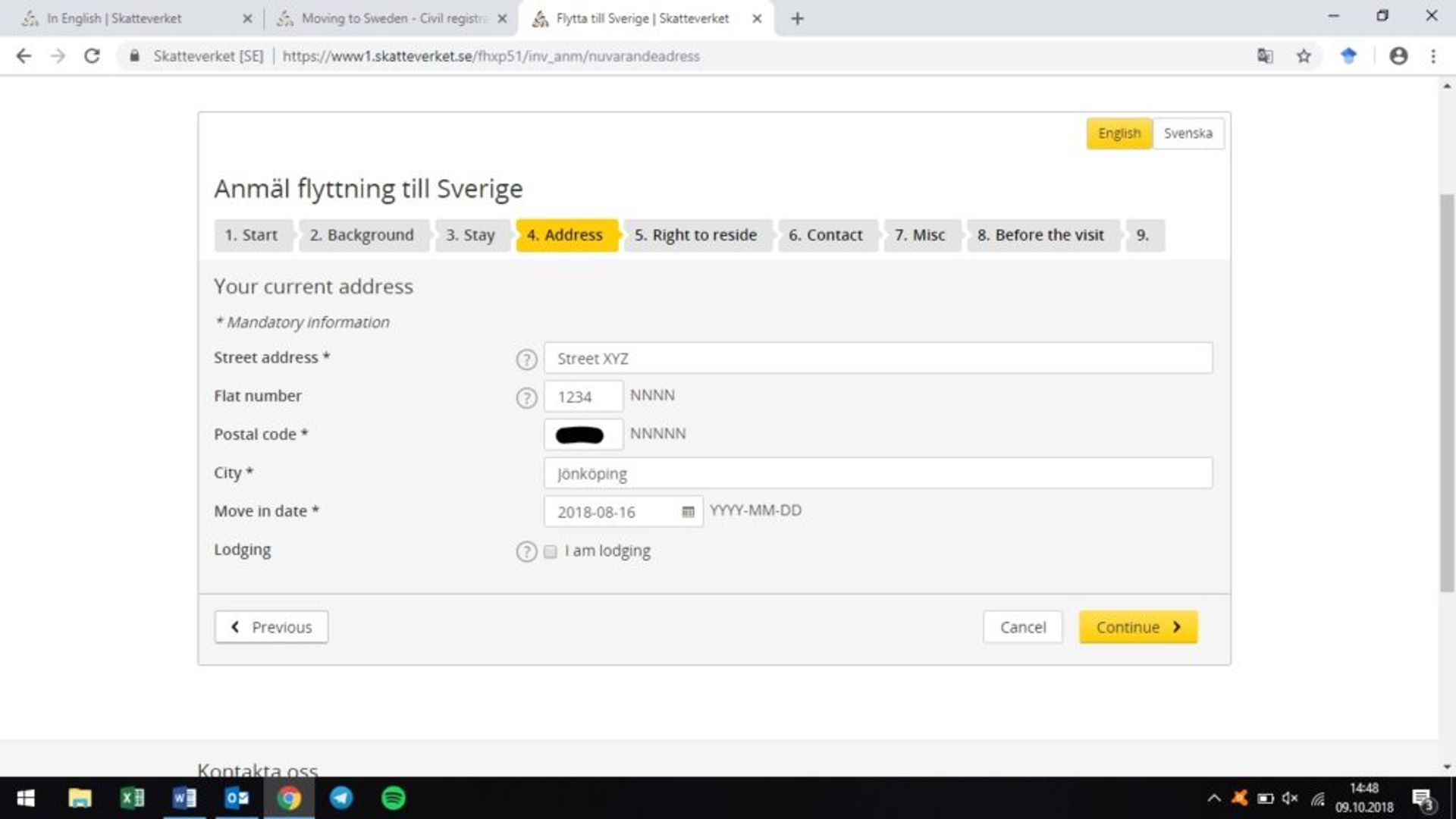 Make sure to fill in all information correctly!!!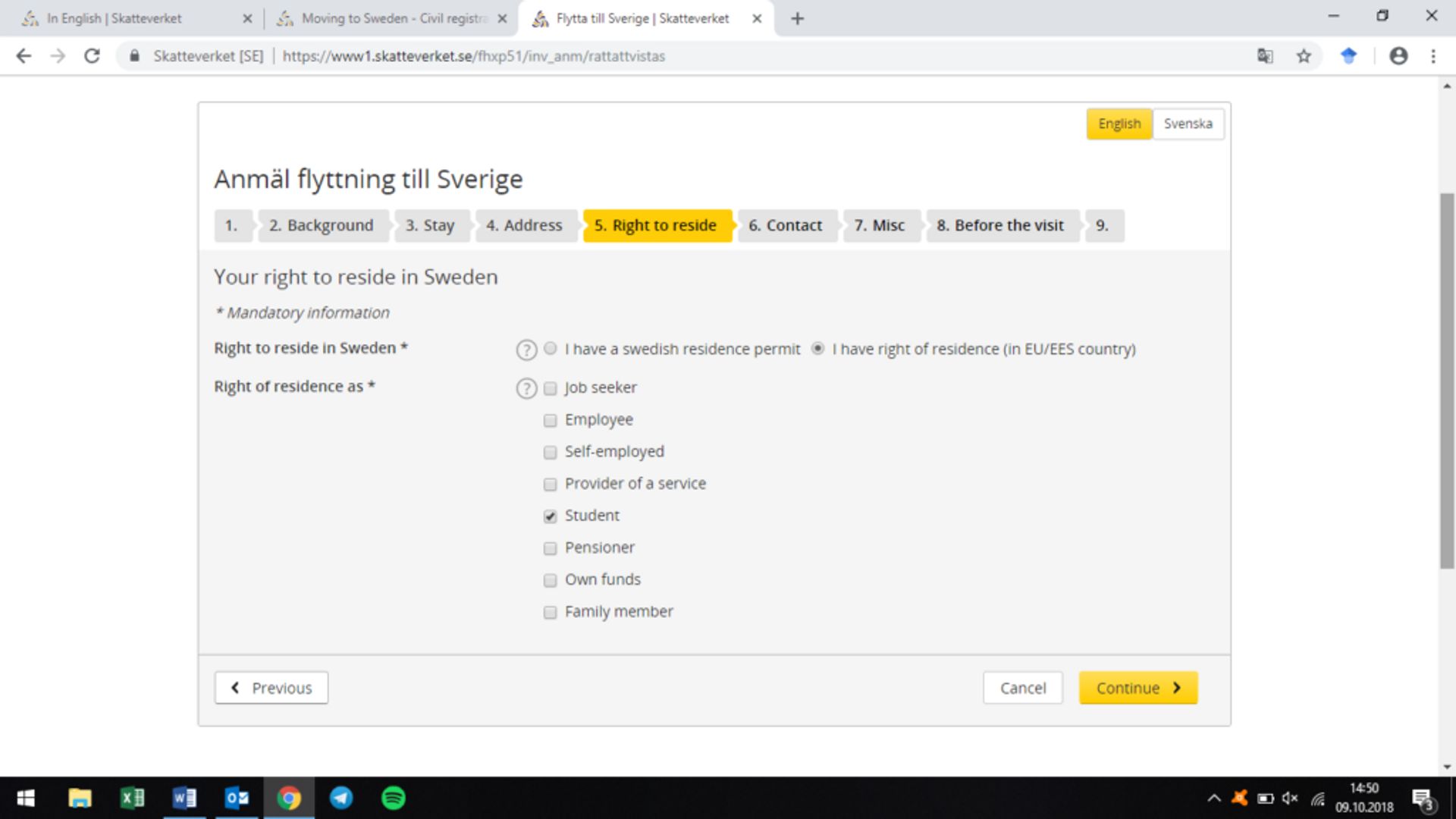 Below, you can now enter how Skatteverket can contact you. You can also fill in additional phone numbers or email addresses you have, if you like.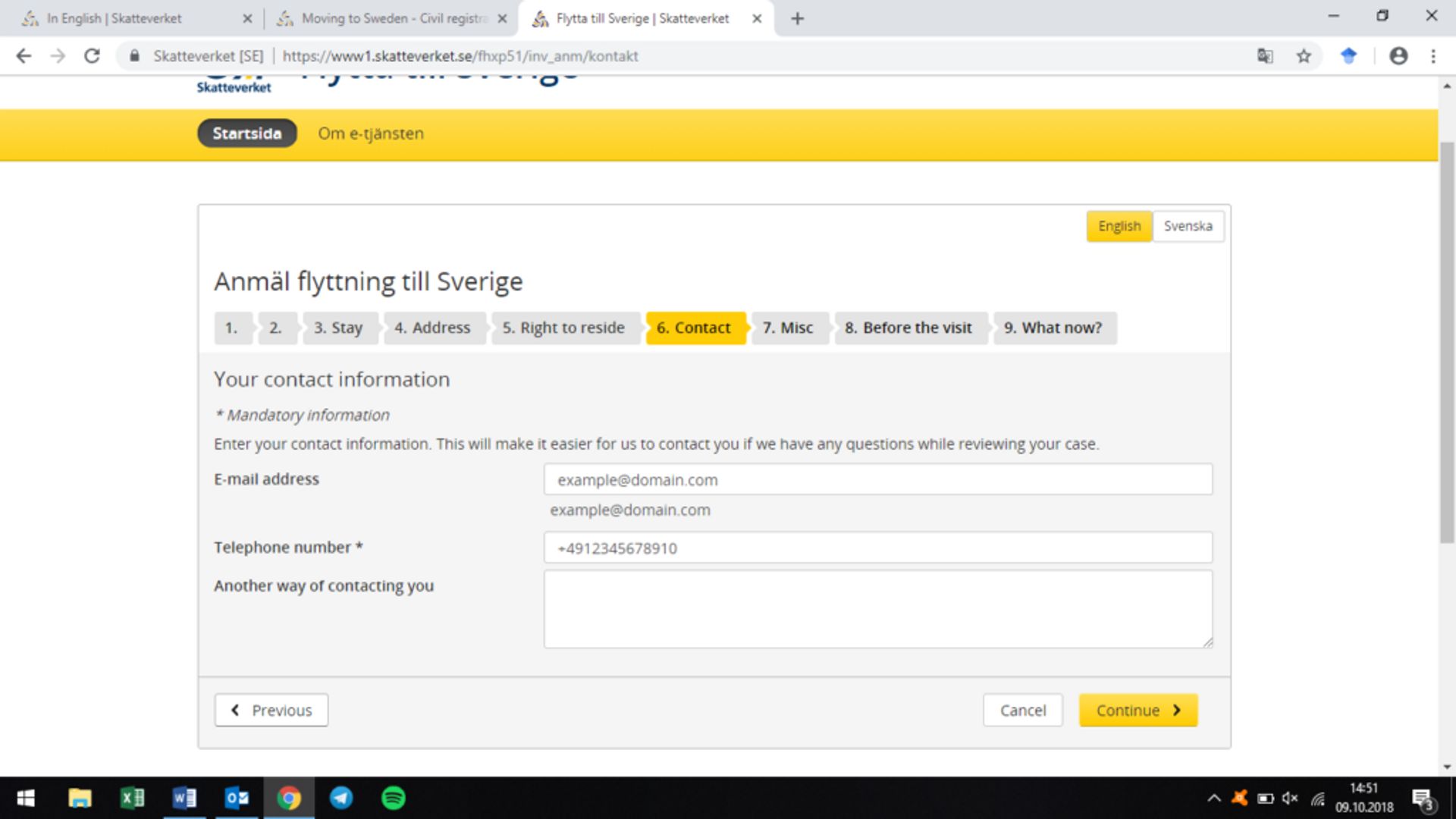 If there is anything you believe Skatteverket should know about you that is really important, fill in this information in the empty box below.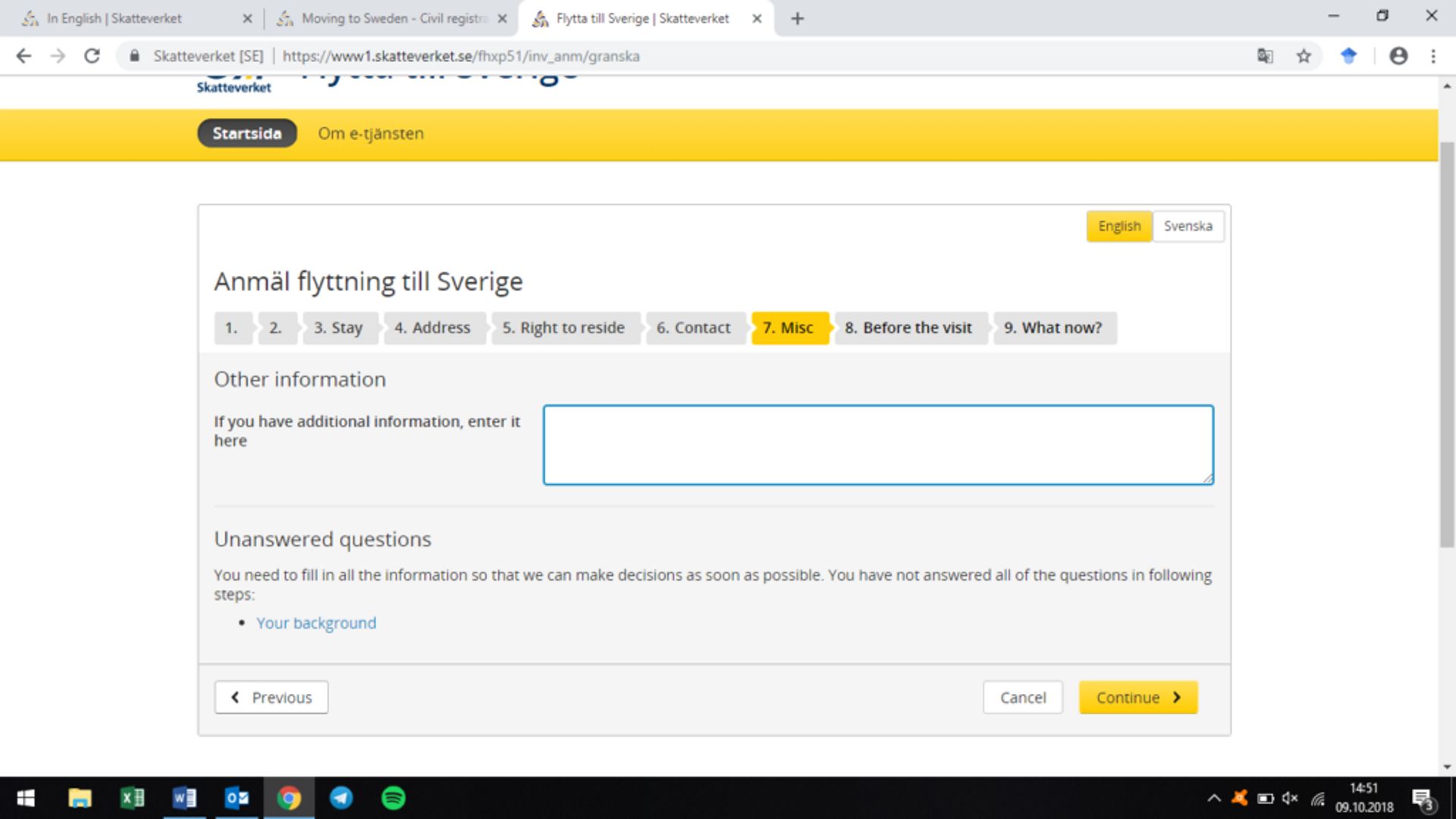 This is the last step now while filling out the form. Please state the languages your documents are issued in. In my case English and German, since I have a German passport but university documents issued in English.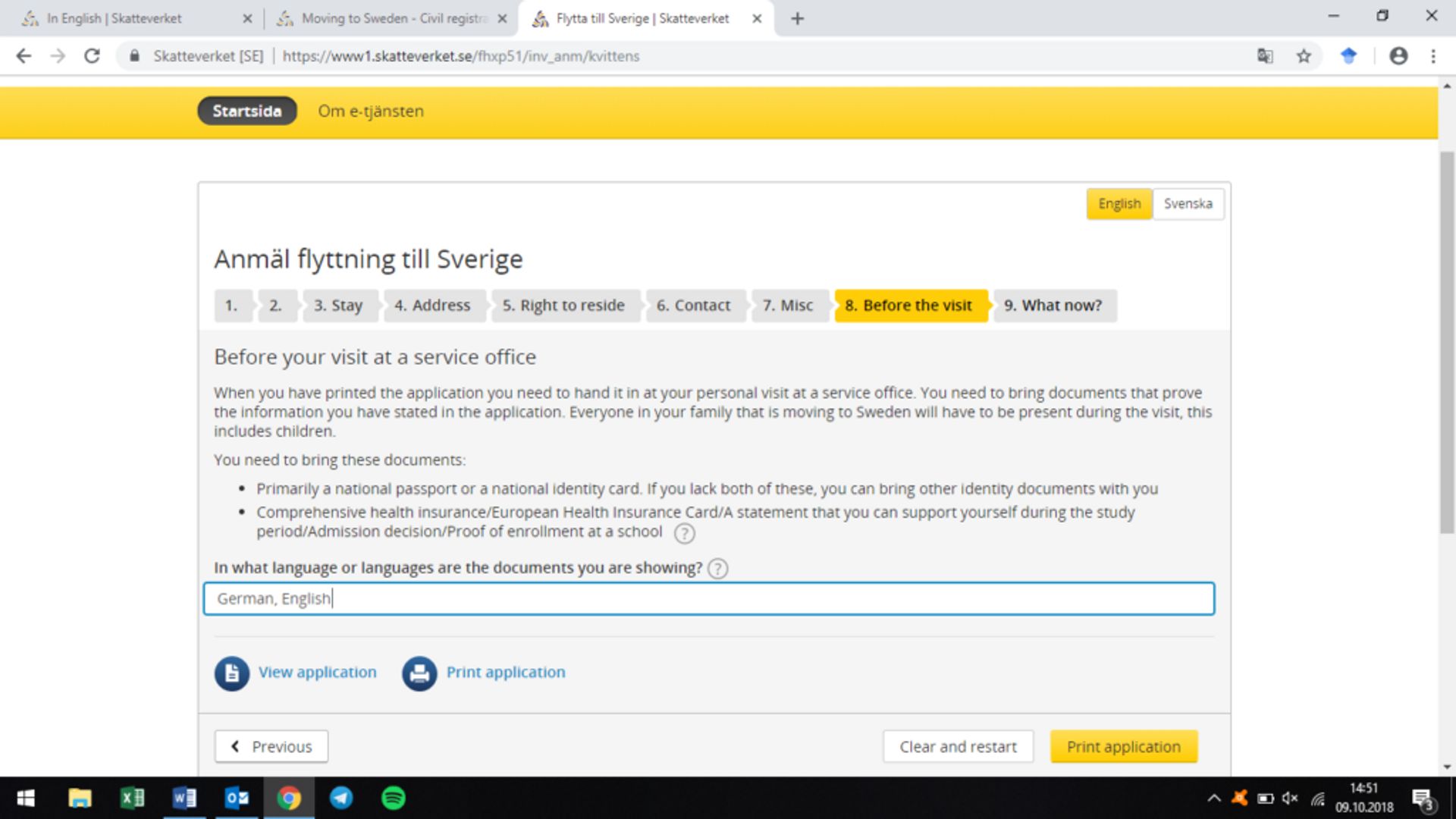 As soon as you have filled everything in, you can click on "view application" or "print application". Both ways are fine, since you can double-check the PDF to see whether you filled in everything correctly (this preview will probably look like one of the two photos shown below – either file preview or downloaded one). Save it to your computer if you have not downloaded it yet (for Windows computers you might need to go to your toolbar, click on print, then: Microsoft Print to PDF), print it and bring it on paper to your local Skatteverket office the day you want to apply.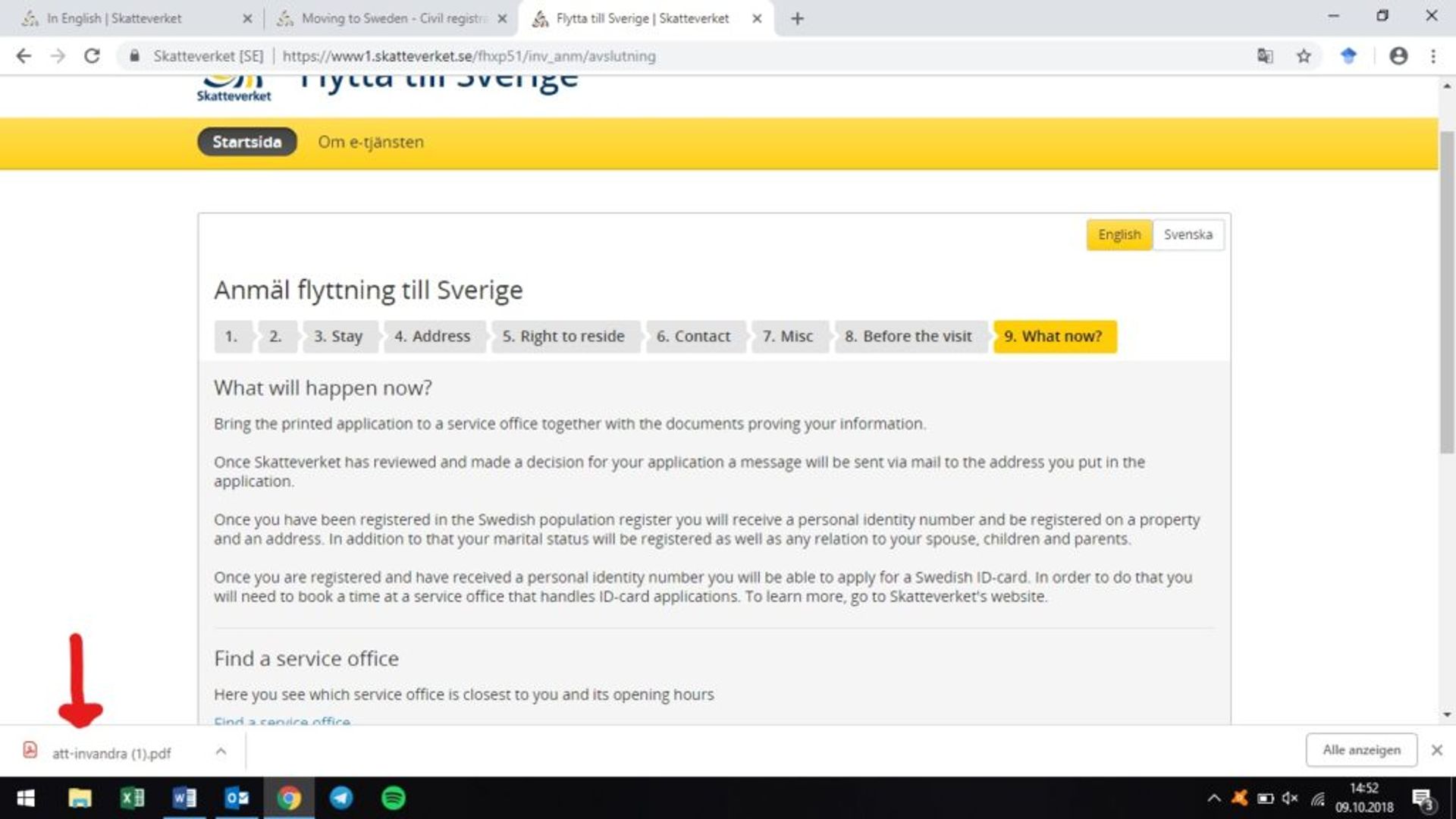 What documents are required?
The day you go to Skatteverket to apply for the personal identity number, you need to bring the following documents as an EU citizen studying in Sweden:
The form you have just filled out as a printed version!
Passport/national ID
If you are not unmarried: document showing your civil status (e.g. married)
Admission/Acceptance Letter from your university to show that you study for more than 2 semesters, i.e. longer than 12 months. Usually you get it quite soon after you have been admitted to your program.
Letter of Enrollment/Confirmation of Registration
Self-signed assurance that you have enough financial resources to fund your stay in Sweden
Document confirming your have a comprehensive health insurance (for example, a European Health Insurance Card is valid for students)
If you are a Nordic citizen, there is a different list of documents to bring. ↗️
Congratulations, the first and biggest step is done now! 🙂
Applying for a Swedish ID card
You go back to "Moving to Sweden", but this time you click on "Apply for an identity card". ↗️ You will land here: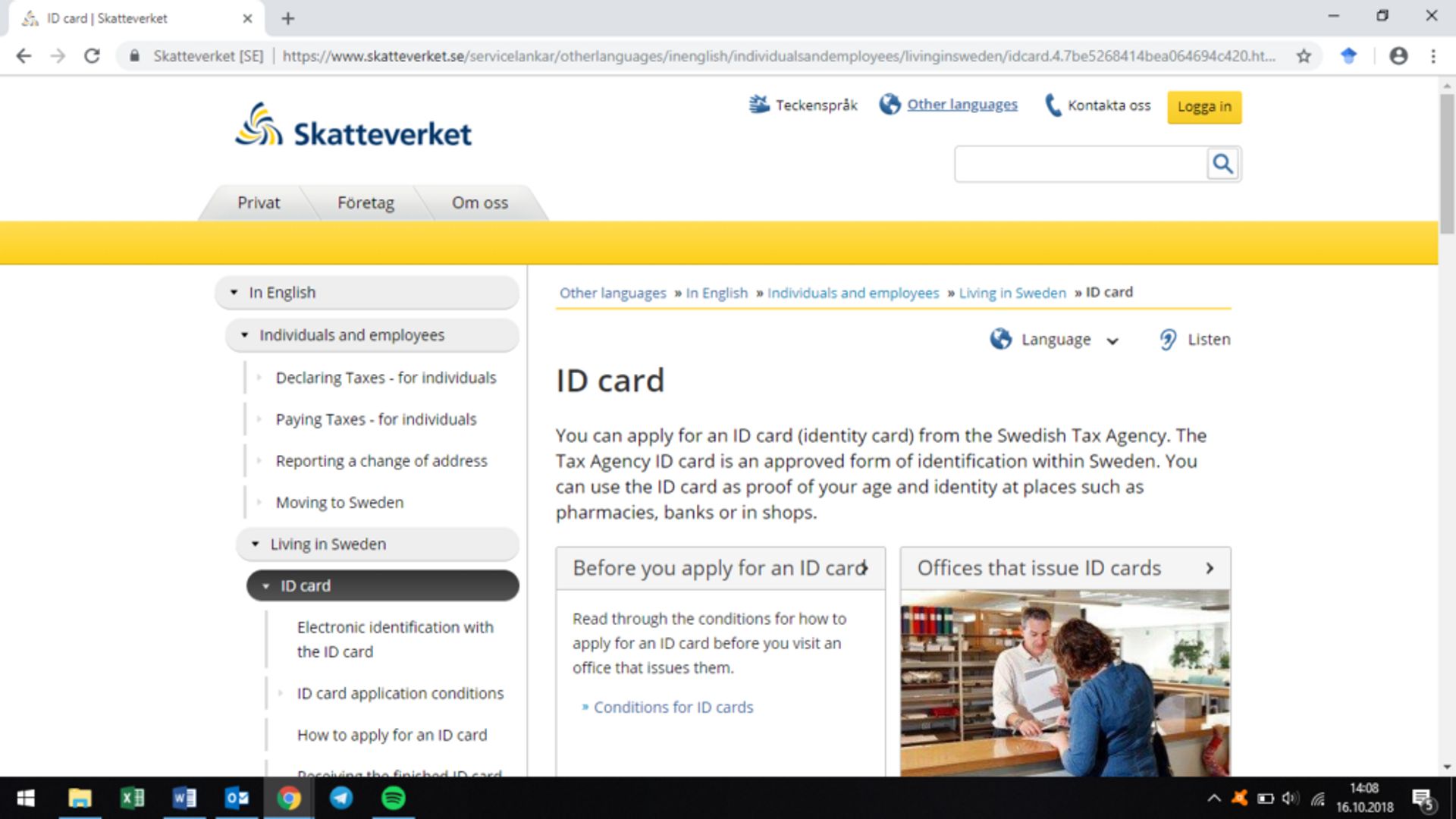 I recommend you to carefully read the section "Before you apply for an ID card" ↗️ before you book an appointment. Make sure that you fulfill all the conditions. On the same web page, you also find the link to booking an appointment.
VERY IMPORTANT: pay the application fee in advance ↗️ and print the payment receipt! If you paid the fee and confirmed that you are eligible, you are ready to book an appointment. ↗️
Now, as an EU citizen you only need to go to Skatteverket with your passport, personal identity number and the money transfer receipt. They will check everything, measure your height, take a photo, order the card and inform your as soon as it is ready to be picked up at their office. When you come to pick up your card, bring all the documents you needed for the application, plus the letter they gave you when you came to apply.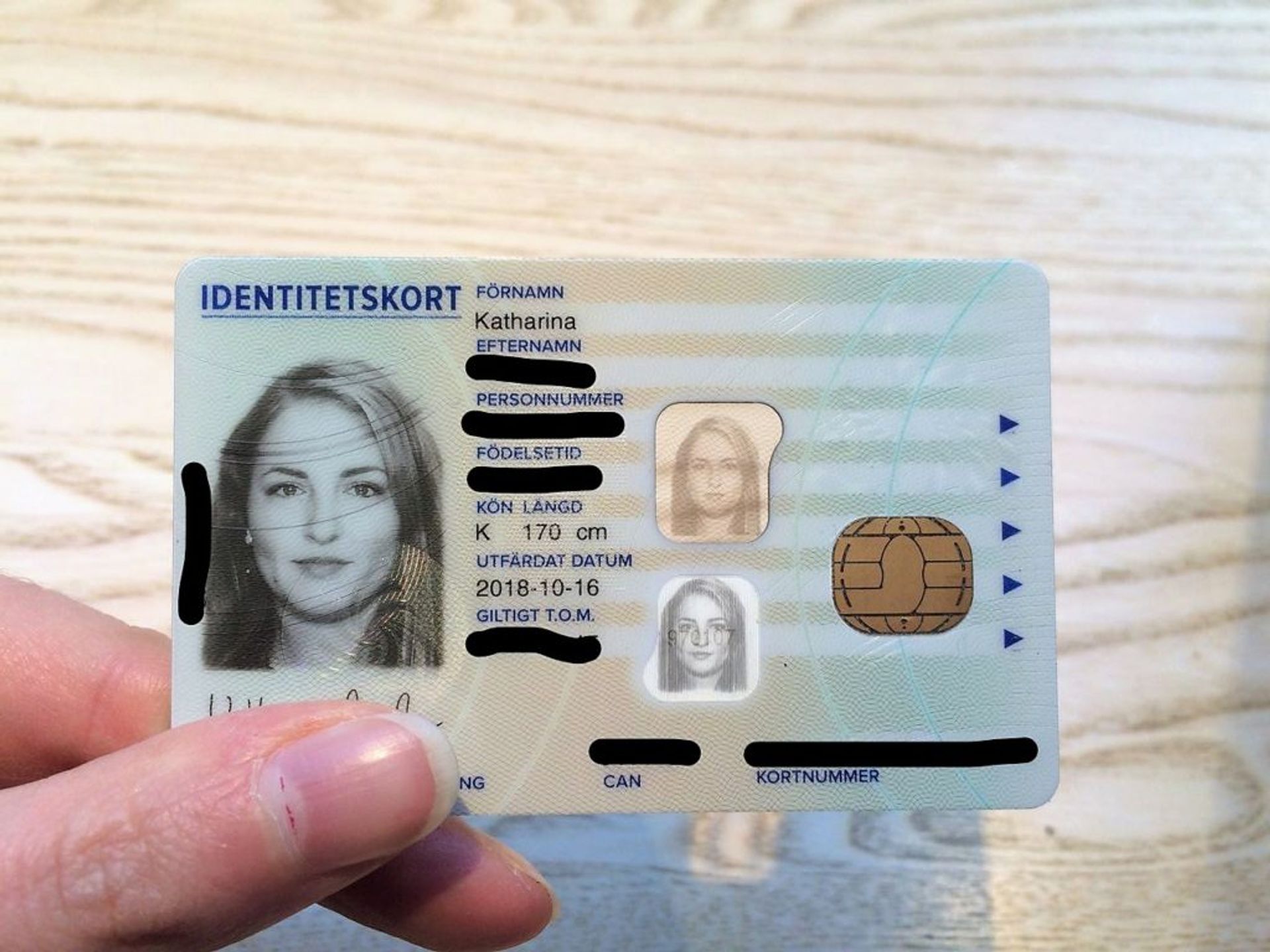 I hope this guide contained some useful information and will facilitate your application process!
Do you already have a Swedish personal identity number or are planning to apply? If you have some useful tips to share, feel free to comment below. I am looking forward to your input!
All the best,
/Katharina