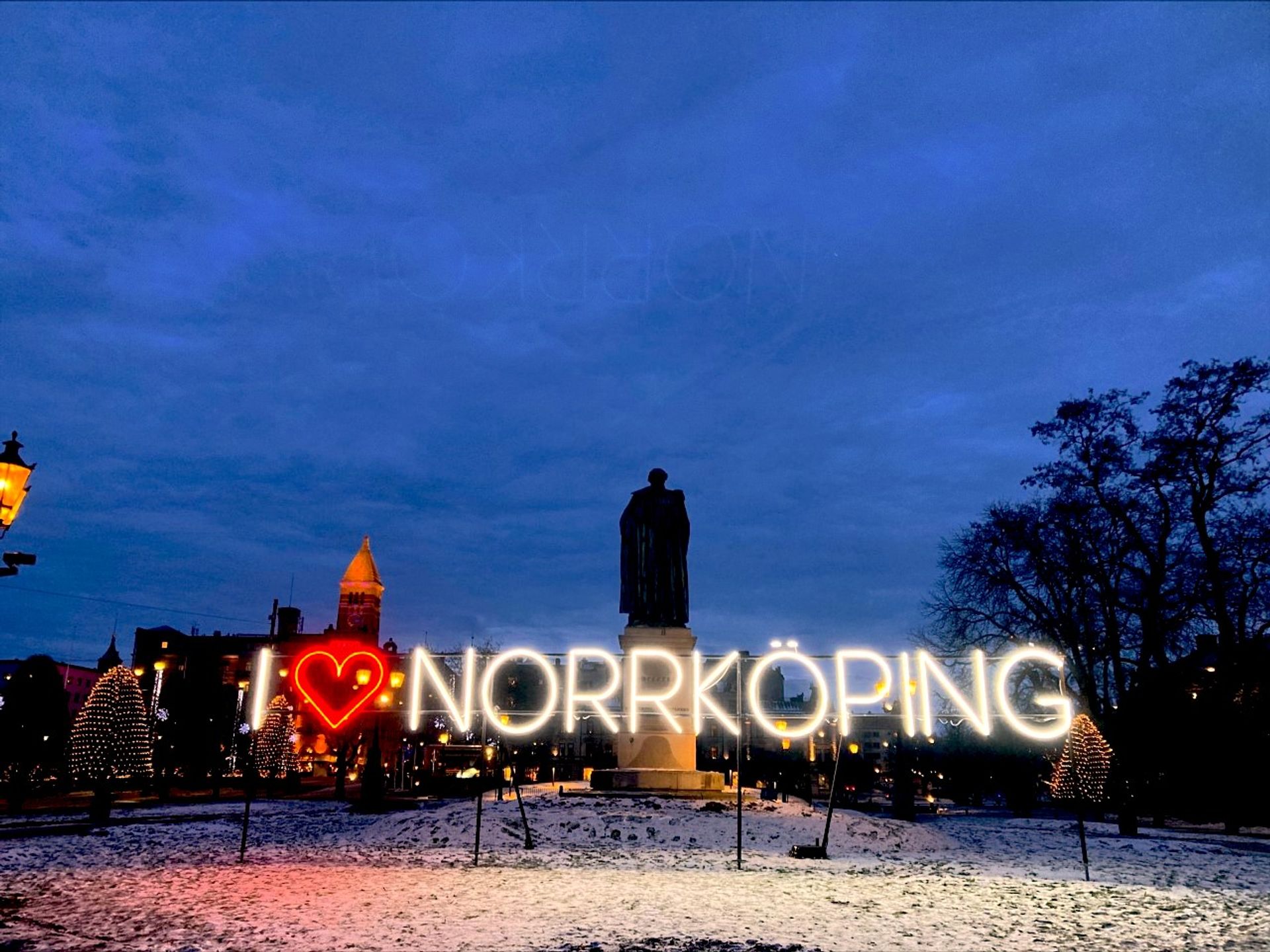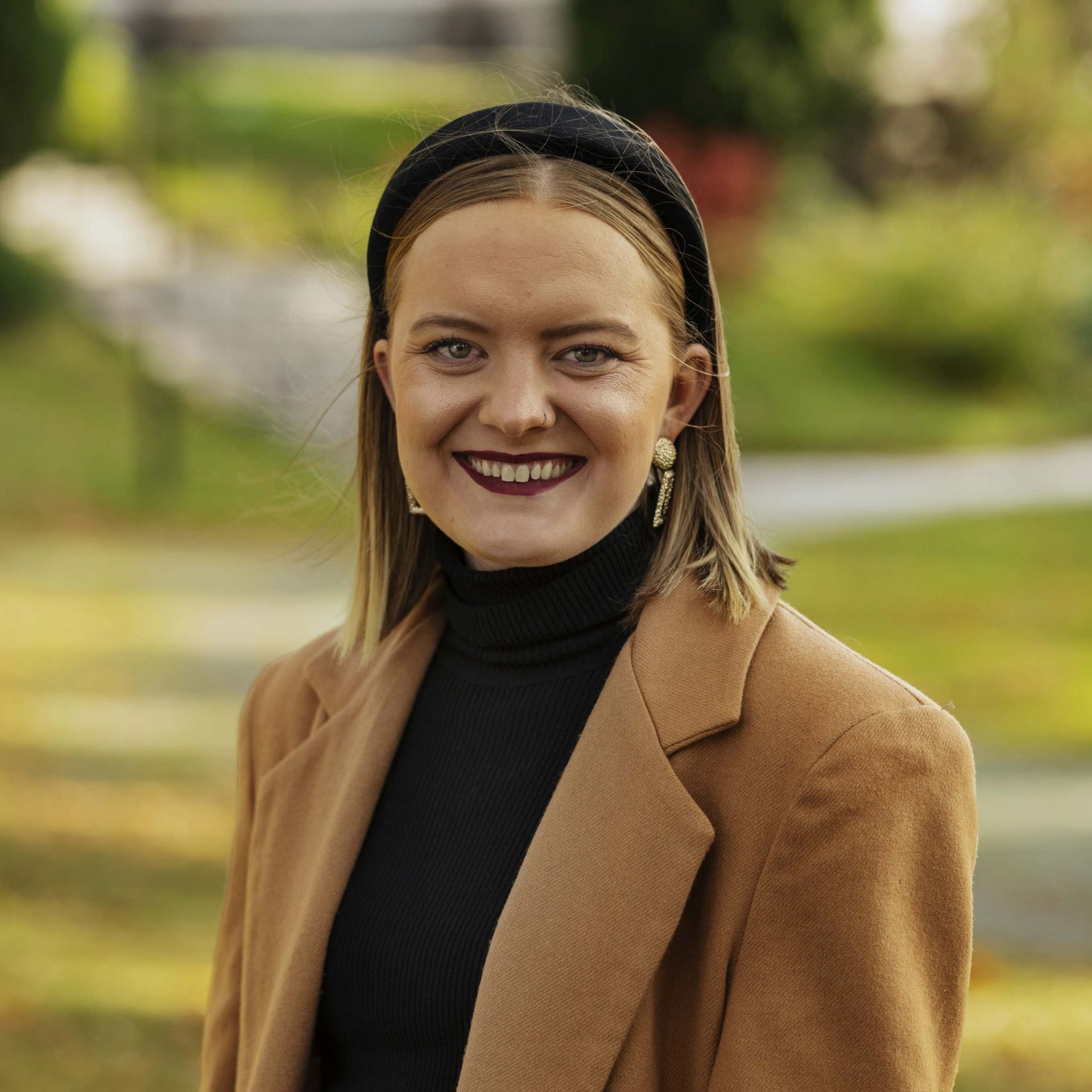 Norrköping, Sweden is located in Östergötland County and lies in southeast Sweden. The town, while not as big as Stockholm or Göteborg (90,000 people), hosts a variety of cultures, industries, as well as things to do and see.

One of the big attractions in Norrköping comes at the end of November and is the Norrköping Lights Festival. Established in 2014, the Norrköping Lights Festival is an event put on by the municipality that "gives light and joy to both Norrköping residents and visitors." 40 different light installations are placed and hung throughout the city created by different local businesses and creators. Everyone is welcome to this free event whether you live in Norrköping or beyond!
I live and study in Norrköping and love all the events and attractions the city has to offer. What it lacks for in size it makes up for it in so many other ways. The Norrköping Lights Festival brought me joy, warmth, and peace last year in my first winter here in Sweden. If you're looking for warmth and light this winter as well, scroll through this photo essay and enjoy. You might even consider a trip to Norrköping 😉
I
❤️

Norrköping – created by Norrköping Light Festival project group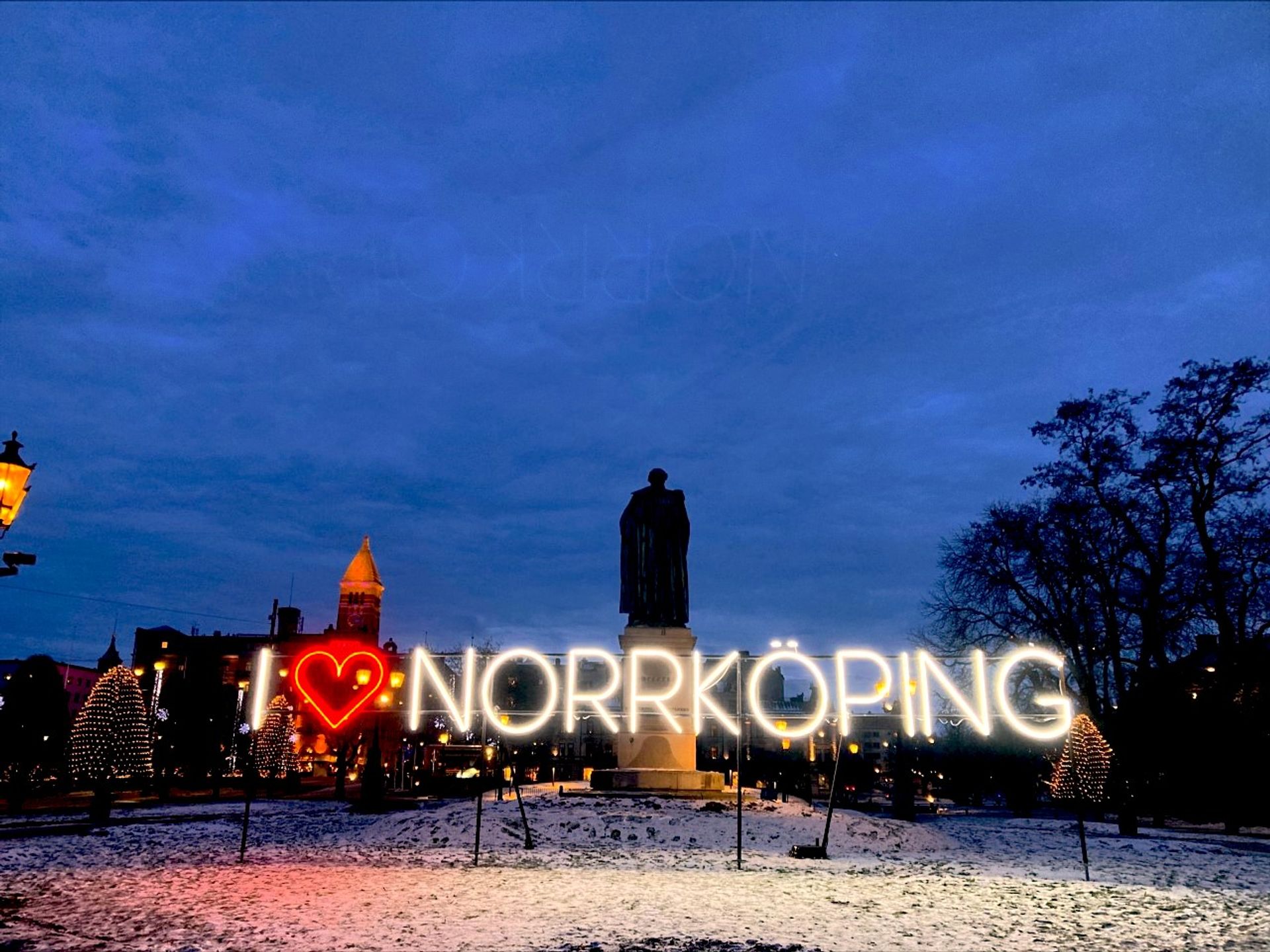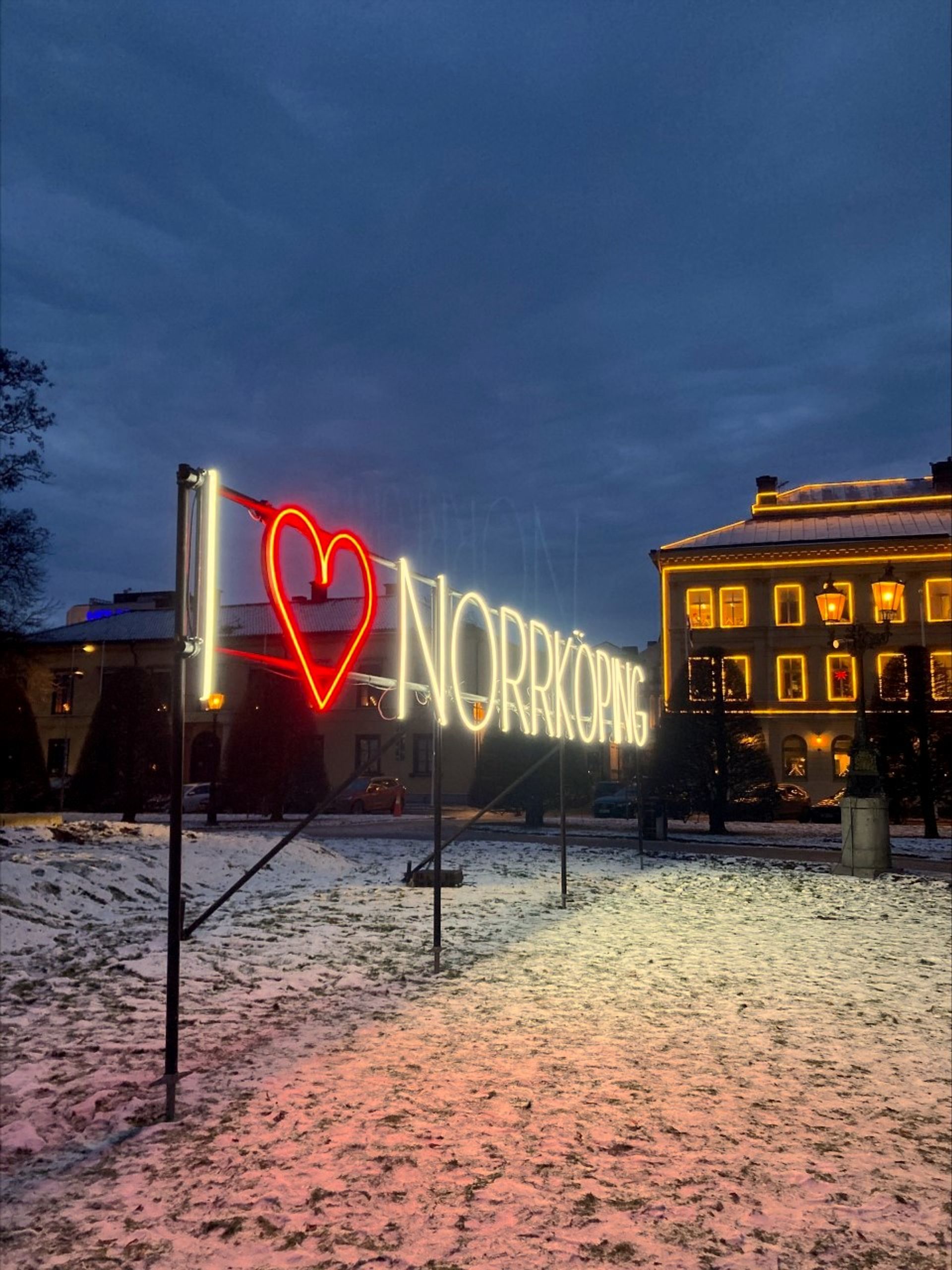 This is probably my favorite installation of the art festival as it really captures the pride and joy one feels living in Norrköping. It's not particularly big but there is a lot to offer whether you're a student, older resident, or even a child. I do indeed love Norrköping!
Tankar med tankar (thoughts with thoughts) – created by Norrköping Lights Festival Project Group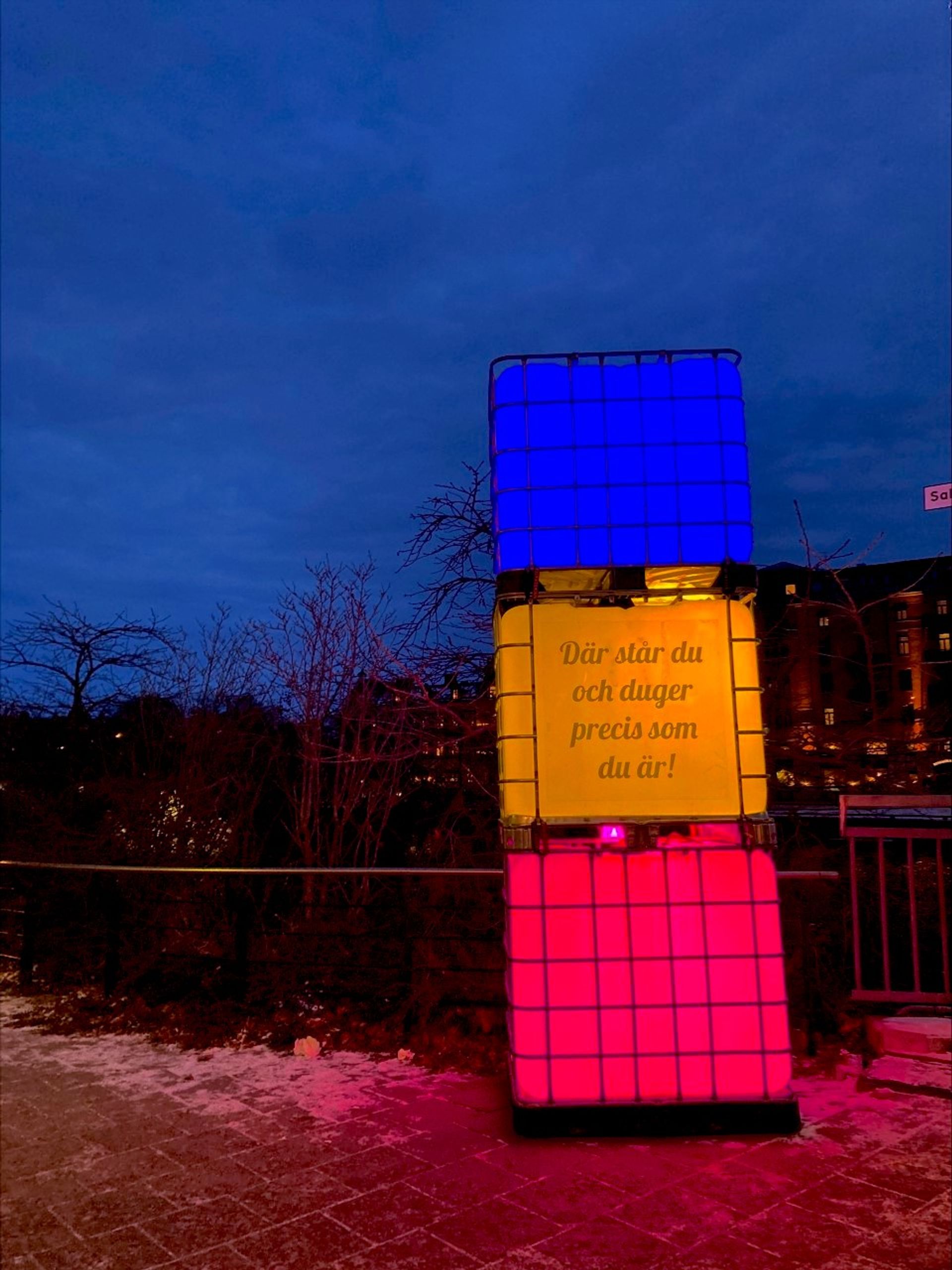 Written out the box translated from Swedish to english says "there you stand and do just as you are!"
The Paperboat – created by Katja Galyuk, Netherlands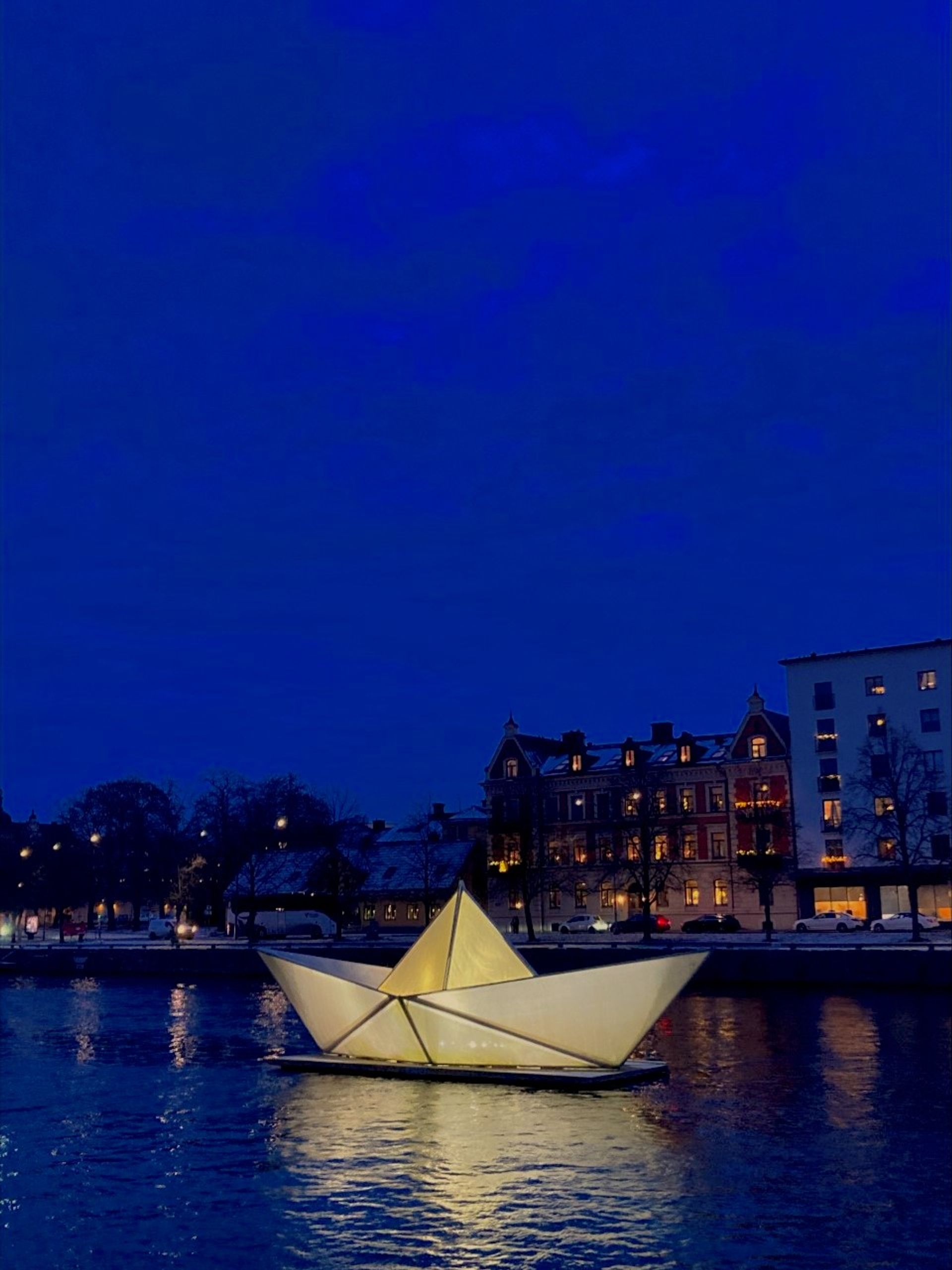 The Paperboat has been named Intrepid which means brave or bold. The origami paperboat has been seen as a sense of security in times of uncertainty or disorder. Upon learning this I love that this choice was added to the light festival during such unprecedented times due to the pandemic. It feels safe and comforting knowing that there is security in our city.
Vintertorget – collaboration by Vita Hästen, Norrköping Figure Skating Club and Fritidsbanken
The skating rink at Tyska torget (German Square) is open until January 30th and here you can ice skate, listen to music, grill a sausage by the fire, borrow equipment for free, and enjoy the general christmas coziness. Grab friends and family and enjoy!
Rådhuset (City Hall) – created by Norrköping Light Festival project group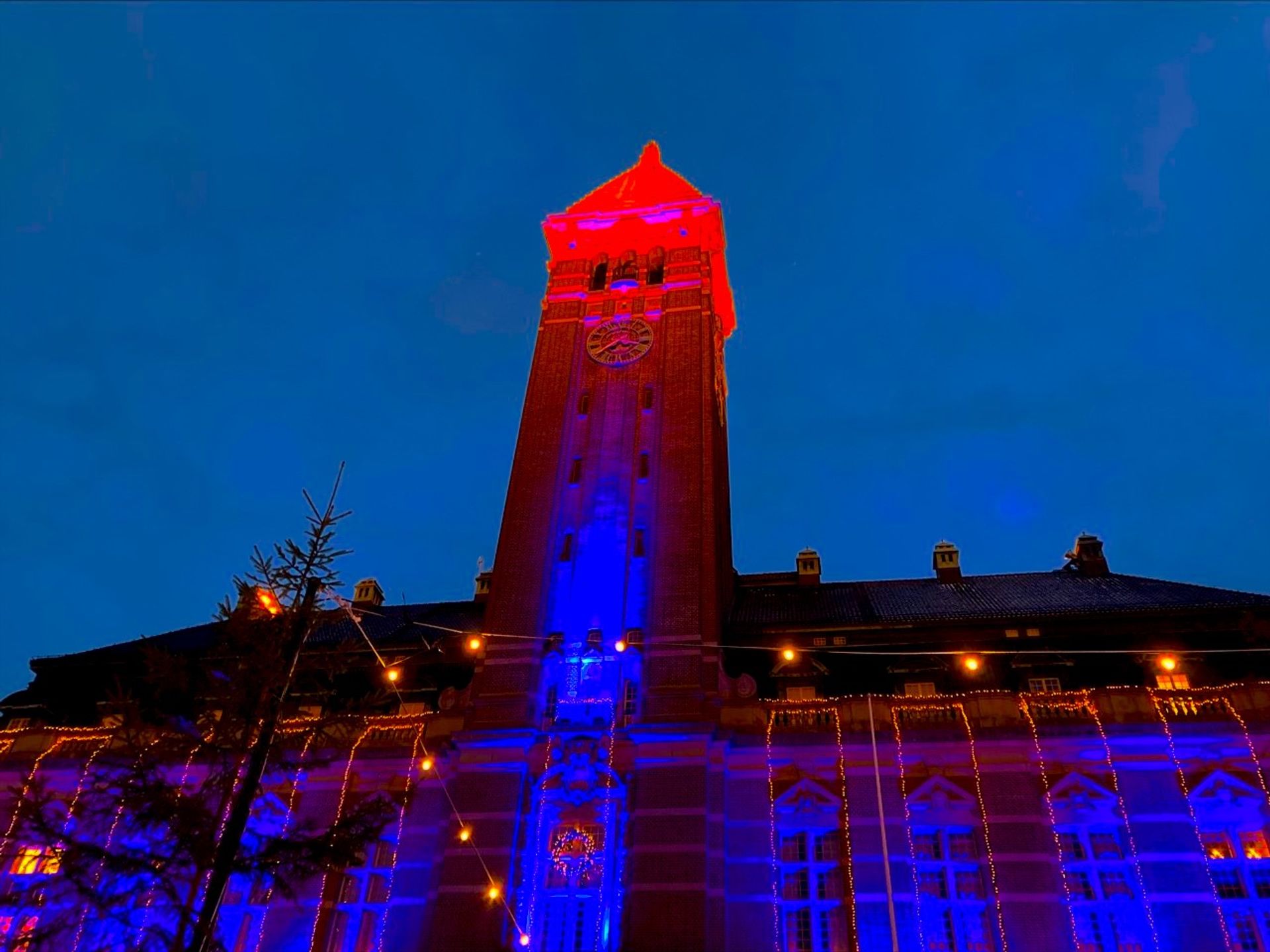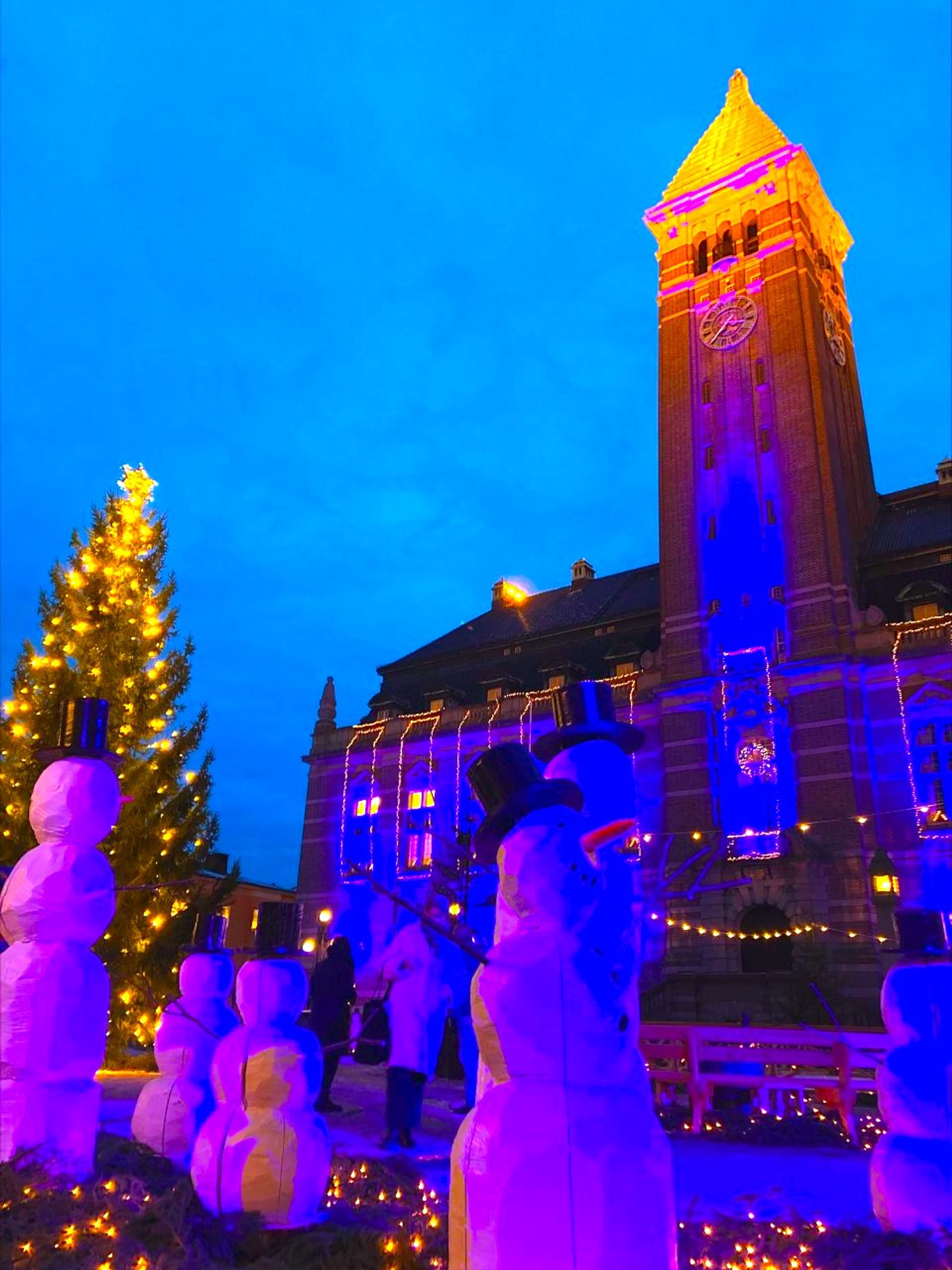 During The Norrköping Lights Festival, City Hall lights up like a castle adorned in lights and blue/purple lighting.
Lekfull (Playful) – created by Karl Norberg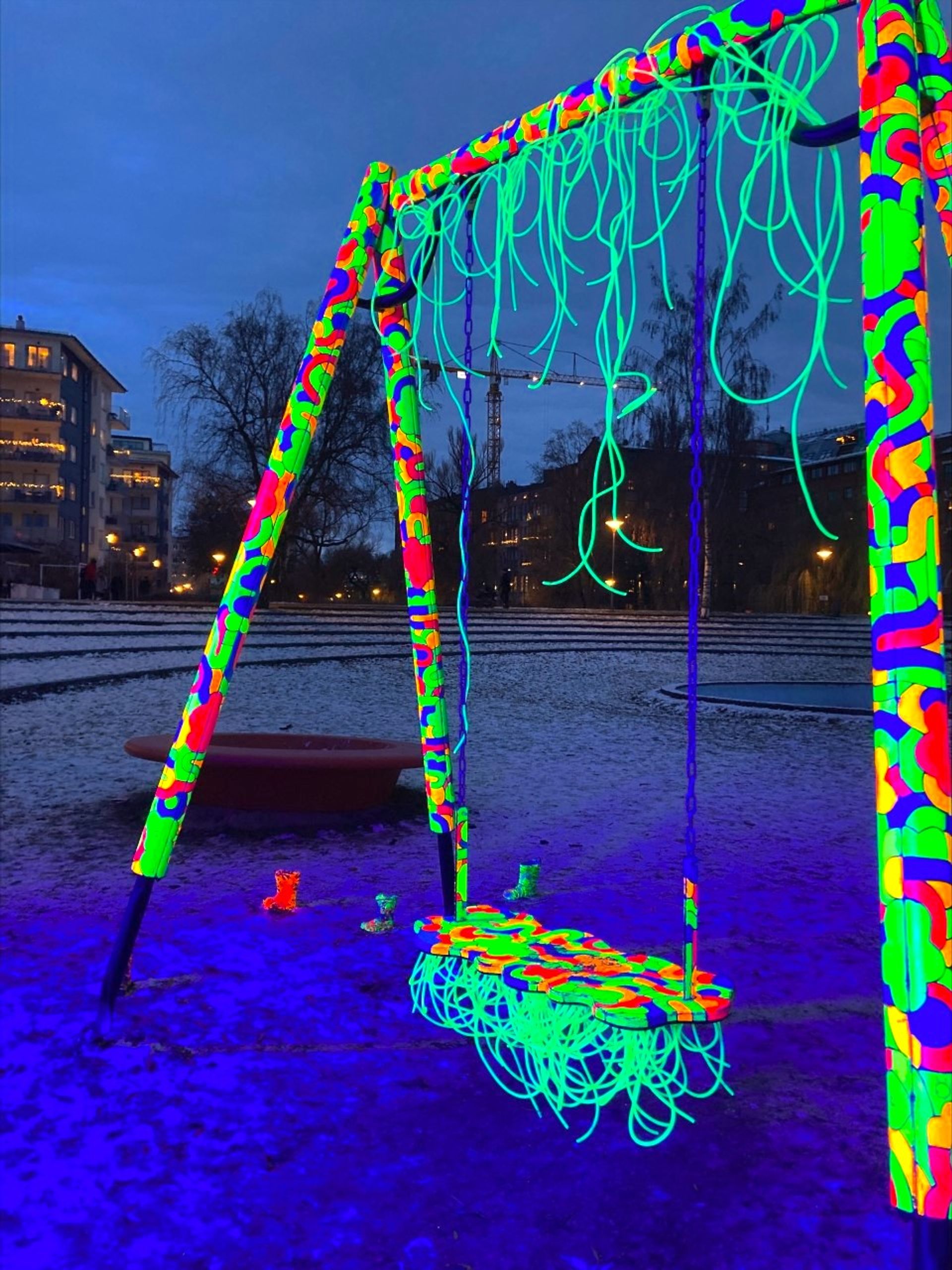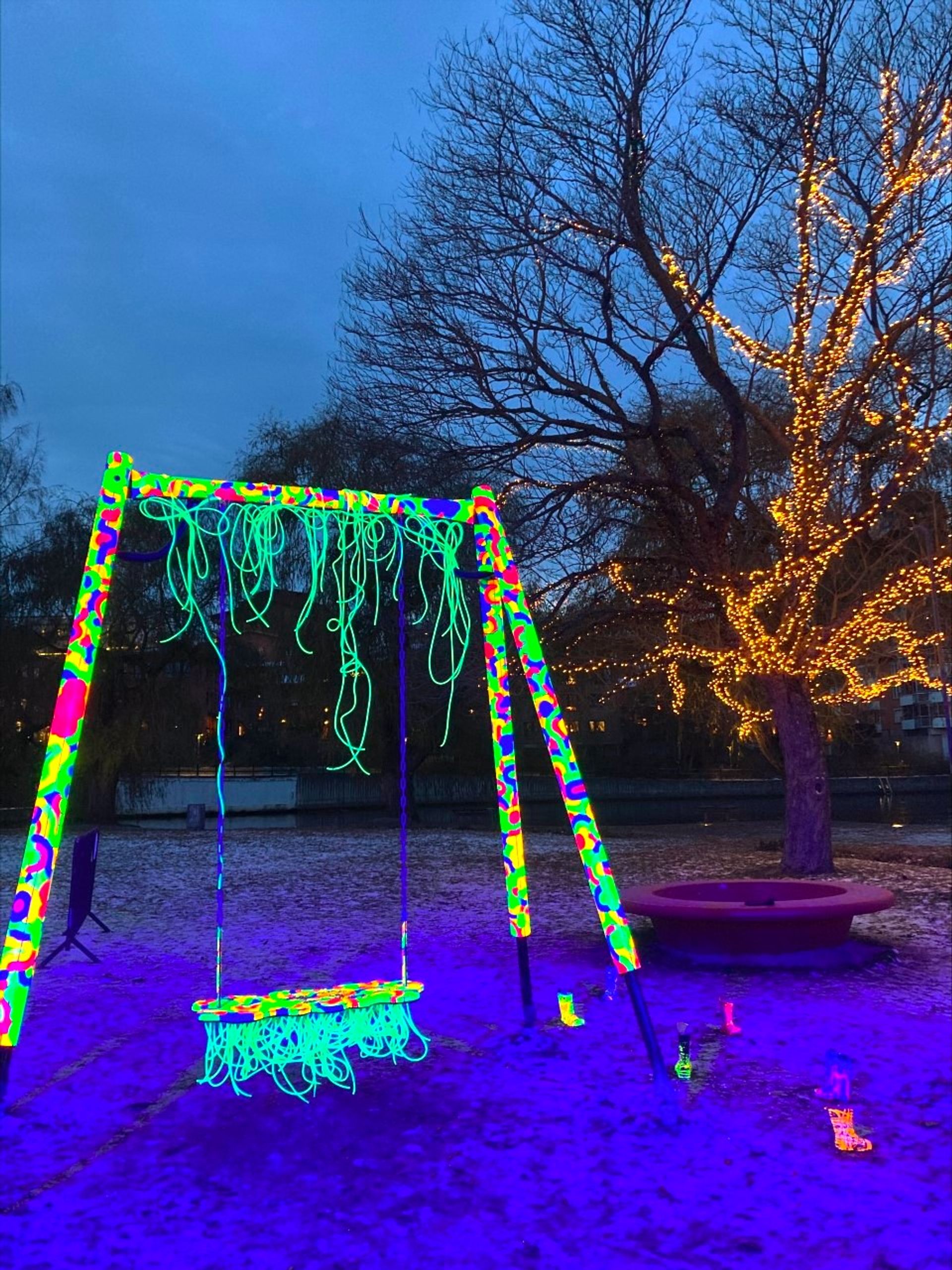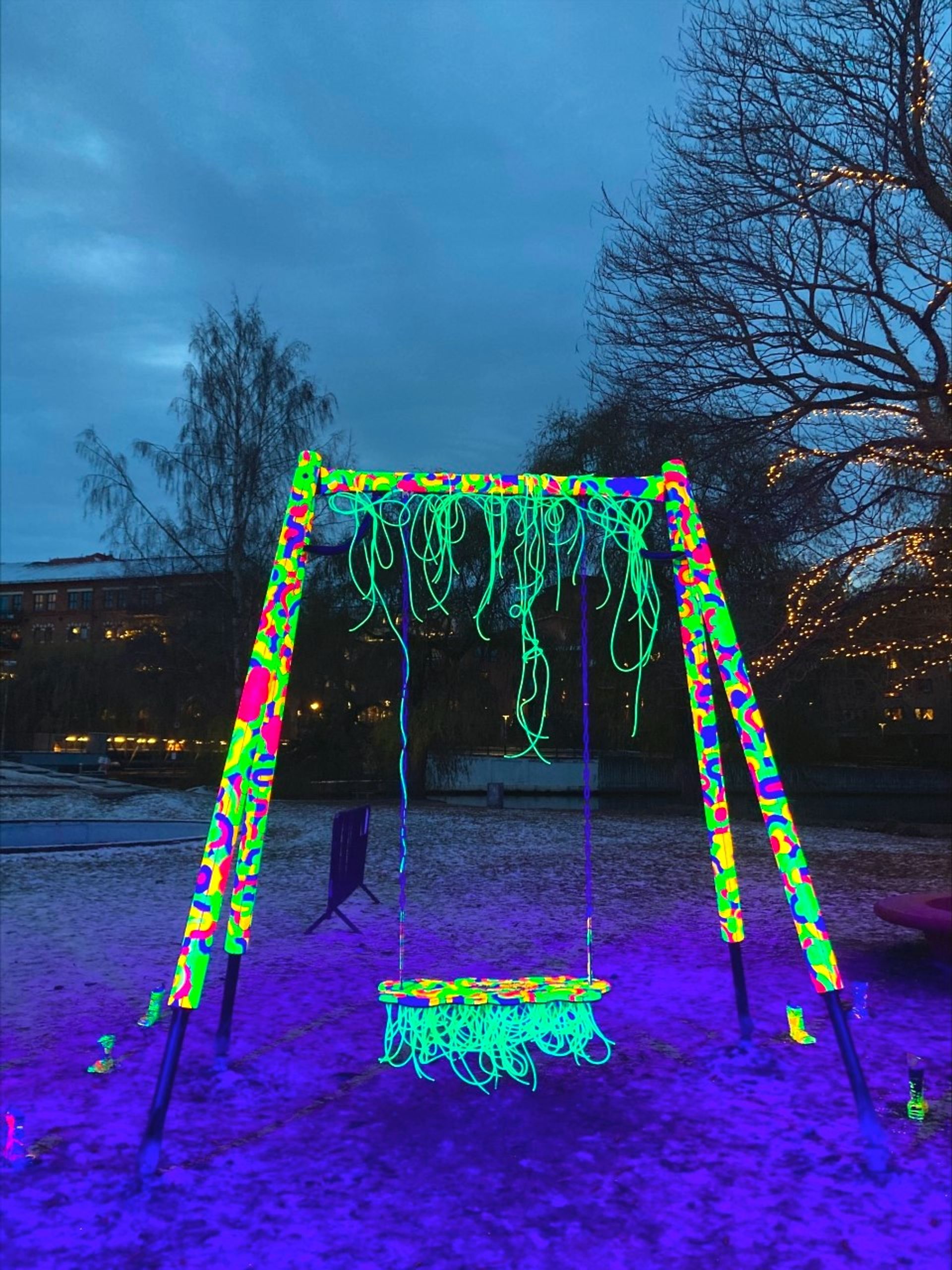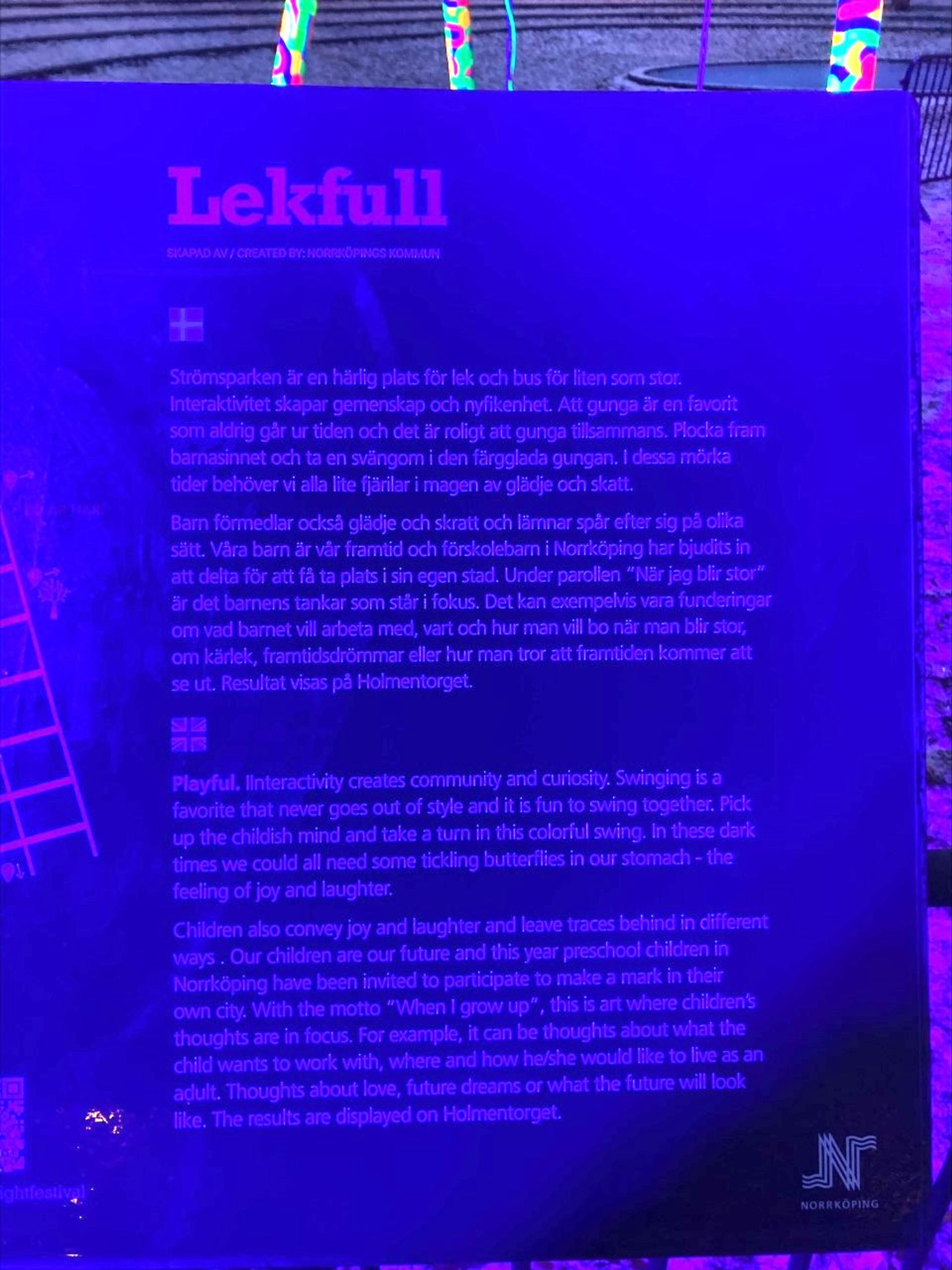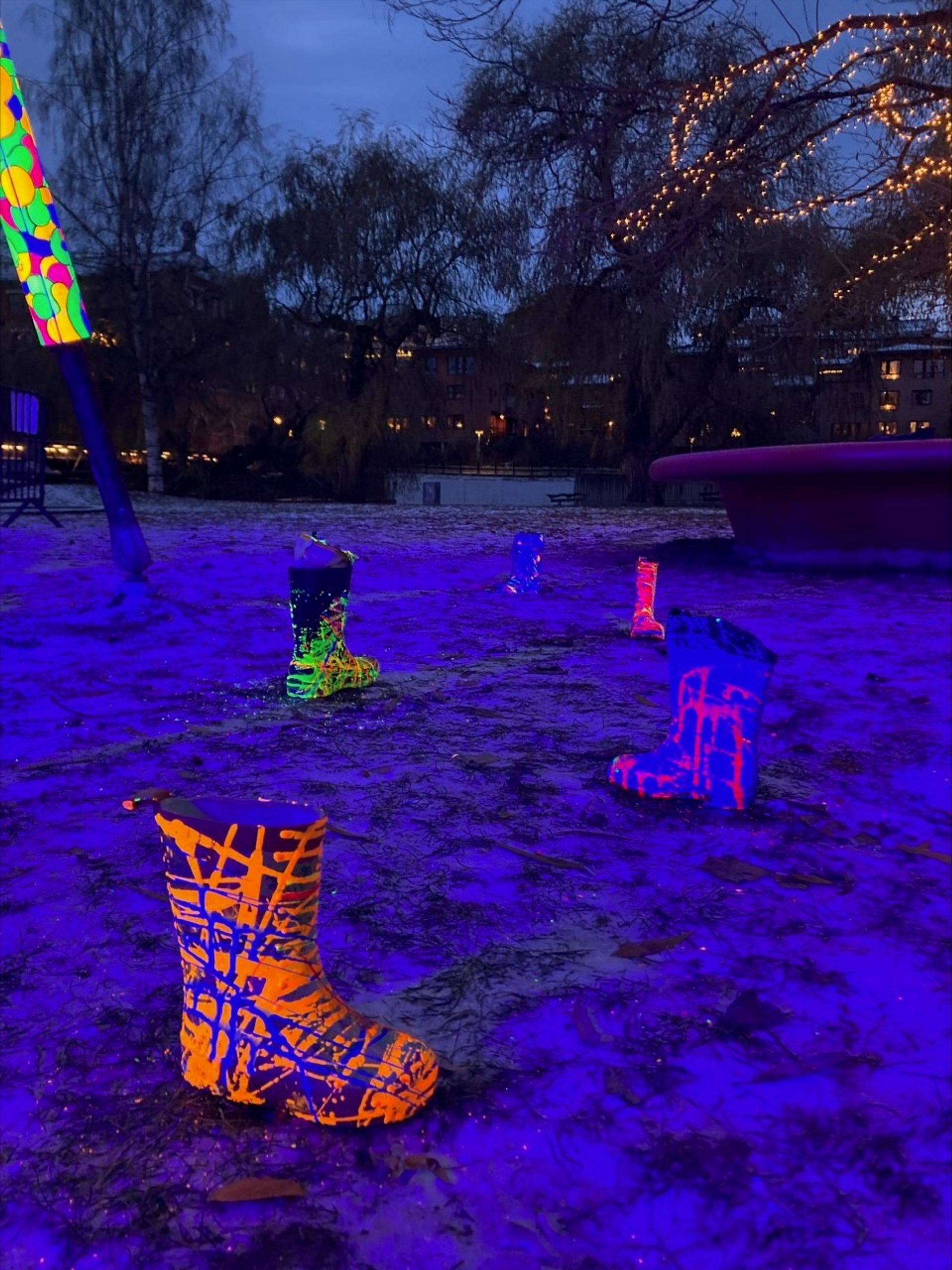 No matter what age you are, swinging is always fun! This colorful, neon swing in Strömsparken allows residents and visitors of all ages to unleash their inner child and enjoy themselves.

The informational placard says in english:
"Playful, interactivity creates community and curiosity. Swinging is a favorite that never goes out of style and it is fun to swing together. Pick up the childish mind and take a turn in this colorful swing. In these dark times we could all need some tickling butterflies in our stomach – the feeling of joy and laughter.
Children also convey joy and laughter and leave traces behind in different ways. Our children are our future and this year preschool children in Norrköping have been invited to participate to make a mark i their own city. With the motto "when I grow up", this is art where children's thoughts are in focus. For example, it can be thoughts about what the child wants to work with, where and how he/she would like to live as an adult. Thoughts about love, future dreams or what the future will look like. The results are displayed on Holmentorget."
Låt hjärtat va' me' (Let the heart be 'me') – created by unknown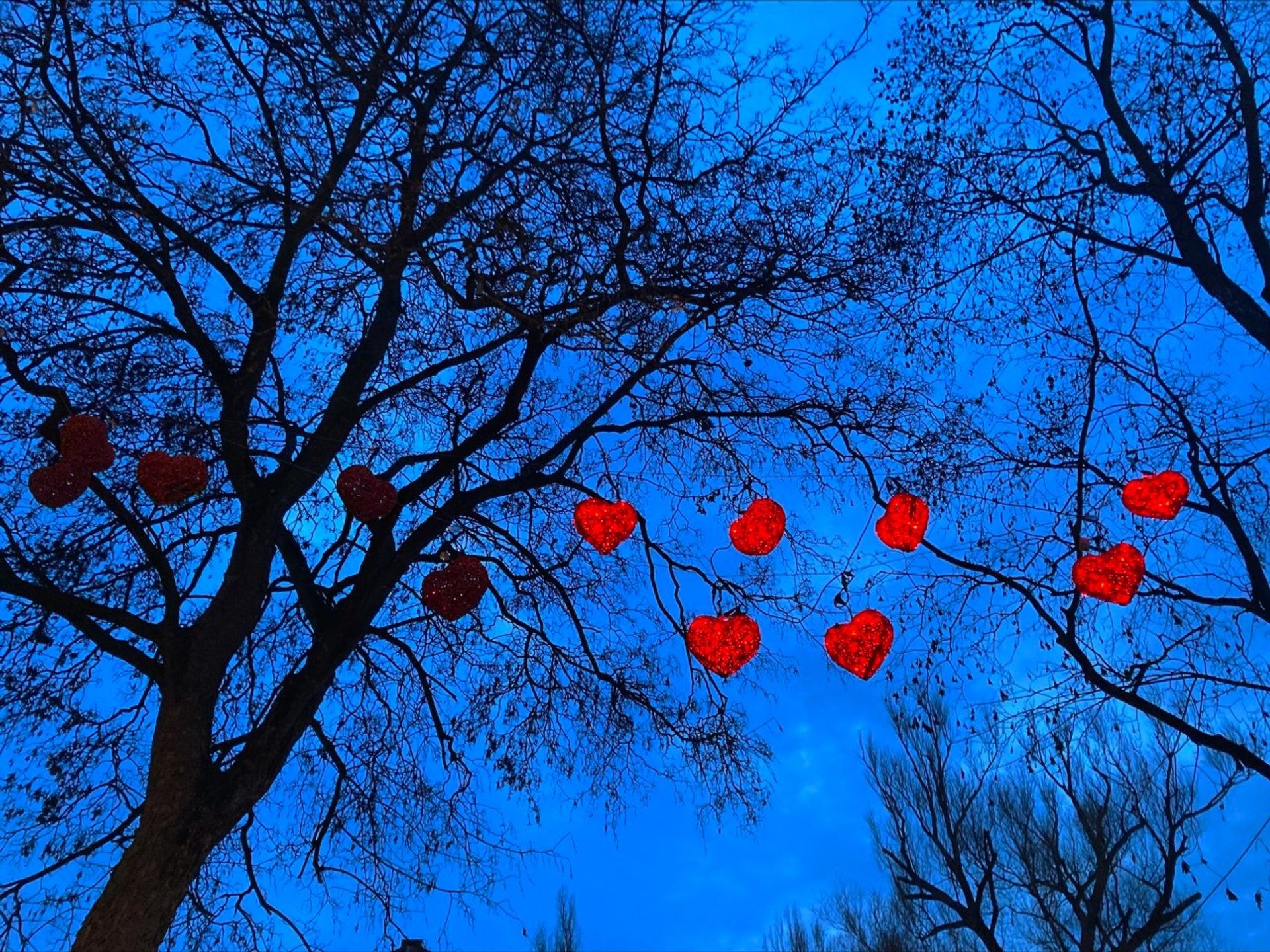 These red, heart lights (actually the municipalities Valentines Day decorations) light up the walking path and bring a sense of love to Norrköping's residents and visitors.
Cykeldisco (Bicycle disco) – created by Norrköping Light Festival project group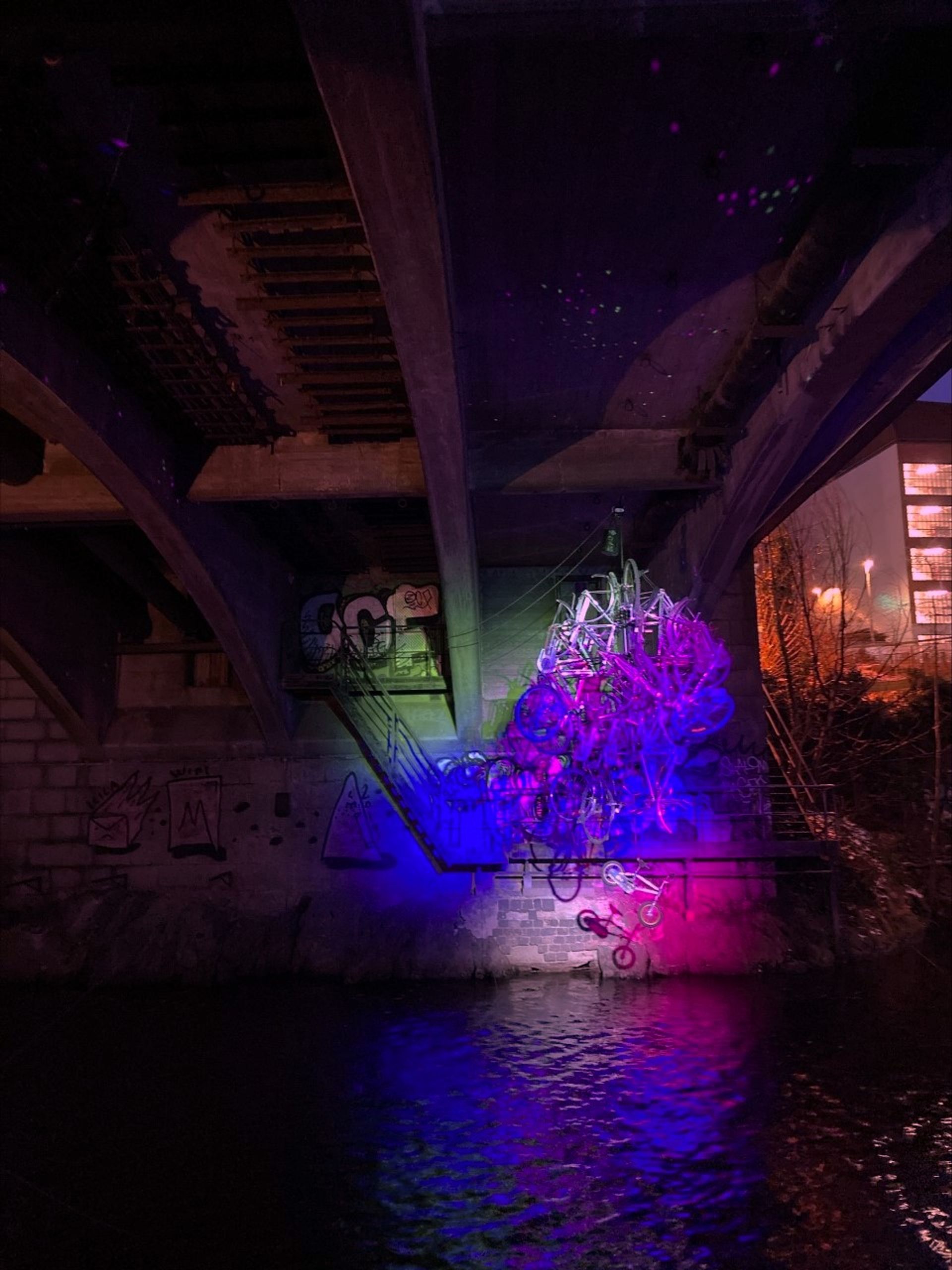 Attached from the bridge, this installation includes 17 bicycles, all picked up from Motala Ström, a river here in Östergötland. The number of bicycles chosen for this installation is symbolic of the 17 global goals for a sustainable future created by world leaders. The bicycles in this installation embody global goals of health and wellness, sustainable cities and communities, and combating climate change.
Gryningens seger (the victory of dawn) – created by S:t Olofs Kammarkör and candlestick Karl Norberg, Norrköping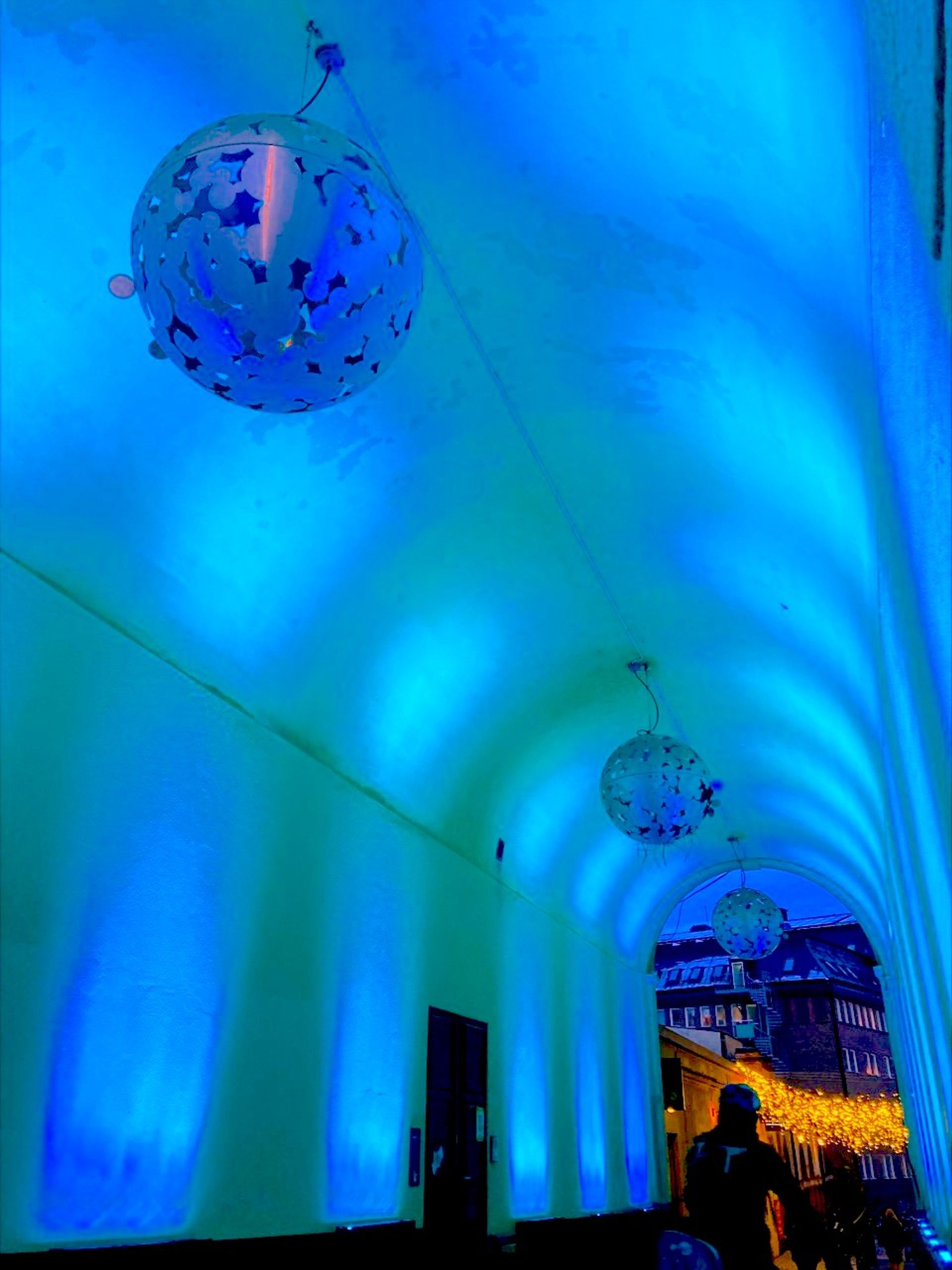 Light and sound interplay in this installation as a choir and changing neon lights fill Swartzen's arches as you walk through them. The choir featured in the installation is made up of 20 members of S:t Olof's parish in Norrköping. The choir recently celebrated their five year anniversary and have reunited after a hiatus due to the pandemic.
Ljusår (Light years) – created by Patrik Nystrang, Norrköping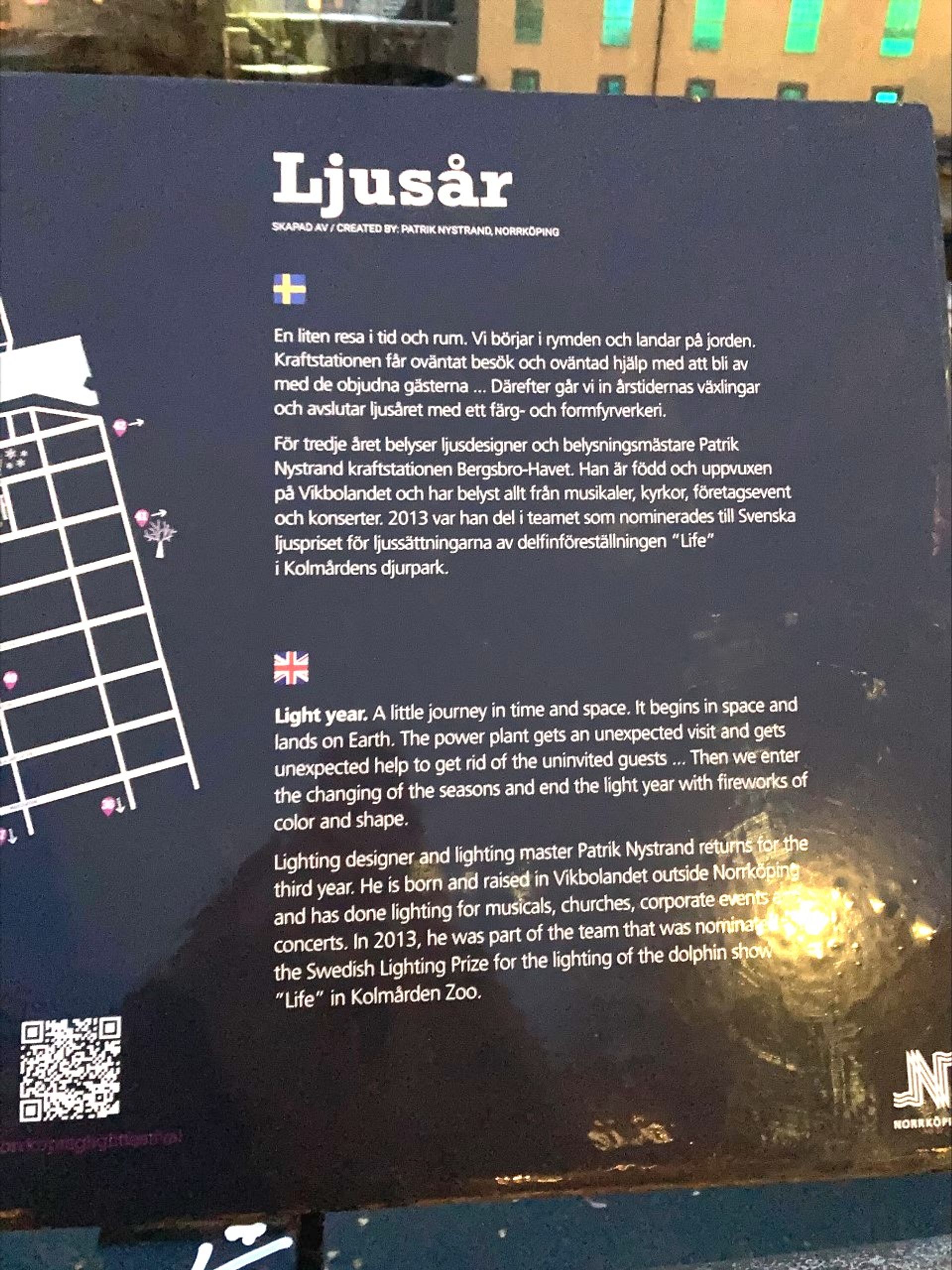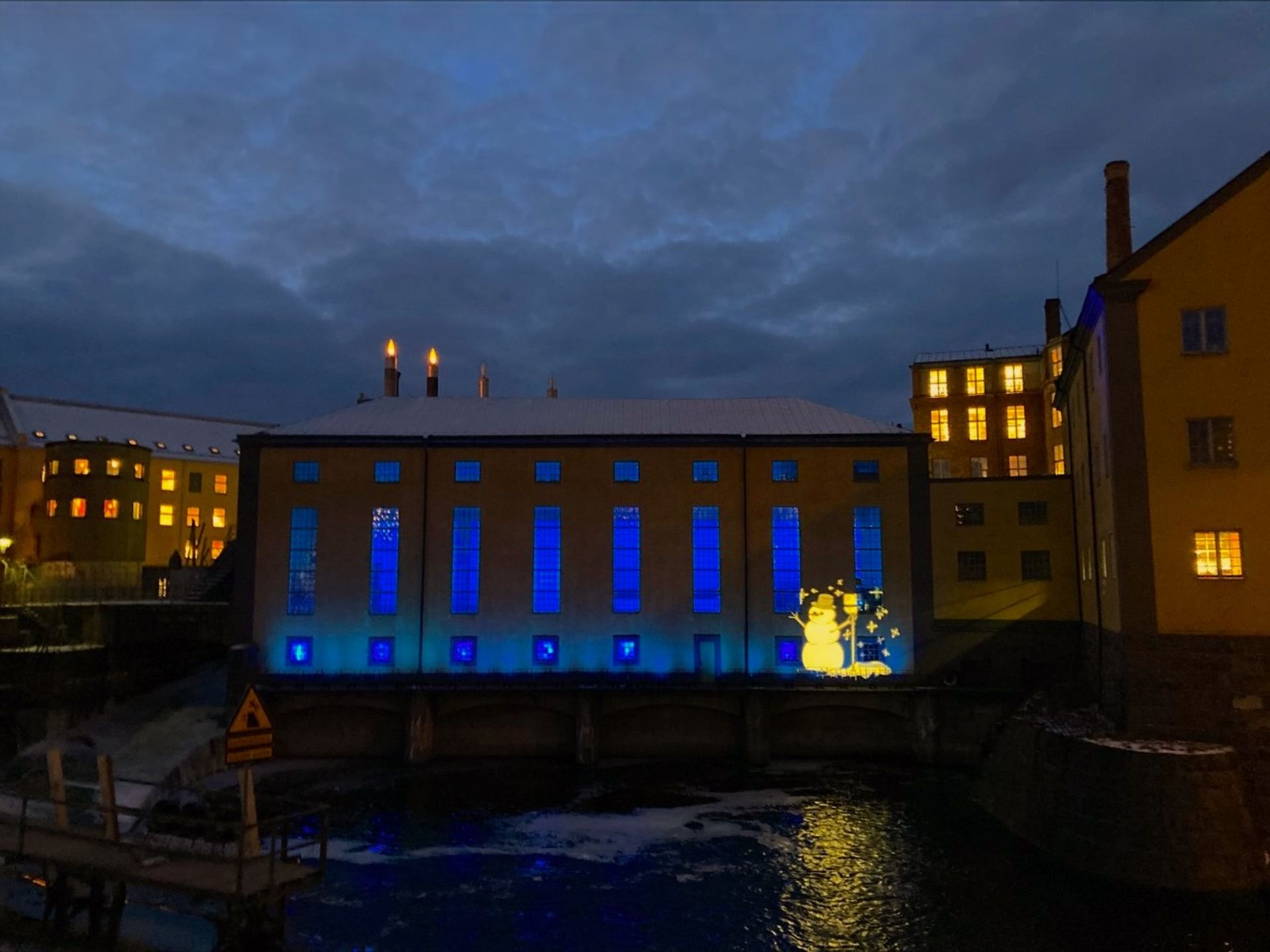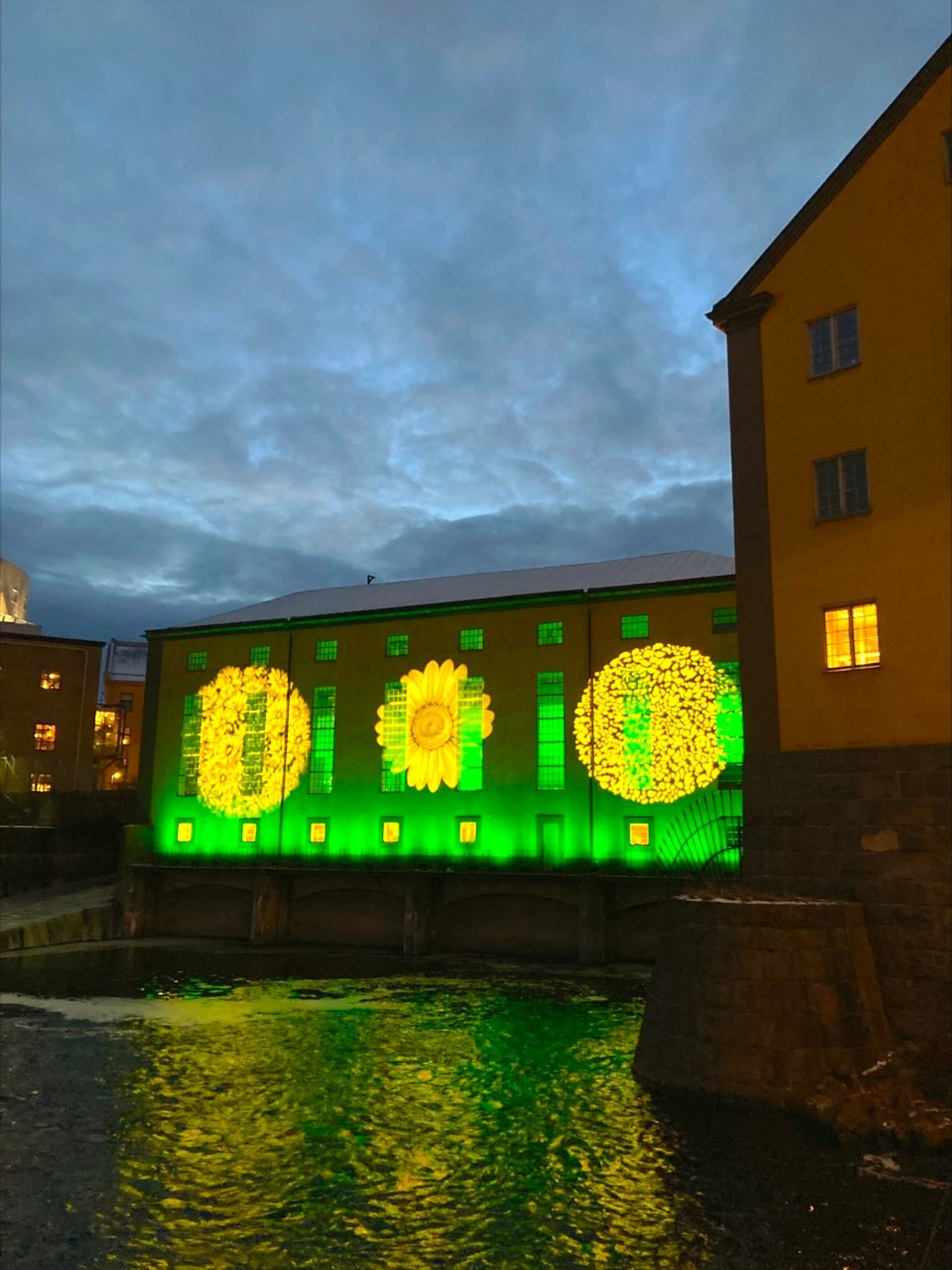 The installation Light Years takes viewers through a journey of time and space, first starting in space and then landing on Earth. This installation is created by Patrik Nystrand and is projected upon the Bergsbro-Havet power station.

The informational placard says in english:
"Light year. A little journey in time and space. It begins in space and lands on Earth. The power plant gets an unexpected visit and gets unexpected help to get rid of the uninvited guests…Then we ener the changing of the seasons and end the light year with fireworks of color and shape.
Lighting designer and lighting master Patrik Nystrand returns for the third year. He is born and raised in Vikbolandet outside Norrköping and has done lighting for musicals, churches, corporate events, and concerts. In 2013, he was part of the team that was nominated for the Swedish Lighting Prize for the lighting of the dolphin show "Life" in Kolmården Zoo.
Knäppingsborgs vintergata (Knäppingsborgs winter street) – created by Happy Events on behalf of Castellum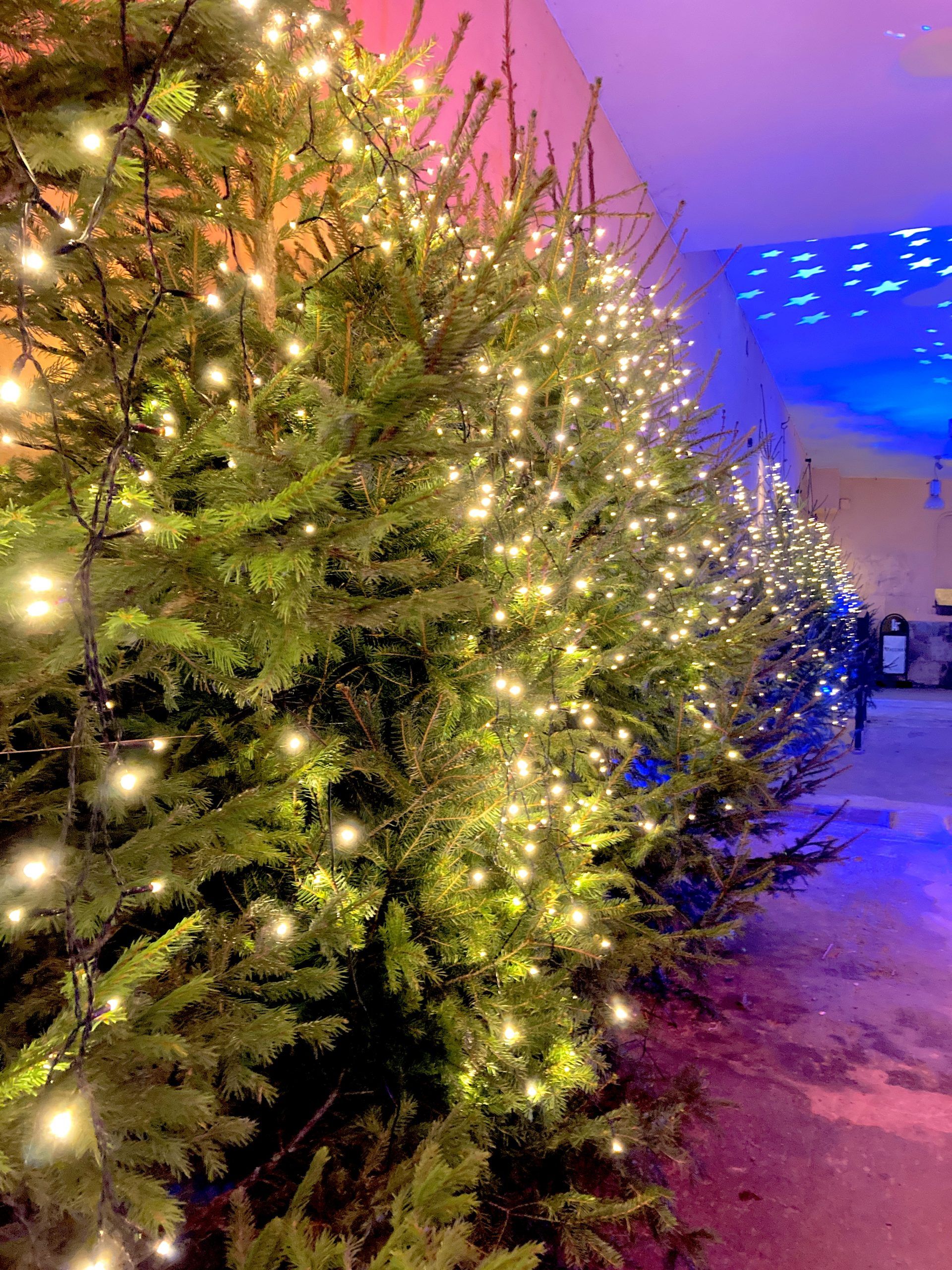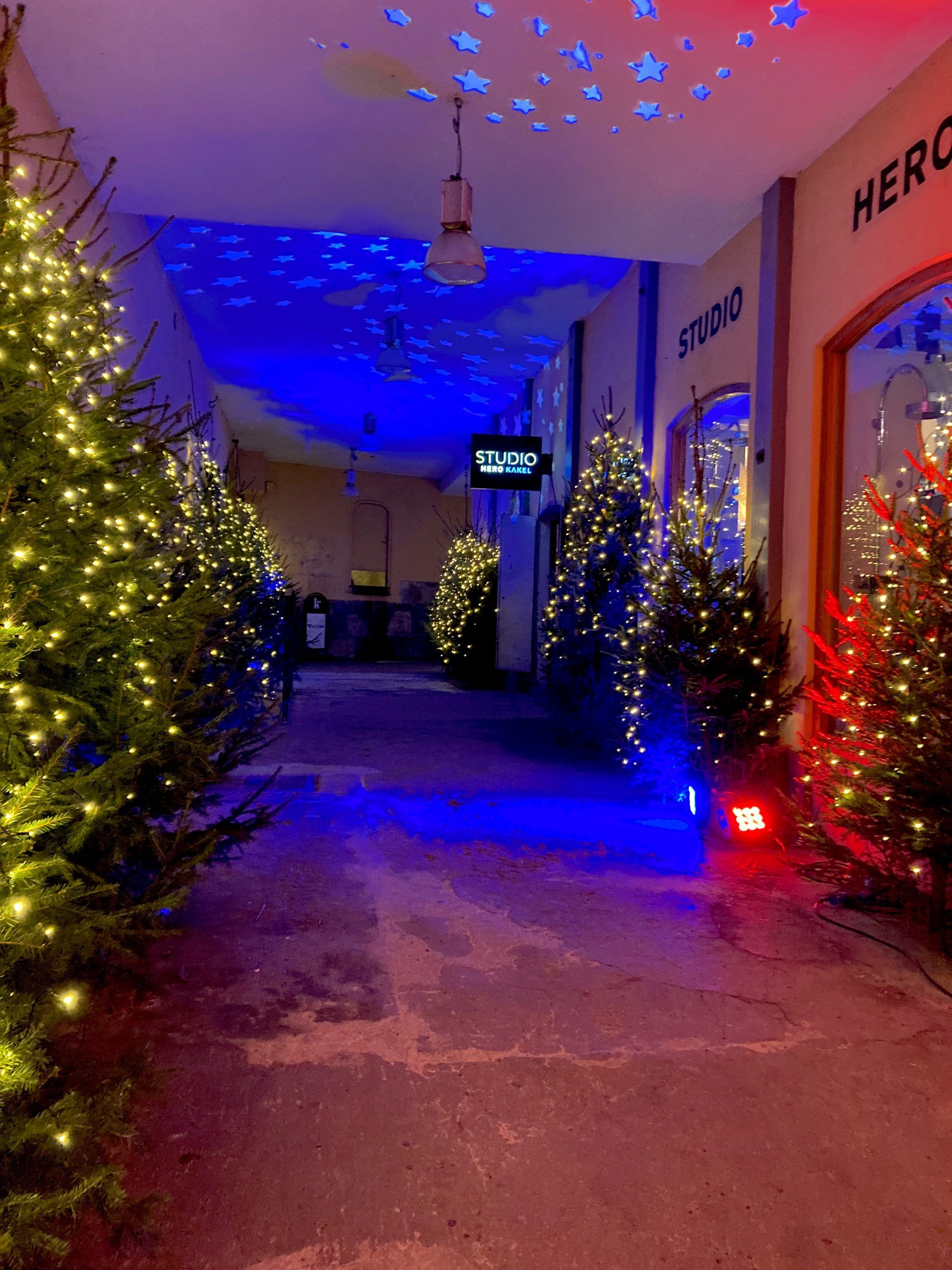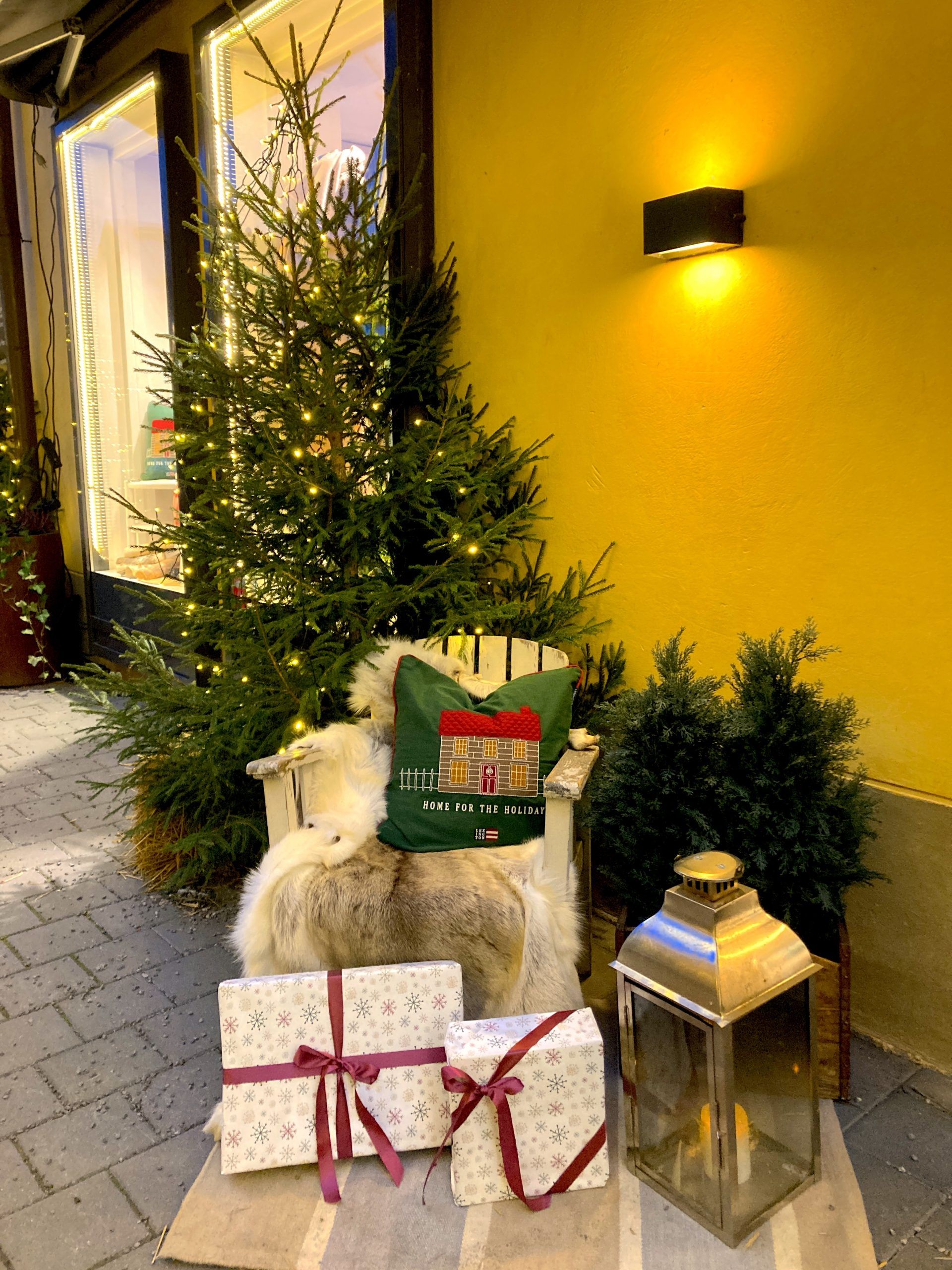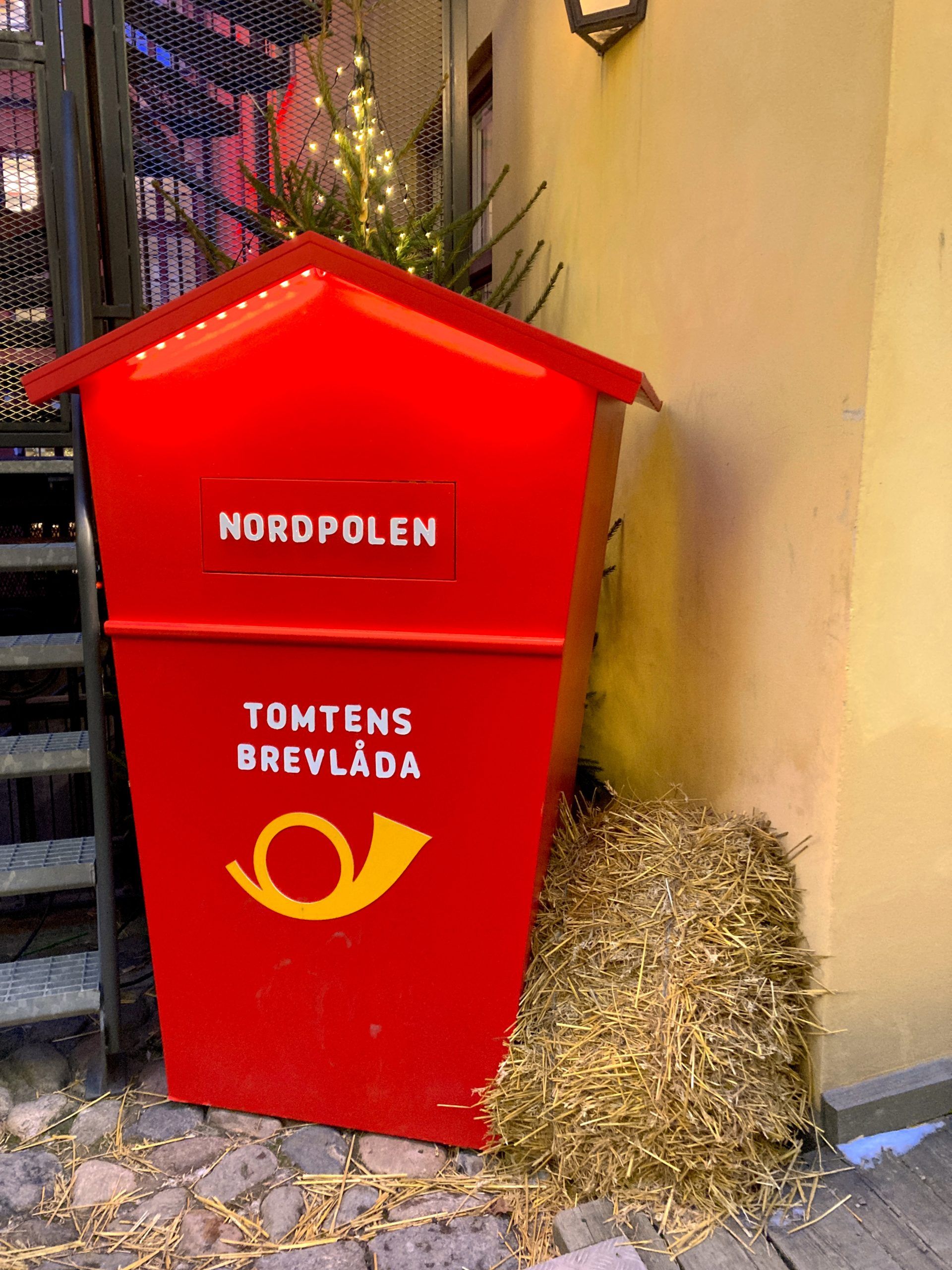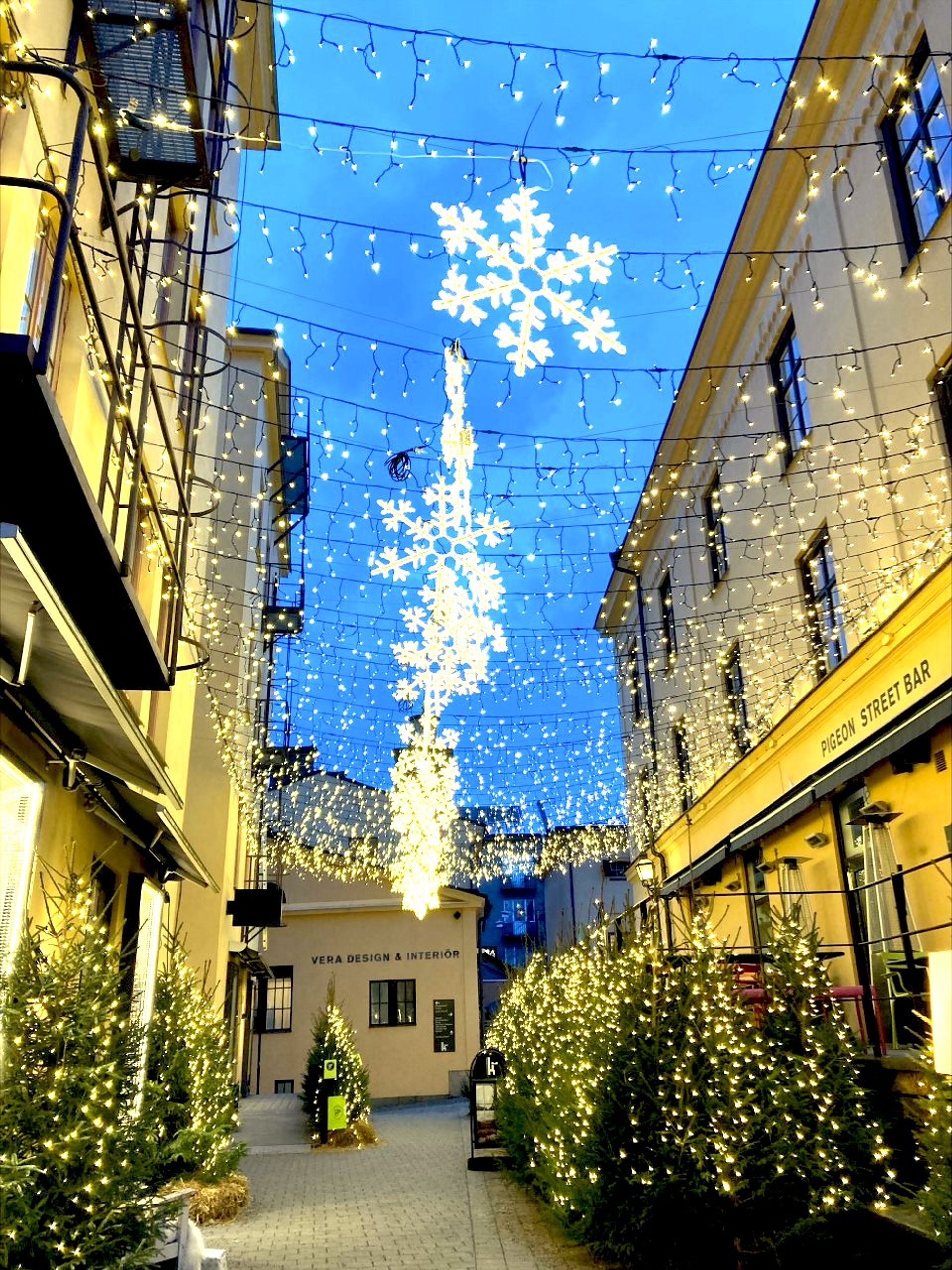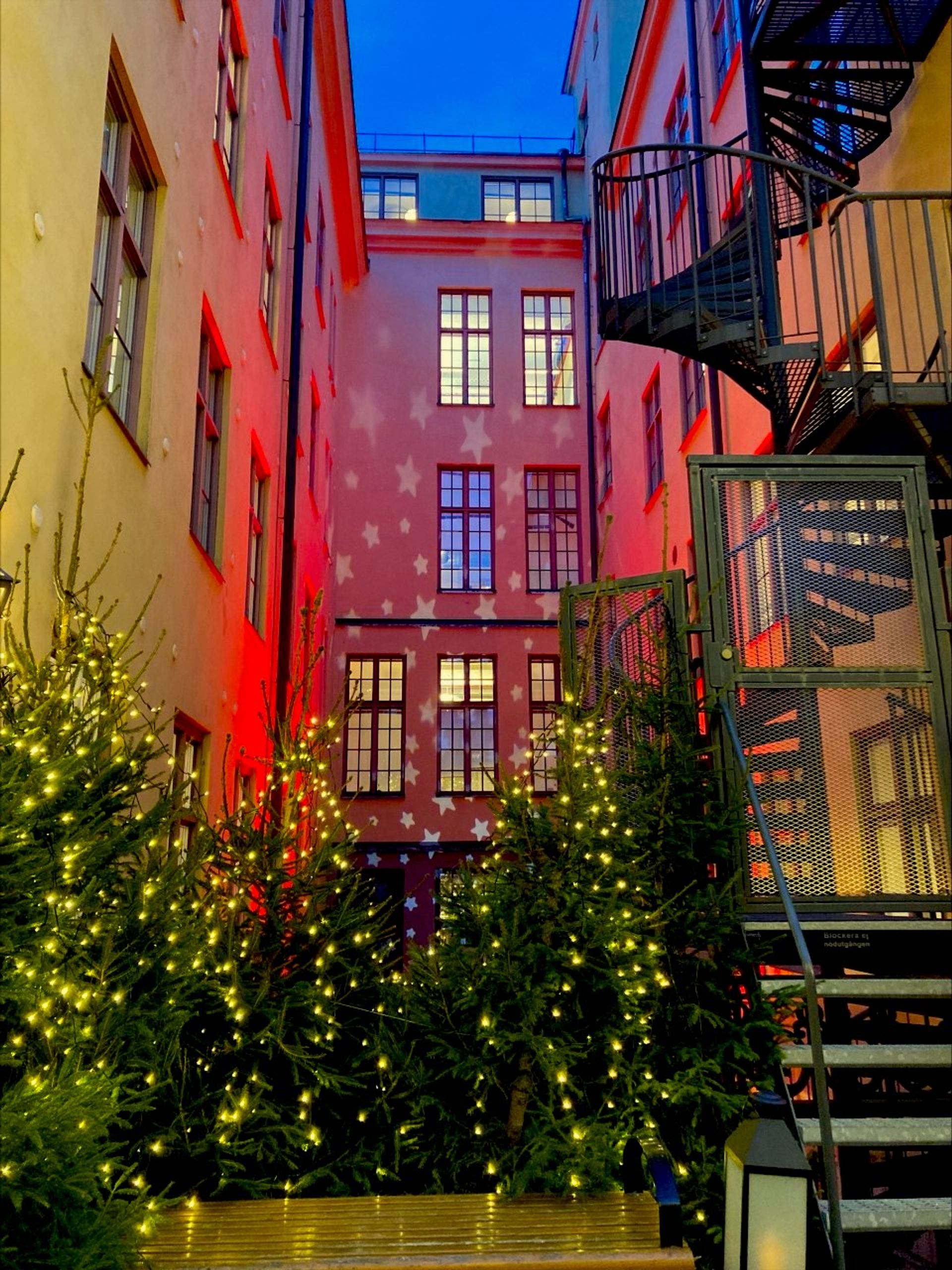 The light installation at Knäppingsborg, a shopping and restaurant center in Norrköping, consists of almost 400 meters of lights and 19 large stars. 100 Lit up Christmas trees guide the visitor along the path to the lights where you can also leave a letter to Santa!
Water Fun – created by Angus Muir and Nya Zeeland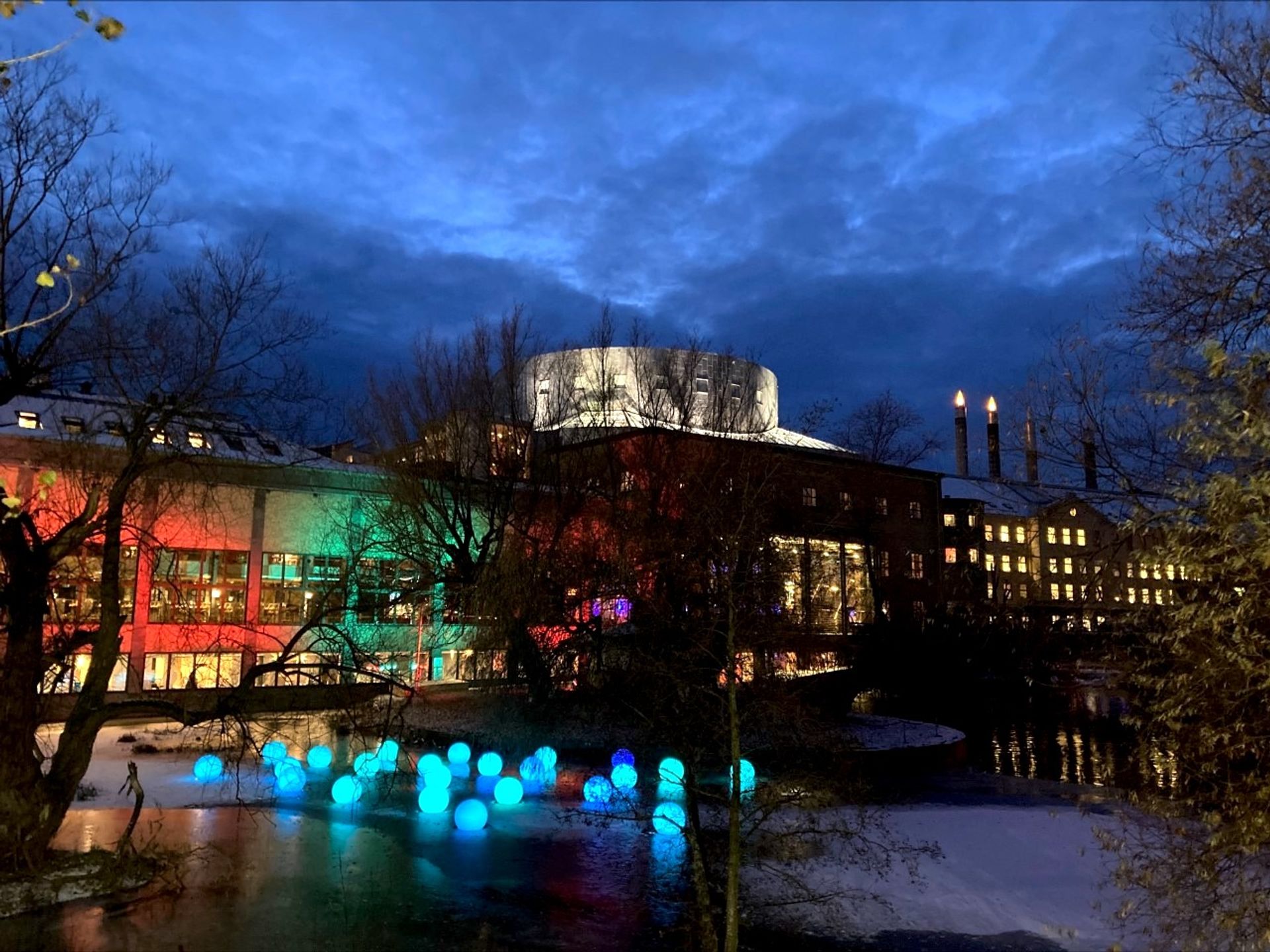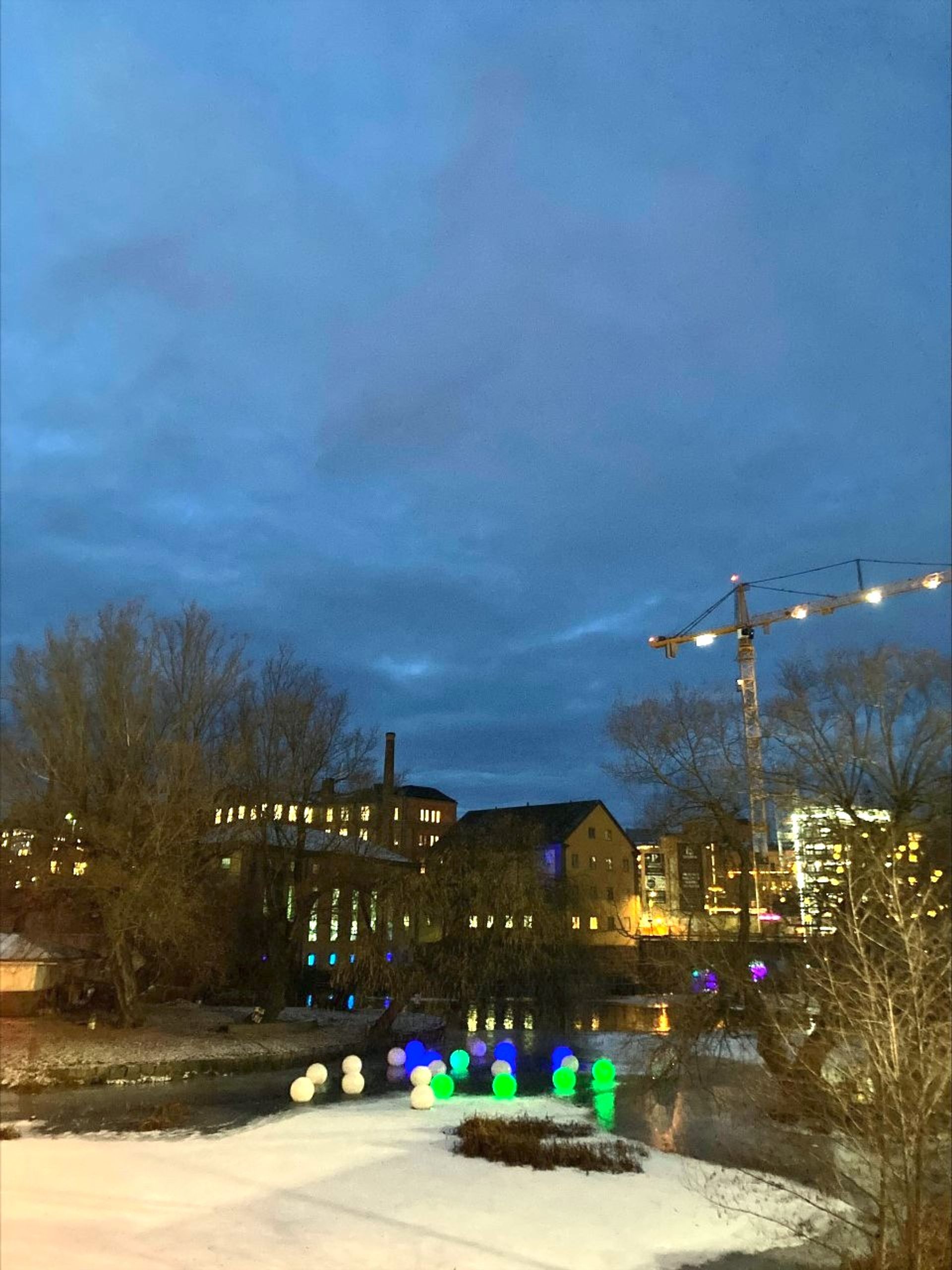 Water Fun, created by New Zealand architect Angus Muir is a collection of colorful buoys lit up in a rainbow of colors. The balls floating on the water outside Louis de Geer concert hall are supposed to be give viewers a sense of joy just like balloons at a birthday party.
Det är vi som är Norrköping (we are like Norrköping) – created by Norrköpingsborna and Lundbergs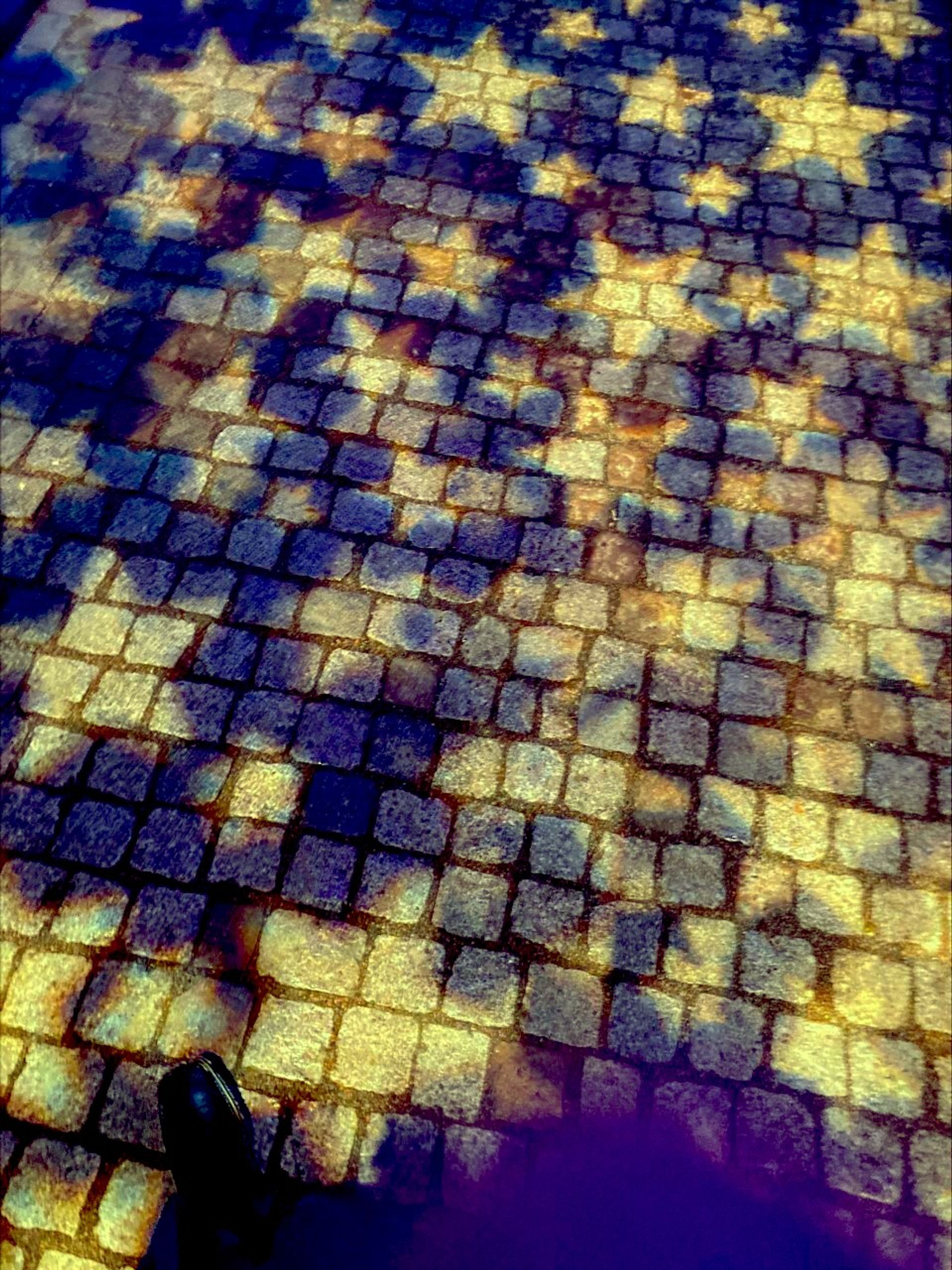 In We Are Like Norrköping, stars are projected onto the walkway while visitors hear a recording of IFK Norrköping's (local soccer team) cheerleaders chant "it is we who are Norrköping!" One does not have to be directly near the installation to hear the chants as it is quite loud, showing the pride of Norrköping.
När jag blir stor (when I grow up) – created by preschools in Norrköping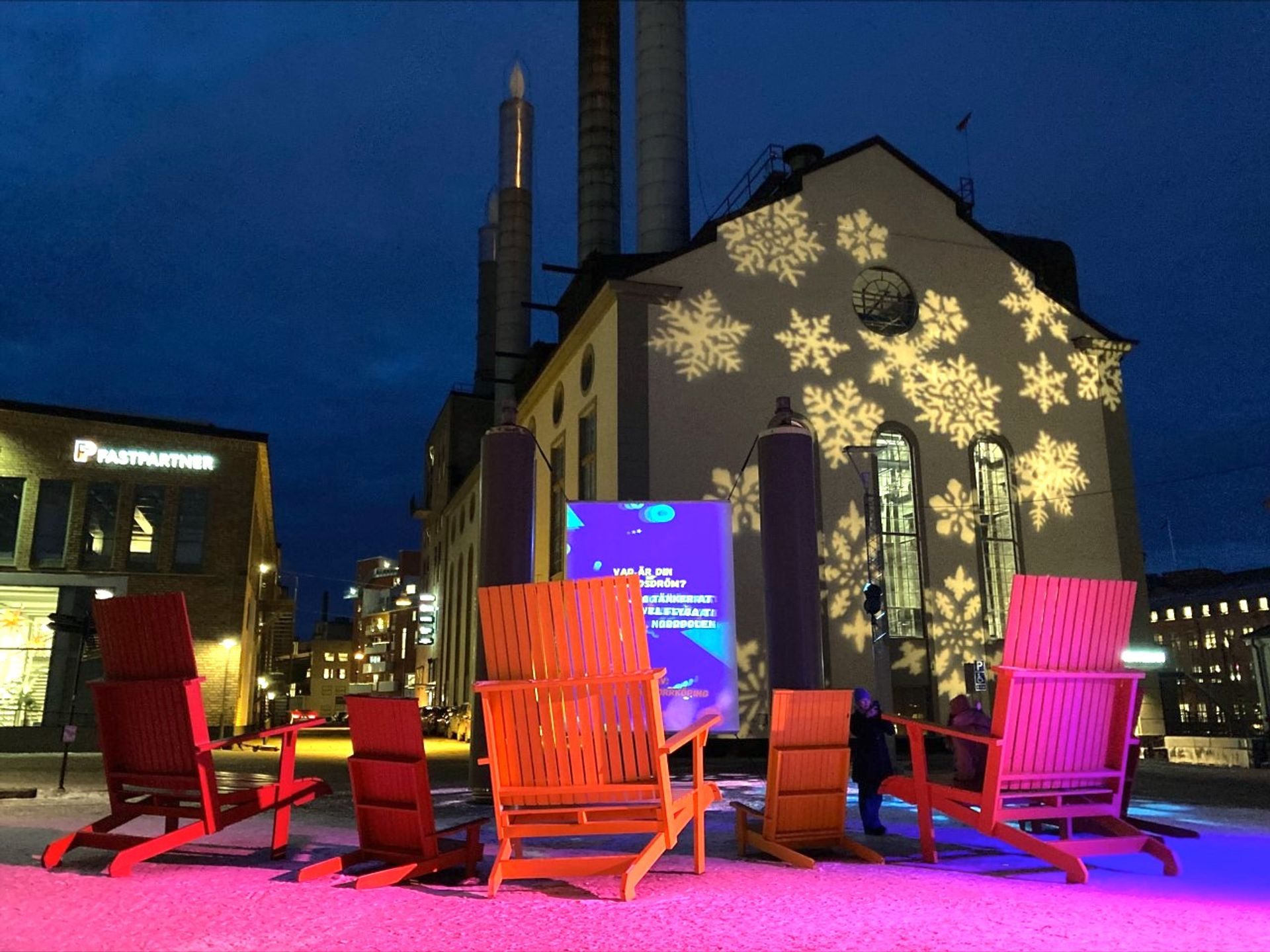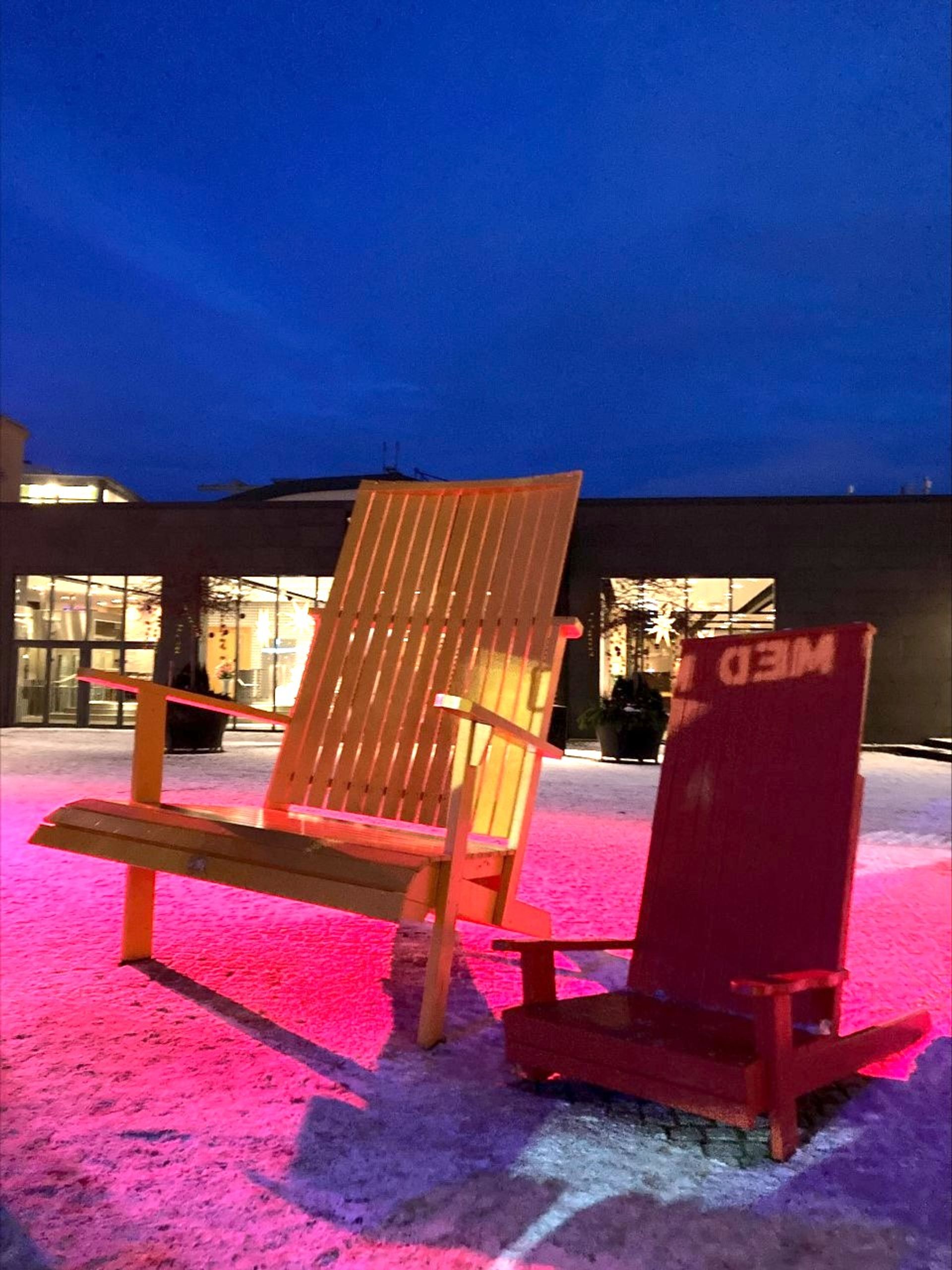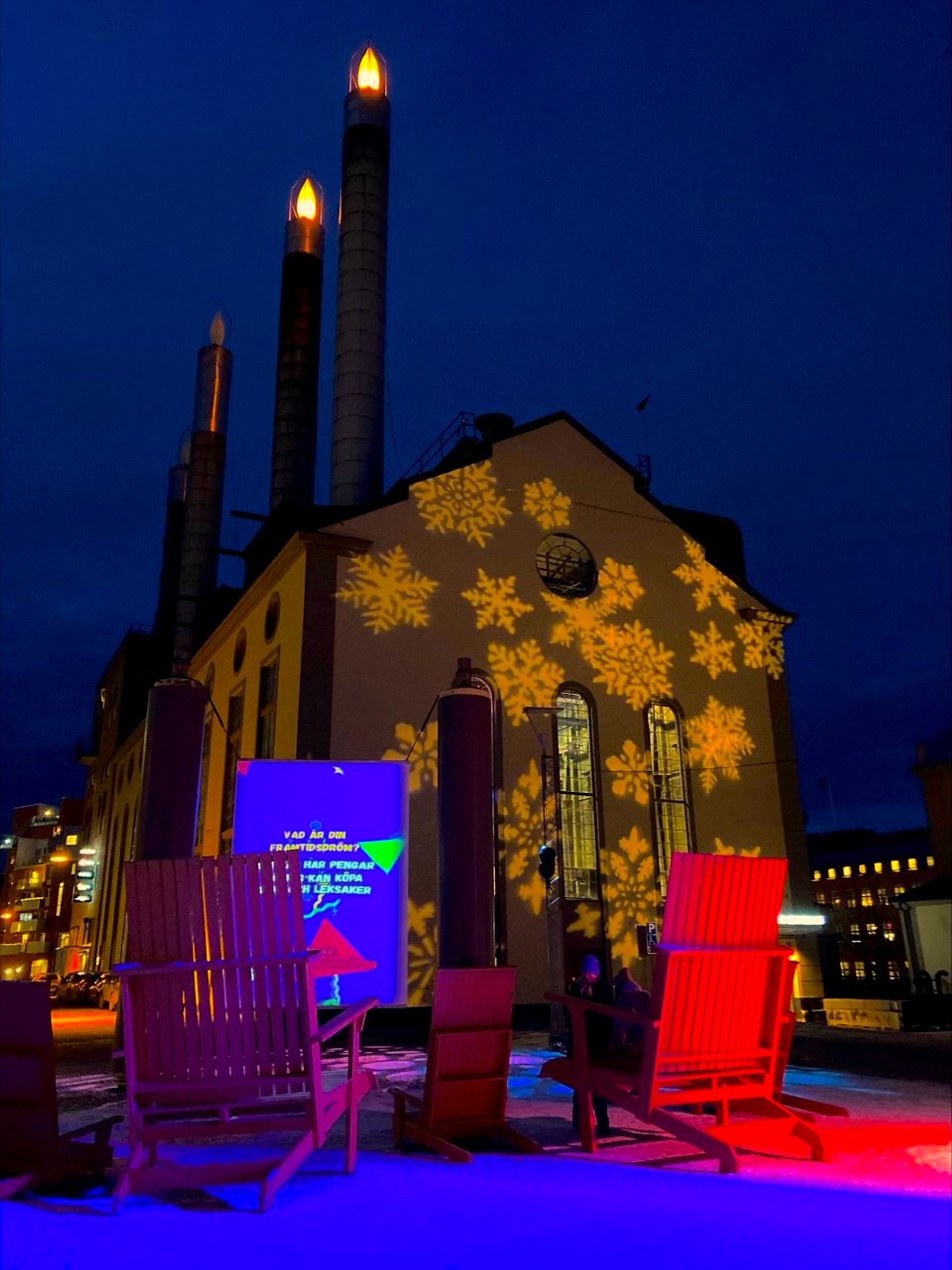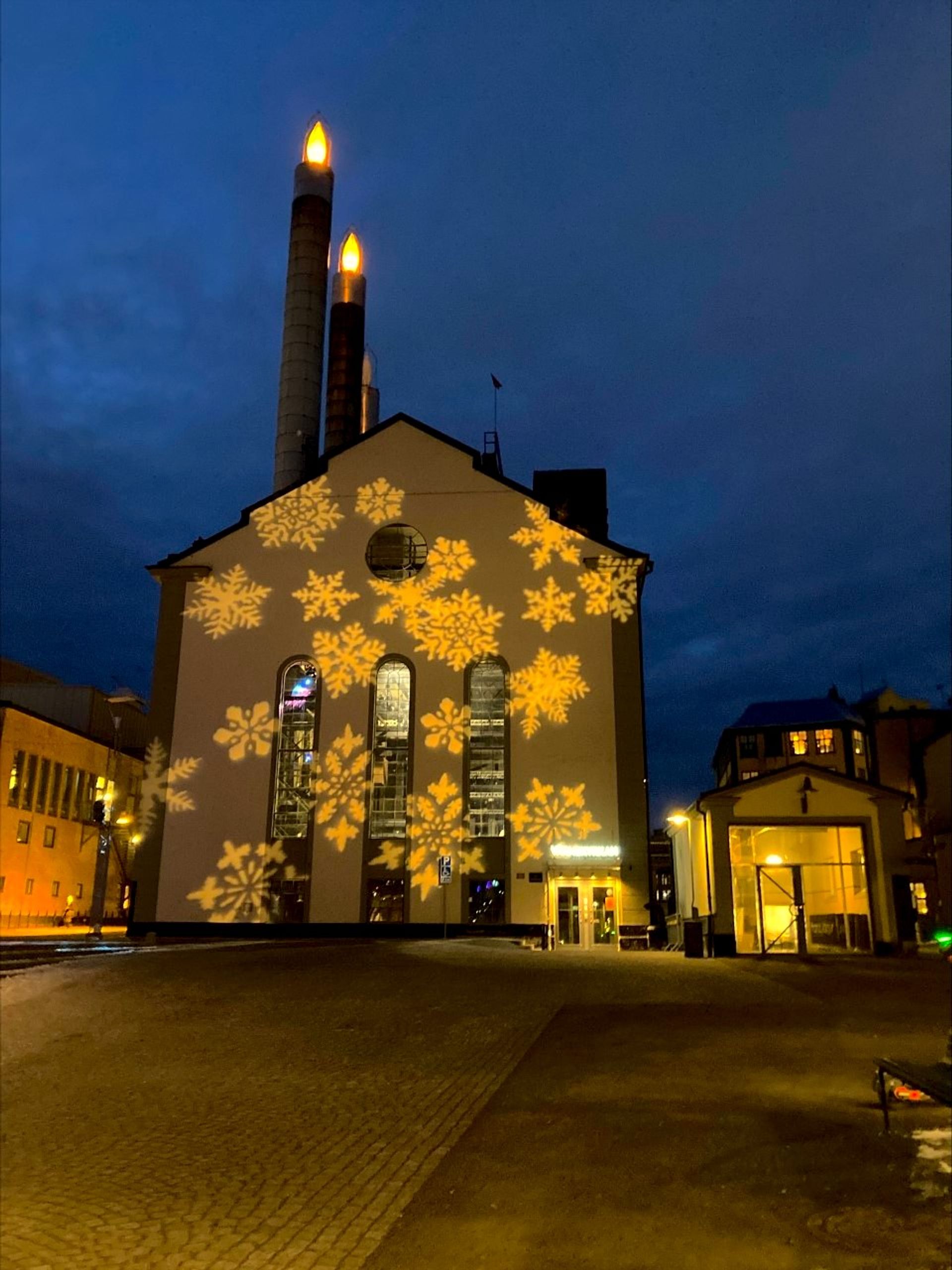 In the When I Grow Up installation, children of Norrköping are welcome to participate in their city's Light Festival. This installation will be a focus to make children visible along with their rights. Within the installation it is the children's thoughts that are at the focal point. The thoughts can be what the child wants to be when they grow up, how they want to live, or future dreams.
Circle of Life – created by Rob van Houten, Netherlands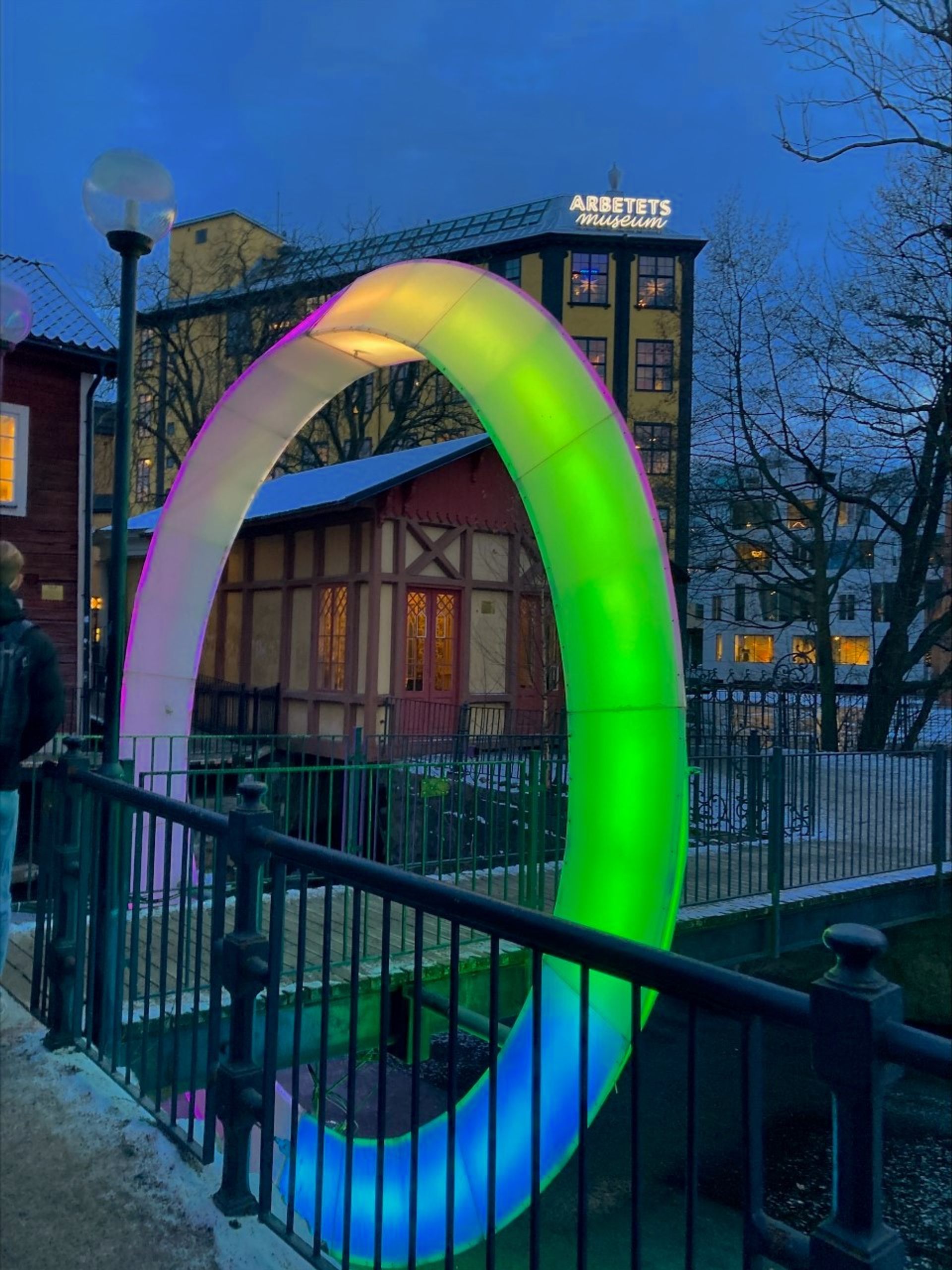 The installation The Circle of Life forms an enchanting entrance as you walk across the bridge and come out through the artwork. This piece is about eternity, the continuous rippling water of Strömmen and the speed of city of Norrköping. The flow of colors in this installation also plays a part and the stillness represents an empty city that needs to be full of life and when you walk through the Circle of Life the light gets stronger and forms more life.
Henry the Moose – created by MK Illumination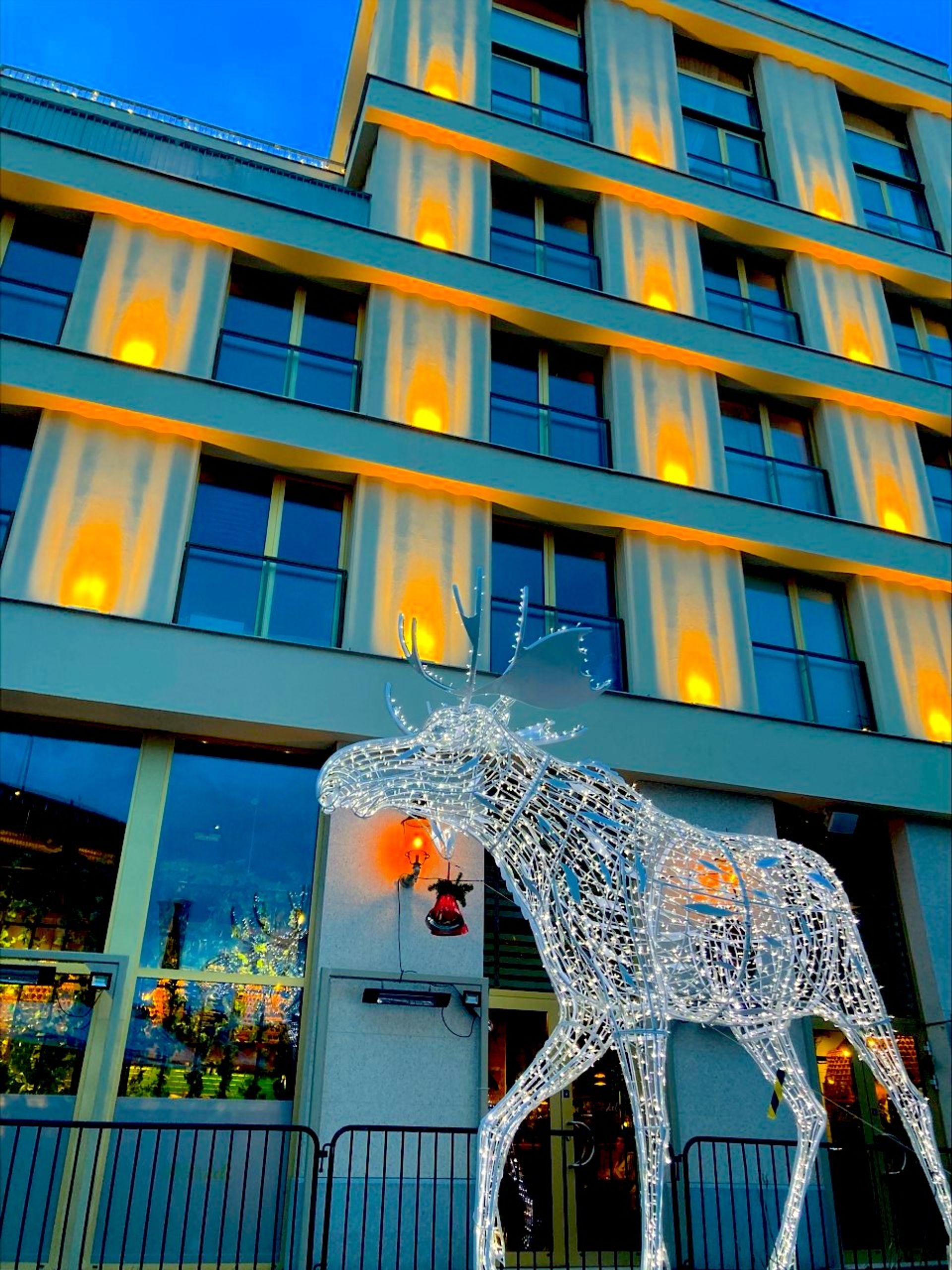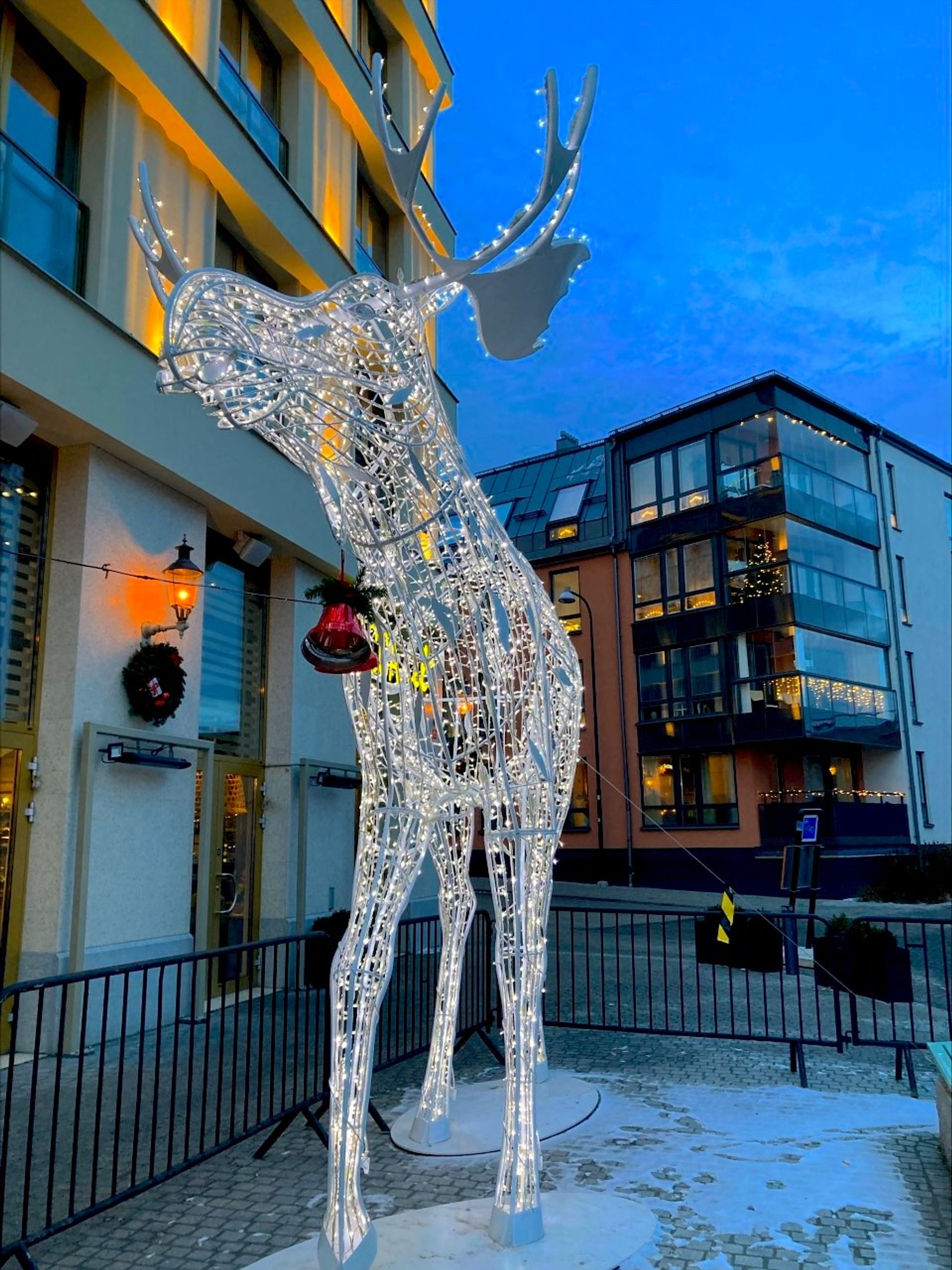 Henry the Moose is lit up with 3200 LED lights and weighs 367 kg (809 lbs)! The installation is a gift to the Norrköping Light Festival and lights up the street with it's presence and glow.
Alla barnens ljusslinga (All children's light loop) – created by children and young people in Norrköping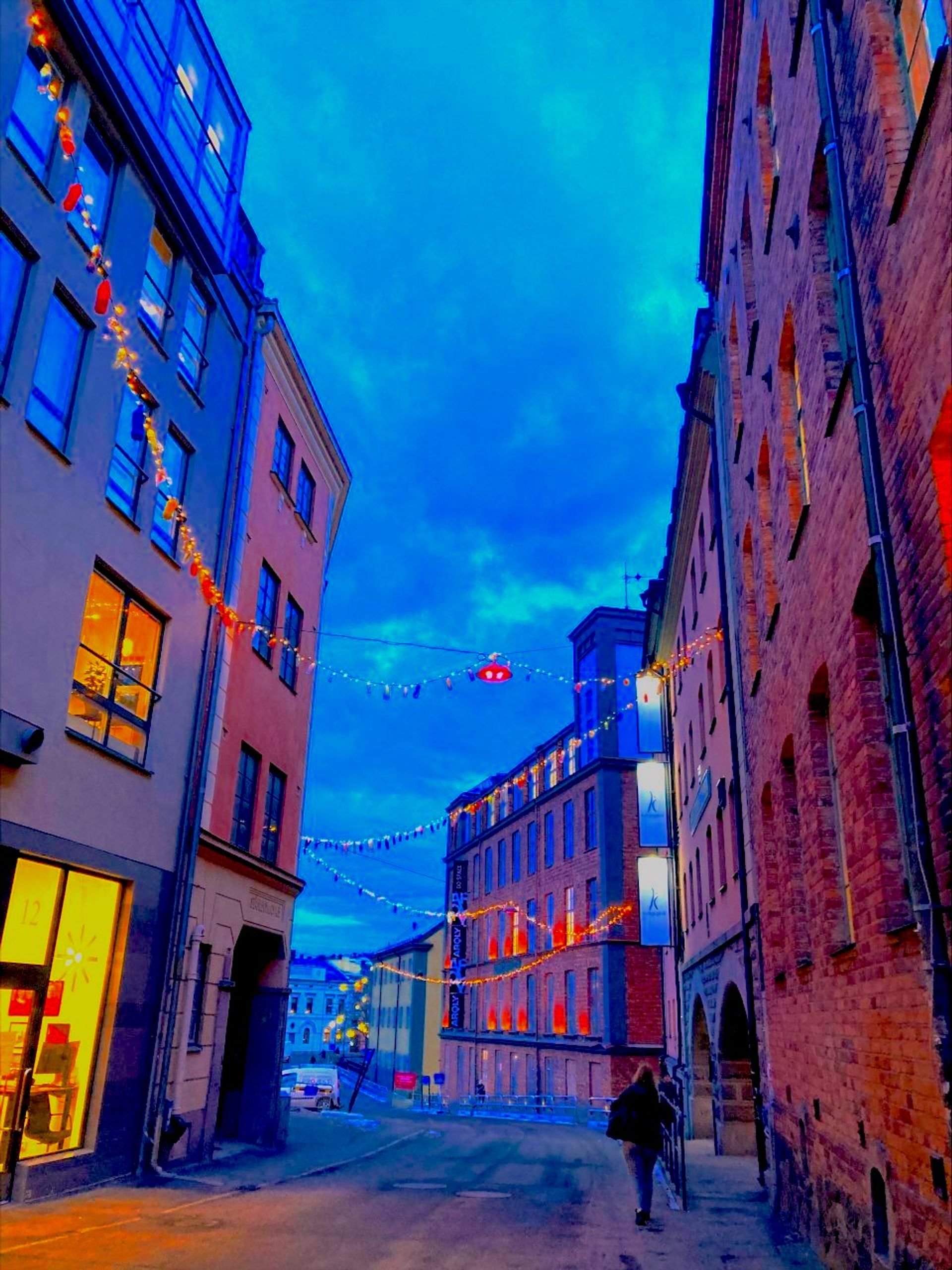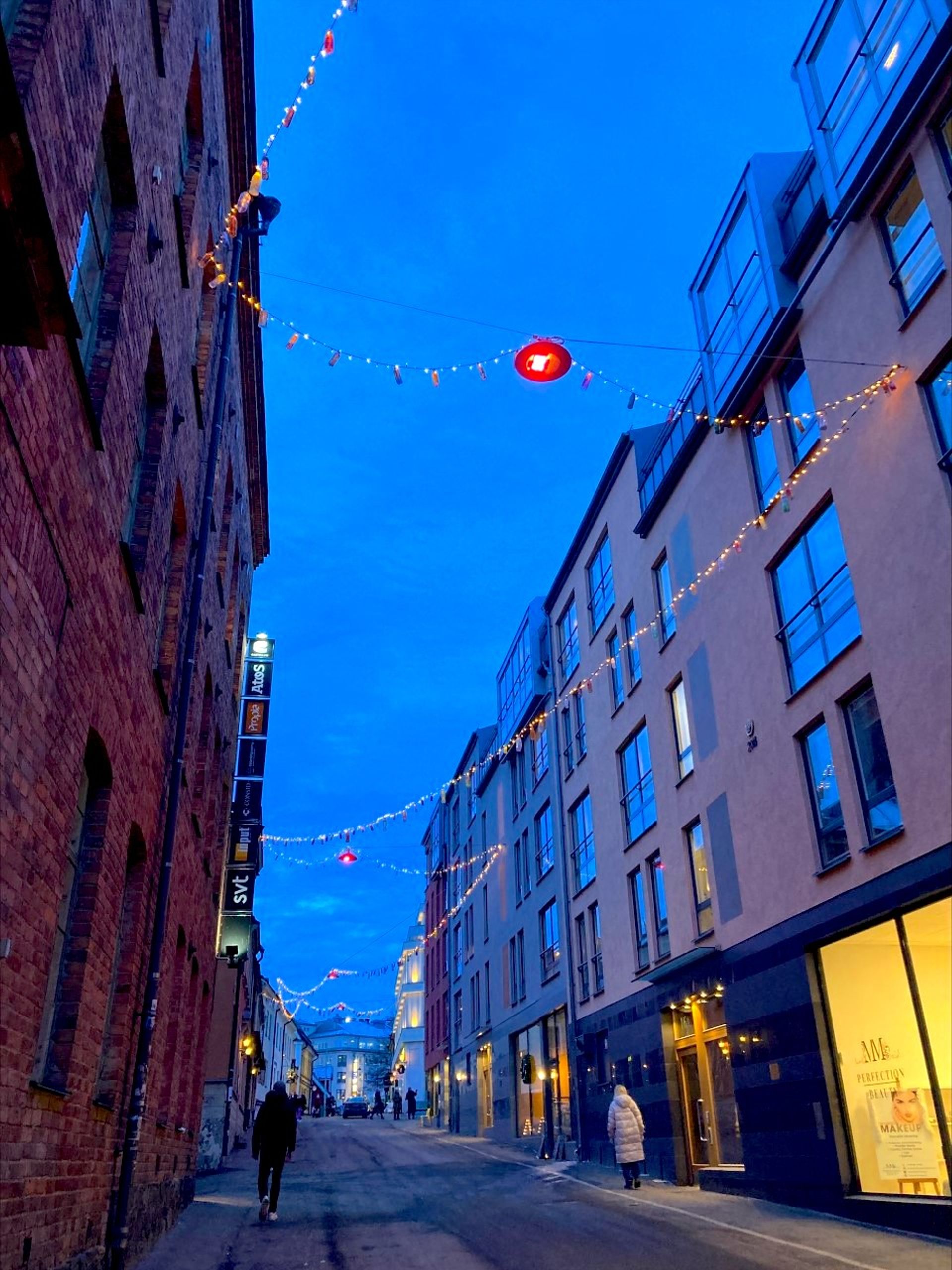 This light installation was created by Norrköping's preschool children with key words sustainability, inclusion, public health, and security in mind. Students were instructed to dig through their waste sorting at home and bring a plastic object where they painted them. The students then talked in class about the key words above and the meaning of them. The light loop is 400 meters (1,312 feet) long and is the proof of joint creation.

The Norrköping Lights Festival runs until January 31st and the light installations are scattered throughout the city. The festival is free of charge so everyone can enjoy! What was your favorite installation? And are you planning to make a trip to Norrköping to see the lights festival? Let me know in the comments!