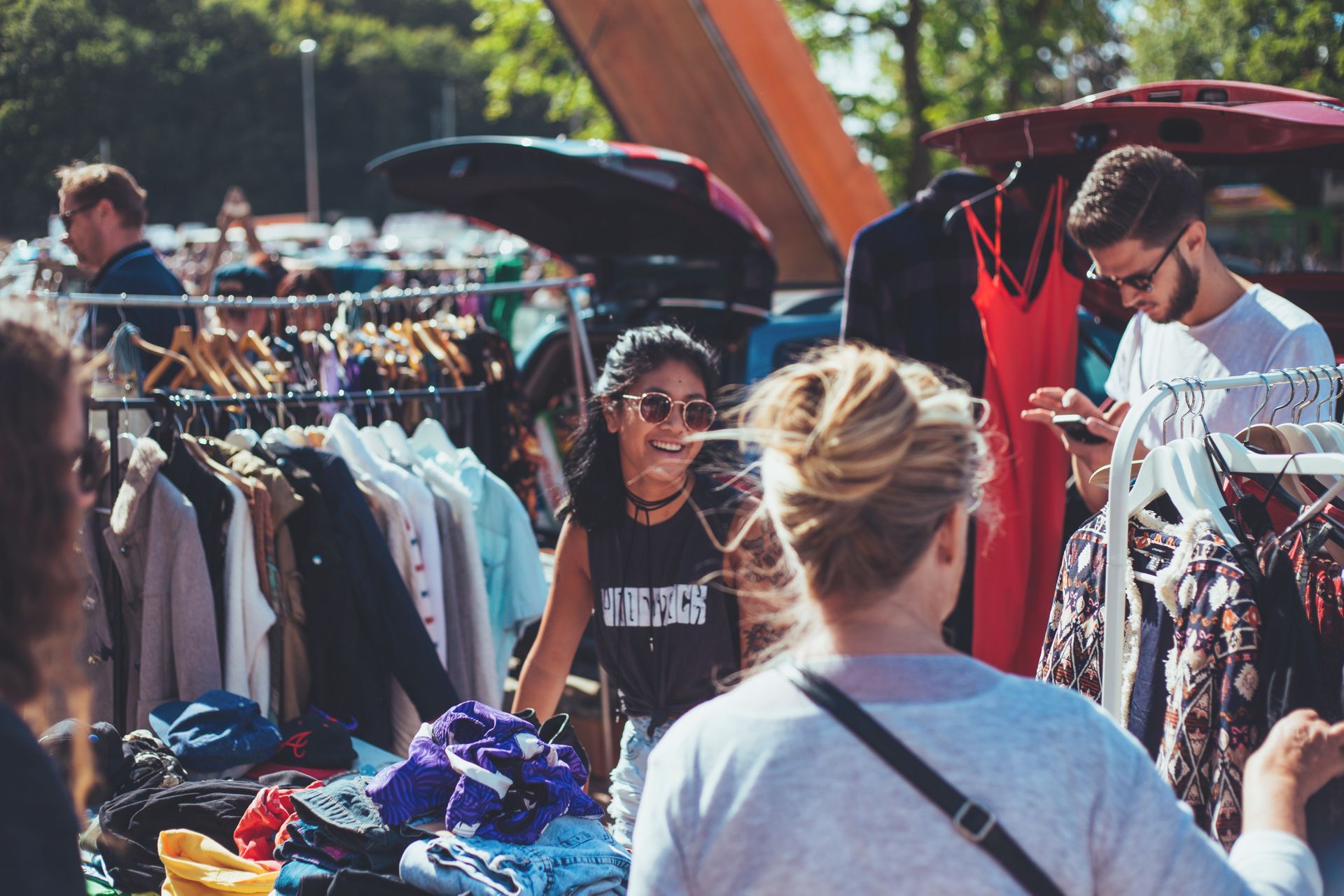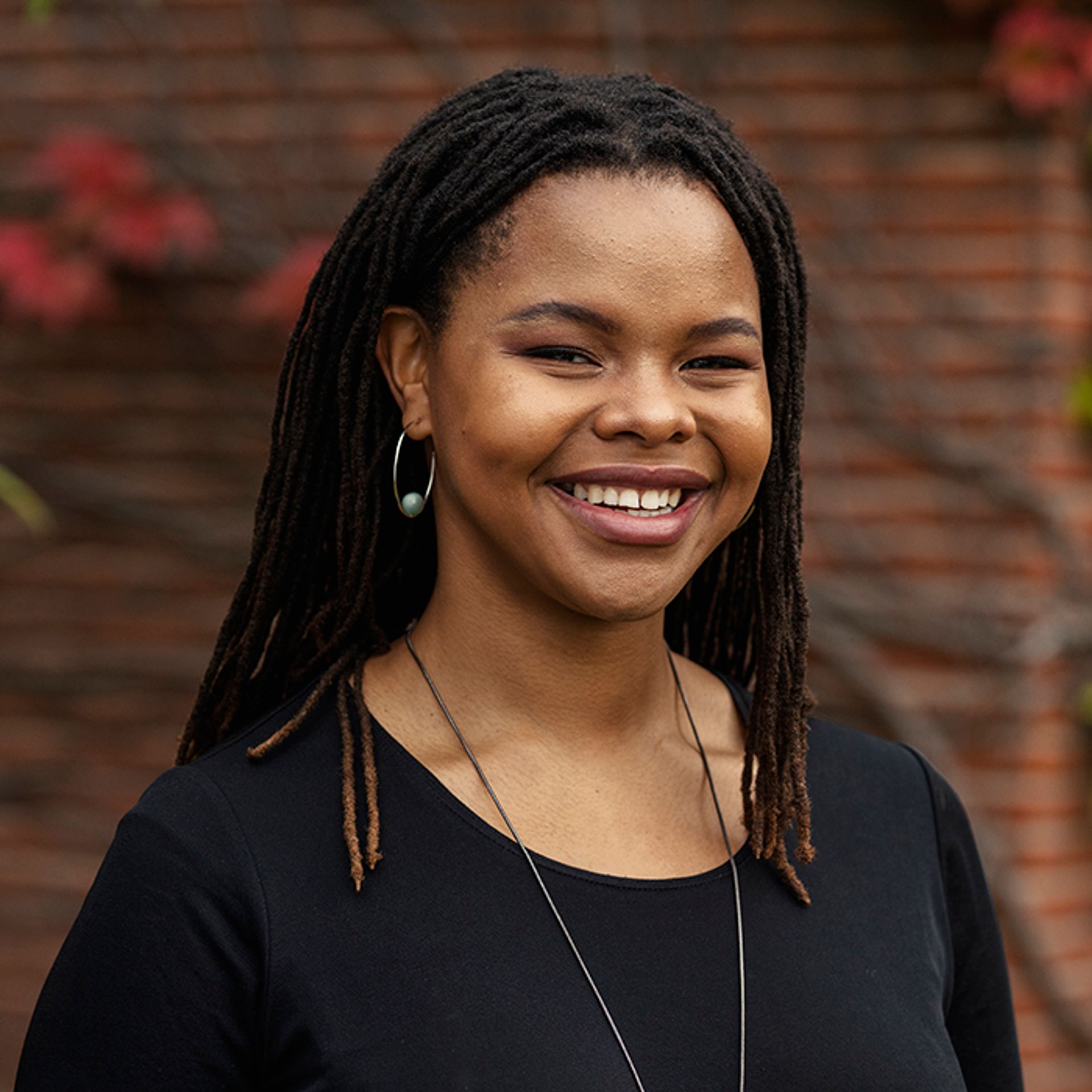 Moving to another country to study is a huge task and has a lot of costs along the way. Let's not forget you're advised to pack very lightly, so you have to leave a lot of books, clothes and furniture behind. SO how do you start a new life on a budget? Join me on this 2 part series on how I made myself at home and saved ALOT of money by choosing second hand. Part 1 is a basic intro and quick guide to second hand shopping in Sweden.
Why shop secondhand?
To start, Sweden is an ideal destination for living your best thrift life because second hand shopping is very common – so there are plenty of options, no matter your city, your needs or your taste. Check out Sara's packing tips for what's absolutely essential to bring and you can easily find the rest second hand.
Beyond saving money, another huge plus is a reduced impact on the environment. ↗️ Consumption of new goods is not only expensive, and a waste of raw materials, but there's plenty of items in good condition that have a long life ahead of them, and throwing them away into landfills is not sustainable. You can read more about second hand as sustainable shopping in Katharina's sustainable challenge blog.
I understand why someone may find second hand dodgy because you don't know where the item is coming from and we have to be super careful with hygiene especially during the pandemic. I would still encourage you to take some time to show some love to some pre-loved items and take the extra steps to wash and sanitize accordingly.
Lastly, honestly, it's just SO MUCH FUN!! You find some interesting (sometimes super weird) things that you wouldn't find in ordinary stores, and that's super entertaining for me.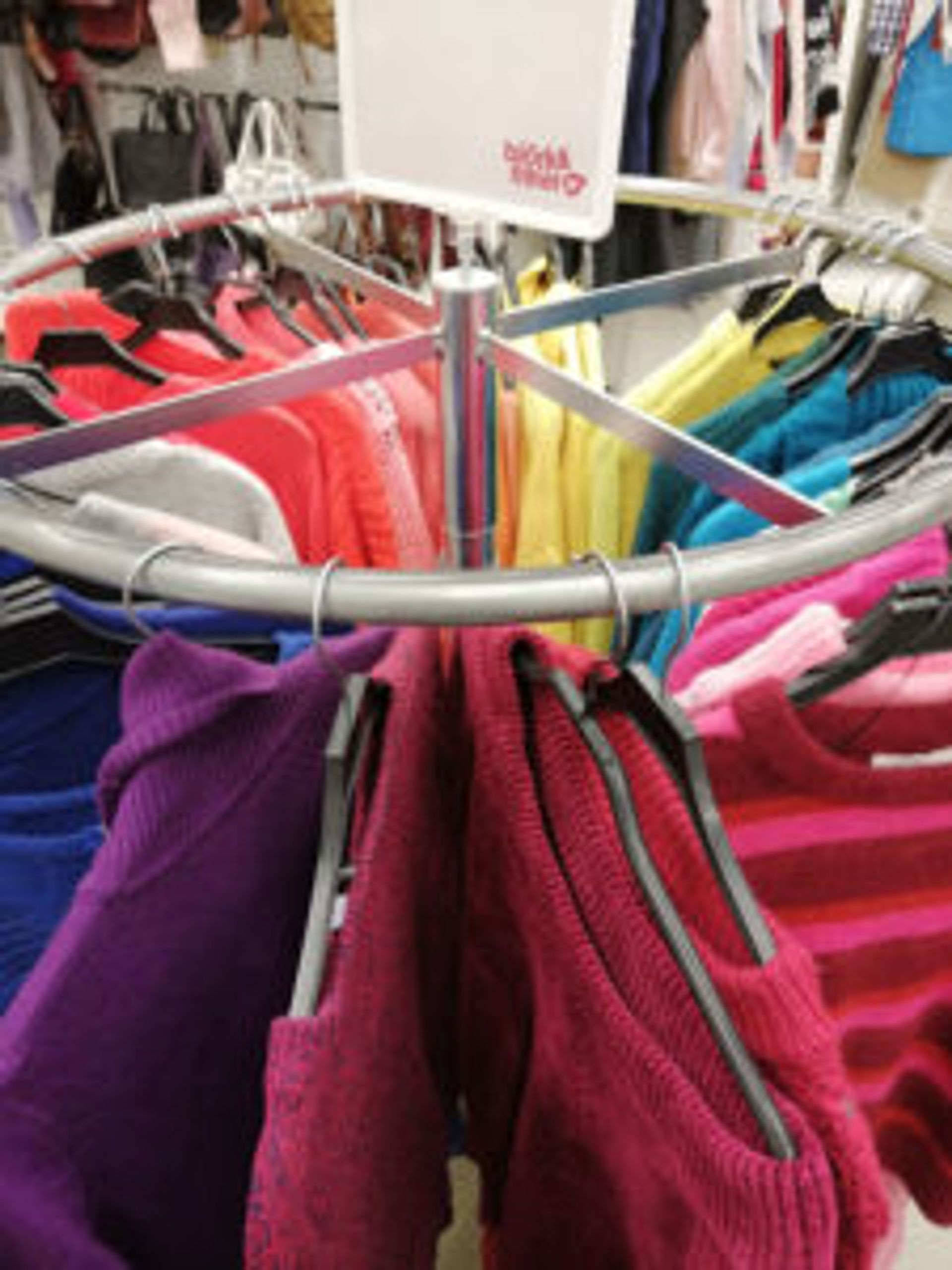 Okay, where and how?
So you're curious but you have no idea where to start your search? Here are some ideas to help you get started!
Online shops
We're in the digital age (obviously, you're reading this right now) so here are some online options to click and thrift:
Sellpy

↗️

– mostly clothes, beauty and some furniture with an easy to use website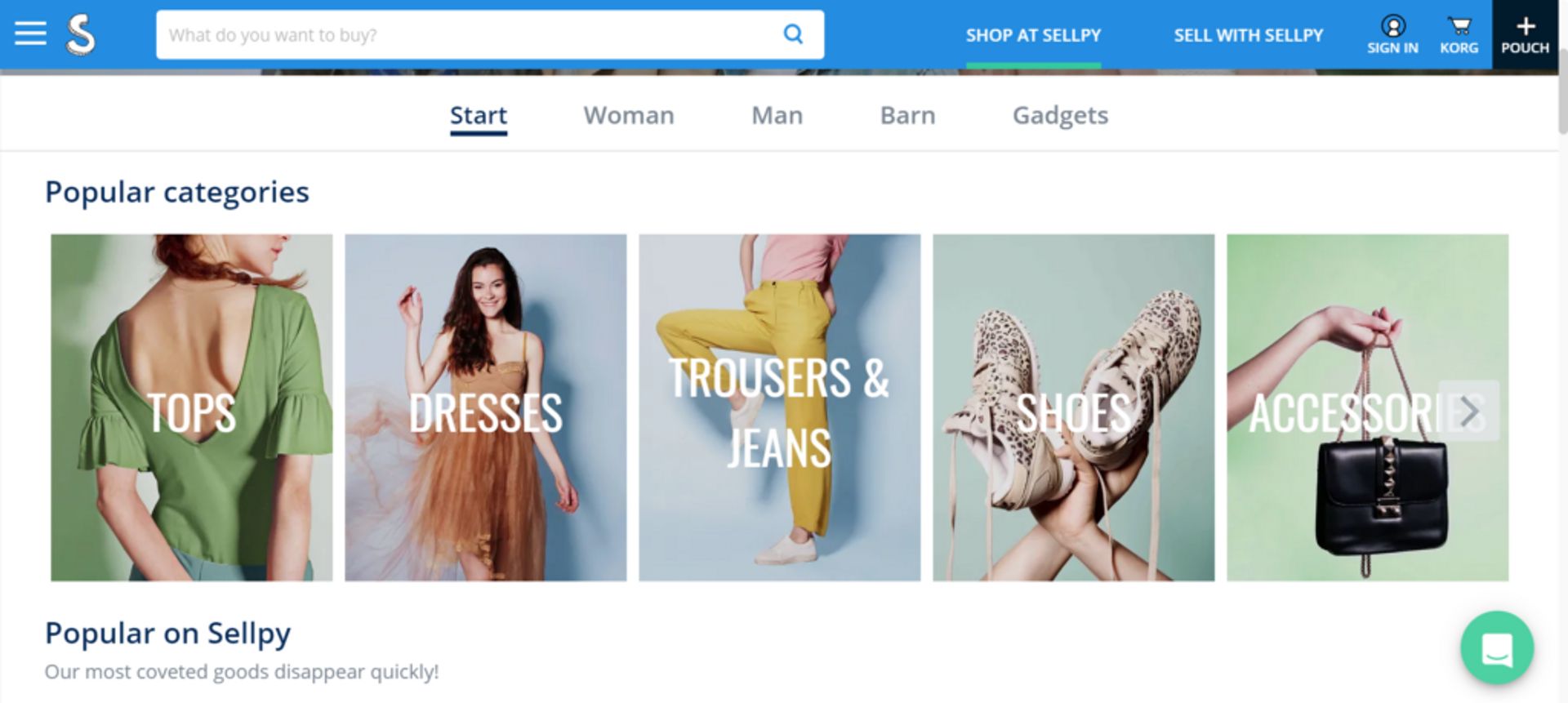 Blocket

↗️

– the largest Swedish public selling platform with anything and everything including accommodation, sports equipment and electronics. They have an app too, which is mostly written in Swedish so have Google Translate handy!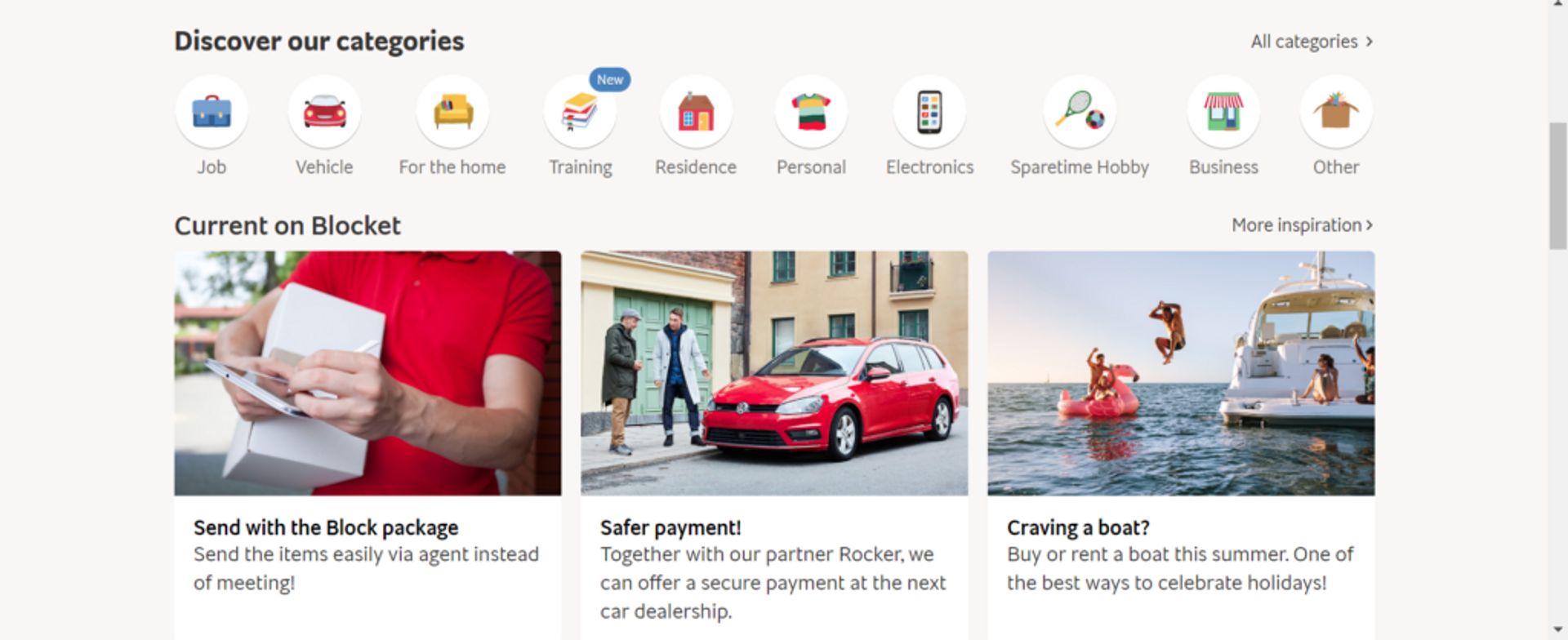 Myorna

↗️

(online) – Countrywide franchise with ordinary stores – clothes, furniture and collectables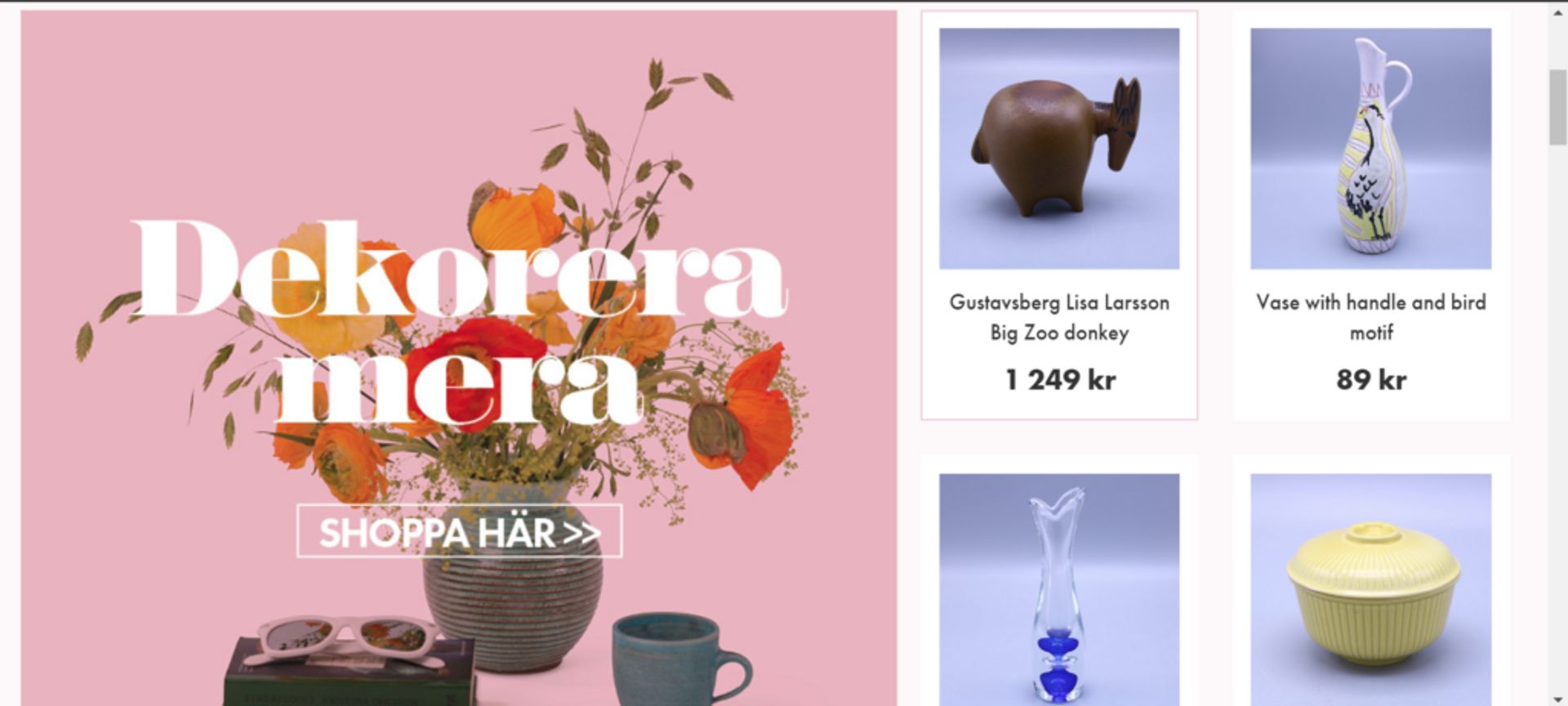 Tradera

↗️

– an auction site with mostly clothes at a bargain with some high end brands, so you can take a chance bidding for some high quality rare items
Beyond Retro

↗️

(online) do you like retro fashion? This is the thrift site for you! You even have the option to shop by decade.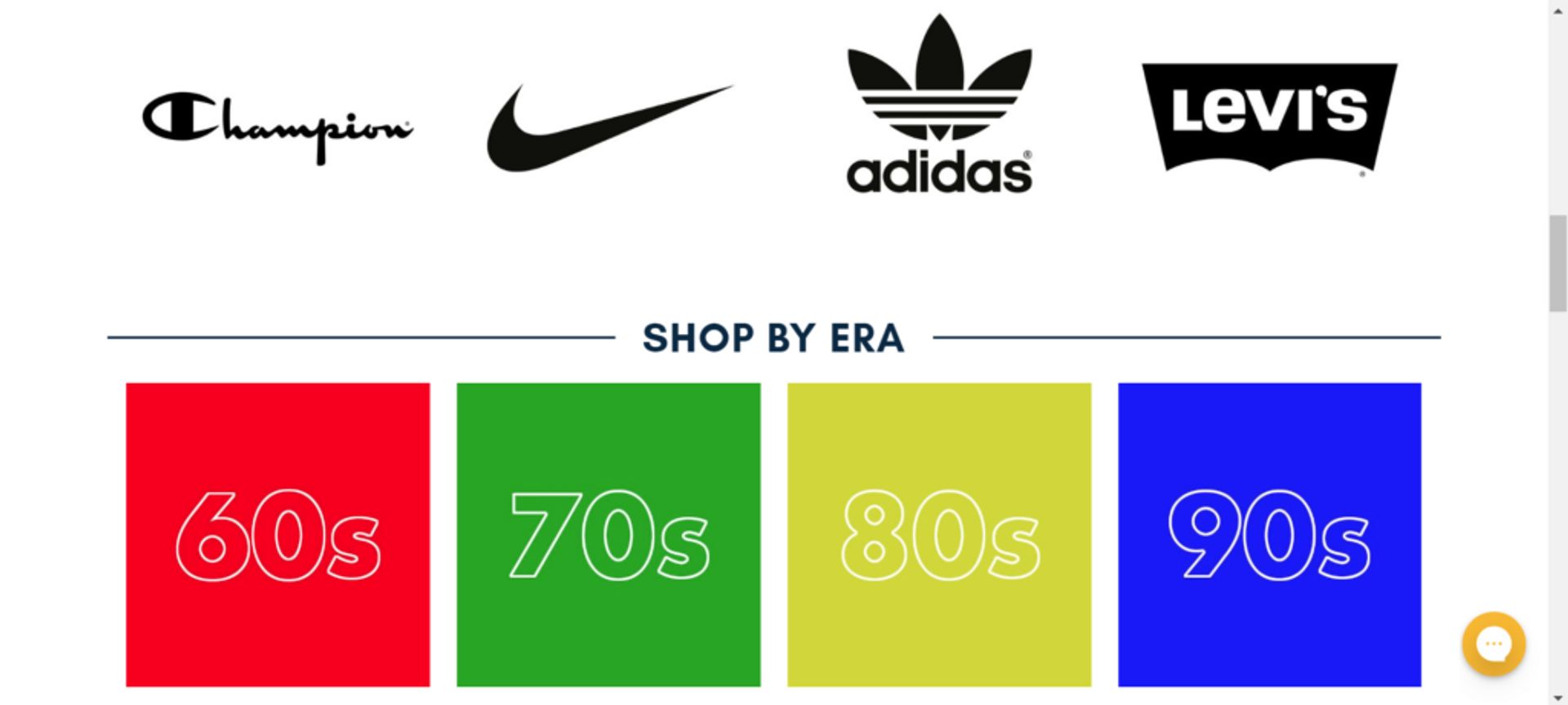 Pro tip: Pay attention to delivery costs and look to free delivery for extra £££ savings!
Facebook
Facebook groups are very popular for pre-loved goods across Sweden so it's a simple scroll through your marketplace to find a bicycle, sofa, ski shoes or practically anything. You can also search the term "Loppis" + your city for groups specific to where you'll live. Check for an international student's group for your university where graduating students also post items (and sometimes accommodation) for cheap starter packs (e.g. cutlery, plates, wifi routers etc.)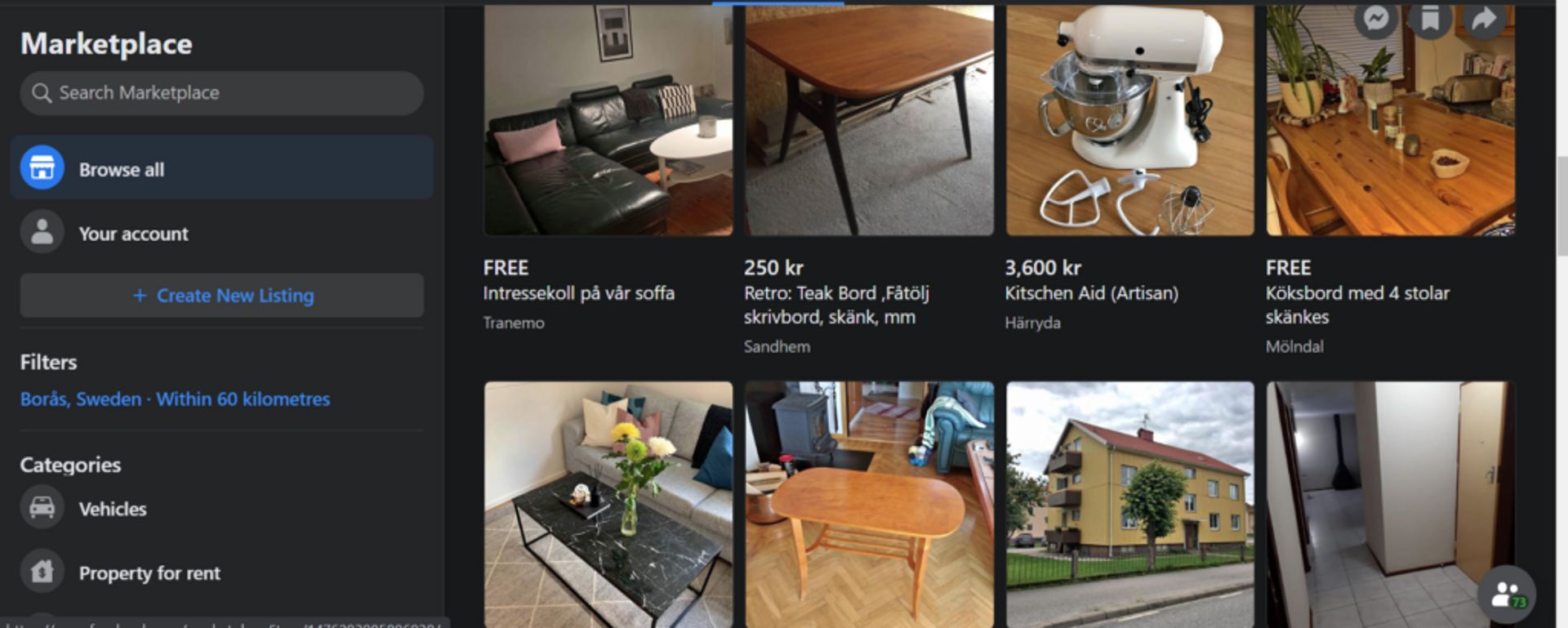 Language
Most posts are in Swedish and Facebook translations can get a bit weird (another reason to study some basic Swedish). So in your posts or responses, make sure to add that you're English speaking to avoid any language barriers that make contact with the seller more difficult.
Payment
If you haven't yet gone through the process of getting a personnummer, Swedish ID, Swedish bank account, Mobile Bank ID then eventually Swish, make sure to ask if sellers will accept cash. Sweden is very cashless so Swish is so popular that people may assume that's how you'll pay, but you won't have that set up within your first week in Sweden.
***A word of caution – please be careful, don't send any money before you see the product for yourself and you can confirm its legit.***
Delivery
Another consideration is sellers are often very far away from you and if you're buying a big item like a sofa, you may need to arrange collection. When I bought my sofa bed for only SEK 400, I found a group that connects drivers to people who need a lift or a delivery called "Vem Kor" for Borås. ↗️ I found someone to collect a trailer, drive me there, then deliver to my apartment and they only charged me SEK150. SEK 550 in total total is waaaay cheaper than the same model from Ikea at SEK 3000 (excluding delivery).
Check for posts where the seller is able to deliver to make it easier. If you don't mind carrying a smaller chair, or vase you can also try public transport but make sure not to hurt your muscles carrying anything too heavy on your own just to save money. If it's too far and delivery or transport is too expensive maybe it's not worth it. Be patient, keep searching and don't worry, you'll find what you're looking for!
Shopping IRL
So you want the in person experience? I hear you, nothing beats seeing and touching furniture or clothes in real life and luckily there are plenty of stores around Sweden selling only second hand. There are some common franchises like:
Myorna

↗️

Clothes, furniture and electronics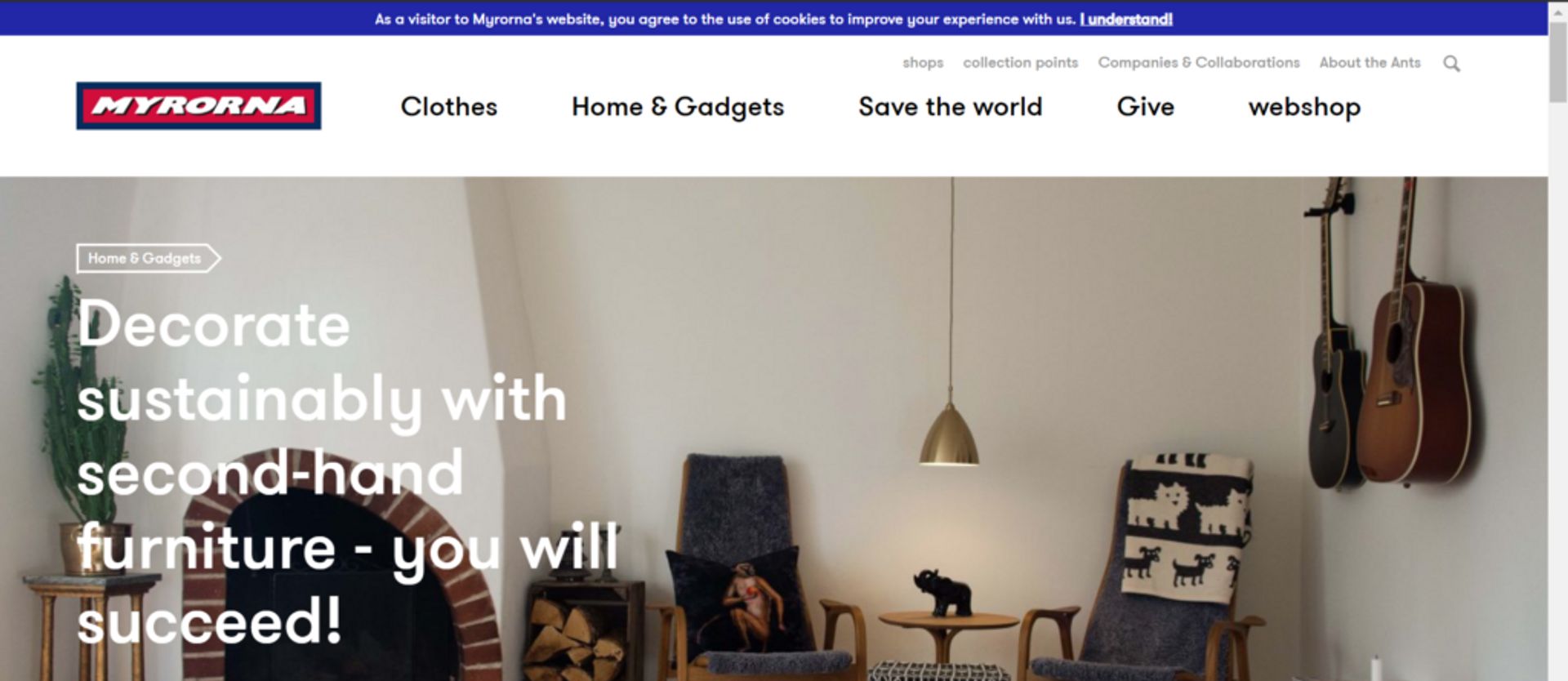 Röda Korset

↗️

(The Red Cross) Rest assured you're shopping for a good cause as proceeds go to Red Cross charities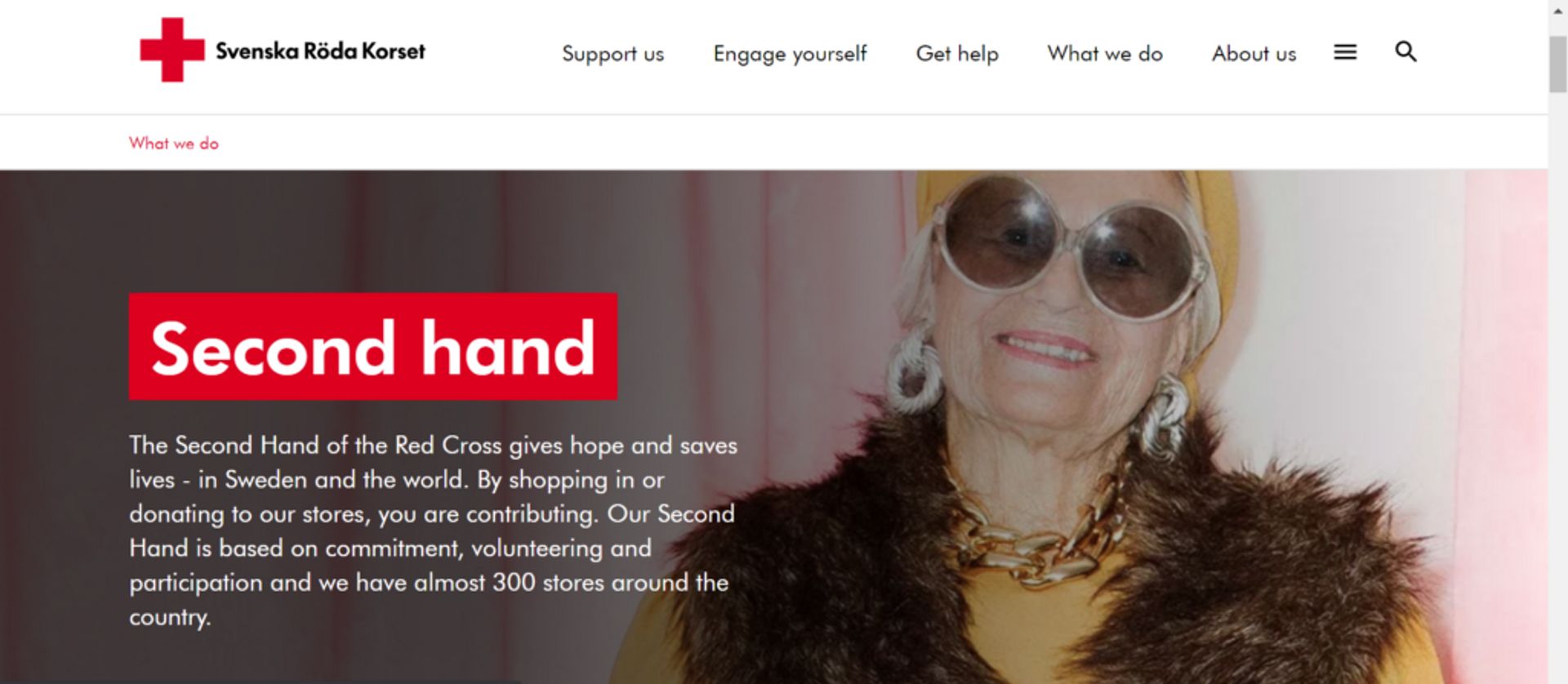 Erikshälpen

↗️

is devoted to working for children's rights across 17 countries so shopping here has added purpose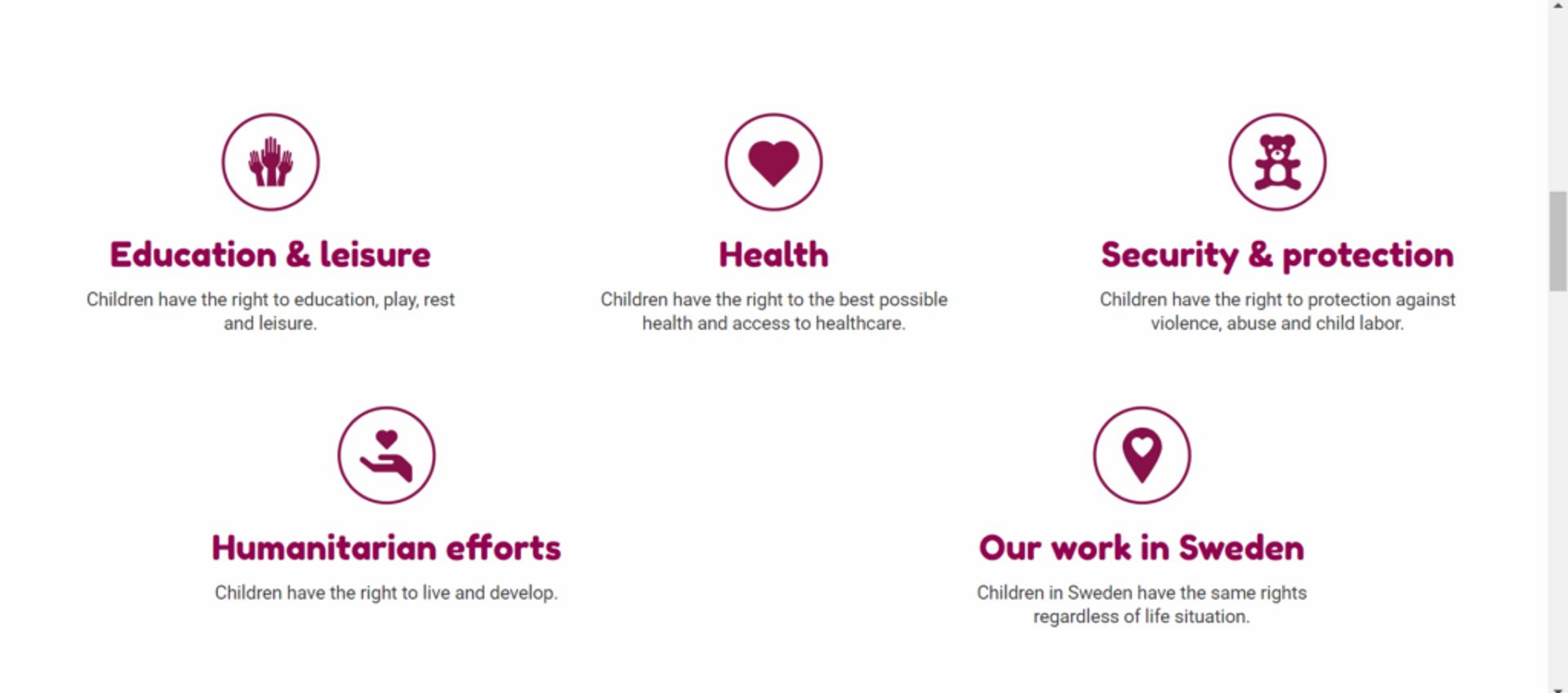 I hope to travel one day to Returna ↗️ the world's first recycling mall where everything sold is recycled / reused / has been organically or sustainably produced, which sounds like my dream come true!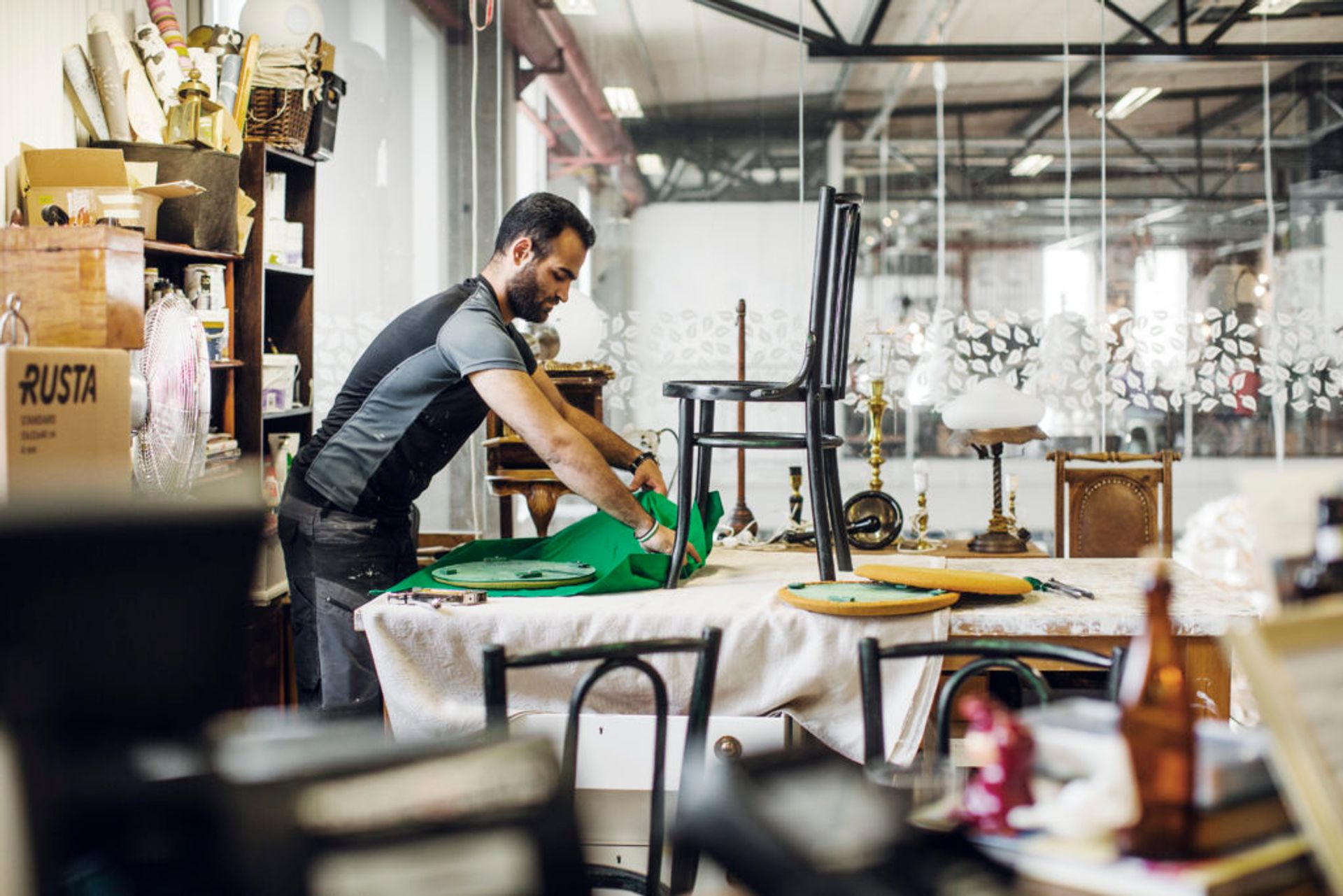 Google Maps – expand your search. I still encourage you to search "Second hand" + your Swedish city (e.g. "Second hand Malmö" or "Second hand Lund") to find your local stores. You'd be surprised how little this blog has managed to cover and how many stores are out there just waiting for you to explore.
Your University and Student Union – Remember to contact your university's international office for some help, and to stay in contact with your student union. They might host a tour or have student guides for your city or they may host their own Loppis or Second hand events! Another weird tradition in some student housing is finding furniture and other items left in the entrance or common rooms. They're left there for anyone to take for free so you never know when you might stumble on a desk being given away.
I hope this intro to second hand shopping outlets has inspired you to make the more sustainable and cost saving choice when shopping for your new life in Sweden. Stick around for Part 2 where I'll take you on a virtual tour of second hand shops Borås (where I live) with some tips for your next shopping outing!