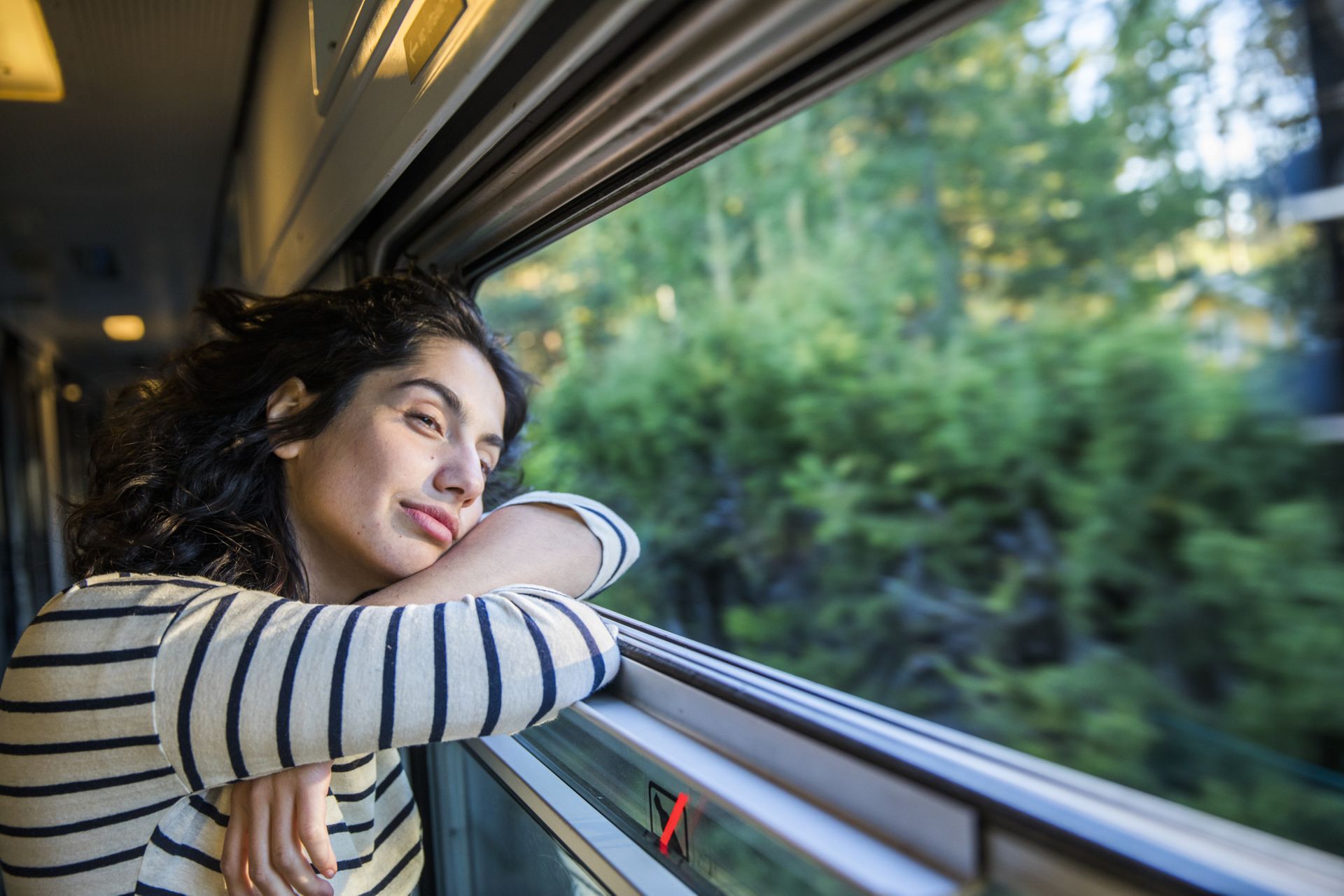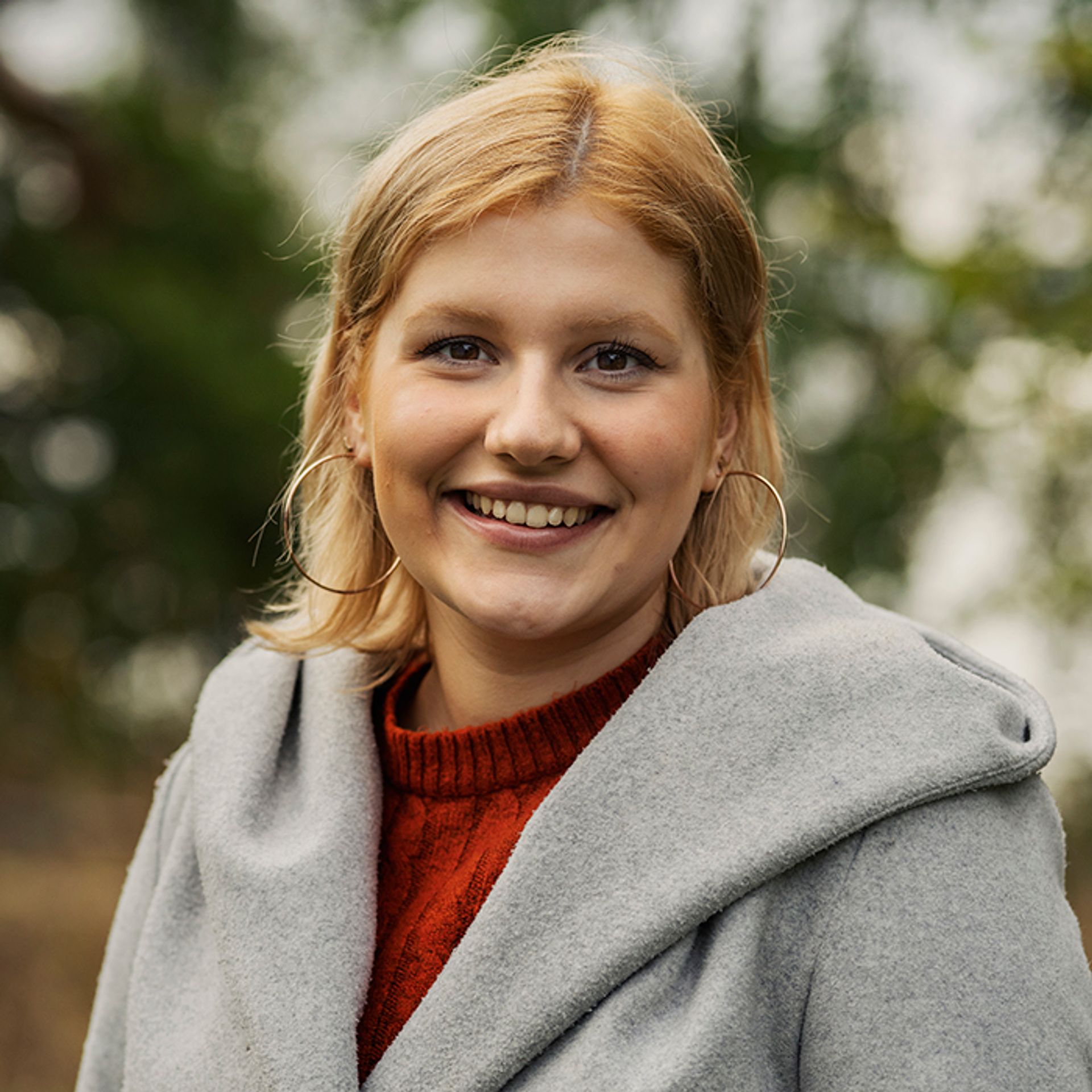 Are you checking the monthly weather averages of Swedish cities? Are you browsing Swedish supermarket and pharmacy websites? Are you googling what kind of plugs and sockets is Sweden using? If so… then this blog post is definitely for YOU!
I have been there, I have done that. I googled, I packed, I conquered, and then I brought half of my stuff back to my home country over the summer holiday because I packed wrong and impractical.  So I thought…. why not to write about what you will actually be needing when to come to study to Sweden, so I can (hopefully) spare you some luggage space, MONEY, and also some crap-free/clutter-free bedroom?
PART I: everything… except clothing (carry on, electronics, essentials)
PART II: clothing (outerwear, winter wear, summer wear)
1. Planning, researching, asking around…
When it comes to moving abroad, especially to the beautiful country of Sweden, the most important thing to keep in mind is the one big fat question: "what do I actually need/can't live even one day without" instead of "what do I want to bring to Sweden"?
Okay, without being waaaaay to theatrical and dramatic… I was CRAVING for some youtube tutorial, blog post, or an actual flesh and blood telling me how many socks, t-shirt, and pairs of gloves I must bring. Yes, I was THAT desperate, and if you're reading this… probably so are you!!!
So here's ME, telling YOU – based on nothing but my own experience – how many pairs of socks to bring.
Tip no. 1: bringing more is unnecessary, bringing LESS is the way to go!
And unfortunately because of the pandemic don't forget to bring your mask!!!! If you travel with certain airlines (SAS, WIZZAIR, etc.), wearing a mask is obligatory! Stay safe guys, wear your masks if it is required 🙂
2. Packing and moving
I moved with 2 big suitcases (around 20 kg), a carry on (8-10 kg), and a backpack! And when my mom visited, she brought me another bag…. well that was a BIG mistake from my part. I really did not need that extra amount of clothes/heavy books, and gadgets… 🙁 Half of it I had to bring back to Hungary.
Some of you have never even flown before, and that is totally normal! I actually admire you, you are fantastic, and you have spared our Planet.  If you want to read tips on that, check this guide out! ↗️
Golden rules:
Double-triple check the luggage allowance of your airline! Overweight luggage can be very, very expensive!!!
Sometimes paying for extra luggage  (for third big luggage especially) can cost way more than its worth! Check delivery services (GLS, UPS, etc.), moving companies (sendmybag.com, lugless.com, etc.)
Don't buy fancy suitcases – they're not really gentle with them on the airport- plus you might be moving throughout the years quite a bit, and dragging your luggage around on public transport and humongous stairs can be very damaging (I broke some wheels myself too)
Do not put valuable electronics, cash, important documents into your big luggage, try to pack them in your cabin bags!
Sweden is using the standard European (socket Type F: also known as "Schuko"), bring an adapter if you need one because that is probably not something you can do without even in the first few days after arrival!
And unfortunately because of the pandemic don't forget to bring your mask!!!! If you travel with certain airlines (SAS, WIZZAIR, etc.), wearing a mask is obligatory! Stay safe guys, wear your masks if it is required

🙂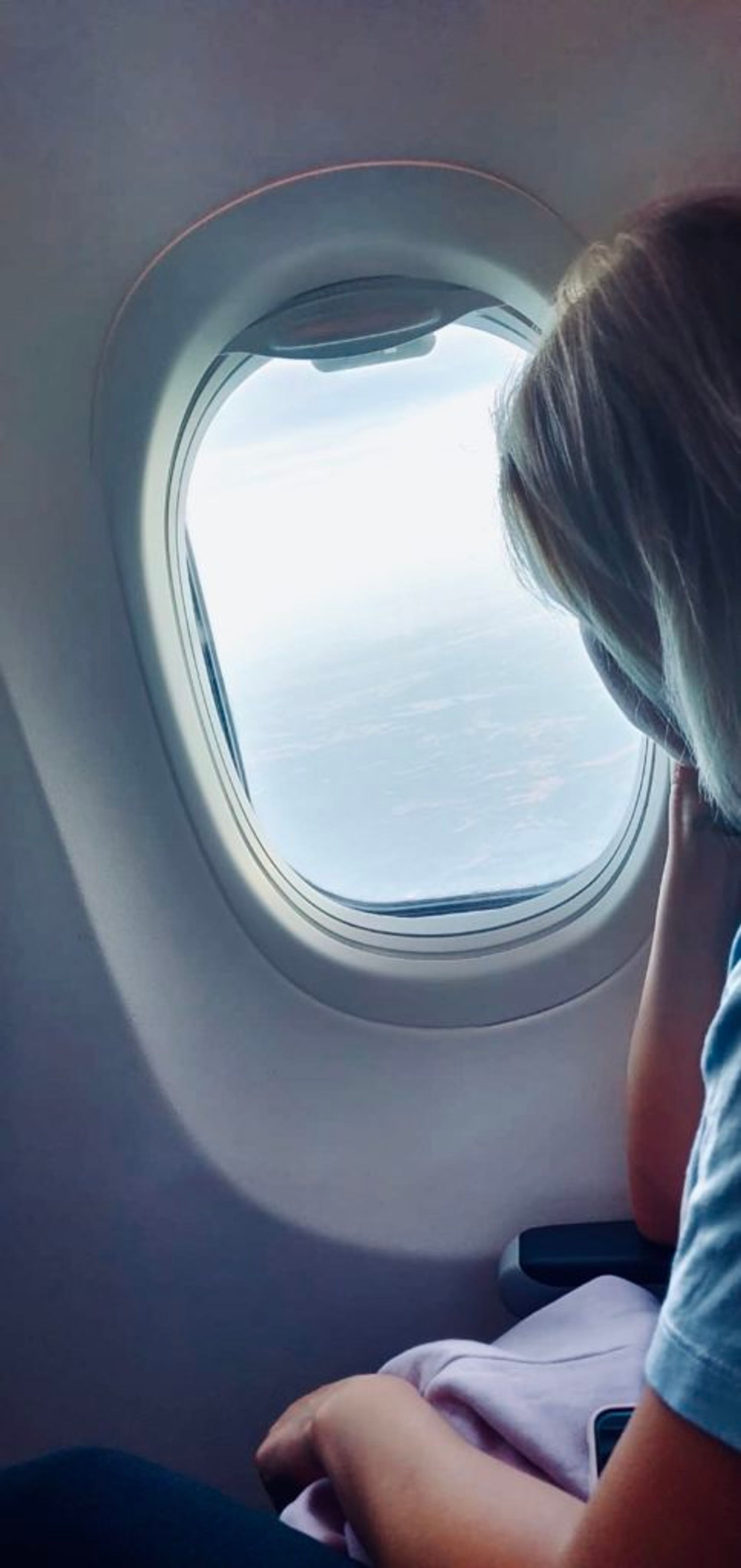 3. What to bring… or get ready to buy here:
VITAMIN D: it is highly recommended to take some vitamin D in Sweden, especially during winter!
Your prescribed medication: if you are taking medication, I recommend you to bring at least a few months worthy amount. You might not be able to buy precisely the same type/brand –  you could find perhaps the same active ingredients – plus because of the pandemic mailing them from your home country takes longer than average.
Reusable coffee cup, a reusable water bottle: you can ask the staff to give your drink of choice in your own cup in school cafeterias, in coffee shops, at home, on the street, etc. Sweden is famous for its efforts aiming at sustainability and its love for nature and our Planet. Plus! The water tastes amazing, you can drink it everywhere from the tap. So why buy a new plastic water bottle or accepting the coffee cup in a coffee shop when you can say: "no thanks, I have mine with me :)."  Trust me, it feels terrific and soooo Swedish.
Candles, fairy lights, spotlights: trust me when I say this… Although I absolutely adore Sweden during winter (the snow, the coziness, the charming cities… ) but you can turn into a melancholic bat during the winter months. Buying a candle, and creating a beautiful interior can do wonders.
Clothing-wise: please read part II of this article!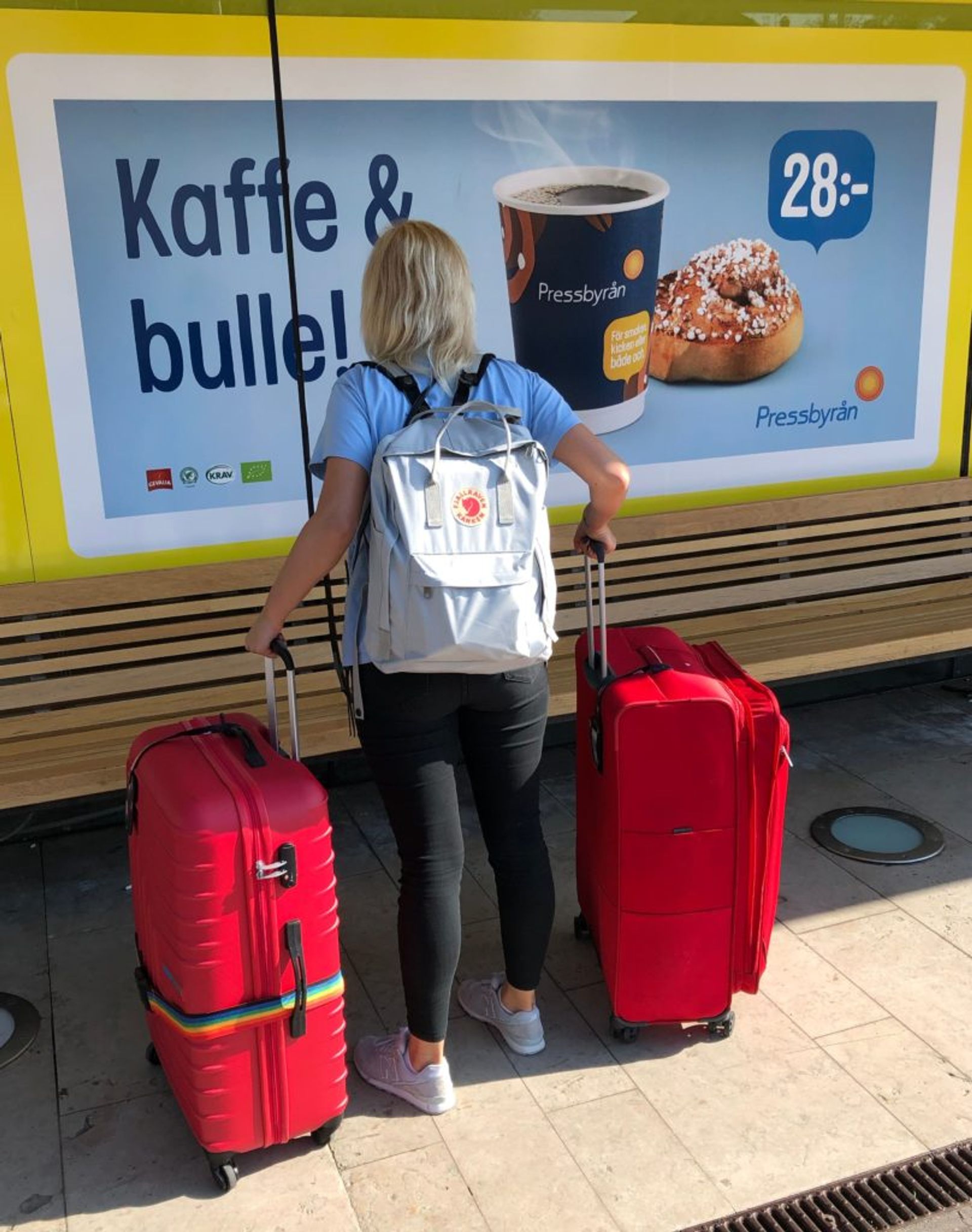 4. What NOT to bring!
Books: If you are thinking about bringing some Oxford dictionaries, the entire series of Harry Potter books, juicy erotic novels, encyclopedias, some dark Scandinavian thrillers (they are amazing btw!) DON'T! They are heavy, can be downloaded/bought online, and Swedish bookstores have an amazing selection of books in English too!
Towels, bedding, or homeware stuffs in general:  they are heavy, they take up a lot of space,  and probably it is cheaper to buy them than to bring them,  while they are taking over your precious luggage space and weight.
Don't bring cash – If you want to know why to check out Milo's excellent blogpost.
Toiletries – unless you have some very special skincare product, expensive makeup, beard oil, etc.  that you can't live without, or know that you can't buy in Sweden, I highly HIGHLY recommend you to travel without heavy shampoo and shower gel bottles. Again the price of the extra kilos is disproportionate to the amount these products cost.
If you want to read what kind of clothes to bring, click here!
Tips from my fellow Digital Ambassador colleagues:
Hazal: "I did not regret bringing my bikini since Sweden is cold, and winter is long. I thought  I wouldn't need it. However, I needed it when I went to the sauna during winter and obviously during summer".
Lusanda: "I regret not bringing more bikinis actually since I didn't expect to be here during summer, but I recommend bringing clothes that you know you wear very often instead of trendy or occasional items that you can find second hand – I don't know if this applies to everyone to, but I didn't consider that my weight would fluctuate so much either, so I regret not bringing clothes that are more adjustable? Leave books to the absolute minimum, no more than 3 if you can! Don't feel too bad of some of the gifts your friends and family give you before you leave can't fit either because they're too bulky. If you come from a different cuisine and you're used to certain spices, I recommend bringing a small amount to last you your first few weeks until you find alternatives. Oh, this is specific for me so it may not apply to everyone but I brought hair products that's specific for my dreadlocks because after some research I found it's not available here and I still haven't really found a good alternative here either".
Emma: "I concur on the book's front. Now I have no idea how I will transport them back to the UK if/when I go".
Tina: also advises you to check the adapters, and buy them in advance

🙂
Here are my recommendations – with some photos – on essentials, in case you were wondering. (The book choices are just here to present the space haha)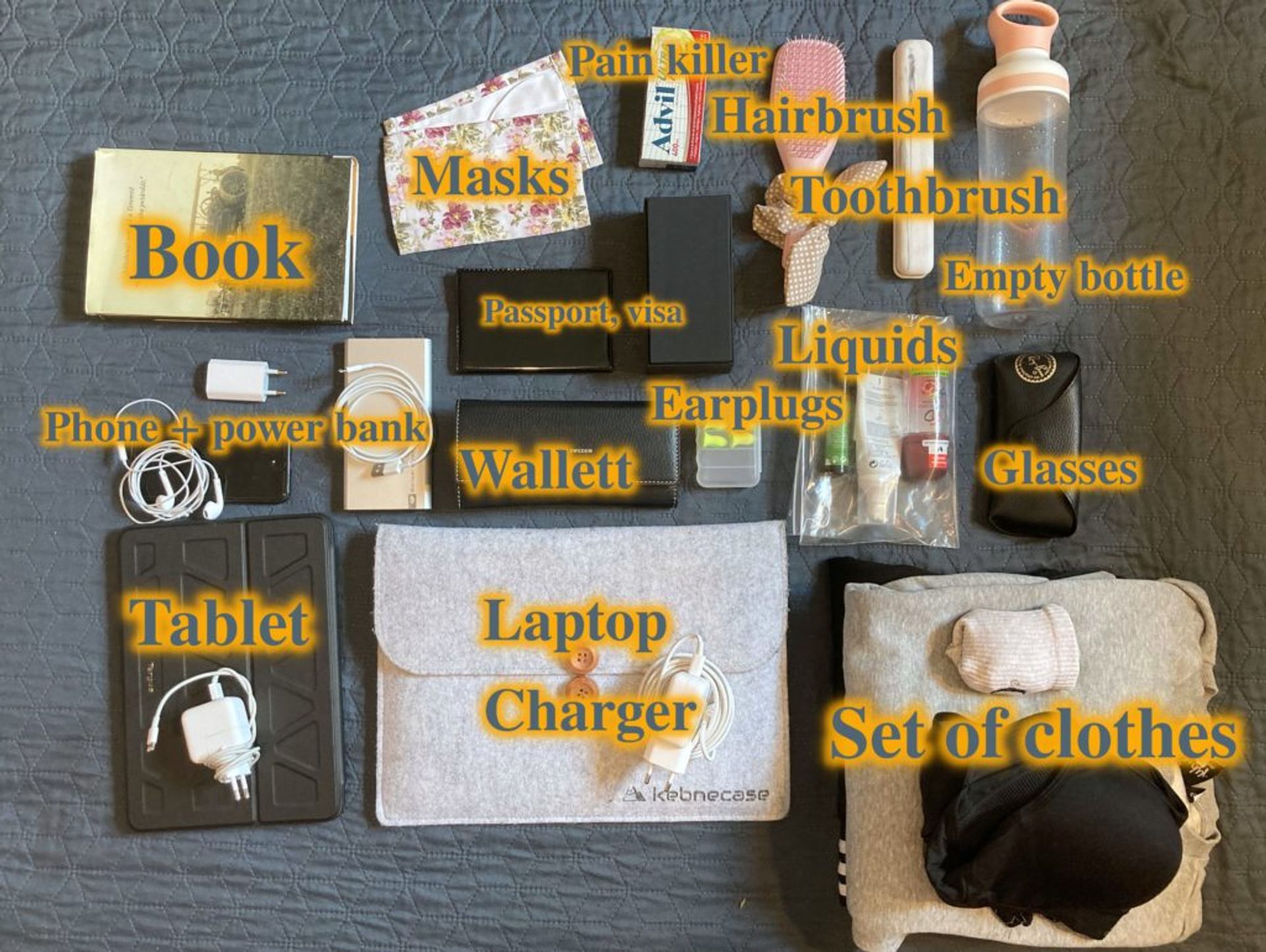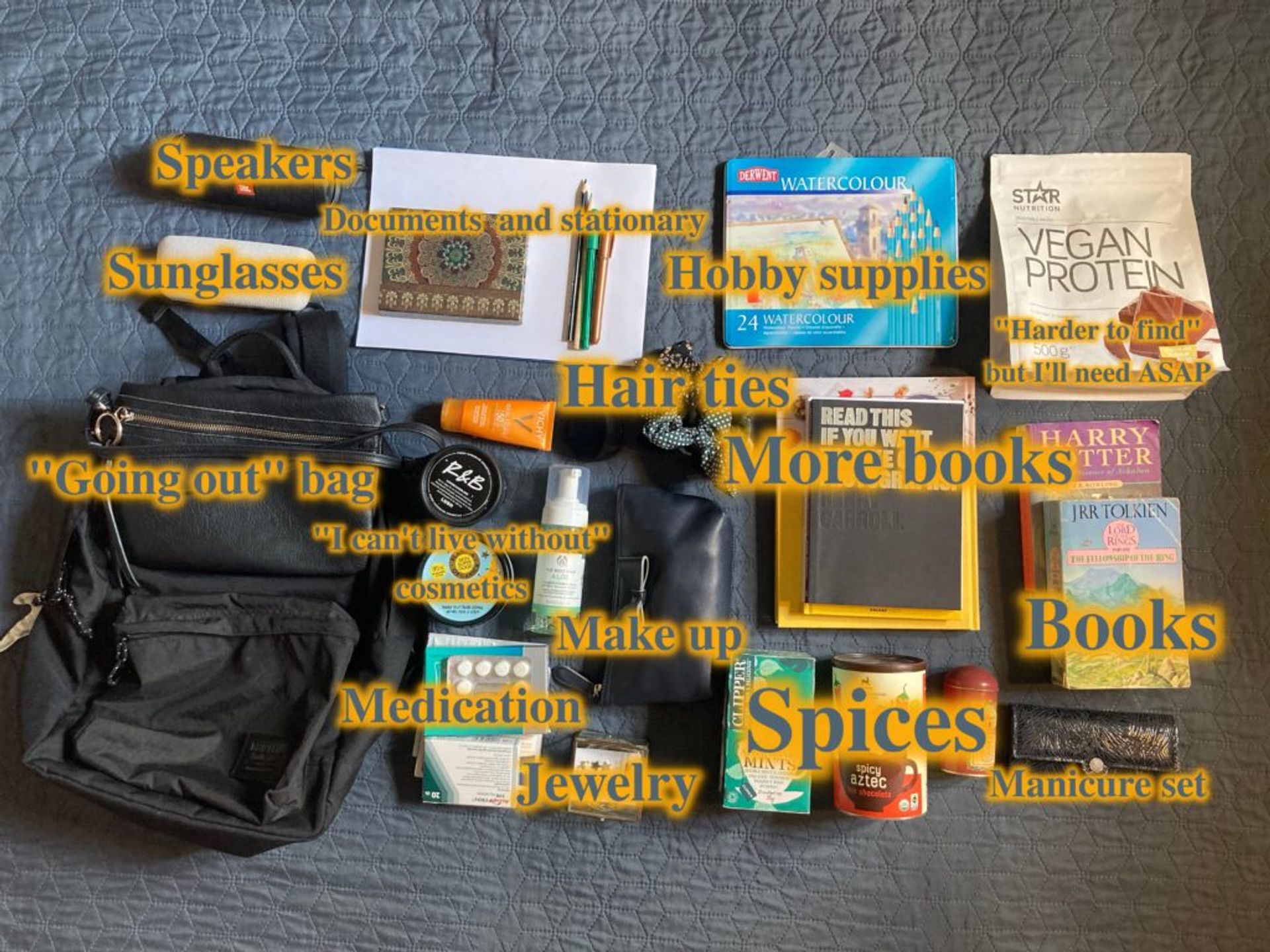 I wish you a very pleasant and calm packing, and hope to see you very soon in Sweden 🙂
Are you still here??? Oh sweet! Since I might have forgotten something I want to ask YOU (YES YOU!) to tell Us what is the thing that YOU can't come without to Study here in Sweden 🙂