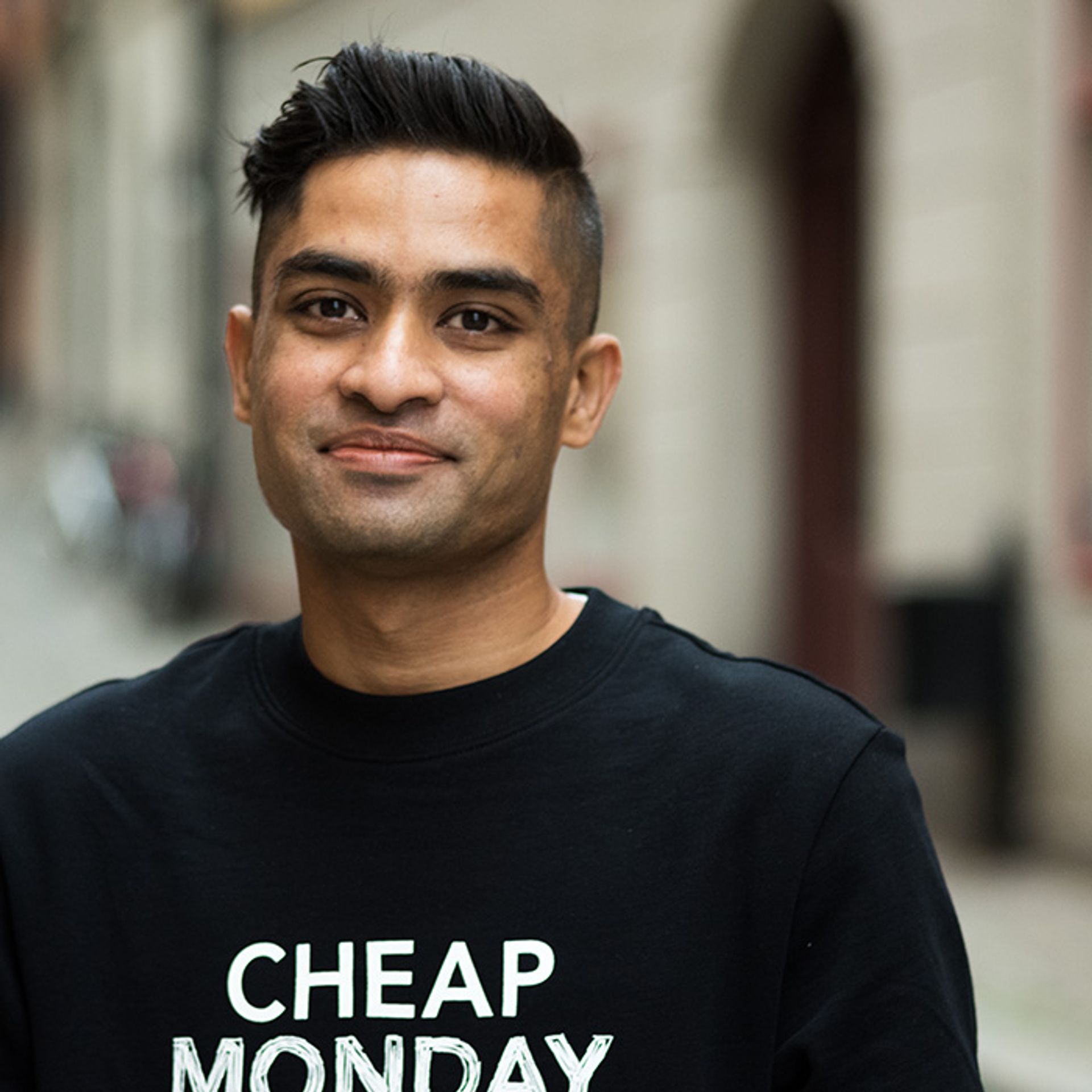 Written by Raeed
19 Nov 2017
As a business student, I have heard and used the buzz word 'Sustainability' countless times without implementing it in my own life. But I got the amazing opportunity to integrate this concept into my life, one step at a time when I moved to Sweden where sustainability is a way of life. ↗️ This blog will guide you through the second-hand shopping experience in Sweden which will not only help you to be sustainable but also you will save a lot of money.
Clothing
After moving to Sweden, I can't even remember how many times I have started the conversation with the clichéd statement/question, "The weather is so bad today right?".  But after living here for three months I completely agree with Ranulph Fiennes's famous quote, "There is no bad weather, only inappropriate clothing". Thanks to Gimmy's blog, I am well equipped to face the mighty winter but the only sad thing is, I have to find a new conversation starter since it doesn't feel fair to complain about the weather when I am dressed from head to toe in my warm and cozy second-hand clothing.
Let me introduce you to the world of second-hand clothing which will make you stylish, warm and finally sustainable. You can find second-hand chain stores like Myrona, ↗️ Stadsmissionen, ↗️ Emmaus ↗️ and Beyond Retro ↗️ throughout Sweden where you will get all kind of amazing clothing without the expensive price tag. If you are living in Stockholm then please do visit Södermalm ↗️ because this hipster district is definitely the undisputed capital of second-hand stores in Sweden. This area also has some vintage stores which will burn a hole in your pocket, but the stores are very Instagram worthy, so just ask permission and get a new profile picture for your social media accounts. Last but not least second-hand shopping is like treasure hunting, you can find premium quality products at the fraction of cost if you have patience and time.

Bikes
Plenty of blogs have been written about bikes in this site which clearly shows the importance of having a bike in Sweden. Investing in a brand-new bike is a personal decision, the cheaper alternative is getting a second-hand used bike. While buying a second-hand bike it is important to have general knowledge about bikes since the quality of second-hand bikes can vary a lot. So, if you are not that knowledgeable about bikes then please do read this blog about how to choose a bike which will help you in the decision-making process. Second-hand bike stores are all over Sweden, where they sell used bikes, fix them and sell different accessories.

Furniture and Household goods
Who wants to live in an empty room which resembles a prison cell? I guess no one. It is a challenge to make your room homely on a student budget. Thankfully Sweden offers a lot of second-hand stores where you can buy furniture and household items. Myrona, Röda korset ↗️ and Emmaus can help you out in your room beautification adventure without making you broke. Sweden also has Loppisar (Flea Market) all over the country where you can find second-hand furniture and household items. Please visit the Loppisar database ↗️ to find one near you.

In addition to the major chain second-hand stores, I have added a city specific second-hand store list below for your convenience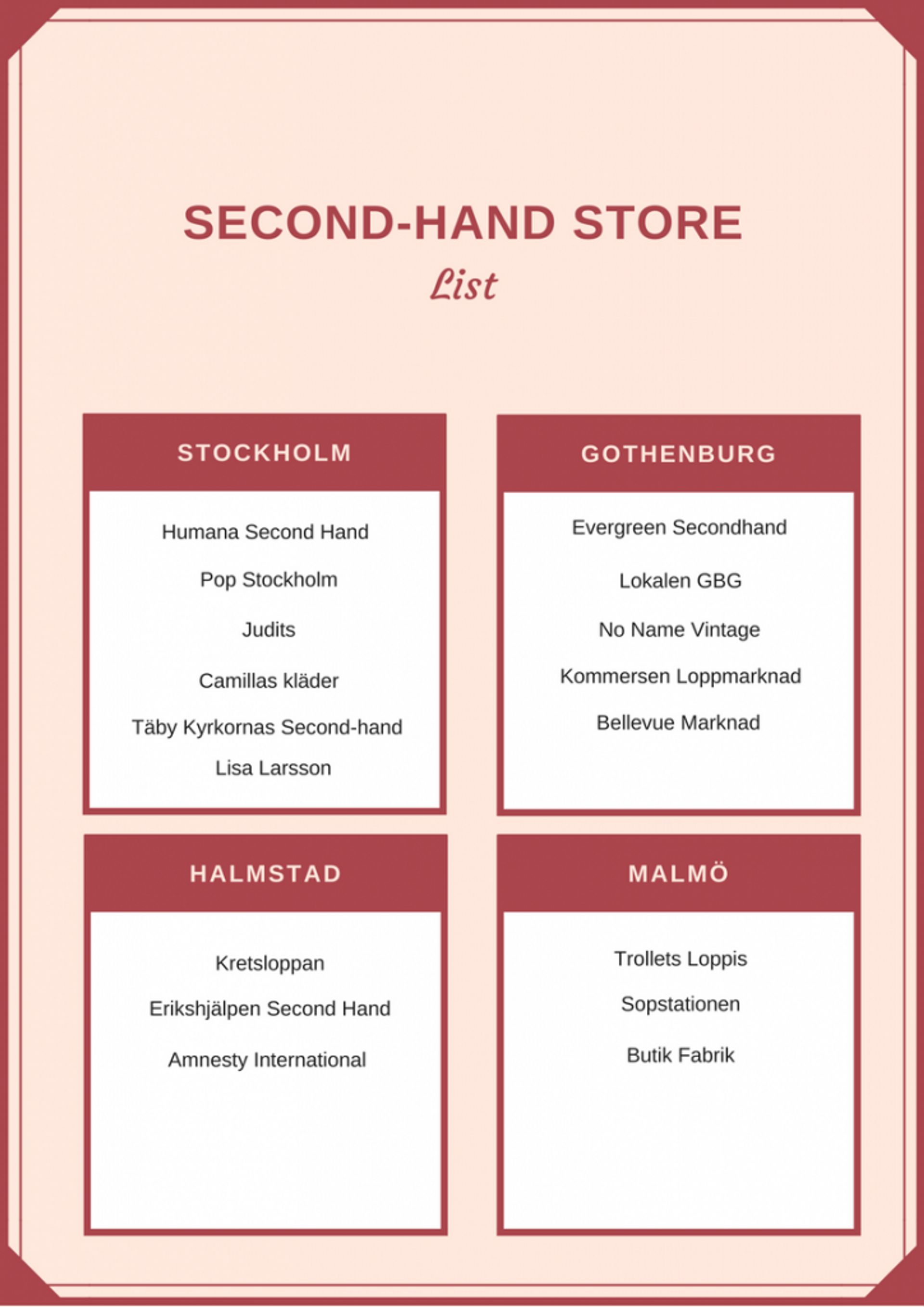 Online
If you prefer to shop online over spending hours in the store to find the right product then the next section is for you.
Facebook Marketplace
You can find all kind of second-hand goods in the Facebook marketplace page. I have bought my bike from the Facebook marketplace and got a really good deal. You can also check out the Loppis Facebook page of your city to buy and sell second-hand products. Just type in loppis and the name of your city in the Facebook search bar. For your convenience loppis group pages for different cities are mentioned in the links below:
Websites
You can also visit websites to buy and sell second-hand products. Two of the most popular websites to buy second-hand products in Sweden are Blocket ↗️ and Tradera. ↗️
Lastly, Sweden has the world's first recycling mall which is located in Ekilstuna. Please do visit ReTuna mall ↗️ at least once while you are in Sweden.
Hopefully, this blog will take you one step closer towards a sustainable lifestyle.