As you might know already, I really like the Swedish lifestyle, but one of the things I like the most is, definitely, the possibility to bike everywhere.
I don't know where you come from, my friends, but in Brazil is very complicated to bike in cities and to adopt the bicycle as a usual transport for our daily activities.
That happens for many reasons, but I could say the fear of safety in traffic and the lack of bike structure on the streets are the main issues that prevent Brazil to become a bike-friendly country.
So, living a country that actually allows me to bike instead of driving a car or taking the bus was a big dream for me and I was very excited to check how better life could be on 2 wheels.
That is why I bought a bike as soon as I got in Lund and I rode it everywhere and every single day since day one!
Now, almost 3 months later, I can guarantee that this lifestyle actually exceeded my expectations and I am here to tell you the reasons why you should also get a bike and how to do it.
WHY YOU SHOULD GET A BIKE IN LUND
In my first week in Lund, I attended to an event with the mayor of the city and he said that the best advice he could give to new students was very simple and effective: get a bike!
Well, if Lund's mayor advocates for the bike cause, who am I to disagree with him, right? But honestly, in my opinion, there is no better way to move around and explore the amazing city of Lund than by bike.
But why, you must be asking yourself, since the public transport works so well and the city does not have a traffic problem? I am going to tell you…
It is safe
My biggest concern was the safety in traffic, especially because Brazilian drivers are my main reference and they are not bike-friendly. At all!
But turns out that biking here is so safe that you can actually forget that you are sharing the roads with cars and that makes the experience much better!
In Lund, the traffic is very well organized, the bikers are friendly and the drivers are polite and careful, so if you are scared of biking, it is good to know that your safety on 2 wheels will never be a problem in Sweden.
It is faster
It might sound strange, but in Lund you will get to places much faster by bike than you would by bus and that is a very attractive advantage of biking everywhere here.
In my case, it would take me around 35 minutes to get to school by bus and by bike it takes me only 20 minutes maximum, considering that I am a really slow biker and that most of the people could easily do the same way in 15 minutes or less.
In most of the cases, it is much more convenient and faster to bike in Lund and you can reach spots that are not covered by public transportation 🙂
It is cheaper
The bus ticket in Lund costs 18 SEK for students one way and 595 SEK an unlimited monthly card.
If you decide to bike instead of taking a bus, you will be able to commute every day without spending a cent, thus you will be saving a lot of money in a year. Just think about it!
I must admit that this is a very good solution for me to live in Lund on a budget and it will probably be as good for you too!
It is environmental friendly
If you did not pay attention to the previous arguments, then please, take look at this fact: bikes are one of the most environmental friendly transportation available in the world!
Yes, it is even better than subways when it comes to pollution outcomes and it is also very good for your health too, so it is a whole package deal!
We all know that the world needs our help and choosing carbon-free transportation is a very good way to start and make a difference every day.
Also, make sure you check the very informative post published by Andres about the essentials of biking in Sweden!
HOW TO GET A BIKE IN LUND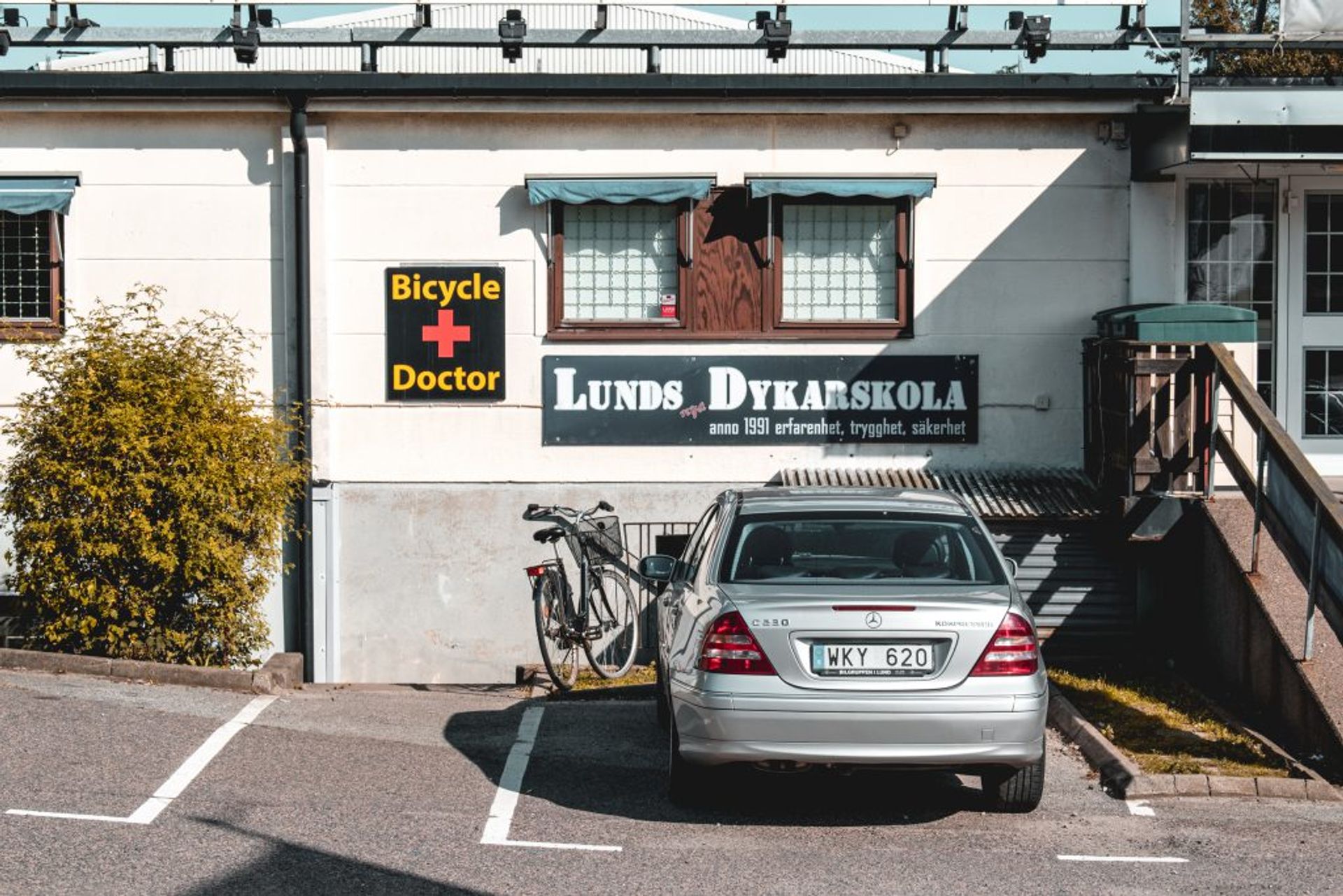 It is actually quite easy to get a bike here in Lund, but in order to help you get the best cost-benefit options, I can feature some tips, such as:
Join Facebook groups
Facebook is a very good way to communicate with people and to find useful information and in Sweden, it could not be any different.
There is a very good Facebook group named Buy and Sell stuff in Lund and if you are planning to move here you should definitely take a look at it.
They sell literally everything in the group and bikes are very popular, especially in August when old students are leaving and new students are arriving.
So, the group should be your first price research platform when you start your bike hunting process.
Look for adds
Besides Facebook, you can find very interesting adds in specialized add websites such as Blocket.
It is very common here in Sweden to use this platform to buy and sell products, so it is also good to take a look at the prices there and check if there is a good bargain.
However, if you choose to buy something through this site, make sure you don't pay before getting your bike, ok? This way you will be able to avoid scans.
Look for police auctions
Bicycle theft is one of the most common crimes in Sweden, but fortunately, some of the stolen bikes are recovered by the police.
When this happens, the police try to find the owner of the bike to return it ( Yes, it is real and a Swedish friend of mine just got her bike back few week ago ) but when they cannot identify the person, they usually sell the recovered bikes in police auctions.
There are a lot of auctions during the year and the prices for the bikes are very attractive so you might be lucky to go to one of those events and get a bike for a very good amount!
Visit Bicycle Doctor
That is where I got my bike from when I arrived in Lund and I really like their service.
I bought a new bike for 1.000 SEK and it was a good deal at the time. Also, I needed their support with a flat tire problem and they were very helpful so I would recommend this place.
PRACTICAL ADVICE ON CHOOSING A GOOD BIKE
I would strongly suggest you try to buy a bike from a Swedish or European brand because they are more reliable and it is easier to find support if they break.
I bought a Chinese bike and actually had a hard time to get my tire fixed because no one knew how to deal with it.
Besides, I would suggest you check the best bike for your high and height so you can make the most out of your experience!
Also, check the complete guide on how to choose your bike published by Andaç Baran in order to find the most useful information for your choice!
Tell me, would you also like to adopt the bike as your transportation and experience the real Swedish lifestyle?