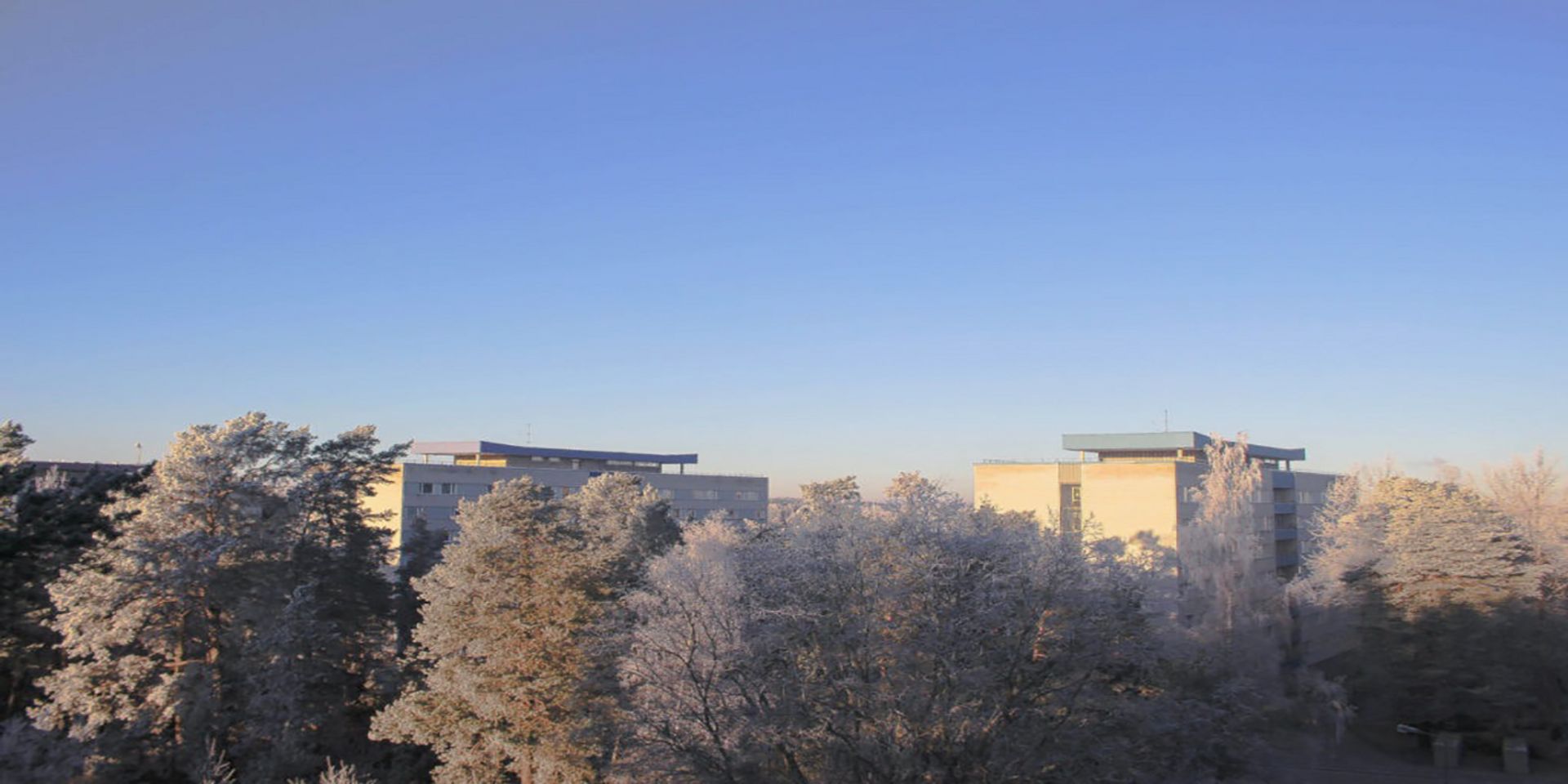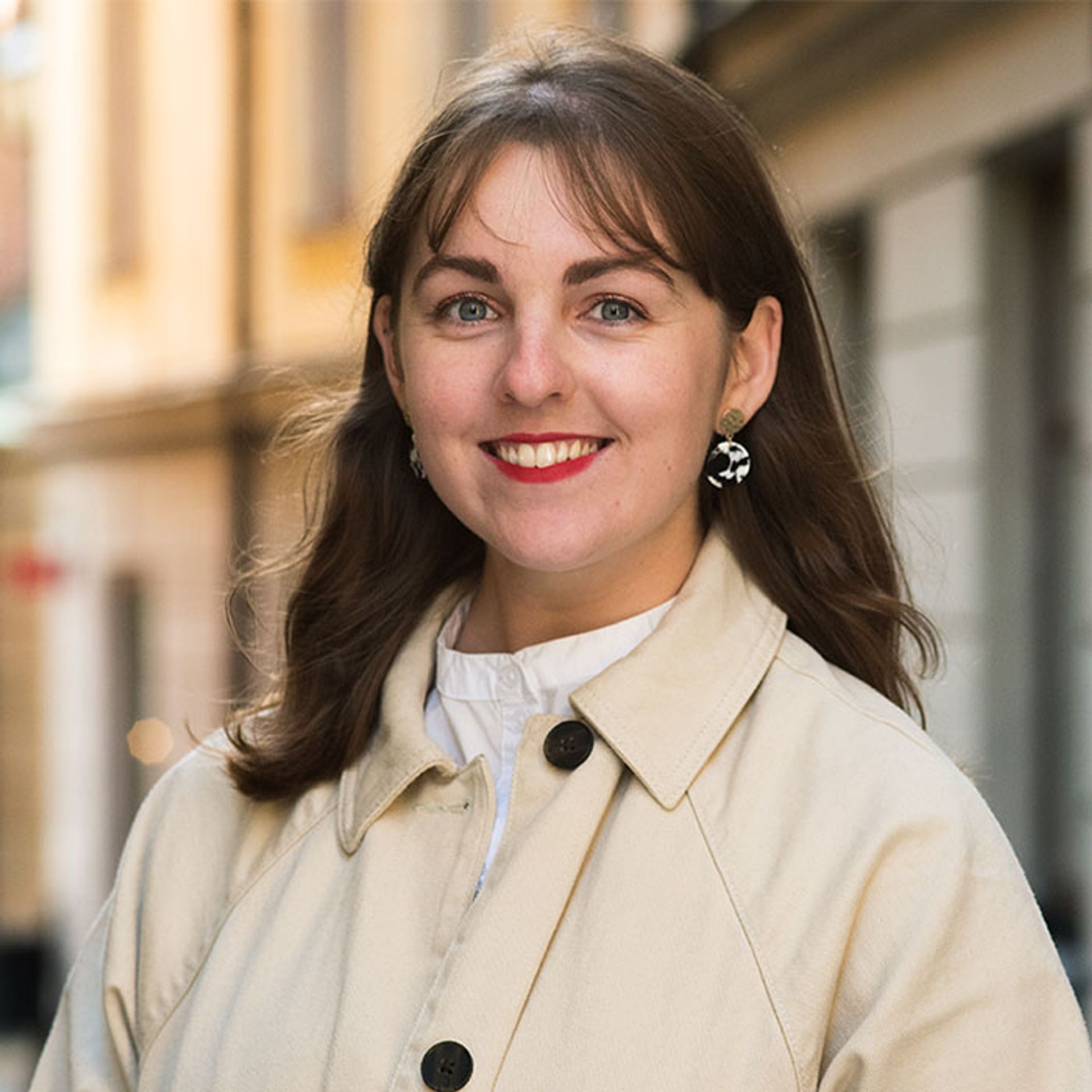 Written by Emma
04 Jan 2019
Flogsta (noun) is a student neighbourhood 3km to the West of the city of Uppsala, Sweden. It is known in particular for one special thing: the Flogsta scream.
TV stations from Germany and other places in the world have literally turned up to record it, interview people about it, note it down in history as an anthropological ambiguity. No one really knows why it exists (there are a few urban legends and myths), but the thing that most people know is Flogsta is where, at 10pm on every night of the week, students scream out of their windows into the darkness (or the light, depends on the season, you know).
But what else is there to Flogsta? How is it like to live there, both as a Swedish student and as an international student? As part of the podcast Sanjay and I produce, My Swedish Område, I went to Flogsta to interview two students about living there. Flogsta is an integral part of student life in Uppsala – even if you don't live there, you'll probably jump on the number 6 bus to one of the notorious Flogsta parties. It's also nestled in the forest, hosts some incredibly large and memorable parties, and is a community made up of many nationalities and people from all walks of life – from students to young families, and older people too.
So who did we talk to?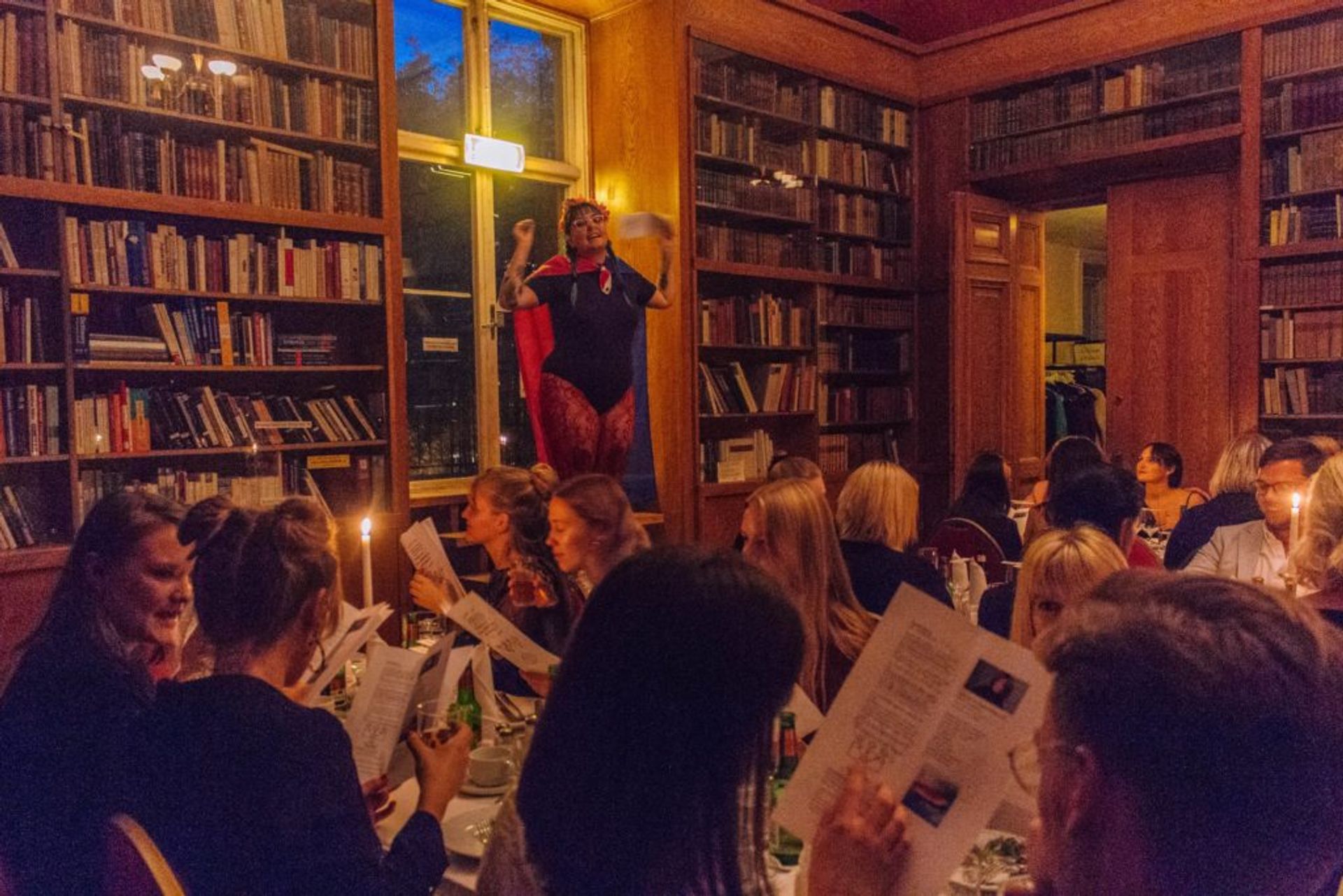 This is Sigrid. Sigrid is a PhD student at Uppsala University and has lived in the low houses for the last year. The low houses are set up as apartments, and Sigrid lives in one with two other friends and a cat.
I also interviewed Dylan. See Dylan below: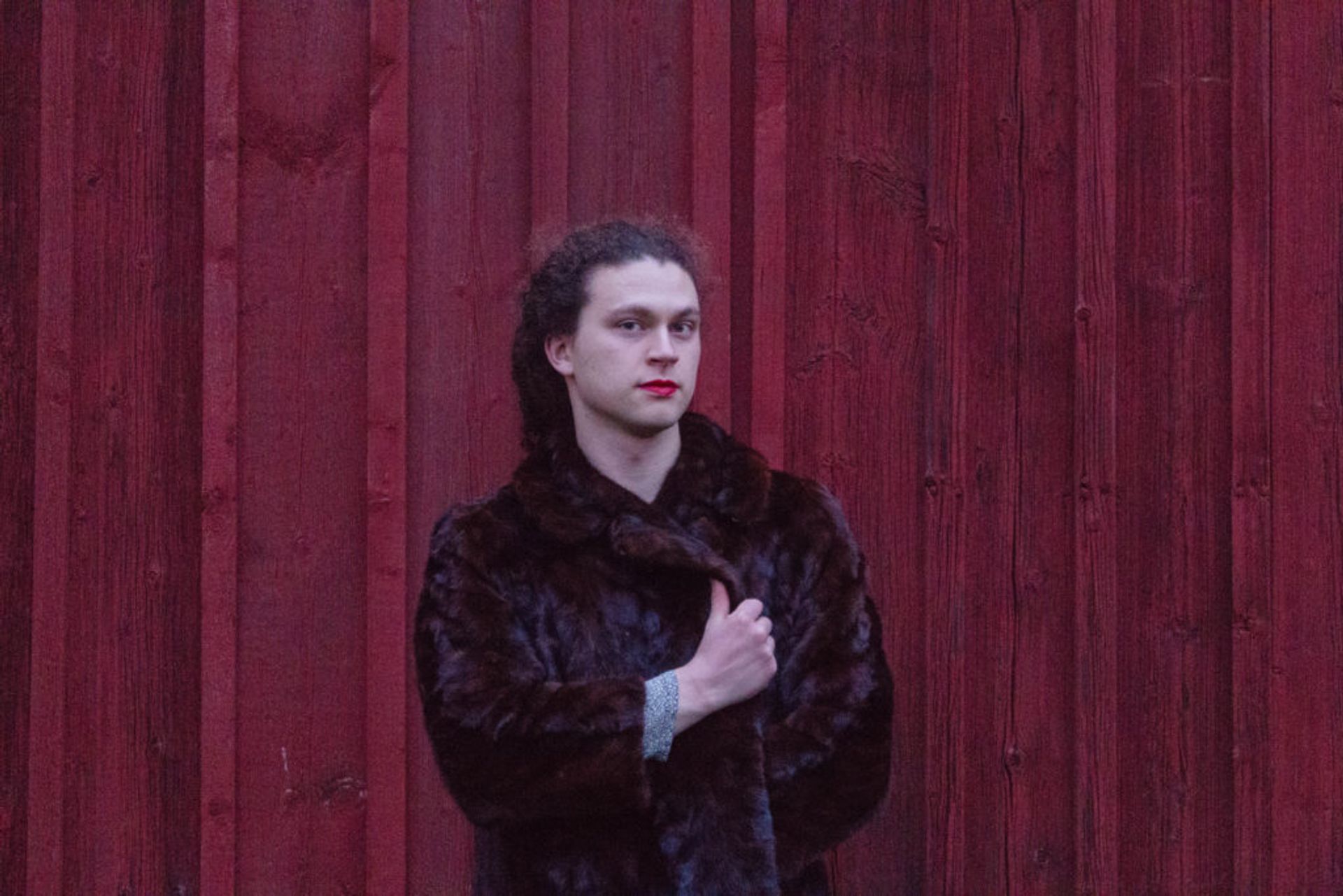 (This was Dylan when he was acting in the play I directed this semester, hence the exciting fur coat. But also, it's cold in Sweden!) Dylan is from Australia, and has been on exchange in Sweden for a year. He has lived in Flogsta for this entire time, and lives in a corridor room with 11 other people.
I can't picture this place! I need a visual aid!
I know a podcast doesn't necessarily lend itself to this medium – so here are some pictures! In the podcast (listen, go on, there's a link just at the bottom), we talk about the lovely Flogsta sunsets, the green spaces and how at home in nature the neighbourhood is. Here are a series of photos from when I lived there last year: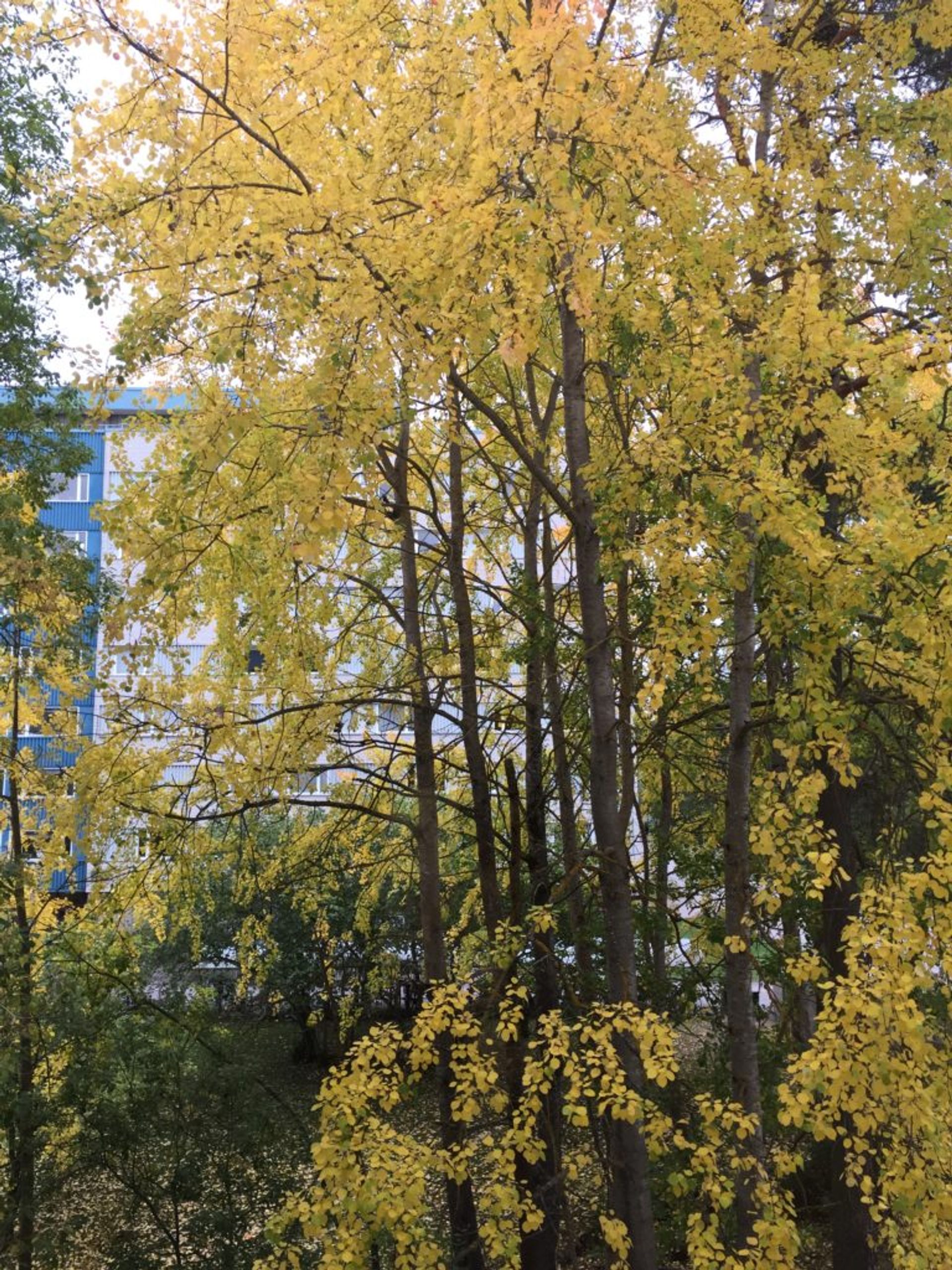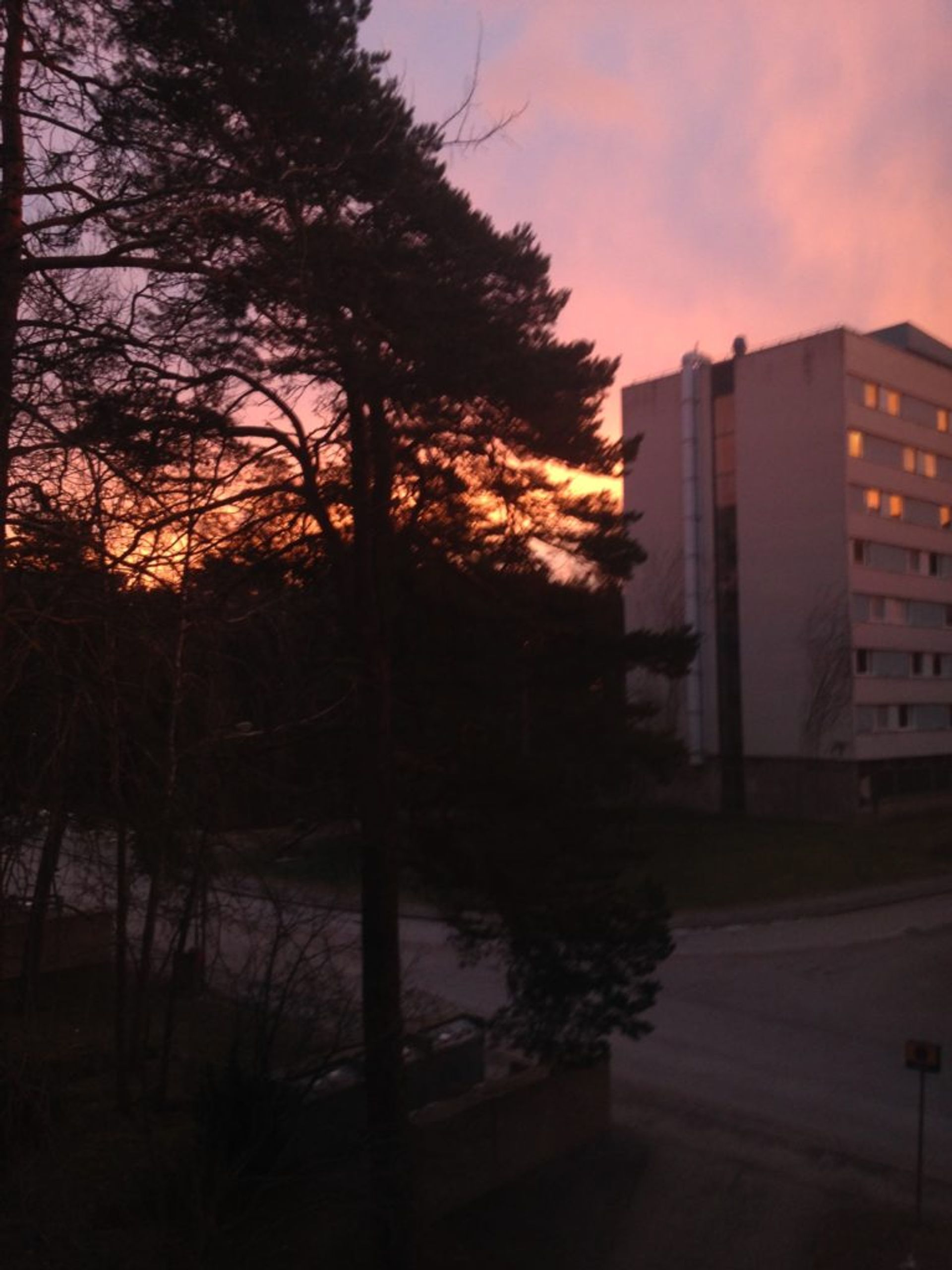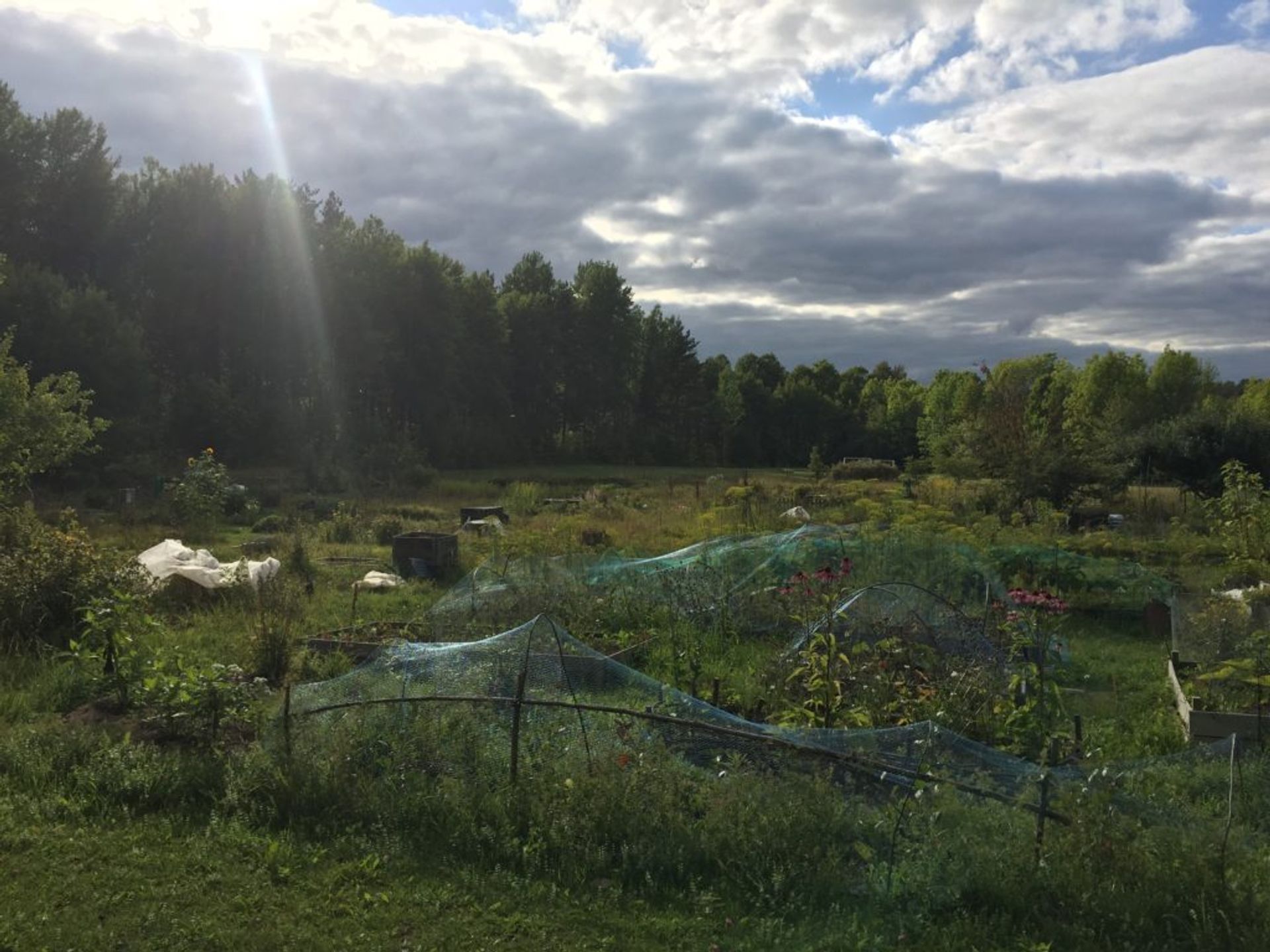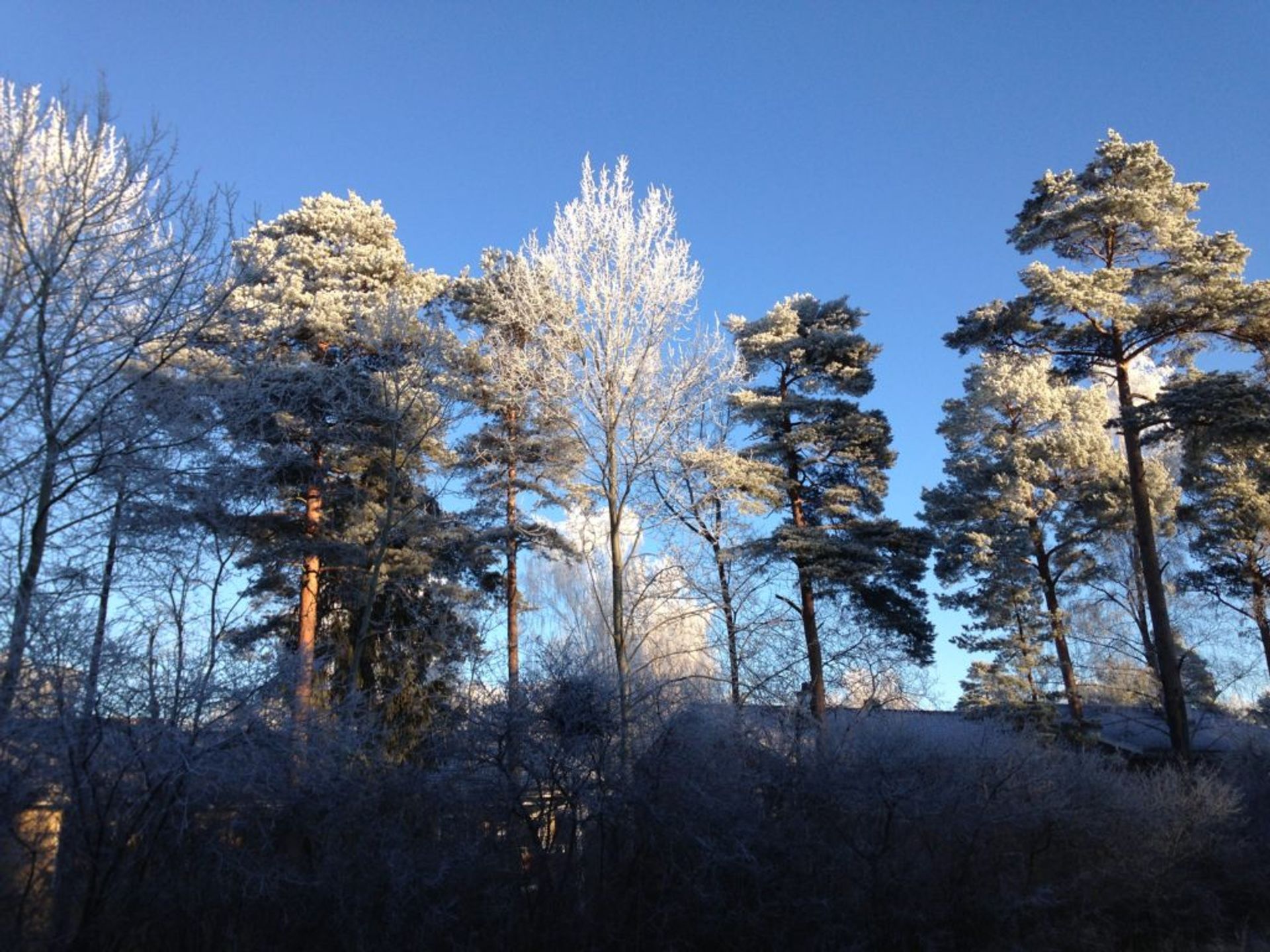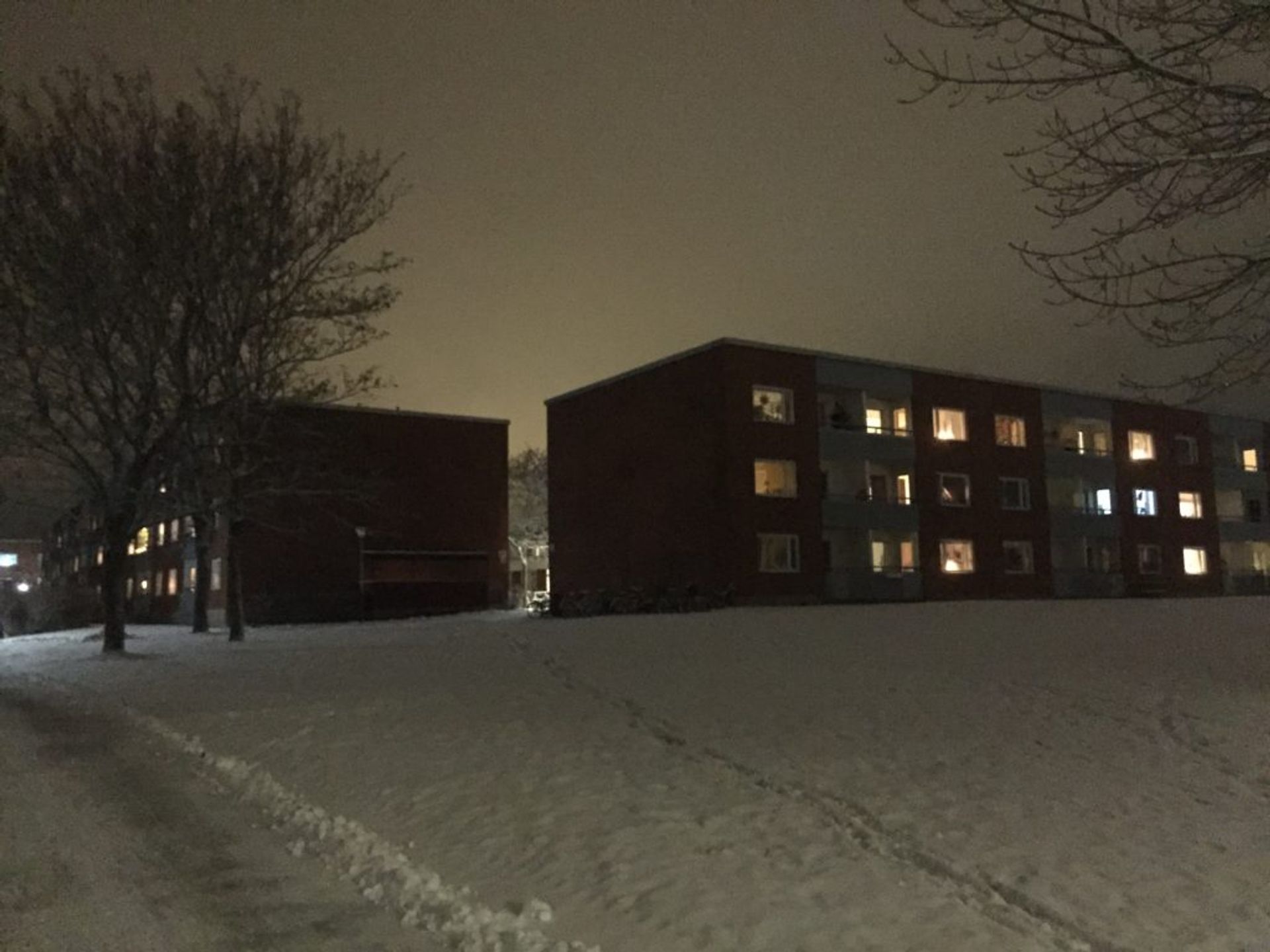 Here is also a map so you can see the relation of the neighbourhood to the city centre. Most students bike to and from Flogsta (put on winter tyres, kids), but there is also the number 6 bus which goes there: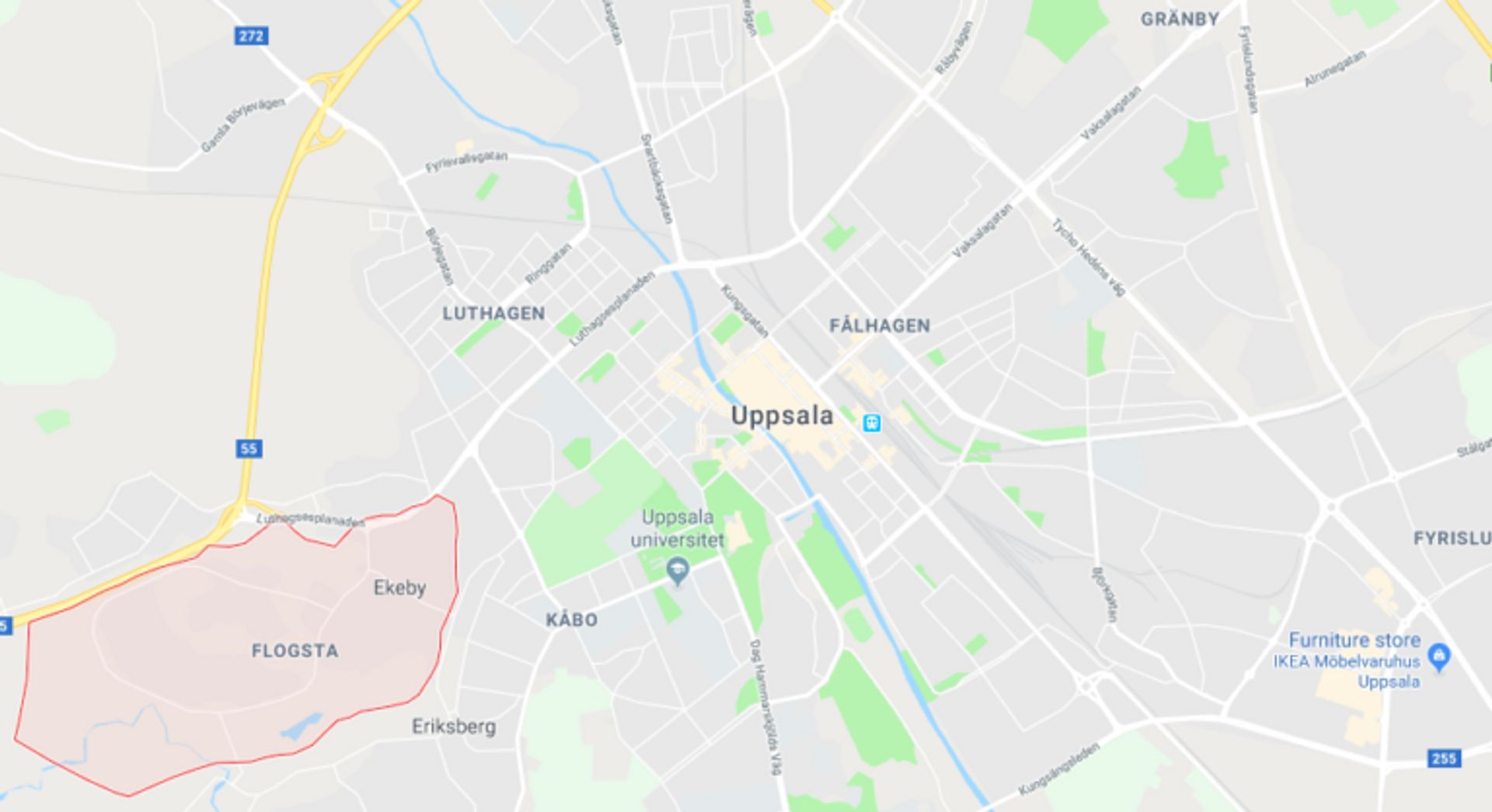 An assortment of tips for if you end up living in Flogsta
There are many different nationalities of people living in Flogsta, which is an absolute joy. Some people like to share food from their different countries of origin in Flogsta. Check out what you can explore and share in terms of food from other cultures in groups such as this one!
When you move in, check the stairwells to see if people are leaving anything behind which can be recycled forwards to you!
Also when you move in, figure out where the bins and the laundry room are. You don't want to be waddling down the stairs carrying bundles of either not knowing where both are located.
If you fall asleep before 10pm, remember the scream might wake you…..
Ica Väst has SO MANY good deals on groceries.
If you have a communicative corridor, establish a cleaning rota. 11 people to one kitchen can get messy, so it's a good idea to establish a cleaning rota for the trash and for the kitchen.
In the summer…there will be bugs. If you take out the trash regularly, it will all be chill!
Look out of your windows in the summer. The sunsets are magic.
Alan's Pizzeria is The One.
Take a walk out into the fields towards Håga in the summer and go swim in a creek. It's magic!
And here's the link!
Give us a listen! Would you want to live in Flogsta? Do you have any questions if you're moving to Flogsta? Comment below and we'll try and answer your questions 🙂