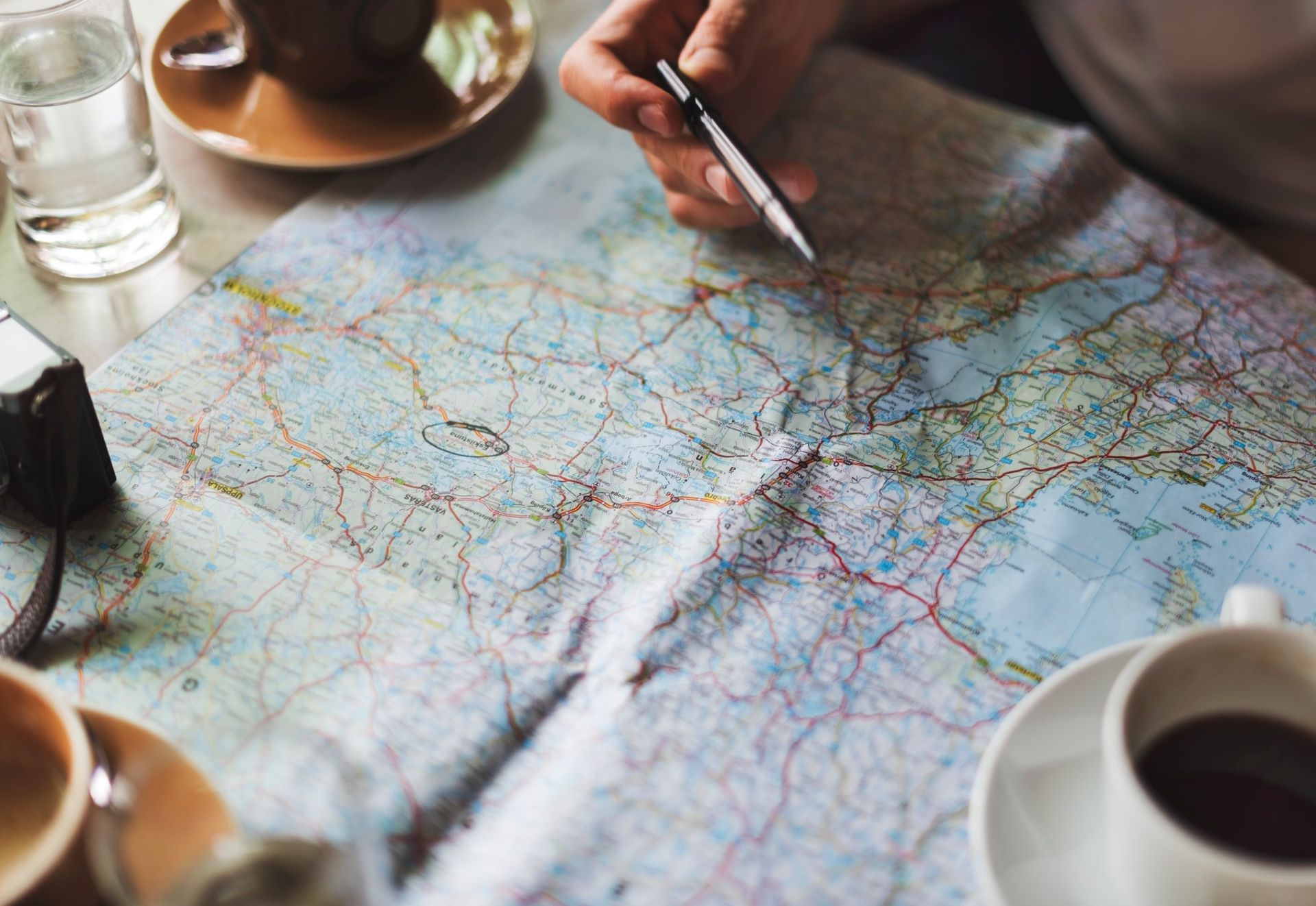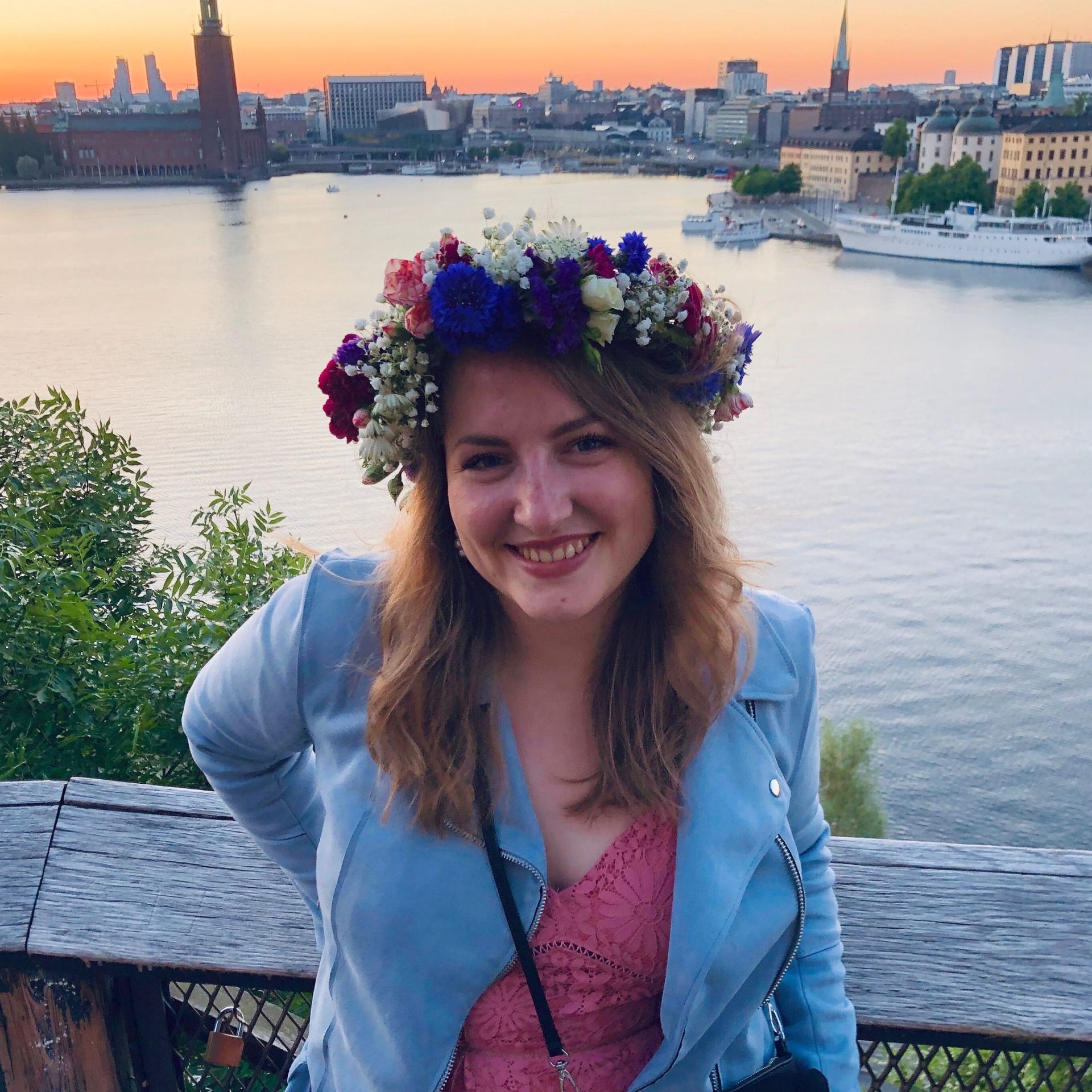 Today, sitting on the train I look out of the window and all I see is grey. Even though I can still spot some snow here and there, most of it has melted already. In those moments, I (winter kid from the bottom of my heart) start day dreaming about the bright and sunny summer days when me and one of my best friends went on a road trip along the coasts of Sweden together.
Maybe you're like me and:
either like to plan from time to time as well or
dream about escaping the ugly weather.
Or both.

In that case I have a sweet road trip on a student budget for you. Starting in the South, driving along the East Coast up to Stockholm. Then across the country to Gothenburg and down the West Coast until we reach the South again.

Additionally, I will write down a few tips, link our camping spots, a packing list and potentially useful information! Enjoy 🙂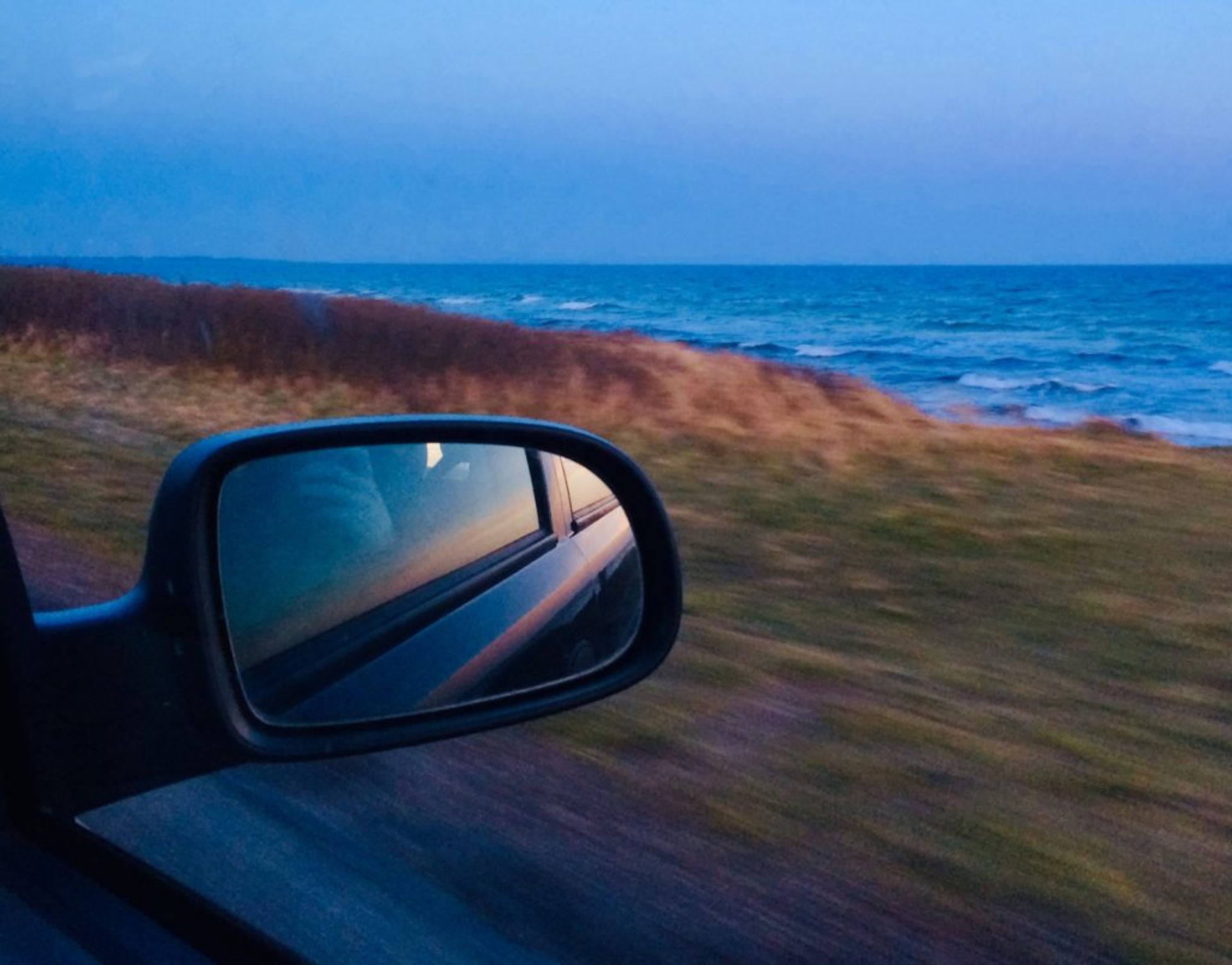 General information about the road trip
Start & end: Trelleborg ferry terminal ↗️ located right next to Trelleborg C ↗️
Duration: plan at least (!!!) 7.5 days (I would even suggest min. 10 days)
Time: 5 – 13 July 2018
Mean of transport: (ferry), car
Distance covered: approximately 1800 km (smaller detours included)
Accommodations: tent, hostel, B&B
Estimated costs: per person in total between SEK 2500 and SEK 4000, depending on your lifestyle
Route/maps details ↗️ along the South and up the East Coast to Stockholm
Route/maps details ↗️ from Stockholm via Jönköping to Gothenburg and down the West Coast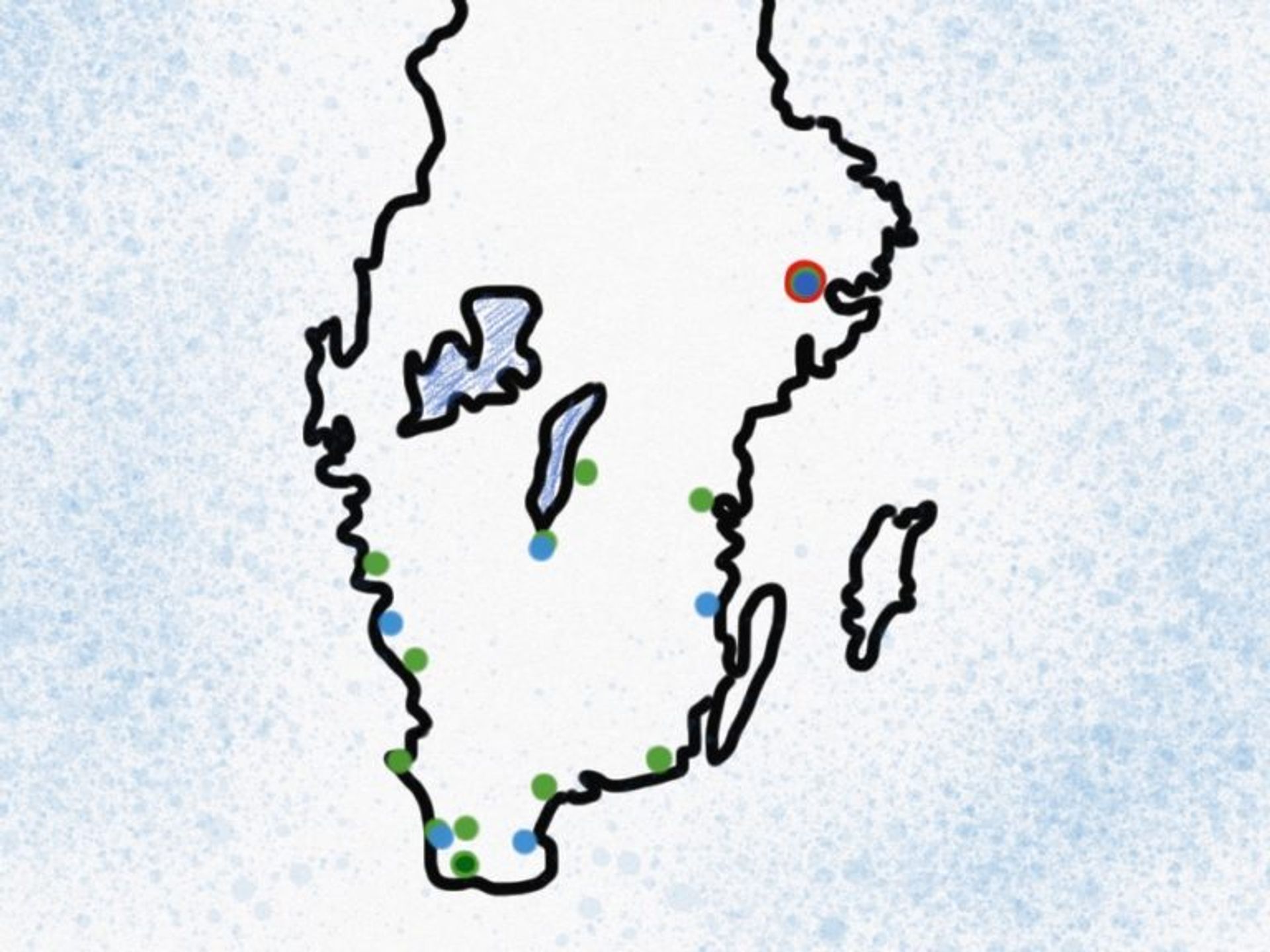 green + dark green: Trelleborg (start and finish)
green: places we visited
blue: where we slept
red: Stockholm, the capital of Sweden
How we got to Sweden
Coming from Northern Germany, there are plenty of ferries going to various locations in Southern Sweden. The most suitable connections for us was a ferry from Rostock to Trelleborg. The crossing takes approximately 6 hours and two operators Stena Line ↗️ and TT-Line. ↗️
There is no big difference between the two. Most ferries have at least one restaurant and a café as well as one or two shops. Some also have a small cinema. If you want to nap on the ferry (it is not allowed to sleep in the restaurant area and that is more or less the only area where you can sit on the ferries) you have two options:
rent a tiny room or
book a really comfy chair in a special room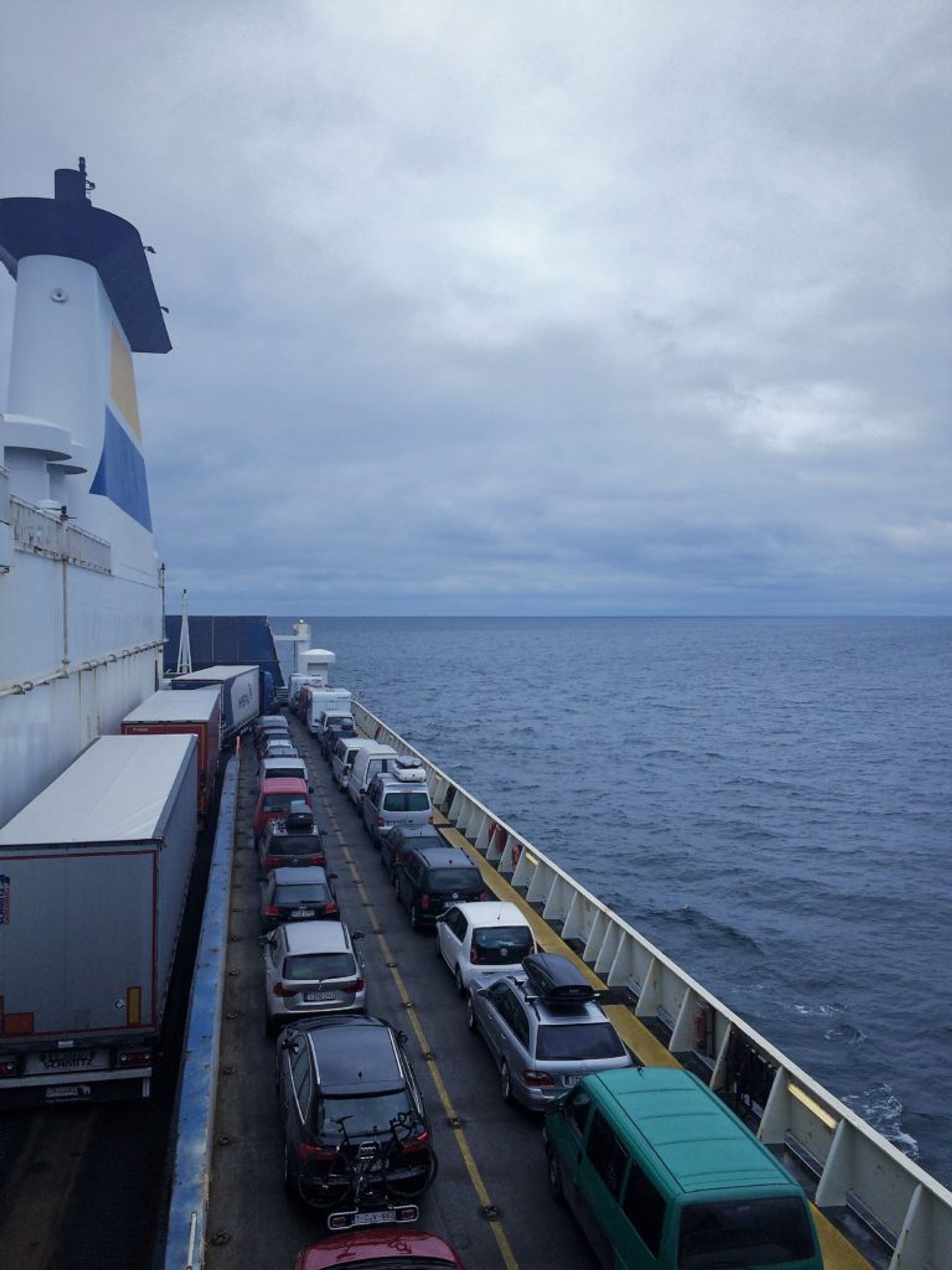 If I remember correctly, we booked our ticket in May and paid 140€ (~ SEK 1450) return ticket for a car and two passengers. Some connections can be quite crowded during peak season, so keep that in mind. We brought our own car from home. However, you can also take the ferry as a regular passenger without any vehicle and rent a car ↗️ once you arrive in Sweden or use public transport (might be harder to get to hidden gems though).
TT-Line: student discounts available; from 12€/person/crossing
Stena Line: from 17,50€/person/crossing
Camping
I have to admit that it was the first time camping in a tent for both of us! Luckily, we had a pop-up tent. ↗️ Hence, you basically simply loosen 3 straps and it pops up all by itself. The only thing left to do then is to secure it on the ground with tent stakes. Packing it together takes no more than 1-2 minutes and is super easy once you know how to do it!
A pop-up tent is extremely useful if you change locations a lot like we did as it saves A LOT of time when putting it up or down.
What might be good to know is that you usually need to pay the shower extra. Your access card to the bathroom is topped up with around SEK 40 once you check-in and the camp site will pay you back what you have not used for showering when you check out. Furthermore, camping spots for tents most of the times have no electricity, keep that in mind.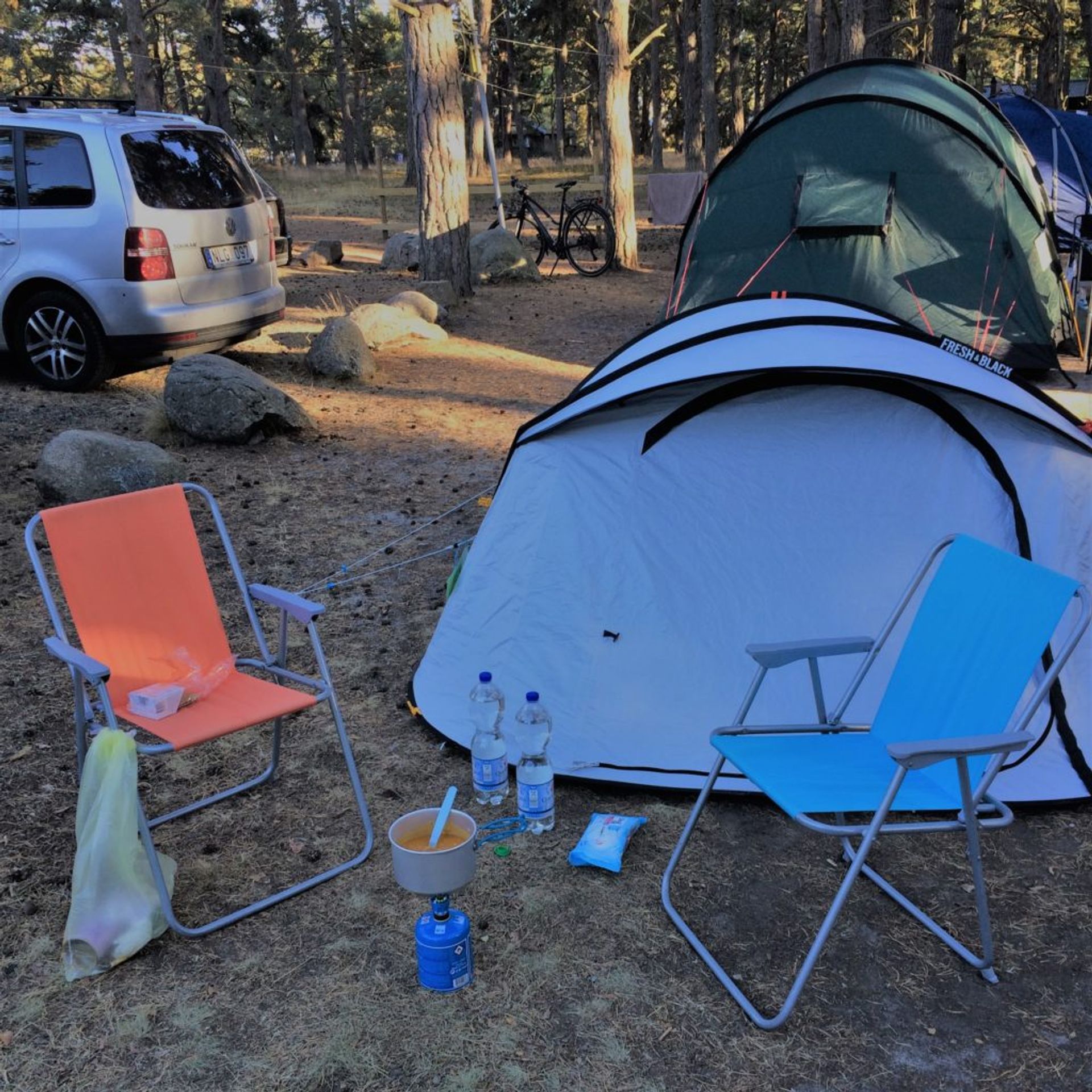 Complete list of accomodations & prices*
*as of 2018
South Coast
The province located in the South of Sweden is called Skåne ↗️ and has a lotter to offer, especially many beautiful beach landscapes ↗️ and historical sites. ↗️
From Trelleborg, it is a short drive to Smygehuk ↗️ which is the southernmost point in Sweden! Following the main road you will arrive in Ystad ↗️ after a bit. Unfortunately, we were not well prepared enough to know that we would either need SEK coins or a parking app instead of bills (so be prepared!). Thus, visiting Ystad is still on my bucket list.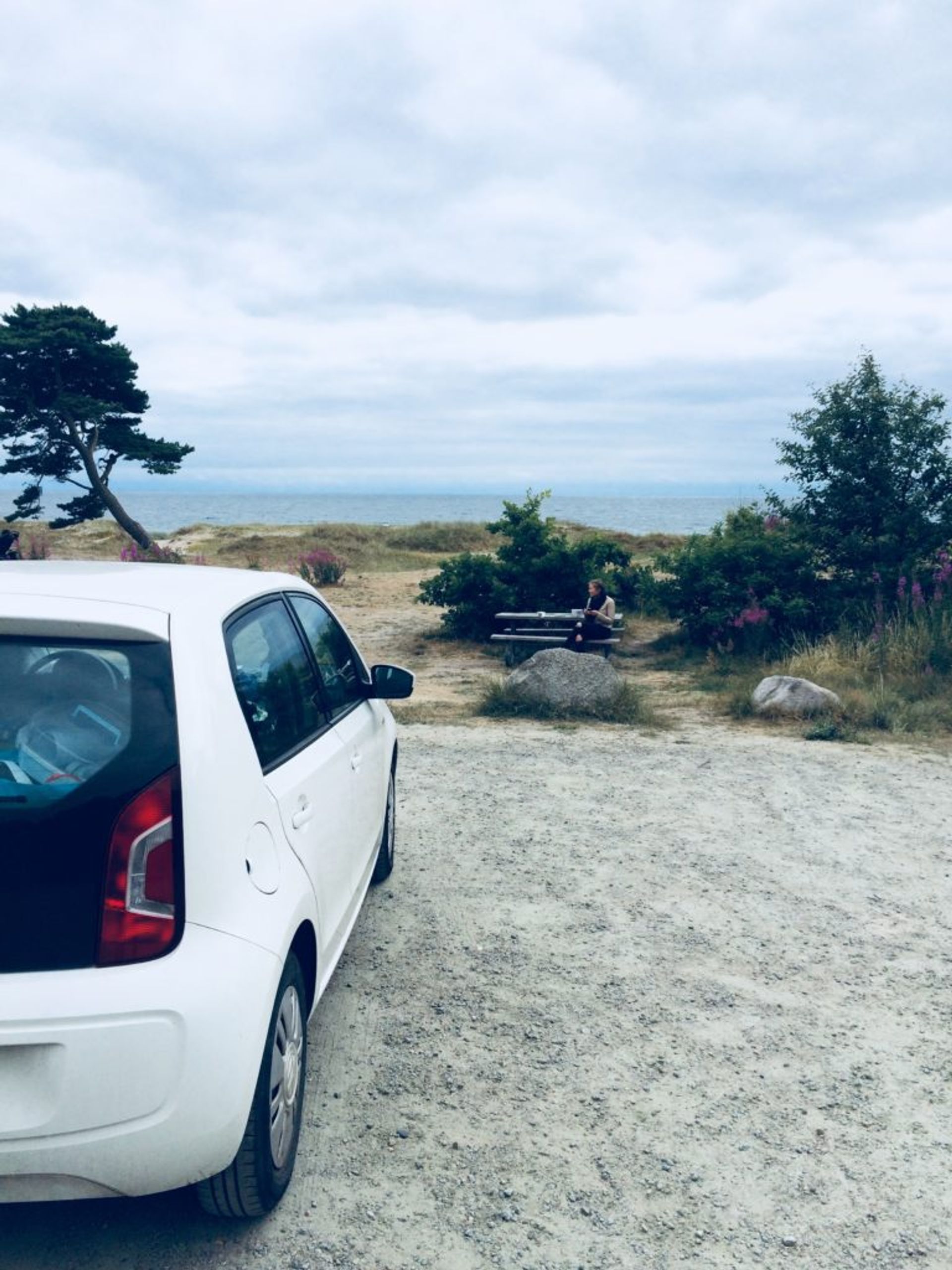 Rigeleje – Night 1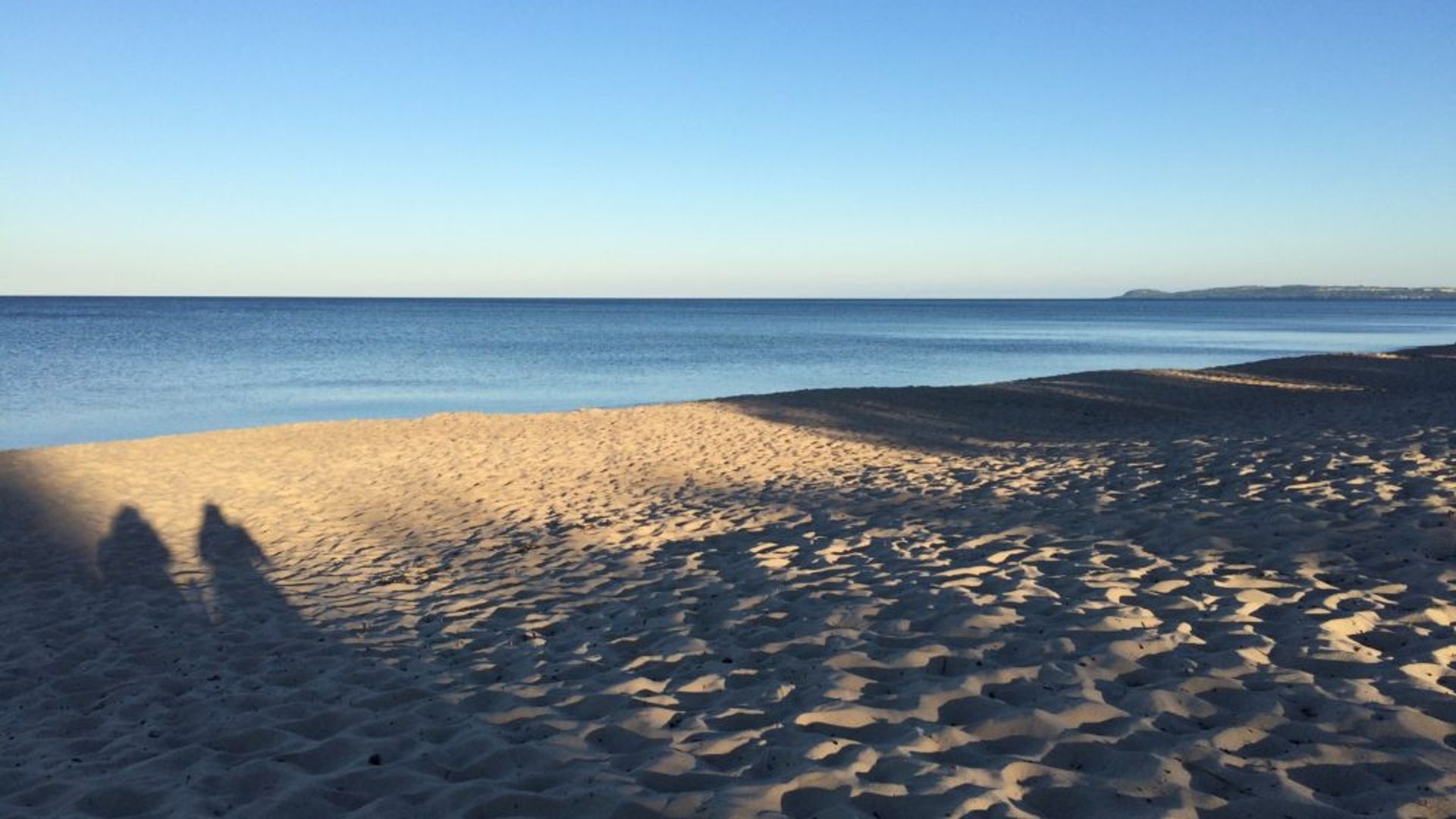 This camping site ↗️ was rather minimalistic compared to the others we stayed at. But the staff was very friendly, it has a small store and the best aspect: it is directly connected to a long, white sand beach!
Kristianstad
The town ↗️ used to have a huge influence as a trading city in the South as well as during wars against Denmark. Moreover, it has a beautiful church!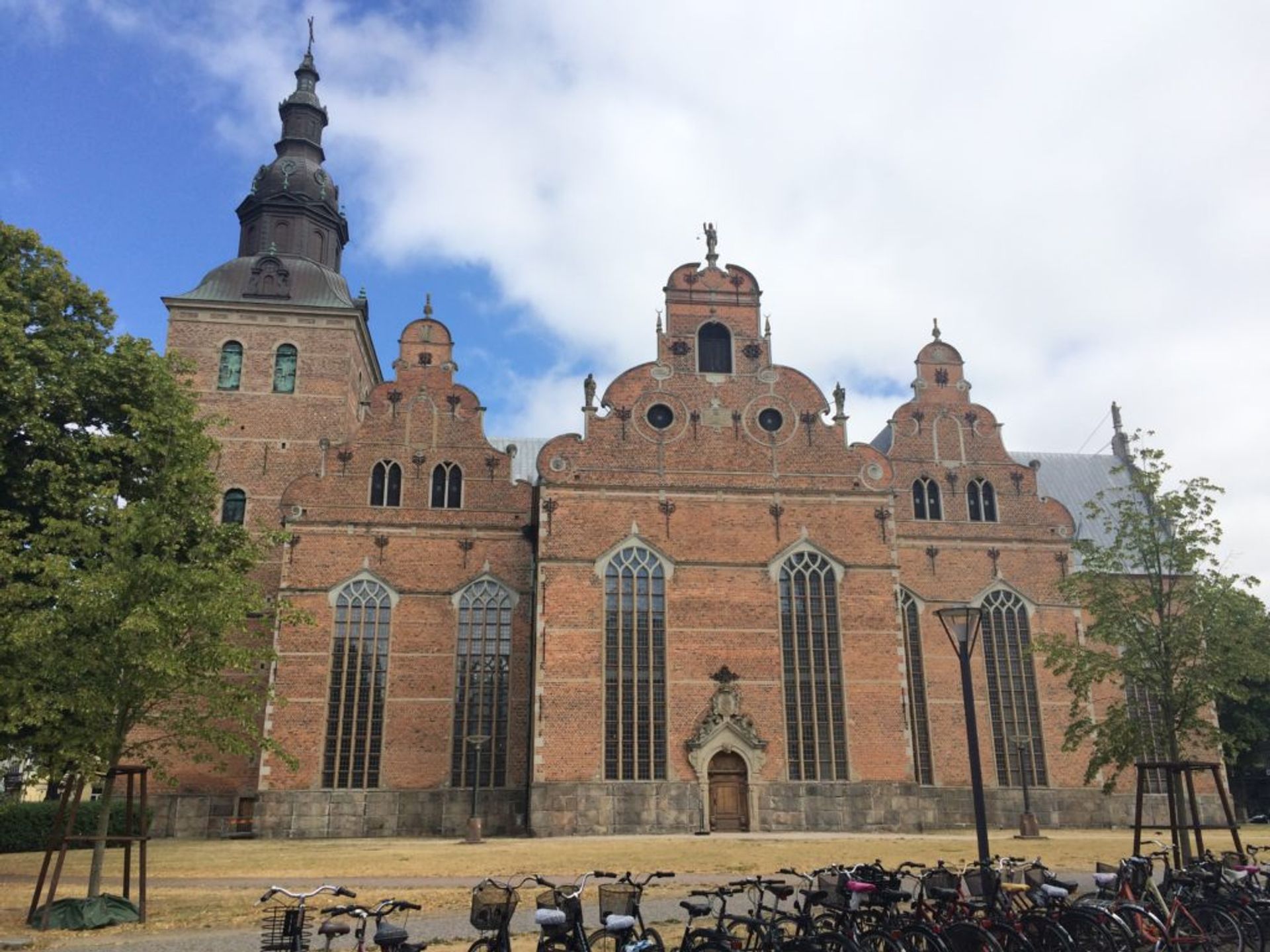 Karlskrona
With a baroque touch, Karlskrona ↗️ has a really pretty city centre. Its main square is the largest in Scandinavia and the buildings surrounding it give a nice Italian flair. Part of the city belongs to the UNESCO World Heritage Site. ↗️
East Coast
The East coast of Sweden has a rough coastline rather than dunes and sandy beaches like in the South.
Gunnarsö – Night 2
Compared to our first night this one ↗️ was very luxurious, I think it was probably my second favourite of all camping spots! Again, friendly staff and access to the Baltic Sea (we could see the sea from our tent, what a dream!). Furthermore, it had modern facilities and was very clean!
Unfortunately, the rain woke us up the second morning, so we hurried up and got going.
Västervik
Despite the rain, we decided to make a quick stop in Västervik ↗️ which is a cute city as well. We visited the church, strolled (that sounds way (!) too relaxed considered it was pouring outside) around the city centre and the harbour. And finally got some hot chocolate to warm up a little.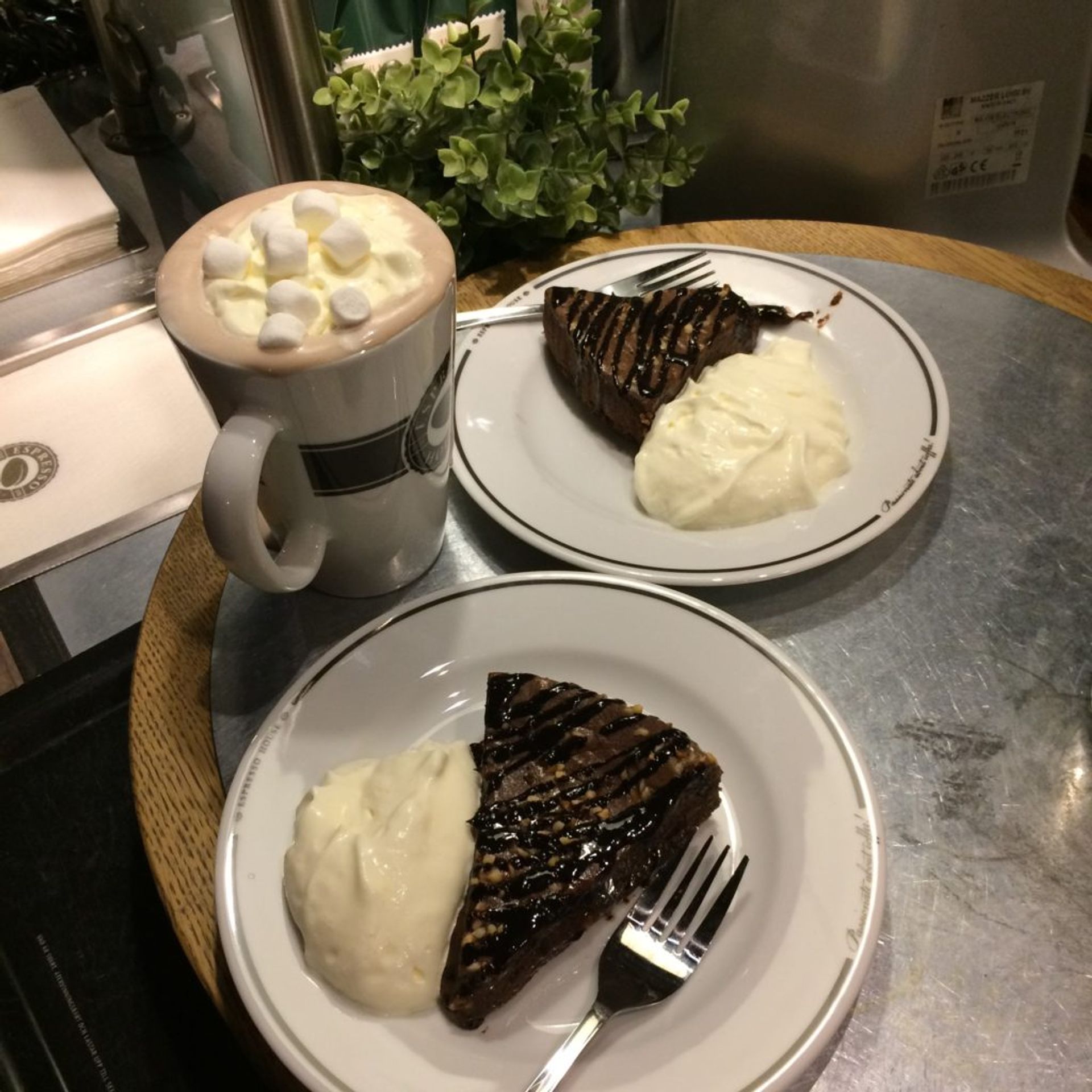 Stockholm – Nights 3 & 4
Our hostel
Due to the rain, we arrived one day earlier in Stockholm than initially planned for the road trip. Luckily, our room was already available so we could check in for one additional night. I can definitely recommend our hostel, ↗️ I liked its style (it used to be a prison) a lot. Furthermore, it is definitely within walking distance to a metro station on Södermalm, ↗️ but walking to Gamla Stan ↗️ takes a bit. However, especially in summer it is super nice to walk home/to the city centre along the water!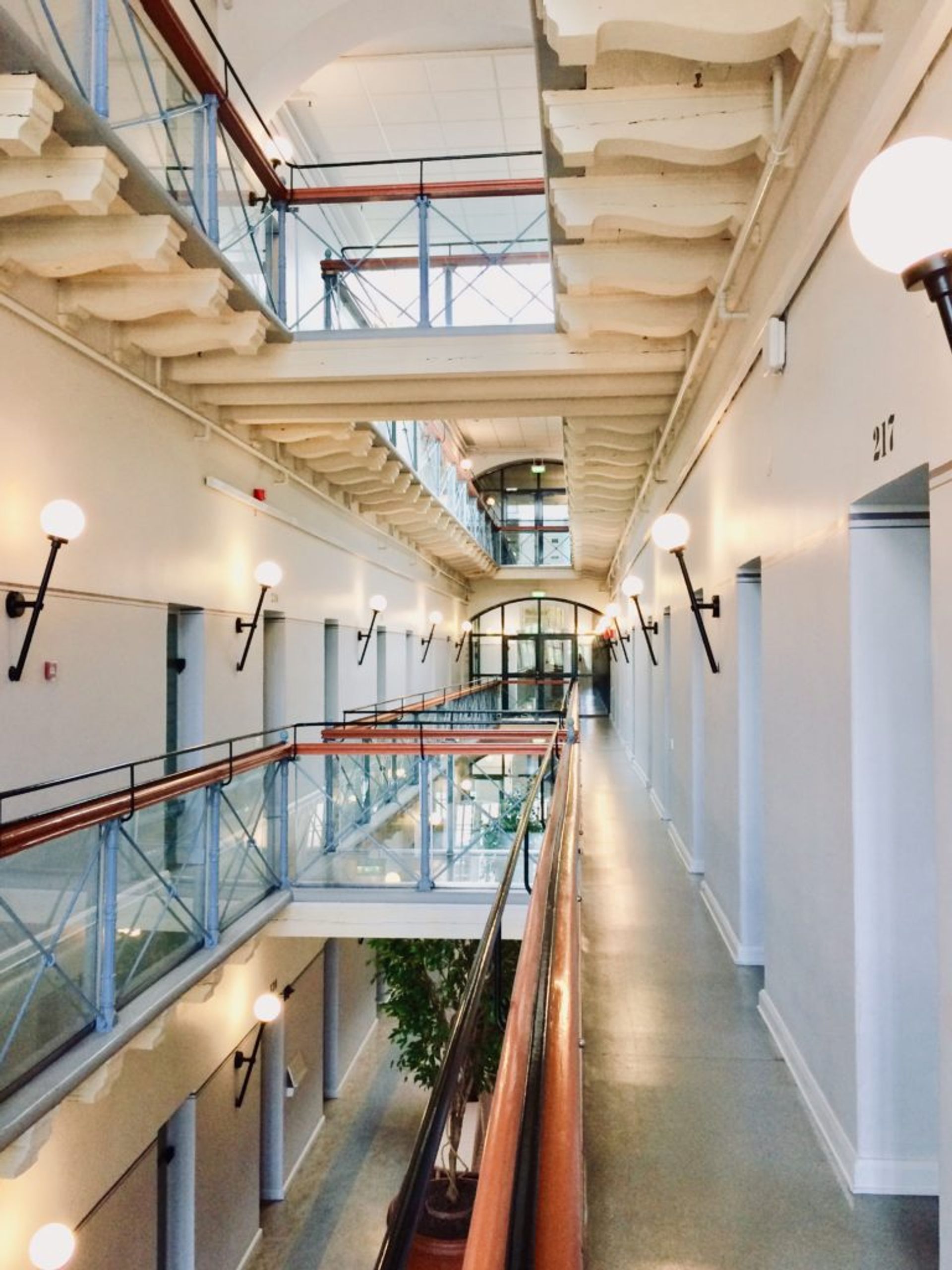 Small selection of what we did in Stockholm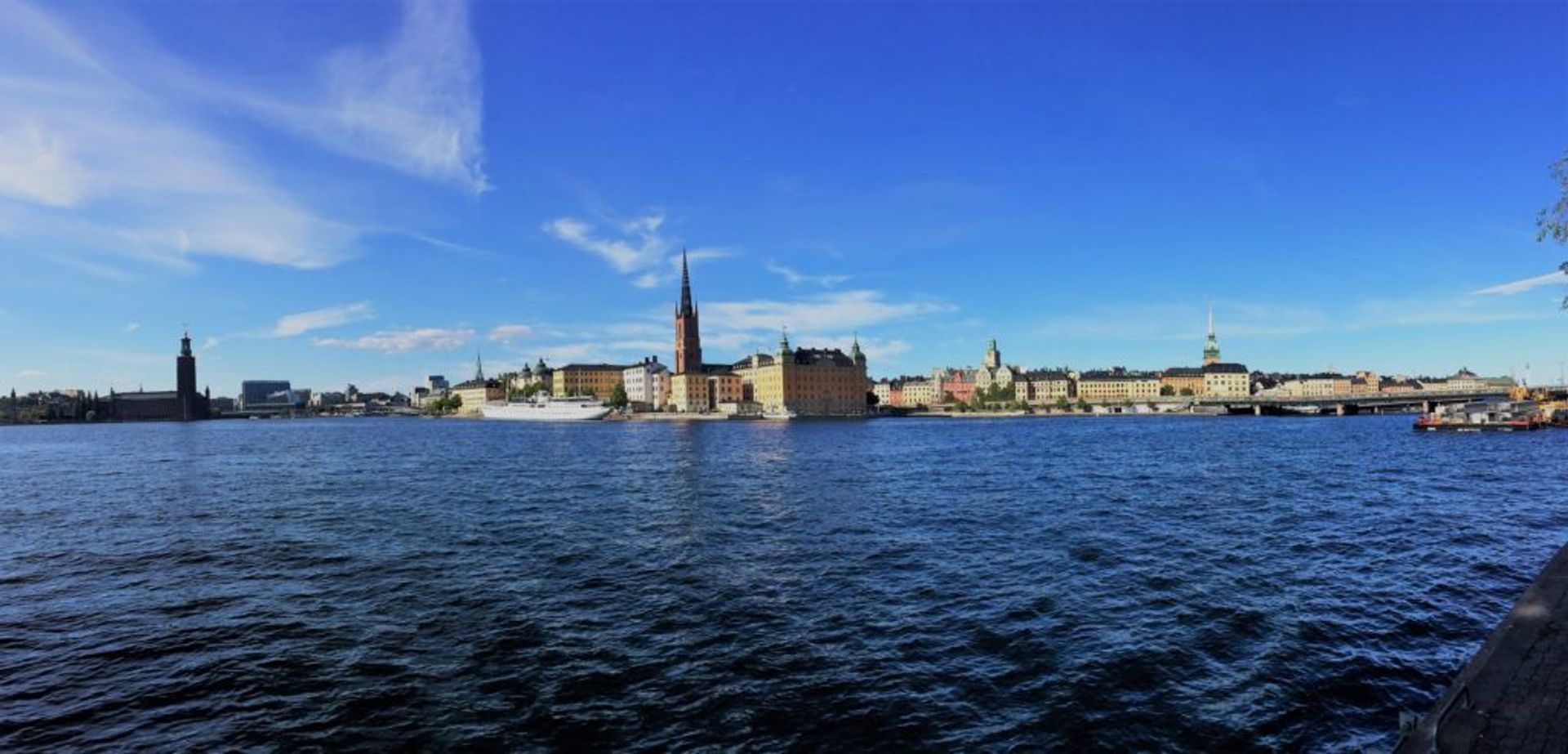 Småland
From Stockholm, we hit the highway towards Jönköping, where I was planning to start my Master's ↗️ (and obviously did 😀 ).  Småland is home to IKEA, ↗️ to Astrid Lindgren, ↗️ to Polkagris ↗️ candy, has lots of forests and lakes and so much more!
Jönköping and surroundings – Night 5
The main reason to stop in Jönköping during our road trip was of course to check out the city and university in order to make a decision of whether I want to move there or not! The weather was awful the day we arrived, but there are still many nice things to do in and around Jönköping! I am planning a blog post on that, too. 😉
Due to weather conditions, we had no choice but staying in a B&B ↗️ over night. Free wifi, bed sheets instead of sleeping bags, proper breakfast instead of minimalistic müsli – you gotta appreciate the small things in life!
We only stopped in Brahehus and of course the city centre. Still, after living here for a while now here comes a list what I suggest to do while you are here (sorted after coming from Stockholm moving towards Göteborg):
West Coast
I heard some Swedes saying: "West Coast ↗️ is the best coast". I may agree to that, or at least I liked the nature there the most! It also has rocky cliffs, though many of them seemed higher than the ones in the East.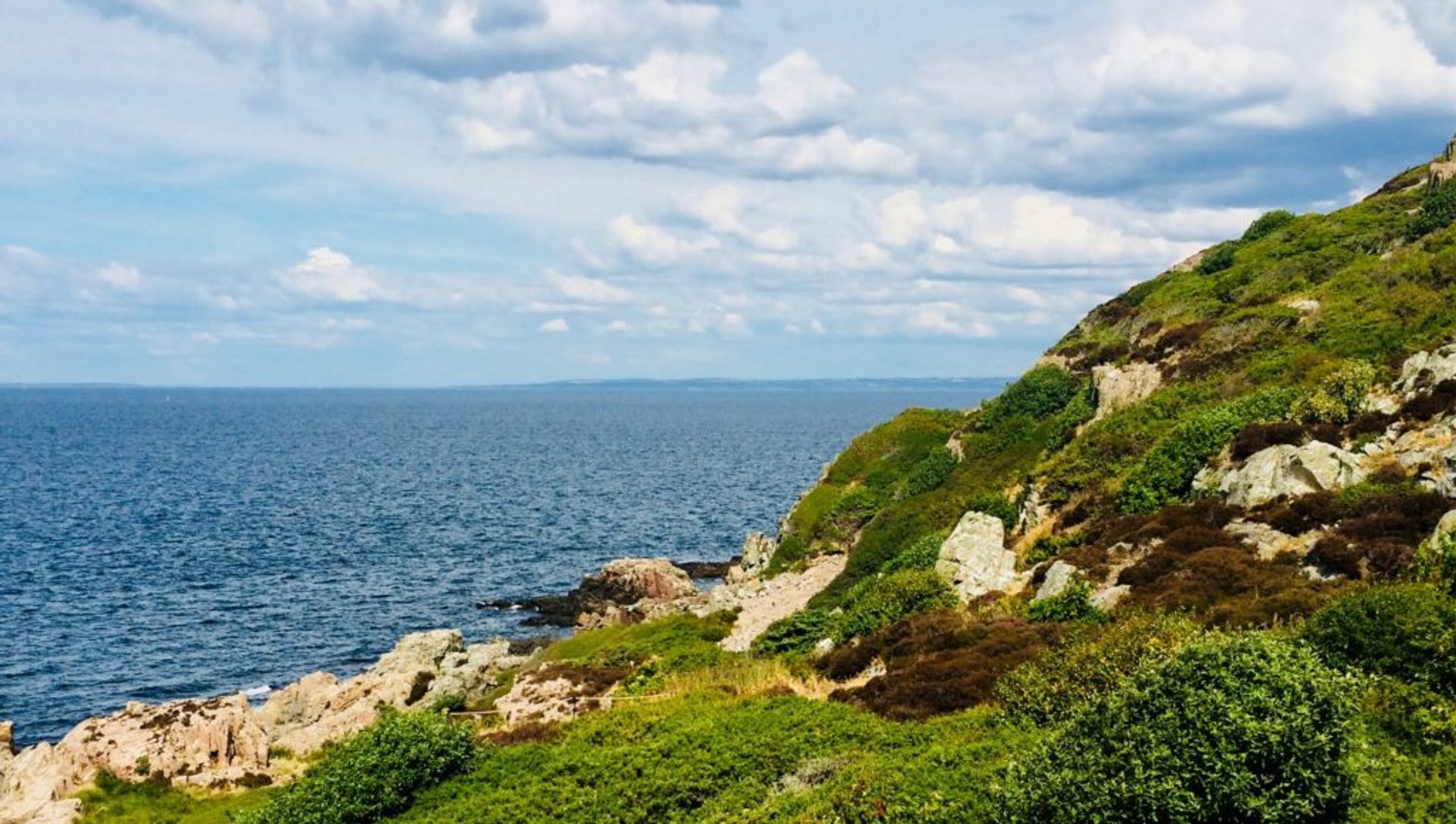 Gothenburg
It takes approximately 2 hours from Jönköpin to Gothenburg if you take the highway. Recently, I wrote a blog post about spending one day in Gothenburg. Even though I wrote this blog from a winter perspective, you can do all the things during a summer road trip, too – or even more! Gothenburg ↗️ is a super charming city with plenty of things to do. I like the mix of old & majestic and industrial corners there!
If you plan more than one day there, I recommend to check out blog posts my fellow ambassadors Usisipho and Lauren have written about what else to do: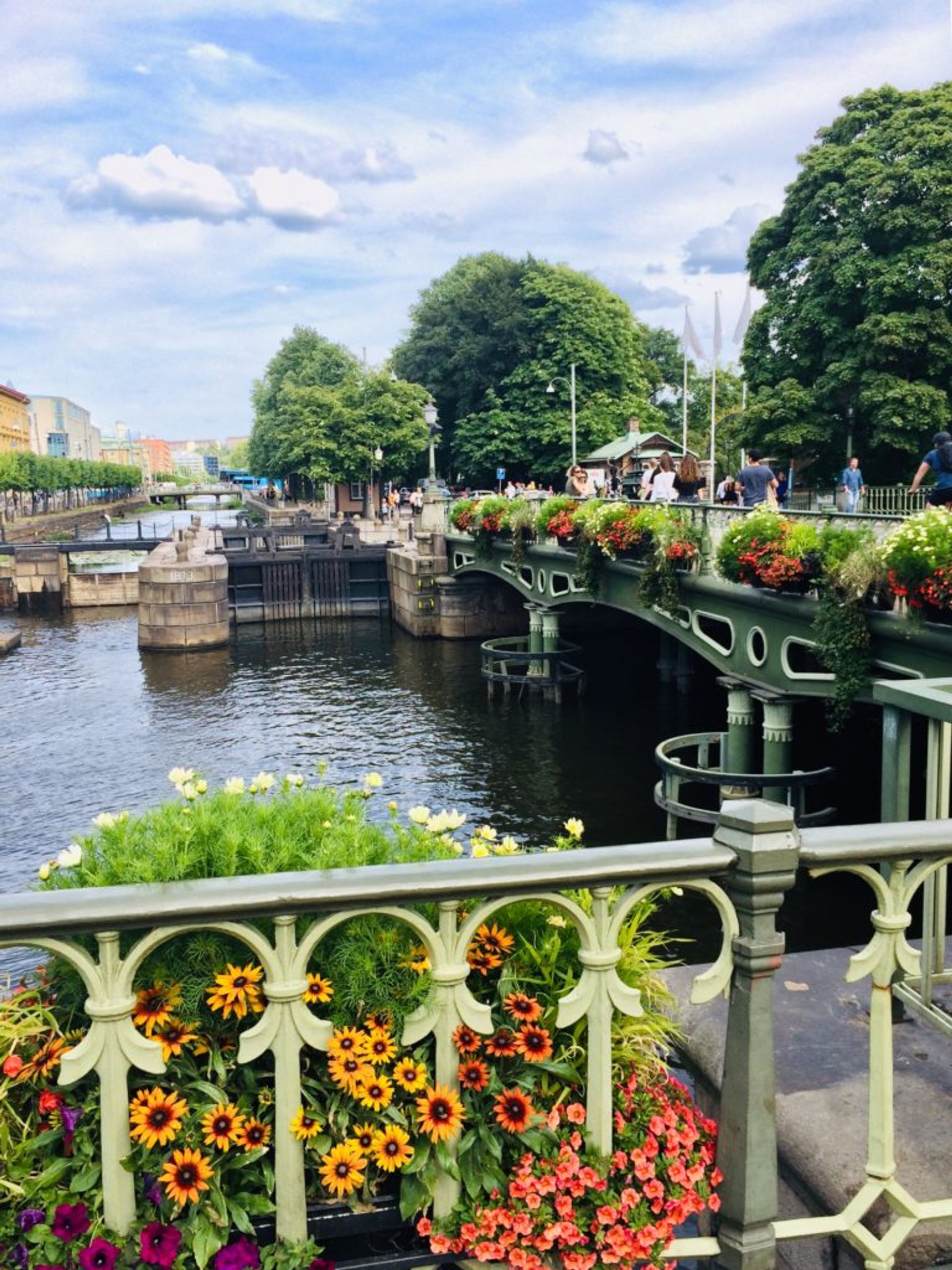 Varberg – Night 6
Our road trip continued southwards and at some point we were too tired to continue driving. We found a nice spot, ↗️ close to the sea again (5 min walk) which was modern and clean. Later that night, we had the chance to admire one of the prettiest sunsets of that road trip!
Falkenberg ↗️ is a cute little town as well. Perfect for a quick stroll along the river. There is a small church ↗️ built around 1300 there which I think was very charming and different from the other chruches we have visited during our road trip.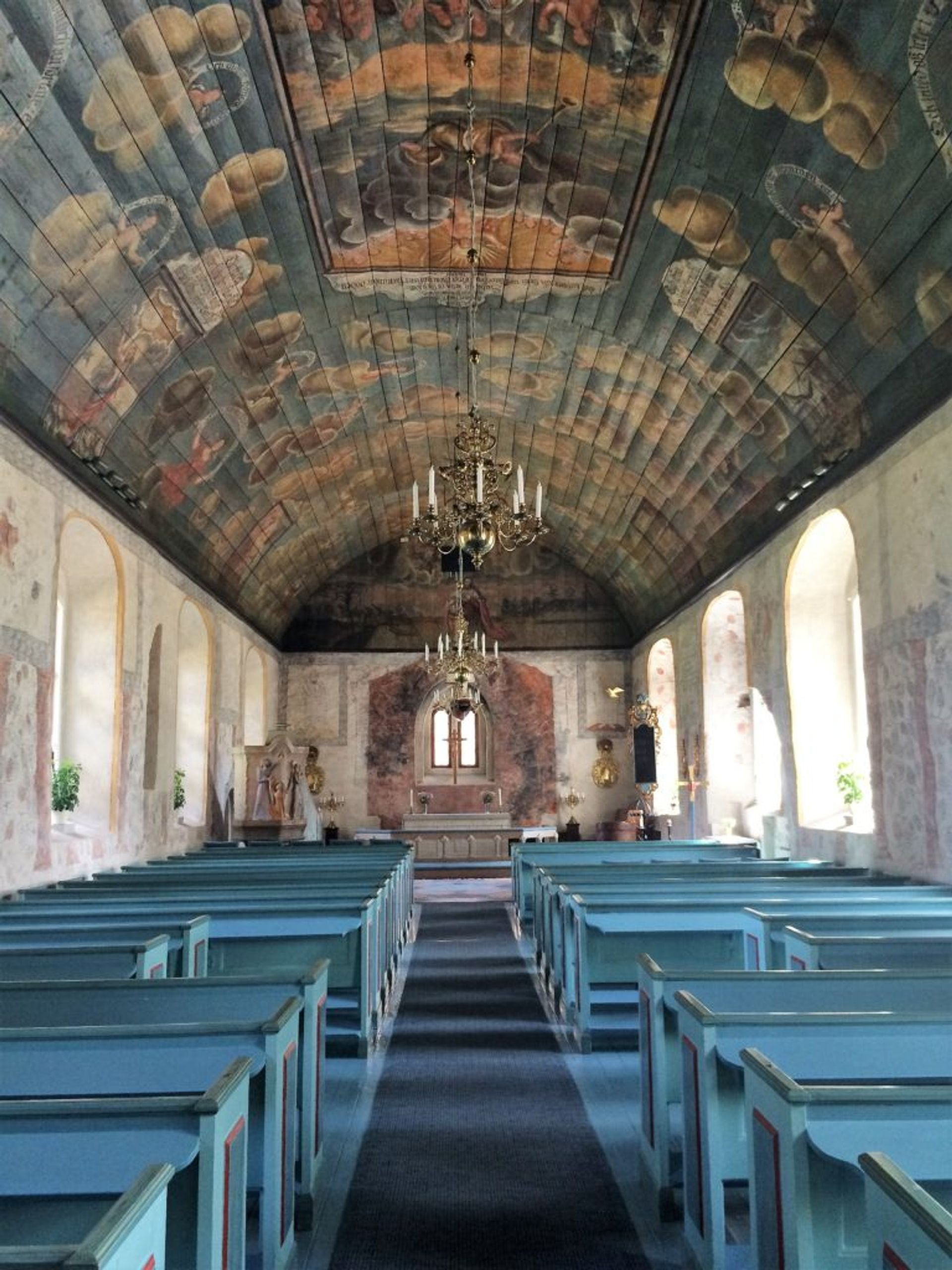 Kullen
One of my personal road trip highlights was definitely visiting the the cliffs and light house ↗️ of Kullen. ↗️ I was super afraid to the climb the rocks because they seemed just a little too steep for my "skills". However, my friend convinced me and overcoming that fear was SO WORTH it! (Don't worry! There is a proper, official hiking path down. I still wonder how, but somehow we managed to get a little lost…)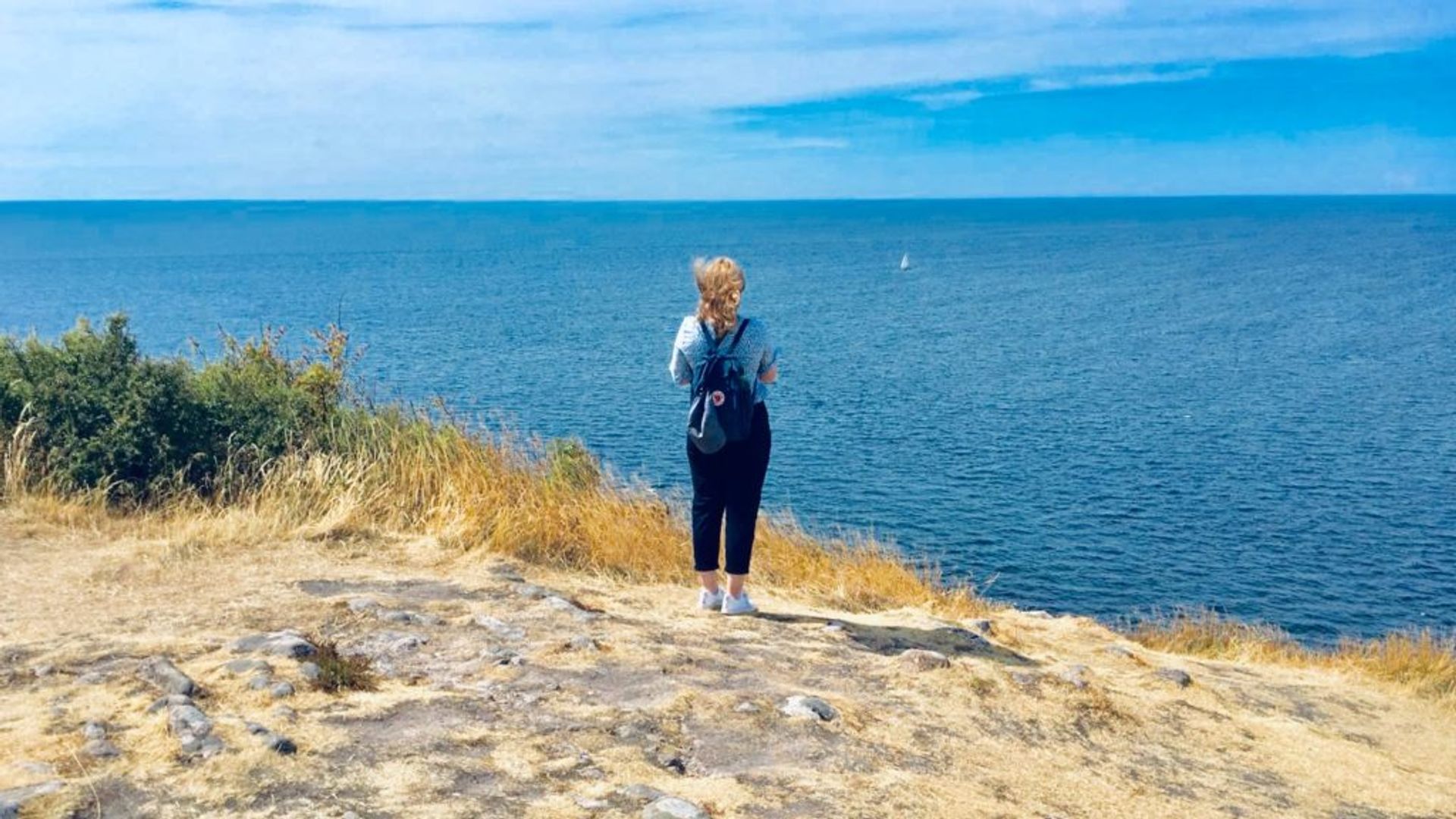 Back in the South: Malmö & Lund – Nights 7 & 8
The road trip is slowly but surely coming to an end. What better place to stay at than a camping spot where you have a view on the Öresund Bridge ↗️ connecting Sweden and Denmark?
This camping spot ↗️ was fabulous! Not very centrally located (but I am 99% sure there was a good bus connection to the city), but modern and clean and quite spacious facilities. The view from our tent was excellent and since it took max. 2 minutes to get to the Baltic Sea, it was perfect for an evening dip as well!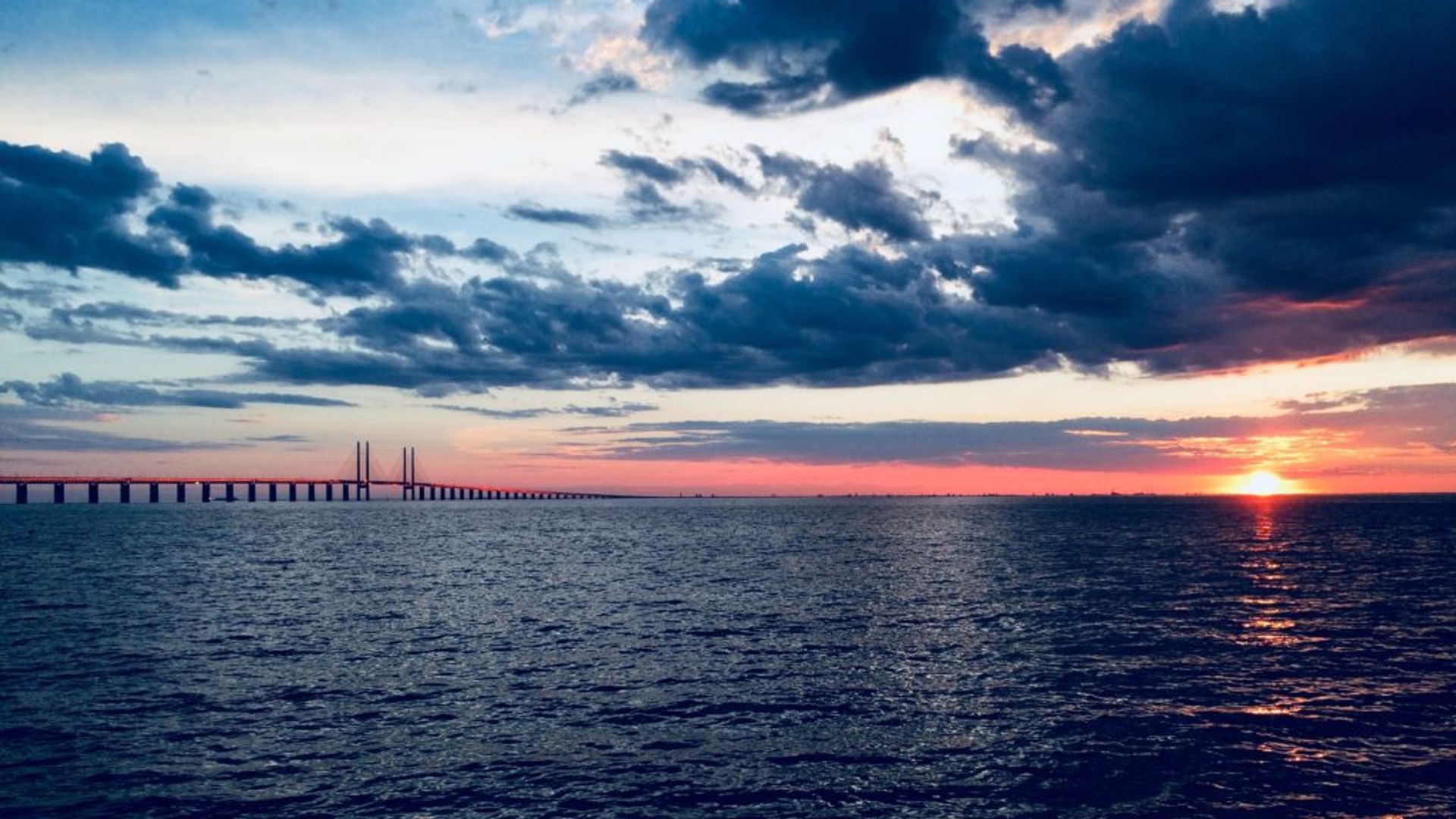 Malmö treated us with the most beautiful sunsets of the whole road trip and we enjoyed it so much there! Unfortunately, the Danish news (I did my Bachelor's in DK ↗️) are rather filled with negative content about Malmö. Thus, we were quite sure that we will not like it much, BUT we were so positively surprised that we stayed one additional night in Malmö!
Malmö is super multicultural. In addition, it has the perfect balance between old buildings in the centre and modern state-of-the-art architecture in the Western Harbour ↗️ district, for example. The Western Harbour is not only an examplary project for sustainable living. ↗️ Furthermore, it is home to Turning Torso, ↗️ which is Scandinavia's largest skyscraper and Malmö University. ↗️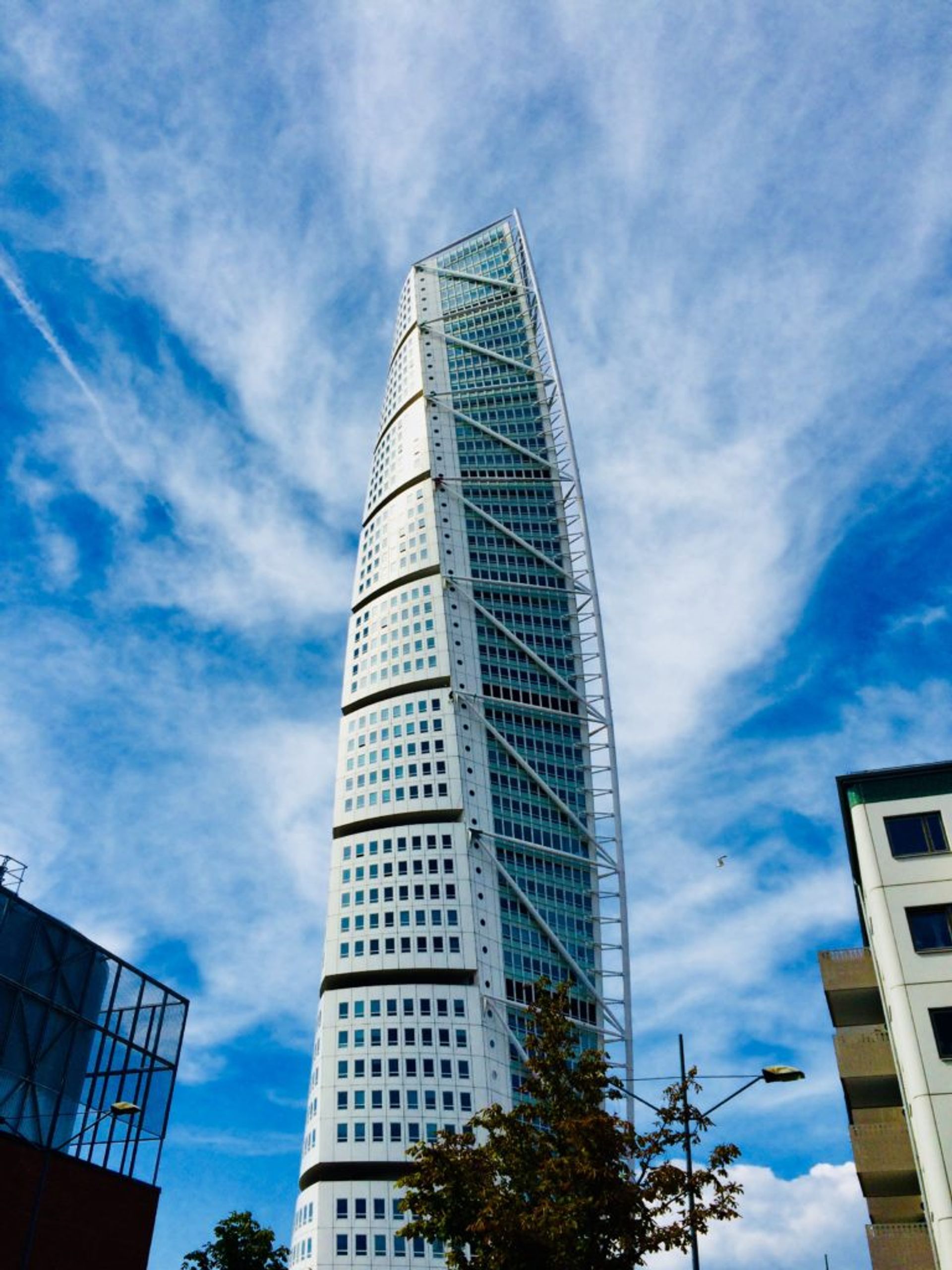 If you are wondering what fun activities you can do in Malmö, Coco has the perfect tips for you (and I fully agree with her). So check out her post!
Lund
You can easily reach Lund within less than half an hour from Malmö. It is a very pretty city with charming little streets and a huge cathedral ↗️ built in the 11th century as well as the historic Lund University. ↗️
THAT WAS IT!

I am glad you made it till the end of my itinerary and hope, it inspires you to explore Sweden on your own!
Personally, that road trip was the first time I ever went to Sweden and I never thought that the country's nature is so diverse. It really made me fall in love with Sweden. We had an amazing time during our road trip and saw so many beautiful places that I cannot wait for the next one to come.
Have you ever road tripped Sweden or discovered the ultimate spots that one should not miss when exploring this breathtaking country? Or do you have any tips for our readers for road trips in Sweden? Let me know in the comments further down!
As promised, you find all additional advice and information below.

Happy road tripping!

/Katharina
Packing list
A packing list can be accessed here. ↗️
Personal Advice
Be prepared for Swedish weather! Bring warm clothes and rainwear, but also plan a few SEK extra in your budget to be able to afford a night in a solid accomodation in case of rain, for example. Swedish weather is moody and changes frequently!
Take care of the Swedish nature! Only park, hike, camp etc. where it is allowed and most importantly: do not leave any trash behind!!
Be spontaneous! The only things we booked in advance were the ferry and the hostel in Stockholm. You are so much more flexible and will end up in the most beautiful places.
Choose your travel buddy well! You will spend most of the time together – sleep, eat, explore; so make sure you get along very well. This may include discussing your expectations from the trip beforehand: what do you want to see and do? How spontaneous is everyone?
Always have a few bottles or a portable & foldable water canister as a backup. Not only to stay hydrated, but also to cook or clean something in the middle of nowhere.
We spend quite some time hitting the road… If you follow my route, either plan a few more days or cut down the distance you want to cover. For example, only roadtrip along the West Coast for a week.
Keep Swedish speed limits and general traffic rules in mind! Fines are expensive.
Using highways is a lot quicker but also more boring and monotonous than taking normal roads. Choose well!
Look out and ask for student discounts, always!
In case it should not become a digital detox road trip, I can recommend cafés and coffee shops to get free Wifi.
Try to avoid groceries that need to be stored in a fridge unless you can cool them somehow.
In major cities like Stockholm, Gothenburg and Malmö, you can save a lot of money by exploring the city with your public transport ticket rather than expensive guided tours. In Stockholm and Gothenburg, even ferries are included!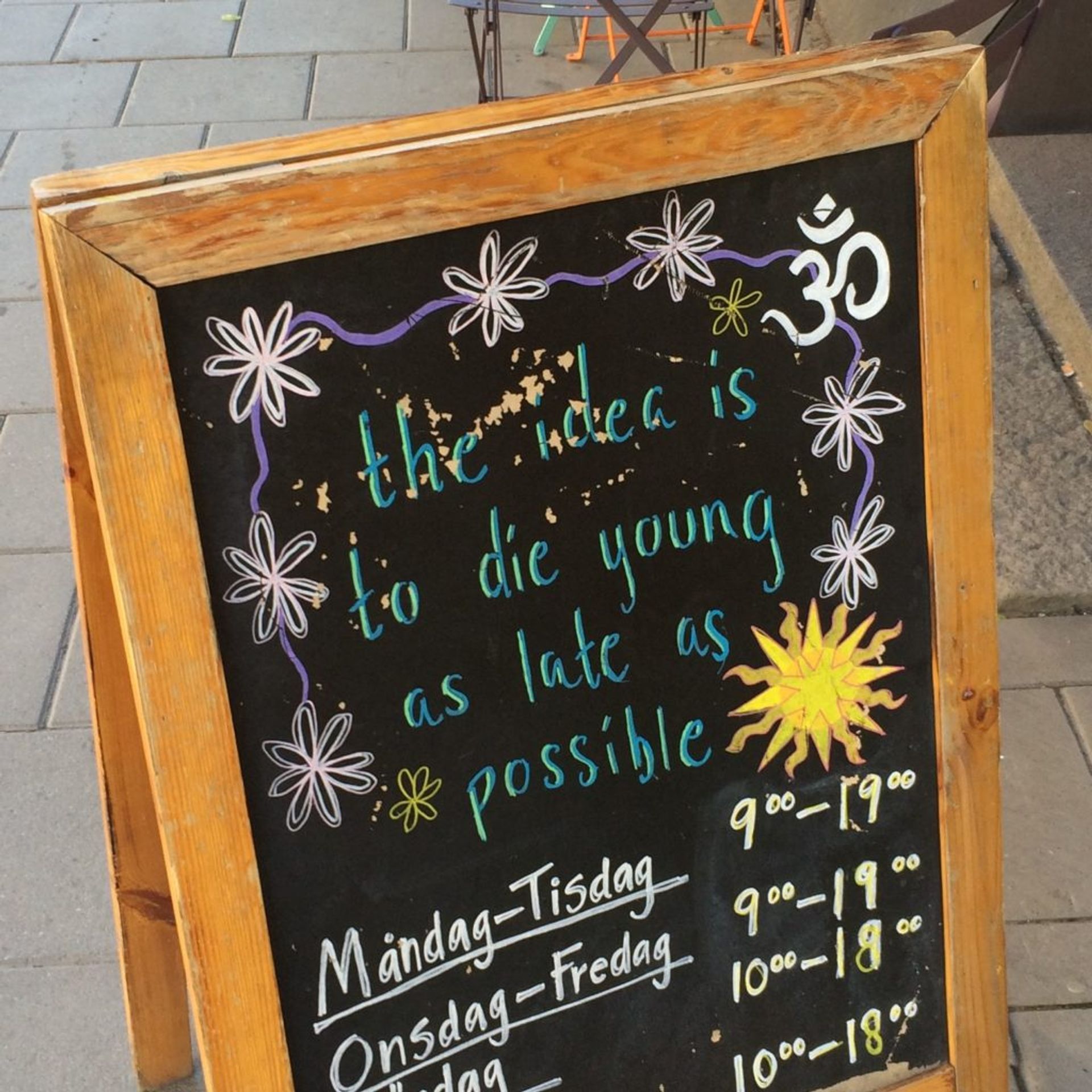 Places I would definitely like to add to my next trips
Useful links
Study in Sweden road trip videos
Study in Sweden made a few road trips last summer which were documented as videos! The stops were Abisko, Gotland, Stockholm Archipelago and finally, Österlen. Check our YouTube ↗️ playlist out as well:
Tourism offices – lots of useful information!
My personal failures of the trip
Number ONE:
While packing, my mum told me to take a navigation system with me, just in case. My friend and I only had very limited mobile data which we did not want to waste for maps/GPS. Even though I was afraid it might get stolen, I thought she may have a point.

Of course, I simply assumed that an entire Europe map is already installed. Well, let's just say: when we entered the metropolitan area of Stockholm, we found out it was not.

Hence, very old school we had to rely on road signs and a paper map during the whole trip. In retrospective, I can say that it worked out extremely well, even in Stockholm. 🙂
Number TWO:
I broke out tent after the first night. Made a very stupid mistake when putting it down… Fortunately, we could still sleep in it anyways, it just was not as high anymore as it used to be! 😀