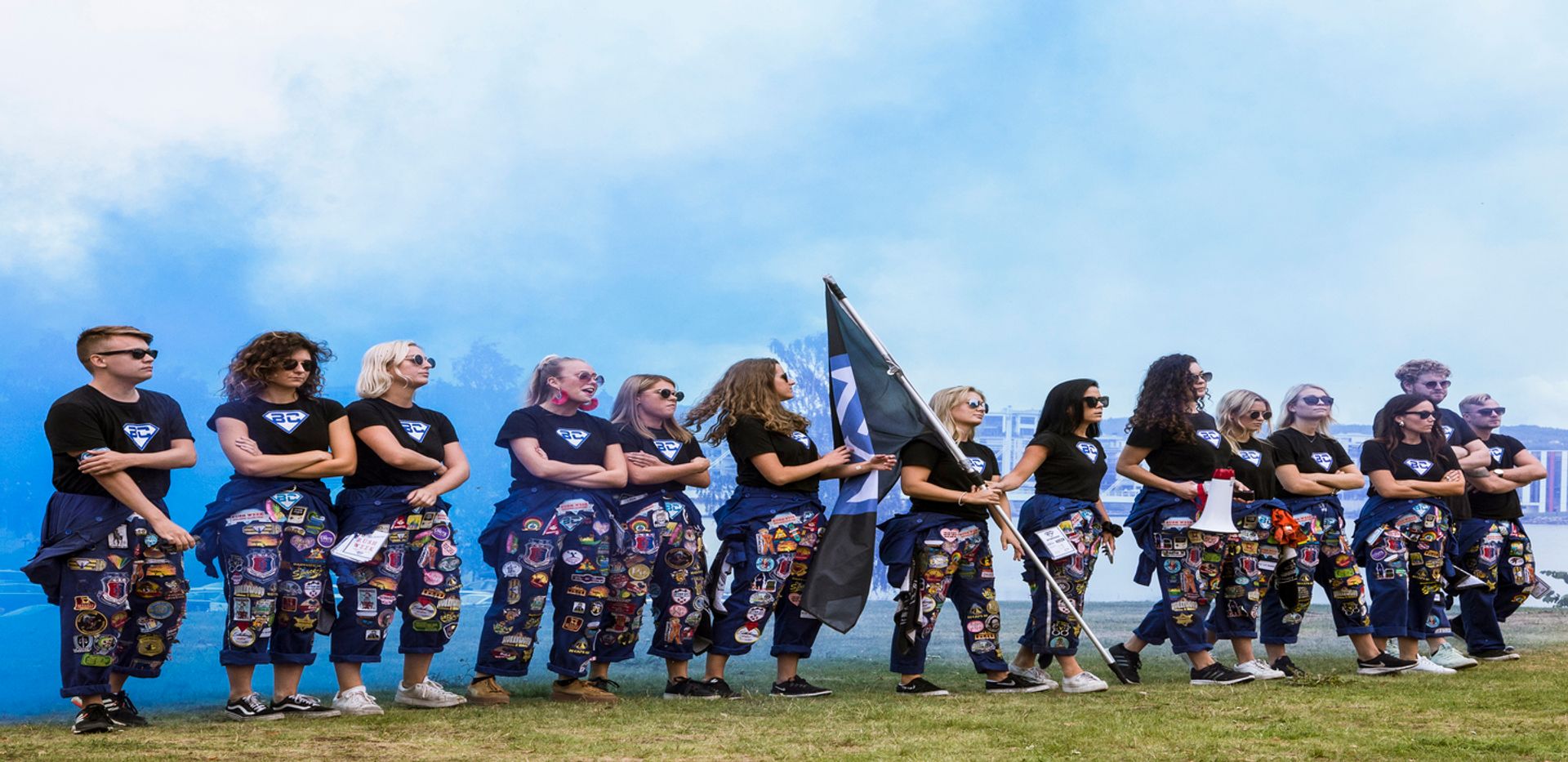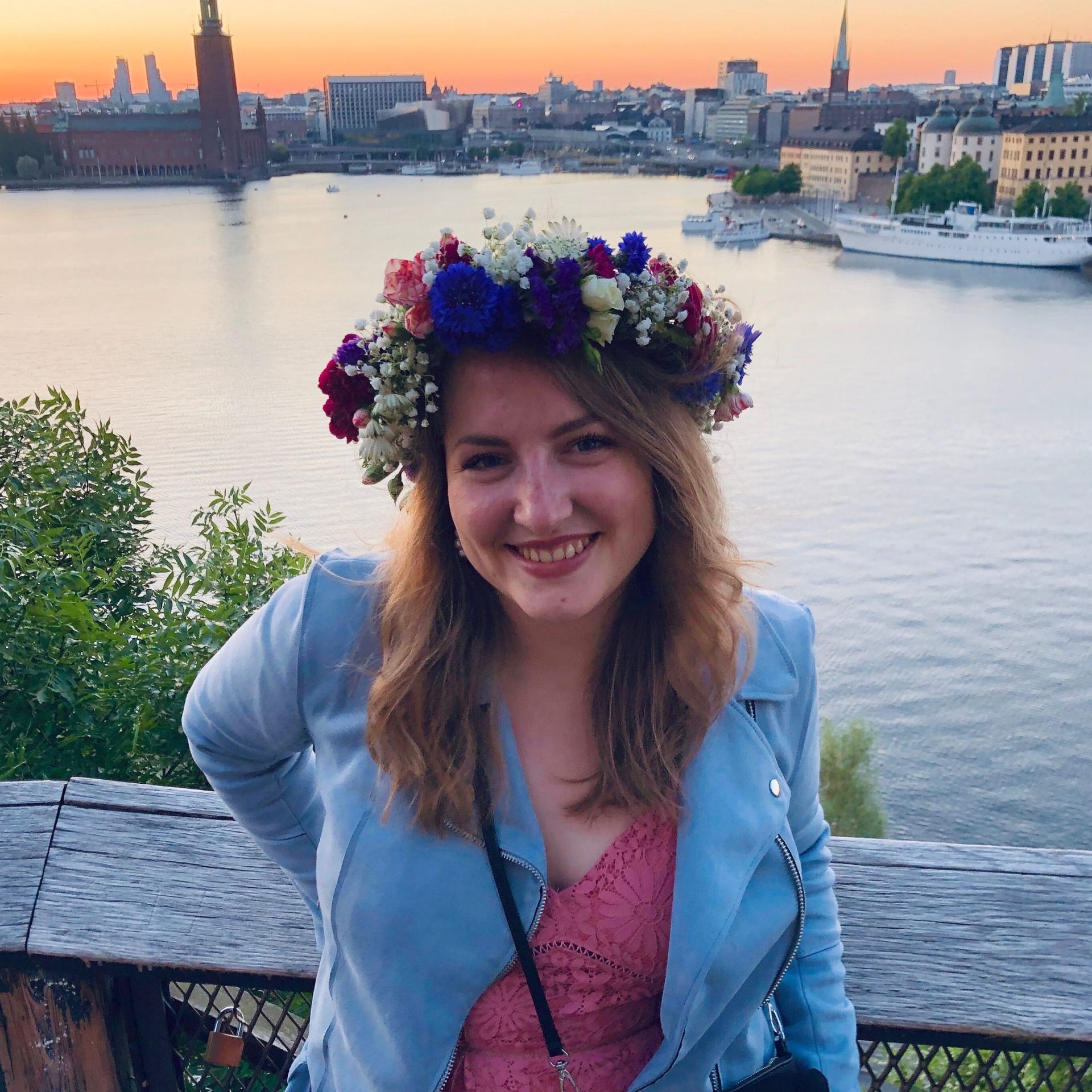 During my first day in Sweden, I saw a quite a few people all across town wearing colourful boilersuits. Some green, red or white, but mostly guys in yellow pants. Even though the colours differed, the one thing they all had in common was the (what felt like) hundreds of patches and a towel. But what is it with Swedish students and their overalls? Let's find out!
Background
Officially, the boilersuits are called studentoverall. However, most students simply call them ovve. The overall tradition traces back to the 60s and 70s to KTH in Stockholm from where it spread all over the country. From East to West, North to South.
Initially, the overalls were protective clothing during projects and excursions. Nowadays,  overalls are the ultimate party piece in some Swedish student cities. During the second day of our kick-off all Zeros (new students) at my faculty had some kind of baptism ceremony for the overalls. We gathered in a park and celebrated properly that we were finally allowed to wear it! From then on, we were part of something much bigger than our own little student bubble. 😀
The Practicalities
Ovves have to endure years of abuse, since the person wearing them is often to a significant extent under the influence of other beverages than water, juice or soft drinks… 😉 this leads us to the practicalities. Overalls are often made from thick, resistent fabrics, have pockets and could technically cover a person from head till toe.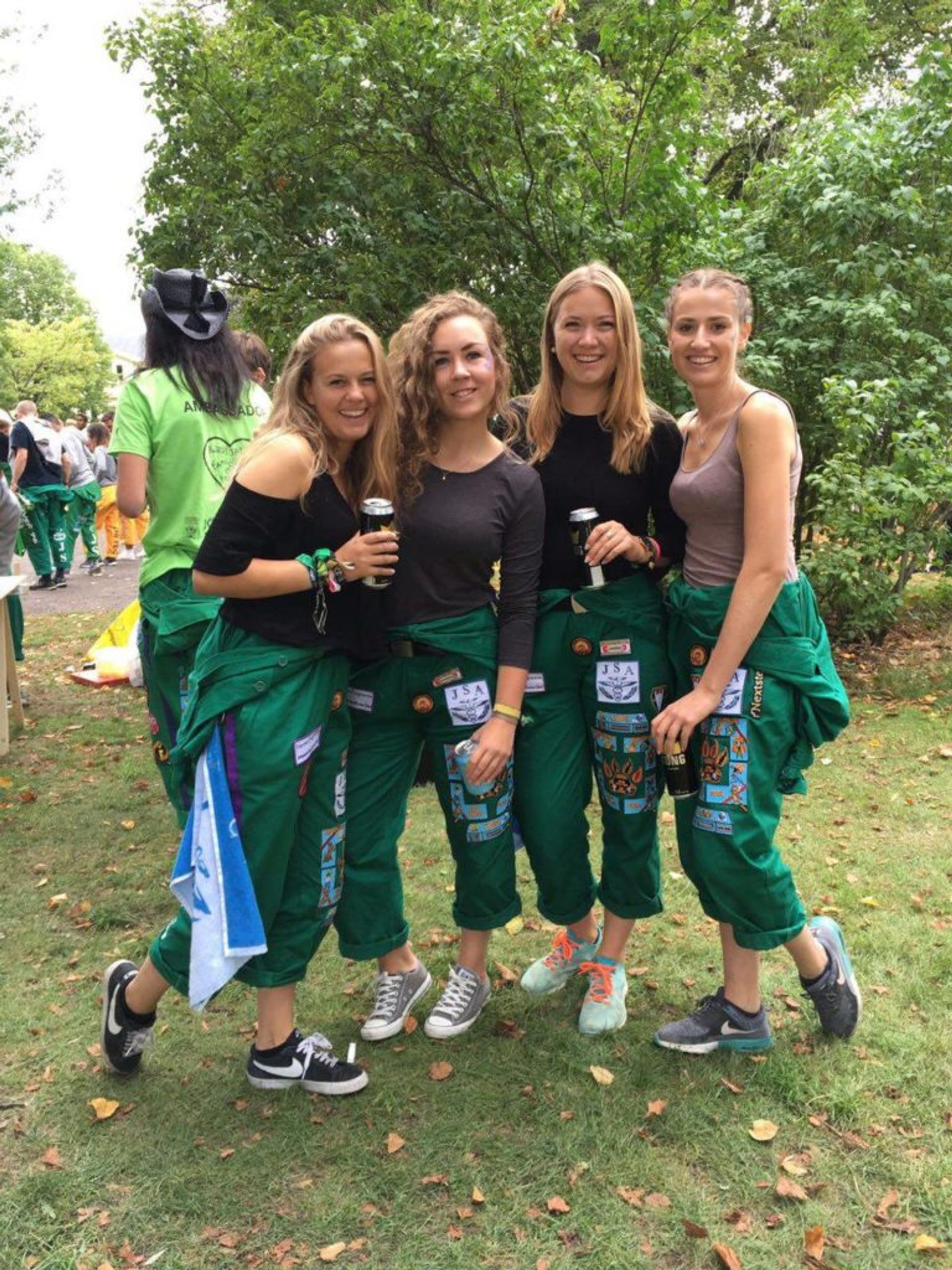 In Jönköping, we knot the arms of the overall so we gain some storage space for various utilities. You can store your jacket in the arms or a water bottle and who knows what else?! The pockets with zipper are often quite popular to store the important things, like ID, phone or keys. At JU, you also need to tie a towel to your ovve. This way you always have something to clean up, sit on etc. Furthermore, a small bottle opener is of course indispensable! The sky is the limit when it comes to adding other useful gadgets to your ovve…
Even though some faculties at Uppsala or Lund University as well as Chalmers or KTH have it too, I would say that Jönköping is among the institutions were ovves are the most popular. Here in town and no matter what time of the day, as soon as you see students in their overalls you know some fun stuff is going on!
The Colours
Studentoveralls come in different colours, depending on your faculty. You can check what faculty at what university wears what colour. ↗️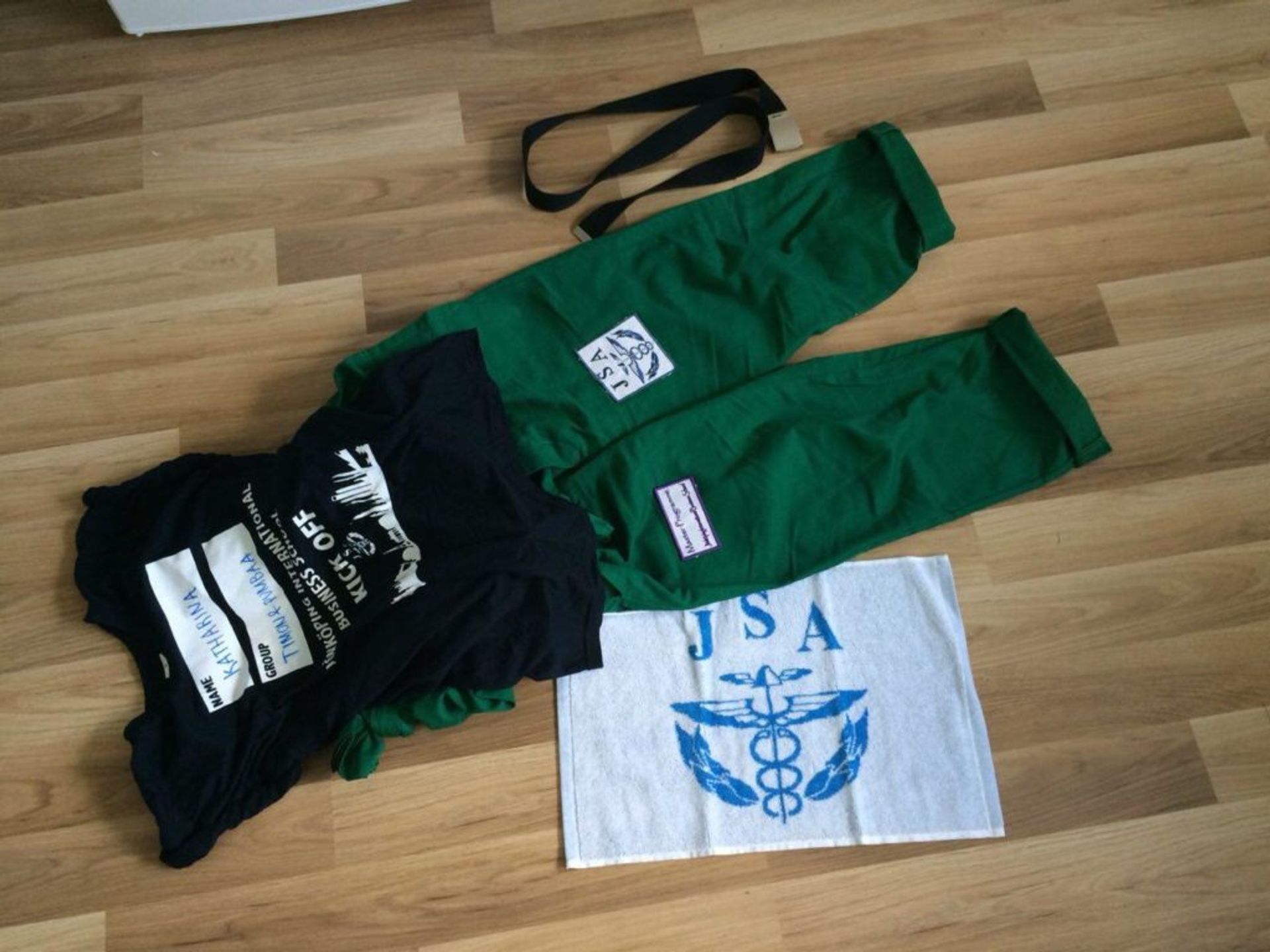 In Jönköping, we have the following colours:
White: School of Health & Welfare
Green: Jönköping International Business School
Red and Blue: School of Education and Communication
Yellow: School of Engineering
Grey: Student Union
Black: Qult Masteriet
Most pants are unicolour. As I study at JIBS, mine are green. However, some have their respective student associations logo printed on or the university's name. The most interesting part about the overalls are probably the patches and accessories. I'd say, overalls themselves are all quite unique – or at least I haven't seen the similar ones so far! Not considering our first day at uni when they were still blank though. If you see someone with, for instance, blue pants who cut of part of them on one leg and replaced the part by a different colour, check out what that means under rules…
The patches
Students love to spice up their overalls with patches.
You have to earn some of them by attending special events or become a member of a group, buy them, travel or exchange them. Patches are a hot currency on campus. Sometimes you get them included by signing up for an event, but quite many student assosciations also trade them to fund their projects, considered that a patch is usually around 20 – 40 Swedish Kronor (equivalent to 1.50 up to 4€). The number of patches also allows you to make assumptions about:
a) how long the person has been a student or
b) how social that person is.
Generally, it can be said that the more patches, the merrier!
Sofia's ovve
In that context, I'd like to show you some photos of Sofia, who studies at Jönköping University since 2015: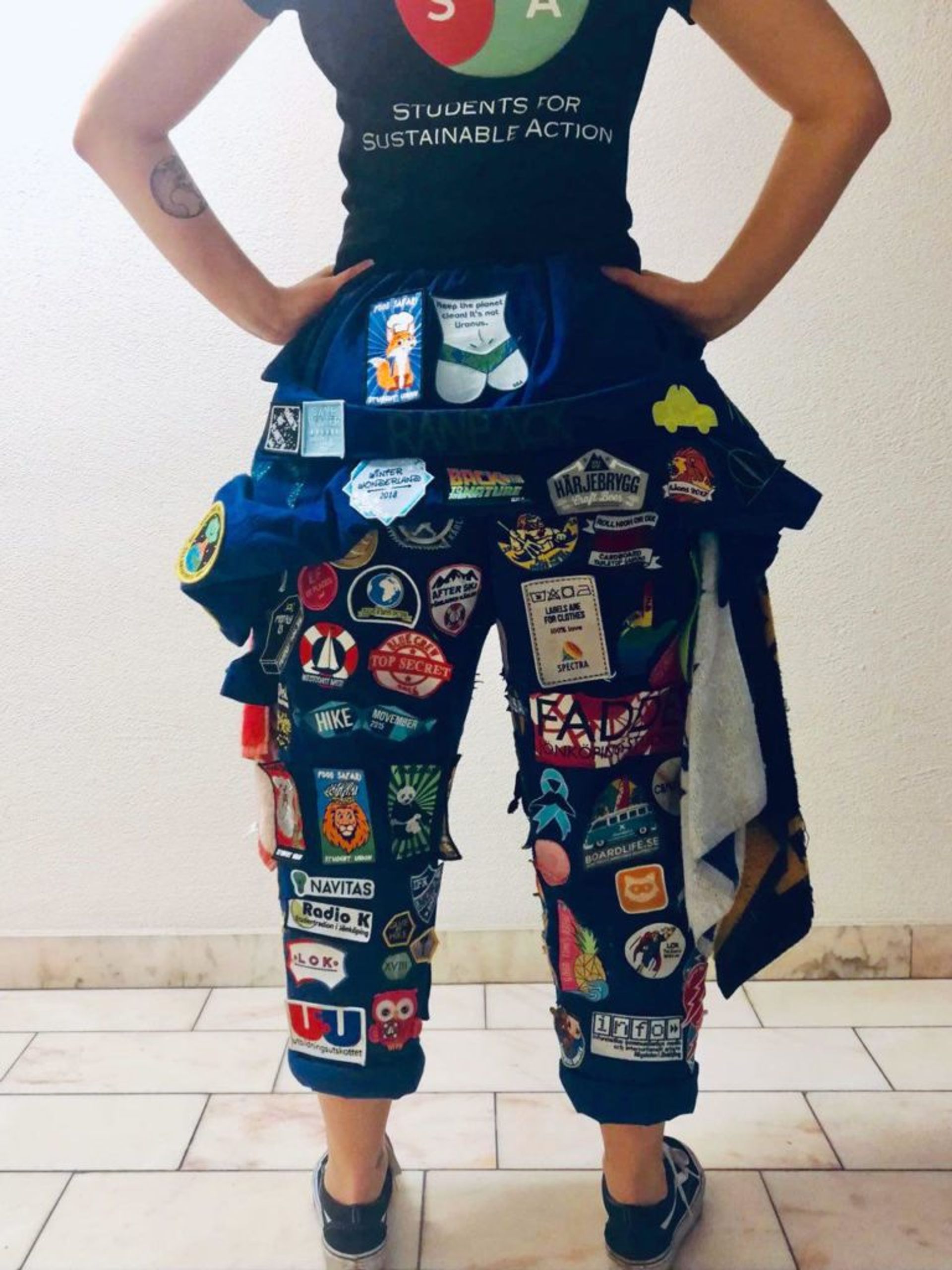 Taking a look at her ovve, you don't need long to see that she is not new to Jönköping's overall traditions as her pants are covered with tons of patches!
Talking of, now you might know why your ovve is likely to become the most expensive pants you will ever own as a student! Sofia might have swapped some patches with friends or people she met along her journey. Nonetheless, the amount of money she swished to get her pants covered is certainly not insignificant… 😉 To be honest, we did not count the exact number of patches, but Sofia sure as hell invested a small fortune in her lovely overall!
My overall
Below, you can see a picture of the status quo of my overall and well, I have collected some patches, but my ovve is by far not yet as expensive as hers! 😉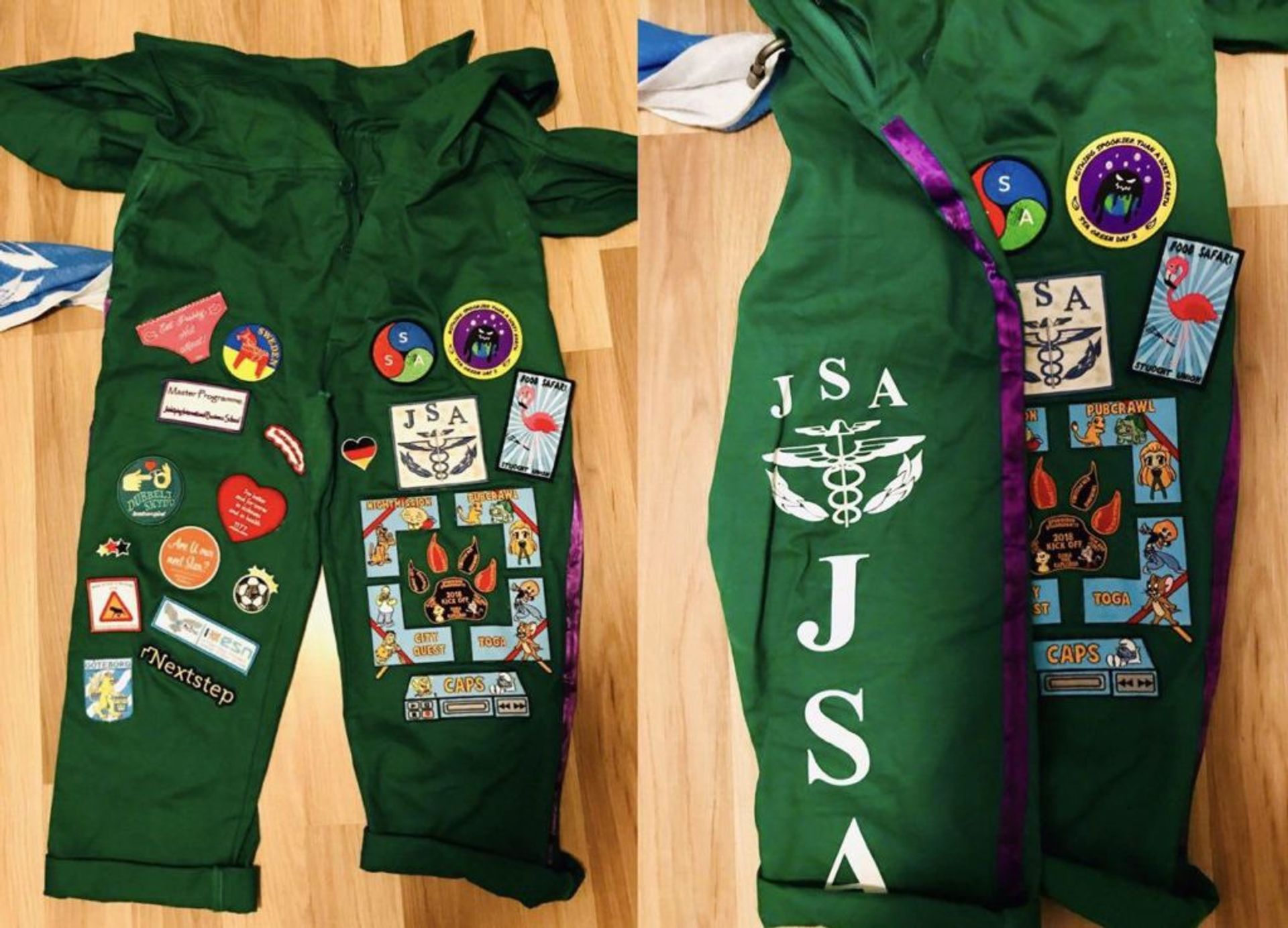 On my overall, you can see JSA (Jönköping Student Association, both print and patch), the purple lines indicate that I am a Master's student. Then we have the square and the paw from the kick off weeks showing the events we had. The Flamingo is from my first food safari.
I am a member of Students for Sustainable Action (SSA) and I have so far 4 pacthes from them. I have the pink underwear with a cheeky slogan and a red-white bubble saying Sustainababe. Moreover, I have red-green-blue coloured circle saying SSA and the yellow-purple circle with a monster from the SSA Green Day event. Last but not least, I have a few patches from fairs at uni, the municipality, Swedish cities I have visited as well as a Sweden and some Germany patches.
The main rules
There are 2 most important rules that every owner of an overall needs to remember:
1. You are never allowed to wash your overall unless you are wearing it while you wash it!
2. If you have exchanged body fluids with someone from another faculty, each one has to cut of a part of your overall's leg and add/sew it in the overall part of the other person.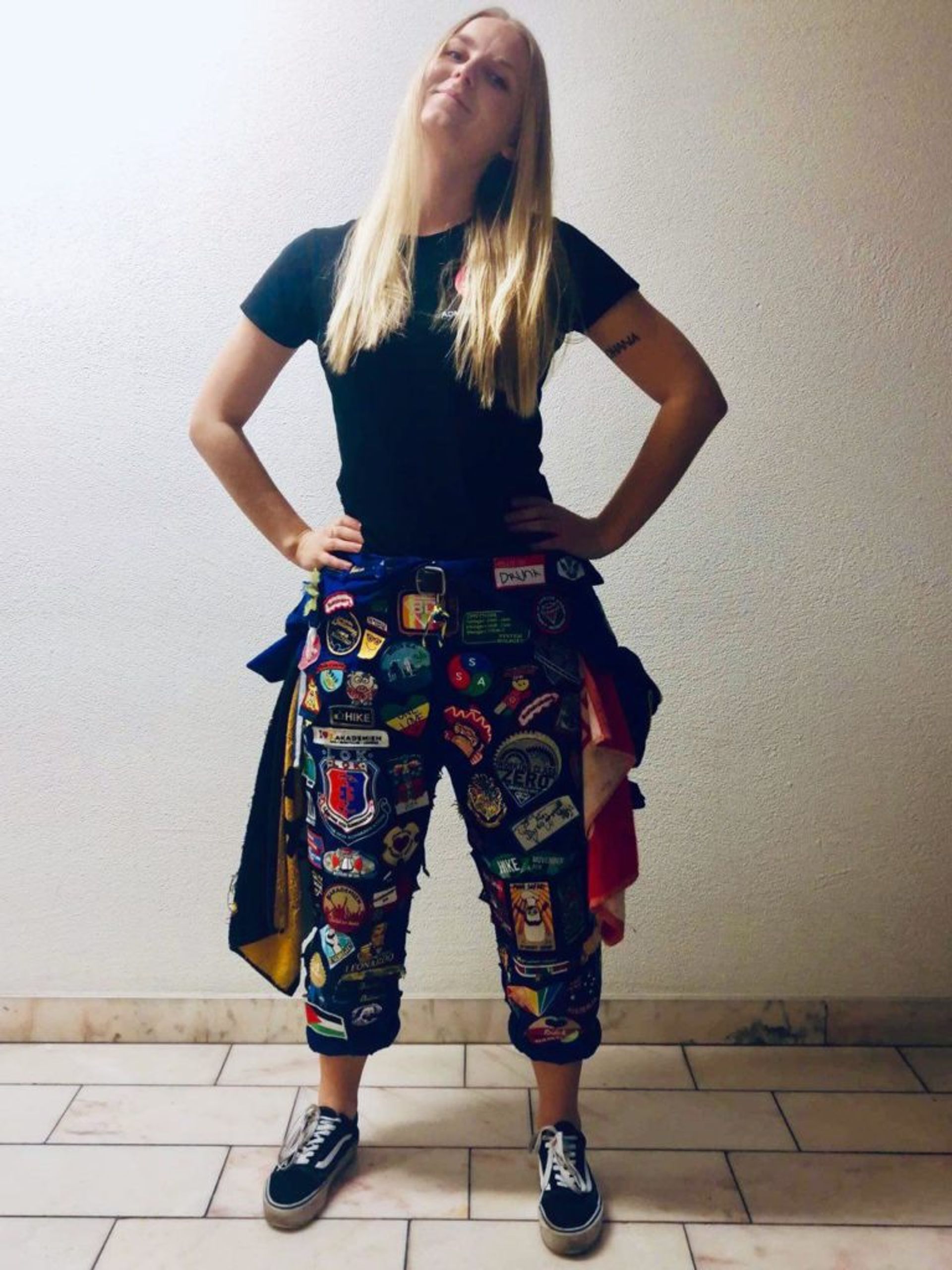 The feeling
Overalls are not only a great with of making people feel like a unit, like they all belong together, I also had the imporession that on our campus 99% of the students are extremely proud to wear them to almost every social event or when they go clubbing to the students' night club on Wednesdays. It is THE It-piece on JU campus! Additionally, I would say that overalls strengthen the bond between people and help to integrate newbies. For example, if you are new in town and maybe a little lost with some things, you know the people belong to our university and you can always approach them and ask for help!
Do you have an overall or another unique tradition at your university, too? Let me know in the comments below!
/Katharina