Moving to another country is always challenging, especially when it's sooo far from home. I remember when I said I was going to study in Sweden some of my friends and family were concerned about things like: Wouldn't it be TOO cold for you? Would there be other Latin Americans in Lund University? Will you get use to the swedes way of life? The food? You will not find plantains there (A Dominican essential hahah) And so on. I must confess that made me a little worried, Scandinavia sounded like such a big step.
But don't worry amigos, everything will be fine! Anyways, I don't want you to only hear it from me, so  before your journey to Sweden starts I asked three of my friends: Andres, Pamela and Thiago; about their experience as Latin Americans in Lund University. Now just keep calm (Can we Latin Americans keep calm? haha) and read along.
Andres, from Guatemala, is doing a master in Service Management; Pamela, from Perú, just finish her master in International Marketing and Thiago, from Brazil, doing a master in Energy Efficient and Environmental Building Design (Uf!).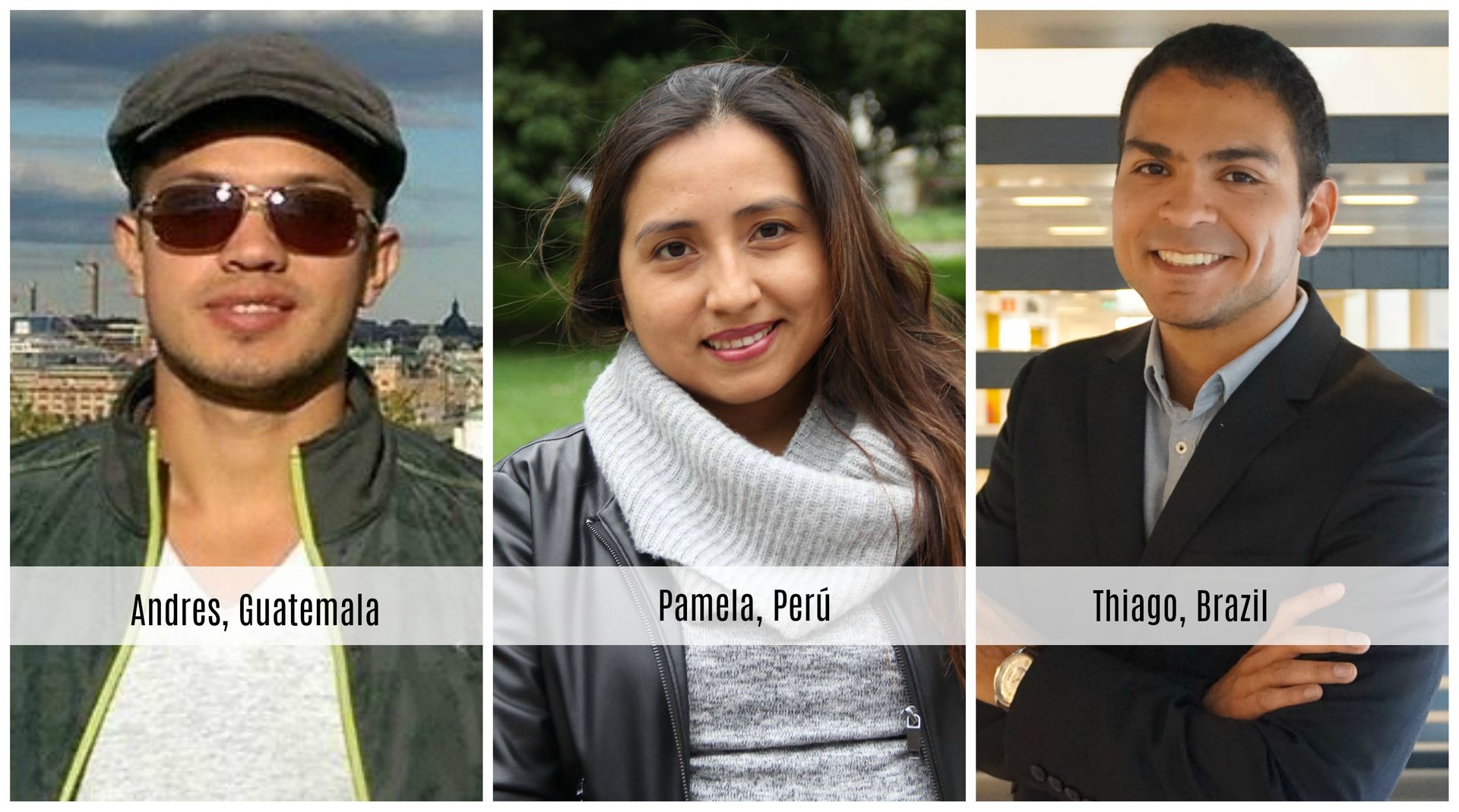 How your experience in Lund University and Sweden has been so far?
A: It's been amazing! By far one of the best experiences of my life. I'm happy that my program is two years (I would be sad if I had to leave now). Also, I am very happy and proud to be part of the history of Lund University. Sweden is beautiful, I would only ask for more sunny days haha!
P: Full of new learning and adventure. I have enjoyed that my classes have been a combination of theoretical and practical learning by discussing business cases and doing group work with people from different nationalities.
T: The courses fit my aims in the best possible way. Also, I've become part of an incredible network of international students, which provides a great opportunity for an amazing cultural exchange. Moreover, Sweden provides a high life quality due to its egalitarian society and its balance between work and leisure.
A: Getting to know so many people from all over the world and becoming friends with. I have friends from literally every country in Europe which is amazing!
P: Swedish education is very horizontal oriented and therefore students can easily talk and discuss with professors in a very friendly and informal way. Additionally, Sweden has a special focus in innovation and sustainability which can be seen in the different areas of their education system and their culture.
T: The connectivity between the university and the industry. The professors bring everyday situations that they face while working in real life projects.
A: The quietness of Swedish towns, funny enough it can be too much at times. Swedes embrace their personal space and independence a lot. I would say that for a Latin American it's quite shocking, but one should not be offended. It's just a different approach to life compared to our family-based Latino societies; however, there's good to learn from both ways of living so it's become a learning lesson more than anything else.
P: I was enrolled in a one year master program and it concluded with the elaboration of a master thesis in a period of ten weeks. I could say that the writing of a master thesis in such a short period was the biggest challenge for me.
T: Work constantly in teams. Nevertheless, this working model pushes you to developed not only technical skills, but also cooperative abilities, which are vital characteristic demanded by the job market.
A: Unfortunately, yes, but it's not the norm. I think we should all agree that good and bad people are everywhere and will always be. Nonetheless, I would dare to say that as a Latin American I have never felt safer and relaxed at any time of the day; Swedes don't mind other people's business – your physical appearance, hair color (even if it's green), tattooed, pierced, etc. which is great!
P: No at all! Indeed, most of Swedish people speak very good English and that helps to easily communicate with them.
T: Never.
A: Come ready to have the best time of your life. Expect to be surprised by the Swedish way of living, but don't panic…it's all good! Meet as many people as you can, but make sure you keep a solid group of friends around, people who will lift you up when you need it, as you will always go through difficult times while living away from home.
P: Start to learn Swedish since you arrive. It really could help you to get internships or jobs after you graduate. Invest some of your free time in preparing in advance for the next classes. Also get a bike as soon as you arrive, Lund is a cycling friendly city; and, travel as much as you can, if you are studying in Lund you will be able to explore the beautiful landscapes and sea coast of the south of Sweden.
T: Sweden has a lot to offer in terms of life and study opportunities. Due to its well-structured and organized society, it's easy to move around and people are always willing to help, so since my arrival I haven't faced any difficulties. On the other hand, the winter season could be quite dark and rainy, so a bit of resilience might be demanded to go through this period of the year.
A: Bring only your "non-negotiable favorite clothing items" haha by this I mean, don't bring options, bring just the clothes you do wear, love and feel comfortable on. Swedes dress nicely every day and wherever they go, something I believe is very good to learn as I'm used to go out in sweatpants and t-shirt sometimes if I feel like it
P: Traditional cooking ingredients from your country so that you don't miss it so much. Also get some typical souvenirs from your country that you can share with your new friends here.
T: Warmest clothes possible, although keep in mind is all about wearing many layers, and even when is cold outside, inside the buildings is always warm! Oh, and don't forget all the good Latin mood.
What other questions do you have? Let me know in the comments 🙂 even if you are coming to another university or are not from Latin America the questions and answers still are very similar! (Anita wrote a whole series about coming to Sweden: African Edition, check it out).
Also, for the other Latin Americans in Lund University or Sweden in general, please share your experience (challenges, advice, etc.) in the comments.
I can't wait to hear it all!
/Ivanna