Hej Hej fellas! This is going to be a short write-up as I am extremely busy with my thesis work. Apart from that, I have been travelling and managing my work with various organizations. So as you know from the amazing instagram and blog posts that we recently have been to 'Sweden's Hawaii', also known as Gotland, we had one of the most amazing meeting and weekend! Did lot of crazy stuffs, felt and loved the nature and munched some Gotland-ic cuisine. Apart from that, we met some very friendly local people who showed us around, played some treasure-hunt like game and explored the history of this small but beautiful island. So what did all these teach me?
Lets have a look!
There is more history to Gotland then people think – Courtesy to some very informed and friendly locals, we got to learn about the interesting history behind Gotland's numerous churches, their history regarding war and peace, their economy and how they lived their lives. You will also see a reflection of it in the old architectures, buildings, churches and roads. I recommend you surely take a dig into this in Google and read up more about the island's past!
Staring at the clear night sky bring immense peace – Well, it might be a bit clichéd but living in city centers we hardly get to experience the true beauty of the diverse sky above us. Especially when it is clear like in Gotland, you will be a mesmerizing view of countless stars brightly shining millions of miles away. Sitting and staring at them can be a fulfilling experience in itself. You do nothing yet at the same, you do a lot of things that makes you very connected to nature.
Sometimes calmness can be very re-assuring – Gotland, with only a population of around 60000 people, has ample spaces where you will most likely find yourself alone. By that I mean, if you take a walk out or a jog near the sea, you will feel that the composure of the surrounding will give you a lot of comfort within yourself. You will feel more connected to yourself, in addition to getting fresh air and getting your body some exercise. Sometimes spending time with yourself is the best thing you can do in such amazing places.
Gotland is birth place to many famous people – Yes that's true! A very famous Swedish film maker comes from this island along with some other well-known personalities. They have their own house there, which are mostly turned into museums now that you can visit and relive their accomplishment and feel proud of what they have done. The Gotland-ic people are very proud of it too and it also makes them stand out from the other big cities, but in their own ways!
And finally…
Riding a horse!!! – I know. You will say, 'pic or it didn't happen'. So here you go…

😀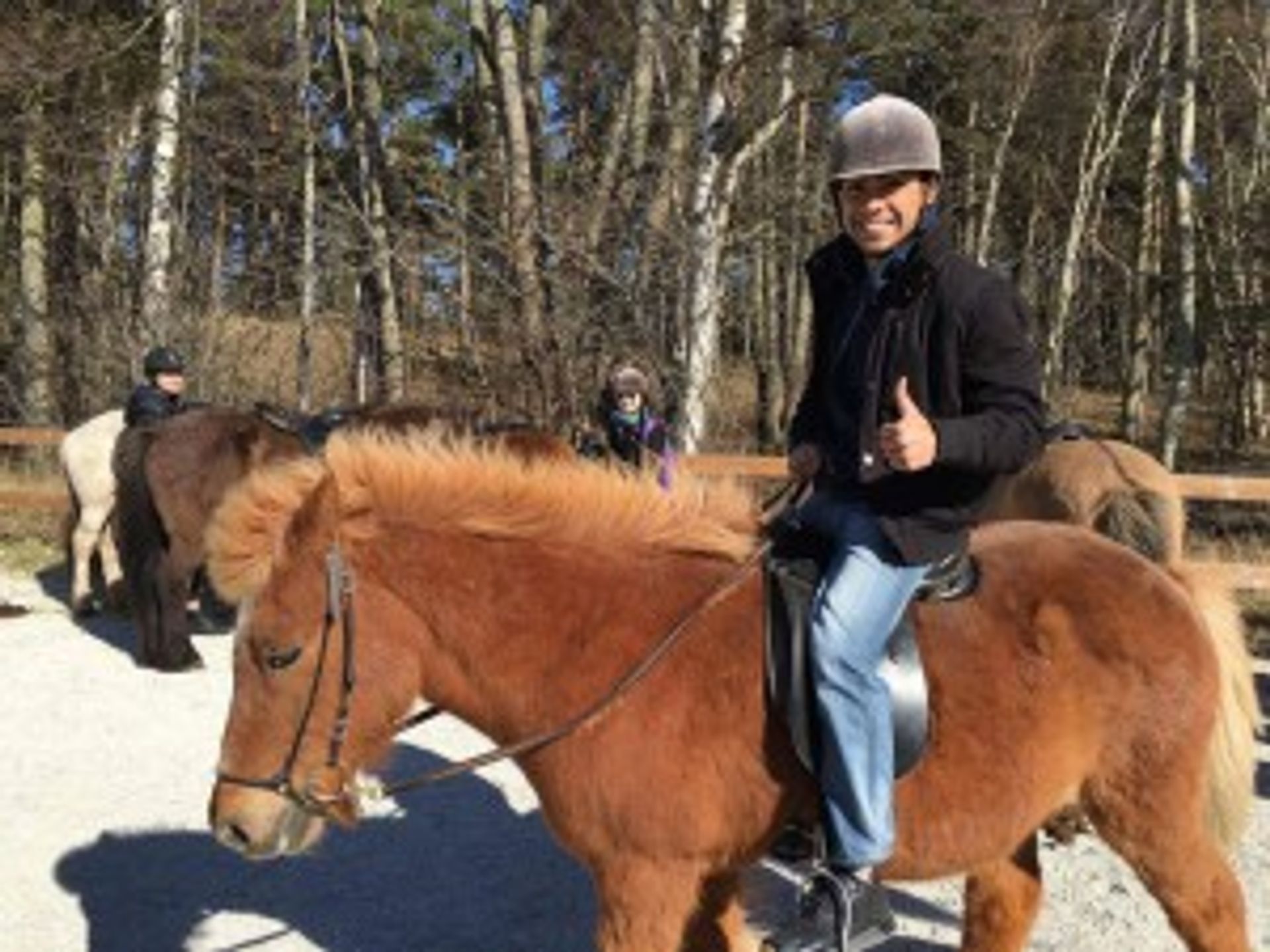 So until next time…Adios people!