Considering a master's degree but not sure where to pursue it? How about Sweden?
You have until the 15 January to apply!
I had thought about Sweden for a couple of years before applying. I was fascinated with the fashion, the music and had heard nothing but praise for the country. 'Oh they know how to do everything right in Sweden; Scandinavians are some of the happiest people in the world!' When I discovered that they offered biology master's courses at Uppsala University, it seemed obvious that I needed to apply. Uppsala is perfect since it's a large city with the personality of a sleepy village. You can go from the urban high street, though the river and to the forest within a ten minute bike ride. For those who desire a more upbeat faster pace of life, Stockholm is 35 minutes south on a direct train from Uppsala central station. The main airport for Stockholm is also located closer to Uppsala than it is to Stockholm so you really can't lose here! Oh and if you're under 26, SAS airlines give you heavily discounted fares. Being a student in Sweden is pretty ideal!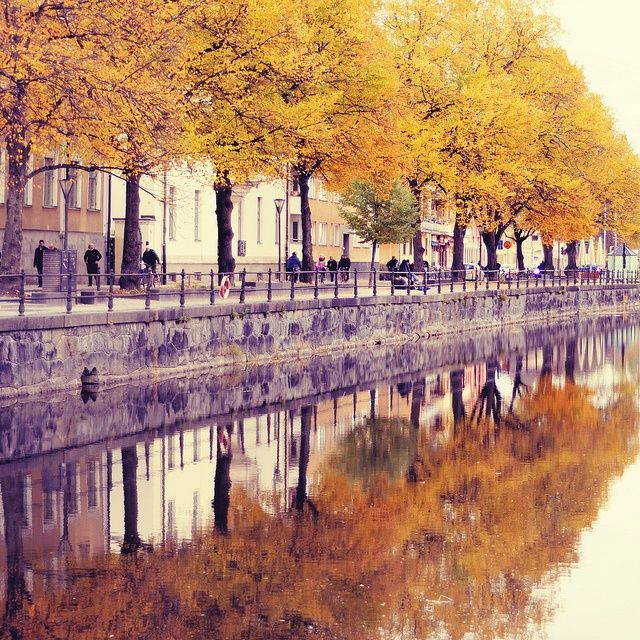 River Fyrisån – sit by the river with a coffee and a kanelbulle (photo: flickr)
Having previously studied for a BSc (Hons) in Biomedical Science, I decided that furthering my education would not only allow me to develop what I'd already learned but also to specialise in a field that particularly interested me. Not only that, I am living in a new country, learning a new language and embracing the experience of meeting people from all over the world. With that, I was accepted onto the MSc Biology 2 year masters with focus on Immunology and Infection Biology. At first the thought of 2 years of further studying terrified me. Back at home, most study a 1 year masters and then they're done. However, with my course, I am able to take 60 ECTS of taught modules and a further 60 ECTS of research training and internships. Although you are responsible for organising your own internship, Uppsala University help guide you through this by inviting companies and businesses to organised events so that you get to meet potential employers. Studying abroad provides you with so many opportunities that you may not have been able to have had you stayed in your own country. You enrich your CV whilst getting the chance to meet new people from all over the world.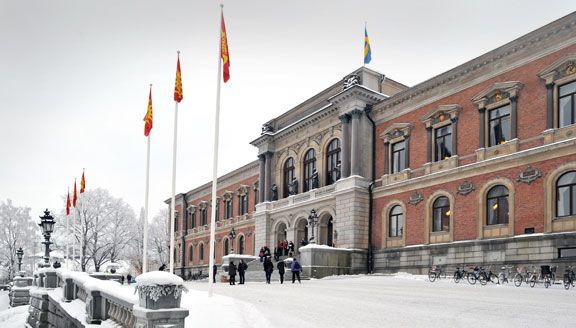 The main university building in winter – oh so pretty! (photo by Student Exchange)
With my course in particular, I am able to tailor my programme to my needs. In many masters, it is possible to pick your own modules so that you can graduate with skills in the areas you're interested in. If anyone is interested in life sciences, I definitely recommend Uppsala. According to the QS World University Rankings, Uppsala is the 41 best university in the world for biological sciences. This is the highest in all of Scandinavia with regards to this subject area so it's good to bear that in mind!
Oh and did I mention that this place is absolutely beautiful? There are students everywhere so you're never short of having people to enjoy this place with. Uppsala University has 13 nations which all provide their own clubs, societies and nightlife so you have no excuse to be bored!
If being so far away from home gets to you, student housing provide internet connected to the university system so you can always skype home very easily (might I add that the creator of Skype also went to Uppsala!). Anyway, enough about that! If you're interested, please visit this site if you're planning on applying. Just create an account and select the courses you're interested in: https://www.universityadmissions.se/intl/start
(Cover photo by Michael Cavén)