I'm back! Apologies for the small hiatus but I've been busy you see. Since I haven't posted in almost 10 days (yikes), I'll update you on what's happened.
After the horror that was my exam, I went out to celebrate with my friends. Since Halloween festivities always begin early (just like Christmas), we decided to go out a week before Halloween. Me and my friend Claire popped by the fancy dress shop in Uppsala, stocked up on (pricey) face and hair paints and cycled home to prepare. Little did I know that I would be the one painting everyone's face that night, but I didn't mind. Since I have a GCSE in Art, everyone agreed I was probably the most qualified to do this; little did they know, I got a C.
Anyway, I began with my own face, a spooky pumpkin. The orange paint made me look like a yellow cheese puff, but a little dab of black around the eyes and a touch of eyeliner I eventually began to resemble a pumpkin. Then I began with John and Claire who wanted to be skeletons, this wasn't too hard but it's rather interesting to see how they both reacted differently to having eyeliner applied. John seemed genuinely terrified to have anything that close to his eyeball, but Claire took it like a pro. Boys, you have nothing on us. Then Davide wanted to be a sloth. Lord knows what a sloth has to do with Halloween, but he seemed adamant so we made him into a lovely spooky sloth. Basti came over with nothing particularly in mind so we made him into a mime, not bad for improvisation. We also met Laurence at his later for drinks and as you can tell, he also wanted to be a sloth, but after some wine, I believe I may have forgotten what to do, and well, he quite simply looked like a child's drawing. Nightlife here is so varied. All of the student nations have their own events so whether you're into dance, rock or R&B, there's something there for you. We went to a nation called 'Snerikes' which we're all part of. They have a bar downstairs for those who want to talk but there are more rooms with R&B, Dance and cheesy euro pop (my favourite).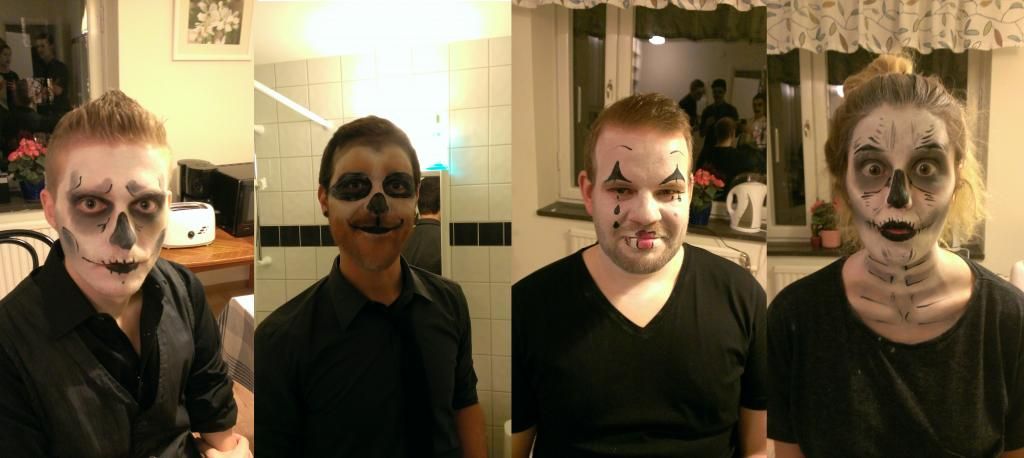 From left to right: John, Davide, Basti and Claire
So I went back home to England for a couple of days, my timetable was a little empty that week and I had free time so it seemed obvious to take a few days to visit my parents and boyfriend. When I left Uppsala on October 29th, I hadn't seen any decorations anywhere but as soon as I arrived in Newcastle, the shopping centres were covered already! People tell me that the brits love Christmas but I didn't realise this until I moved away. So of course, as one must do during the (nearly) Christmas period, you have to shop! I found a couple of amusing hats that my mother unwillingly offered to model. She also told me she'd be unhappy if I put pictures these on Facebook. I did stay true to my word; I put them on my blog instead for even more people to see aha. Prior to this we had a lovely afternoon tea but they gave us so much food that we felt as though we were waddling our way around the shopping centre. Although I live in Sweden, being in Europe allows anyone to travel freely without restriction. It was possible for me to finish class in Sweden by 12pm and be home in England in time for my dinner 8 hours later. This just goes to show that even if you move to Sweden, you are not restricted to staying in Sweden. Since, it's possible to fly from one end of Europe to the other in under 6 hours; you can visit countless other European countries whilst staying here. Many students from outside of the EU take advantage of this opportunity since flights are often so cheap!

From left to right: Tea time!, the most awesome hat ever and evidence of the Christmas hype beginning in October!
Before my trip back to Uppsala, I, my parents and boyfriend went for a Sunday dinner down at the beach. They all had a Sunday roast and I had fish and chips. I made the most of the large healthy meals I was getting since I get lazy living on my own and sometimes substitute chocolate for meals… my boyfriend James posted out a giant box of Cadbury's chocolate out to Sweden for me and I'm ashamed to say that I'm 65% of the way through finishing it.
I was back in my bed in Sweden by 2am this morning and in class at 1pm. Now I'm sitting waiting for my Swedish class which is offered free to all students. Although it was nice having a break, I'm ready to work hard again (so I hope) in the final push up until Christmas. It's supposed to snow tomorrow night so I guess this is where it begins… the Swedish winter.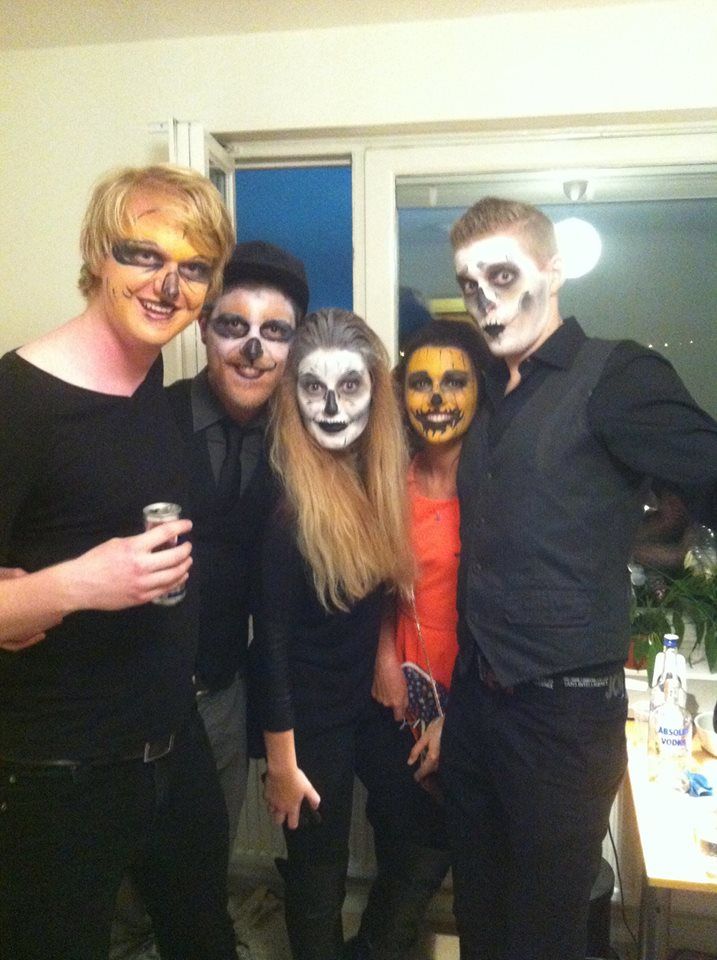 All together!