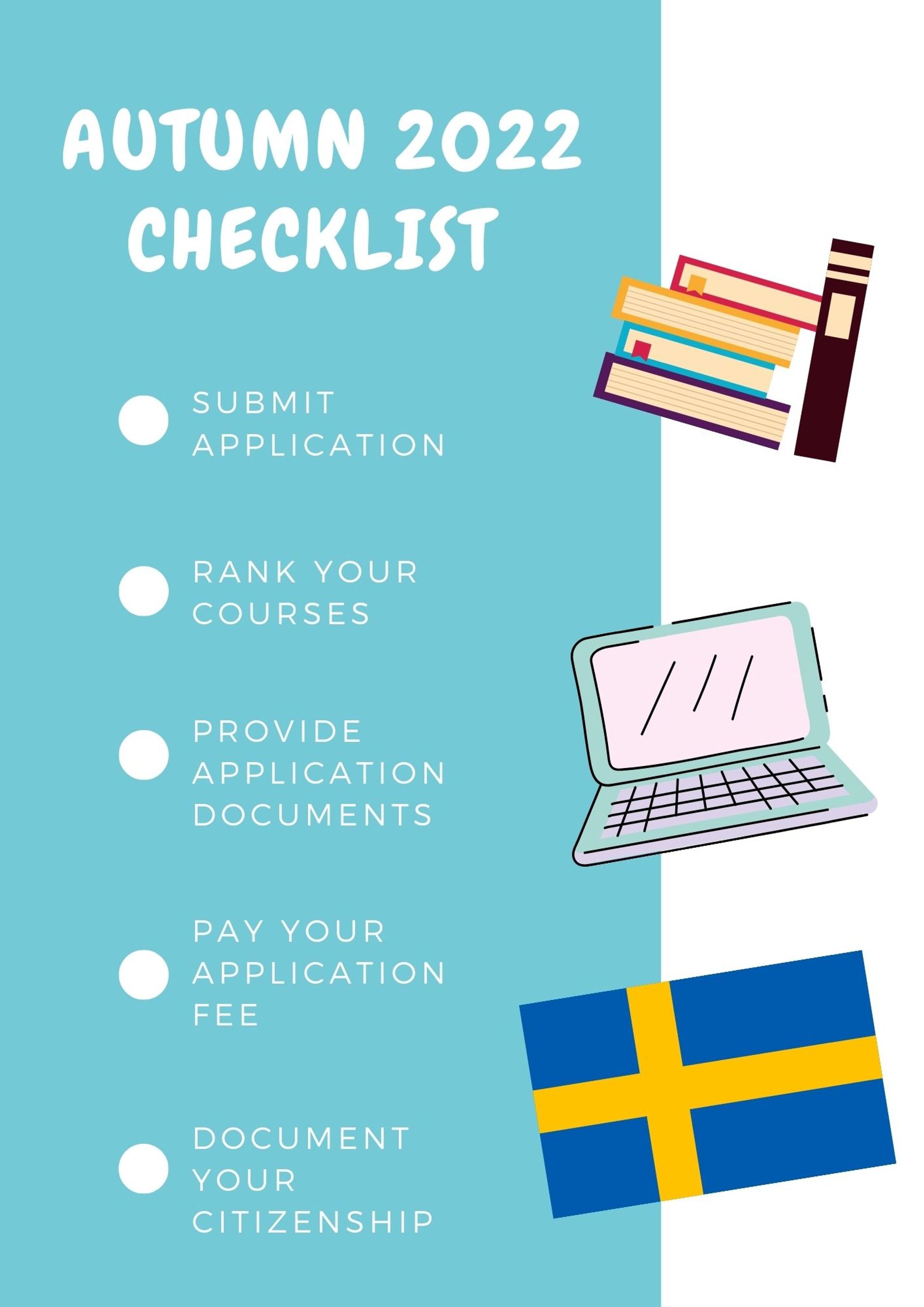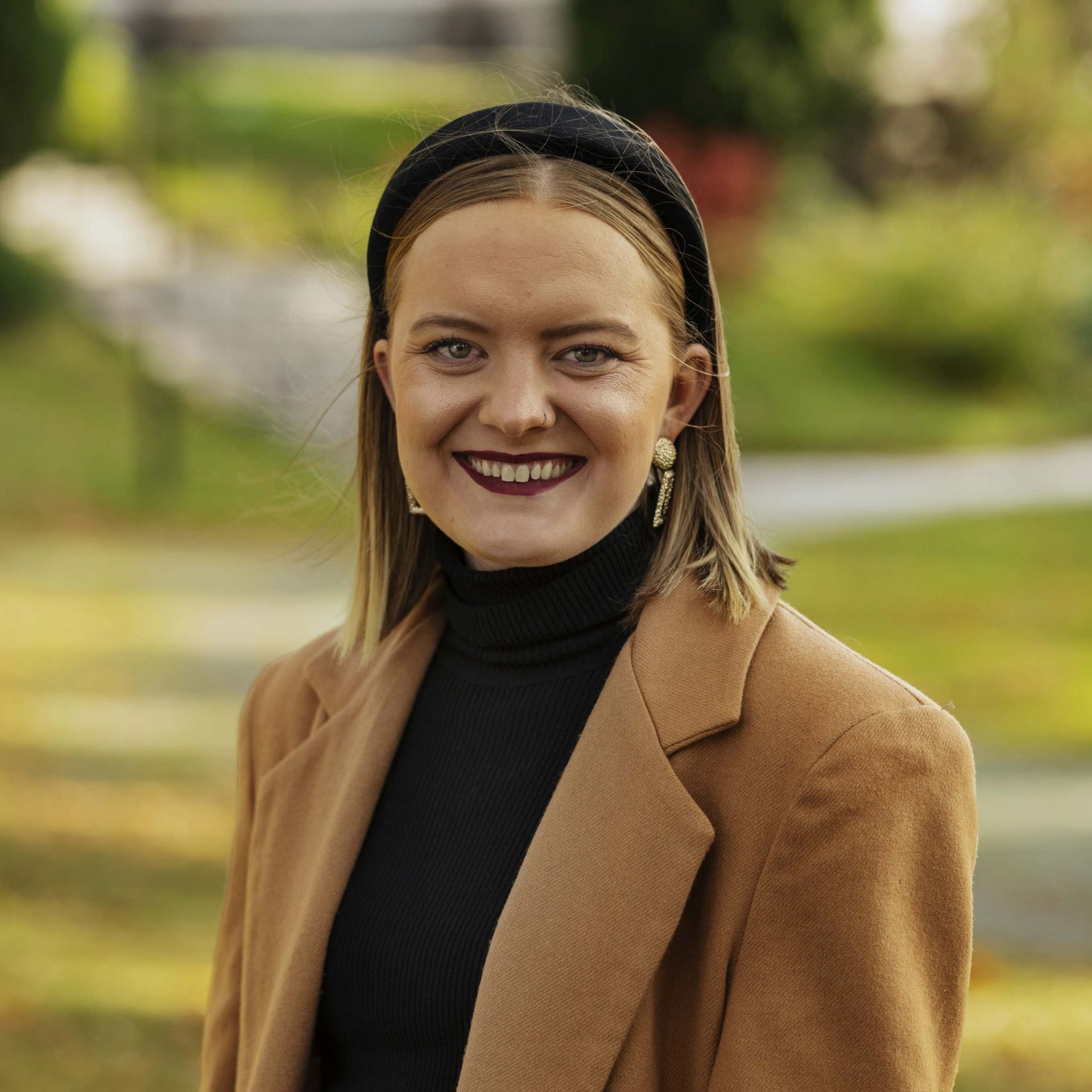 Are you feeling overwhelmed by the applications and the looming January 17th deadline? This post is dedicated to the overwhelmed, stressed, and nervous applicants that are getting their things together in order to apply. Read through this blog post and see if you have everything you need! (Information from universityadmissions.se)
Submit your application (Due January 17th!)
To get started with the application process, you must submit an application first. You can select up to four masters programmes to choose from.
Rank Your Courses (Due January 17th!)
In Sweden, ranking your selections is important as the program you ranked the highest on your list is the one you'll first be considered for. If there is room for you in the program then you'll be offered a place and the other programmes on your list will be deleted. However, if you are not offered a place in the programme that you ranked first on your list, then your second choice will be looked at, and so on. You can only be offered a spot at one programme. University Admissions suggests that you rank the programs as you'd like them before the deadline on January 17th. You have until the deadline to change your ranking and can select up to four masters programmes to rank.

If you want to change the ranking or add/delete courses after the deadline then you can then delete courses/programmes and add them back to your application with a different rank or add courses and programmes and place them anywhere in the ranking order. It is important to remember that if you do this then your application will be considered a late application and will be considered only if there are places still available after the admissions selection. Finally, if you want to delete a course or programme from your application then you can do so up until selection begins for the application round. This is usually 3 days before admissions results are published.
Provide Application Documents (Due February 1st!)
Regardless of what country you're from, all applicants must provide documentation of your previous studies and proof of english proficiency. For previous studies this documentation looks like your complete degree and transcripts with courses and grades. To prove your english proficiency some applicants can meet the requirement from previous studies (like a bachelors degree in english language) and others would have to submit english test results.
In addition to showing documentation for previous studies and english proficiency, the university you are applying to might also want additional documentation. To find this out it is advised to go to the university's website to see if you need to submit a CV, motivation letter, references, or other documentation. You can easily find a link to the university's course/programme page on the application section of your account at universityadmissions.se. It is advised to not submit additional documentation not asked for as they won't be considered and it will actually delay the processing of your application.
After finding out if the university has specific requirements, the next step is to see if your country has any specific requirements. You can find this information on universityadmissions.se and see if you previous studies meet the requirement, how you yourself can meet the english requirement, and if there are any special instructions for your country.

Finally, check and see if the documents are to be sent via post or by uploading directly on University Admissions. Some universities also want you to send it to them directly instead of University Admissions. If you are unsure if your university wants you to send them the documents directly you can always contact the university or the programme coordinator the programme you are applying to.
Pay your application fee (Due February 1st!)
If you have citizenship from a country that is not in the EU/EEA (or Switzerland), it is required you pay an application fee for your application to be processed. The application is 900 Swedish kronor (87.42 euros or $99.30 usd) and must be received by the deadline in order for your application to be processed. If the payment is received after the deadline then your application will be changed to late so it is important to check how long time it takes for the money to transfer.
Regardless of how many courses or programmes you've applied to in a semester or if you've applied to different admissions rounds within the semester you will pay one application fee of 900 SEK. Since the application fee is an administrative fee, it cannot be refunded. There are three ways to pay the application fee including credit card, bank transfer, and BankGiro (for Swedish residents). Using a credit card is the best, fastest method to pay your application fee. Some cards are unfortunately not accepted to check universityadmissions.se to see if your card is accepted.
Document Your Citizenship (Due February 1st!)
In order to be exempt from application and tuition fees, you must document your citizenship in a EU/EEA country or Switzerland. You must provide copies of one of the following documents in order to verify your status: valid passport, valid identity card, or official document.
If you are presenting a valid passport then it must reach University Admissions no later than 3 months after the expiration has passed. Should you choose to present. valid identity card that clearly states citizenship and the card's expiration date, it should also reach University Admissions no later than 3 months after the expiration date has passed. If you don't have a valid passport or identity card then you can submit an official document which certifies your citizenship. Same rule applies with reaching University admissions no later than three month after the expiration date has passed. The official docment must be certified and stamped as well as officially translated to English, French, German, or one of the Nordic languages if it's issued in a different language.
Uploading your citizenship on universityadmissions.se is the fastest, easiest, and most secure way to provide documents for your application. You can do this by logging into your account, go to 'documents', and follow the instructions. If you can't upload your doucments then you can do so by post or delivery service. For postal service the address is: PostNord Strålfors AB, Att: University Admissions in Sweden, R 312, SE-190 81 Rosersberg, Sweden. If you are submitting your documentation via a delivery service such as DHL or FedEx then the address is: PostNord Strålfors AB
Att: University Admissions in Sweden 070 651 15 01, Järngatan 11, Kaj 21-25, SE-195 95 Rosersberg. Finally, if you have temporary or permanent residency in an EU/EEA country then it does not exempt you from paying fees.

While it may seem overwhelming and daunting, I hope this checklist helped and made you feel like you can tackle your application. If you have any questions that remained unanswered, leave them below in the comments. Good luck!