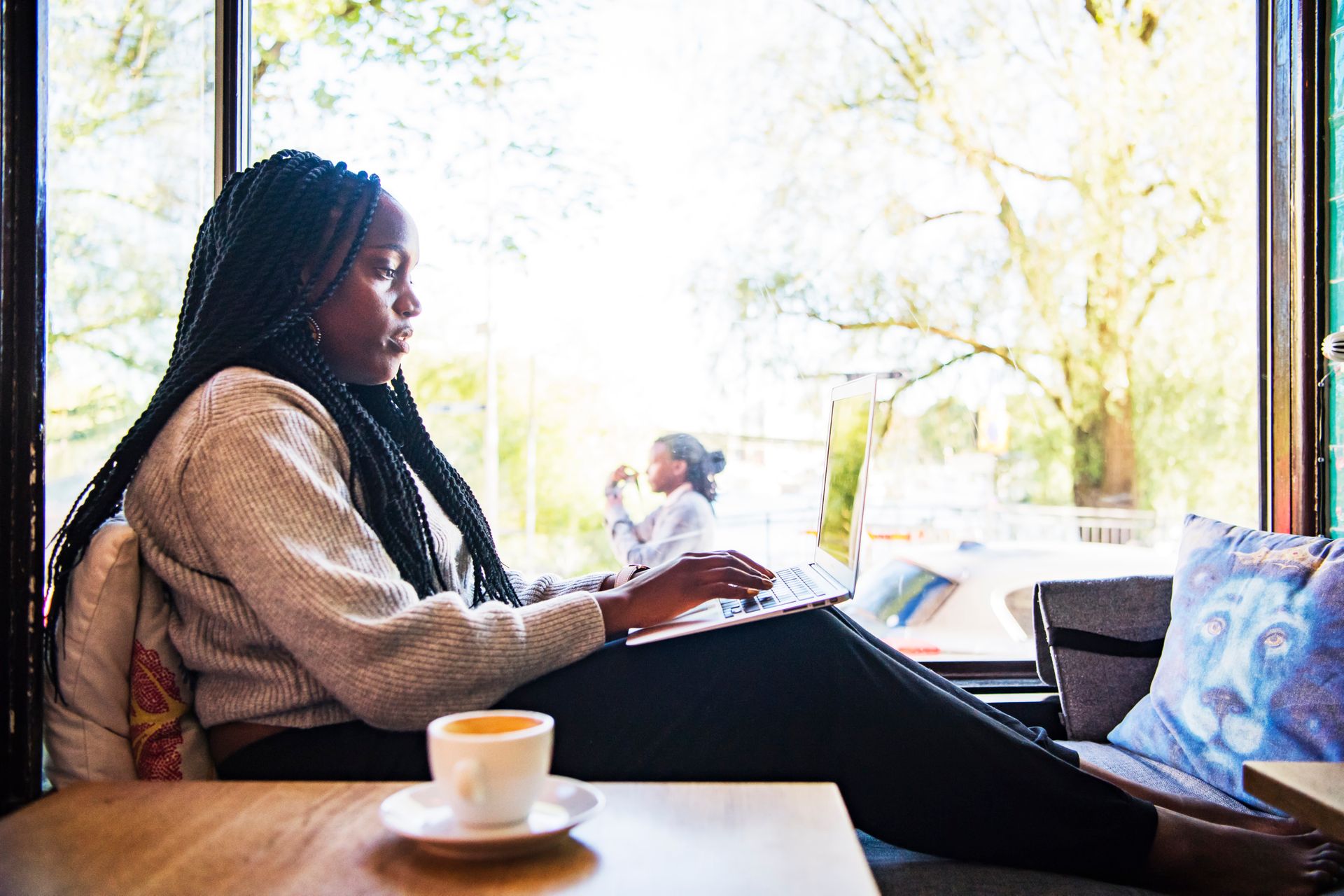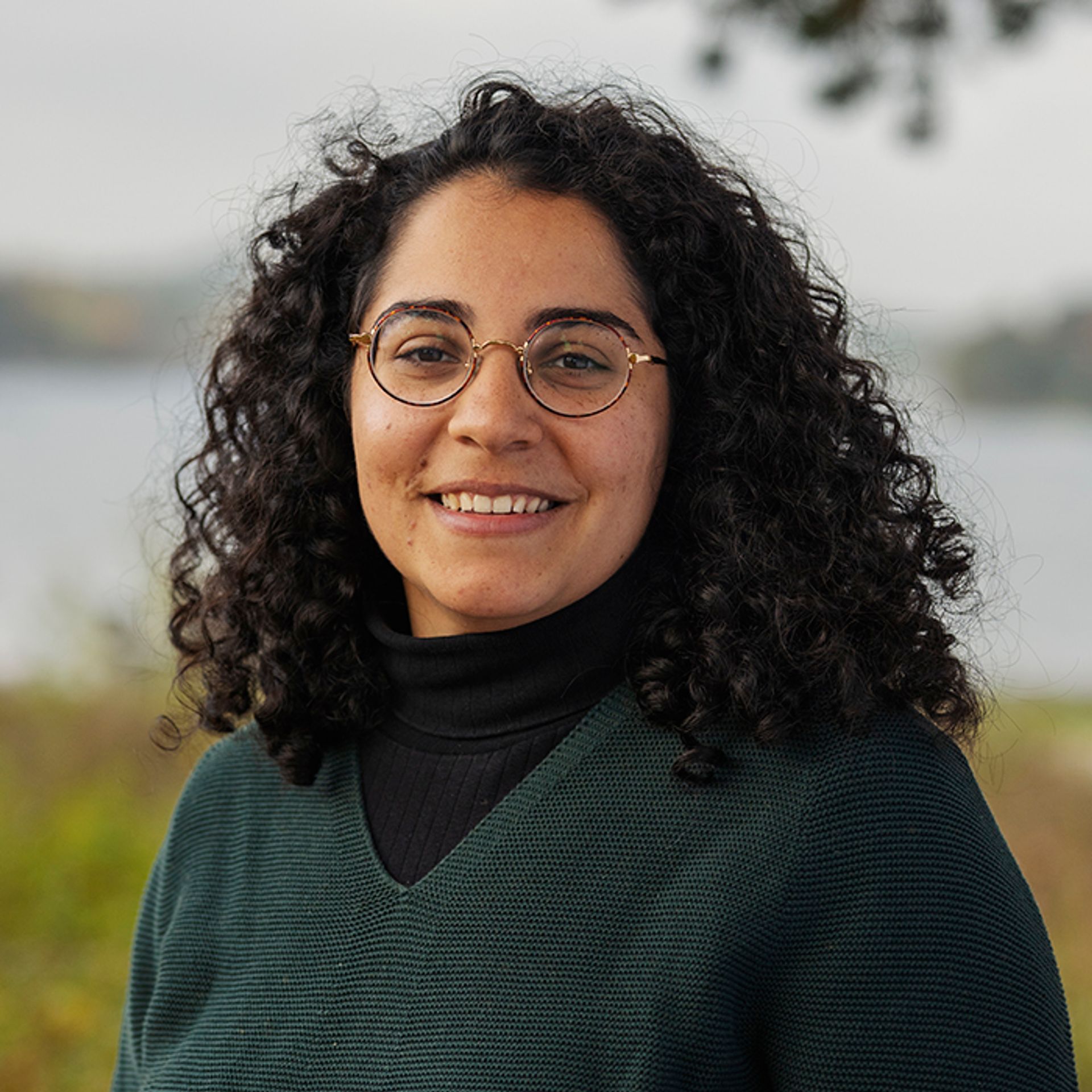 Written by Lara
11 Apr 2021
If you are reading this and have been admitted to study in Sweden, congratulations!! In this blog, I will be explaining how to apply for a student residence permit to study in Sweden as a non-EU citizen.

As a Lebanese citizen, any visa application can be a nightmare. You have to collect thousands of documents, wait endless hours and it can be a really stressful process. However, my student residence application for Sweden was really smooth! Here is everything you need to know to have a smooth experience as well.
In order to get your student residence permit, you will need to check that your documents are in order and then apply for the residence permit online. Once a decision has been made, you will book an appointment at the nearest Embassy or Consulate of Sweden where your passport will be reviewed and you will get your fingerprints and picture taken. Once your residence card is ready, you will be informed and you can go to pick it up and actually even choose to let it be sent to your home↗️! Easy, no?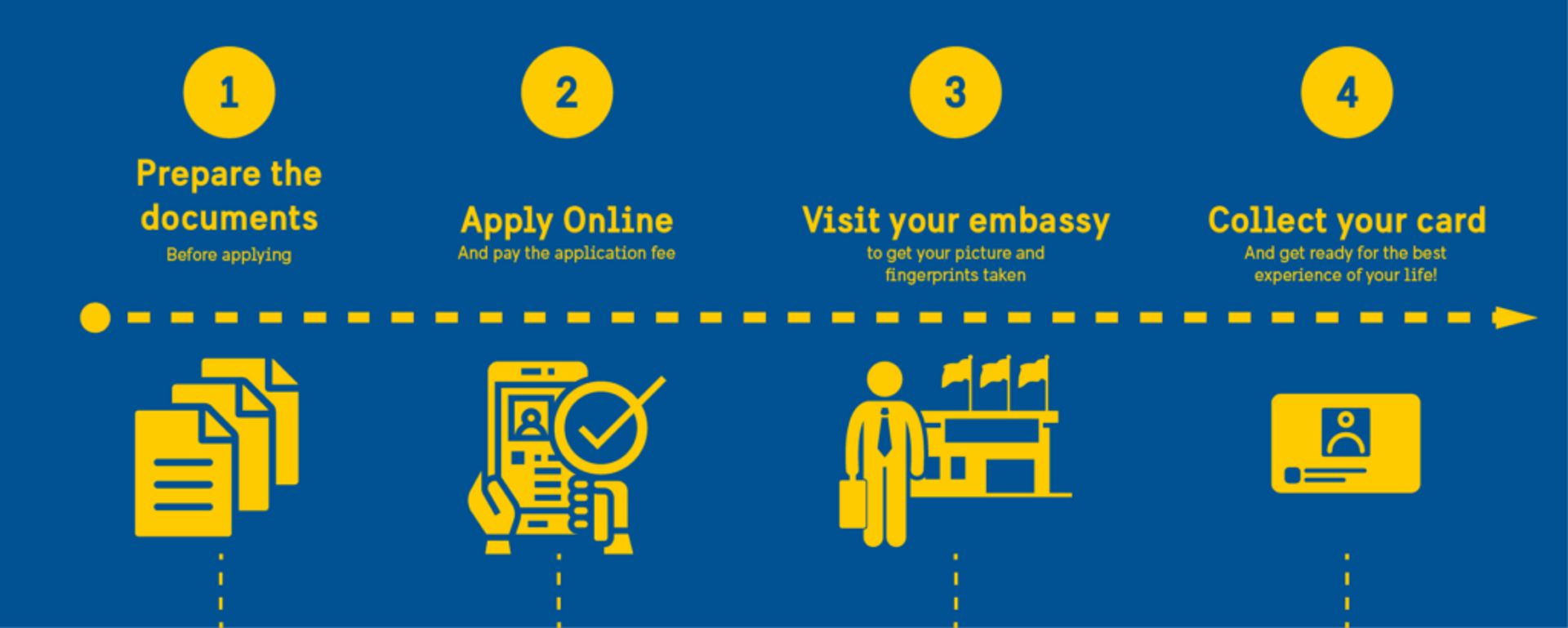 Required documents for your residence permit application
But let's first start with the required documents to prepare before applying online:

– A valid passport: You can only get a permit for the duration of your passport validity! So the first thing you need to do is to check that your passport is valid for the duration of your studies. If not, start by renewing it as soon as possible! (Please note, you will need to visit the closest Embassy or Consulate of Sweden to have your passport reviewed)

– Full times studies: In order to receive a permit, you have to be admitted for a programme that requires full times studies!

– Support yourself: You will need to show proof that you have sufficient funds to support yourself during your study period. The living expenses requirement amount may be reduced in some situations and can vary from year to year, so read more info on Migrationsverket.se – the Swedish Migration Agency's website ↗️). If you are awarded an SI scholarship, you only need to submit your scholarship decision letter as proof.
Super important note: if you are submitting your own bank assets, you must submit your application no earlier than three months before the date from which you apply for a residence permit (This does not apply if you will receive continuous income, such as a stipend or scholarship).

Also, if you are showing your own bank assets, the bank account should be in YOUR NAME only, not your parents or siblings, so make sure you have your own bank account.

– Have comprehensive health insurance if you are enrolled in a one-year programme.
Many universities offer insurance called "FAS+" ↗️ to their fee-paying students. SI scholarships also offer insurance to its scholarship holders. In other cases, you need to arrange your own insurance.
If you're coming for two or three years, you don't need to submit insurance proof, because you can apply for a Swedish personal identity number when you arrive and you will be covered by the Swedish Healthcare system ↗️, so the costs won't be so high.
And also, make sure you check the terms and conditions of the insurance you will get from your university or scholarship, and purchase extra healthcare or property insurance if you need it. Read more about health insurance in Sweden on our website.

– Pay your tuition fee or have a scholarship covering at least the first installment.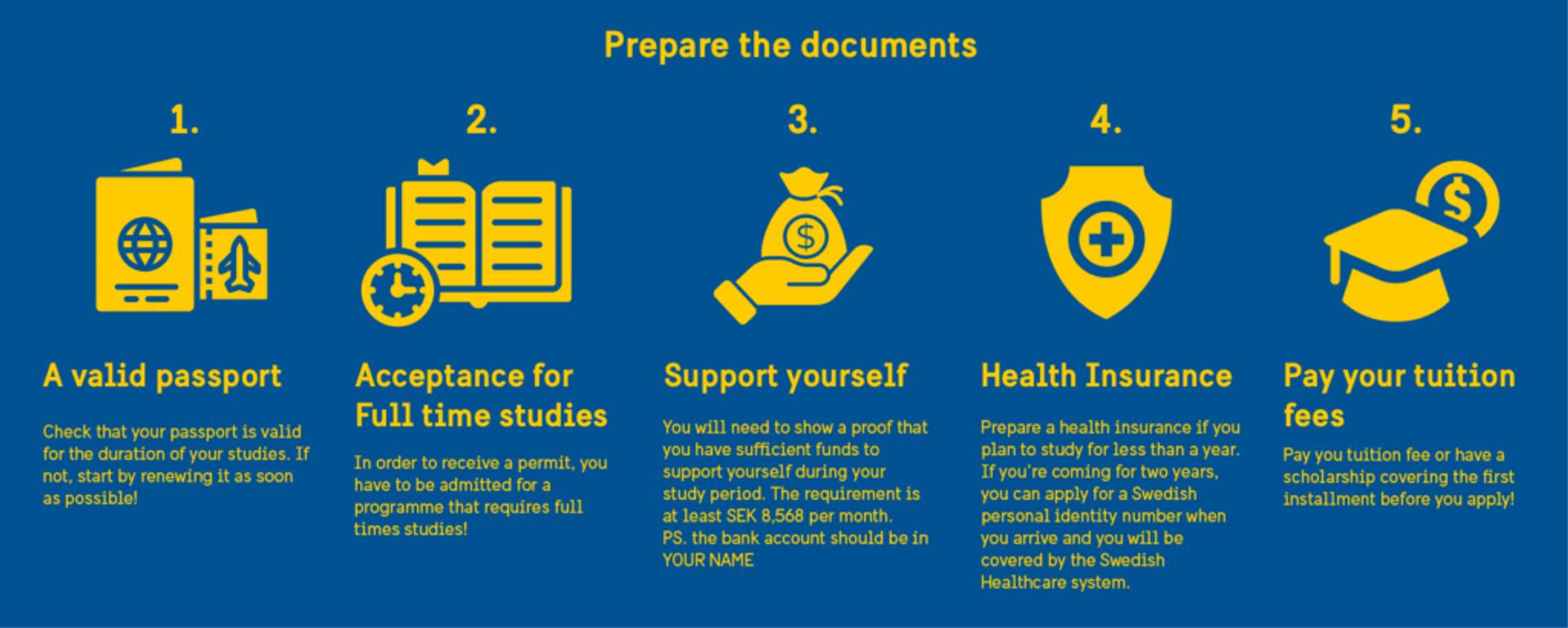 Next steps
The permit is given for the study period plus 2 weeks before and after in normal times. The permit is usually valid for 13 months at a time for students enrolled in a two- or three-year programme. And you can renew it every year.

There is currently a pilot project with these institutions: Jönköping University, KTH Royal Institute of Technology in Stockholm, Linnaeus University, Lund University, and Umeå University. If you are accepted in these universities you may apply for a two years residence permit. In that case, you have to show proof that you can support yourself for both years.

Now that you have prepared the documents mentioned above, you are ready to start your application online!

You will enter to migrationsverket ↗️ and press on "E-service for students in higher education" where you can create an account and start filling up your application!
You will need:
– A clear copy of your passport that shows personal data, signature, period of validity, etc…
– For the admission decision from universityadmissions.se, you can get the printable pdf of the decision. The PDF file is called "Notification of Selection Results" and it should be downloaded from your page on universityadmissions.se ↗️
– Insurance documents if you will be staying for a year or less.
– An account statement that verifies that you have sufficient funds for your living expenses OR documents issued in your name that show that you have been granted a stipend or the like with information on the monthly amount and the period during which you will receive the money.
– Finally, pay the application fee (for adults SEK 1500) – if you are an SI scholarship holder, you don't need to pay this fee.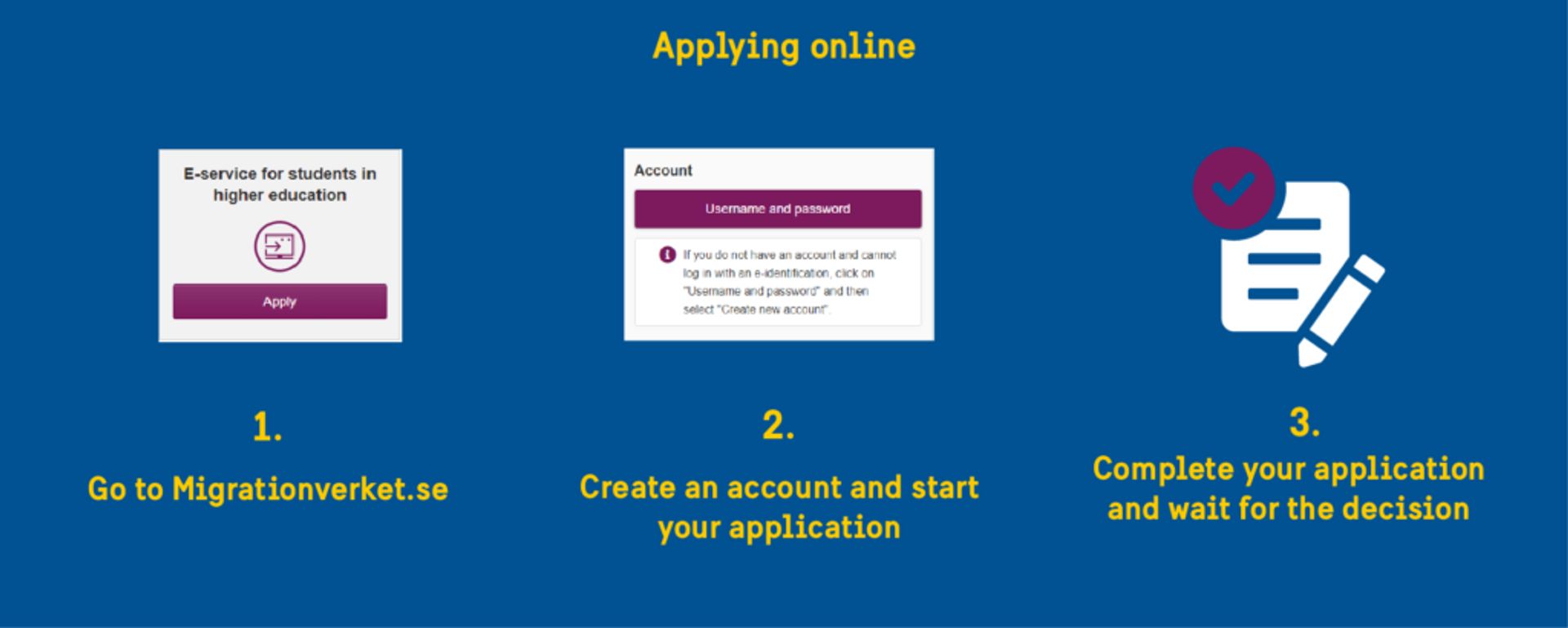 And just like that by filling all the information asked in the application, you would have finished the process! You will hear back from migrationverket in case they need any additional information. When a decision is made, you will receive an email. You will then take an appointment at the embassy in your region for collection of your picture and fingerprints. When your card is ready, they will reach out to you!

In order to make the process as smooth as possible, make sure you prepare all the documents mentioned before and fill the entire application.

If you are a citizen of a country that doesn't need a visa to enter Sweden, you only need to visit the nearest Embassy or Consulate of Sweden to have your passport reviewed as you can aquire your residence permit card in Sweden. This means you can enter Sweden once you got a positive decision on your residence permit application and you will visit a Swedish Migration Agency's office in Sweden after you've arrived to leave your photo and fingerprint.

Can't wait to see you in Sweden! Best of luck!!