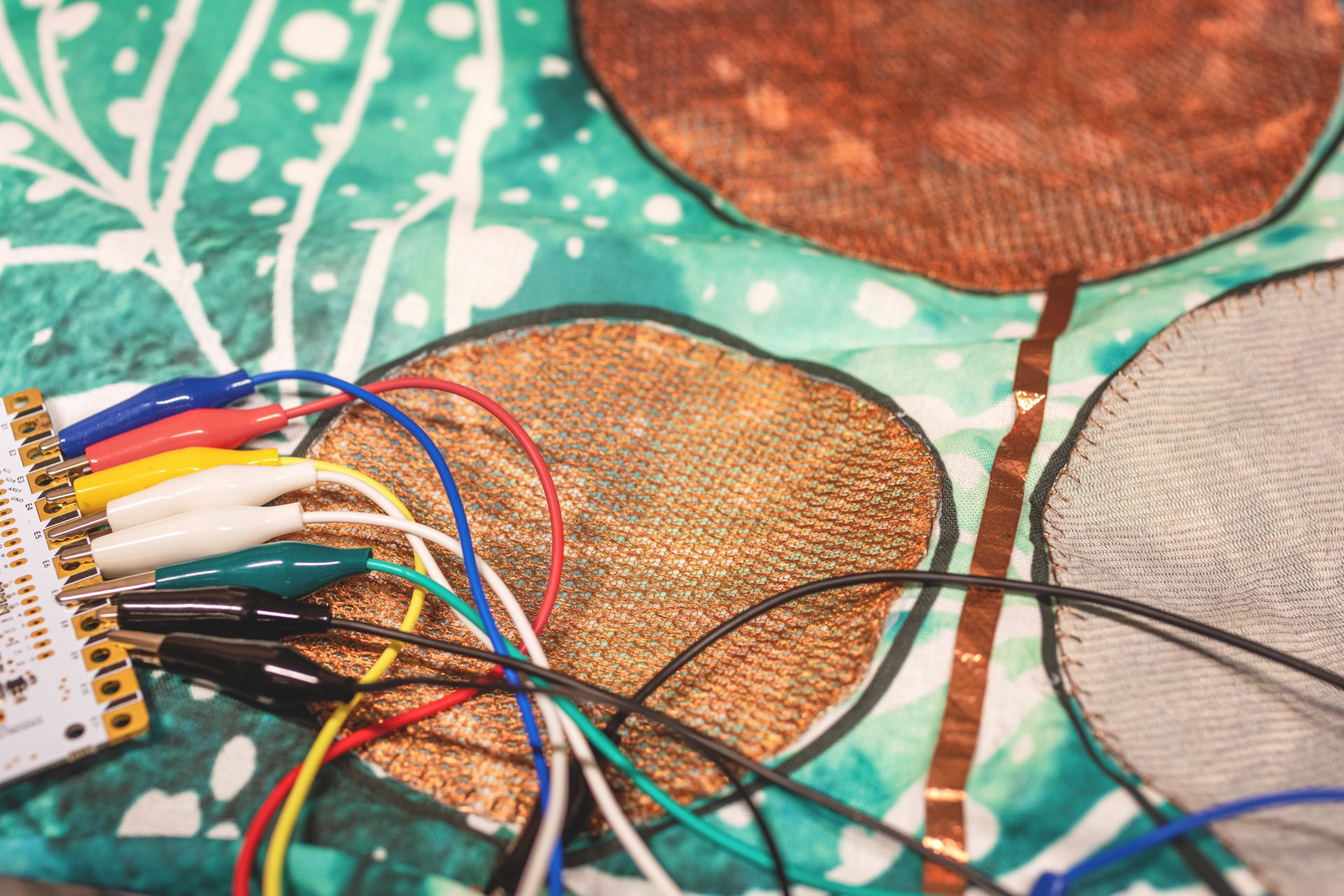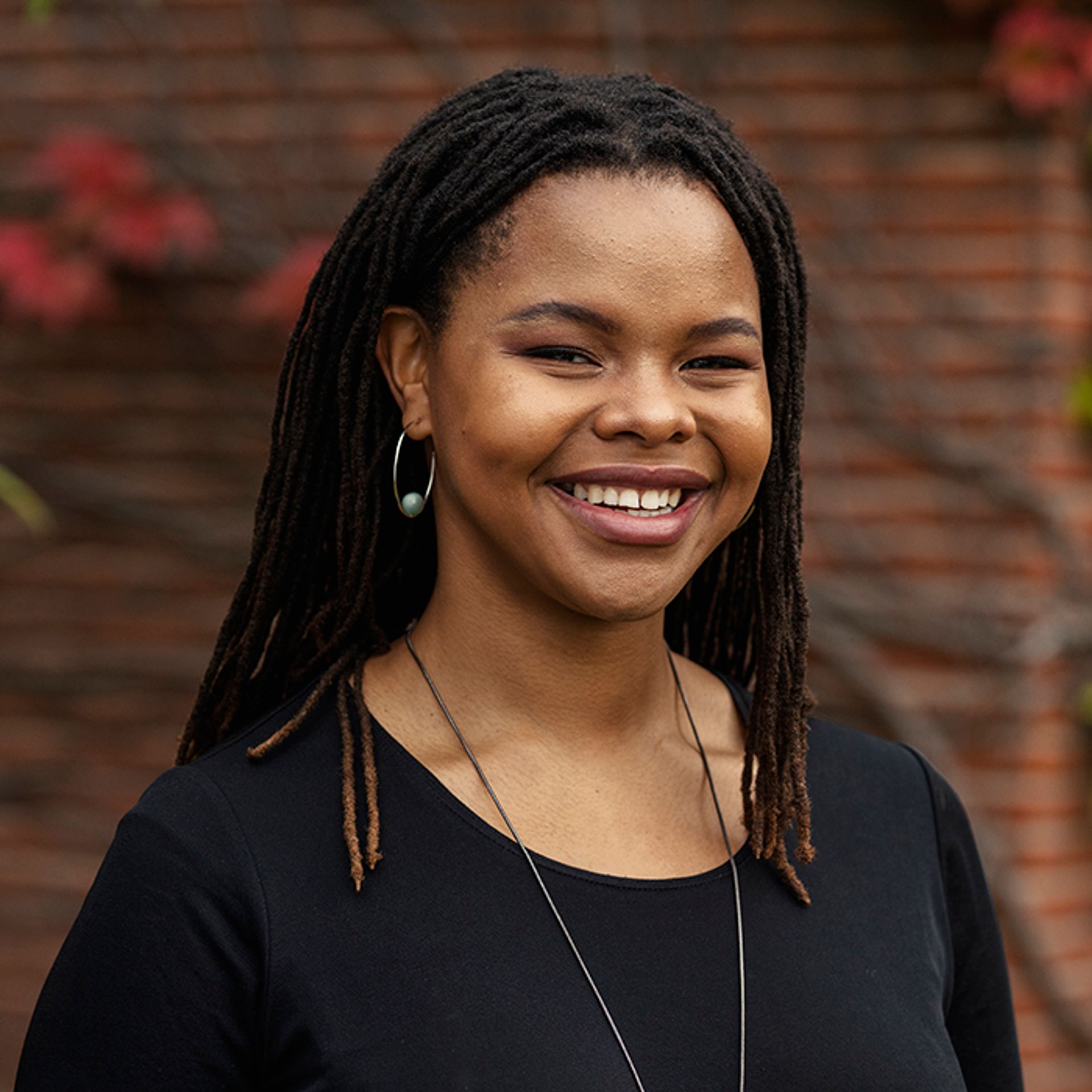 Imagine a bone chillingly, freezing winter – the kind that makes you grab 3 sweaters to wear under your warmest coat and at least 2 pairs of socks. Then imagine your socks actually heated themselves up so you only needed one pair. WHAT? HOW IS THIS POSSIBLE?? HOW HAVE I NOT BOUGHT SELF-HEATING SOCKS YET??? Some incredible innovations like this are on display at the Smart Textile Showroom in Borås. Keep reading for a nerdy fashion adventure!
Information provided by the Smart Textiles Showroom and smarttextiles.se. ↗️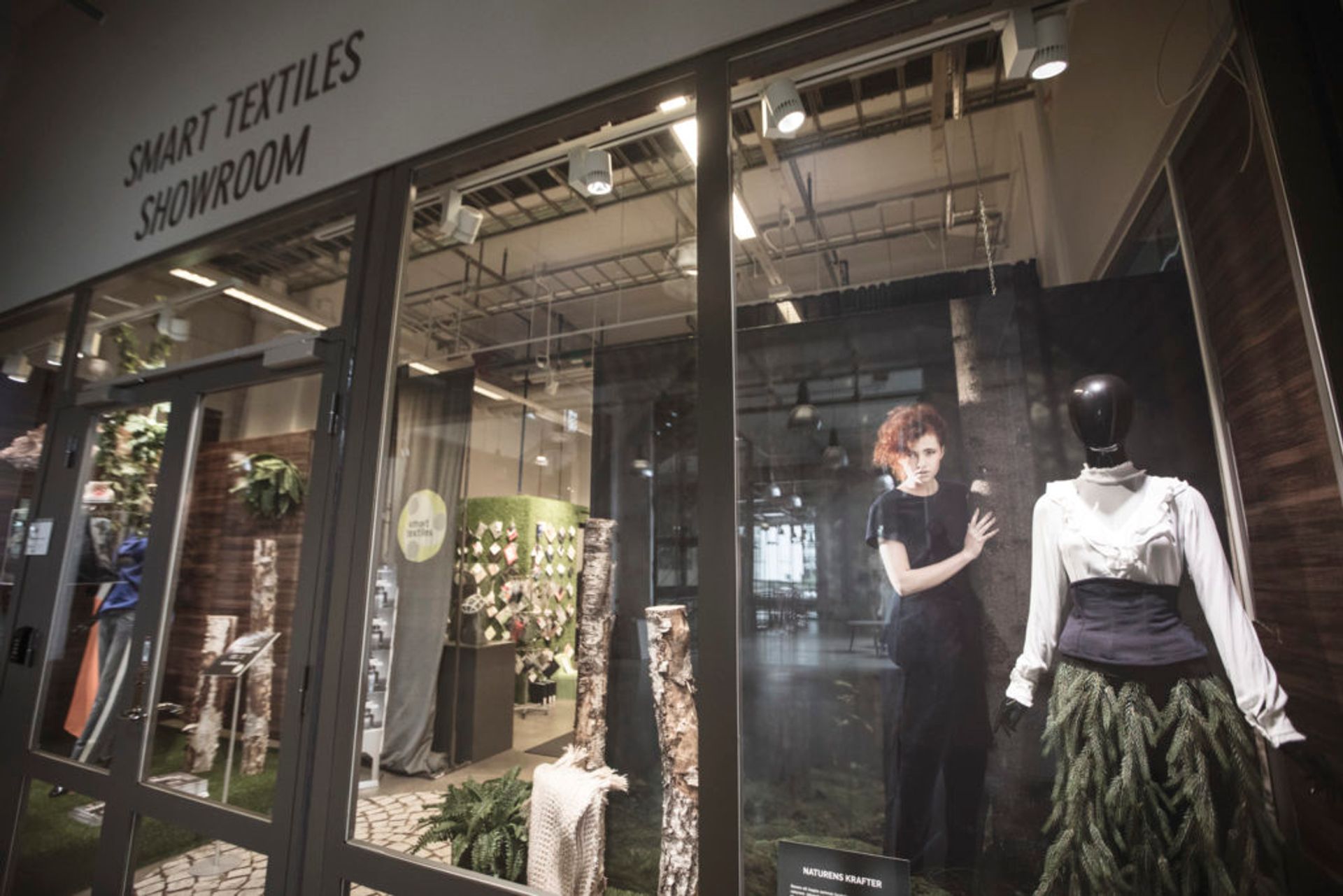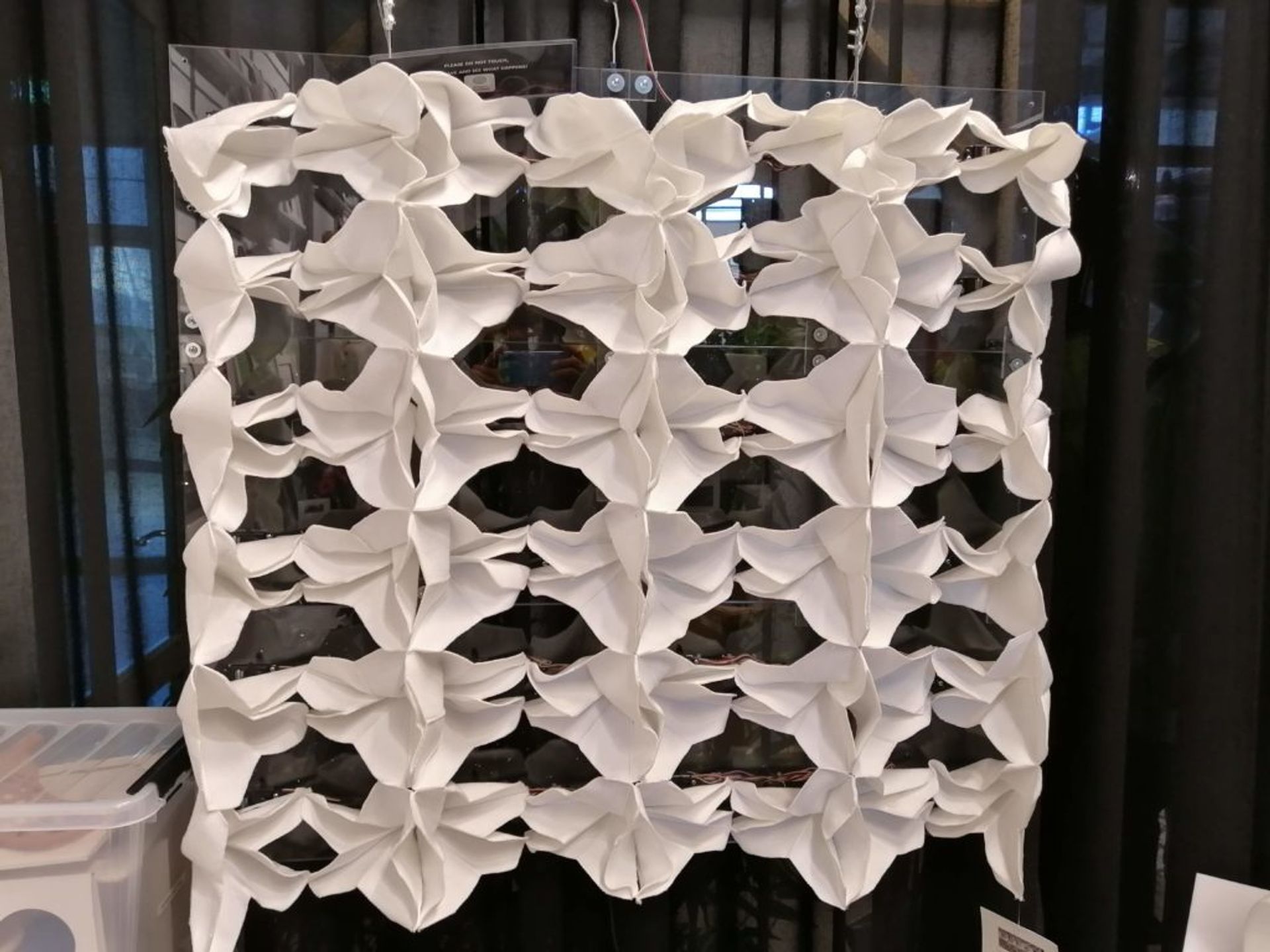 What are smart textiles?
If you haven't heard about this awesome crossover of textiles and technology, let me fill you in. There are a variety of smart textiles, made to interact and respond to their environment. Some  may use innovative fibres and structure to increase insulation, protection or sustainability such as a PVA yarn that changes shape when you wet it so you can mold it into new shapes.  Some are designed to independently respond to user input with a functional or fun output. This includes the smart alpine socks that have built-in heating elements that you can control on an app on your phone. Or even fibres that sense movement around them and change color or light up in response. While the idea of a disco suit that lights up when you hit the dance floor may be my sci-fi dream come true, they have some very useful functions and are a steadily growing area of research in textiles.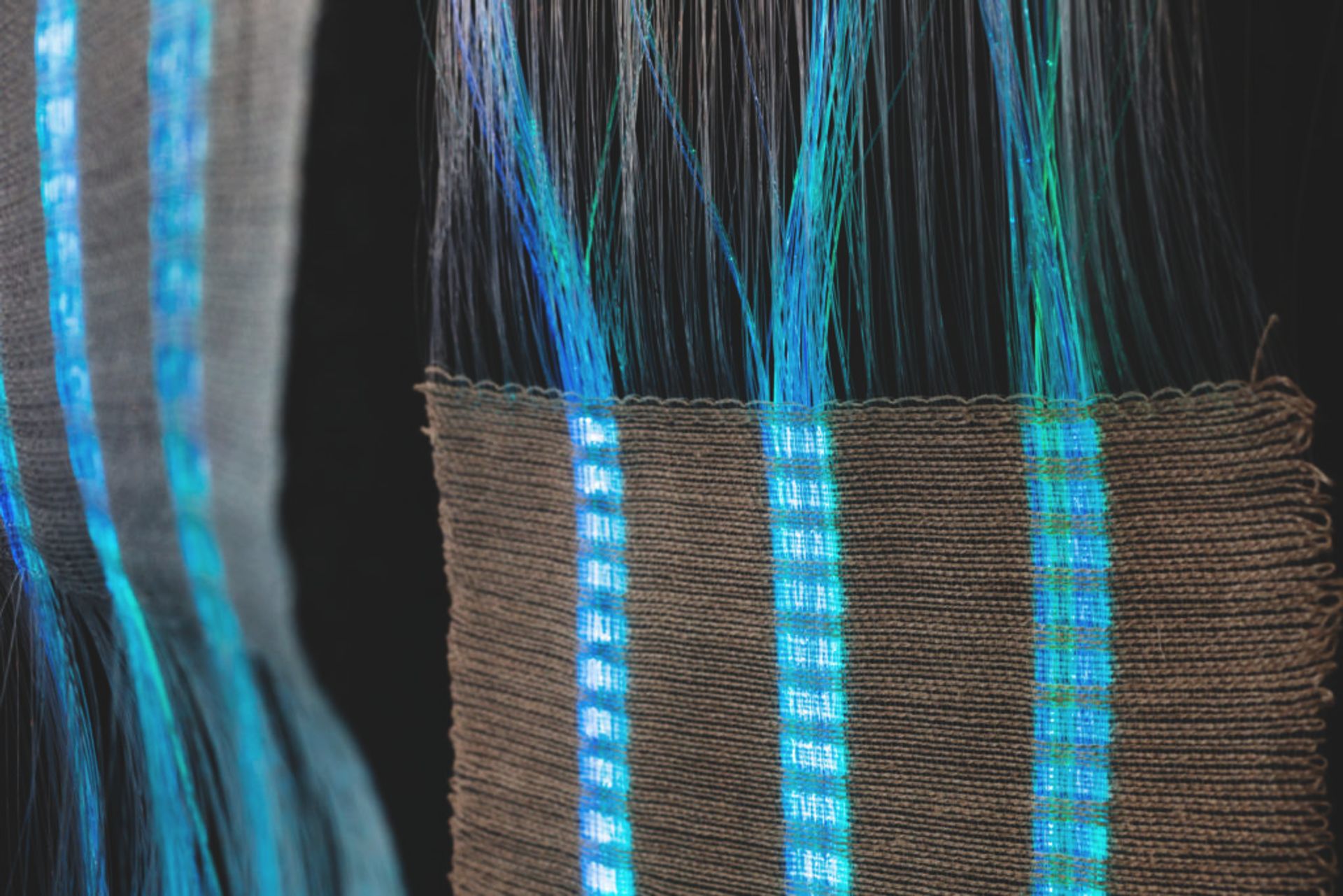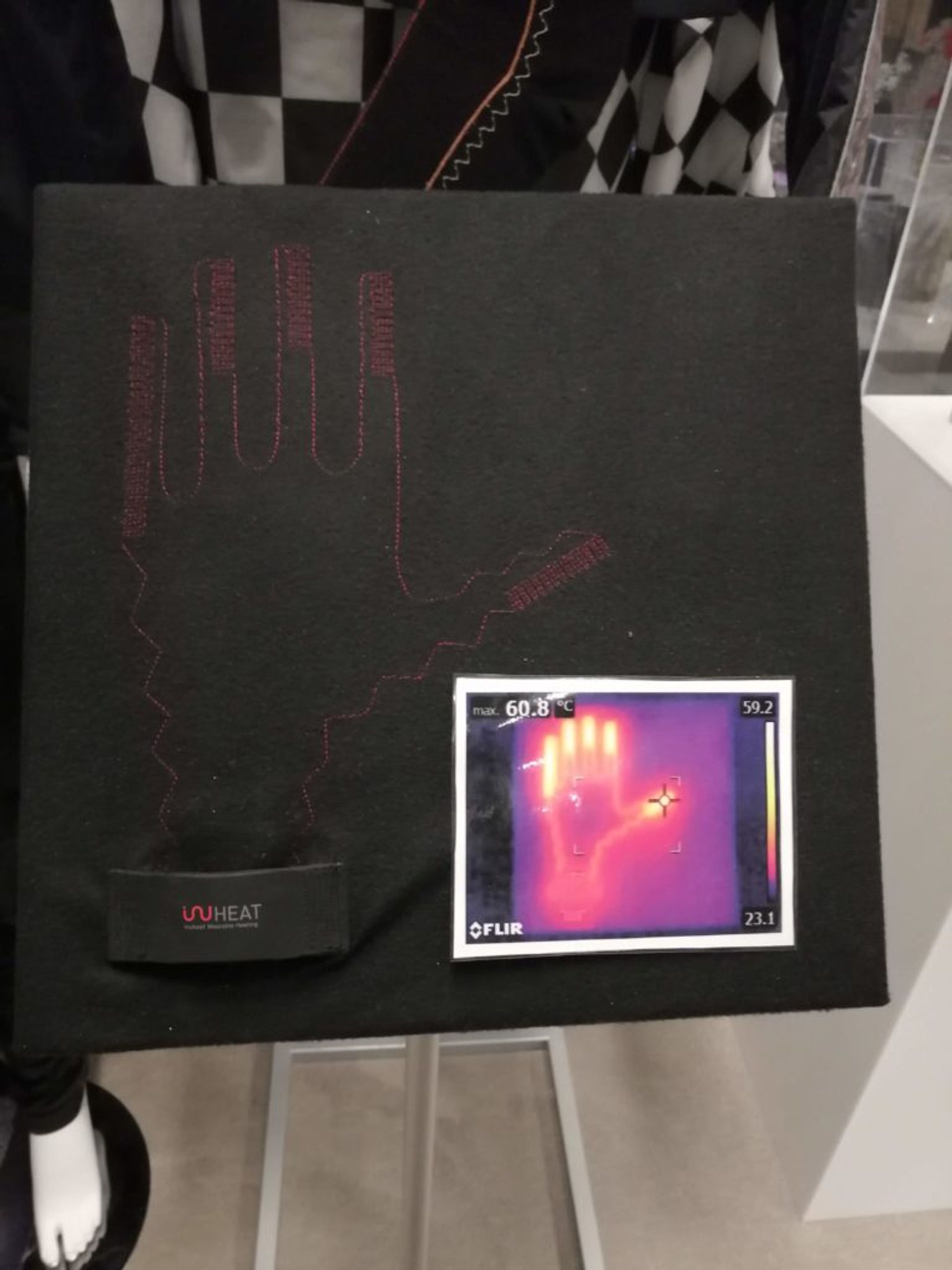 Textile town.
Ah Borås, the lovely city where I'm currently studying a masters in Fashion Marketing and Management. If you've looked up Sweden, of course you've heard of the bustling modern capital city Stockholm or the scenic and cozy Gothenburg, but you probably haven't heard of Borås – the fashion and textile capital of Sweden (only a 45min bus ride away from Gothenburg).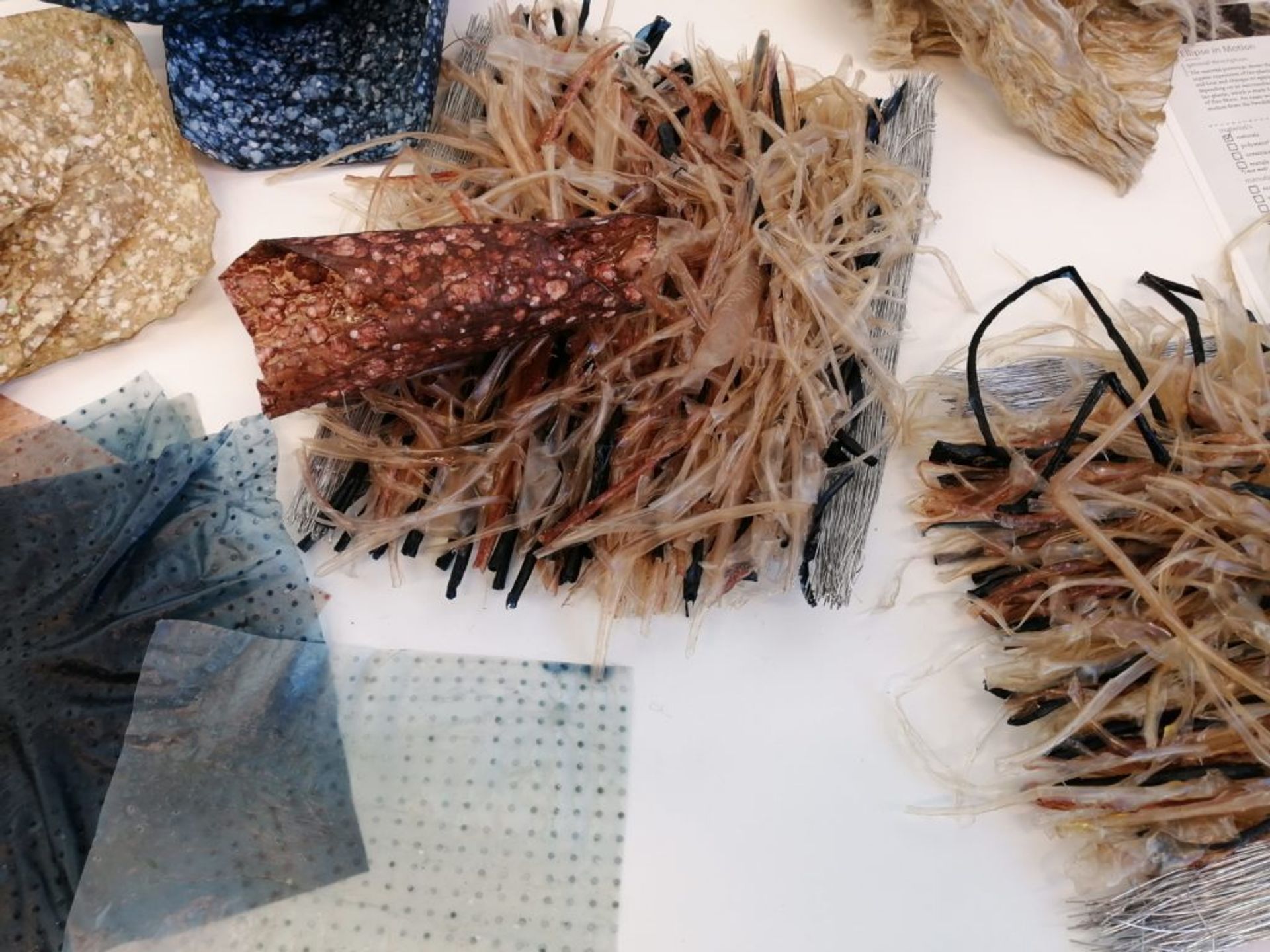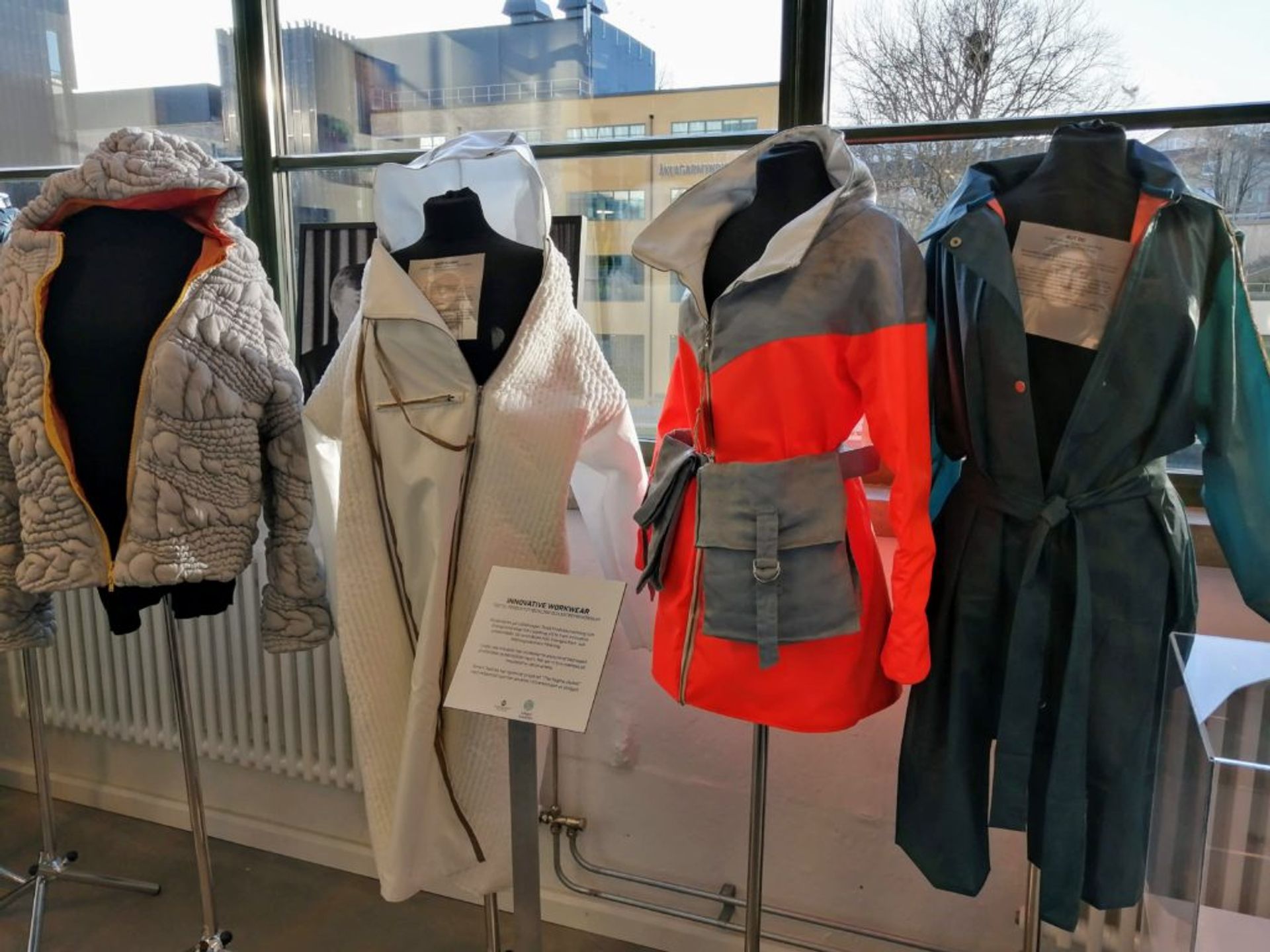 Borås was the centre of fabric production and trade in Sweden and maintained a centuries long reputation for textiles that has extended to art and sculpture. The University of Borås is connected to the Swedish School of Textiles ↗️ and the Textile Fashion Centre, a hub for creatives and industry professionals to collaborate and shape the future of fashion. I highly recommend a visit to the centre which includes the DO! Tank Centre, the Textile Museum, ↗️ the Smart Textiles showroom  ↗️ AND 3 cafes ↗️ for the perfect fika break! They also host the Re: Textile ↗️ project, which works with business models and production methods to achieve circularity – another powerful sustainability initiative, at an industry level. So it makes sense that a space dedicated to textile innovation would have so much to offer, especially to take a peek at the future of super-smart textiles. Best of all? It's free to visit!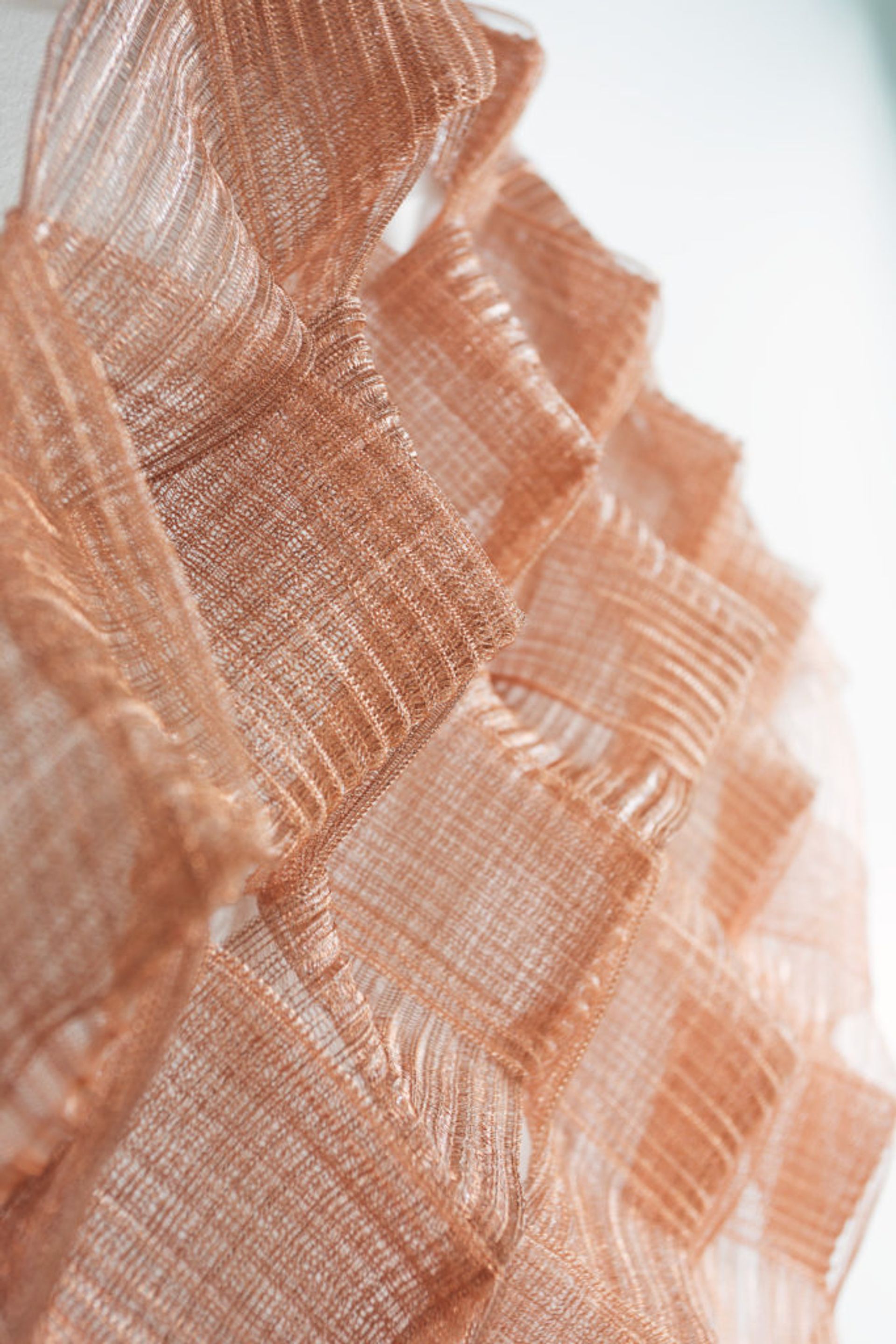 The Swedish School of Textiles houses an incredible and highly specialized machine that can knit aluminium or copper wire. This can create textiles where more surface area is conductible, to spread energy faster and more efficiently.
Touch, Hear, See.
Trust me, you can browse the website and read about the prototypes for textiles that use haptic language, or vibration and touch, to help deaf-blind people communicate and think your mind is blown – BUT mine almost exploded when I got to touch the prototype for myself. I highly recommend a visit to the showroom because it's so much fun to engage and learn at the same time. It's an experience that captivates multiple senses. I visited with a friend and the very friendly host demonstrated for us, and enjoyed our frantic excitement at everything that lit up or made a sound. See our adventure in photos and videos below!
This tablecloth developed by Lisa Nelson and Josefine Björkman transforms touch into sound! The conductive copper wires connect to sensors that respond to touch and pressure to make drumming or keyboard sounds. Similar technology can be used to create warning systems in protective gear.
These textiles all change colour in response to motion, heat, or moisture, which our kind showroom host demonstrated for us to our glee!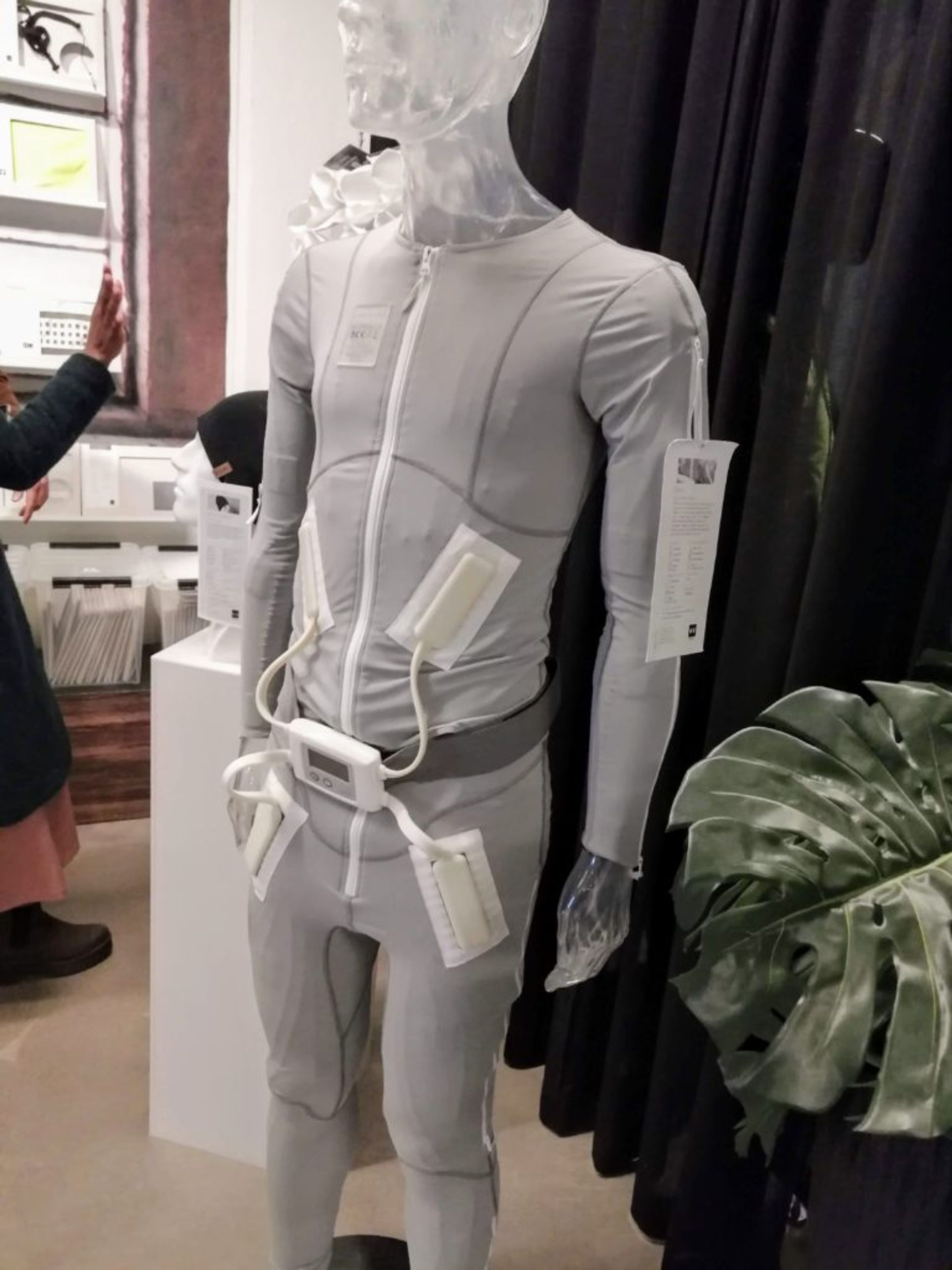 The innovations aren't all fun lights and sounds, as I mentioned functionality before. Imagine suits that use mild electrical currents to stimulate muscles and increase mobility. The Mollii suit was developed in collaboration with Inerventions and Smart Textiles to assist people who struggle with spasticity, such as cerebral palsy or stroke, and treatments can be administered at home.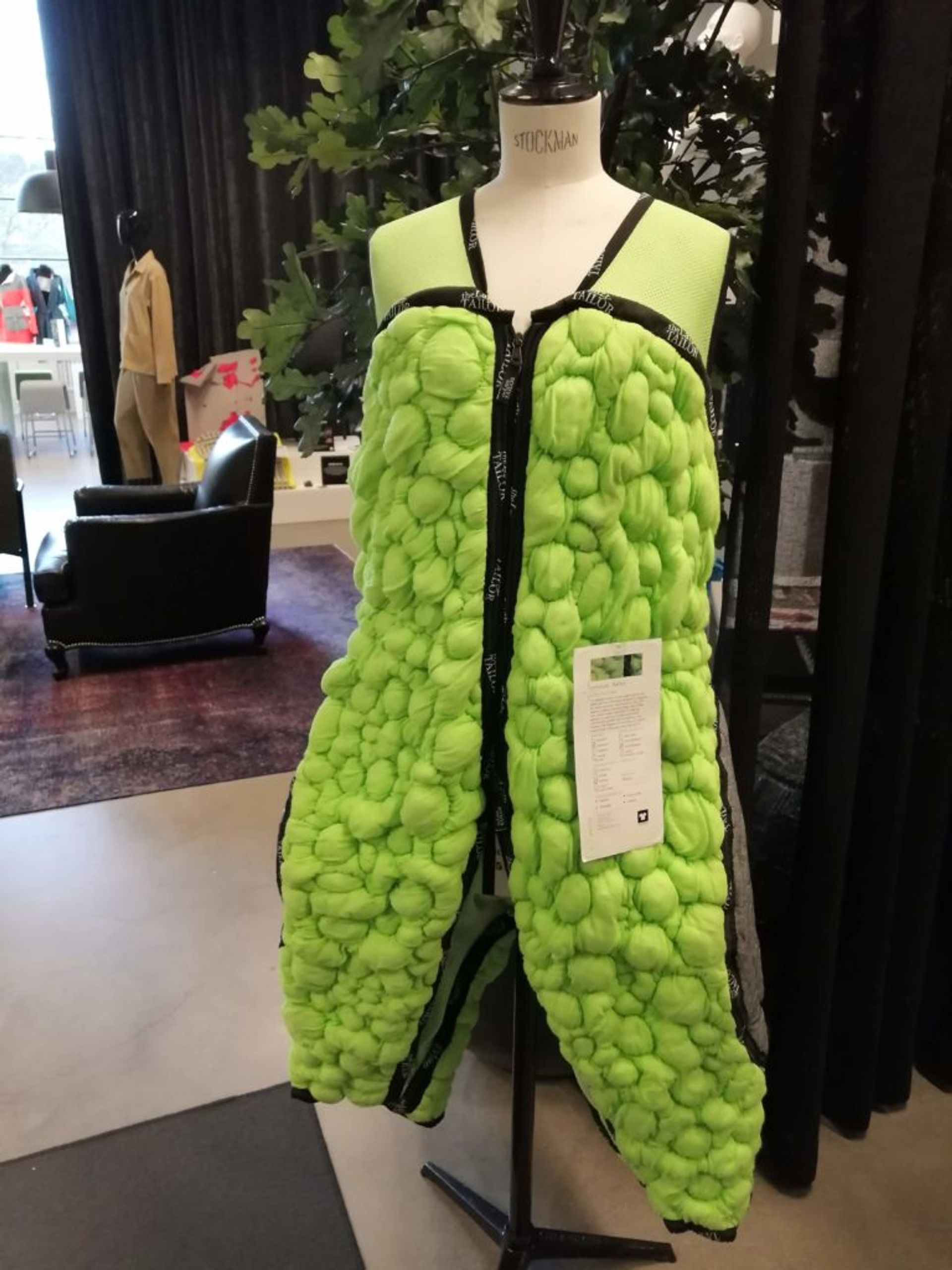 This suit was developed for the mascots at Liseberg by 3D-knitted material and filller yarn. This creates the unique shape of the rabbit mascot, but much lighter so the mascots can move more easily and stay comfortable after long hours wearing the suit. It also minimizes sweat because less filler = less heat, which means better hygiene. Win-win!
Some other innovations not pictured include:
Sensors that are integrated to detect moisture, temperature, heart rate, or respiratory rate, send data to an electronic device and can help doctors or the wearer to diagnose or keep track of health concerns, or can be used in sport and protective attire ;
Clothes made from unconventional fibres like greenhouse gases or wood pulp waste from paper production can be the future of sustainable eco-textiles by using or eliminating waste;
Charging your phone by just placing it on your tablecloth? Imagine that cable free charger, but as cables that can transmit radio waves that are woven into a textile, that's flexible and washable! This has been researched by Li Guo and developed in the Smart Textiles Technology lab;
The "invisible helmet"

↗️

for cyclists, developed by Hövding, which normally looks like a scarf but in the case of accident or impact, it rapidly inflates to cover the wearer's head, using intuitive sensors;
And much, MUCH more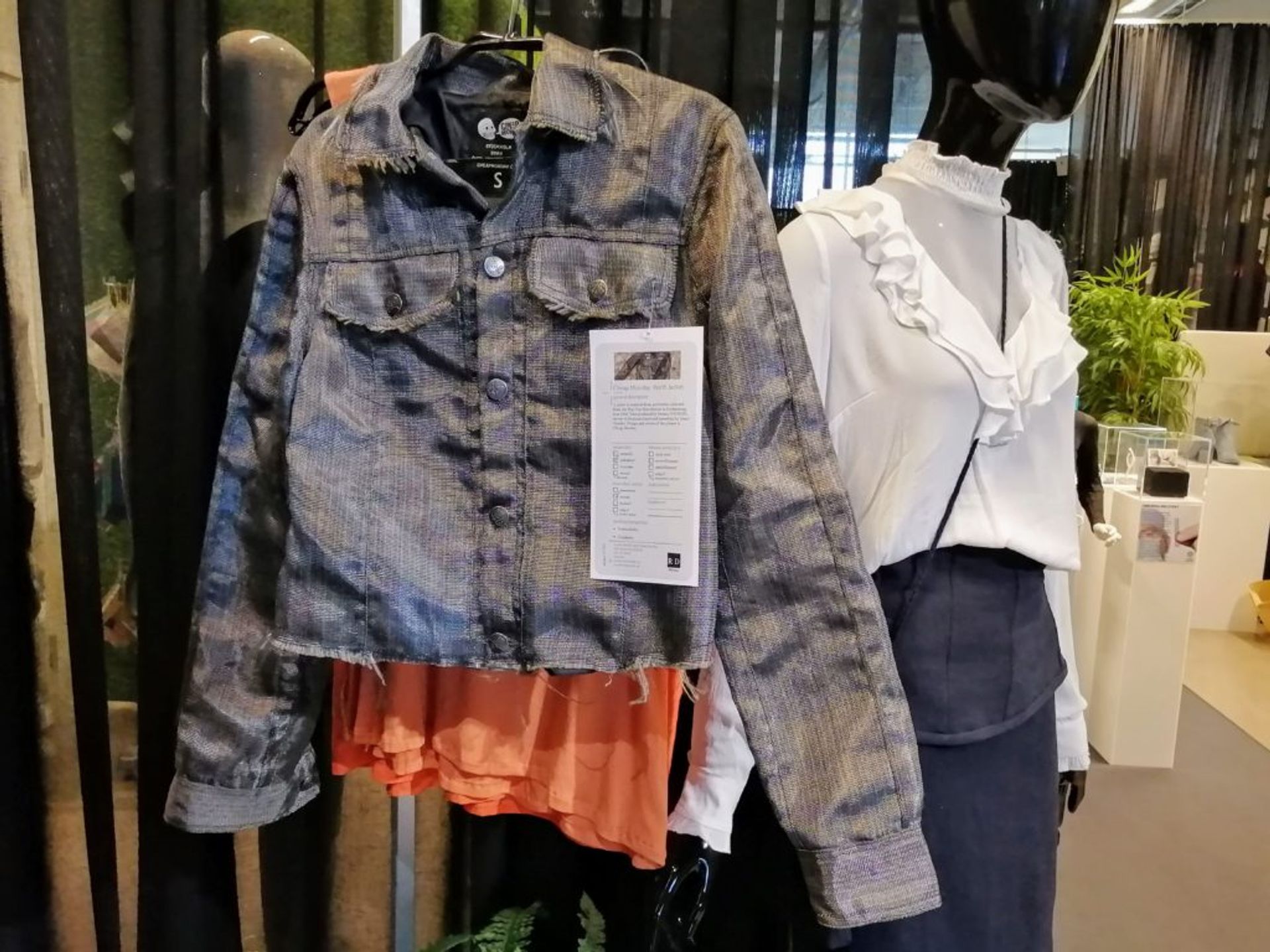 With all this innovation, the day your clothes or the textiles in your home become their own smart computers isn't as far as you think. Don't forget to visit the Smart Textiles showroom when you're in Borås to catch a glimpse of the future of textile innovation.