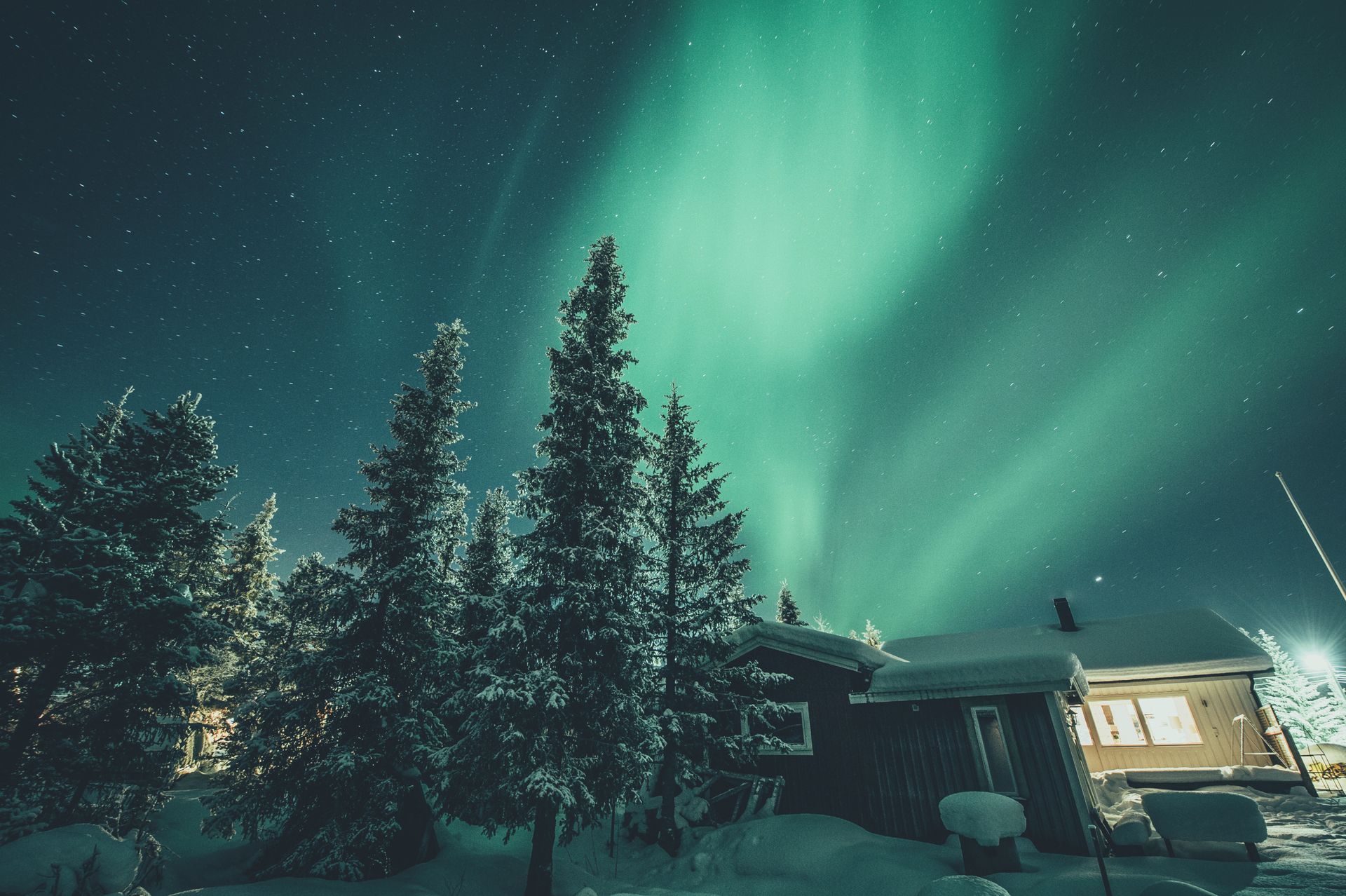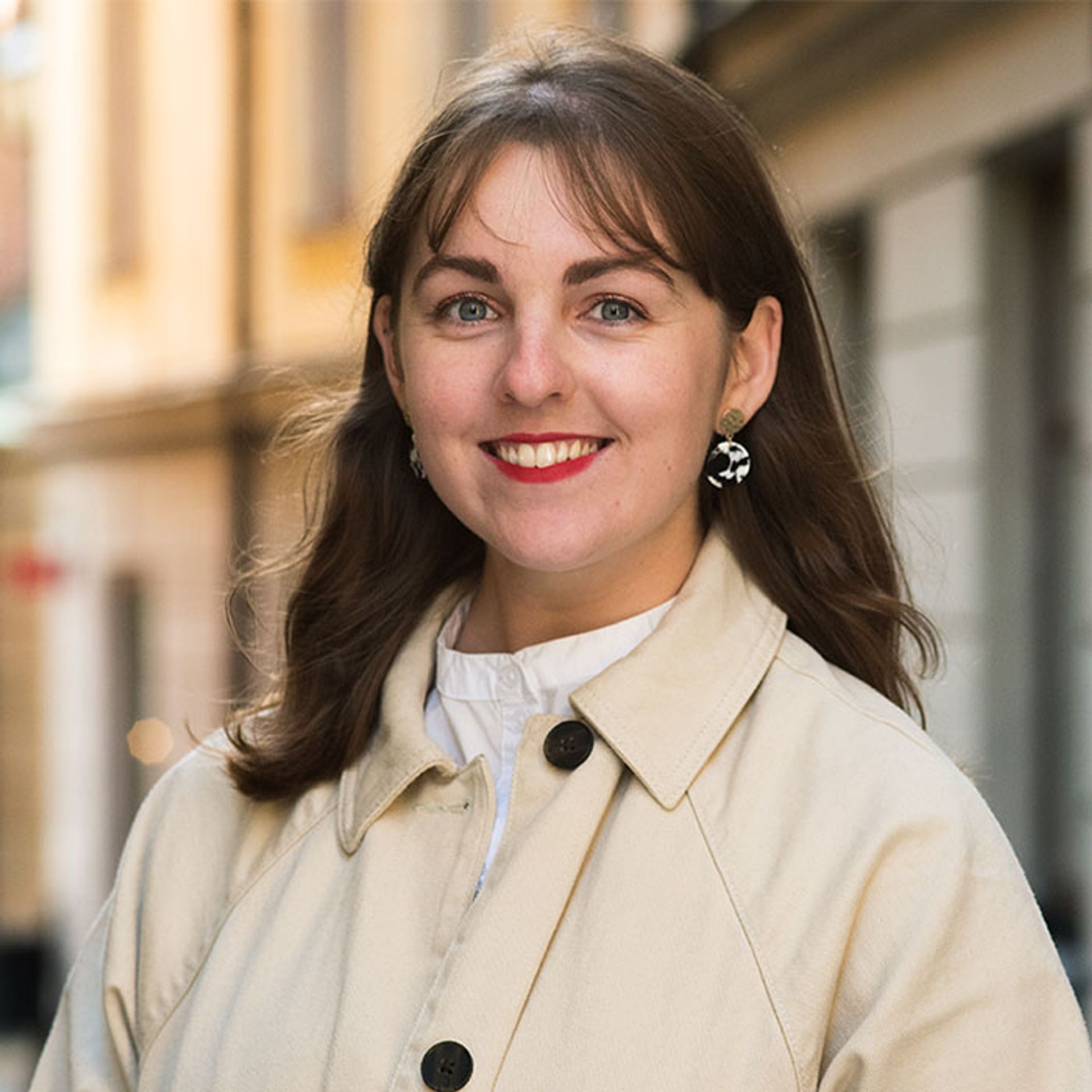 Written by Emma
09 Oct 2018
Darkness in Sweden can be a total drag! I'm not going to sugar-coat it! Every morning can feel like you're being born again (not in the religious sense), screaming and kicking into the harsh light of your lamp against the pitch black outdoors. LUCKILY FOR YOU THOUGH, I have now lived in Sweden for one (1) whole year and I think I have some tips on how it can be made better! Dare I even say, special? Here's a how to: on making the coming Swedish darkness as cosy as possible.
more
Accessorise your bedroom
But also think about the environment (hey, we all read that UN report. I'm trying to be jovial and off-handedly funny about this because it made me, and probably you too, scream into a pillow for four hours). Decorate your bedpost with fairy lights (and then turn them off when you leave the room). Have a few tealights flickering away (safely). Thread lights around your window which represent the holidays you celebrate! Customise your room in a way which makes it special in the winter. As the saying goes, tidy rooms make tidy minds (or something), so maybe keep your room as an organised-cosy-haven and it might make the darkness an easier time to process.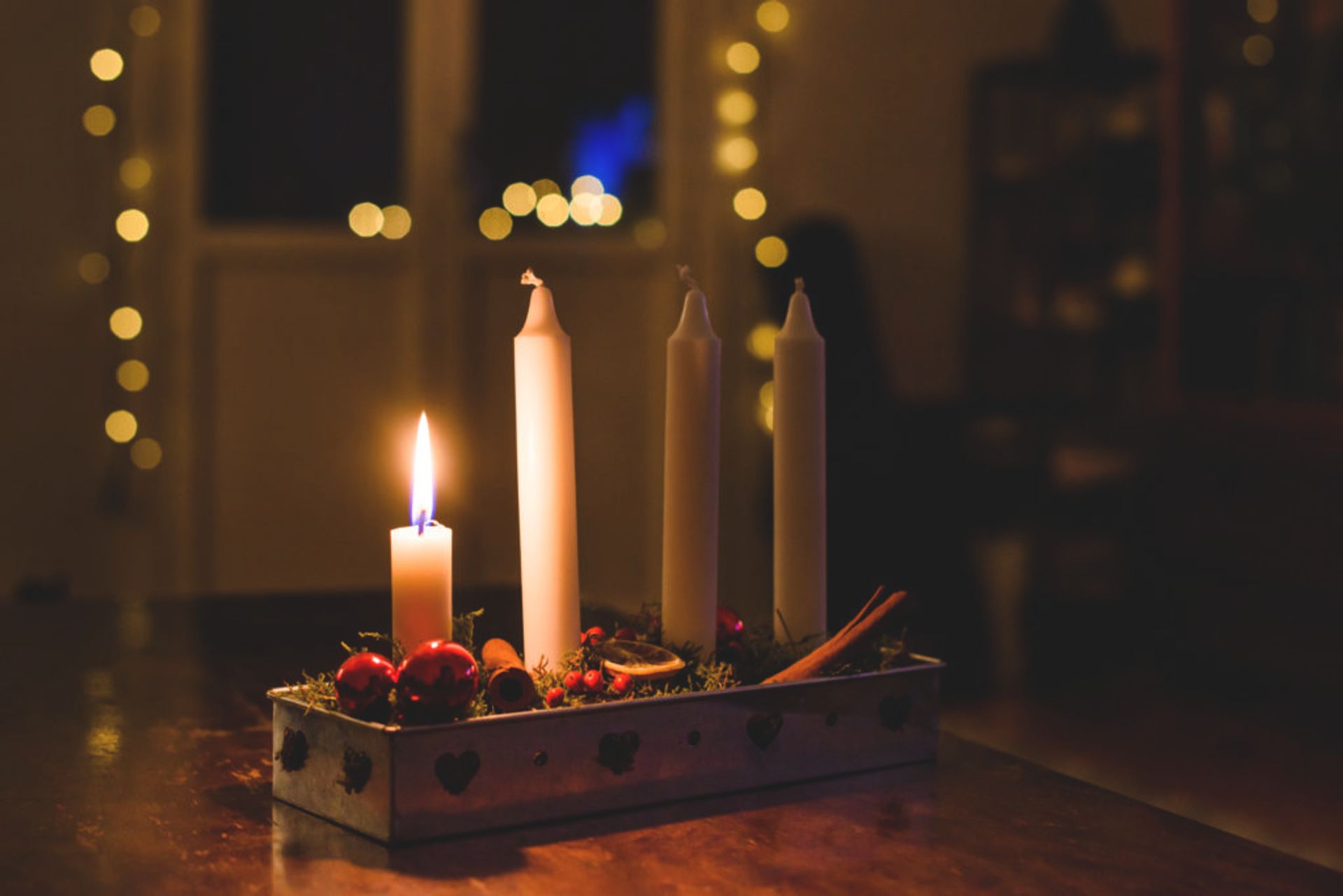 Cuff a winter boo – date nights
I don't know if this phrase is out of fashion by now. Maybe it is. Maybe someone who is more versed in this can comment below and help a girl out. BUT my point is: many people associate the idea of being cosy as being cosy with another person.
So let's take two separate approaches here: the platonic winter boo, i.e your friend. And the romantic winter boo, i.e, the original meaning behind the phrase "cuff a winter boo." If you're more into sharing cosy nights with a close friend or two, winter is a great time to get the glögg in, play boardgames, watch movies (and practice your Swedish on svtplay.se) and hang out after class.
Simultaneously, if you're looking to "cuff a winter boo" in the traditional-romantic sense of the phrase, there are loads of fun date night ideas to get you guys out of the house in Sweden. What about trying Nordic Skating on one of the frozen lakes near where you live when it gets cold enough? Or go to a boule bar together? Or maybe get to know the sauna/frozen lake swimming traditions….(though maybe this one after a few dates, you know. A first Tinder date leaping butt naked into a frozen lake may be memorable but might be a bit intense let's be real).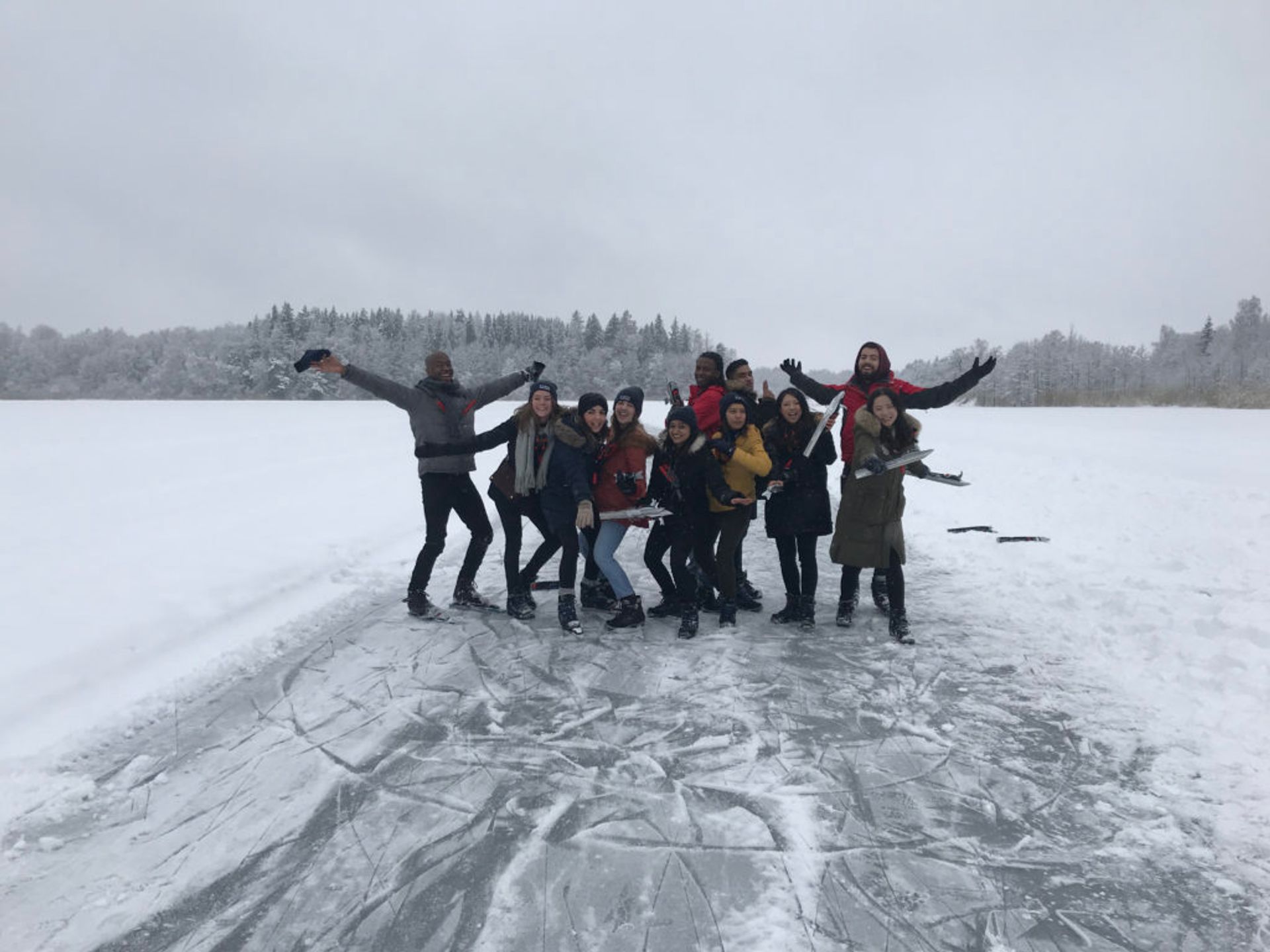 Intimate performances
If we're going to be in darkness a lot of the time anyway, we may as well go see some good art to brighten up the nights! As a student in Sweden, you can get discounts with your Studentkort/Nationskort, which includes not only the cinema but theatre, dance and operas too. This could vary from spex performances at student nations in Lund and Uppsala, to seeing shows in your local city theatre. I can really recommend Reginateatern in Uppsala, where they have jazz-style cafe tables in the stalls seats, which feels really intimate. You can sit there are a group of six per table, talking over faux-candles and watching performances, or you could actually bring a winter boo there and have a nice romantic time! Installations and artists' talks in galleries could also be a nice way to get some creative juices flowing and make for bright conversations in the dark.
Gasques and sittnings
Gasques and sittnings are kinds of dinners which are held at student unions, in student groups or at student nations in Sweden. During the autumn and winter months, there seem to be a proliferation of them. Some are held for specific faculties, with students from that faculty having a discipline-based celebration, and some are in keeping with seasonal and festive traditions in Sweden. Some are also as a celebration for different groups in Sweden, such as the HBTQ+ gasque which I have the pleasure of performing poetry at soon in Uppsala!
Seasonal and celebration-based gasques and sittnings, in my opinion, are quite magical. In Uppsala we have the Luciagasque in December which is an exceptionally cosy experience with lots of light and laughter, and a lovely way to see in the winter break with friends. We also have Moose and Goose Balls (where I initially thought the deal was that you dressed up as Moose and Geese. Sadly, the answer is much more solemn*). Filled with songs, snapps, dances, dresses, live bands and warm food, gasques are a sure-fire way to feel cosy as the nights get darker.
Baking
You can try your hand at making the delicacies of Swedish baking – perhaps adding your own twist to the classic kanelbulle or getting to know how much cheese goes into a Västerbottenspaj (answer: a lot).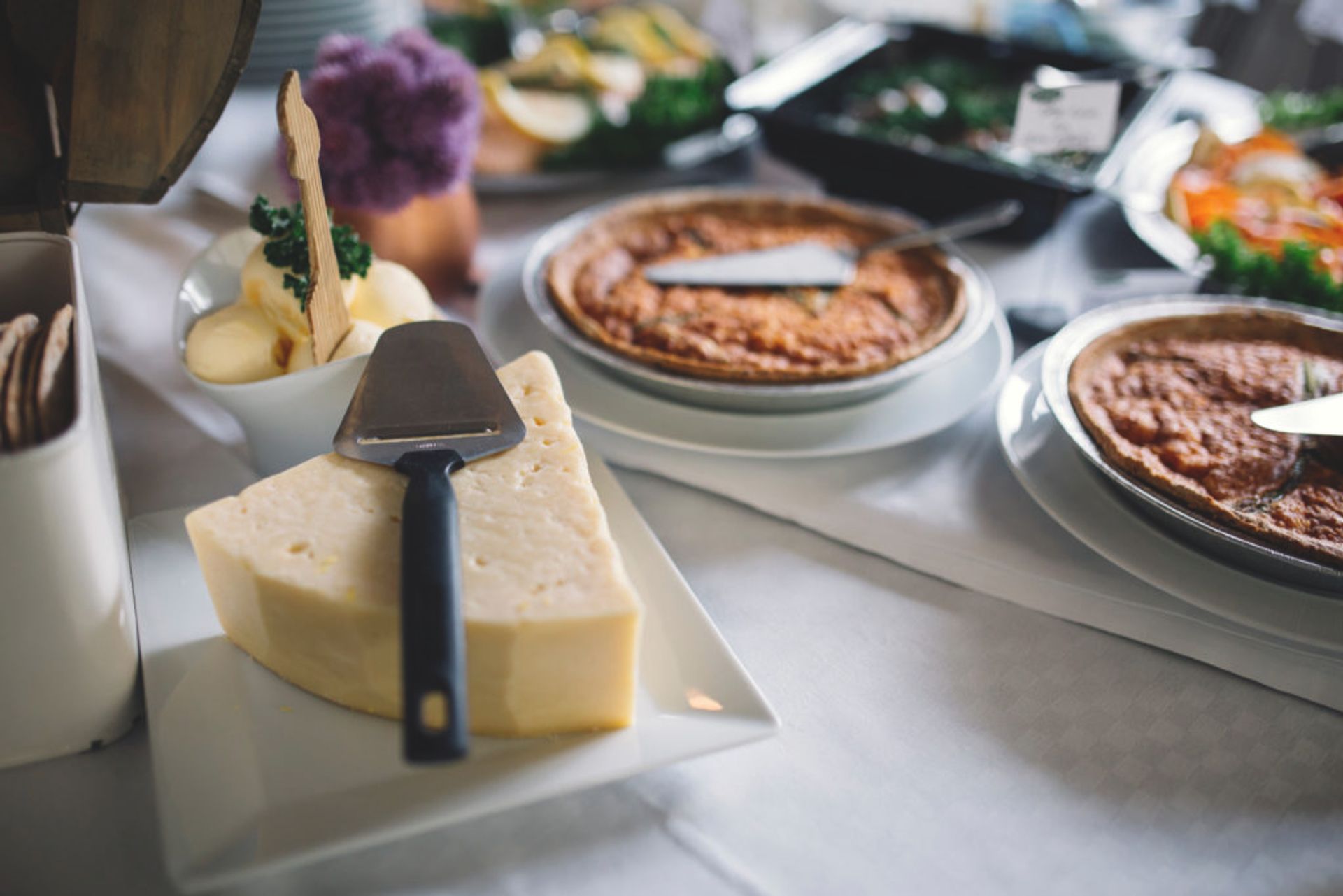 Second-hand shopping
Wrapping up for winter, feeling not just cosy but absolutely prepared for the dark and the cold is a must in Sweden. As Swedes are environmentally conscious beings (and, again, UN report everyone), it's good to consider our consumption. Do we really need to support overproduction in the garment industry at the expense of poorly compensated labour in many countries/feeding an unending capitalist thirst ALL of the time? Maybe not! So: secondhand clothing can be a fantastic way not only to try out something you maybe didn't expect, but in a cheap way and potentially a more ethical way too!
I bought an ENORMOUS blue fluffy winter jacket from Stadsmissionen for 500kr last winter. Did my jacket smell like an old man who lived with 5 dogs? Initially, yes! And then I added my own *scent* to it, and now it's so me! I could fall over in the snow in the dark and I bet I wouldn't feel anything because it's so big and comfy. (I hope this doesn't happen).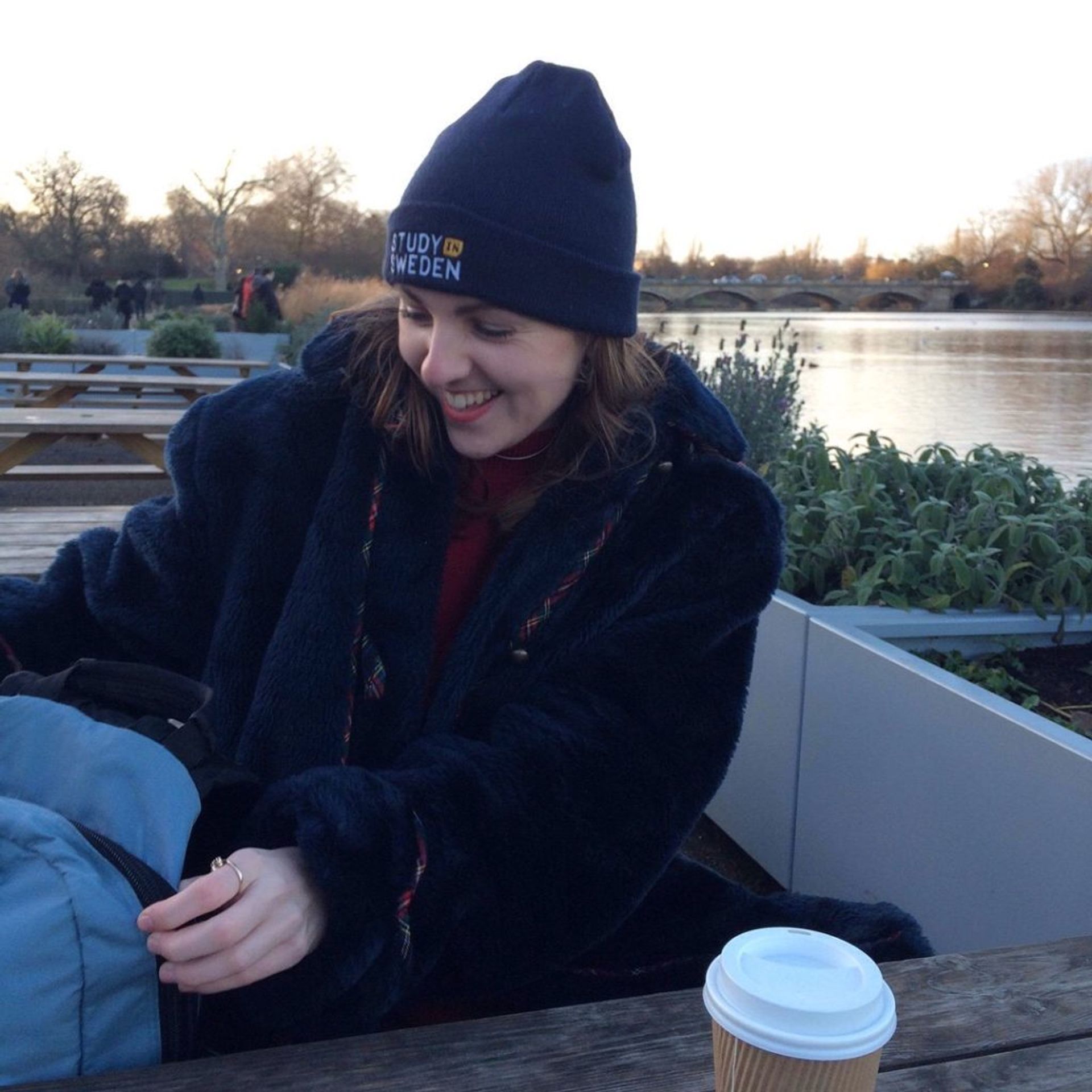 Make the every day special
If you have a sauna in your building (as many students dorms do), make use of it. Make sure you fit in at least one fika a day (for your health). Don't coop yourself up in your room away from other humans: there are lovely conversations to be had and very vital pastries to be eaten. Get a nice reusable flask and fill it up with coffee every morning. Buy lights for your bike! This makes every day special because it could SAVE YOUR LIFE EVERY DAY. It gets so, perilously dark. Please buy lights for your bikes.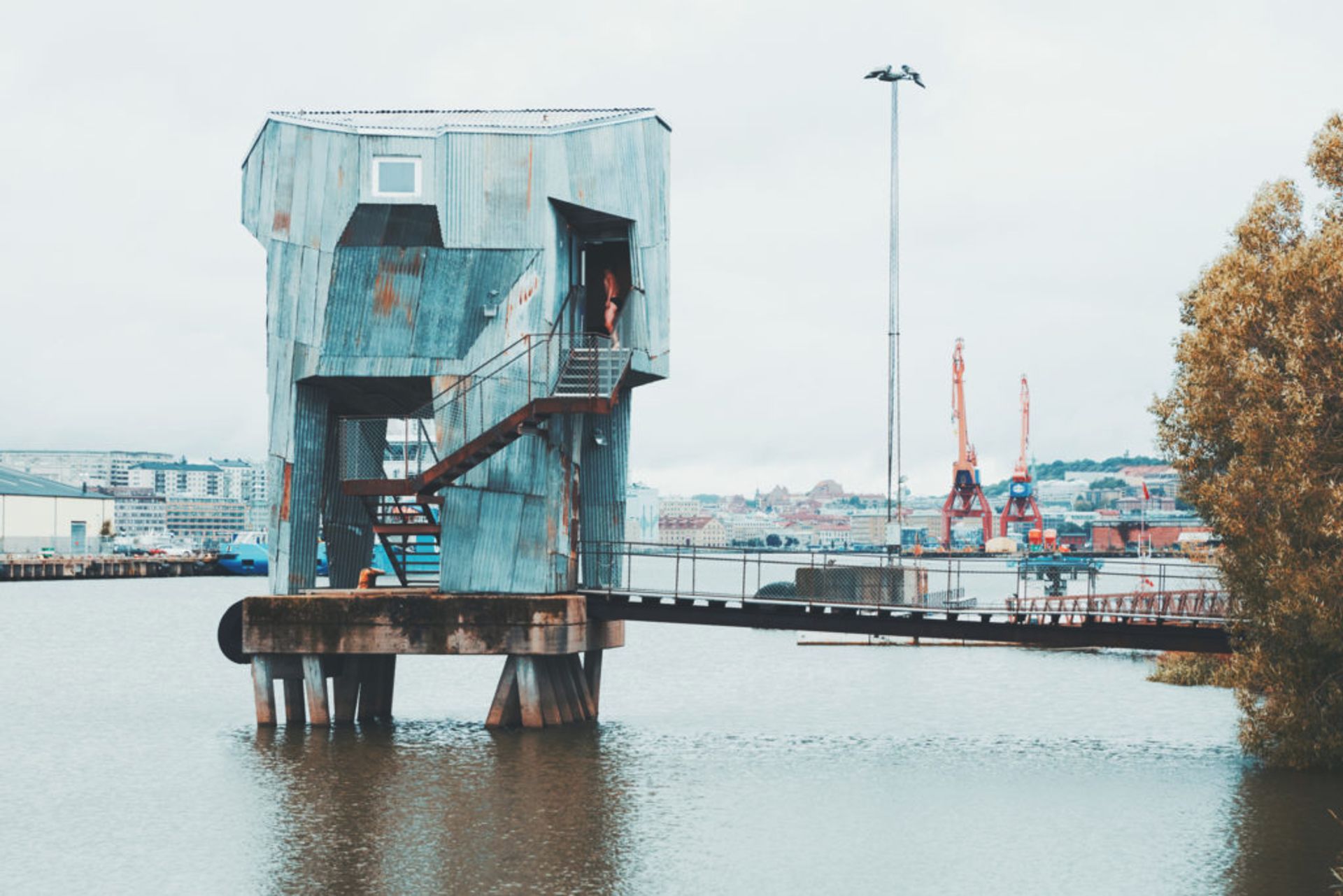 Leave your blinds/curtains open
We're meant to sleep and rise in accordance with the sun's rhythms, aren't we? Now we're all beholden to our alarms and to waking up at 3am sweating and checking Twitter for the latest dystopian story to break. Modern life! (Just me? Anyone? Someone?) Anyway, in winter it is a very good idea to keep your curtains/blinds open, as long as it's safe to do so. If you're on the ground floor of the building, maybe this isn't always the best idea on account of privacy. But if you're a little higher up, maybe experiment with leaving the blinds and curtains open. Let the little amount of light come in naturally, and it might make easing into the day a bit better.
Do you have any tips for how to make the coming darkness as cosy as possible? Comment below!
*You eat Moose meat and Goose blood soup. An acquired taste enjoyed by some, but from me it's a big 🙁 (Jar är vegetarisk / I am vegetarian).