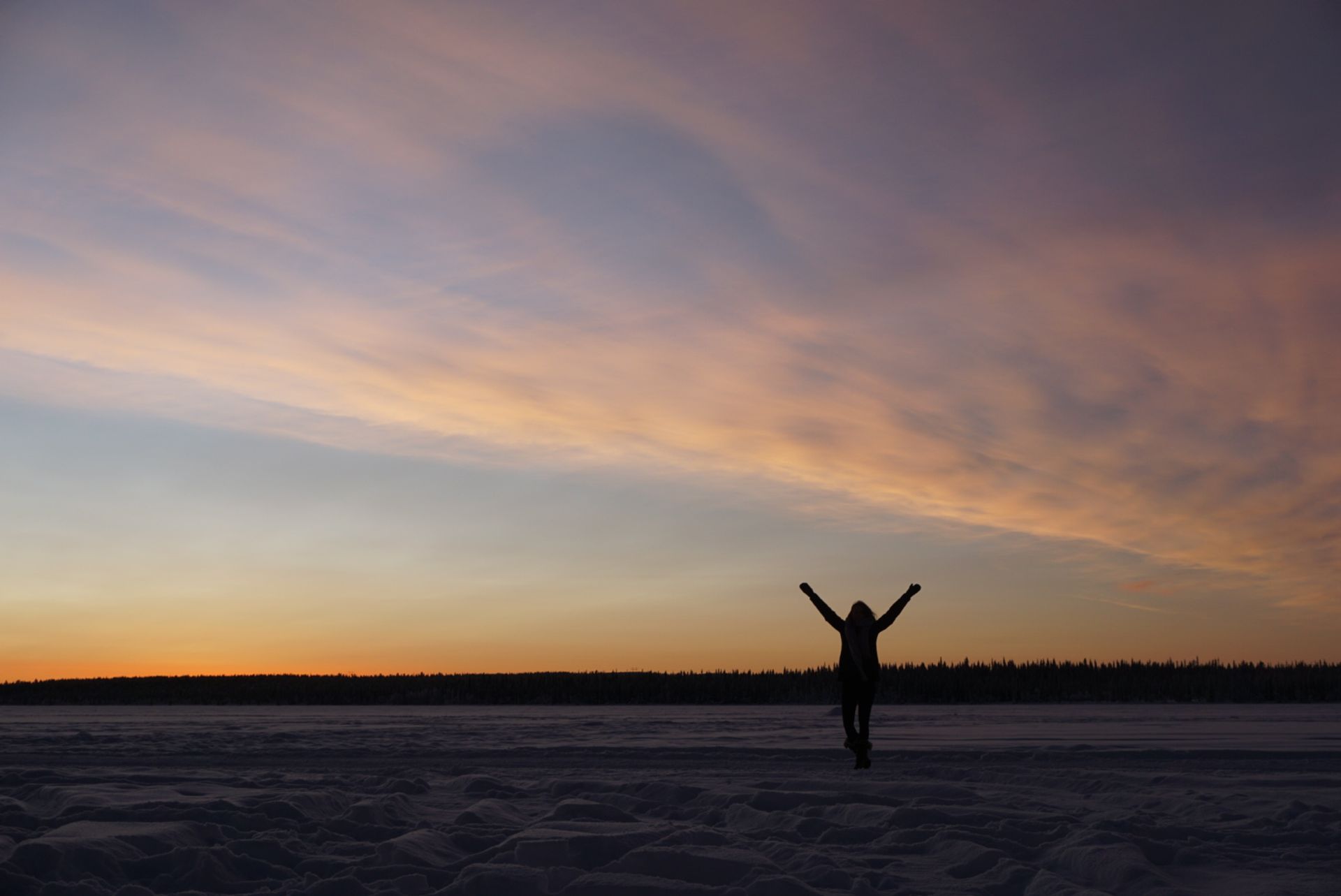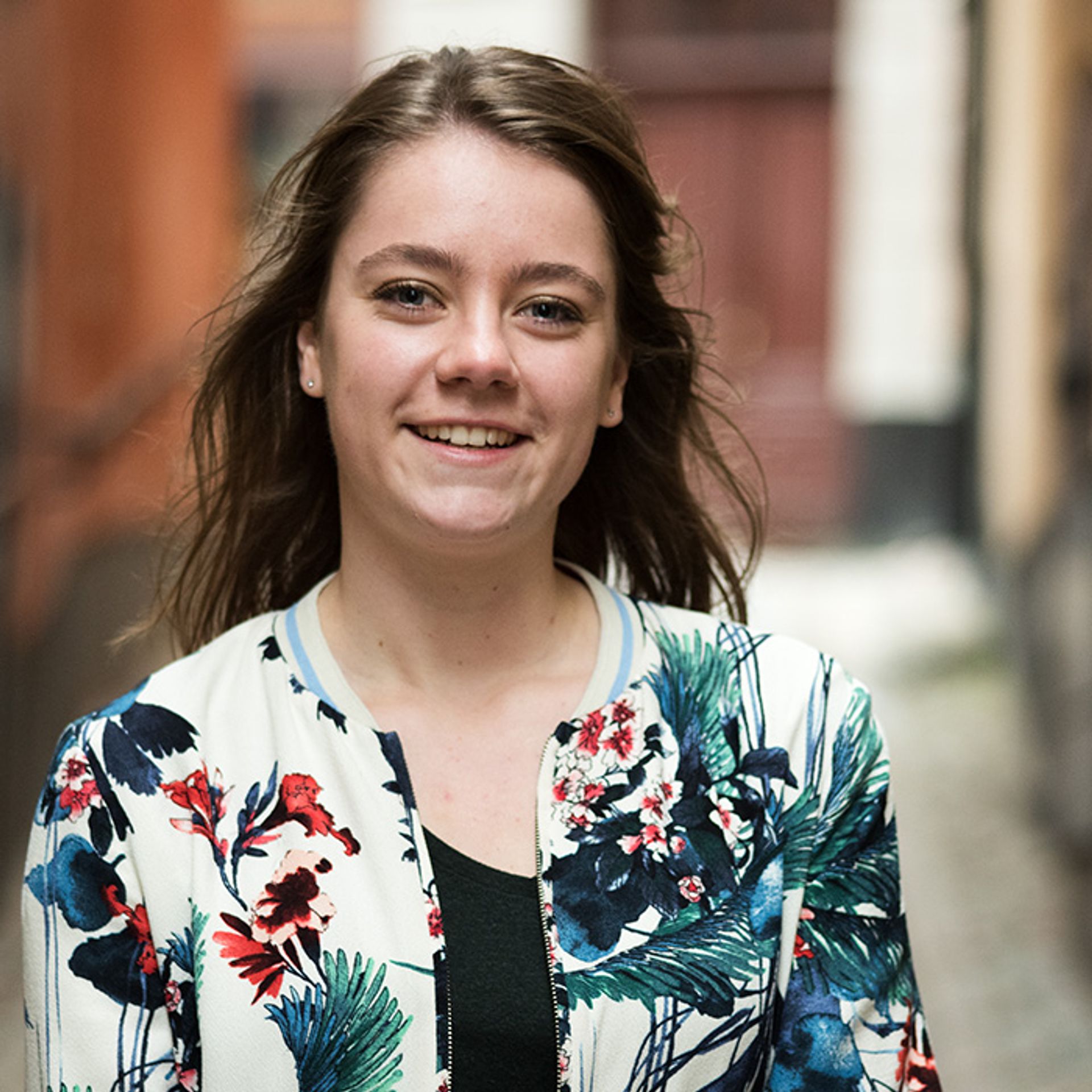 Written by Inez
19 Jan 2018
Studying in Sweden is not only studying in Sweden. It's also about meeting people, trying new food, and maybe most importantly, traveling. And last week, I got to do just that. Along with three classmates and very good friends, we flew to Kiruna. A trip that turned out to be one of the best experiences I've ever had.
more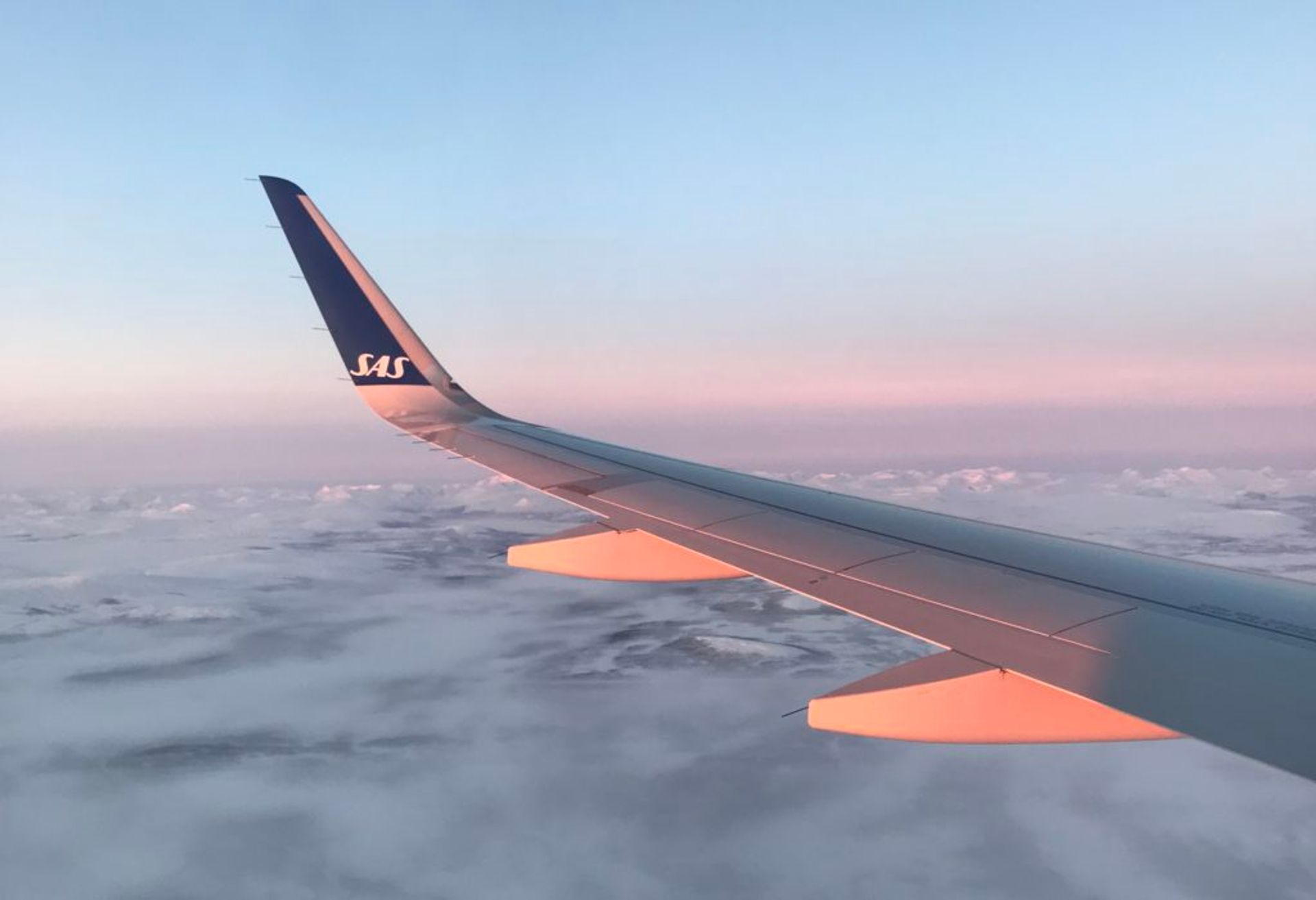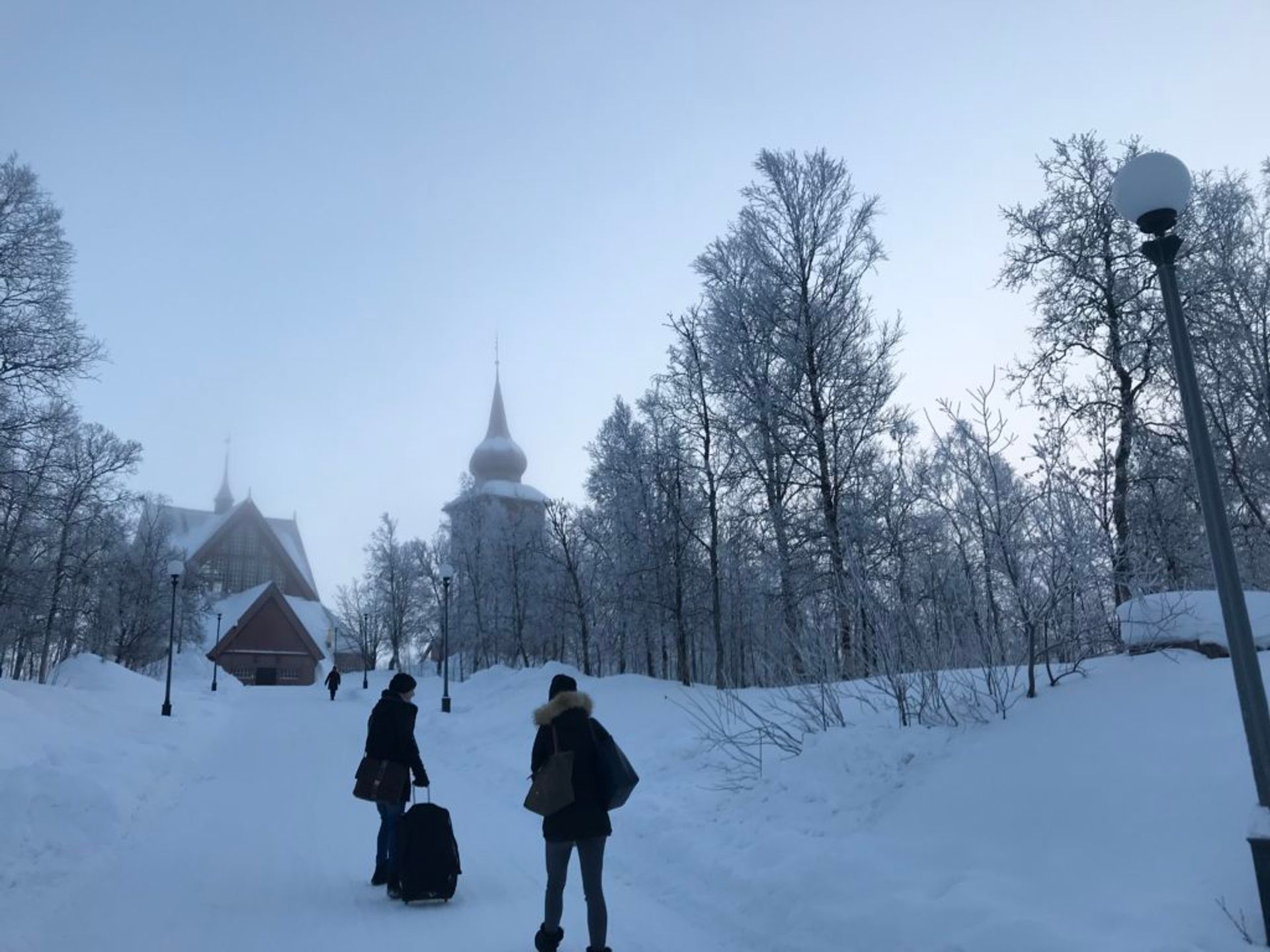 Day 1 – Traveling to Kiruna
We booked a very early flight, because we wanted to have as much time in Kiruna as possible. That did mean that we had to get up extremely early. After a little bit of a delay, we landed in Kiruna at around 10AM. We took the bus to city centre and walked around a little. Wasn't easy, because we had big suitcases and there was snow everywhere. But we really wanted to see a little of the city and we had to kill some time before we could go to the camp we'd be staying at. We also got all the groceries necessary for the next three days, because we would not be going back to the city. A while later, a car from the camp came to pick us up. There, we got the keys to our cabin (which was huge!) and got settled in. We cooked a big dinner, played some games and went to bed very early. We had some very exciting days ahead of us…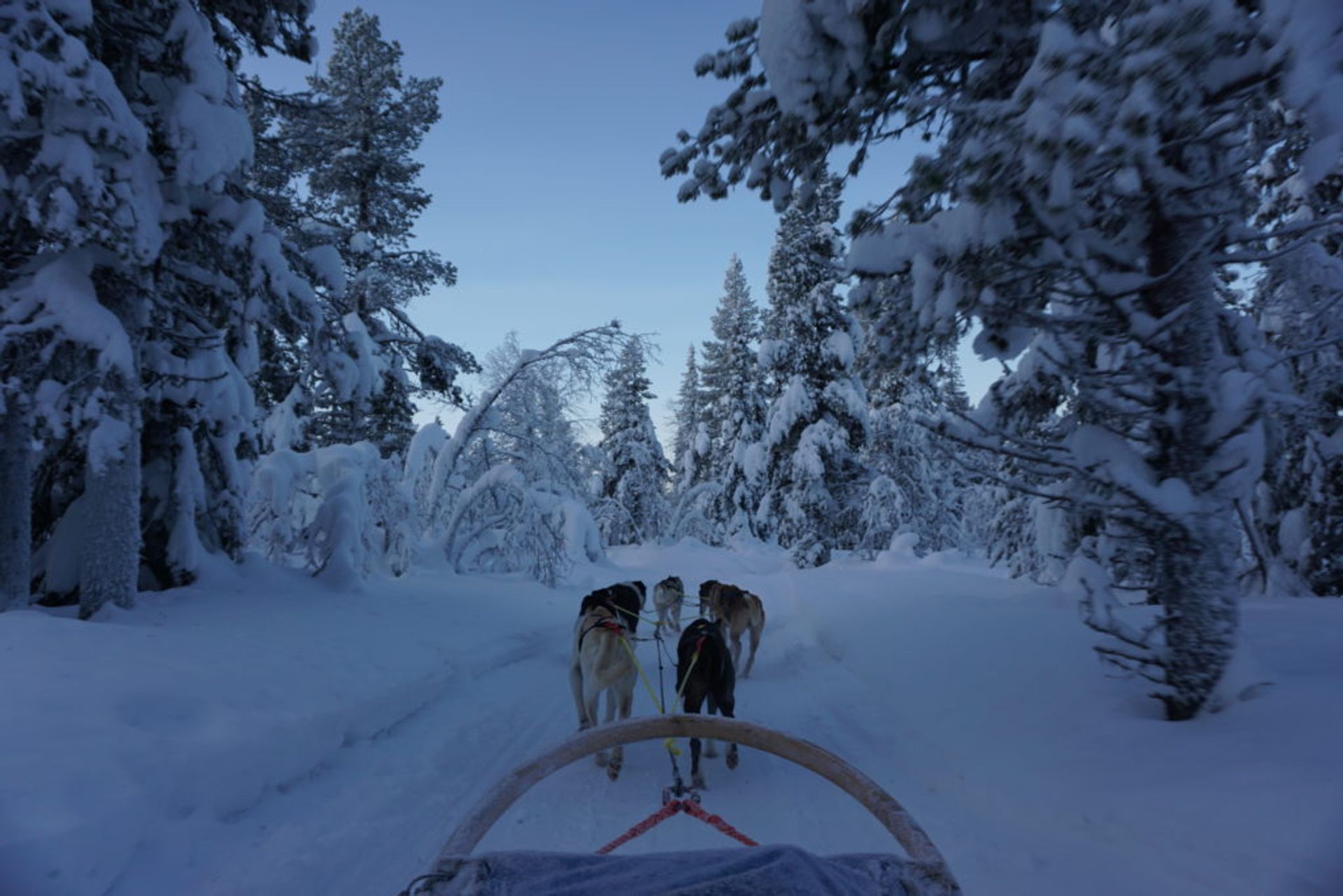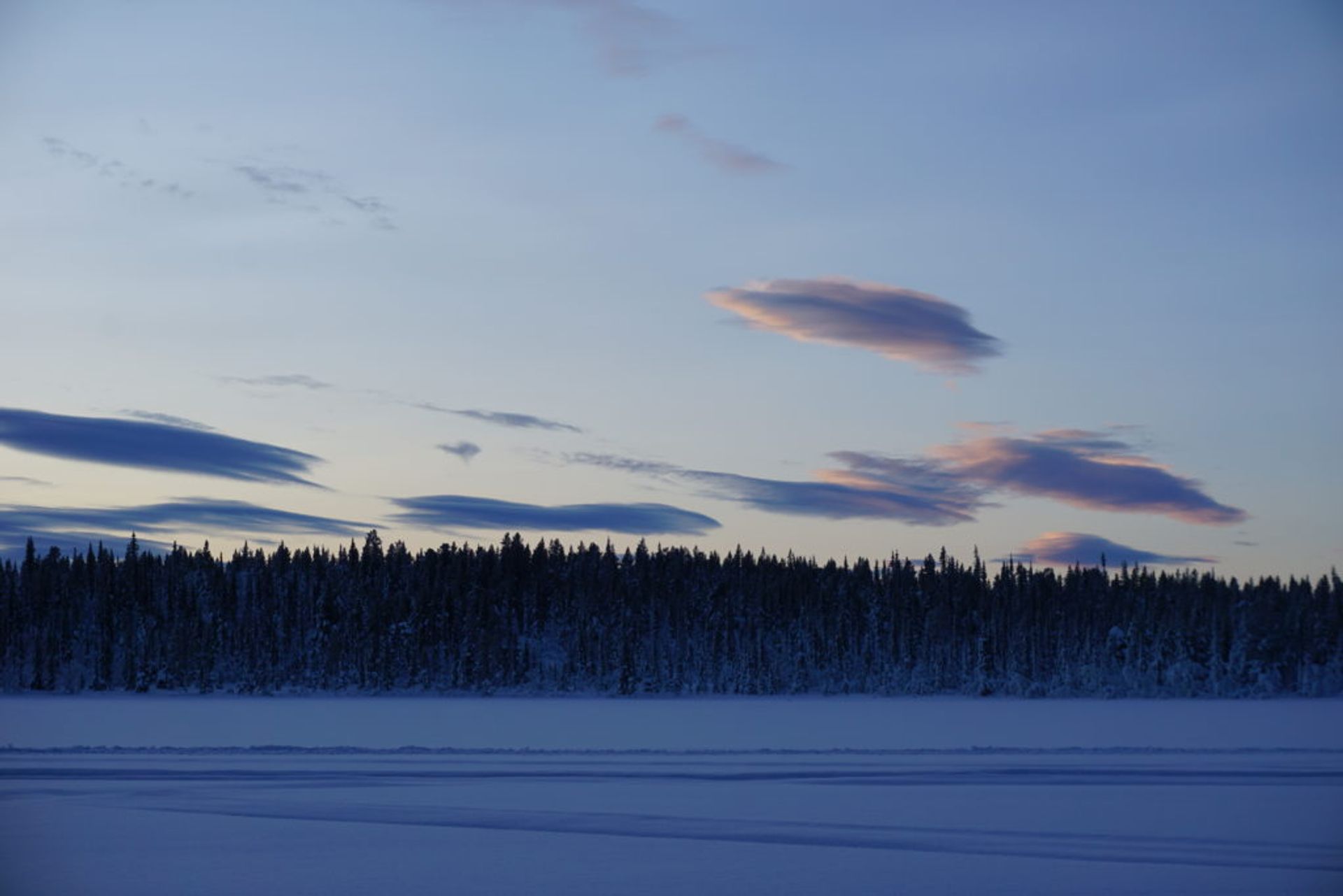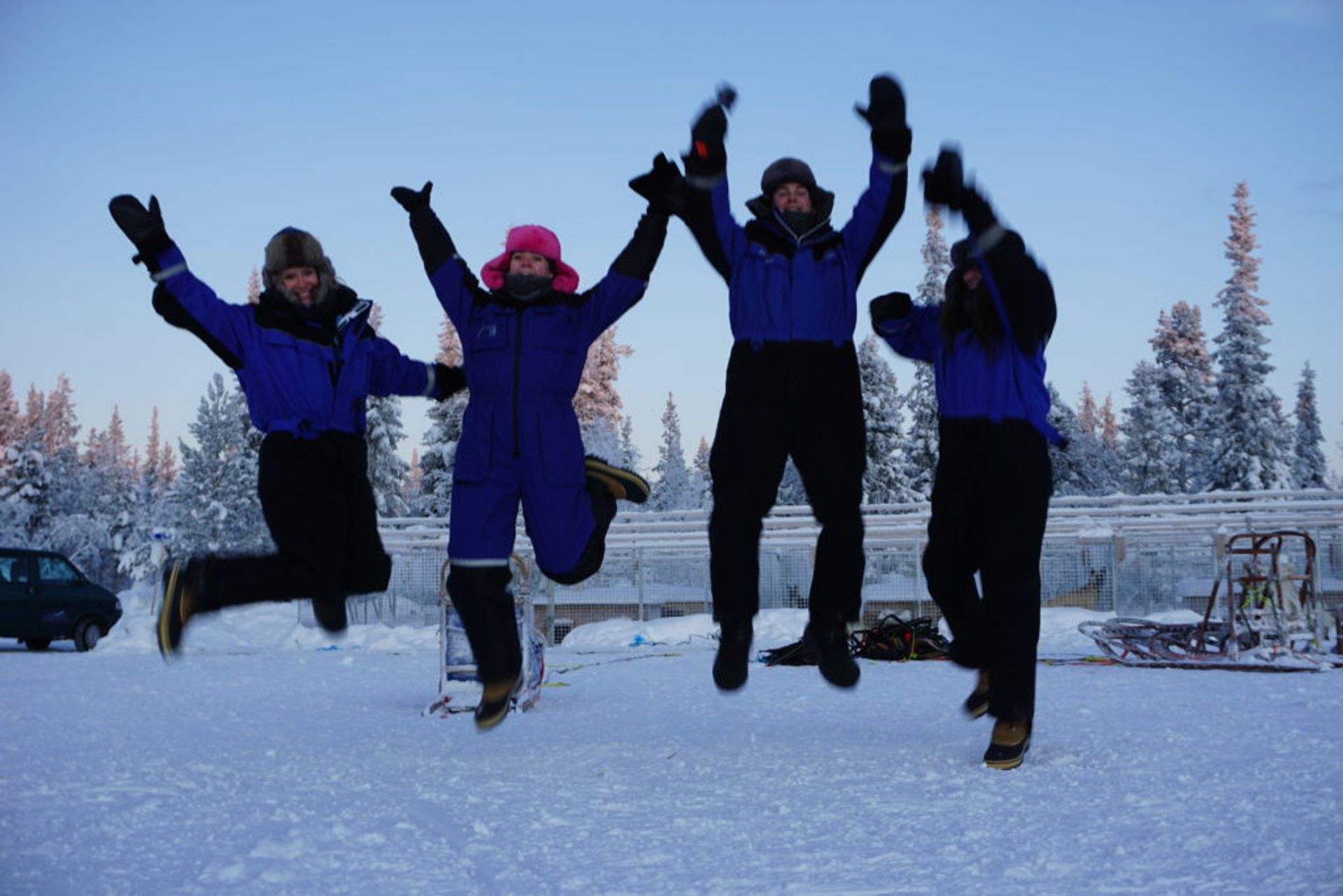 Day 2 – Dog sledding
After a quick breakfast and a huge coffee, a car brought us to the dog sledding camp around 9AM. There we got into about 5 extra layers of clothes. Extra socks, extra gloves, extra hats. Everything to keep us warm for what was to come. A while later, we finally got to meet and cuddle with the dogs. We got some tips about how to work with the sleds and we were ready to go. The next two hours we toured through the most amazing landscapes, got to see two elks, and took about 200 pictures. We had some delicious soup around a campfire and carrot cake as dessert. Once we got back to our cabin, we all took a little nap or just sat on the couch (dog sledding is surprisingly tiring!). When the sun started to set, we ran outside to take some more pictures and enjoy the view. For some reason, the sunrises and sunsets in Kiruna are at another level. The skies turn all pink and purple. So incredibly beautiful.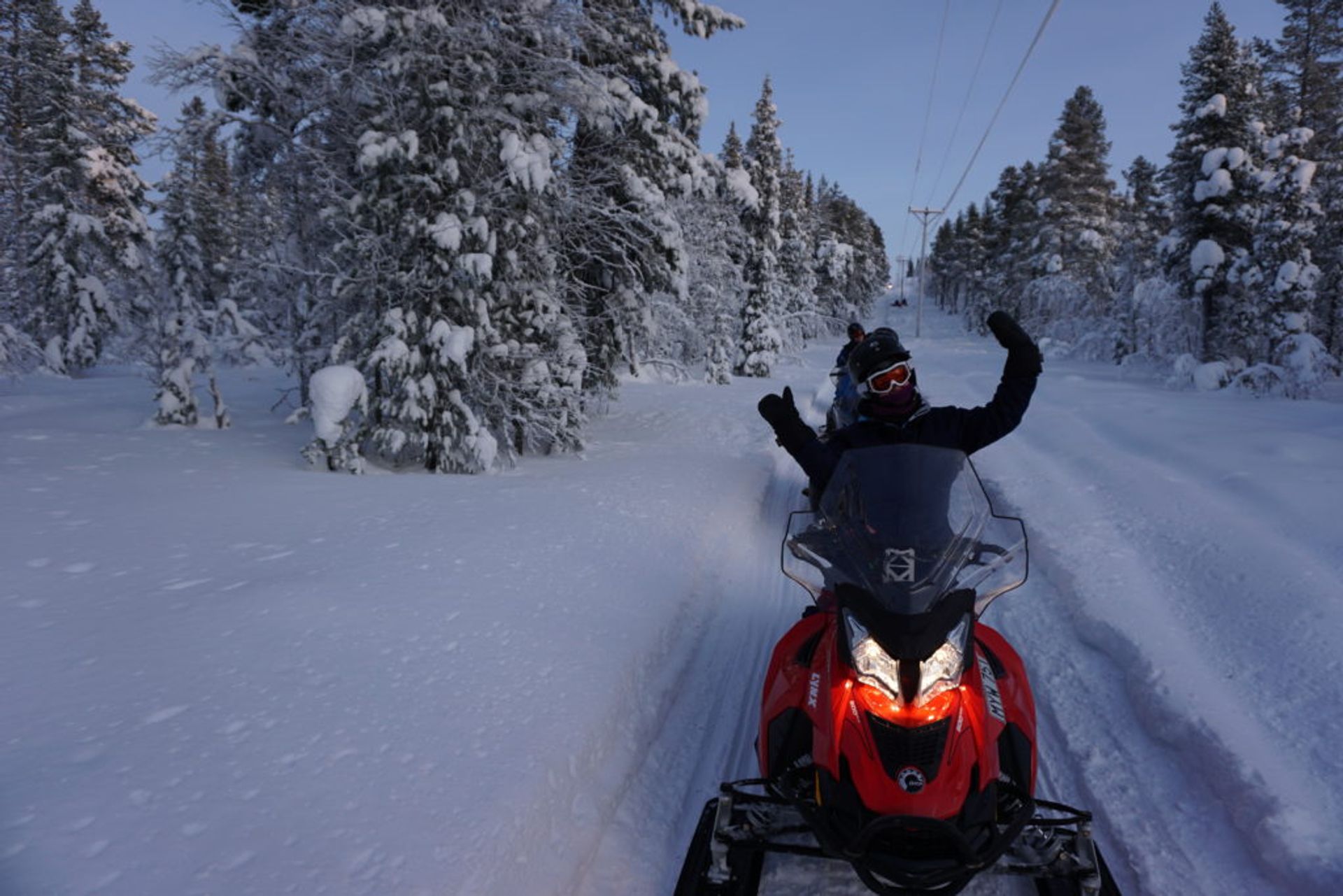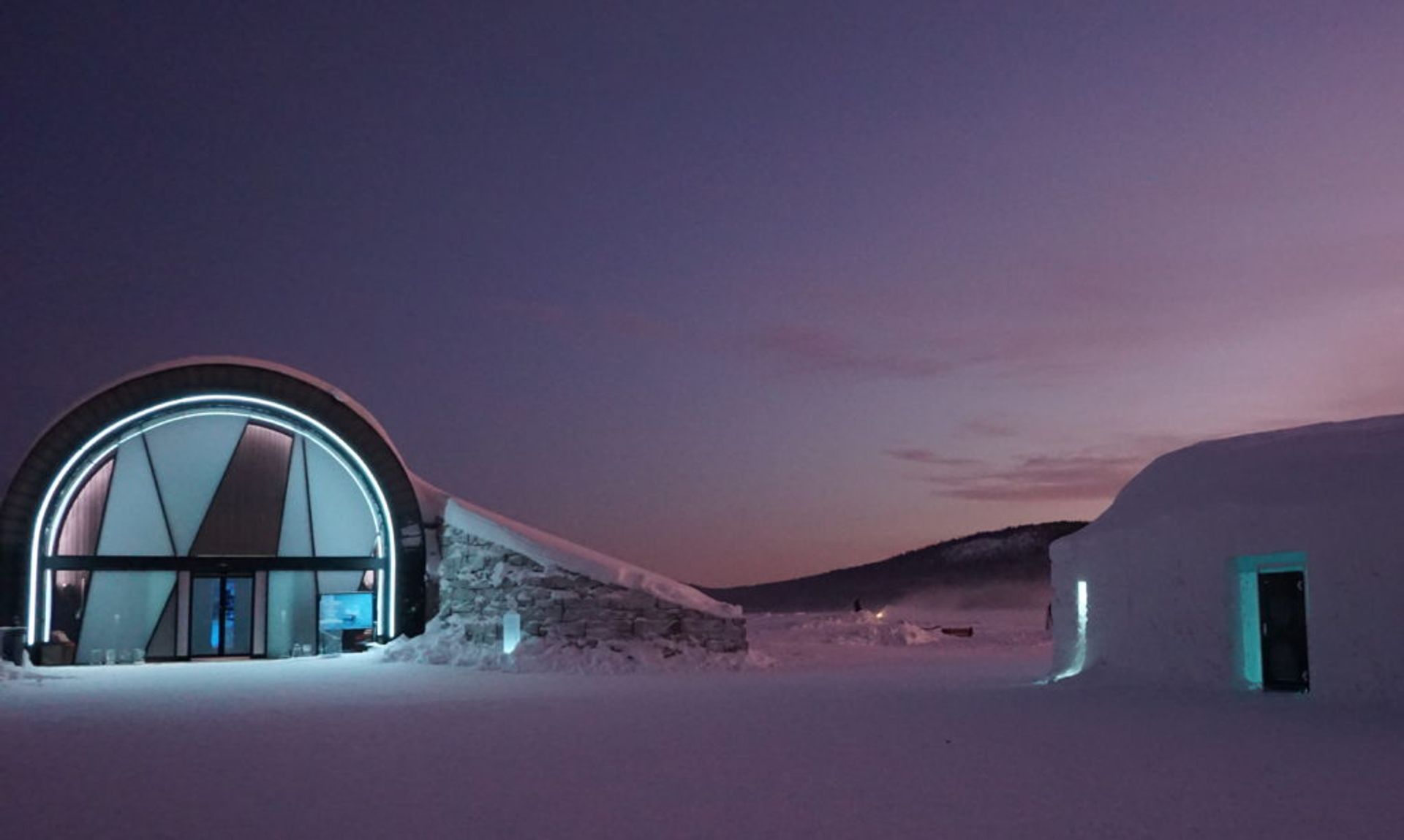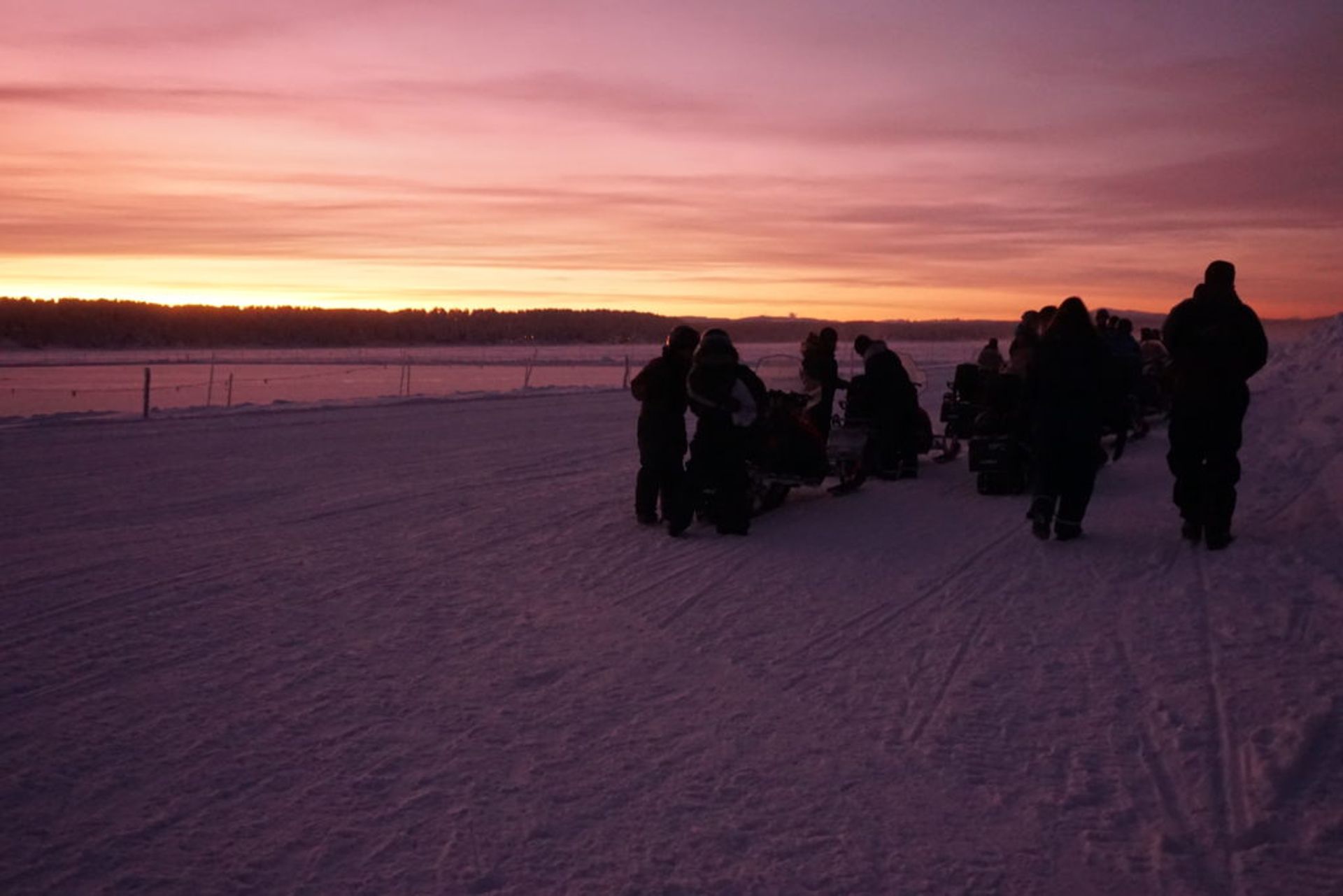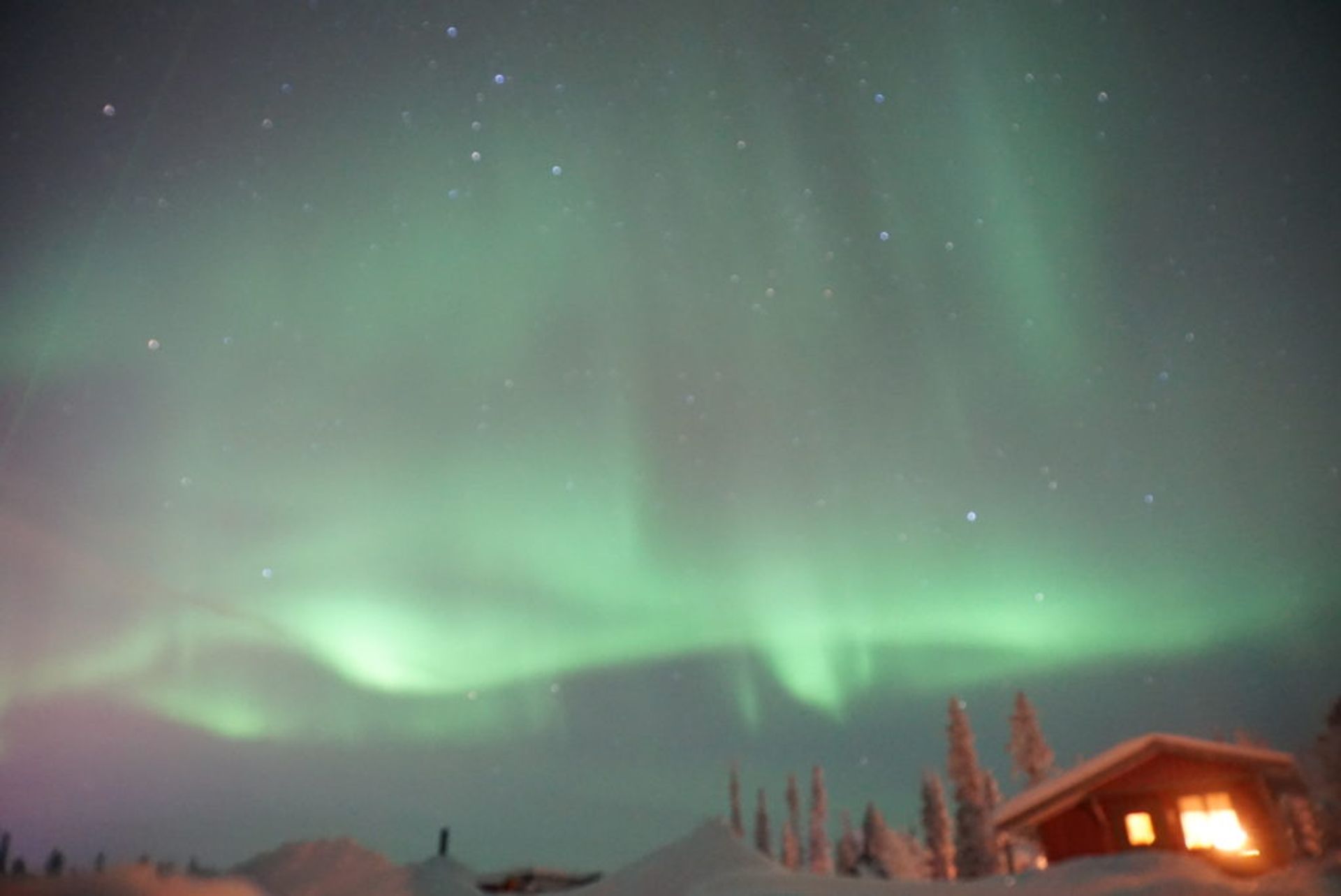 Day 3 – Snowmobiles and the Northern lights
Already our final full day in Kiruna! Today is all about the snowmobile tour. We get dressed into some extra layers of clothes again (it is about -18C) and get on the snowmobiles around 10AM. I'm super excited and a little nervous at the same time. These snowmobiles are big and they make quite a lot of noise. However, it only takes about a minute for the adrenaline to kick in and a while later we're racing at 80 km/hour over the frozen lake. During the rest of the tour, we come across some incredible landscapes again and visit the Ice Hotel. To be honest, I did not have really high expectations of the Ice Hotel, but it was surprisingly cool. It's really big and the rooms look absolutely incredible.
What we don't know yet, is that the highlight of the trip hasn't even taken place yet. Back at the cabin, while cooking our dinner, we hear someone knocking on the door. 'Go outside, the Northern lights are visible', we're told. I don't think I've ever gotten dressed quicker and about 10 seconds later, we all run outside. As our eyes adjust to the darkness, the white stripes in the sky slowly turn green. I get out my camera and try to take a picture. The result amazes us all. All while this is happening, someone starts a campfire. Everyone from the camp joins. We're sharing our drinks and are talking all through the night. What an incredible way to cross the Northern lights from my bucket list.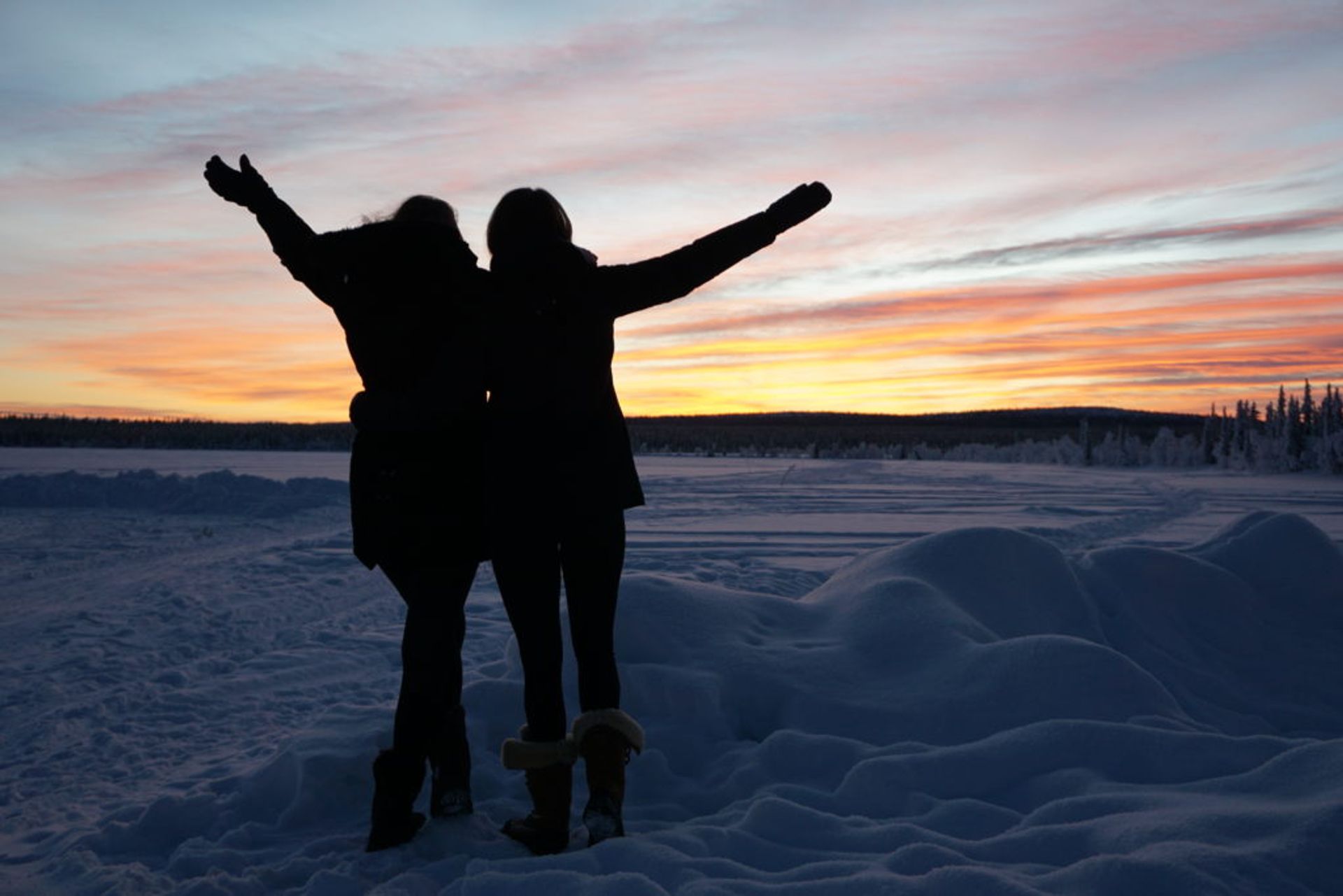 Day 4 – Going back home
It's already time to leave again, but there's no way for us to be sad about that. Seeing the Northern lights last night still feels like a bit of a dream, but the pictures are proof it actually happened. We clean up the cabin and drive back to the city centre. We have some time to kill before the flight again, so we sit down in a cafe and play some games (I won, in case you're wondering). A few hours later, we're back in Stockholm. What an unforgettable weekend. It will forever be a reminder to book that last minute trip.