He might be perceived and considered a genius; but guess what he thinks about 'being a genius': "I don't believe in any of this about geniuses and talents. Especially not when it comes to music. As long as you have a dream, you can succeed. (…) Believe in your dream and don't let others judge you. You might not be going wrong with what you are doing, you just have to find the right context for you". And you know what? I understand him. It's not that easy to be confident about this perception of 'being a genius'. I personally think that sometimes talent is just there, and it's up to us to somehow find it out. But he basically says that everyone has talent: it's up to us to work hard in order to unfold it. And yes, his insight gives me hope, as it should give it to you. So I like it.
Coming back to us, the person I'm referring to is a very (and objectively) talented Swedish musician, called Martin Molin. He's part of a folktronica and post-rock band, Wintergatan. Before going straight to the point where you'll probably be thinking "W-o-w", just let me introduce briefly Martin. Born in 1983, he has struggled so much to become the great artist that currently is. After finishing the school, for three years he has tried to enter a college in order to pursue his musical dreams. Always rejected, he didn't give up, and eventually an academy accepted his application. For our ears' sake. And he has written many songs for his band even though he said: "I've tried writing lyrics, but I'm totally useless at it. All I can write is emails, so I'll stick to that".
Martin has been in love with music since his childhood/adolescence. However, and apparently, his romantic feelings for music were shared with something else: mechanics. Specifically, mechanics embodied in Lego Technic. The shapes and the lines that could be created and intertwined, new small mechanical creatures and all the reasonings behind that: a way to escape the reality of the simple things, and embrace the complexity. He really loved that. And the amazing combination of music and mechanics has led him to build something… magical.
Try to have a look at this, first. Then, if you want, just come back here: you'll know more about that. But first, enjoy: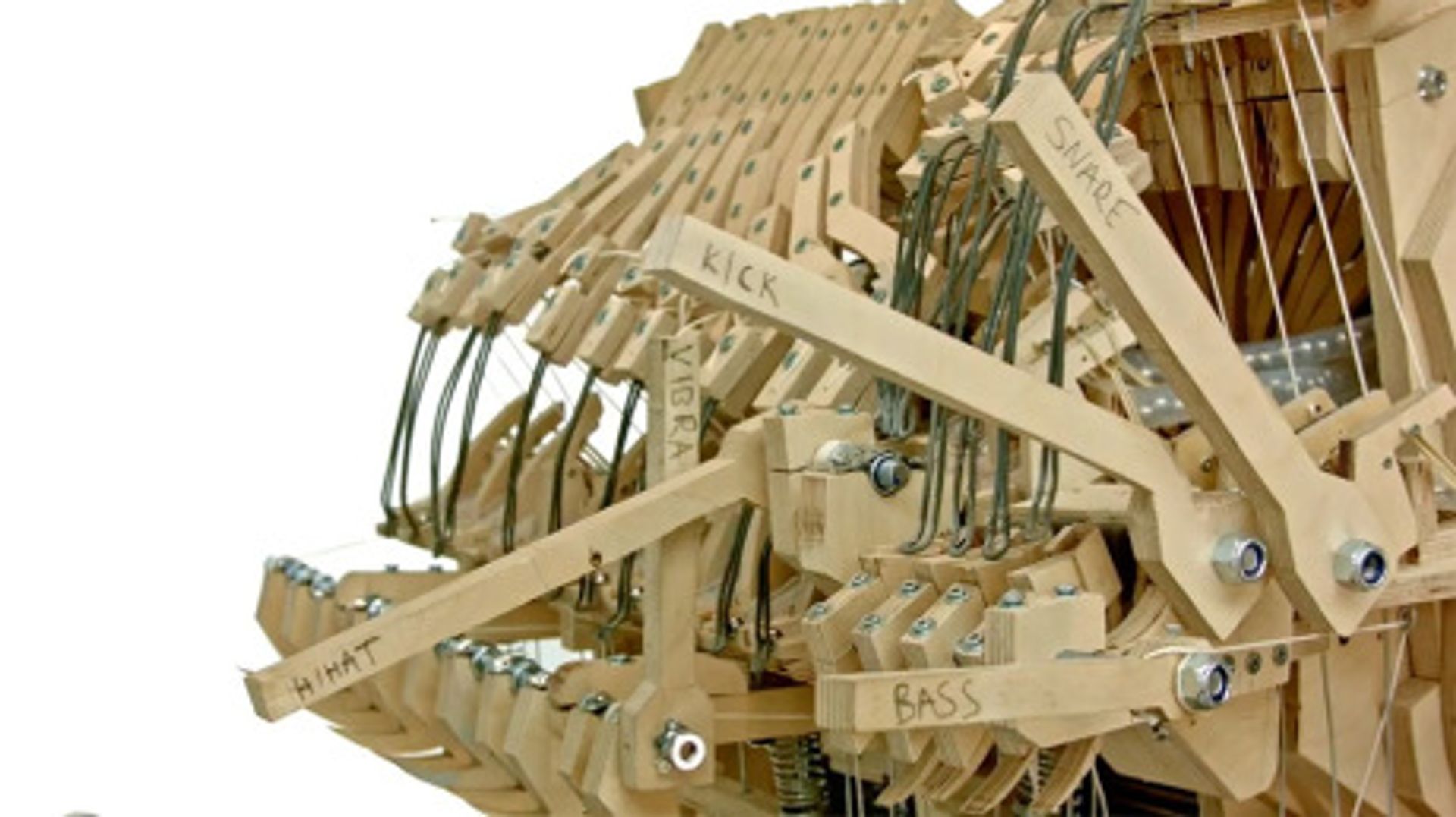 In 2014, Martin started working on a project that initially was supposed to be accomplished within a couple of months. Eventually, it turned out to be 16 months. Actually, after the very first six months, Martin was not able to reach a way out. However he didn't leave his idea behind: against the unsatisfying results, he kept on trying again and again. And the outcome of the project is what your eyes and ears have met in the video: called Wintergatan "Marble Machine", it can be defined as a sort of handcrafted music box.
What you can see it's a machine where marbles (two-thou-sounds!!), a hand crank, wooden levers, and in total more than 3000 moving parts, match perfectly together, originating the show performed by those sounds and rhythms. Some instruments, that is to say a vibraphone, a bass, three pads and a percussion are activated both manually by some levers and by a pre-set sequence; this process leads the marbles to be released following the ideal tempo drawn by Martin's mind.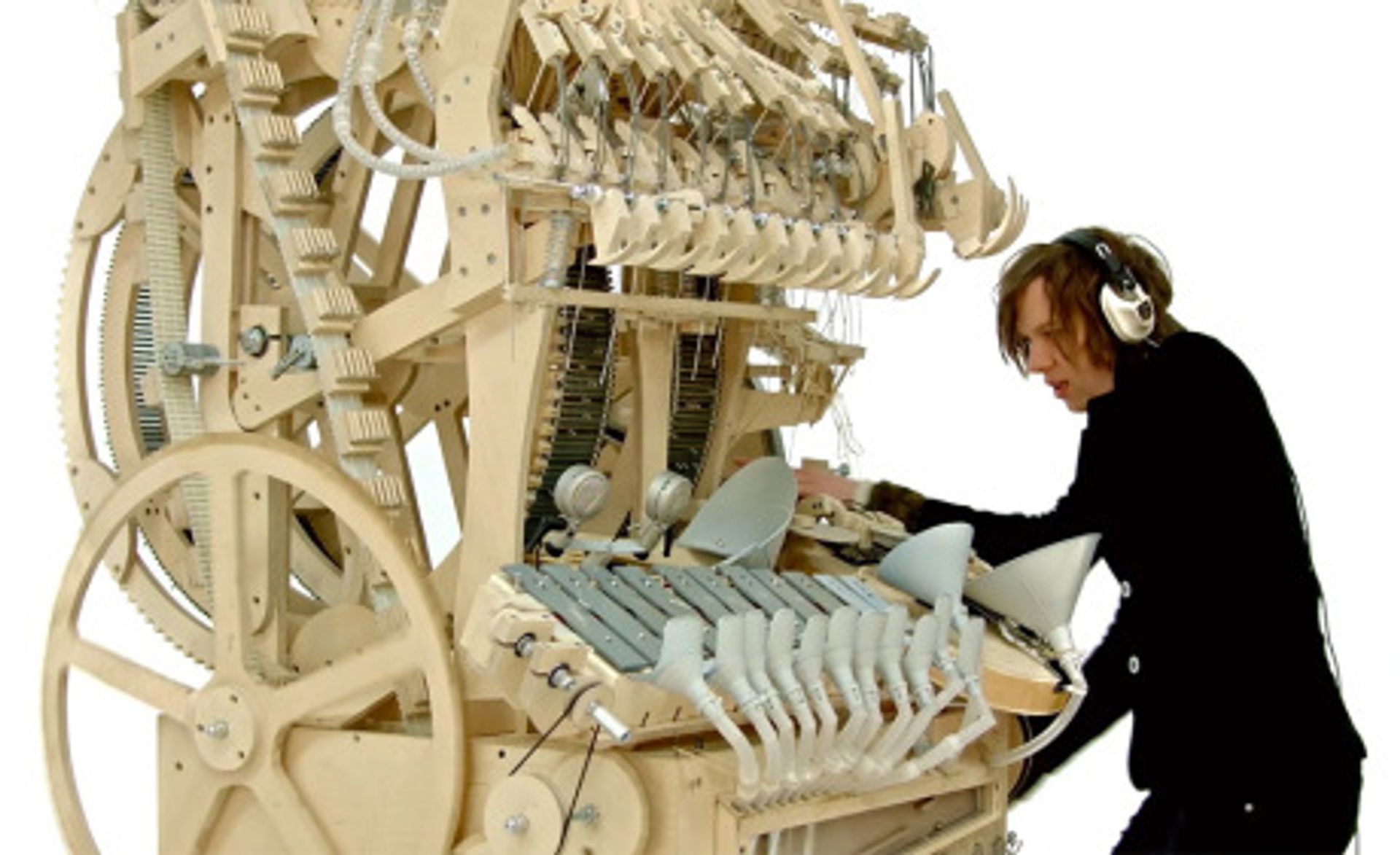 A creative mind, and saying creative it's not enough I would add. Giving birth to such a brilliant machine is something not so common. Martin was really able to combine the two passions that accompanied him throughout his youth. And this mixture gave us the chance to appreciate and admire such a talented human being making up something remarkably splendid.
Currently, Martin has been working to a new model of the Marble Machine: his aim is to bring it with him when touring for his concerts. After all, as he said: "I am still totally fascinated by complex systems and constructions. And cogs. I love cogs!"
Sources
Photos: https://zirconet.wordpress.com/2016/03/03/cose-la-wintergatan-marble-machine-di-martin-molin/
Quotations by Martin Molin: https://www.stim.se/en/interviews/studio-martin-molin