Sweden has a rich historical background, a unique culture. But most importantly, a lot of unique types of FOOD!!
Here's all you need to need to know about Swedish food!
Ok, so Let's start with everyone's favourite! Chocolate! 😀
Sweden has an interesting variety of chocolate and candies. In Swedish they are called ''. You typically walk into a candy store, like 'House of Candy' (one of my personal favourites) and this is what you will see.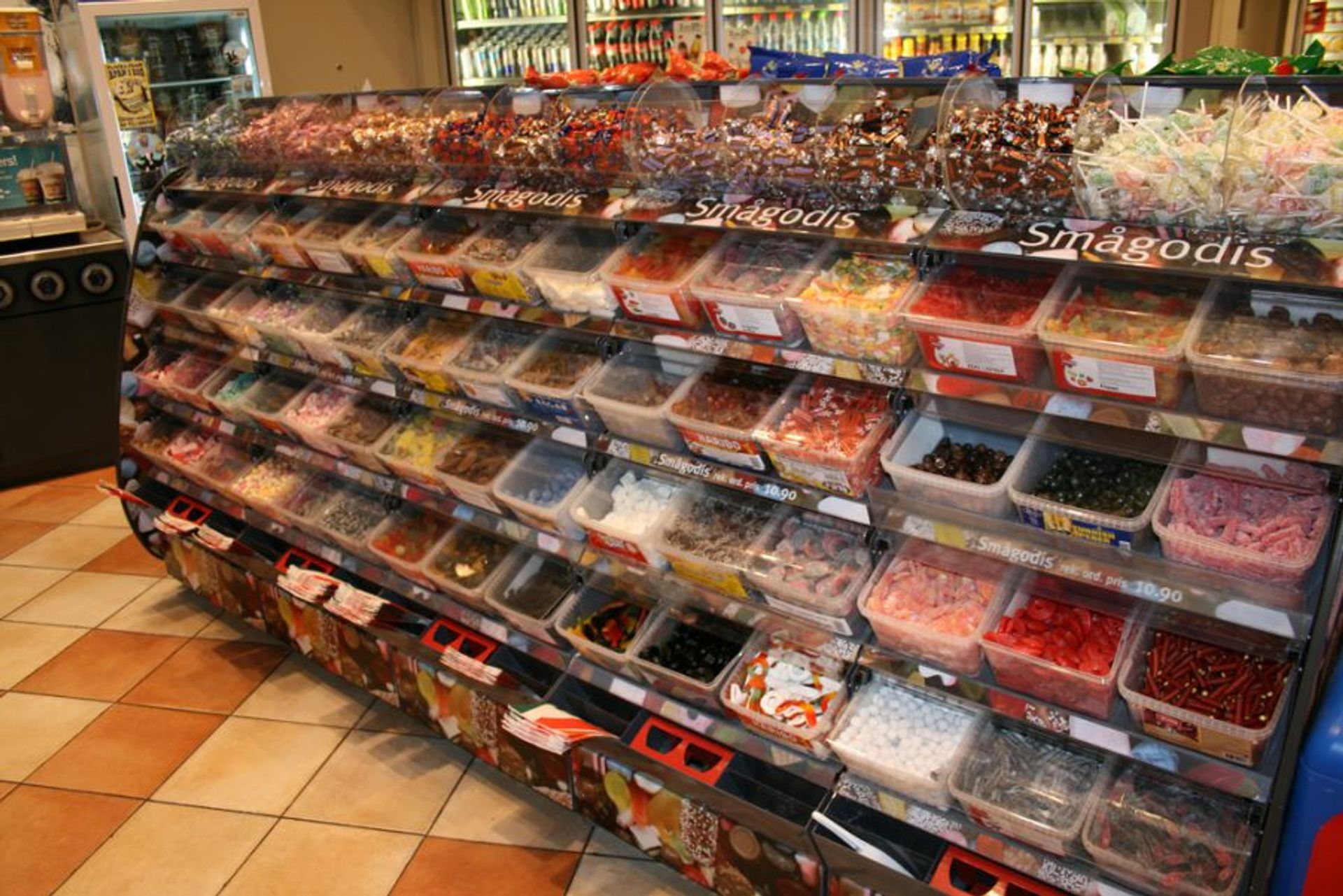 There any many varieties of and here are some of the best chocolates (according to me).

Chocolate marshmallows

Choco/kokstoppar

Marabou Oreo

Plopp

The sour and sweet candies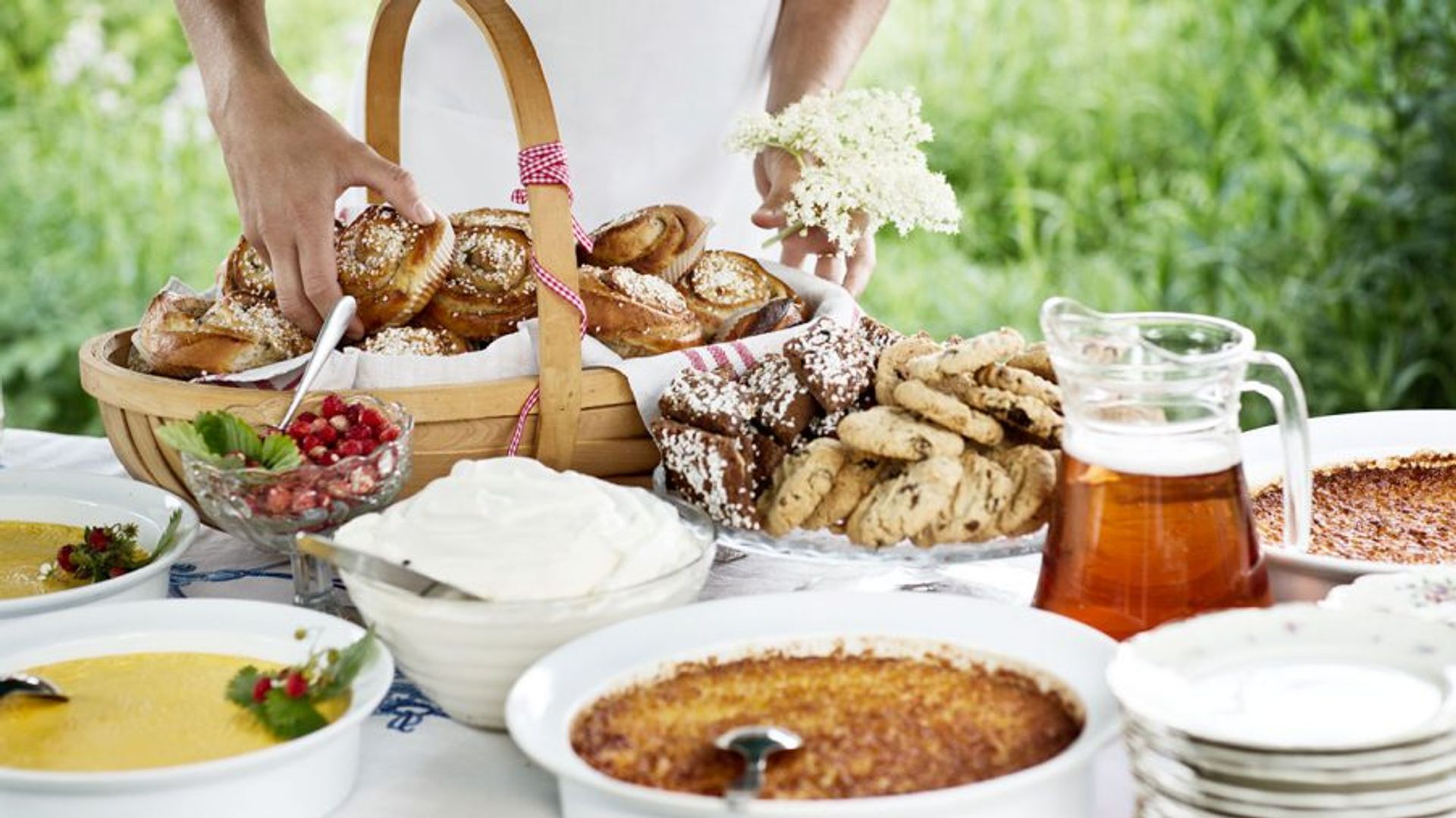 You might be wondering why Im allocating a separate section for snacks, that too right at the top of the list. The thing is, in Sweden, 'snack time' or 'Fika time' is super important and is an essential part of everyday life. 'Fika' is typically a coffee time break, where you get together with your buddies, drink coffee, and oh, EAT A LOT OF SNACKS!
Here are some of the most popular Fika snack items that go perfectly well with your coffee!
Kanelbullar – Cinnamon Buns

Chokladbollar – Chocolate Bal

Kladdkaka – Sticky Chocolate Cake

Mazariner – Almond Tarts

Småkakor – Small Cookies

Rulltårta – Roll Cake

Princess cake

Swedes enjoy a lot of different kinds of drinks. Grab you're favourite and say "skoal!" in an authentic Swedish manner.

Glogg (Both alcoholic and non-alcoholic)

Aquavi

Punsch

And if you're a teetotaler like me, here are the non-alcoholic drinks:

Brämhult's Juices
A typical Swedish cuisine will most likely consist of the following:
Lingonberries: Either as a juice, or a jam, Swedes love there berries! Initially, I wasn't a big fan, but I've grown to like then now!

Pickled herring. There's a lot of Fish here. A LOT.

Crispbread

Räksmörgås and other open sandwiches

Crayfish

I'm a vegetarian, and initially I was super concerned about the availability of vegetarian food in Sweden!
And let me tell you outright, if you are from a country where there a lot of vegetarian options, like India, Bangladesh and mostly other Asian countries, do NOT expect to find a lot of vegetarian options in restaurants,
If you walk into a typical Swedish restaurant, and order a vegetarian dish, you will get a lot of vegetables and a lot of potatoes and mushrooms.
However, there a lot of small eateries like burger outlets and wrap stall where you can grab a vegetarian meal option.

Here in Sweden, in certain restaurants, stating you're a vegetarian might be interpreted as you being a person who eats only vegetables and fish.
If you don't eat fish, you should state that you're a lacto- vegetarian. Be sure you mention you don't eat fish, since a lot of vegetarian Swedish dishes are covered with caviar.
OK, writing about all this food is making me hungry, so I'm going to go eat now 😀