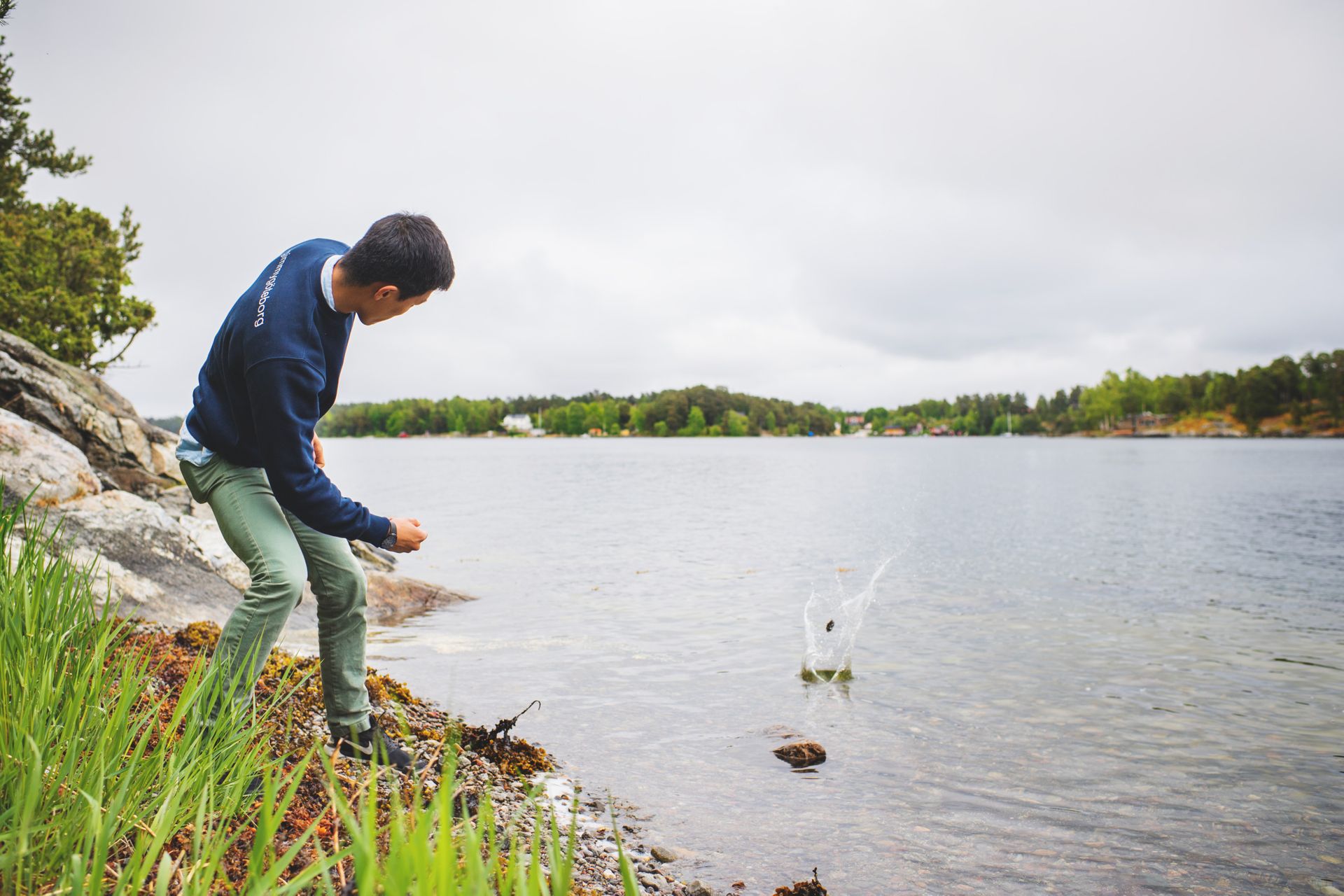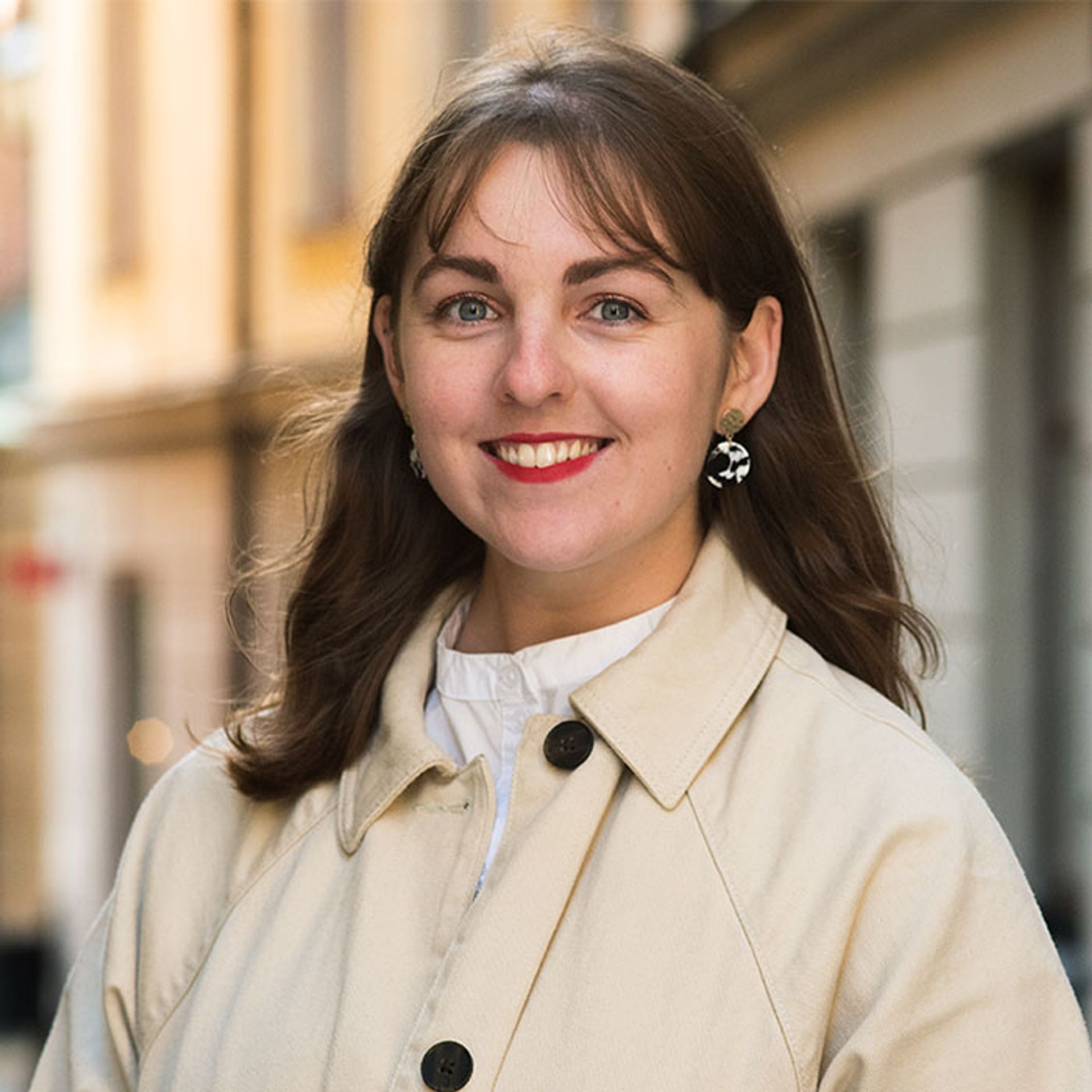 Written by Emma
06 Apr 2020
How many theses will get written in self-isolation this year?
This is a question which has begun rattling around my brain, as I stare out of the window at my new favourite big tree. It's 11am on a Monday, and I'm attempting to write my thesis from my bedroom desk.
In the grand scheme of Life Right Now, getting to stay tucked indoors and write a thesis is a nice thing to be able to do. Though the virus has meant I have lost one of my part-time jobs, with my other one (this one, hello) I can work from home. And as this is my thesis-writing semester, the way that this situation has manifested for me is that all I have to do really is stay inside and read, and think, and write. For thesis-writers who usually find themselves distracted from the task at hand by letting the rushes and speed of daily life get in the way, this situation forces us to slow down, and to finally give some undivided attention to this. And that can be intimidating: sitting in front of your computer every day and facing yourself.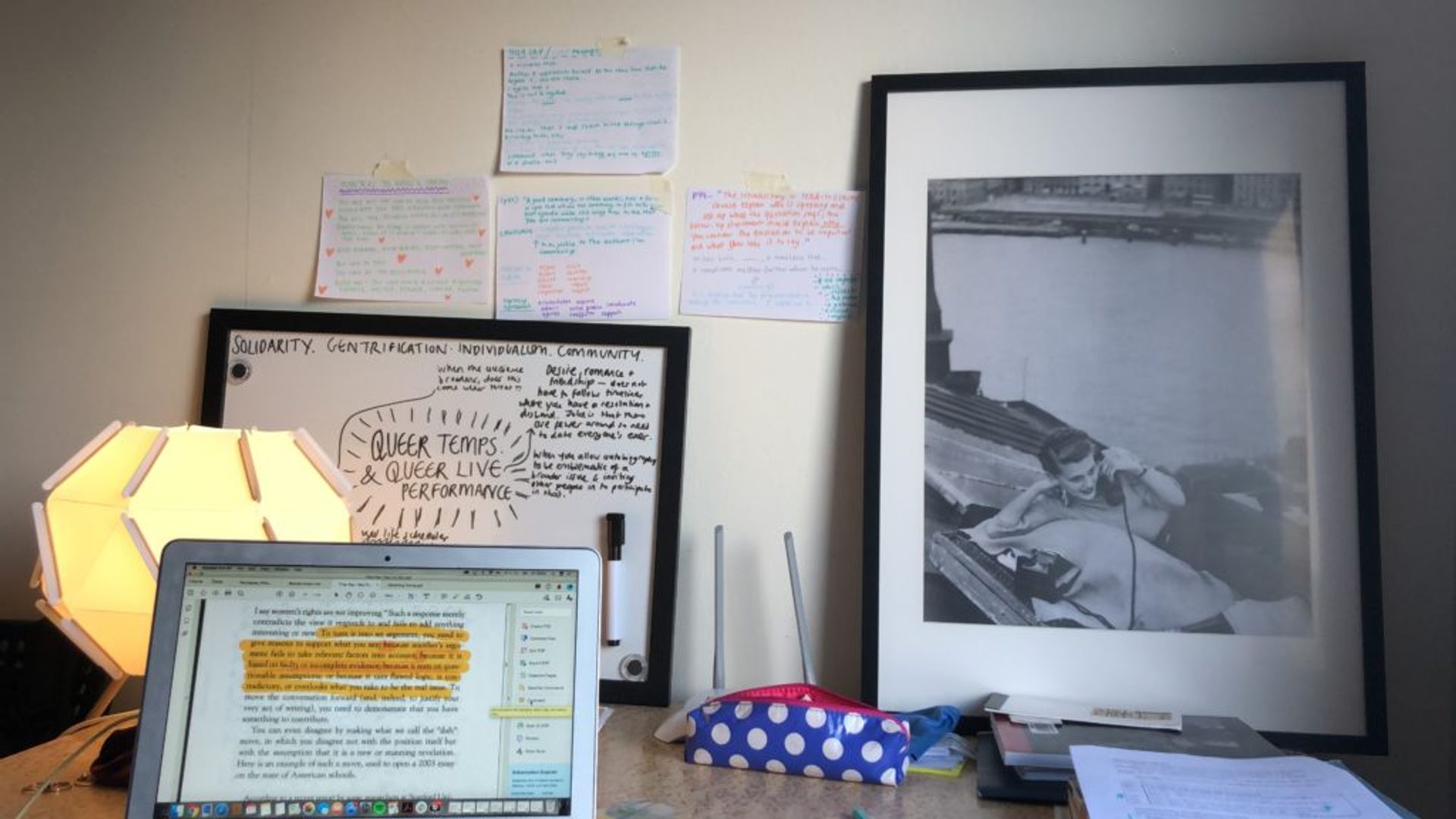 For me, this hasn't been an easy transition. As someone who honestly thrives under the communal quiet, rule-abiding dominance of the library, being entirely alone for this process sucks. I operate well under conditions of discipline fostered in the library (i.e you better be quiet 'cus we're all in here studying together). I like anticipating the reward of a noisy lunch break with a friend, walking in the sunshine.
Right now a lot of us are trying to get our heads around this shift of pace. Many people whom are Incredibly Online have begun sharing their daily routine for how they #maximiseproductivity in the home. Each to their own, but I don't think simply transferring what you would have done outside the home to inside it is particularly helpful for your mental health, or for the mental health of others. Maybe you have kids to look after simultaneously. Perhaps you share a kitchen with a few other students, which you now have to navigate with incredible care and attentive cleanliness. Maybe you have the attention span of a small, energetic chihuahua when left unattended (enter moi).
Below is a vague diary of how I've made the move from the library desk to my bedroom table, with some tips and tricks I've started learning along the way. The below is not to be insufferable or show how to #studyhard from home (cus God knows I'm not doing that). But hopefully the below shows some efforts on how to manage expectations, and how to try and nourish elements of learning which may have been easy to push aside in the past, when we've been on-the-go all the time. Whilst I don't want to necessarily tie myself to strict routines of time, I still miss the space of the library and what that environment does to organise my head.
Day 0*
*because it's always Day 0 – time has gotten bendy and weird now. I'm confident that no two days are ever the same, but also right now everything blends together so much that I can't quite pinpoint the differences. This diary is a kind-of approximation.
somewhere in the span between 06:30 & 07:30.
wake up. As I don't own curtains, I wake up the old-fashioned way: when the beaming sun prompts me through the window. Feels kind of pre-Industrial Revolution…..? Like, it's nice to not be ripped awake by an iPhone alarm ringtone. Lie there for forty-five minutes or so, trying to delay the inevitable, strenuous commute, three steps to my desk.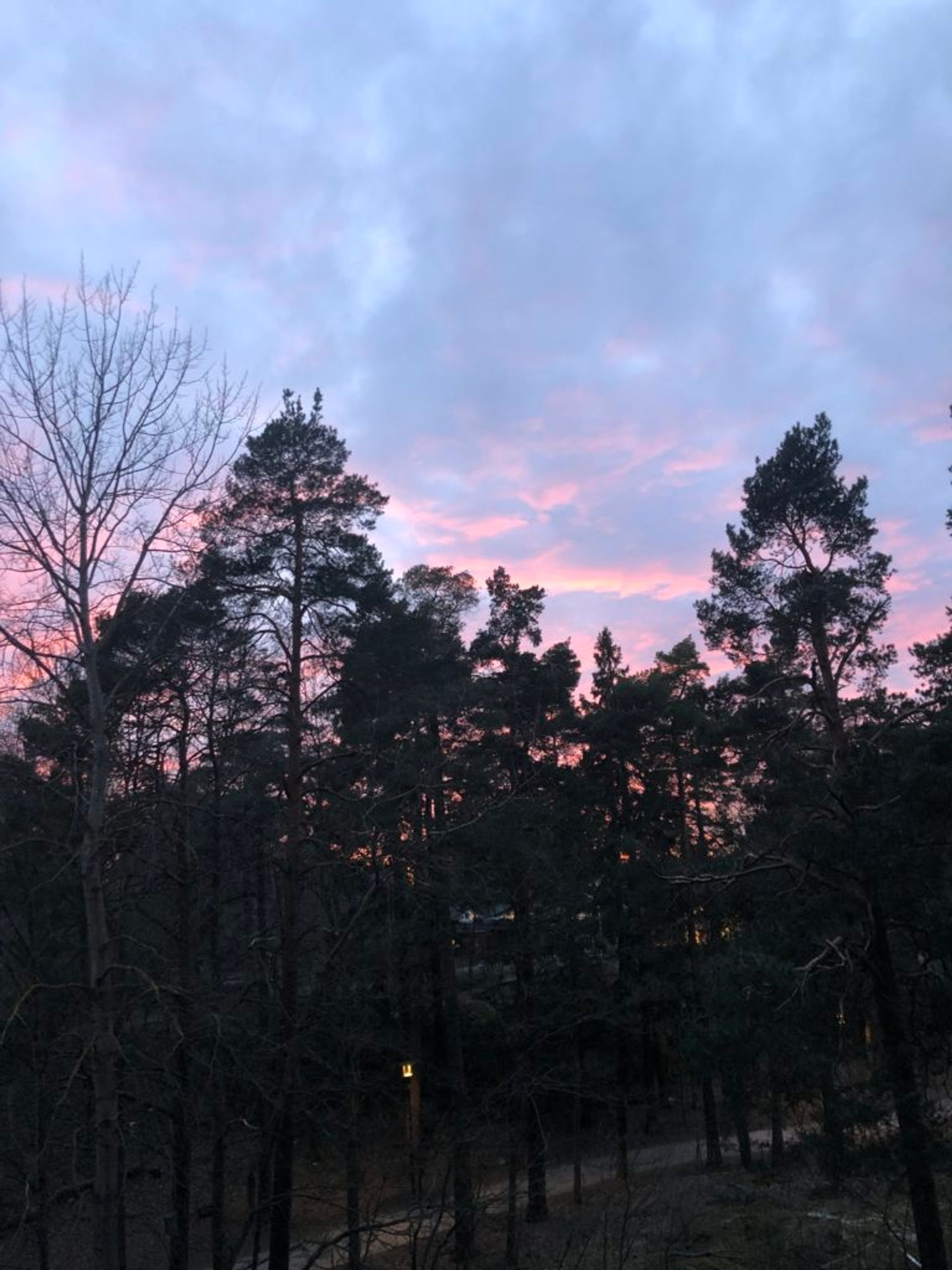 08ish
shower, get dressed, go to the kitchen. In my student corridor we're around 8 people (though truly it's been a month since I moved in and I'm still not sure exactly how many we are). We're all responsible for cleaning the space properly after we're done, to avoid the risk of contaminating if someone unknowingly has the virus. Everyone's been pulling their weight with this recently. Our landlords, SSSB, ↗️ have given us free industrial-standard cleaning products, and have been incredibly supportive, sending newsletters with tips and making us feel comfortable. Make coffee, granola, yoghurt + mix in a banana.
08:45-09:15 reply to Study in Sweden Facebook comments.
hello! Nice to hear from you all. Please do not leave comments regarding the Illuminati, or ask for anyone else's bank account details. Other than that, leave your comments and questions with abundance. It's really nice getting to hear from so many of you who want to come and study in Sweden, and lovely to hear from all of you around the world, especially right now <3
09:15-13:15 intermittent studying. 
When I'm at the library, the morning is my time to shine. I sit by the window, and I get stuck into it for hours. At home… my phone is *right there.* All the creative TikToks in the world are *right there.* The good tree that I stare out of my window at for 15 unbroken minutes is *right there.* So, though studying does happen during this time, it's not super focussed. I've started locking my phone in my kitchen cupboard, putting SelfControl social media blockers on, ↗️ and holding myself to the Pomodoro technique ↗️ so that I can actually get things done and not by my own worst, procrastinating enemy. Sometimes I still find my eyes wandering to look out of the window for a while, and then the Pomodoro timer signals and I remember that I was on the clock for this moment. But here comes an important lesson:
you can't compare your home output to your library output. If you're usually someone who really gets on with the library, with public space giving you a kind of authoritative gaze to make sure you do your sh**, the transition to making your room that space is hard. It's hard when you realise how much energy you get from other people, and it's hard because we are literally living through a global pandemic. I'm trying not to put too much pressure on myself with regards to "productivity" but trying to use this time to improve at the things which I always tell myself I don't have time to, like:
slowing down and letting myself have a lot more thinking time regarding my thesis project. A few weeks back, I actually invested in a little whiteboard for my room. If you're a big mind-mapper, I can't recommend something like this enough. I've started mapping out my key concepts with my materials using my whiteboard, taking pictures of them and organising them into their own files.
giving myself a period of the day where I just have to write. Doesn't matter if it's nonsense to start with, just get the words down on the page. It gives you something to organise from, and themes to draw out.
taking the time to do breathing exercises if I start to get stressed about work.
really meticulously ordering all of my thesis notes, flashcards, post-it notes, comments, feedback from my supervisor, summaries and chapter drafts, and backing up my files in multiple locations.
Maybe these are things I should have been doing, regardless whether I was home or not… all I know is that I now have time to spend time doing these tasks, and that feels pretty good!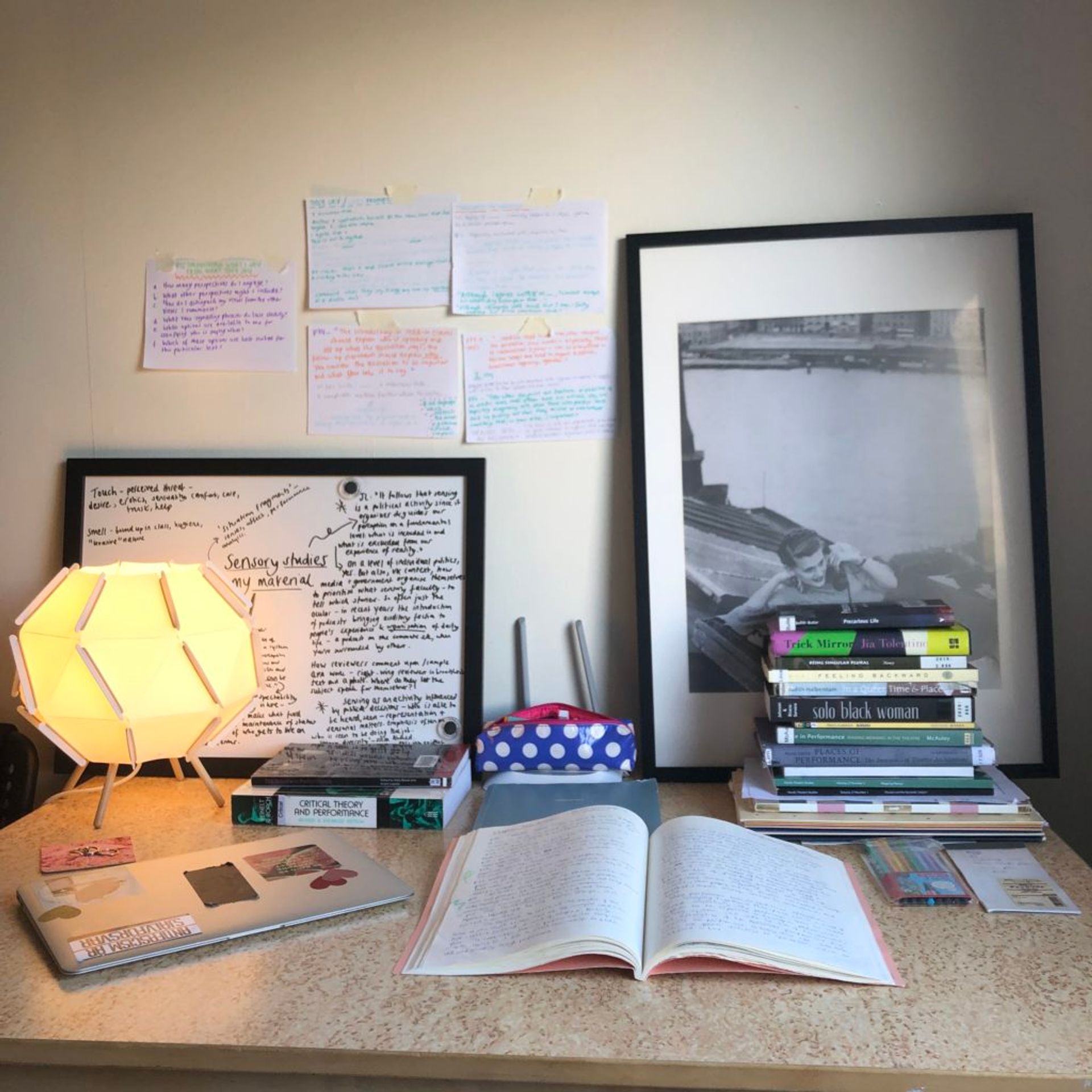 13:15-13:50 – lunch.
What are you guys having for isolation lunches? I could definitely get into lockdown cuisine more and make some genuinely nutritious dishes, but I will be real with you and say it's just a grilled cheese every day of the week for me right now….honestly it's so good I cannot stop (and don't want to).
13:50-14:30 – walk.
In my native UK, there's a lot of online chat and lols about everyone's daily "state sanctioned walk." In Sweden right now, things aren't scripted that intensely. But I'm still holding myself to one good walk a day, maybe two if I've been a very good egg. As I go everywhere on foot now, it means I've been getting to know the city a lot better, seeing how all of the different islands connect. I came across this piece of public art recently, Guldporten (translation: the Golden Gate). Next to it there are lots of benches, and there's an amazing view of three of three different neighbourhoods. It's a nice reminder that in Sweden, you're really never far from the water or from the woods, or from public art for that matter.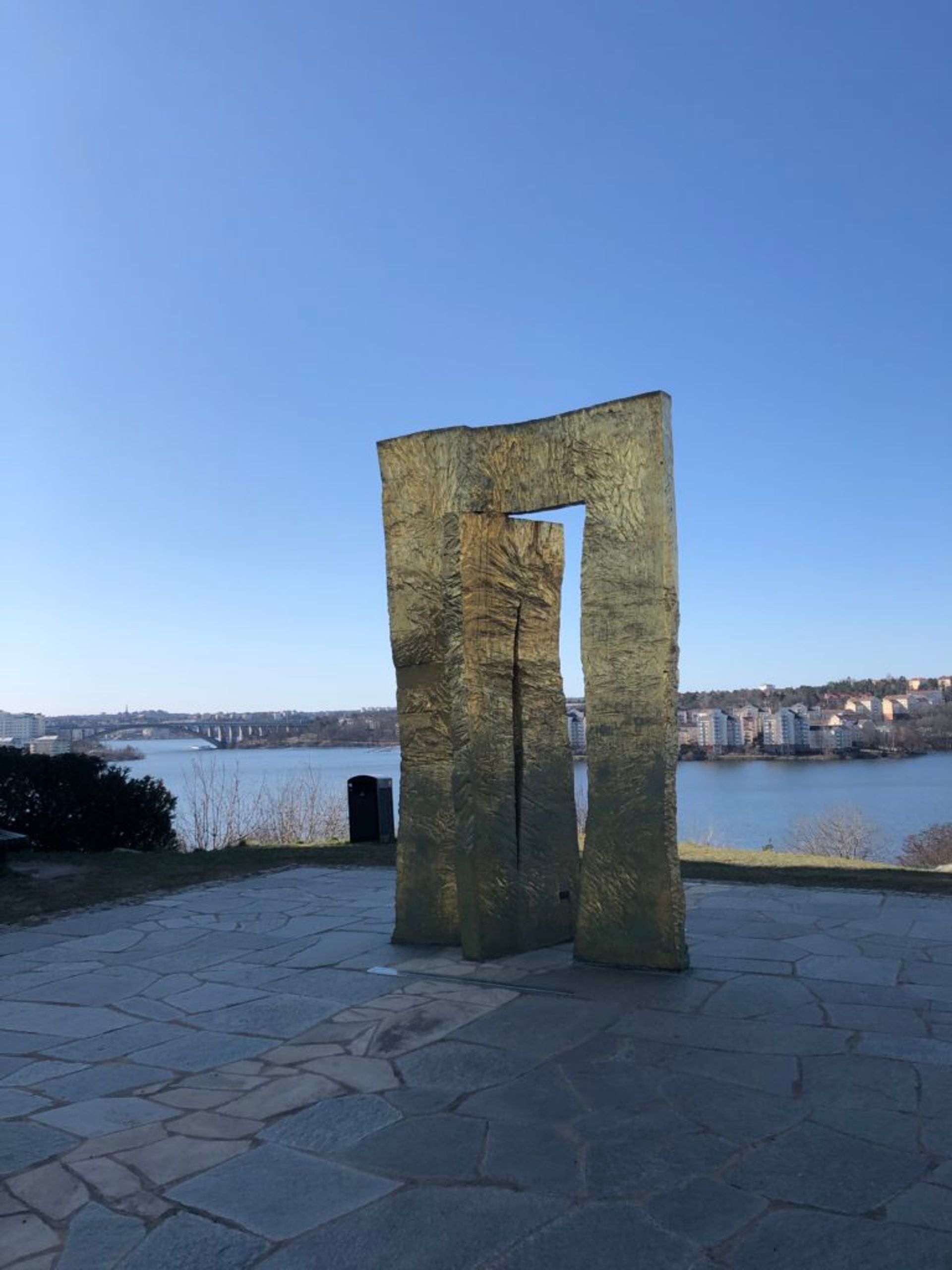 14:30-19:30 – studying and Skyping.
What I've noticed from self-isolating is that my study days at home are quite a bit longer than my library days. At the beginning of the year, I established a really solid 9am-4pm library routine, and I was really precious about my evenings and weekends being my time *off* from thesis thinking. I don't know if it's the fact of being inside more, or if I'm just getting *into* my thesis more, but a lot more of my time is spent with and around it.
During this span of the day I also might have a Zoom meeting with my programme buddies where we exchange and critique each others' texts, or I might have a supervision on Skype with my advisor. Every Friday, I call one of my course mates who lives in Malmö, and we summarise the week's readings that we've done for one another. This forces us to not only articulate in our own words what we've read, but it potentially shares the wealth. Some readings which I've done will overlap with concepts and theories which would be useful for her thesis project, and vice versa, so it's really good we take this time to share what we've been engaging with.
During this time of day, if I'm just on my own writing and editing a chapter, I've also started Skyping a friend, such as the earth angel herself, Hazal. What we do is we have one another on mute, but just keep the camera on, so we're both there, in the background. It's a great way of keeping each other company during these times, and also keeping you responsible to someone else's gaze. We're both working on our theses right now, so it's great to know that we are both going through this thesis-writing saga together. We keep one another company and motivated.
19:30 – dinnertime.
I make either a pesto pasta, warm up a Thai curry I made on the weekend or make a feta/mushroom/gnocchi ensemble. There's little deviation on the dinner front.
One really cool thing that our landlords at SSSB have done is they have partnered with one of the food home delivery companies, so that if you spend 400kr or more you can get free delivery. I went on their website the other day ↗️ (not an #ad) and saw that they also have a bunch of recipes on the website, and if you want it the website automatically generates the shopping list of ingredients you need which you can add to your basket. You just have to amend it for how many portions you wanna make, and hey presto, easy as pie, you've got all the ingredients you need to make batches of great meals.
into the evening.
I've just found a streaming service called draken.se ↗️ (again not an #ad), where you can subscribe to get access to a bunch of independent films….honestly I've been tearing through them. Fall asleep in front of something, which I'll continue the next day.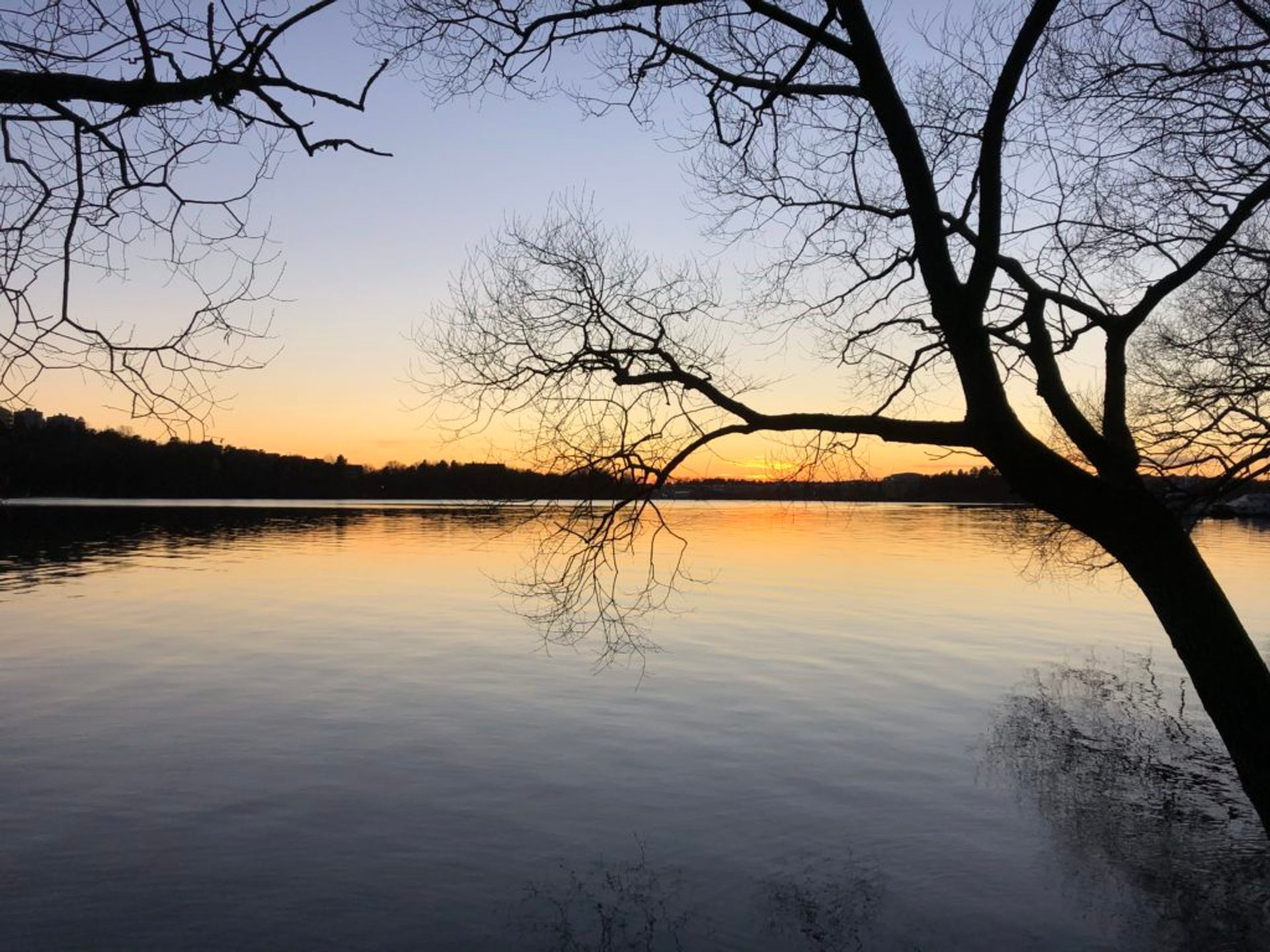 What are some tips and tricks you have for studying during this time? Let us know in the comments below. Stay safe.