Many of us are familiarized with Facebook, Twitter, YouTube, and basically any other social network. But, how about LinkedIn? Are we really getting the most of it? LinkedIn isn't about uploading a killer CV and just leaving it there until the end of time. It's about creating a network and taking care of it. It's also about engaging with employers and analyzing which skills are valuable for a company.
more

Your LinkedIn profile is a virtual version of your professional career. It tells your story in brief; and since everyone's story changes over time, your profile needs to change as well. Unlike a CV, a LinkedIn profile brings a chance to add personality to your professional timeline.
Copying your CV and limiting yourself to just fill in some of the blanks only to forget about it and leaving it up there is a huge mistake I've seen a couple of times. If you want your profile to showcase who are you and what you can bring to the table, you'll need to update it often with examples of your work, things you've done, papers you've written, projects you've been involved in, and your professional achievements. Now, the question is how to recognize the thin line between bragging and showcasing your professional experience? Well, that's the tricky part. You need to ask yourself two questions. How is this relevant to a future employer? How does this relate to my future and professional goals? If you struggle to find answers to these questions, then you shouldn't include it.
Like any other social network. People who spam all the time just for the sake of sharing are, in general, pretty annoying. I think we all agree on this one.
A final tip on keeping your profile alive. Be creative! Not only designers and architects can have a portfolio to display their trajectory. If you have something interesting to share, make it visual! Post a picture of your achievements, or make a small video.
A successful profile is the one that makes people reach out. It could be in the form of a phone call, a direct message, or a click to a website you shared.

When I first opened my LinkedIn account I was hesitant. I already had a Facebook account, Youtube channel, Twitter user, Tumblr blog, Instagram profile, and probably hundreds of other accounts on useless websites that I only used once or twice. I was in the middle of my bachelor's and I wanted a job to start gaining experience. Little did I know, LinkedIn was a different social experience. At first, my only connections were a couple of classmates. At that time I worked at a tea house, and including it in my working experience seemed silly. I forgot about my account for a while.
With only one year left in my bachelor's degree, I started looking for an internship. So, I picked up again LinkedIn, I started following companies, searching for jobs, and becoming more and more active. I would spend some time looking at the small portion of analytics that a free LinkedIn account offers. From the analytics, I started to understand a bit better which qualities the companies I was following were searching.
LinkedIn tells you who looked at your profile, in which searches you appeared, where your searchers work, what your searchers do and the keywords your searchers use. With all of the analytics available, you can easily understand where you are standing and how to improve your chances of landing a job. You can get an idea of which skills your searchers are looking for if recruiters are looking at your profile and a lot of stuff. The information is there laid out for you.

Just like any other social network, LinkedIn is designed to connect with your colleagues, friends, people you used to work with, classmates, and so on. In my opinion, there are two key components to being social. First and far most important, engage through the timeline. Share articles that really reflect your career interests, interact with your connection's posts by leaving a comment. The second component is less important yet helpful, use the "write an article" function every now an then. I know that not everyone is an excellent writer. However, I think that everyone has something to share apart from the traditional article or video. Writing your own words reflects who you are and by writing about your interests you give others the opportunity to know you from a different perspective.
Being engaged in social has a huge impact. Bringing your experience and how it correlates with something that is of interest to the industry really boosts your professional profile in a way no other network platform does.
Networking is probably by far the core function on LinkedIn. What is the whole point of uploading a killer CV, updating it constantly if no one is there to see it? Well, of course, your profile is visible to anyone (unless you change your privacy settings), but expanding your network will make your profile stand out.
In networking, a common mistake is to think that the more people you have the higher the chances you'll have someone to reach on when needed. Well, let me break it to you. Networking isn't about who has more contacts. It's about establishing a two-way communication channel and giving as much as you want to receive. So, instead of rushing to 500+ connections, focus on building connections that matter.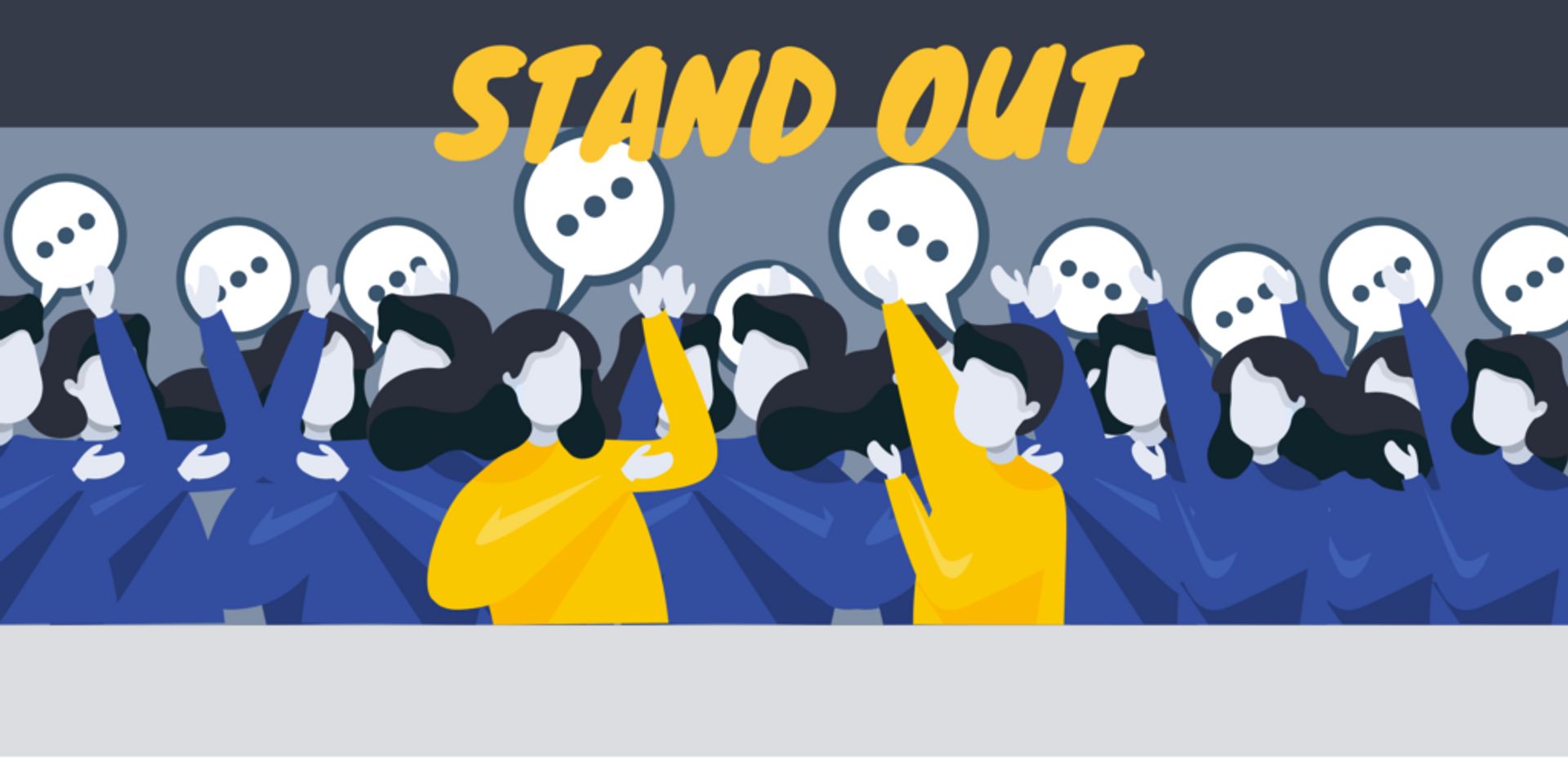 With 250000 users only in Sweden and over 500 million in the world, LinkedIn is without a doubt the most popular business network. So, how do you stand out from the multitude? To stand out you need to be active. You need to engage with your network. You need to be social. Also, it is important to have an updated profile. A profile that really shows your professional background, your future goals, and your personality.
A professional looking profile, being active, engaging in social and taking care of your network, are the main elements that will make you stand out.