My life changed completely and I have been living in Stockholm for a few weeks now. Yes, I have exciting news, but let's keep the theme for a future post!
As a newbie in the capital, I have some perspectives of the city that I would like to share with you, as everything feels fresh and I couldn't be more excited about this new chapter of my journey in Sweden.
As a warning, do expect a very optimistic approach from me and I promise I will update this post in some weeks to check whether it has changed or not and if it did, in which way.
Stockholm is a very international city
From the moment I stepped in Stockholm for the first time, I was impressed on how international the city is. And although it is not considered as multicultural as London and New York, for example, I must confess I have never heard so much English on the streets in a non-native speaker country anywhere in the world.
There are many students, tourists, and expatriates speaking English basically everywhere and sometimes I have the impression that is the official language here.
Of course, we need to take into consideration my first impressions might be extremely superficial, but I can assure if you are coming as a student, you will not have any problems in fitting concerning to language, as basically everyone speaks very good English and there are many English speakers all around.
Prices are relatively higher than in Malmö and Lund
As expected, prices in Stockholm are relatively higher than in Lund, where I used to live.
That applies to basically everything, especially basic goods such as groceries, which cost around 10 to 15% more compared to Lund, even from the same supermarket chain.
The biggest difference in cost I realized so far is transportation, as a single ticket can cost up to 50% more than the prices practiced in Lund, thus I am glad I am able to commute to work by walking and don't need to pay almost 5 euros each way.
If you want to know how you can live cheap in Stockholm, you should check this series of posts.
However, with higher prices comes also good service and many options of restaurants, shopping and activities, so in my perspective, it is totally worth to live in Stockholm as a student, even though prices are higher.
Quality of life is impressive
I know you have probably heard the quality of life standards in Sweden are extremely high, right?
But nothing can prepare you to actually experience this when you get here. People enjoy life, they have time – and more important than that, quality time – to invest in themselves and being able to experience this is a precious opportunity.
There are many outdoor activities, especially now during spring and parks are abundant, so you basically have the opportunity to get in touch with nature easily in your day-to-day activities.
Besides that, safety is impressive and the soo acclaimed work-life balance is real. Stockholm seems an outstanding city to live in so far and I hope that impression gets better with time, as I will be calling it home from now on.
It is a very organized city and not so busy as you would expect from a capital
Although Stockholm is a very important capital, considered the capital of Scandinavia, it preserves the originality and a unique pace of life that does not assemble a big city.
Everything here is organized and I can't notice stress around. Once again, I have just arrived and it is also springtime, so people are normally happier, but I can feel the lifestyle here is light and more contemplative than other capitals in the world.
It feels so good being around so many facilities, leisure options and work perspectives that only a capital can offer but at the same time being able to live a balanced lifestyle.
Spring is beautiful and it can get warm, like really warm!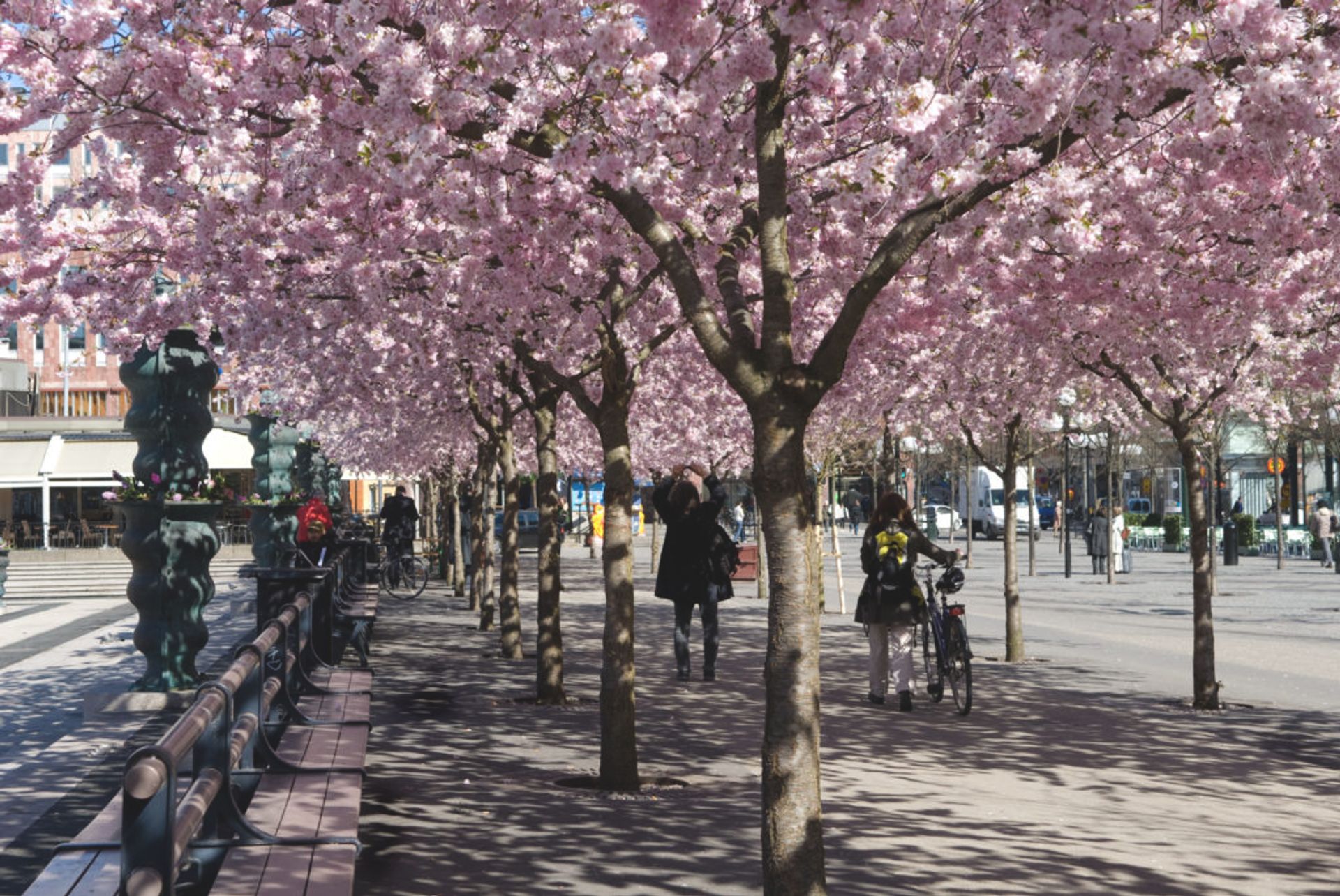 Ah, last but not least, I must tell you that now Sweden is really warm. Warm in a way I was not expecting, actually, and I couldn't be happier about it.
I have told you already how was my experience with the winter in Sweden and can't deny I was ready for spring to come long ago, like all the Swedes.
And Stockholm really made up to my expectations about springtime, with such a great atmosphere, warm weather, sunny days and lots of flowers. The city is blooming and so is me!
Walking around is the best way to discover the city
I am one of those fortunate people that can walk to work living in a capital and get there in less than 20 minutes.
And that is one of the things I like the most about my new life here in Stockholm – by the way, I have published a post about what I miss and don't miss from home and one of the things I don't miss at all is traffic.
And in my walks around the city, I have noticed how great it is to have those moments of discovery in a new city. But in Stockholm, it is even better, because there is so much life indoors and in the details.
If you are planning to come here, I strongly suggest you walk as much as you can during your first days and this way you will be able to know the real Stockholm – and perhaps fall in love with it, like I did.
There are lots of activities to engage and socialize
Lund is an amazing city with plenty of opportunities to socialize with students and a very active student life with parties, movements, and meetings.
However, when it comes to interacting with locals, I would say the opportunities are better in Stockholm, even though it may sound contradictory as the dimensions of Stockholm are much bigger.
But the point is, there are lots of initiatives to socialize through different activities and I have been looking at a platform named Meetup which acts as an intermediary for people with similar interests to get in touch.
Besides that, I have noticed there are many events, classes and social groups to join and meet new people. So, when you come here, make sure to explore those options as much as you can!
I will be back to you with my impressions of living in Stockholm in some weeks, so we can compare what has changed and if I am still so in love with the city. In the meanwhile, you can tell me your first perspectives about the city and ask me questions about my experience here.