Not sure about you, but I always think that holiday seasons are filled with crowded streets, laughter in the air and bright lights from the stores that entice you to shop some more. At least, that is how it goes in my home country, Indonesia. This thought leads me to a plan of spending Christmas eve and new year's eve in the capital city of Sweden, Stockholm because I expect it will be a fun experience! A note to remember, expectation often brings you a disappointment. Fear not, this story that I am about to share is not about sorrow but more of an experience.
Shall we go back to Christmas 2016?
As you know from my previous post, I spent Christmas day in Uppsala but on the 24th I went to Stockholm to see what the crowds would be like. I departed from Uppsala just an hour before lunch and the sunset was around 2 or 3 PM, I realized that I did not have much time left to walk around the city (and the trip to Stockholm takes an hour by commuter train). I went anyway, only to found out that the life in the city close (very) early during julafton or Christmas Eve. Even, some stores close all day and I felt silly for not asking around about this. Well, now I know and so do you.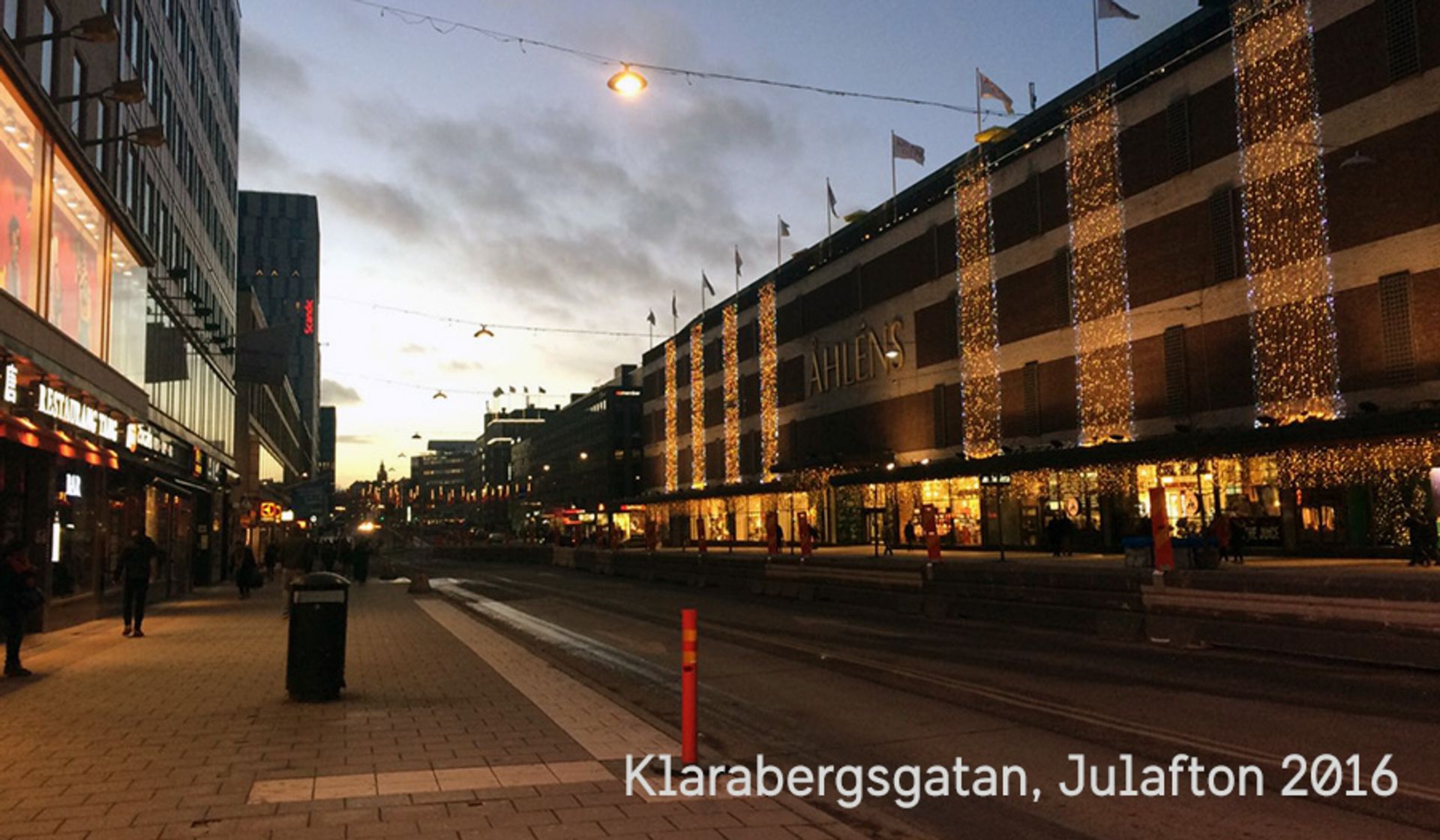 Lesson learned, the citizen here spent julafton in their home with family and friends. No one roams around unless they are tourists.
Now, let's go back to last night – New Year's Eve 2016!
I have a plan with some friends to see fireworks in Stockholm. Few places were mentioned on the internet to be the best spots to watch it but we decided to go for Monteliusvägen because you can see Riddarholmen, City Hall, Lake and Lake Mälaren. We arrived at Stockholm Central Station few minutes before 8 PM and this was what we found: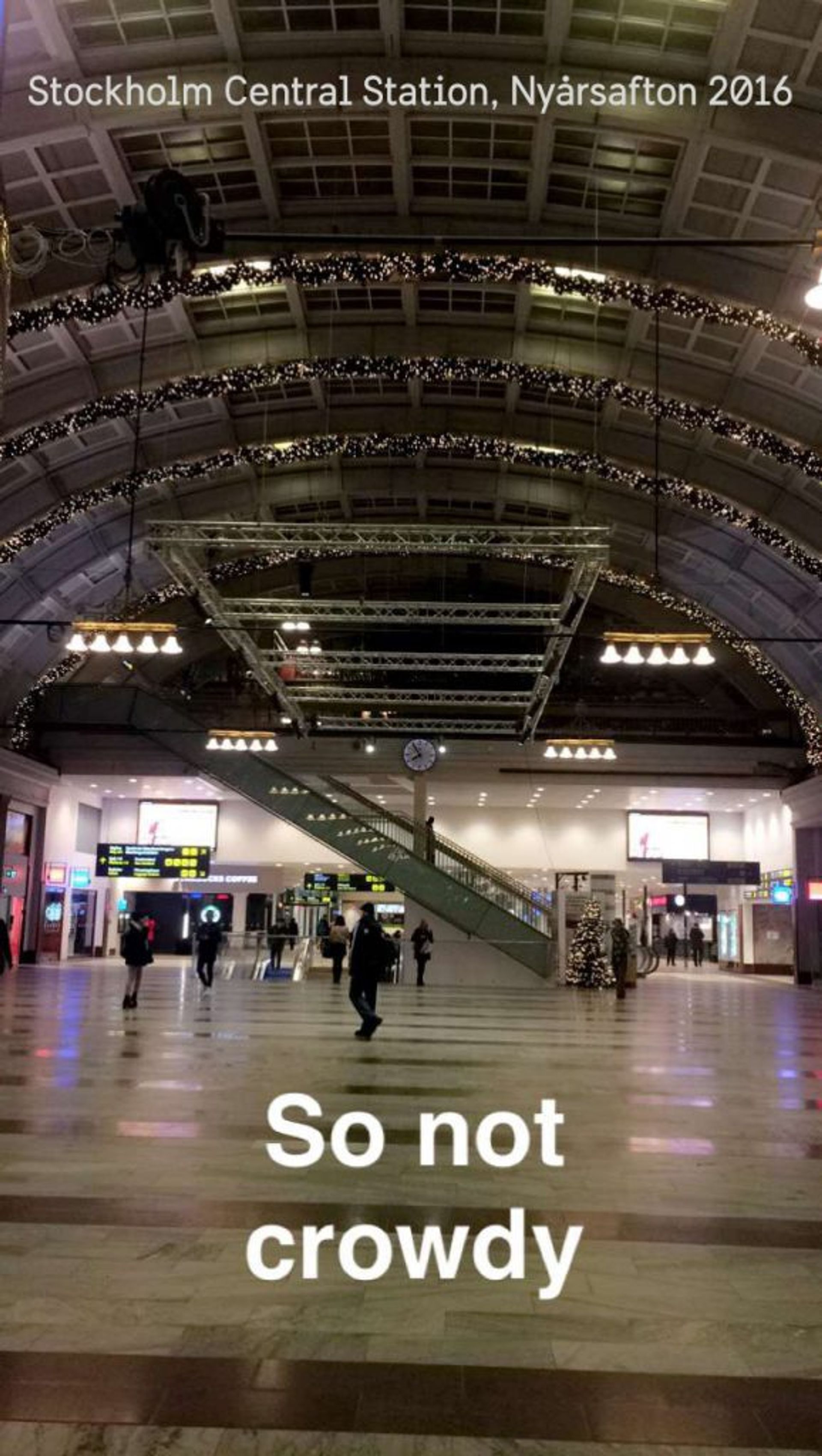 Pardon me for trying to be cute last night on Study in Sweden Snapchat account and used crowdy instead of crowded. Bad choice of wordy. Anyway, it was surprising for me to see such view because I thought it would be crowded. It seems that the Swedes were still having a fine dining, I walked around the city aimlessly for one more time. It drizzled for a while but it was not that bad with a 10° C. Not much to see when the city was empty, it was nyårsafton after all. I went to Skansen because I heard there was a free concert there but silly me for not knowing there was an entrance fee to the venue, let's just walk around some more then!
Finally, humans started to appear on the streets.
Many people in the crowds that I saw last night were friends instead of crowds of a family. Apparently, that is the Swedish tradition of celebrating the new year. During 11 PM until few minutes to NYE countdown is the peak traffic of Tunnelbana (metro). Though the heaviest traffic was around half past midnight, I never see so many people in the same place before in here. It feels like going back to Indonesia. Buy your ticket beforehand, and always have your ticket as the guards will check on it once in a while. Better safe than sorry, right? Monteliusvägen was packed with people as well but I found a nice spot and this was what I witness last night: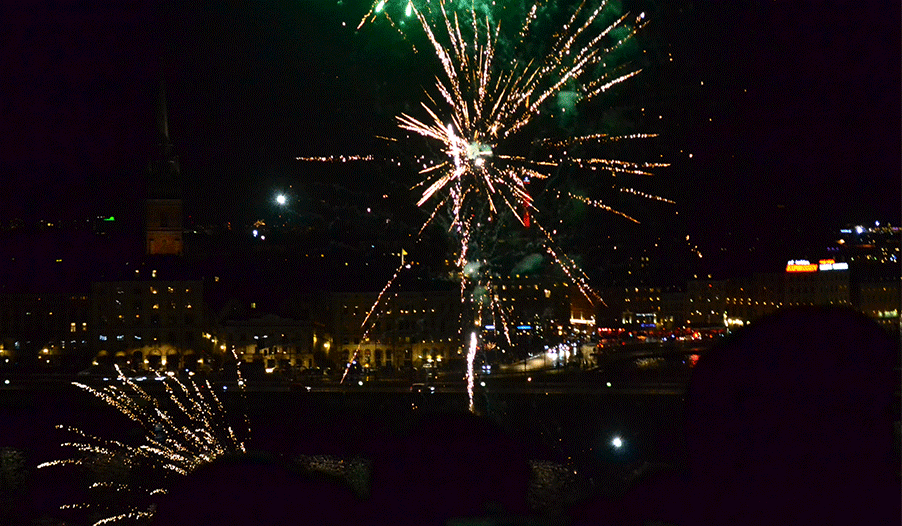 Not bad huh? All I had to do afterward was to wait for the SL bus to Uppsala from Stockholm at 1.50 AM and the Central Station was closed around 1 so we moved to a fast-food chain that was (thankfully) still opened. The bus trip took us half an hour so that I arrived at my bed before sunrise. After all, last night was not disappointing but these little firework shows (there are more than one) could be organized as a massive one instead and I imagine that it will be magnificent with cool Swedish music with Stockholm view in the background.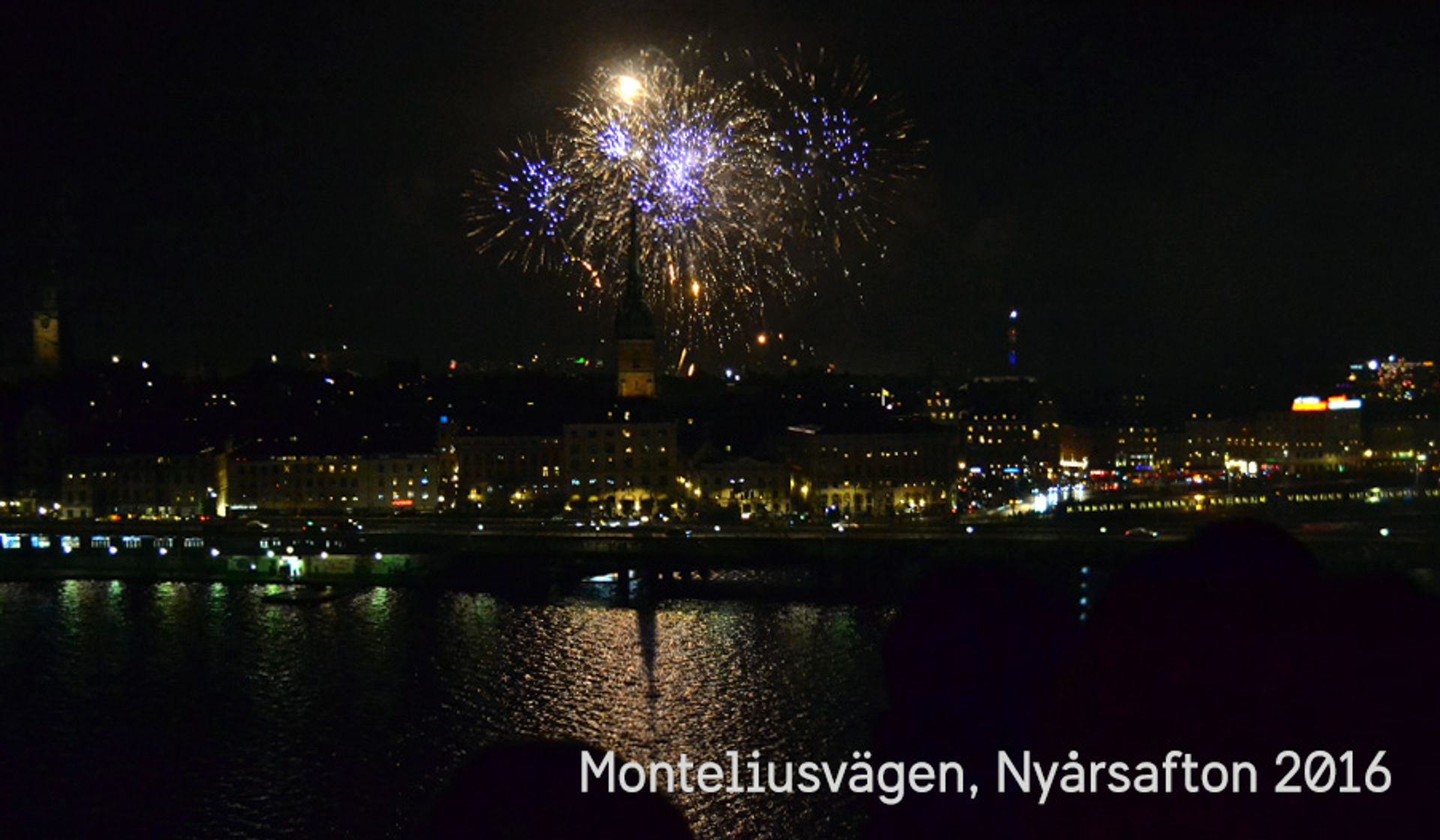 Have a blessed year ahead!