Since there are still one and a half months left for the application and many people are sending me emails to ask about my program-Journalism Connected in Orebro University, I feel like that I need to give you all a "sneak peak" of it. After reading this article, you might have a basic concept of how the program is like and what you will be facing if you are going to enroll in it.
First, you should know that this is still a very young master program that just had its fifth "birthday few months ago. So it has a lot of good parts just as all the other young things, such as fresh, active, modern and contains many positive possibilities. At the mean time, it means this program also has a few problems like disorganized(in the schedule aspect) and so on which I will discuss later. But still, I can see the university and the teachers are trying to fix the problems and improve it. Fortunately it is getting better and it feels great to see things actually changes.
FIRST SEMESTER
So for the first semester, you will have to finish 30 credits and there are 3 parts in the first phase. Also there are "no exam" at all in this program. It doesn't mean that it will be super easy because there are a lot of tasks you need to get through to obtain the credits, which I will explain later on.
News Room Design and Production Process
As the first session in a journalism program, of course there are introduction of how the news gets produced in a globalization background and a lot of writing involved. Basically the writing assignments are all about reflections on the course literature, so the first month was not that stressful. All you need to do is read the books, attend the lectures and finish two writing assignments.
Interactive Multimedia Design and Management
The second part is harder but more interesting. So far it's my favorite since during that time, I got to learn how to take pictures in a professional way with some fancy equipment( by this I mean professional cameras and lenses, and if you don't have them, no need to worry, they are all available to hire in the university for free as a student) and there are lectures teaching me using photoshop and Camera Raw to make my pictures better.
Also, you will meet the most interesting and funniest teacher to teach you how to build up your own website with WordPress and html.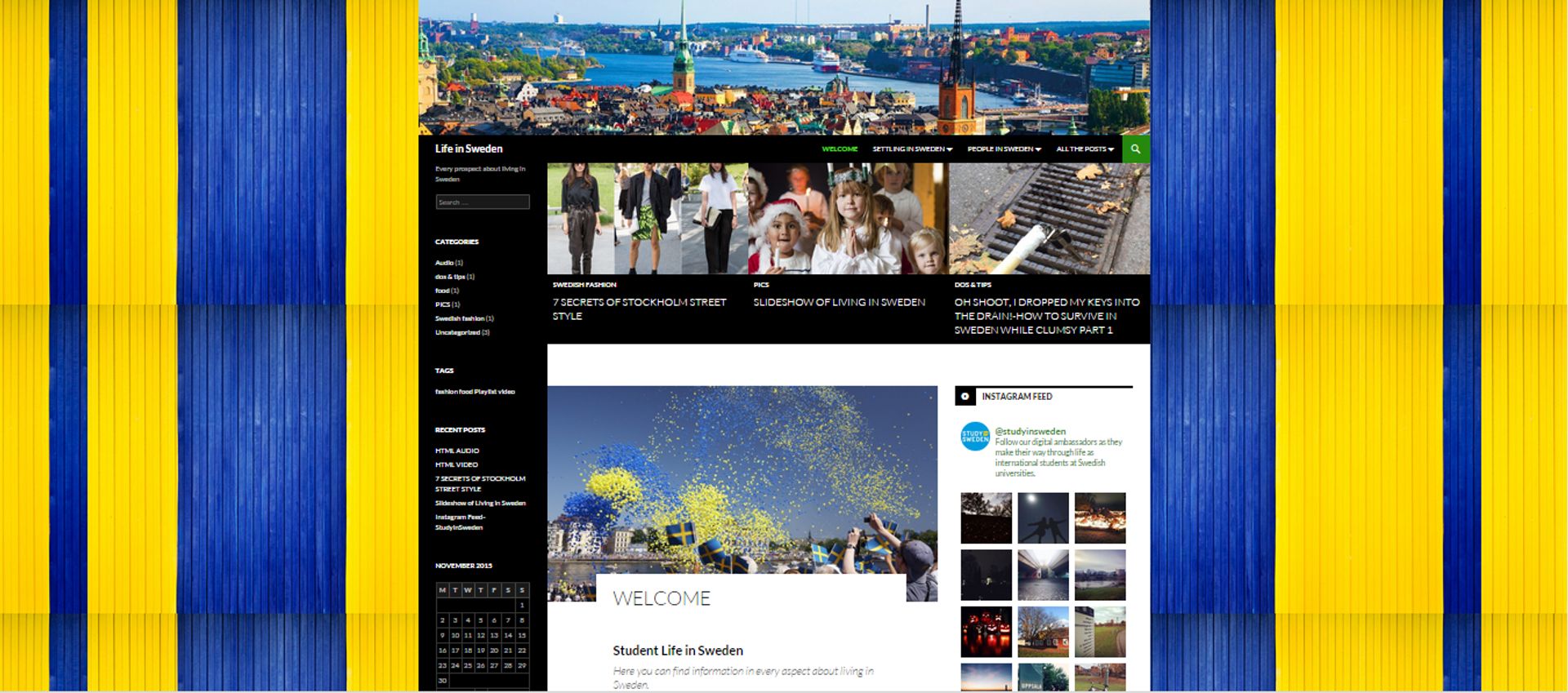 After the website designing task, the up-coming assignment is designing your own magazine by the same funny teacher in Indesign.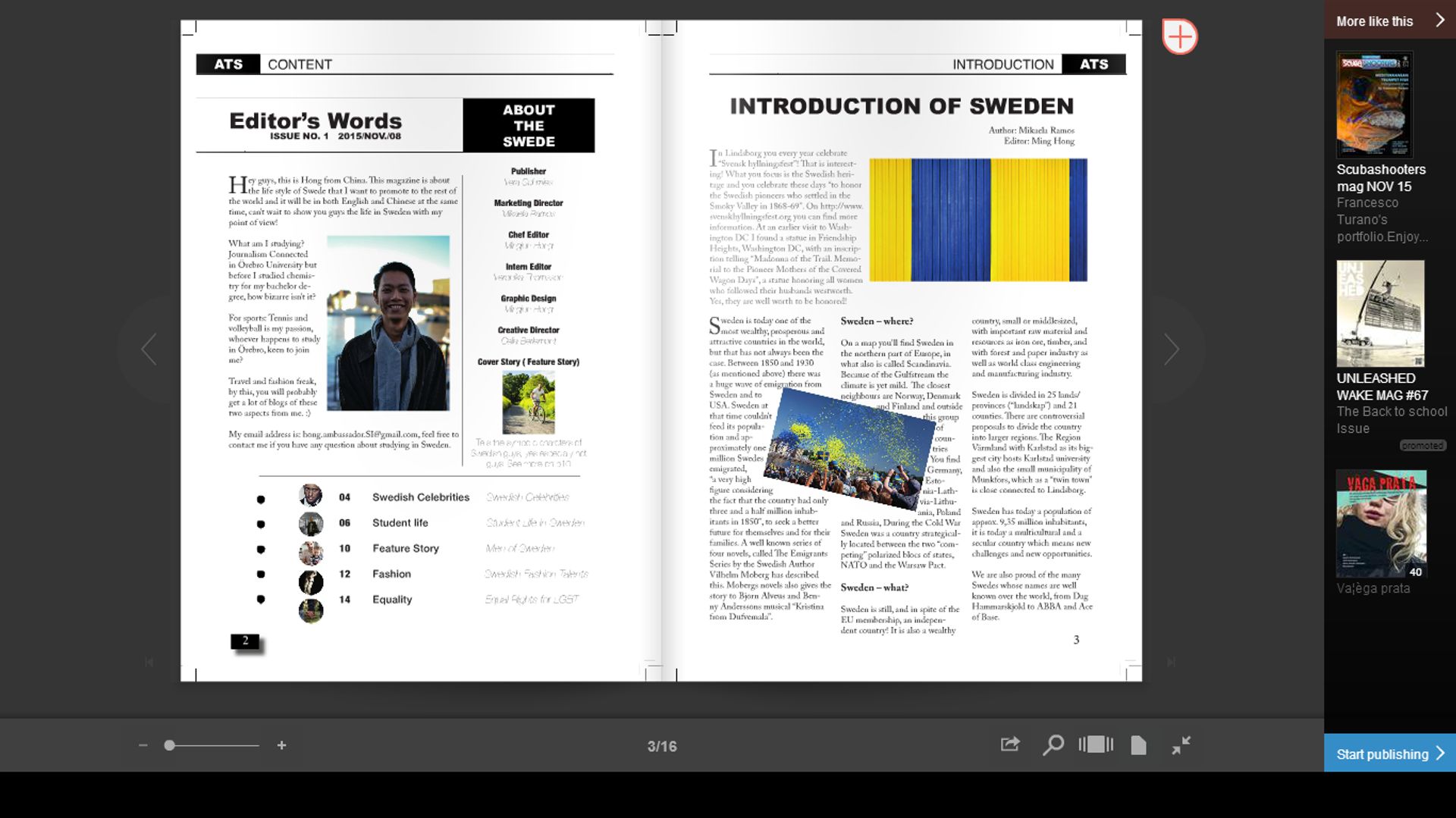 Since I was really interested in graphic design, I put a lot of efforts on these assignments and got what I deserved-passed all the designing tasks with distinctions. 😉
Digital Journalism Reporting
So for the third and the last part of the semester, it's about reporting for news productions such as newspapers, magazines and radio stations.
That means, my biggest fear comes back again! Here, you have to write a feature story for newspaper or any other forms of news inter-media with a news-worthy, entertaining quality.
After getting through my nightmare, the sweet dream comes back. We are finally having a group work now( first ever in the three months)- creating a 10-minute podcast! In order to make us good enough to finish this assignment, the school arranged us a professional radio reporter Anna from the SverigeRadio(the national radio station) to give us lectures. What's more exciting? We got the chance to visit the station and had a workshop in the radio studio.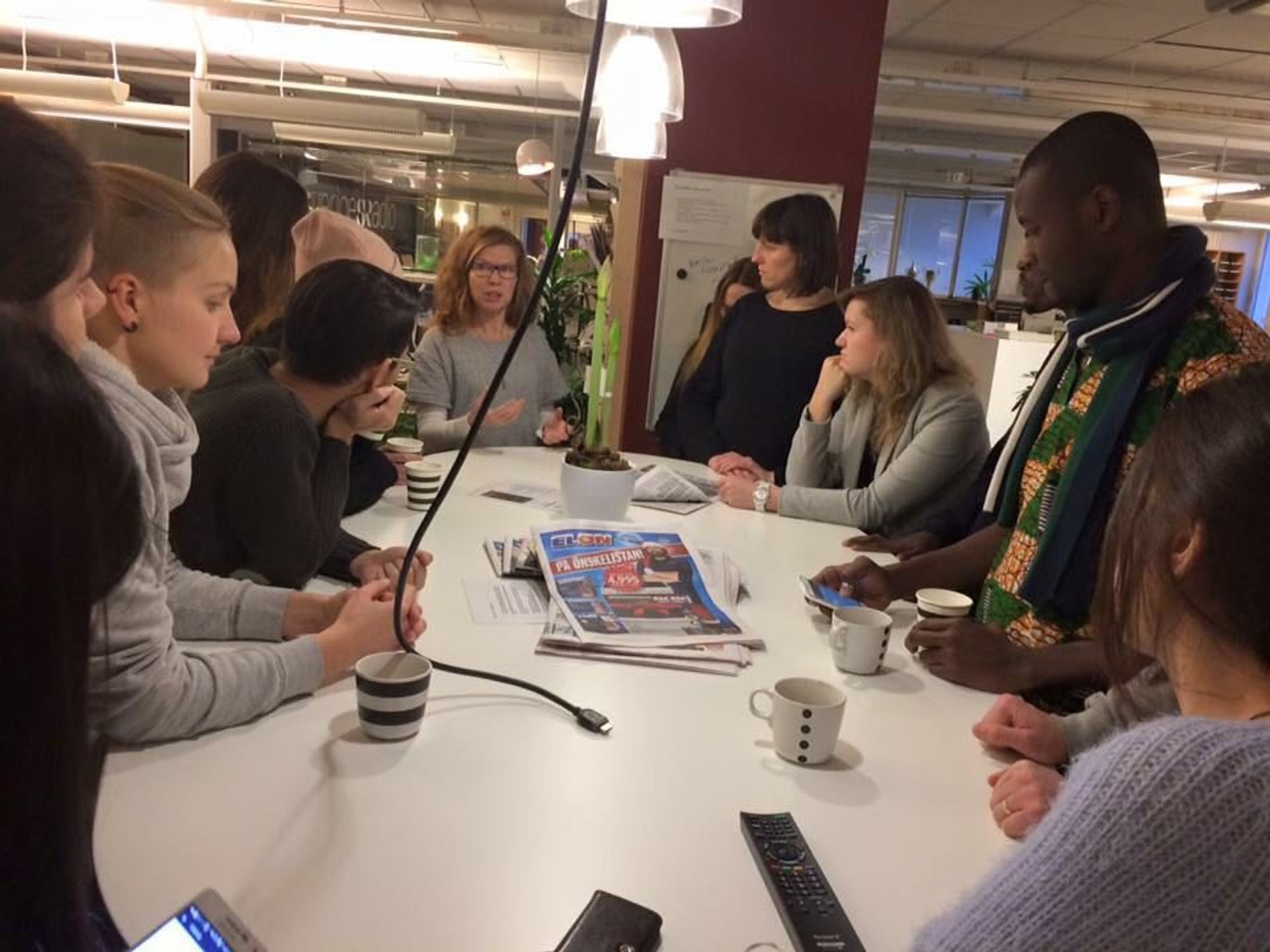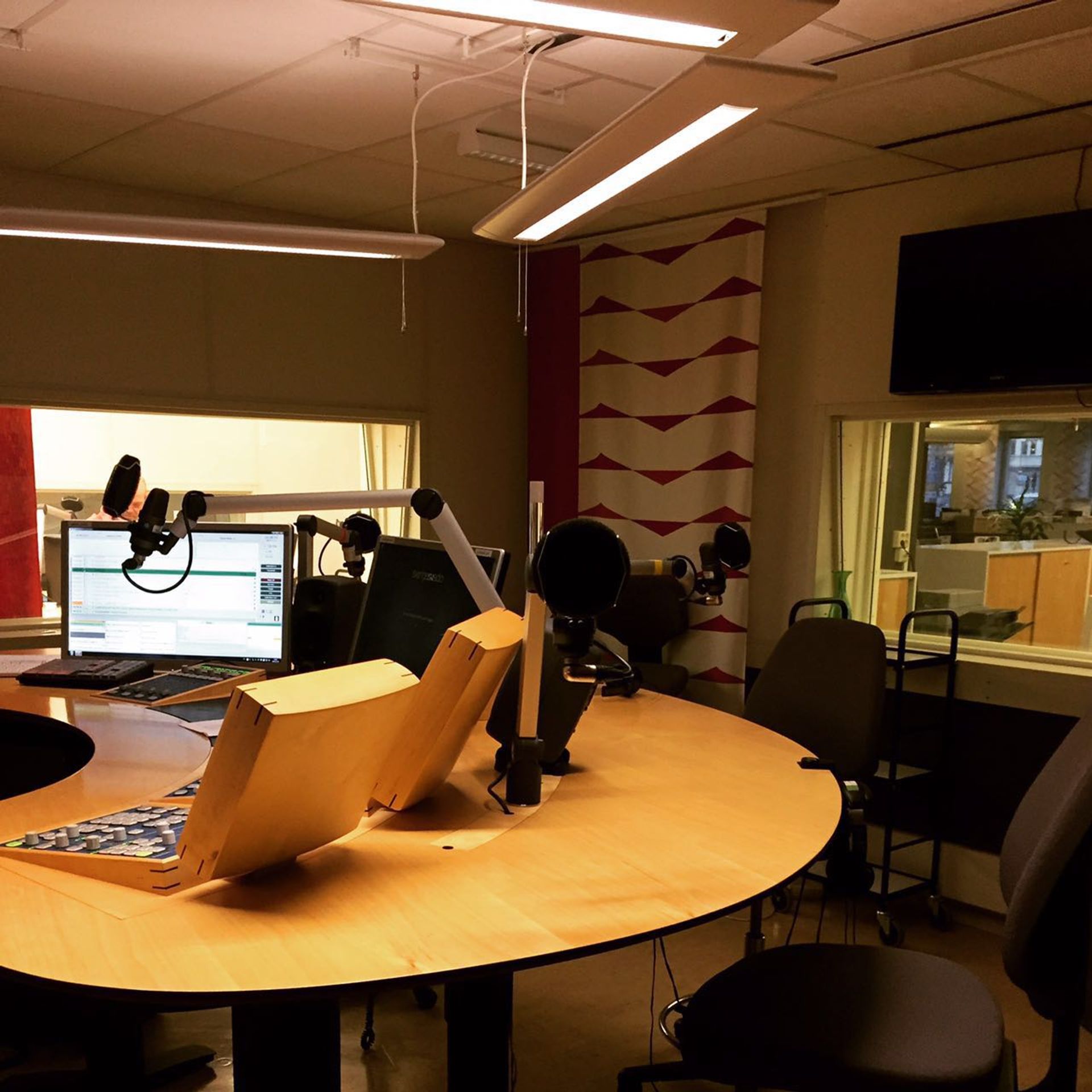 Later while I finished my podcast show, I'll write a blog about the procedures and share my first show with you guys. This time I chose the topic of dating situation in big cities and small towns, so maybe you could follow my blog if you are interested. 🙂
So far, written above are the things I have done or doing for the first semester. As you can see, lots of designing&editing programs studying included which is super cool. But there's a problem of not having enough time to practice as well.
In another way of thinking, this is suitable for those students who know what they want because the school offers such master program as a introducing package of all this useful tools. You will be the one to figure out which interests you the most and to decide which skill(s) to develop since nowadays, journalistic works are not easy to find and this program is more for the students who are willing to work as a freelancer.
Later on there will be more projects like Video Making&Editing etc…so I will keep update this blog till I finish my program.(Just saying if you're interested and need more info, you could follow the changes ;))