I'm starting my own company in Sweden! Other than studies and hiking, my weekends are filled with challenging and creative projects. It's truly exciting to work on something which I'm really passionate about and I had so much fun doing it. I always thought start-ups are tough and I had no clue how to go forward initially. Taking the first step can be hard but there are organizations in Sweden that provide guidance. My journey begins with this 'Startup in Sweden' booklet …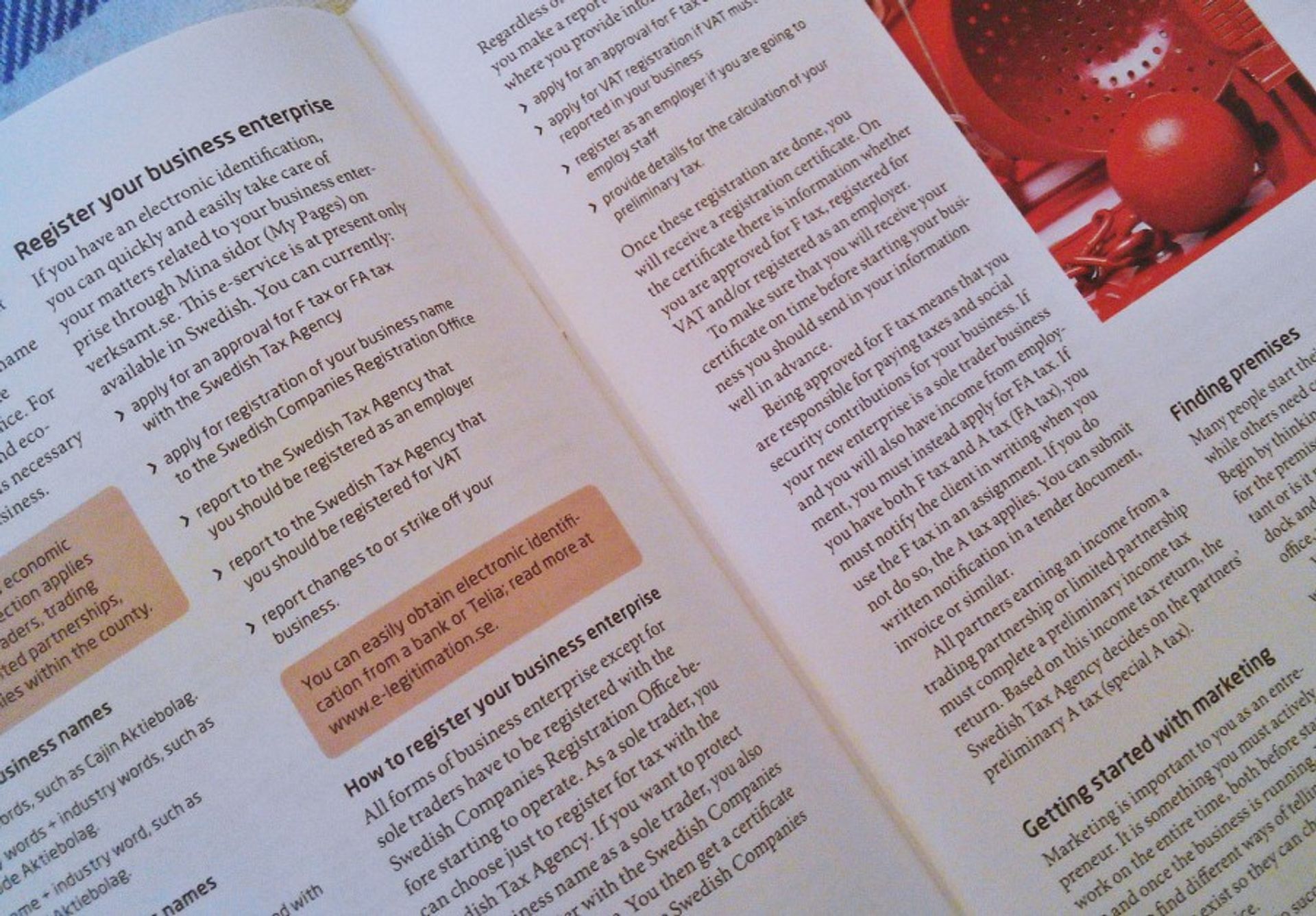 Start-ups in Sweden? How to begin?
It was not until I attended the free 'Start your own business workshop' organized by Drivhuset in conjunction with University of Borås which struck me how easy it is to start a business in Sweden. Drivhuset is an organization that provides free guidance and coaching to help entrepreneurs realize their ideas and to start and run a business. The workshop was tailored for international students, everything was held in English, including the materials and documents provided. It covered different phases of start-ups – from considering, starting, running, developing to closing down, along with useful tools about business models, financing, tax, patent, marketing and other resources available for entrepreneurs. I think the best way to get started is to set up a meeting and talk to the Drivhuset consultant about the business idea. Of course, all these are done in total confidentiality. And its free! Drivhuset is present at different cities in Sweden and we have one right here in University of Borås.
What now?
I find that this is easier to start-up with a partner not only because we can motivate each other but also our strengths lie in different areas. At this stage, the business plan had been drafted, research had been done and we had found the desire material. We are in the midst of discussion with the suppliers and manufacturers to help us design a personalized mould. When its done, we can begin to make the prototype. This stage is challenging and its a big step because we have to design everything from scratch and need to perform many testings on the prototype. Once the basic prototype is done, we can then move on to adding different functionality, improving the design and packaging. None of us have done this before, so its totally new but super exciting at the same time. We are also having a meeting next week with Arbetsförmedlingen, a public employment office, to further discuss the idea and seek further advisory.
What's next?
Still a very long way to go. I'm applying what I have learnt in my Textile Management studies into this project even though our product is not fashion or textile related. My studies instill us with a new way of thinking, a new way of working and also business models that evolve from sustainability. It's unconventional but yet very relevant to what we are doing. We want to build a sustainable business with use of fully biodegradable recycled materials. A lot of testings are still required but we are very motivated. Honestly, we know this is going to be a bumpy ride and we're taking small steps at a time. We love what we do and we do it with care, knowing that our products are made in a society friendly way with the smallest impact on our environment.
The start-up booklet also consists of guides for advice and network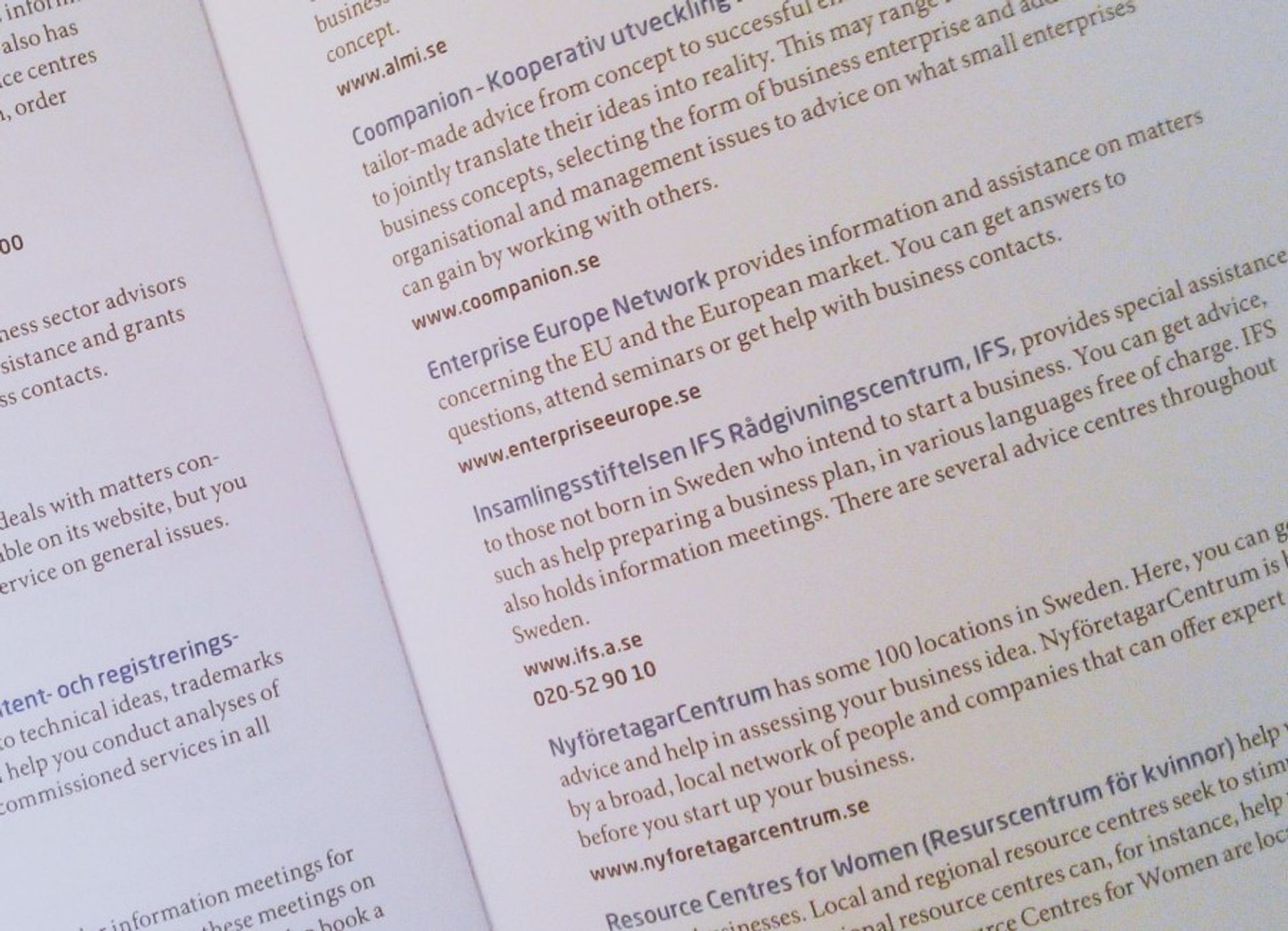 Further updates
I was informed by Drivhuset that start-up information is also available on Verksamt's website in English. It's very informative and updated information, do check out the website here if you are interested. Thank you Raj for sharing about Almi, an organization owned by the Swedish government which provides free advisory services as well as loans and venture capital through the different phases of  the business establishment. It's very relevant and I'm definitely going to contact them.