Music that compliments this post –   Message To Bears – Daylight Goodbye
With winter approaching at the speed of light (pun intended), I spend this Sunday evening remembering a camping activity in the forests of Stockholm at the very end of summer. Stockholm is losing around 5 minutes of sun light every day and the nights are becoming tremendously long. Coming for a place near the equator, this feels strange and mildly exciting. But I do miss the days when I could see the sun shine.
A group of around 15 of us camped around a beautiful lake in the forest on the first weekend of September. In a world when environment and nature are merely afterthoughts, this evening helped me disconnect myself from the digital world and glimpse into the lives our forefathers lived for many thousand years. The evening started with some going for a hike around the forest, while the rest prepared a salad. The salad bucket turned out very strange with all the vegetables on the top and all the cheese remaining at the bottom. Or was it the other way round? I cant remember haha, but everyone who was there remembers the salad bucket!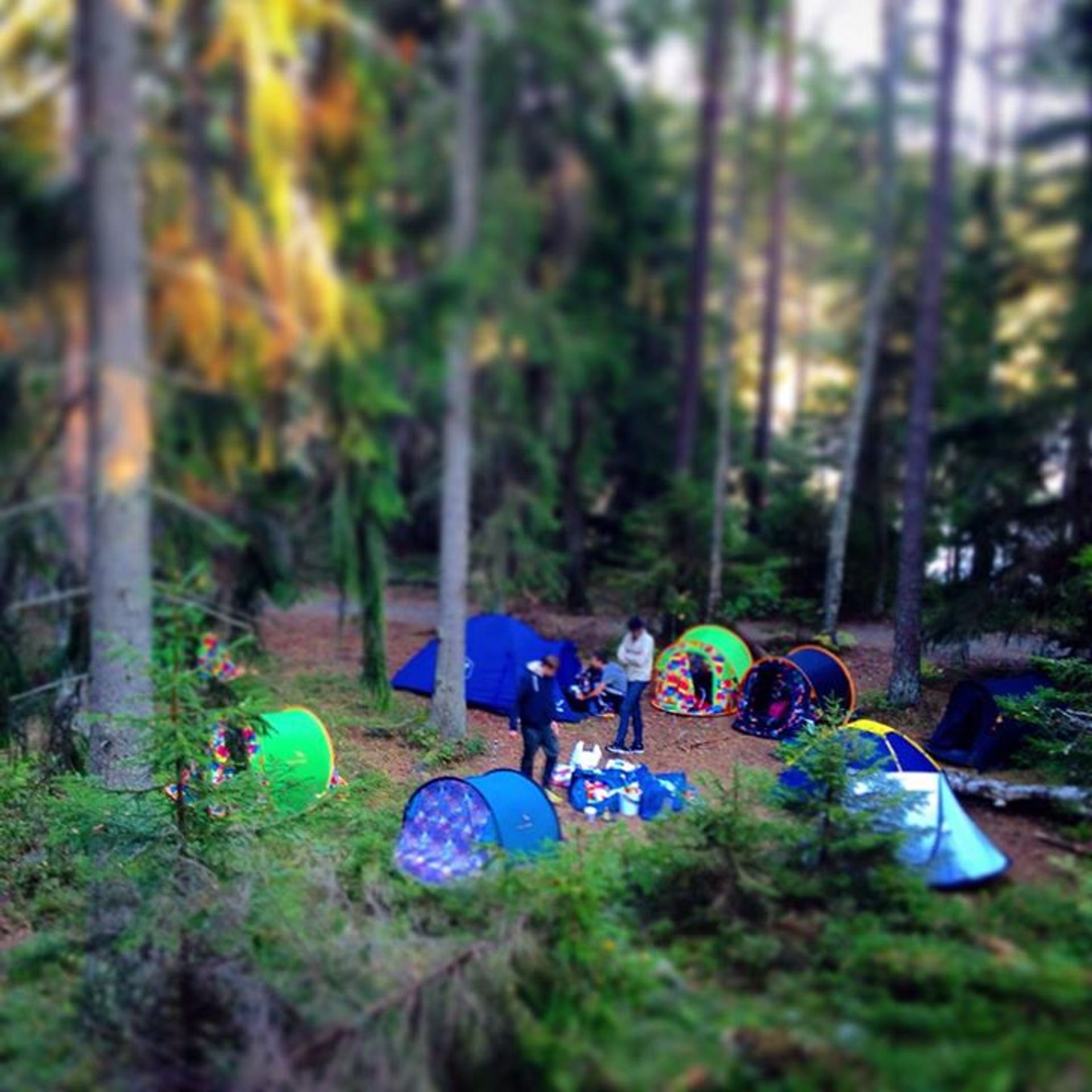 We then proceeded to swim in the lake for a while. The water was pretty cold and not very clear. Someone even spotted a snake in it. It made me feel even more nomadic in a sense, though there wasn't any real danger. The swim did not last very long, and led to activities around the campfire. Oh! before I forget, we were joined by two French backpackers. I can only remember their faces and a lil bit of their personalities but none of us exchanged Facebook contacts or phone numbers and we are probably never going to meet again. Even for a moment to think that we lived like this for many thousand years feels so strange. Where often interactions held value only in the present and only left behind memories.
I remember the long walk back to drop a friend, the crazy stories after a drinking game, the descriptions of a Mexican wedding, the slow but inevitable sleep, the beautiful, cool breeze in the morning, the shy ducks in the lake, the quick breakfast, the rushed packing and the run to catch the bus back home.
I can still feel the warmth of the fire as we sat around it, or how we lay on the rock for a couple of hours and watched the moon rise or how we saw the fog slowly crawl and conquer the entire forest. But most of all, the next day, I could smell the firewood on me. There is something about fragrance that immediately transports me. It felt magical and stayed with me for quiet a while. And I left with a strange feeling of being connected to that everything that was living in the forest, and to everything that ever lived in the forest.
—
Similar posts : Mushroom Hunting and Do Not Disturb, Do Not Destroy