Earlier this month, I joined the Study in Sweden team to participate in the EuroPride parade. This parade used to be the biggest in Europe but now…it is still the biggest in Scandinavia!
more
If you asked me why I jumped on board and march, probably because I wanted this exclusive t-shirt from Study in Sweden – or because it felt nice to not write my master thesis for a day. Just look at how sincere my smile is wearing the shirt. Of course, I looked happy, the shirt expressed my belief in equality. What a coincidence that I am studying in Sweden, a country that loves equality.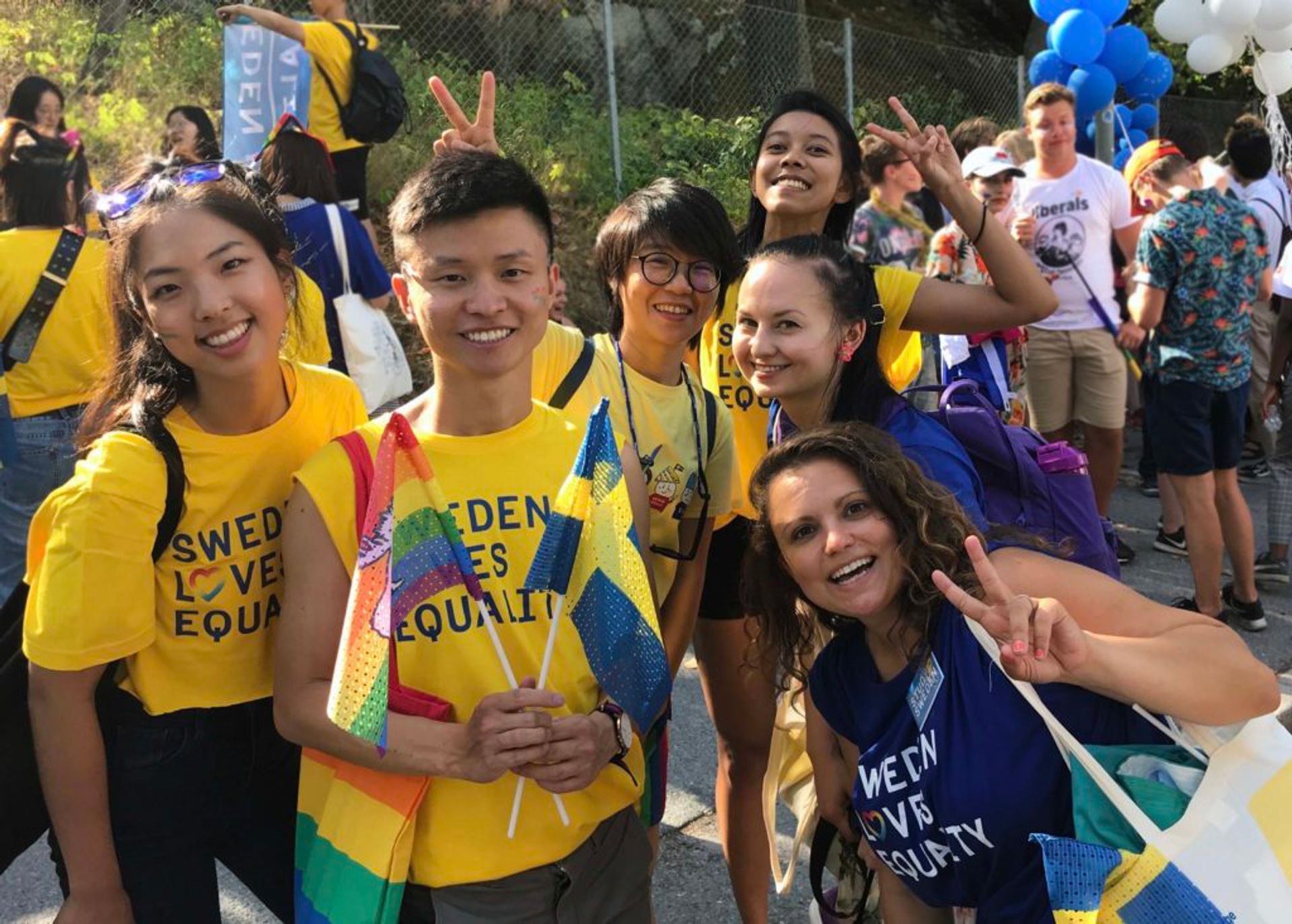 There were quite many international students came to join the Study in Sweden team for the parade. Among them were my fellow colleagues and friends: Bowen, Hyunjin, Lara and Leonilla. We were team #54 and I heard there were around 200 teams participating in this parade. I had never seen so many people on the street in Stockholm. Other than institutions and companies, there were organisations and political parties joined in the parade.
Sometimes when I walked along the street or noticed the crowds passing me, I wondered if I was in a cosplay festival. This was the first time that I attend the EuroPride. Apparently, people were expressing themselves through fashion, such as what Bowen did with his shirt. Inspired by Kimchi from RuPaul's Drag Race, "Fat, Fem, Asian, yassss!".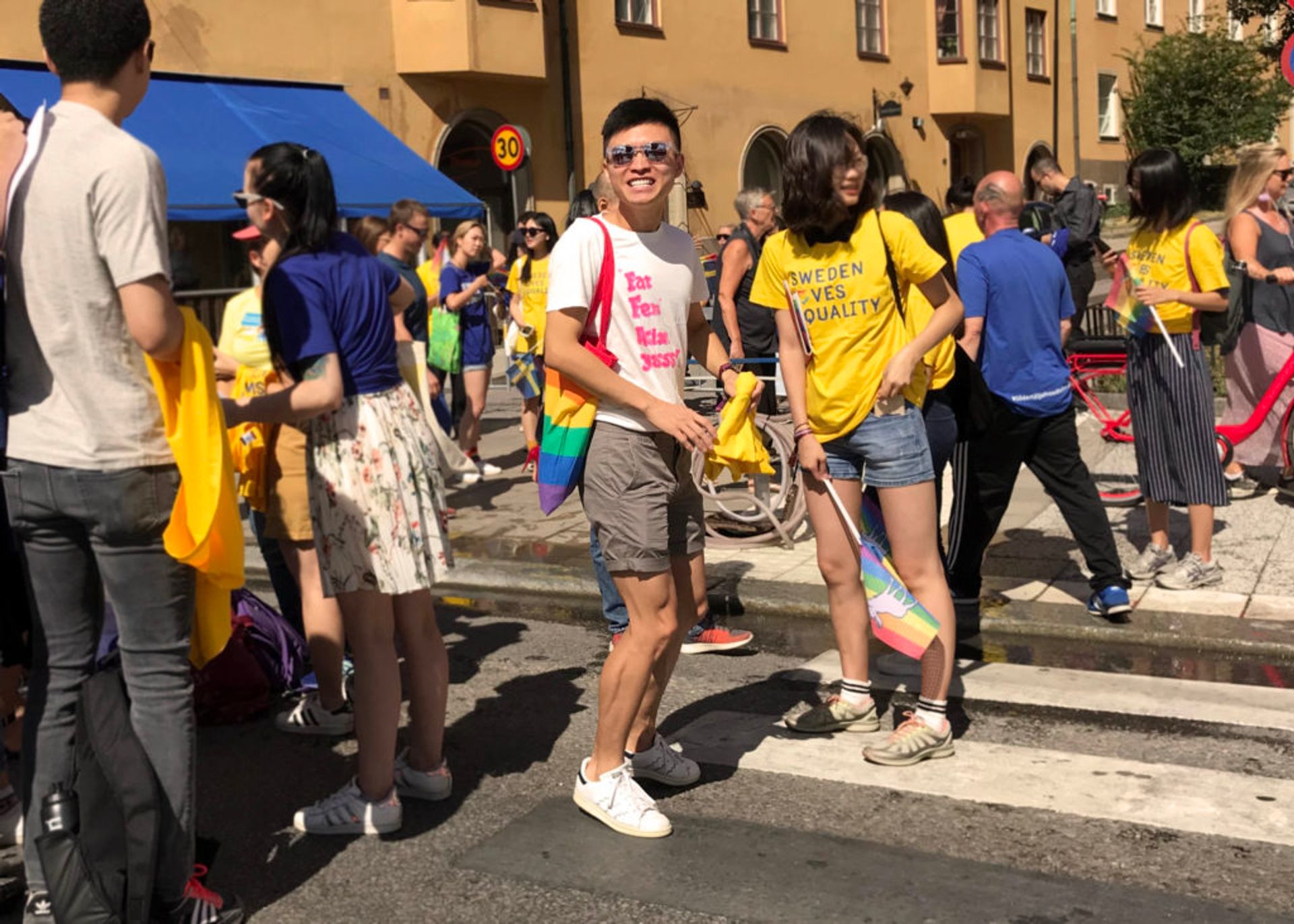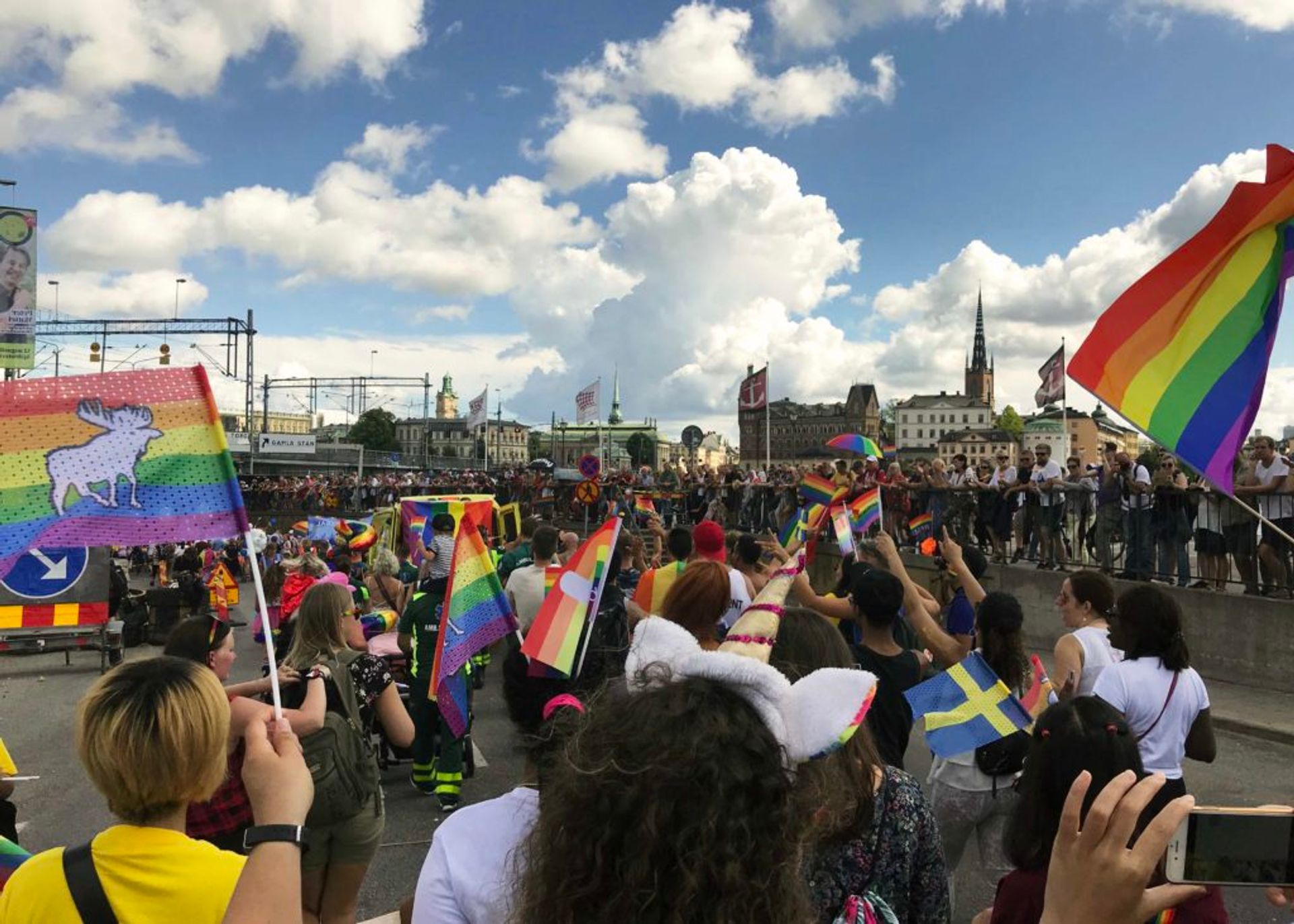 Have I told you that there were so many people parading? Not just that, there were people watching the parade all along the way from Kungsholmenn to the Pride Park at Östermalms IP. Music on the background and people cheering despite the confusing weather where it was drizzling for 5 minutes then the warmest sun hit us for the next 20 minutes. That slight inconvenience could not beat the greatest moment when everyone could proudly and comfortably show their true selves without feeling scared.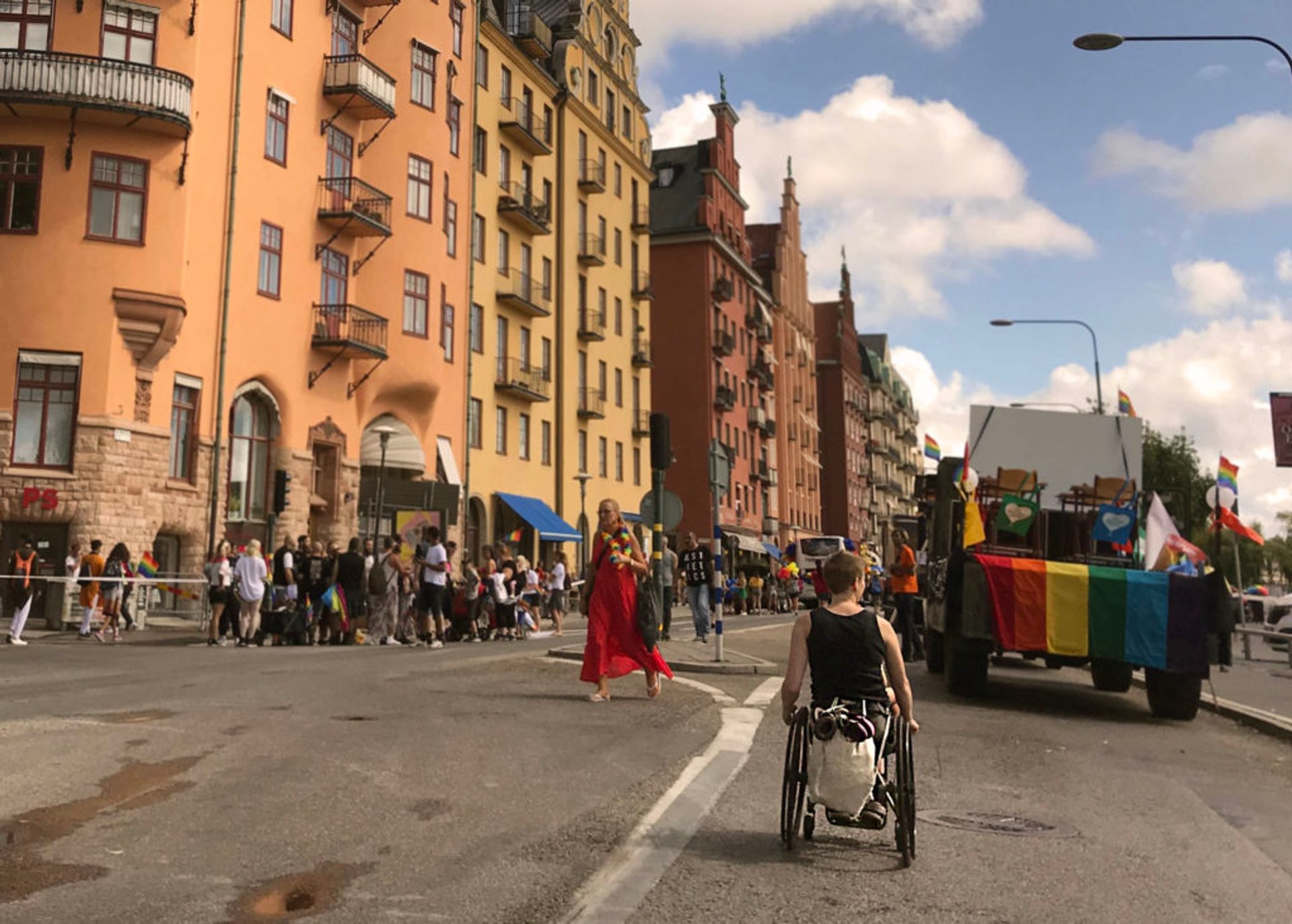 I wish everyone can feel safe and comfortable being themselves everywhere and every time. Sadly, there are other places in the world that is still far away from being able to accept the LGBTIQ community. In my opinion, Indonesia is one of them. I do not want to speak on behalf of Indonesian people so I am going to tell you a conversation happened in my family when I was still in Jakarta 2 years ago.
Me: Look [showing a picture on WhatsApp]! My friend is so caring, he keeps all my letters!
Dad: Who sends you this?
Me: Psyduck, a friend that I met from a seminar.
Mom: Oh…Psyduck! He does seem like a nice guy. But he does not like girls, right?
Me: Umm…what do you mean? Why?
Mom: Well, it is just too bad. I mean, he is a nice guy but, his mom must feel sad about it.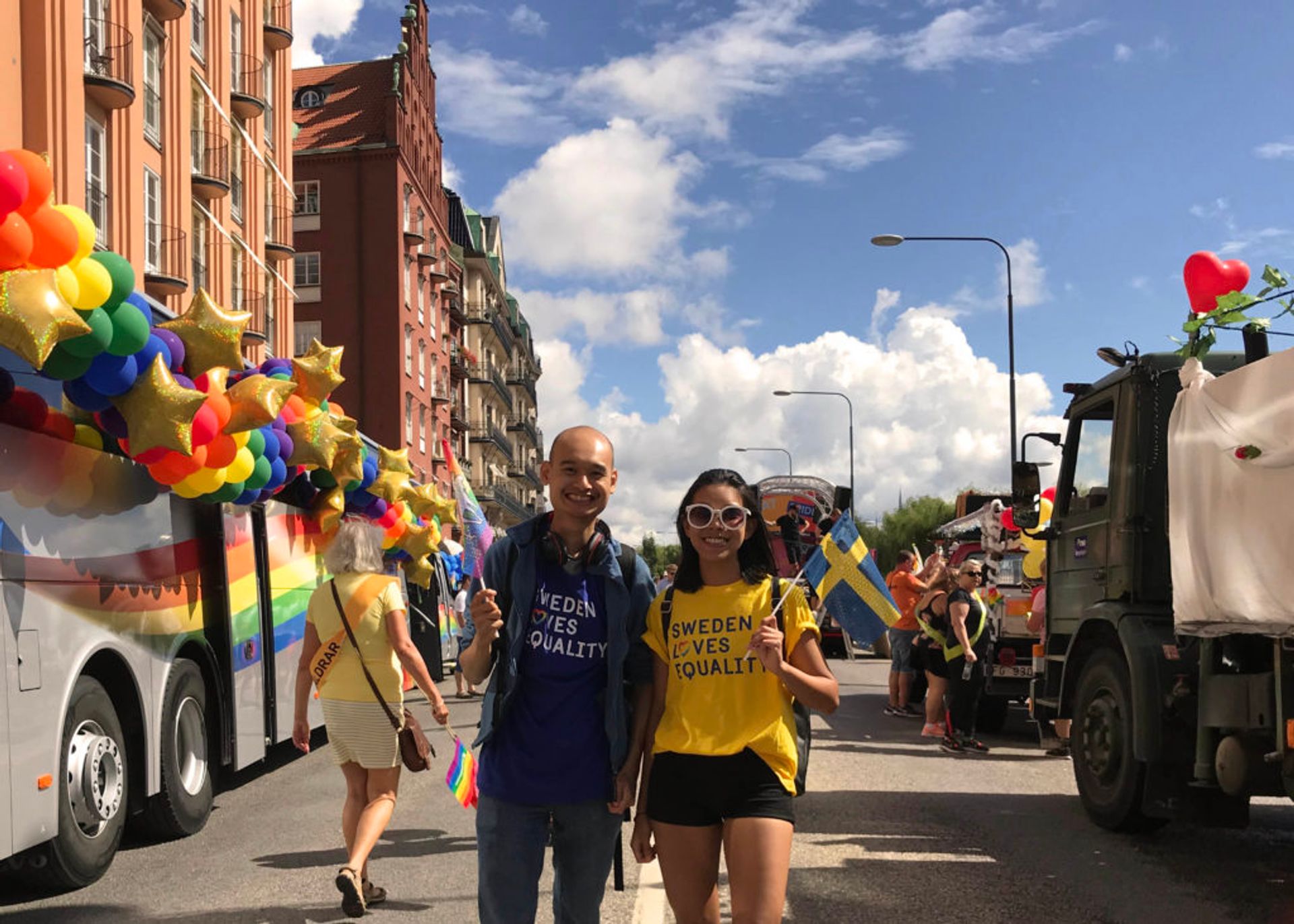 Psyduck was not the real name of my friend, and this friend that I talked about was not the one I took a picture with (above). It would be funny if I have a friend named Psyduck, though. All jokes aside, I do not understand why my mom thinks that way. What I see from her opinion is that someone cannot be considered to be a legit human being unless they can fulfil the expectations of other people. Now, that is a hard life. Speaking of A Hard Life, my mom is a fan of Queen and their vocalist, Freddie Mercury. She told me that she never got starstruck until she knew about Freddie. Then, my mom said that she was disappointed when she found out about his sexual orientation. First of all, what were the odds that my mom could be together with Freddie if he liked women? I may sound harsh right now but actually, I am laughing. My mom can be funny sometimes – I love her.
So, I sent the picture above, of me and Cornell before the EuroPride, to my family and I was so happy that there were no unpleasant comments from them! They only asked about Cornell because we went to Sweden together, literally. After participating in this parade, I feel like I should educate myself more about what I do not know about. I think that it is easy to misunderstand when we are not properly informed. As you also know, misunderstanding can lead to other things that are not nice. I would love to know about your story regarding this matter, perhaps you could share it in the comment section below? Tack!